Posts Tagged 'Solidarity Action'
Saturday, October 11th, 2014
325 receives and transmits:
Early Tuesday morning (7 Oct. 2014), a German federal police car was set on fire at the Badischer Bahnhof (train station) in Basel. The car was completely destroyed. This action was in solidarity with the struggling refugees in Berlin and everywhere!
There, as here in Switzerland, people are degraded to problems for which a solution should be found. The solutions of politicians and authorities, as well as the cops as their henchmen, always mean confinement to detention centers, repression and often deportation to peoples' countries of origin, or third countries.
The struggle of migrants, which they have determined for themselves against the systematic oppression they face, encourages us and at the same time, shows us the need for us to contribute to the sabotage of this repression machinery.
This action is also our response to the upcoming European police operation 'Mos Maiorum' (13th-26th Oct. 2014), which will attempt to have 18,000 police, in cooperation with Frontex, control and arrest as many people without residence permits as possible.
Active solidarity with all struggling migrants in Berlin and everywhere!
translated from: http://switzerland.indymedia.org/de/2014/10/93441.shtml
Tags: Arson, Basel, Berlin, Car Burning, Frontex, Migrants, Mos Maiorum, Racism, Solidarity Action, Switzerland
Posted in No Borders
Wednesday, October 8th, 2014
Report compiled by RabbleLDN, anarchist site based in London, UK.
Kurdish groups in Europe and Turkey have stepped up protests in solidarity with their comrades on the frontline in Kurdistan.
Today a large group managed to bypass security and storm the European parliament in Brussels, occupying the main lobby. At the time of writing, riot police have moved in to block access to more protestors. (more…)
Tags: Belgium, Brussels, Demo, Insurrection, International Solidarity, Islamic State in Iraq and Syria (ISIS), Kurdistan, London, Netherlands, Solidarity Action, Turkey, UK, War
Posted in Autonomy
Monday, October 6th, 2014
received anonymously (translation):
"ON AUGUST 23 WE OPENED THE CAGES AT THE MINK FARM ON VIA TOSATTI IN SCORZE' (VE) – ITALY
THERE WERE THREE STRUCTURES AT THE FARM FOR THE KEEPING OF ANIMALS, ONE WAS EMPTY, SO WE WERE BUSY IN THE OTHER TWO WHERE HUNDREDS OF MINK WERE LOCKED IN CAGES. WE REMOVED ALL IDENTIFICATION TAGS, MAKING IT IMPOSSIBLE TO IDENTIFY OR CLASSIFY ANY ANIMAL WHO WAS RECAPTURED.
WE DAMAGED SEVERAL CAGES AND DESTROYED DOZENS OF METERS OF FENCE AT THE BACK OF THE FARM TO ALLOW THE MINK TO ESCAPE INTO THE FIELDS BETWEEN THICK CROPS AND STREAMS.
SOON FARMS WILL START KILLING THOUSANDS OF MINK FOR THE PRODUCTION OF FUR.
FOR THESE ANIMALS WHO WILL BE SKINNED THERE IS NO OTHER POSSIBILITY THAN TO OPEN THE CAGES. ANIMAL LIBERATION IS NOT EMPTY WORDS BUT A REALITY WHERE THERE IS OPPRESSION.
WE DEDICATE THIS LIBERATION ACTION TO THE ANARCHIST PRISONERS GIANLUCA AND ADRIANO.
ALF" (more…)
Tags: Adriano Antonacci, ALF, Animal Liberation, Gianluca Iacovacci, Italy, Scorzè, Solidarity Action
Posted in Direct Action
Thursday, October 2nd, 2014
via antidev:
'We retransmit this message sent to us from visitors… On retransmet ce message qui nous a été envoyé par des lecteurs-rices…'
So the other night on September 21, we've set fire to a railroad telecomm cable linking Brigham to Sherbrooke (Qc) to the US, thinking about the Algonquins people recently evicted from a resistance camp and detained in Gatineau. We took the time to select a railway bridge in the middle of nowhere near Waterloo, so we'd not have to dig to get to the cables or attract too much attention. Some fuel was dropped through an opening in the steel casing of the cables, then set on fire. Nothing fancy. It worked better than we'd guessed, as a few seconds later it already smelled of burning rubber a few meters away. The enclosed air in the conduit apparently turned the fire into something like a blow torch. Kind of an easy game to be reproduced elsewhere by others, we told ourselves… so that's a reason to let others know.
Of course it didn't cause the whole techno-industrial system to collapse! Society is still pretty much functional today. But you gotta start attacking it somewhere. Though it did feel as if an important nerve deep below society had been severed. And this felt good getting off our asses in the middle of the night for this. (more…)
Tags: Amélie Trudeau Pelletier, Carlos López Martin, Communique, Earth Liberation Front, Fallon Poisson, King Ludd and his army of Fenians, Quebec, Sabotage, Solidarity Action
Posted in Direct Action
Sunday, September 14th, 2014
#communique
Through fire, we sent our direct solidarity to those fighters and arrested comrades who stood against the eviction of the State in Pandang Raya, Makassar, South Sulawesi. We deeply feel connected with those people, although we haven't seen each other. But your stories, your spirits and your courage, reached us here who are hiding in the dark and awaiting our momentum to hit back at the enemies. (more…)
Tags: Arson, Indonesia, International Conspiracy for Revenge, Manado, Padang Raya, Pandang Raya, RO-FAI (Indonesia Section), Solidarity Action
Posted in Direct Action
Monday, September 8th, 2014
Last week was the International Week of Anarchist Prisoners. Dozens of events from South America to the Far East. The anarchist collectives around the world in various ways tried to raise awareness of imprisoned comrades and fellow soldiers. And we, along with other groups and individuals supporting the Anarchist Black Cross tried to highlight this issue. And not only that. We have tried to express solidarity to our imprisoned friends and comrades with the intensification of correspondence (letters and sending packages). We put up hundreds of flyers and stickers. Held a public screening of a film about the fate of Sacco and Vanzetti, upgrading in cities, in prisons, courthouses and even a police station. In Ústí nad Labem, according to a communiqué signed by the group "Proletarian Solidarity" 'a police car was damaged as symbolic support to imprisoned anarchists in the world'. Although the last week in August is unfortunately not optimal for broader mobilization, perhaps the International Week of Anarchist Prisoners served its purpose. It recalled the need for solidarity not only for imprisoned comrades and friends, but throughout the movement as such. (more…)
Tags: Czech Republic, International Week for Anarchist Prisoners, Solidarity Action, Ústí nad Labem
Posted in Prison Struggle
Monday, September 8th, 2014
from contrainfo, transl. waronsociety:
In the early hours of Friday August 29, 2014 the ambassador of the Spanish state's mansion walls in Quito were painted in solidarity with Mónica Caballero, Francisco Solar and the rest of the State's prisoners. This action was framed inside of the International Week of Solidarity with anarchist prisoners. Although the damage was not much and due to logistical problems the actions was not carried out in all of its splendor, any attack against the State's institutions and its representatives should be celebrated.The same night the Israeli embassy was attacked as well, tearing down its dirty flag in support of the Palestinian people and the "Anarchists against the wall" organization.
Their mansions will be converted into their gallows, our prisons into their death sentences. From the city of Quito all support and solidarity with imprisoned compas.

Long live the vandal nights!
Long live the insurrection!

IDOOS
Dissident Individuals Occasionally Organized for Subversion
Tags: Dissident Individuals Occasionally Organized for Subversion, Ecuador, Embassy, Francisco Solar, International Week for Anarchist Prisoners, Monica Caballero, Paint attack, Solidarity Action, Spain
Posted in Direct Action
Saturday, September 6th, 2014
A group of anarchists in Hamburg dropped a banner in solidarity with Mónica and Francisco, imprisoned in Spain. The banner read "Freedom for Mónica and Francisco. Pull down the prisons." This is our small contribution to the week of solidarity with anarchist prisoners.
Freedom for Mónica and Francisco, freedom for all anarchist prisoners. Until all are free!
Tags: Banner drop, Francisco Solar, Germany, Hamburg, International Week for Anarchist Prisoners, Monica Caballero, Solidarity Action
Posted in Direct Action
Saturday, September 6th, 2014
From the midst of the terror-fervor, the advance of the surveillance state, and display of force by the law.
This is to report incendiary action bringing life to our hatred for the police, inkeeping with our wider effort for the eradication of authority and it's civilisation and with not a step back before repression which fails to inhibit us…
It took place in Keynsham (on 3rd September) at the police-station where a fleet of support group vans and other marked force vehicles are kept close to the ring-road which skirts Bristol. We rigged all three mobile-CCTV vans at their charging station inside the perimeter to the side of the cop-den with short fuses, then more fuel in containers was primed to incinerate an extra riot squad minibus parked to the front after we'd left the area. When the fires were detected, the riot bus and at least one of the camera vans were already burnt. According to the media an individual was arrested shortly after, who they are probably even now dimly realising they have no evidence to charge because we alone are responsible for the blaze under their snouts.
The police-station is situated close to the massive Keynsham Police Centre due to now open which is also to assimilate the functions of the old Bath and Radstock stations as part of a newly-constructed series of the force's multi-purpose detention suites, crime investigation centres, an operations base and the tri-force firearms facility which was burned down by the hands of anarchists one year ago. (more…)
Tags: Arson, Bristol, Chile, Freddy Fuentevilla Saa, Fuck the Law, Informal Anarchist Federation (FAI), Juan Aliste Vega, Keynsham, Marcelo Villarroel Sepúlveda, Solidarity Action, UK, Uncivil Disobedients / Informal Anarchist Federation
Posted in Direct Action
Thursday, September 4th, 2014
A night in Bagcılar… we were at the foot of the Beast

Even though, the deepest darkness of the night is thought to hide all of this system's infamies, it also becomes accomplice to some furious hookers who want to destroy this shit before the dawn. Although street lights, shop lights, surveillance cameras and MOBESEs sure- the eyes and ears of the State- prowl to betray us by giving a feeling like we're under the surveillance of a rapist, this can not prevent us from transforming our rage against this rotten system to action by coalescing with shadows which remain for us from the night.
Here in one of the nights again, in Istanbul/Bagcilar, we attacked a yellow beast, which only has a task to dig concrete disintergrating the land, which takes an active role in the clear-cut of forests and in the urbanization of the last places remaining without concrete, by cutting the blood stream and defusing the connection between its organs.
We took this action in order to contribute to the "Anarchist Prisoners Global Week of Solidarity (23-30 August)". First, we dedicate this action to anarchist comrade Tamara Sol Farías Vergara who is now in prison under charge of shooting and wounding a security guard of a bank, then Nikos Maziotis, who is now in prison after being arrested in an armed conflict, claiming the tradition of never surrendering, and to his partner Panagiota Roupa who is on the run now. Also we dedicate this action to all anarchist and anti-authoritarian prisoners around the world who are fighting against the institutions of domination.

"We were awake last night, with the dawn somethings were going wrong somewhere."

FAI/IRF Furious Hookers Militia
Tags: Bagcilar, FAI/IRF Furious Hookers Militia, International Week for Anarchist Prisoners, Istanbul, Sabotage, Solidarity Action, Turkey
Posted in Direct Action
Wednesday, August 20th, 2014
325 receives and transmits:
Earlier this week here in Berlin, we threw paving stones through the windows of an office of the Social Democratic Party of Germany. We attacked with comrade Luke O'Donovan in our thoughts. Like Luke, our humble action was motivated by a love of life and an active rejection of a resignation to death.
Tags: Berlin, Luke O'Donovan, Solidarity Action
Posted in Direct Action
Saturday, August 16th, 2014
From the anti-repression festival in Luzern, Switzerland, we send revolutionary greetings to the prisoners and hands off Nikos Maziotis the struggle goes on ….

Red Help Switzerland
rotehilfech.noblogs.org
Tags: Nikos Maziotis, Revolutionary Struggle, Solidarity Action, Switzerland
Posted in Direct Action
Wednesday, August 6th, 2014
We spread this social activist action report in solidarity with the struggle against all oppression – Report from London Palestine Action via RabbleLDN:
Victory to the Palestinian struggle! Stop arming Israel! #StopElbit
For nearly a month, Israel has bombarded Gaza from land, sea and air. More than 1800 Palestinians have lost their lives and war crimes have been committed. To our collective shame, the UK government has not only failed to take action to pressure Israel to stop its massacre, but has refused to take steps to end the material support it provides to Israel's brutal regime of apartheid and colonialism. When governments support crimes against humanity, grassroots movements must take direct action.
A group of activists from the London Palestine Action network have today (5/8/14) chained the doors shut of an Israeli weapons factory based near Birmingham in the UK and are now occupying the roof. As part of the boycott, divestment and sanctions movement (BDS) and in response to calls for action from Palestinian movements, we are demanding the permanent closure of the factory and an end to all forms of military trade and cooperation with Israel. (more…)
Tags: Anti-Militarism, Elbit, Palestine, Solidarity Action, UK
Posted in Direct Action
Friday, August 1st, 2014


Here's a photo from Switzerland. Solidarity to Maziotis and the prisoners who fight!
Tags: Greece, Nikos Maziotis, Revolutionary Struggle, Solidarity Action, Switzerland
Posted in Prison Struggle
Tuesday, July 29th, 2014
MIT POWER DURCH DIE MAUER! – Nur Angst, Kein Respekt – Gegen alle
Zwangsanstalten und die Gesellschaft des Einsperrens!
Anlässlich der Solidaritätstage mit den Griechischen Gefangenen, haben wir beim Antirassistischen Fußballturnier in Lohmen zusammen mit anderen Kicker_innen ein kleines Solifoto geknipst!
Das griechische Parlament beschloss kürzlich ein Gesetz, dass die Haftbedingung sukzessiv verschärft und nach unserer Auffassung vor allem politische Rebellion in und außerhalb der Knäste einschüchtern und bekämpfen soll. Nach der Einführung der griechischen Variante des Paragraphen 129a (1) folgt nun "ganz logisch" eine aggressivere Bestrafung vermeintlicher Terrorist_innen. Unliebsame Subjekte, die mit ihrem Engagement für den Staat ein Problem darstellen, sollen als Gefangene des "Typ C" nach Möglichkeit in Isolationshaft fast beliebig lange begraben werden. (2)
Gleichzeitig werden die Inhaftierten nach ihren "Verbrechen" selektiert um die gegenseitige Solidarität zu unterbinden!
Wir wissen, dass unsere Aktion nicht einmal im Ansatz eine Antwort auf diesen Angriff des Staates darstellt. Ein Banner zu malen und ein Foto zu schießen unterbricht weder die staatliche Routine, noch wird es viele andere Menschen von unseren Ideen überzeugen. Dennoch wollen wir den Gefangenen (in GR) ein kleines Zeichen unserer Solidarität senden damit sie vielleicht etwas Kraft schöpfen können.
Auch unser ganz alltäglicher Kampf ist nicht immer von "Power" erfüllt.
Vielmehr sind wir meist mit Erschöpfung angesichts und Angst vor Repression oder dem eigenen Scheitern konfrontiert. Umso wichtiger finden wir einen solidarischen und verständnisvollen Umgang miteinander – um uns selbst aufzufangen und der Repression möglichst wenig Angriffsfläche zu bieten!

Wir sind alle 129a! Knäste zu Spielplätzen! Bullenkarren zu Wohnmobilen!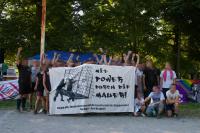 Tags: Germany, Hunger Strike, Solidarity Action
Posted in Prison Struggle