Posts Tagged 'Solidarity Action'
Monday, June 3rd, 2019
SAN FRANCISCO, EE.UU.: ANARQUISTAS ATACAN EL CONSULADO DE INDONESIA CON BOMBAS DE PINTURA CONTRA LA REPRESIÓN DEL PRIMERO DE MAYO
On June 1, a modest mob of 20+ anarchists in San Francisco carried out an attack in solidarity with our comrades in so-called Indonesia where 600+ anarchists were arrested this May Day. We threw 60 paintbombs and heavily tagged the Indonesian Consulate with circle-(A)s to send a message to the Indonesian government that despite the distance between us and our comrades, the State is not safe and will always be attacked.
The actions of the Indonesian comrades, simple gestures of paint on walls, resonated with us. In the afterimages of their act, and in their call for solidarity, we recognized friends across the dying ocean. Even more than expressing our contempt for the Indonesian State, we want to convey our love to the comrades struggling within and against its false borders. Ferocity and Strength to those facing repression and those on the run. (more…)
Tags: California, Indonesia, International Solidarity, Paint attack, Paint bombs, Sabotage, San Francisco, Solidarity Action, USA, Vandalism
Posted in Direct Action
Saturday, May 11th, 2019
On the weekend of 28th and 29th of April, 2 ATMs were burned in Vienna (Austria) as a message of solidarity with the comrade Lisa, who is imprisoned at the moment in Barcelona. She was charged for robbing a bank in Germany.
We don't want to live in a capitalist world, in which consumption and property are forming the center of being.
An action to strengthen ourselves, so we will never stop attacking these realities in all places – against the domination of capitalism and state, against prison and all other forms of incarceration and oppression
– for sticking together and for freedom!
Tags: Arson, ATM Burned, Austria, International Solidarity, Lisa, Sabotage, Solidarity Action, Vienna
Posted in Direct Action
Tuesday, May 7th, 2019
Late Saturday evening, May 4, we committed an attack with stones against the store front of the office from Sebastian Schlüsselburg, member of the Committee on Justice and Secret Service, parliamentarian of "Die Linke" in the district of Berlin-Lichtenberg. Most of its windows were smashed.
This is our direct answer to the latest events for which these political representatives of pure social-darwinism hold responsibility. To be mentioned first is the voting in the parliament of the district (BVV) Lichtenberg for the plans of construction of the stupid waterpark in the Rummelsburg Bay, which is another project for the city of the rich and tourists. This includes the eviction of homeless people, who squatted an area in the bay with their tents. It is clearly visible what role the leftist parties play in this process. After their usual approaches towards the resistance, finally ALL of them voted for the construction. (more…)
Tags: Berlin, Germany, Sabotage, Solidarity Action, Squatting
Posted in Direct Action
Monday, May 6th, 2019
[Noticias de la Guerra Social]
El 18 de abril de 1989 los jóvenes Ivan Palacios (19) y Erick Rodriguez (20) tras participar activamente en un grupo de acción y resistencia a la dictadura que se encontraba infiltrado desde sus comienzos, se disponen a colocar una carga explosiva en un transformador de luz ubicado en Avenida San Pablo con Radal, en las cercanías de la población Simon Bolivar.
La acción estaba avisada a efectivos de la CNI (Central Nacional de Inteligencia) quienes prepararon una emboscada donde acribillaron a ambos jóvenes miristas.
Desde entonces en la población Simón Bolívar se recuerda esa fecha con actividades, velatones, manifestaciones y enfrentamientos con la policía. (more…)
Tags: Arson, Chile, Coordinadora Informal-Grupúsculo Iconoclasta, Sabotage, Santiago, Solidarity Action
Posted in Direct Action
Sunday, April 21st, 2019
Local newspapers have reported that a TV and mobile phone tower was set on fire in Terragnolo, in the Potrich (Trentino) area on April 16th at around 10PM. Painted slogans reading "Solidarity With Anarchist Prisoners", "Stop Video Conferencing" (which replaces prisoner transfers to court hearings), "Stop Blocking Mail" and "The Spirit Continues" were found at the site.
Of the four incendiary bottles used to start the fire, only one managed to ignite the cables, the other three that were located inside the electrical transformers failed to ignite due to 'lack of oxygen' according to the carabiniers [paramilitary police] in charge of the investigation. A person who lived nearby spotted the flames from the street and notified the fire brigade, however they arrived to late to prevent many of the cables from burning. This location is also part of a region that has been selected to experience the 5G network in the near future.
Technicians were able to restore TV service during the night, however mobile phone reception is still not properly restored.
Freedom For All,
Fire To The Prisons

Source and some good photos:
https://sansattendre.noblogs.org/post/2019/04/19/terragnolo-trentin-italie-incendie-dune-antenne-relais-en-solidarite-avec-les-anarchistes-incarceres-16-avril-2019/
Tags: Arson, Italy, Sabotage, Solidarity Action, Trentino
Posted in Direct Action
Friday, April 19th, 2019
Today we have hung up four banners at various locations in The Hague, the Netherlands, in solidarity with the anarchists being prosecuted in Belgium. Hundreds of flyers were also thrown around.
From 2008, the Belgian State started a large investigation aiming at different struggles – but always without concessions – against detention centres, borders, prisons and the world of authority and exploitation. In its viewfinder: the anarchist library Acrata, anarchist and anti-authoritarian publications (Hors Service, La Cavale and Tout doit partir), dozens of flyers and posters, more than a hundred actions, attacks and sabotages…in other words the fight against Power in all its different expressions.
Initially charged with "participation to a terrorist group", it is finally under the accusation of "criminal association" that 12 comrades will be on trial during the week of 29th April 2019. (more…)
Tags: Banner drop, Belgium, International Solidarity, Netherlands, Solidarity Action
Posted in Autonomy
Monday, March 11th, 2019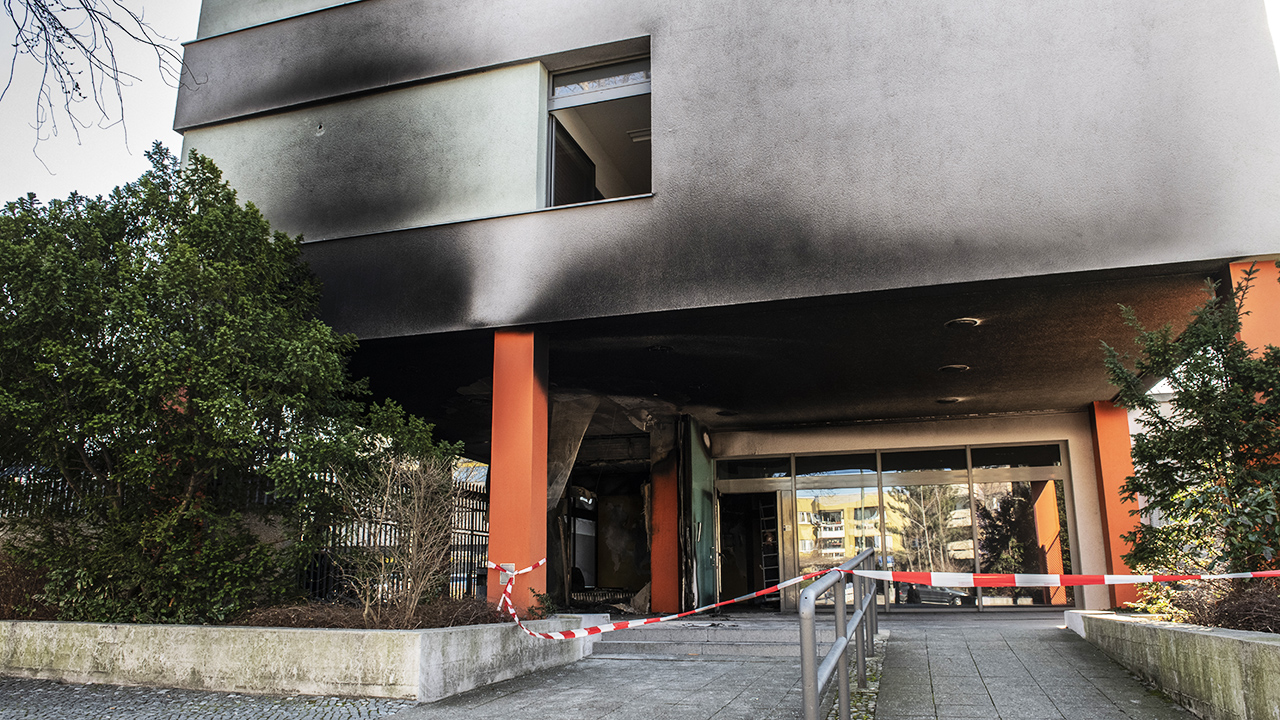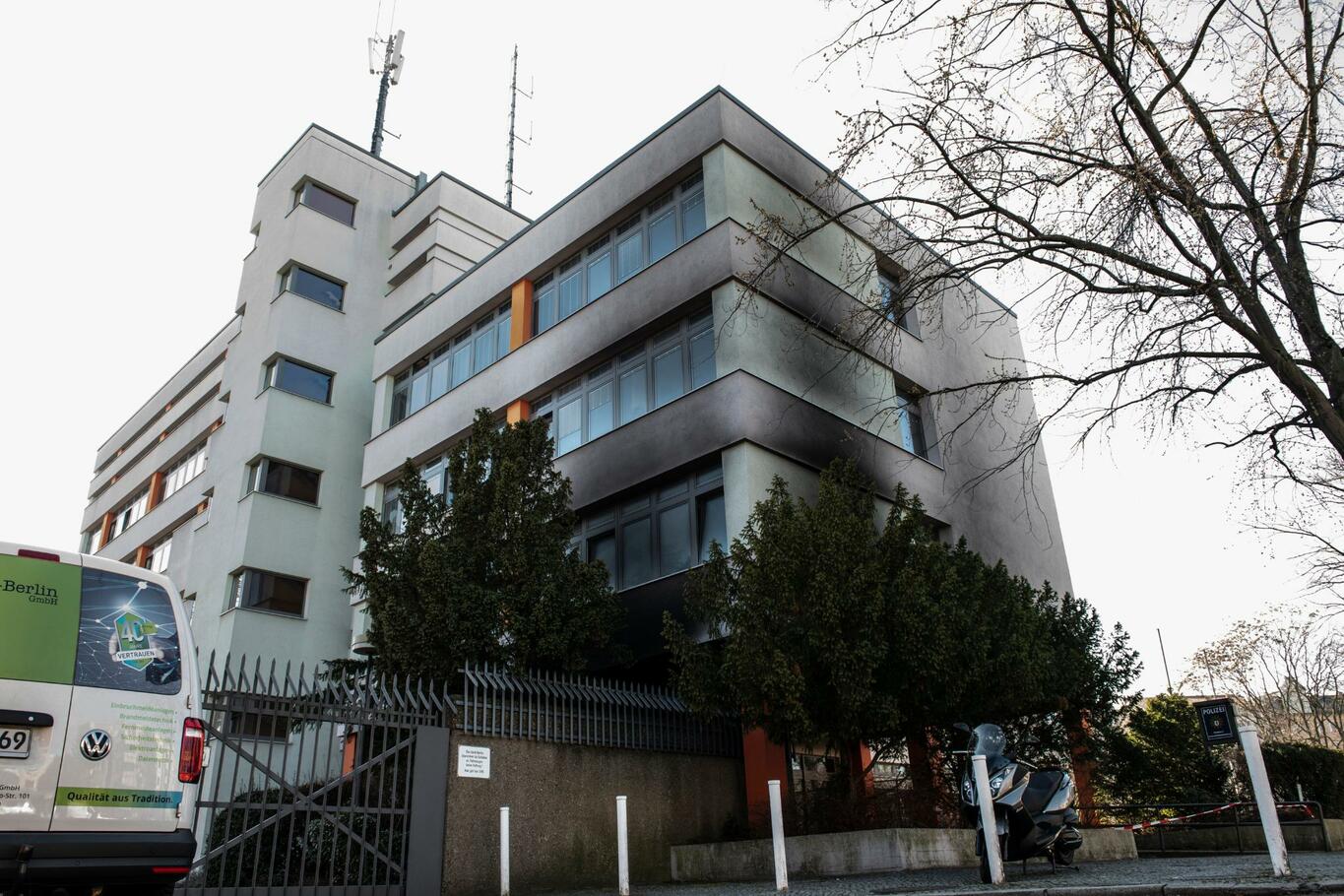 Berlin: Our propaganda remains the attack: cops are murderers!
No words of justification are necessary for that, what has happened to a cop station in Berlin on the morning of February 27, 2019. All those who were already handcuffed, humiliated by the cops, sexually assaulted, beaten, driven through the streets, jailed, or detained understands our language. Our fire speaks to those who have understood or learned that it is always a danger to life and limb to fall into the hands of the state. Many who were dragged in patrol cars or cop stations did not leave them alive.
We do not hope for justice, nor for more humanistic cops. Instead, we deepen our enemy determination and draw a line that is appropriate to the quality of social conflicts. There is nothing to discuss with the killers and their collaborators. Not even if you present yourself all year round as friends and helpers at their police congress.
Nothing is forgotten and we are not ready to forgive. Instead of celebrating its own role as a victim, it is necessary to organize further attacks against the cops and to disassemble their sense of inviolability step by step.
Part of this we have contributed with our act. The casualness with which the cops and the press deal with the attack on the building on Invalidenstraße belies their losses. As we ignited the used 60 liters of gas under the canopy of the entrance area, the fire could jam under the ceiling and cause considerable damage there, which will remind them for a long time that they need to expect nothing but our hatred.
We greet Loic in the Hamburg prison and all upright prisoners of the social war and promise them to continue to aim at the pigs.
For Ebuka Mama Subek, who was recently murdered in an Athenian police station. For Oury Jalloh, Hans-Jürgen Rose and Mario Bichtemann, who were killed by pigs in Dessauer. For Halim, Carlo, Dennis and Amed!
For the revolutionary revenge!
Tags: Arson, Berlin, Germany, Sabotage, Solidarity Action
Posted in Direct Action
Sunday, March 3rd, 2019
On the night of February 18, a bank ATM in the Usera neighborhood was set on fire. This small action is a sign of encouragement for Lisa, recently moved from Germany to Madrid; for the repression of the G20; the comrades arrested in Madrid on 30 October – accused of burning another Bankia ATM – and for the comrades in Italy, recently beaten in new operations against the anarchist environments in Turin and Trento, as well as for the comrades on trial in the Scripta Manet and Panic operations.
Let the Spanish and Italian states know that anarchist solidarity will not stop. And it will be formed by more than words. Sabotage is easy and simple. In the possibilities of its reproduction is its strength.
Also, this small action serves as a contribution to the week of agitation and propaganda against gentrification, spatial capitalism and in defense of squatting.
Freedom for Lisa, freedom for all!
Long Live Anarchy!
Tags: Arson, ATM Burned, G20, International Solidarity, Lisa, Madrid, Operation Panic, Operation Scripta Manent, Sabotage, Solidarity Action, Spain
Posted in Direct Action
Sunday, February 24th, 2019
[Below in French and Italian / Sotto in francese ed italiano].
Text read in solidarity to anarchists under trial following Scripta Manent operation.
On Monday 11 February in the bunker hall of the Turin prison a large group of comrades expressed their solidarity with the anarchists on trial following the "Scripta manent" operation (6.09.2016). Roberto Sparagna (the public prosecutor in the trial) was unable to take a word to formulate his indictment. After several slogans and the reading of the following text, the Court interrupted the hearing. The courtroom was evicted through the intervention of the riot squads. During the protest, solidarity was expressed to all the anarchists arrested and on trial during this period, following the repressive operations "Scripta Manent", "Panico" and "Scintilla", and against the eviction of Asilo Occupato in Turin.
Freedom for all prisoners! Long live anarchy!
Below the text: (more…)
Tags: Italy, Operation Scripta Manent, Repression, Solidarity Action, Trial
Posted in Prison Struggle
Tuesday, November 20th, 2018
Claims received by the comrades in Madrid in solidarity with the comrades arrested on October 29. The companions ask for diffusion and translation:
1. https://contramadriz.espivblogs.net/2018/11/20/a-martillazos-contra-los-cajeros-de-carabanchel-solidaridad-anarquista/
2. https://contramadriz.espivblogs.net/2018/11/20/ataque-a-inmobiliaria-en-carabanchel-guerra-a-la-especulacion-capitalista/
3. https://contramadriz.espivblogs.net/2018/11/16/madrid-ataques-quot-simbolicos-quot-a-cajeros/
4. https://contramadriz.espivblogs.net/2018/11/16/madrid-cajero-en-llamas-en-carabanchel/
5. https://contramadriz.espivblogs.net/2018/11/12/madrid-sabotajes-a-cajeros-automaticos-en-solidaridad-con-les-companeres-detenides/
Tags: International Solidarity, Madrid, Repression, Sabotage, Solidarity Action, Spain
Posted in Direct Action
Saturday, November 10th, 2018
Narrm / Melbourne, so-called Australia: Graffiti mural in memory of 17 year old Russian Anarchist-Communist Mikhail Zhlobitsky who died while carrying out an explosive attack against the FSB (Federal Security Service) Regional Headquarters in Arkhangelsk, Russia on October 31st.

"Never Forget Our Fallen Comrades!"
Tags: Australia, Graffiti, Melbourne, Misha Zhlobitsky, Russia, Solidarity Action
Posted in Autonomy
Thursday, November 8th, 2018
ES: ROMA, ITALIA: REPETIDOR DE TELEFONÍA ATACADO EN SOLIDARIDAD CON PASKA, GHESPE, GIOVA Y TODXS LXS DEMÁS PRISIONERXS
IT: ROMA – ATTACCATO RIPETITORE IN SOLIDARIETA A PASKA, GHESPE, GIOVA E TUTTI I COMPAGNI PRIGIONIERI
Note from Instinto Salvaje: In the following claim it mentions what recently happened in Santiago, Chile, with the case of Kevin Garrido, who was murdered on November 2 in the prison of Santiago 1. We remember that this individual was not anti-authoritarian, since that he wrote communiqués whilst in prison his affinity to authoritarian groups called eco-extremists. We publish this action because it is a gesture of solidarity with jailed Italian anarchists, we are not going to silence it, but to clarify information delivered by irresponsible means of counter-information without positioning themselves in this social war.
On a September afternoon, we mobilized to set fire to a telephone repeater. We had in our eyes and in our hearts anger for the death of a person in the forest of Hambach, during the resistance to the eviction of the police. Telecommunications infrastructures are today one of the strategic points of the modern technological domain, functional to the development of other devices and technological structures that are also part of a complex network, in which each element depends on the other. The authoritarian essence of the system is clearly expressed in this technological interdependence. Despite the current tendency to create increasingly autonomous systems, it is still possible to hit an element by putting the whole network out of use with a cascade effect.
With this action we want to launch an invitation to hit the telecommunications networks as an act of solidarity for the anarchist prisoners Paska, Ghespe and Giova, still in prison. (more…)
Tags: Arson, Atacado, International Solidarity, Italy, Operation Panic, Rome, Sabotage, Solidarity Action
Posted in Direct Action
Wednesday, October 10th, 2018
On the night of Wednesday to Thursday, October 4th, a car belonging to Bouygues was torched on rue Laurier in the 17th arrondissement of Paris. Bouygues is well known for their involvement in prison construction.
We are sending these smoke signals to Krem, the last one to face charges for the burnt cop car case, to be incarcerated and subjected to the prison administration. Do not forget about him!
May this small incendiary gesture give strength and courage to the anarchists tortured and imprisoned in Russia, as well as the Basel 18 who will go to trial at the end of October for a wild and vicious stroll one evening in June 2016.

Freedom for all!!

Source

Tags: Arson, Bouygues, France, Krem, Paris, Sabotage, Solidarity Action
Posted in Direct Action
Wednesday, September 5th, 2018
On August 30th, 2018, a group of comrades took the street in front of the transition house of the president-elect of Mexico, Andrés Manuel López Obrador. There, they briefly blocked traffic and showered the police, media and bystanders with flyers denouncing the judicial corruption and state repression being carried out against community members of Eloxochitlán de Flores Magón, Oaxaca. The banner blocking the highway read: Freedom to the Prisoners of Eloxochitlán de Flores Magón—Week of Solidarity with Anarchist Prisoners.
This action kicks off a series of events planned in the lead up to anarchist prisoner Miguel Peralta's final court date on September 28th, 2018. We encourage you all to remain attentive to upcoming events and actions.
Free all prisoners! Down with the Prison Walls!
Communique:
Eloxochitlán de Flores Magón is a municipality located in the Sierra Mazateca in the state of Oaxaca. The majority of the inhabitants speak Mazateco and the municipality is registered beneath the Internal Normative System, or Uses and Customs of Indigenous communities. (more…)
Tags: Demo, Eloxochitlán de Flores Magón, International Week for Anarchist Prisoners, Mexico, Oaxaca, Solidarity Action
Posted in Prison Struggle
Tuesday, September 4th, 2018
On Sunday, 2/9/18, banners from prisoners in Larissa were hung in A Wing. The banners were in solidarity with striking prisoners in the US, the banner reads "SOLIDARITY TO ALL US STRIKING PRISONERS – UNTIL THE DESTRUCTION OF ALL PRISONS"
Outside of the prison, 15 comrades were present, they called out slogans and had a little contact with the comrades who put the banner.
Tags: Banner drop, Greece, International Solidarity, Larissa, Prison Labour Strike, Solidarity Action, USA
Posted in Prison Struggle