Posts Tagged 'Solidarity Action'
Thursday, August 29th, 2019
(FR) Vienne, Autriche : Incendie d'une antenne d'autoroute en solidarité avec les trois du banc public de Hambourg
(IT) Vienna, Austria: Le nostre inclinazioni dannose si stanno consolidando
We learned with rage that our comrades of Hamburg known as "the park bench three", are in prison on remand. The fact that two of them are charged with "harmful inclinations" doesn't surprise us. Always, those who rebel against the prevailing order are condemned as "parasites".
Our comrades are clearly accused of attempted arson as they were arrested in possession of incendiaries in this Hamburg park. It should be clear to everyone that this is yet another repressive blow against the anti-G20 rebels and their world, also concerning the arrest on the day of the anniversary of the riots. (more…)
Tags: Arson, Austria, G20, Hamburg, International Solidarity, Park Bench 3, Sabotage, Solidarity Action, Vienna
Posted in Direct Action
Thursday, August 22nd, 2019
Makassar, Indonesia, August 21st, 2019: Dozens of Makassar citizens took direct action (blocking the road) in front of the Hasanuddin University to convey solidarity with West Papuans who received racist acts and violence from the military, police and ultra-nationalist civil militias.
As for what is written on the banner:
MAKASSAR CITIZENS SOLIDARITY FOR PAPUA

1. STOP TORTURING PAPUANS RIGHT NOW!
2. PAPUANS ARE FREE TO CHOOSE THEIR OWN WAY (TO FREEDOM)
3. TNI (Indonesian Armed Forces), POLRI (Indonesian Police Force) AND FASCIST CIVIL MILITIAS, STOP YOUR RACIST ACTS, YOU DICK SHIT!
via Anarchists Worldwide.
Tags: Demo, Indonesia, International Solidarity, Makassar, Police Brutality, Racism, Repression, Solidarity Action, West Papua, West Papua Independence
Posted in Direct Action
Wednesday, August 21st, 2019


On the 25th of July, 2019, a parcel bomb was delivered to Police Station 54 in Huechuraba, Santiago. The parcel was opened and successfully detonated, causing material destruction to the police station and hospitalizing 5 police officers. On the same day, a second parcel bomb was intercepted before it could be opened at the headquarters of Quinenco SA, one of the holding companies through which Chile's richest family controls the Bank of Chile. A police and State-generated media frenzy soon ensued with much speculation regarding the identity of the senders of the explosive packages. Now, an anarchist cell calling themselves SEDITIOUS ACCOMPLICES / FRACTION FOR REVENGE have issued a communique claiming responsibility for both attacks in which they stated that they were specifically targeting two individuals- Carabineros Major Manuel Guzmán at Police Station 54 in Huechuraba and former Minister of the Interior Rodrigo Hinzpeter who now works at Quinenco SA. Below is an English translation of the original communique that was posted on Contra Info….
OPERATION FOR THE EXPANSION OF HOSTILITIES AGAINST THE EXECUTIONERS
We claim responsibility for the two parcels composed of black gunpowder and dynamite addressed to Rodrigo Hinzpeter and Carabineros Chief Manuel Guzmán at Police Station 54 in Huechuraba.
We took all the necessary security measures to ensure that the devices only exploded in the hands of the persons targeted by our action. Our enemies are clear to us, we are not seeking to harm or injure random people. While we know that we all are part of the operation of dominion, we recognize that there are degrees of responsibility and the recipients of our explosive parcels have decisive roles in both the management and accumulation of capital and in State control and repression. (more…)
Tags: Attentat, Chile, International Solidarity, Letter Bomb, Santiago, Seditious Accomplices / Fraction for Revenge, Solidarity Action
Posted in Direct Action
Wednesday, August 21st, 2019
CCTV Burnt and Advertising Attacked in Bristol, on the 30th July.
A new LED advertising screen by the M32 motorway in Bristol tells us to "Be On It"… Well, we are!!! The screen was damaged using sling shots. Advertisers want people to focus their attention on shitty corporate messaging instead of concentrating on their driving. We are "on it", and we are not excited by the products, upgrades ,and the boring lifestyles and aspirations they are selling… We desire damage and destruction… and dream of sabotage.
CCTV was also burnt out at Gaunts Ham Park (a day centre for homeless people in Lawrence Hill). The wiring was destroyed in an expression of rage against the surveillance state that increasingly targets those who do not conform. Using a long pole, and a firelighter attached to a clothes peg, this act was "begging" to be done! More and more people are marginalised, and the housing crisis in Bristol is one aspect of the social war which we are all part of…..
Solidarity with all those resisting it! Especially to: 'Der Drei Von Der Parkbank' in Hamburg, and those imprisoned as part of 'Operation Panico'.

Anti-Social Angry Vagrants
Tags: Arson, Bristol, CCTV, Sabotage, Solidarity Action, Surveillance, UK
Posted in Direct Action
Tuesday, June 25th, 2019
We hate prisons, many of our comrades are held in them, some are tortured, and prisons are at the heart of enforcing the established order. Vinci builds prisons, this vehicle belonged to them, so we wanted to set it on fire. So the train of thought that led to the destruction of the road construction vehicle on June 24 was actually quite simple.
(more…)
Tags: Arson, Eurovia-Vinci, Germany, International Solidarity, Leipzig, Sabotage, Solidarity Action, Vinci
Posted in Direct Action
Monday, June 24th, 2019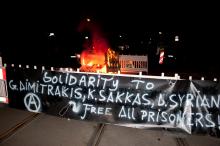 From the urban desert of the danger zone in Friedrichshain we send a signal of our solidarity to Yiannis Dimitrakis, Kostas Sakkas and Dimitra Syrianou. On Monday morning, June 24, we erected a burning barricade on Weidenweg (Street near Rigaer and Liebig) together with a fixed banner (see text on picture). We were waiting with stones to welcome the first patrol car but they needed time to mass up strong forces to enter the area of Rigaer Straße, and we disappeared safe.
(more…)
Tags: Berlin, Burning Barricades, Dimitra Syrianou, Germany, Giannis Dimitrakis, International Solidarity, Kostas Sakkas, Rigaerstrasse, Solidarity Action
Posted in Direct Action
Friday, June 21st, 2019
For June 11 – Solidarity for long term anarchist prisoners
Just outside the city limits of Bristol tucked away in the dark is a poultry farm (Ivy Farm) owned by P&S Mitchell LTD. Located in Whitchurch Lane, Dundry, the birds never see the light of day. Despite the CCTV, the grain silo and broiler house were both spray-painted with the words "Animal Prison".
A new McDonalds restaurant that is not welcome is being built in Fishponds Road, but maybe the "Burger Off!" posters in local's front windows isn't enough. Graffiti was sprayed inside the building site – "McWork Prison".
Vinney Green, hidden in Emersons Green on the edge of Bristol is a special secure detention unit for 10-17 year old "dangerous kids". The unit holds up to 24 detainees. A large hole was cut in the perimeter fence and then the next inner security fence was broken through by bending back the bars, causing a second human size gap. Then the prison buildings themselves were sprayed with the words "Child Prison", "Screws Work Here".
Solidarity to Brian Vaillancourt who is serving a 9 year sentence in the USA for an arson of a McDonalds. To the imprisoned comrades in Italy who are fighting from inside the cells on hunger strike. To the 3 comrades arrested for bank robbery in Thessaloniki, Greece. To Lisa held in Spain. For all the imprisoned anarchists around the world.
Freedom for everyone!

Eco-anarchist vandals – FAI/IRF
Tags: Brian Vaillancourt, Bristol, Eco-anarchist vandals - FAI/IRF, Fuck McDonalds, Graffiti, International Solidarity, Ivy Farm (Poultry), June 11th Solidarity, Lisa, McDonalds Corporation, Paint attack, Solidarity Action, UK, Vandalism, Vinney Green
Posted in Direct Action
Monday, June 3rd, 2019
SAN FRANCISCO, EE.UU.: ANARQUISTAS ATACAN EL CONSULADO DE INDONESIA CON BOMBAS DE PINTURA CONTRA LA REPRESIÓN DEL PRIMERO DE MAYO
On June 1, a modest mob of 20+ anarchists in San Francisco carried out an attack in solidarity with our comrades in so-called Indonesia where 600+ anarchists were arrested this May Day. We threw 60 paintbombs and heavily tagged the Indonesian Consulate with circle-(A)s to send a message to the Indonesian government that despite the distance between us and our comrades, the State is not safe and will always be attacked.
The actions of the Indonesian comrades, simple gestures of paint on walls, resonated with us. In the afterimages of their act, and in their call for solidarity, we recognized friends across the dying ocean. Even more than expressing our contempt for the Indonesian State, we want to convey our love to the comrades struggling within and against its false borders. Ferocity and Strength to those facing repression and those on the run. (more…)
Tags: California, Indonesia, International Solidarity, Paint attack, Paint bombs, Sabotage, San Francisco, Solidarity Action, USA, Vandalism
Posted in Direct Action
Saturday, May 11th, 2019
On the weekend of 28th and 29th of April, 2 ATMs were burned in Vienna (Austria) as a message of solidarity with the comrade Lisa, who is imprisoned at the moment in Barcelona. She was charged for robbing a bank in Germany.
We don't want to live in a capitalist world, in which consumption and property are forming the center of being.
An action to strengthen ourselves, so we will never stop attacking these realities in all places – against the domination of capitalism and state, against prison and all other forms of incarceration and oppression
– for sticking together and for freedom!
Tags: Arson, ATM Burned, Austria, International Solidarity, Lisa, Sabotage, Solidarity Action, Vienna
Posted in Direct Action
Tuesday, May 7th, 2019
Late Saturday evening, May 4, we committed an attack with stones against the store front of the office from Sebastian Schlüsselburg, member of the Committee on Justice and Secret Service, parliamentarian of "Die Linke" in the district of Berlin-Lichtenberg. Most of its windows were smashed.
This is our direct answer to the latest events for which these political representatives of pure social-darwinism hold responsibility. To be mentioned first is the voting in the parliament of the district (BVV) Lichtenberg for the plans of construction of the stupid waterpark in the Rummelsburg Bay, which is another project for the city of the rich and tourists. This includes the eviction of homeless people, who squatted an area in the bay with their tents. It is clearly visible what role the leftist parties play in this process. After their usual approaches towards the resistance, finally ALL of them voted for the construction. (more…)
Tags: Berlin, Germany, Sabotage, Solidarity Action, Squatting
Posted in Direct Action
Monday, May 6th, 2019
[Noticias de la Guerra Social]
El 18 de abril de 1989 los jóvenes Ivan Palacios (19) y Erick Rodriguez (20) tras participar activamente en un grupo de acción y resistencia a la dictadura que se encontraba infiltrado desde sus comienzos, se disponen a colocar una carga explosiva en un transformador de luz ubicado en Avenida San Pablo con Radal, en las cercanías de la población Simon Bolivar.
La acción estaba avisada a efectivos de la CNI (Central Nacional de Inteligencia) quienes prepararon una emboscada donde acribillaron a ambos jóvenes miristas.
Desde entonces en la población Simón Bolívar se recuerda esa fecha con actividades, velatones, manifestaciones y enfrentamientos con la policía. (more…)
Tags: Arson, Chile, Coordinadora Informal-Grupúsculo Iconoclasta, Sabotage, Santiago, Solidarity Action
Posted in Direct Action
Sunday, April 21st, 2019
Local newspapers have reported that a TV and mobile phone tower was set on fire in Terragnolo, in the Potrich (Trentino) area on April 16th at around 10PM. Painted slogans reading "Solidarity With Anarchist Prisoners", "Stop Video Conferencing" (which replaces prisoner transfers to court hearings), "Stop Blocking Mail" and "The Spirit Continues" were found at the site.
Of the four incendiary bottles used to start the fire, only one managed to ignite the cables, the other three that were located inside the electrical transformers failed to ignite due to 'lack of oxygen' according to the carabiniers [paramilitary police] in charge of the investigation. A person who lived nearby spotted the flames from the street and notified the fire brigade, however they arrived to late to prevent many of the cables from burning. This location is also part of a region that has been selected to experience the 5G network in the near future.
Technicians were able to restore TV service during the night, however mobile phone reception is still not properly restored.
Freedom For All,
Fire To The Prisons

Source and some good photos:
https://sansattendre.noblogs.org/post/2019/04/19/terragnolo-trentin-italie-incendie-dune-antenne-relais-en-solidarite-avec-les-anarchistes-incarceres-16-avril-2019/
Tags: Arson, Italy, Sabotage, Solidarity Action, Trentino
Posted in Direct Action
Friday, April 19th, 2019
Today we have hung up four banners at various locations in The Hague, the Netherlands, in solidarity with the anarchists being prosecuted in Belgium. Hundreds of flyers were also thrown around.
From 2008, the Belgian State started a large investigation aiming at different struggles – but always without concessions – against detention centres, borders, prisons and the world of authority and exploitation. In its viewfinder: the anarchist library Acrata, anarchist and anti-authoritarian publications (Hors Service, La Cavale and Tout doit partir), dozens of flyers and posters, more than a hundred actions, attacks and sabotages…in other words the fight against Power in all its different expressions.
Initially charged with "participation to a terrorist group", it is finally under the accusation of "criminal association" that 12 comrades will be on trial during the week of 29th April 2019. (more…)
Tags: Banner drop, Belgium, International Solidarity, Netherlands, Solidarity Action
Posted in Autonomy
Monday, March 11th, 2019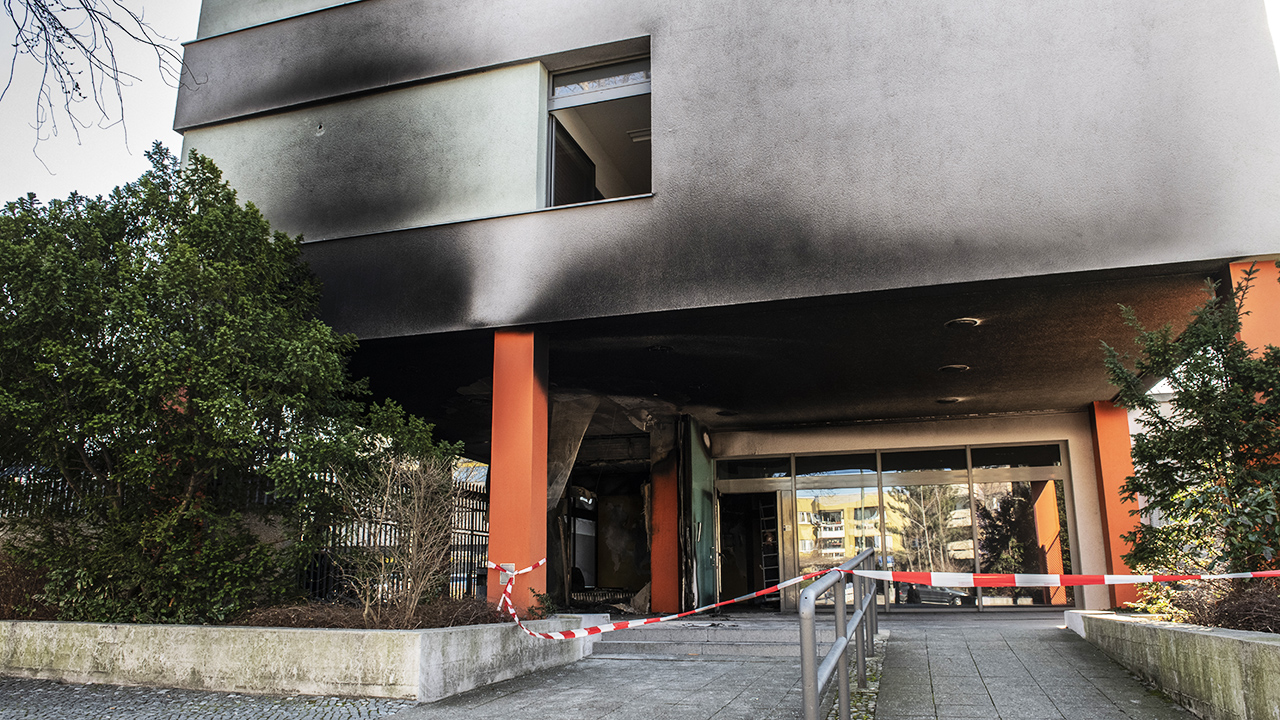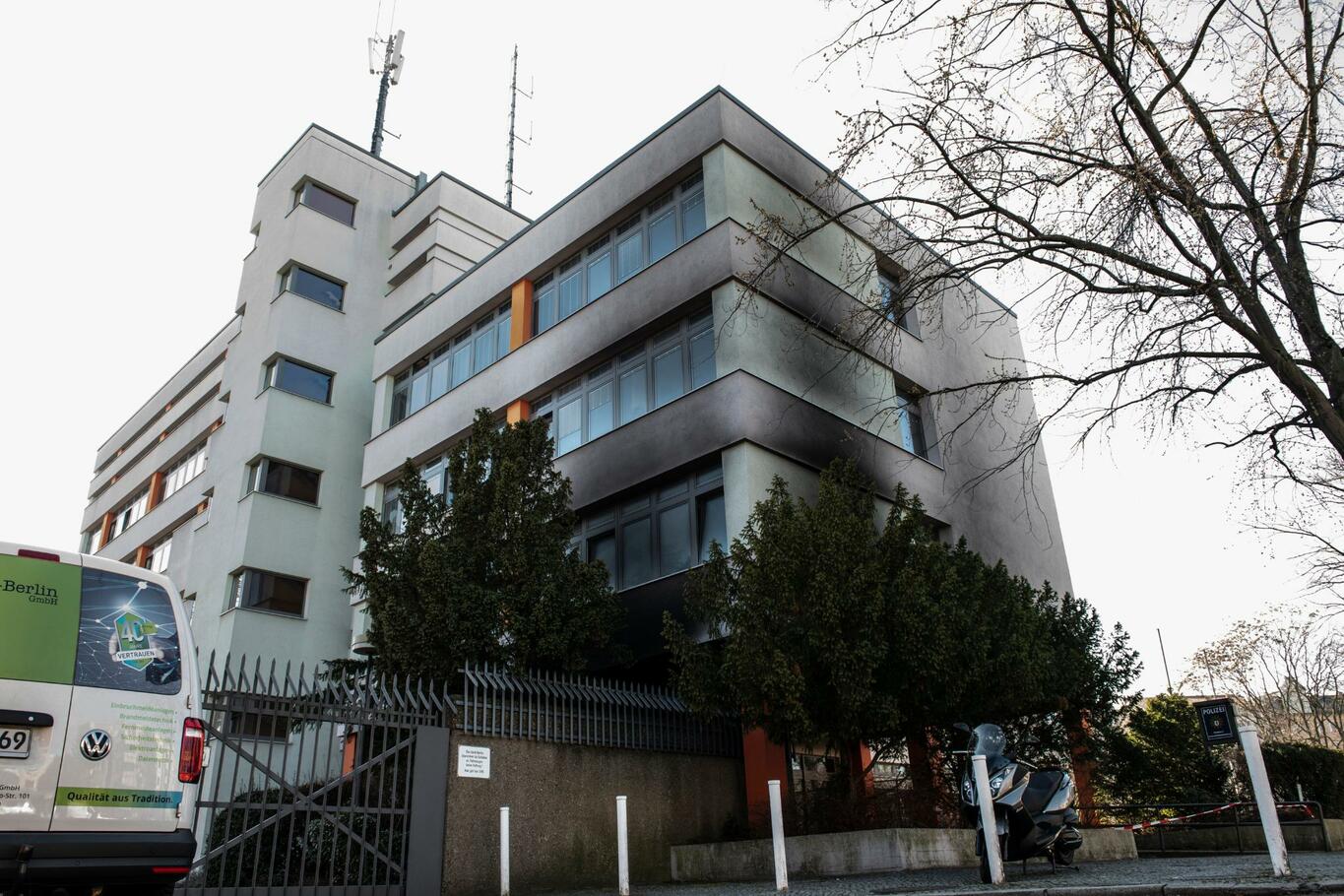 Berlin: Our propaganda remains the attack: cops are murderers!
No words of justification are necessary for that, what has happened to a cop station in Berlin on the morning of February 27, 2019. All those who were already handcuffed, humiliated by the cops, sexually assaulted, beaten, driven through the streets, jailed, or detained understands our language. Our fire speaks to those who have understood or learned that it is always a danger to life and limb to fall into the hands of the state. Many who were dragged in patrol cars or cop stations did not leave them alive.
We do not hope for justice, nor for more humanistic cops. Instead, we deepen our enemy determination and draw a line that is appropriate to the quality of social conflicts. There is nothing to discuss with the killers and their collaborators. Not even if you present yourself all year round as friends and helpers at their police congress.
Nothing is forgotten and we are not ready to forgive. Instead of celebrating its own role as a victim, it is necessary to organize further attacks against the cops and to disassemble their sense of inviolability step by step.
Part of this we have contributed with our act. The casualness with which the cops and the press deal with the attack on the building on Invalidenstraße belies their losses. As we ignited the used 60 liters of gas under the canopy of the entrance area, the fire could jam under the ceiling and cause considerable damage there, which will remind them for a long time that they need to expect nothing but our hatred.
We greet Loic in the Hamburg prison and all upright prisoners of the social war and promise them to continue to aim at the pigs.
For Ebuka Mama Subek, who was recently murdered in an Athenian police station. For Oury Jalloh, Hans-Jürgen Rose and Mario Bichtemann, who were killed by pigs in Dessauer. For Halim, Carlo, Dennis and Amed!
For the revolutionary revenge!
Tags: Arson, Berlin, Germany, Sabotage, Solidarity Action
Posted in Direct Action
Sunday, March 3rd, 2019
On the night of February 18, a bank ATM in the Usera neighborhood was set on fire. This small action is a sign of encouragement for Lisa, recently moved from Germany to Madrid; for the repression of the G20; the comrades arrested in Madrid on 30 October – accused of burning another Bankia ATM – and for the comrades in Italy, recently beaten in new operations against the anarchist environments in Turin and Trento, as well as for the comrades on trial in the Scripta Manet and Panic operations.
Let the Spanish and Italian states know that anarchist solidarity will not stop. And it will be formed by more than words. Sabotage is easy and simple. In the possibilities of its reproduction is its strength.
Also, this small action serves as a contribution to the week of agitation and propaganda against gentrification, spatial capitalism and in defense of squatting.
Freedom for Lisa, freedom for all!
Long Live Anarchy!
Tags: Arson, ATM Burned, G20, International Solidarity, Lisa, Madrid, Operation Panic, Operation Scripta Manent, Sabotage, Solidarity Action, Spain
Posted in Direct Action