Posts Tagged 'Solidarity Action'
Sunday, September 2nd, 2018
With this we take responsibility for the incendiary device we placed in front of the building of the German Society for Foreign Politics (DGAP) in Drake-/Rauchstraße (Tiergarten) in the night of 21.8.18.
13 litres of a petrol-oil-mixture shall be the beginning of putting an end to the undisturbed and fearless existence of the DGAP as a political advisor of the German war society.
Since the beginning of this year increased attacks against the war industry, their profiteers and financiers take and took place over all the German controlled territory. We join these attacks and let the fire speak from our side. War starts here! War on the war!
War starts here, in the halls of politics. War starts everywhere, where people throw away their empathy, to profit from the globalized misery. In the war-industry, the thinktanks of science, in the faceless administration of bureaucracy, in the form of uniformed slaves, who receive and obey orders in rank and file. War starts between human beings, when concurrence and aspiration to power reigns over solidarity and the free development of the individual.
German Security – Profit through war
Through the choice of the DGAP as the target of our incendiary device we declare the ideological architects of German-European hegemonic politics, the scientists and forerunners of a security paradigm which works with as well as alongside of warmongers and in this way are our enemies. What they declare about security is not ours. Their foreign policy is a policy of order. And their order needs tanks against uprisings and frigates against inflatable dinghies, it builds fences against the suppressed and works continuously to extend their ongoing misery. (more…)
Tags: Arson, Berlin, G20, Germany, International Solidarity, Kurdish Struggle, Rojava, Sabotage, Solidarity Action
Posted in Direct Action
Tuesday, July 24th, 2018
21.07.18: During the early morning hours of July 20th, we attacked the police station on Ulmen street in Rostock with fireworks.
This was in response to the completely unnecessary raids on the homes of our comrades in Greifswald. On Thursday morning, a total of 100 cops were used to search houses and apartments. This was obviously meant to send a clear message to those of us who are committed to the struggle for a better society and countering the shift to the right in society as a whole. Of course the police operation was immediately celebrated by the AfD.*
But in these times of right-wing and authoritarian mobilizations, they give us something to oppose, because the cops are always in opposition to our ideas for a liberated society.

No peace with the police! ACAB
*Translation note: Far-right political party Alternative für Deutschland / Alternative for Germany
Tags: Germany, Rostock, Solidarity Action
Posted in Direct Action
Thursday, July 5th, 2018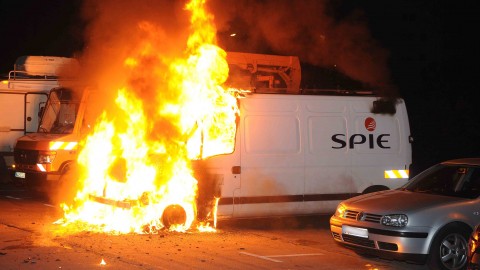 05.07.18: The wave of exuberant hatred for the arbitrariness of uniformed individuals spills once more across the borders of France to us. For the last two nights in Nantes, hundreds of teenagers have destroyed shops, set fire to cars and attacked the CRS (Compagnies Républicaines de Sécurité / general reserve of the French National Police) with Molotovs.
Aboubakar was executed on Tuesday night in a suburb of Nantes in his car by a police officer after he was placed under arrest during a vehicle inspection…
The police spread their version that they were in danger and it was in self-defense. It is obvious that the 'legitimacy' of the murder that they make public is found only in the self-created legitimacy of the police apparatus. Since we refuse to recognize that law, there can never be legitimacy for execution by a cop. (more…)
Tags: ABC Berlin, Arson, Germany, Nantes, Solidarity Action, SPIE (Prison Industry)
Posted in Direct Action
Tuesday, July 3rd, 2018
Unknown persons destroyed the windows of the Russian visacenter in Kanalstr. 14a, Hamburg, the night of the 22.06. Also "FUCK FIFA!", "FIGHT REPRESSION!" and"(A)" was spraypainted to the facade.
Since autumn 2017 there happen repressive attacks against anarchists in different Russian cities, in Belarus and on Krim. With torture, intimidation, blackmail and imprisonment they are targeted. At the same time the football worldcup is one of the biggest spectacles of power that is happening in Russia. The rich can enrich themself even more and behind the cameras, all this, as with the Olympic games or summit-meetings, can be used to develop repression and control against maginalised, poor and unwanted social groups and to develop aggressive gentrification.

Freedom and solidarity don't need Visa!
Tags: FIFA, Germany, Russia, Sabotage, Solidarity Action
Posted in Direct Action
Tuesday, November 14th, 2017
Flensburg, November 10, 2017
On the night of 10.11.2017, a patrol car at Harrislee police station (Flensburg area) was torched. Solidarity with the prisoners from the G20 processes that began on calendar week 45. Freedom for Fabio, Christian and all other comrades affected by repression! Freedom for all political prisoners, you are not forgotten!
via Chronik, Insurrection News.
*Translation note: This action was originally posted on Indymedia in Germany but was removed due to censorship.
Tags: Arson, Fuck the Police, G20, Germany, Schleswig-Holstein, Solidarity Action
Posted in Direct Action
Saturday, November 4th, 2017
Last weekend, we have put up an solidarity graffiti of eighty meters long opposite the police headquarters and training center of The Hague, the Netherlands with the text: Burn all prisons.
The graffiti is in solidarity with Lisa and Peike who are both in German prisons. Lisa is imprisoned for seven and a half years because of a conviction on suspicion of bank robbery. Peike has been sentenced for two years and seven months because of protests against the G20 summit in Hamburg.
We want them free! Freedom for Lisa and Peike and all anarchist prisoners! Burn all prisons!

Anarchist Damage Squad
Tags: Den Haag, G20, Graff, Netherlands, Solidarity Action
Posted in Direct Action
Saturday, September 30th, 2017
Action in support of the comrades raided in Bure.
In response to the searches in Bure, EDF (French nuclear electric power company, largely owned by the French state) was heated up. An EDF car was set on fire during the night of Friday, September 22 outside the EDF center near the DGSI (General Directorate for Internal Security) and the Chamber of Agriculture.
At the scene one could read: STOP THE SEARCHES IN BURE! Solidarity with the struggle in Bure, and the comrades who are undergoing repression. HANDS OFF BURE!
To be continued…

via Attaque, translated by Insurrection News
Tags: Anti-Nuclear, Arson, Bure, EDF Energy, Solidarity Action
Posted in Direct Action
Monday, September 25th, 2017
On September 23, a group of Kiev anarchists held a picket outside the Belarusian embassy in solidarity with the anarchist prisoners. Activists unfurled a banner that said "DEATH TO THE DICTATOR!" and hung an effigy of Lukashenko on the fence of the embassy. At the moment, the Belarusian regime is holding anarchist comrades Dimitry Polienko and Kirill Alekseev in their dungeons.
We demand the release of all Belarusian political prisoners and express solidarity with their struggle for freedom against the dictatorial regime of Lukashenko. The death of the dictator is the only thing that will give the Belarusian people the opportunity to breathe freely.
Recently we have learned that the diplomats have already protested in connection with our last action. Anarchists will continue to carry out solidarity actions at the Belarusian embassy and violate the tranquility of the diplomatic corps, as long as there are political prisoners in the prisons of Belarus.

via Redvia, translated by Insurrection News
Tags: Belarus, Demo, Dictatorship, Dimitry Polienko, International Solidarity, Kiev, Kirill Alekseev, Solidarity Action, Ukraine
Posted in Direct Action
Monday, September 18th, 2017
Hello everybody, friends and comrades. Everybody knows the politics in Turkey some more than others. I want to try to tell you, to help you understand about the situation in Turkey and I would like to ask for your attention and international solidarity in this matter. Turkey became a nation in 1923. Since this historical moment Turkey was caught in a history of facist military coups. In general they have been 8 fascist coups and related to that ten thousands of revolutionary communists and anarchists were killed. In the last military coup ın 1980 almost one million people were tortured and detaıned ın prısons.Now, after 22 years Recep Tayyip Erdoğan who describes himself as a Muslim, won the elections through manipulation and became the prime minister of Turkey. He has influenced the mind of most people in Turkey through elaborate promises and community schemes to ınfluence the mınds of the people. In the following elections he was elected again through further manipulation (different practices). He has begun to fight against the democratic powers in the society and put every critical voice in prison. (more…)
Tags: Athens, Greece, Hunger Strike, Nuriye Gülmen, Rosa de Foc Squat, Semih Özakça, Solidarity Action, Turkey
Posted in Prison Struggle
Wednesday, September 13th, 2017
From Amsterdam to Hamburg. On Thursday 31st August a solidarity demo took place in Amsterdam. It was not only against the G20 but also against the recent censorship of Indymedia in Germany. We hope you can spread the news amongst our friends.
A 21-year old person from Amsterdam has been convicted to two year and seven months in prison. He is accused of having thrown two empty beer bottles at the police after hundreds of riot police blocked and attacked the "Welcome to Hell" demonstration on the evening before the G20 summit in Hamburg last July (see here: https://vimeo.com/224524911). (more…)
Tags: Amsterdam, G20, Hamburg, Netherlands, Solidarity Action
Posted in Direct Action
Thursday, August 3rd, 2017
Belarusian anarchists informed Minsk residents about struggle of the people of Venezuela – the bus stop in the сenter of the city was covered by posters, describing the ongoing protests. Anarchists are sure that that Belarusians should learn from braveness and courage of the Venezuela protesters!

http://pramen.io/en/2017/08/belarusian-anarchists-express-solidarity-with-the-people-of-venezuela/
Tags: Belarus, Minsk, Solidarity Action, Venezuela
Posted in Direct Action
Friday, April 21st, 2017
We are not soldiers.
We are criminals.
We have no fatherland, no higher cause, we do not follow any directions other than those of ourselves.
On the other hand, we are fighting.
To find our lives, explore our freedoms.
We fight the misery of our lives, the oppression of morals, and the grids that imprison us.
On the night of April 18, we set fire to a police station in Liège (Belgium). It was completely destroyed, devastated by the flames.
We dedicate this action to the imprisoned comrades who are accused of bank robbery in Aachen.
Determination and courage!
Our thoughts are also with the Montreuil compa and Damien, still imprisoned in Fleury.
Never give up!
A greeting to all those who conspire.
With violence, love and joy.
Always at war.
"Don't you have a light?" and friend.
via Linksunten Indymedia, translated by Insurrection News
Tags: Arson, Belgium, Fuck the Police, Liège, Solidarity Action
Posted in Direct Action
Thursday, April 6th, 2017
On 31st March, a young boy, Reker Ahmed, was brutally beaten by a gang in the area of Croydon whilst waiting for a bus. The gang (of almost 25) approached the boy and after asking where he was from, chased him and attacked him, leaving him with life-threatening injuries. He was only 17 years old and currently applying for asylum in the UK. This attack occurred on the Shrublands Estate, in Shirley, a diverse working-class area and its significance was felt by the local community.
In response to this racist and xenophobic violence, we chose to decorate the neighbourhood with our outrage. In offering a message of solidarity here, we demonstrate our solidarity everywhere; from the U.S to Greece, from Belarus to the Middle East; for all victims of the State, of the border regime and for all victims of hate crime.
We carried out this action as a clear message from the community, but also as a message to the perpetrators. At the time, we were still unsure as to whether this was an attack carried out by people from within the estate, as it would be unlikely and unheard of in such a diverse, close community. However, sadly, the gang consisted of people from many backgrounds. It is the true that nationalism blurs the truth of oppressive class and racial hierarchies and has us identify with our own oppression. However, the response has to our action has revealed exactly what we also suspected; that this was an attack endorsed by self-identifying FASCISTS from likely within the area. (more…)
Tags: Anti-Fascism, Croydon, Graff, Kurdish Struggle, Racism, Reker Ahmed, Solidarity Action, UK
Posted in No Borders
Tuesday, February 28th, 2017


25.02.17: According to the corporate Greek media police bomb disposal experts defused an explosive device comprising of a hand grenade on Saturday after an anonymous caller telephoned a threat that the bomb would detonate outside the police precinct in Dafni, southern Athens.
The bomb was found in a bag that had been placed in a small park behind the police precinct.
The bomb is said to have had an unusual composition: a hand grenade, a timer, a detonator, a battery and an undisclosed amount of explosives. It was destroyed in two controlled explosions.
The anonymous caller who phoned the police shortly before 3 a.m. had warned that the bomb would go off in 40 minutes from then. The caller said the attack would be in memory of Lambros Foundas, a member of Revolutionary Struggle who died in a shootout with police in the area in March 2010.
More information as it becomes available.

From InsurrectionNews
Tags: Dafni, Greece, Lambros Foundas, Revolutionary Struggle, Solidarity Action
Posted in Direct Action
Tuesday, February 21st, 2017
18.02.17: On February 21/22 the European Police Congress will take place for the 20th time in Berlin. On this occasion at the Berlin Congress Center (BCC), war mongers, human hunters and security fanatics meet to propagate their despicable machinations.
In addition to Thomas Thomas de Maizière, the Federal Minister of the Interior and Hans-Georg Maaßen, the President of the Federal Office for the Protection of the Constitution, agents and guards of all types will be represented by Europol, Frontex, BKA, LKAs and many other authorities. Also present will be lobbyists, entrepreneurs and war ministries such as Heckler & Koch, Taser, Rheinmetal and developers of monitoring software and communications technology such as SAP, IBM and Vodafone will also be present.
Under the slogan – Europe limitless? Freedom, mobility, security – the coming campaigns in which authority is put into position will be discussed and the appropriate technologies and weapons will be brought into the field.
Words such as limitless, freedom and mobility are above all the transnational cooperation of the repressive European bodies, the exchange of data and knowledge and the militarization of Europe and its external borders. (more…)
Tags: Aachen, Arson, Berlin, G20, Gabriel Pombo da Silva, Germany, Konstantina Athanasopoulou, Pola Roupa, Sabotage, Solidarity Action
Posted in Direct Action