Posts Tagged 'Solidarity Action'
Tuesday, November 20th, 2018
Claims received by the comrades in Madrid in solidarity with the comrades arrested on October 29. The companions ask for diffusion and translation:
1. https://contramadriz.espivblogs.net/2018/11/20/a-martillazos-contra-los-cajeros-de-carabanchel-solidaridad-anarquista/
2. https://contramadriz.espivblogs.net/2018/11/20/ataque-a-inmobiliaria-en-carabanchel-guerra-a-la-especulacion-capitalista/
3. https://contramadriz.espivblogs.net/2018/11/16/madrid-ataques-quot-simbolicos-quot-a-cajeros/
4. https://contramadriz.espivblogs.net/2018/11/16/madrid-cajero-en-llamas-en-carabanchel/
5. https://contramadriz.espivblogs.net/2018/11/12/madrid-sabotajes-a-cajeros-automaticos-en-solidaridad-con-les-companeres-detenides/
Tags: International Solidarity, Madrid, Repression, Sabotage, Solidarity Action, Spain
Posted in Direct Action
Saturday, November 10th, 2018
Narrm / Melbourne, so-called Australia: Graffiti mural in memory of 17 year old Russian Anarchist-Communist Mikhail Zhlobitsky who died while carrying out an explosive attack against the FSB (Federal Security Service) Regional Headquarters in Arkhangelsk, Russia on October 31st.

"Never Forget Our Fallen Comrades!"
Tags: Australia, Graffiti, Melbourne, Misha Zhlobitsky, Russia, Solidarity Action
Posted in Autonomy
Thursday, November 8th, 2018
ES: ROMA, ITALIA: REPETIDOR DE TELEFONÍA ATACADO EN SOLIDARIDAD CON PASKA, GHESPE, GIOVA Y TODXS LXS DEMÁS PRISIONERXS
IT: ROMA – ATTACCATO RIPETITORE IN SOLIDARIETA A PASKA, GHESPE, GIOVA E TUTTI I COMPAGNI PRIGIONIERI
Note from Instinto Salvaje: In the following claim it mentions what recently happened in Santiago, Chile, with the case of Kevin Garrido, who was murdered on November 2 in the prison of Santiago 1. We remember that this individual was not anti-authoritarian, since that he wrote communiqués whilst in prison his affinity to authoritarian groups called eco-extremists. We publish this action because it is a gesture of solidarity with jailed Italian anarchists, we are not going to silence it, but to clarify information delivered by irresponsible means of counter-information without positioning themselves in this social war.
On a September afternoon, we mobilized to set fire to a telephone repeater. We had in our eyes and in our hearts anger for the death of a person in the forest of Hambach, during the resistance to the eviction of the police. Telecommunications infrastructures are today one of the strategic points of the modern technological domain, functional to the development of other devices and technological structures that are also part of a complex network, in which each element depends on the other. The authoritarian essence of the system is clearly expressed in this technological interdependence. Despite the current tendency to create increasingly autonomous systems, it is still possible to hit an element by putting the whole network out of use with a cascade effect.
With this action we want to launch an invitation to hit the telecommunications networks as an act of solidarity for the anarchist prisoners Paska, Ghespe and Giova, still in prison. (more…)
Tags: Arson, Atacado, International Solidarity, Italy, Operation Panic, Rome, Sabotage, Solidarity Action
Posted in Direct Action
Wednesday, October 10th, 2018
On the night of Wednesday to Thursday, October 4th, a car belonging to Bouygues was torched on rue Laurier in the 17th arrondissement of Paris. Bouygues is well known for their involvement in prison construction.
We are sending these smoke signals to Krem, the last one to face charges for the burnt cop car case, to be incarcerated and subjected to the prison administration. Do not forget about him!
May this small incendiary gesture give strength and courage to the anarchists tortured and imprisoned in Russia, as well as the Basel 18 who will go to trial at the end of October for a wild and vicious stroll one evening in June 2016.

Freedom for all!!

Source

Tags: Arson, Bouygues, France, Krem, Paris, Sabotage, Solidarity Action
Posted in Direct Action
Wednesday, September 5th, 2018
On August 30th, 2018, a group of comrades took the street in front of the transition house of the president-elect of Mexico, Andrés Manuel López Obrador. There, they briefly blocked traffic and showered the police, media and bystanders with flyers denouncing the judicial corruption and state repression being carried out against community members of Eloxochitlán de Flores Magón, Oaxaca. The banner blocking the highway read: Freedom to the Prisoners of Eloxochitlán de Flores Magón—Week of Solidarity with Anarchist Prisoners.
This action kicks off a series of events planned in the lead up to anarchist prisoner Miguel Peralta's final court date on September 28th, 2018. We encourage you all to remain attentive to upcoming events and actions.
Free all prisoners! Down with the Prison Walls!
Communique:
Eloxochitlán de Flores Magón is a municipality located in the Sierra Mazateca in the state of Oaxaca. The majority of the inhabitants speak Mazateco and the municipality is registered beneath the Internal Normative System, or Uses and Customs of Indigenous communities. (more…)
Tags: Demo, Eloxochitlán de Flores Magón, International Week for Anarchist Prisoners, Mexico, Oaxaca, Solidarity Action
Posted in Prison Struggle
Tuesday, September 4th, 2018
On Sunday, 2/9/18, banners from prisoners in Larissa were hung in A Wing. The banners were in solidarity with striking prisoners in the US, the banner reads "SOLIDARITY TO ALL US STRIKING PRISONERS – UNTIL THE DESTRUCTION OF ALL PRISONS"
Outside of the prison, 15 comrades were present, they called out slogans and had a little contact with the comrades who put the banner.
Tags: Banner drop, Greece, International Solidarity, Larissa, Prison Labour Strike, Solidarity Action, USA
Posted in Prison Struggle
Sunday, September 2nd, 2018
With this we take responsibility for the incendiary device we placed in front of the building of the German Society for Foreign Politics (DGAP) in Drake-/Rauchstraße (Tiergarten) in the night of 21.8.18.
13 litres of a petrol-oil-mixture shall be the beginning of putting an end to the undisturbed and fearless existence of the DGAP as a political advisor of the German war society.
Since the beginning of this year increased attacks against the war industry, their profiteers and financiers take and took place over all the German controlled territory. We join these attacks and let the fire speak from our side. War starts here! War on the war!
War starts here, in the halls of politics. War starts everywhere, where people throw away their empathy, to profit from the globalized misery. In the war-industry, the thinktanks of science, in the faceless administration of bureaucracy, in the form of uniformed slaves, who receive and obey orders in rank and file. War starts between human beings, when concurrence and aspiration to power reigns over solidarity and the free development of the individual.
German Security – Profit through war
Through the choice of the DGAP as the target of our incendiary device we declare the ideological architects of German-European hegemonic politics, the scientists and forerunners of a security paradigm which works with as well as alongside of warmongers and in this way are our enemies. What they declare about security is not ours. Their foreign policy is a policy of order. And their order needs tanks against uprisings and frigates against inflatable dinghies, it builds fences against the suppressed and works continuously to extend their ongoing misery. (more…)
Tags: Arson, Berlin, G20, Germany, International Solidarity, Kurdish Struggle, Rojava, Sabotage, Solidarity Action
Posted in Direct Action
Tuesday, July 24th, 2018
21.07.18: During the early morning hours of July 20th, we attacked the police station on Ulmen street in Rostock with fireworks.
This was in response to the completely unnecessary raids on the homes of our comrades in Greifswald. On Thursday morning, a total of 100 cops were used to search houses and apartments. This was obviously meant to send a clear message to those of us who are committed to the struggle for a better society and countering the shift to the right in society as a whole. Of course the police operation was immediately celebrated by the AfD.*
But in these times of right-wing and authoritarian mobilizations, they give us something to oppose, because the cops are always in opposition to our ideas for a liberated society.

No peace with the police! ACAB
*Translation note: Far-right political party Alternative für Deutschland / Alternative for Germany
Tags: Germany, Rostock, Solidarity Action
Posted in Direct Action
Thursday, July 5th, 2018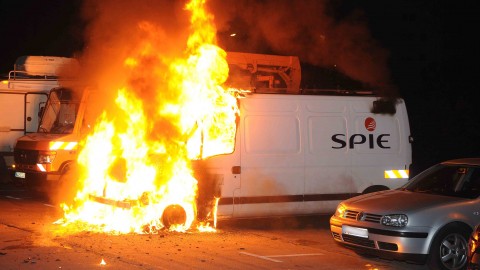 05.07.18: The wave of exuberant hatred for the arbitrariness of uniformed individuals spills once more across the borders of France to us. For the last two nights in Nantes, hundreds of teenagers have destroyed shops, set fire to cars and attacked the CRS (Compagnies Républicaines de Sécurité / general reserve of the French National Police) with Molotovs.
Aboubakar was executed on Tuesday night in a suburb of Nantes in his car by a police officer after he was placed under arrest during a vehicle inspection…
The police spread their version that they were in danger and it was in self-defense. It is obvious that the 'legitimacy' of the murder that they make public is found only in the self-created legitimacy of the police apparatus. Since we refuse to recognize that law, there can never be legitimacy for execution by a cop. (more…)
Tags: ABC Berlin, Arson, Germany, Nantes, Solidarity Action, SPIE (Prison Industry)
Posted in Direct Action
Tuesday, July 3rd, 2018
Unknown persons destroyed the windows of the Russian visacenter in Kanalstr. 14a, Hamburg, the night of the 22.06. Also "FUCK FIFA!", "FIGHT REPRESSION!" and"(A)" was spraypainted to the facade.
Since autumn 2017 there happen repressive attacks against anarchists in different Russian cities, in Belarus and on Krim. With torture, intimidation, blackmail and imprisonment they are targeted. At the same time the football worldcup is one of the biggest spectacles of power that is happening in Russia. The rich can enrich themself even more and behind the cameras, all this, as with the Olympic games or summit-meetings, can be used to develop repression and control against maginalised, poor and unwanted social groups and to develop aggressive gentrification.

Freedom and solidarity don't need Visa!
Tags: FIFA, Germany, Russia, Sabotage, Solidarity Action
Posted in Direct Action
Tuesday, November 14th, 2017
Flensburg, November 10, 2017
On the night of 10.11.2017, a patrol car at Harrislee police station (Flensburg area) was torched. Solidarity with the prisoners from the G20 processes that began on calendar week 45. Freedom for Fabio, Christian and all other comrades affected by repression! Freedom for all political prisoners, you are not forgotten!
via Chronik, Insurrection News.
*Translation note: This action was originally posted on Indymedia in Germany but was removed due to censorship.
Tags: Arson, Fuck the Police, G20, Germany, Schleswig-Holstein, Solidarity Action
Posted in Direct Action
Saturday, November 4th, 2017
Last weekend, we have put up an solidarity graffiti of eighty meters long opposite the police headquarters and training center of The Hague, the Netherlands with the text: Burn all prisons.
The graffiti is in solidarity with Lisa and Peike who are both in German prisons. Lisa is imprisoned for seven and a half years because of a conviction on suspicion of bank robbery. Peike has been sentenced for two years and seven months because of protests against the G20 summit in Hamburg.
We want them free! Freedom for Lisa and Peike and all anarchist prisoners! Burn all prisons!

Anarchist Damage Squad
Tags: Den Haag, G20, Graff, Netherlands, Solidarity Action
Posted in Direct Action
Saturday, September 30th, 2017
Action in support of the comrades raided in Bure.
In response to the searches in Bure, EDF (French nuclear electric power company, largely owned by the French state) was heated up. An EDF car was set on fire during the night of Friday, September 22 outside the EDF center near the DGSI (General Directorate for Internal Security) and the Chamber of Agriculture.
At the scene one could read: STOP THE SEARCHES IN BURE! Solidarity with the struggle in Bure, and the comrades who are undergoing repression. HANDS OFF BURE!
To be continued…

via Attaque, translated by Insurrection News
Tags: Anti-Nuclear, Arson, Bure, EDF Energy, Solidarity Action
Posted in Direct Action
Monday, September 25th, 2017
On September 23, a group of Kiev anarchists held a picket outside the Belarusian embassy in solidarity with the anarchist prisoners. Activists unfurled a banner that said "DEATH TO THE DICTATOR!" and hung an effigy of Lukashenko on the fence of the embassy. At the moment, the Belarusian regime is holding anarchist comrades Dimitry Polienko and Kirill Alekseev in their dungeons.
We demand the release of all Belarusian political prisoners and express solidarity with their struggle for freedom against the dictatorial regime of Lukashenko. The death of the dictator is the only thing that will give the Belarusian people the opportunity to breathe freely.
Recently we have learned that the diplomats have already protested in connection with our last action. Anarchists will continue to carry out solidarity actions at the Belarusian embassy and violate the tranquility of the diplomatic corps, as long as there are political prisoners in the prisons of Belarus.

via Redvia, translated by Insurrection News
Tags: Belarus, Demo, Dictatorship, Dimitry Polienko, International Solidarity, Kiev, Kirill Alekseev, Solidarity Action, Ukraine
Posted in Direct Action
Monday, September 18th, 2017
Hello everybody, friends and comrades. Everybody knows the politics in Turkey some more than others. I want to try to tell you, to help you understand about the situation in Turkey and I would like to ask for your attention and international solidarity in this matter. Turkey became a nation in 1923. Since this historical moment Turkey was caught in a history of facist military coups. In general they have been 8 fascist coups and related to that ten thousands of revolutionary communists and anarchists were killed. In the last military coup ın 1980 almost one million people were tortured and detaıned ın prısons.Now, after 22 years Recep Tayyip Erdoğan who describes himself as a Muslim, won the elections through manipulation and became the prime minister of Turkey. He has influenced the mind of most people in Turkey through elaborate promises and community schemes to ınfluence the mınds of the people. In the following elections he was elected again through further manipulation (different practices). He has begun to fight against the democratic powers in the society and put every critical voice in prison. (more…)
Tags: Athens, Greece, Hunger Strike, Nuriye Gülmen, Rosa de Foc Squat, Semih Özakça, Solidarity Action, Turkey
Posted in Prison Struggle