Posts Tagged 'Solidarity Action'
Wednesday, July 8th, 2015
SRB (Network of Revolutionary Cells communique: Police car torched in response to Operation Fenix
In the early hours of Saturday, July 4, 2015 we torched a police car outside the Praha-Bubny police station. This was in response to the police and state repression against anarchists. Since April 28, 2015 when the police launched 'Operation Fenix', four anarchists have been arrested and held in custody. Wild Heart Cell sends a message with this sabotage: We will not tolerate such violence by the state and we will fight against it!
With the launch of 'Operation Fenix' cops have declared war against the anarchist movement. They thought they could scare us into giving up. They have made a mistake, we will never give up. We are moving into counterattack.
They want to suffocate the resistance but they only add more fuel to the fire.
Wild Heart Cell – Network of Revolutionary Cells (SRB)
–
SRB (Network of Revolutionary Cells) Communique: Police car torched in solidarity with Alešem Kočím
On Wednesday, July 1st, 2015, a police car was set on fire in Prague. It occurred on the outskirts of the park near the Srašnická metro station. As part of the ongoing struggle an SRB cell attacked the police car to send a fiery greeting to Alešem Kočím. For his anarchist beliefs in class warfare, Alešem fell into the hands of the state. On the 28th April, 2015 he was detained by the police during 'Operation Fenix' and was subsequently charged with possession of illegal weapons. He now sits in custody as a prisoner of the state.
The state and it's institutions have a huge arsenal of weapons and have created a monopoly on their use. They constantly use them in order to keep the capitalist construct in motion – the network of exploitative and oppressive relations. Anarchists do not accept the state's monopoly on weapons. Anarchist praxis confronts the values the defend and reproduce state violence. State violence against anarchists builds insurgent violence.
Alešem Kočím is an anarchist who disrupted the state's monopoly on the use of weapons by being armed. SRB supports such a stance. While Alešem is in the hands of the enemy this limits his potential for future struggle but we do not intend to accept this situation. Incendiary words, fire, weapons and explosives – it's all part of our struggle. Revolutionary struggle against the violence perpetrated by the state to preserve the misery of capitalism. So far we have only used fire to ignite cars. Next time however will not be the same.

Fire Greeting Cell – Network of Revolutionary Cells (SRB)
via revolucnibunky & insurrectionnews.
Tags: Alešem Kočím, Arson, Czech Republic, Fire Greeting Cell - Network of Revolutionary Cells (SRB), Fuck the Police, Network Revolutionary Cells, Prague, Solidarity Action, Wild Heart Cell - Network of Revolutionary Cells (SRB)
Posted in Direct Action
Monday, July 6th, 2015
Inter Arma received:
Solidarity with greek anarchist fighters
Solidarity with black praxis
Referendum in Greece doesn't really matter. Revolutionary Struggle is keep going besides that referendum is state and capital tool of oppression. Honor to Conspiracy Cells of Fire Nuclei, Revolutionary Struggle, Combative Anarchy / FAI-IRF, International Revolutionary Front, Prison Cells, Federation Informal Anarchista and to all Solidarity Acts.
Say you want an insurrection.
Kielce 06/07/2015
Tags: Banner drop, Black International of Anarchists of Praxis, Combative Anarchy - FAI/IRF, Conspiracy of Cells of Fire, Conspiracy of Cells of Fire : Imprisoned Members Cell, Informal Anarchist Federation (FAI), International Revolutionary Front, International Solidarity, Kielce, Poland, Revolutionary Struggle, Solidarity Action
Posted in Prison Struggle
Tuesday, June 30th, 2015
Combative Anarchy / FAI – IRF takes responsibility for the incendiary attack against SYRIZA offices in Kypseli. We torched the offices of these politicians opportunists as a first response to the rejection of the educational leave of our comrade Nikos Romanos and the vindictive extension of the hostage situation of the wife of the comrade of the Conspiracy of Cells of Fire, Gerasimos Tsakalos. The world of authority is here. In the hands of immigrants marked with numbers, in the summits of economists, the incessant propaganda of journalists, the ministries of the "left governance", in courts, police stations, the villas of the rich. Anarchist insurrection does not aim to reform capitalism, nor stops the action depending on the political administrator of the machines of death and exploitation. The dawn of our time will come upon the ruins of capitalist society. Until then, the only thing left to us is the continuous and uncompromising anarchist struggle.
STRENGTH TO THOSE WHO ARM THEIR NEGATIONS! STRENGTH TO ALL ANARCHIST PRISONERS!
PS) During the hunger strike of the imprisoned comrades in Chile, we torched a diplomatic vehicle in Ano Pefki, wanting to heat their hearts with the fire of anarchist solidarity. Get well comrades.

Combative Anarchy / FAI – IRF
–

From InterArma.
Tags: Arson, Athens, Combative Anarchy - FAI/IRF, Conspiracy of Cells of Fire : Imprisoned Members Cell, Gerasimos Tsakalos, Greece, Informal Anarchist Federation (FAI), International Revolutionary Front, Nikos Romanos, Solidarity Action, SY.RIZ.A.
Posted in Direct Action
Saturday, June 27th, 2015
325 receives and transmits:
"this is just to say that back on the [winter] solstice of 2013, i lit a newspaper stand on fire in solidarity with the rota flora squat being attacked by the fascist pig-state. i approached by bicycle and used a lighter to start the fire right at the front corner of the front lawn of the ohio state house (broad and high) in columbusx ohio united disney states of north american continent landia. i made sure to leave the lighter in the flaming shit-newspapers so it would make a minor explosion of the rage i felt as i rode furiously away on my bicycle. i did get caught and fought with everything to show those fucks a terrible time. it ended with 2 days in jail after a forced tranquilization shot in the ass surrounded by neo-nazi pigs (about 6 white officers) in the back of a paddywagon. i woke up in jail with a huge black eye but after kick-ass legal defense, i served a year non-reporting-probation for 'criminal mischief'. i am pleased to see this link http://rt.com/news/hamburg-rote-flora-clashes-635/ at what happened the day i was released! solidaridad in full-hearted rage and love for free safe spaces – when they bring shields we show them fire; when they bring riot-cops, we bring the r][I][ot!"
Tags: Arson, Columbus, Eviction, Hamburg, Ohio, Rote Flora, Solidarity Action, USA
Posted in Direct Action
Monday, April 20th, 2015
Agitación y presencia callejera siempre necesaria en la lucha anti-autoritaria, realizada con más fuerza como respuesta al llamado de nuestrxs compañerxs en prisión.
Las pancartas dicen:
* El Estado,sus chantajes y el encierro de nuestrxs cercanxs no detendrá la lucha por la libertad. Solidaridad con la huelga de hambre de Nataly Juan y Guillermo.
*Que ningùn individux someta a otrx. A destruir las càrcels y todaformade autoridad. Por la liberación total. (more…)
Tags: Chile, Hunger Strike, Solidarity Action
Posted in Prison Struggle
Sunday, April 19th, 2015
(13/04/2015)
Inter Arma received and translated:
On the evening of the Easter day, 12 to 13 of April, we attacked using 3 incendiary devices with time delay, aiming to destroy the building's entrance and 3 vehicles (1 truck and 2 vans) belonging to a poultry company in Agios Pavlos Str. in Peristeri, as an action of solidarity with the imprisoned hunger strikers in Greek prisons.
Strength to all those who continue, to the imprisoned members of Conspiracy of Cells of Fire and those who are recovering, having stood with dignity and consistency against the state and in this specific timing, against the left administrators and exponents of authority – who (and this is clear for all those who don't connive) since the first day they gripped the governmental seats have made their intentions clear, with highlight, so far, the tactical administration of the hunger strike and the eviction of the occupied University's of Athens deanery.
IMMEDIATE satisfaction of the hunger strikers' demands:
Abolition of paragraphs 187 and 187A of the counter-terrorist law
Abolition of the hood-law
Abolition of type C prisons
Immediate release of the heavily handicapped Savvas Ksiros
Restriction of DNA use
We chose this specific target as we believe that practical opposition to the non-human animals commercialization industry cannot be excluded from the fight against the state, the capital and every kind of authoritarian superstructure. The practice of detention is the same, equally rejectable whether it has to do with human prisons – "correctional institutions", concentration camps or if it concerns structures of the meat and animal products industry .
The timing of our attack was no coincidence. It was a moment while the human-mass was still sunk in sloth, having done the previous days their bit towards the Church and the holy ghosts that haunt and define their very existence. Every temple of society, physical or mental, every mold, every stereotype, every habit that reproduces, feeds or just reflects the numerous faces of power, is worth nothing more than being crushed.
Such a habit is the meat eating which has been established the exact same way that the practice of nature looting is established as "normal", as we notice it taking place in Skouries, Chalkidiki, Italy (NO-TAV) and every place in the world.
Through this action of ours we respond to the call of Chilean comrades, whose actions have given us smiles so many times. Strength to Nataly Casanova, Juan Flores and Guillermo Durán, who are on hunger strike since April 14th.
At the same time, we are sending our own signal of solidarity and complicity to all those charged, imprisoned and suffering repression, having found themselves on the attack lines of ELF and ALF.
We're sending out a call to every rebelling individual, every affinity group, every direct action cell, in order to intensify the attacks on all fronts, in any way they think suitable, by all means available.
Synapses of Ignition for the polymorphous anarchist struggle – ELF
Tags: ALF, Arson, Athens, Conspiracy of Cells of Fire, Earth Liberation Front, ELF, Greece, Hunger Strike, International Solidarity, Solidarity Action, SY.RIZ.A., Synapses of Ignition for the polymorphous anarchist struggle – ELF
Posted in Direct Action
Sunday, April 5th, 2015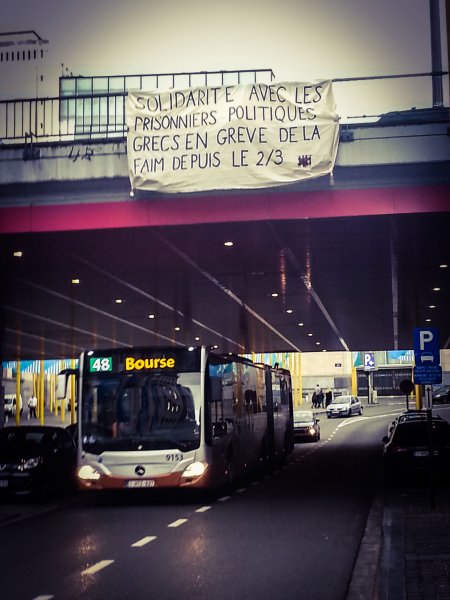 Bruxelles, Rue du Lombard, 4 avril 2015.
RHI
Tags: Banner drop, Belgium, Brussels, Greece, Hunger Strike, Solidarity Action
Posted in Prison Struggle
Friday, April 3rd, 2015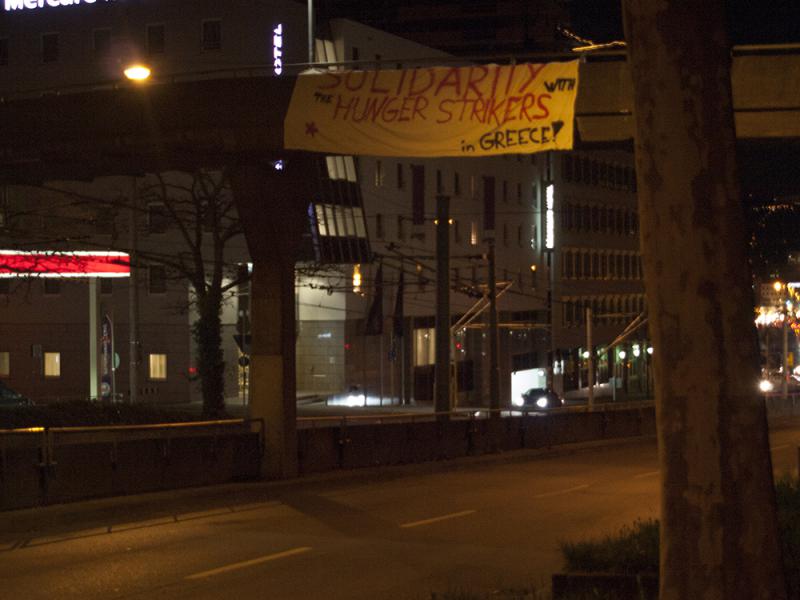 Solidarity banner for international action day for prisoners on hunger strike in Greek prisons. Immediate victory for the demands of the prisoners now.
Tags: Banner drop, Germany, Hunger Strike, Solidarity Action, Stuttgart
Posted in Prison Struggle
Thursday, April 2nd, 2015
Poland, Torun: "Solidarity with anarchist fighters who are on hunger strike in Greek prisons from 2.3 – Fire to the prisons!"
Tags: Banner drop, Conspiracy of Cells of Fire, Hunger Strike, Poland, Solidarity Action, Torun
Posted in Direct Action
Thursday, April 2nd, 2015
In spontaneous response to the call from the Network of imprisoned social fighters we have performed a symbolic solidarity action – which took the shape of devastating the facade of the Greek embassy in Warsaw, Poland, on the morning of April 1st. Symbolic, because real solidarity is shown in everyday struggle against our enemies. Reputation of the Greek State is already stained so only facades were clean.
Revolutionary greetings from Warsaw!
Freedom to CCF relatives, and all prisoners in the world!
Two Anarchists
Tags: Conspiracy of Cells of Fire, Hunger Strike, Network of Fighting Prisoners (NFP), Paint attack, Paint bombs, Poland, Sabotage, Solidarity Action, Warsaw
Posted in Direct Action
Wednesday, April 1st, 2015
28/03/2015
I. On the 02/03 a fight against modern anti-terrorist policy begins in prisons, a policy reflected in a series of repressive laws that confirm that there is a war between the world of authority and the world of struggle.
Anarchists and communists prisoners, from Greece and Turkey, with their bodies as weapons, are on a hunger strike, having as common demands the following:
– The abolition of C type prisons
– The abolition of paragraphs 187 and 187A (anti-terrorist law)
– The abolition of the law that considers it a statutory offense when a crime is committed while a person's characteristics are hidden
– The delimited usage of DNA as evidence
– The release of Savvas Ksiros
Meanwhile, the imprisoned members of CCF are also on a hunger strike, as well as Anggeliki Spyropoulou, demanding the release of Gerasimos' and Christos' Tsakalos relatives.
II. For the first time such an important situation has occurred, a situation which due to its overall characteristics and demands does not only contain the imprisoned fighters, but a big part of society, too. This specific situation, also due to the change of government, leaves us no room for complacency and makes distinct the necessity to raise mounds against the dominion of the state and capital and defend our communities. We have no illusions, we are not moved by their leftist rhetoric. Because the whips may have changed hands, they, however, leave the same marks on the repressed ones' backs. We do not forget the recent invasions in fighters' houses, the suicide committed by a detained Pakistani in the dungeons of their prisons, the vengeful imprisonments of the relatives of CCF's members, the provocative statements made by the deputy minister of Citizen Protection Panousis. There are yet much more to see…
III. After many days of hunger strike the comrades have started being transferred to hospitals, where in some specific cases, the care being offered by the staff bears no resemblance with the medical care a hunger striker should have. The same applies to Fivos Charisis' case, in which we saw that arrogance has no limits when the director of the pathological clinic of Tzaneio Hospital, Stelios Drimis, with excess pride, was willing to sign the comrade's return to prison, putting the responsibility on him, as Foivos would not accept to be receive serum. This incident is not an isolated case, but, as we have seen in previous hunger strikes as well, it completes the picture of full of EKAM and EOM (special police units) hospitals, with the strikers being denied visiting and correspondence, doctors collaborating with the police, doctors testing the endurance of hunger strikers by bringing them food and treating them disparagingly, playing the role of torturer much better than the one of the doctor. This scum is one of the above cases. We cannot overlook that part of the medical community which stands to the occasion helping by every means, understanding the seriousness of such a struggle.
IV. On Saturday night of the 28th of March, we visited Stelios Drimis' house in Nea Smyrni and placed an incendiary device (of low force) at the entrance. This action is a clear message to every potential torturer that nothing shall be done without consequences, nothing shall remain unanswered.

VICTORY TO THE STRUGGLE OF THE IMPRISONED HUNGER STRIKERS
PARTICIPATION – CONSISTENCY – CONTINUITY
ALL FOR ALL
Arsonists' Cell "Night Response"
———
Translated by Inter Arma
Tags: Arson, Arsonists' Cell "Night Response", Athens, Greece, Hunger Strike, Solidarity Action, Stylianos Drimis
Posted in Direct Action
Monday, March 30th, 2015
Today at 1pm in Cardiff city centre we held a demonstration in solidarity with the hunger striking members of CCF and their friends and families. We handed out flyers explaining their situation and demands while shouting chants in English and Greek. After the demonstration we hung a banner in the city and scattered flyers from the roof. Strength and complicity to CCF and their friends and relatives.

Long live anarchy!
*we will send pics soon.
Tags: Cardiff, Conspiracy of Cells of Fire : Imprisoned Members Cell, Demo, Greece, Hunger Strike, Solidarity Action, UK, Wales
Posted in Direct Action
Saturday, March 28th, 2015
Todo en las ciudades esta diseñado para promover y perpetuar el constante flujo de mercancía, humana y de la otra. Millones de pesos se invierten en remodelaciones de estaciones de trenes e inauguraciones de otras, en construcción y mantenimiento de rutas, en mecanismos tecnológicos de control y represión, en recursos para lxs sirvientes armadxs al servicio del poder. Pensando en esto es que el día de hoy
buscamos sabotear aunque sea por un instante el normal funcionamiento de los engranajes que sostienen la estructura de dominación, atacando el tramo que une las vías de Floresta con Villa Luro mediante un artefacto incendiario/explosivo.
No entraremos en el juego de que con estas acciones perjudicamos solo a lxs trabajadorxs. Hoy lo importante fue romper la normalidad asfixiante aprobada por la inmensa mayoría de la sociedad policial.
¡En directa solidaridad y complicidad con nuestrxs hermanxs de la Conspiración de las Células del Fuego que se encuentran en huelga de hambre en las prisiones griegas desde el 2 de marzo pasado, exigiendo la inmediata liberación de su entorno mas próximo! Se hace urgente accionar pues el estado de nuestrxs compañerxs es grave, prueba suficiente es que 6 de ellxs se encuentran en el hospital. ¡Solidaridad con Angeliki y con lxs demás huelguistas!
¡Fuerza a lxs compañerxs de Chile en este nuevo aniversario del Día del Joven Combatiente. Extendamos los disturbios por todas partes!
Concretemos las venganzas de lxs muertxs, presxs y torturadxs por luchar contra el putrefacto estado Argentino…
Circulo del Fuego
Tags: Aggeliki Spyropoulou, Argentina, Buenos Aires, Conspiracy of Cells of Fire, International Solidarity, Sabotage, Solidarity Action
Posted in Direct Action
Thursday, March 26th, 2015
An evening event was organized on Monday, March 16 in Brussels by the "Initiative for solidarity with the Greece that resists" with the presence of a Greek politician (not the Syriza MP as announced but Epaminondas Marias, from the rightist party of the "Independent Greeks" – ANEL). Members of Secours Rouge/Red Aid intervened by speaking out, with leaflet distribution and deployment of a support banner for the demands of the Greek political prisoners on hunger strike (abolition of special repression laws, isolation prisons (Type C) and the release of Savvas Xiros, member of 17 November).
http://www.secoursrouge.org/IMG/pdf/tract_grece.pdf
Tags: ANEL, Belgium, Brussels, Greece, Hunger Strike, International Solidarity, Savvas Xiros, Solidarity Action, SY.RIZ.A., Type C prisons
Posted in Direct Action
Thursday, March 26th, 2015
Night of propaganda and agitation for a new March 29 ("Day of the young combatant") and with messages of militant solidarity with our comrades in struggle within the prisons.
From the dignity of companero Juan Flores who was hit by prison-guards a few days ago in Chile, to the hunger strikes carried out by comrades of CCF and other comrades in Greece, to Jose Antunez and Javier Guerrero in Spain, through to the agitation and punishment in prisons in Italy against anarchist prisoners, our actions spread one international language: MEMORY, SOLIDARITY AND FIGHTING POWER.

No prison can stop the struggle for total liberation !!!

(more…)
Tags: Action, Chile, International Solidarity, Santiago, Solidarity Action
Posted in Direct Action