Posts Tagged 'Solidarity Action'
Sunday, April 19th, 2015
(13/04/2015)
Inter Arma received and translated:
On the evening of the Easter day, 12 to 13 of April, we attacked using 3 incendiary devices with time delay, aiming to destroy the building's entrance and 3 vehicles (1 truck and 2 vans) belonging to a poultry company in Agios Pavlos Str. in Peristeri, as an action of solidarity with the imprisoned hunger strikers in Greek prisons.
Strength to all those who continue, to the imprisoned members of Conspiracy of Cells of Fire and those who are recovering, having stood with dignity and consistency against the state and in this specific timing, against the left administrators and exponents of authority – who (and this is clear for all those who don't connive) since the first day they gripped the governmental seats have made their intentions clear, with highlight, so far, the tactical administration of the hunger strike and the eviction of the occupied University's of Athens deanery.
IMMEDIATE satisfaction of the hunger strikers' demands:
Abolition of paragraphs 187 and 187A of the counter-terrorist law
Abolition of the hood-law
Abolition of type C prisons
Immediate release of the heavily handicapped Savvas Ksiros
Restriction of DNA use
We chose this specific target as we believe that practical opposition to the non-human animals commercialization industry cannot be excluded from the fight against the state, the capital and every kind of authoritarian superstructure. The practice of detention is the same, equally rejectable whether it has to do with human prisons – "correctional institutions", concentration camps or if it concerns structures of the meat and animal products industry .
The timing of our attack was no coincidence. It was a moment while the human-mass was still sunk in sloth, having done the previous days their bit towards the Church and the holy ghosts that haunt and define their very existence. Every temple of society, physical or mental, every mold, every stereotype, every habit that reproduces, feeds or just reflects the numerous faces of power, is worth nothing more than being crushed.
Such a habit is the meat eating which has been established the exact same way that the practice of nature looting is established as "normal", as we notice it taking place in Skouries, Chalkidiki, Italy (NO-TAV) and every place in the world.
Through this action of ours we respond to the call of Chilean comrades, whose actions have given us smiles so many times. Strength to Nataly Casanova, Juan Flores and Guillermo Durán, who are on hunger strike since April 14th.
At the same time, we are sending our own signal of solidarity and complicity to all those charged, imprisoned and suffering repression, having found themselves on the attack lines of ELF and ALF.
We're sending out a call to every rebelling individual, every affinity group, every direct action cell, in order to intensify the attacks on all fronts, in any way they think suitable, by all means available.
Synapses of Ignition for the polymorphous anarchist struggle – ELF
Tags: ALF, Arson, Athens, Conspiracy of Cells of Fire, Earth Liberation Front, ELF, Greece, Hunger Strike, International Solidarity, Solidarity Action, SY.RIZ.A., Synapses of Ignition for the polymorphous anarchist struggle – ELF
Posted in Direct Action
Sunday, April 5th, 2015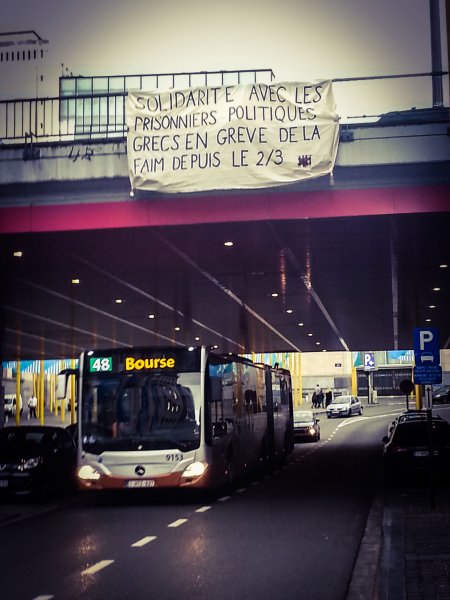 Bruxelles, Rue du Lombard, 4 avril 2015.
RHI
Tags: Banner drop, Belgium, Brussels, Greece, Hunger Strike, Solidarity Action
Posted in Prison Struggle
Friday, April 3rd, 2015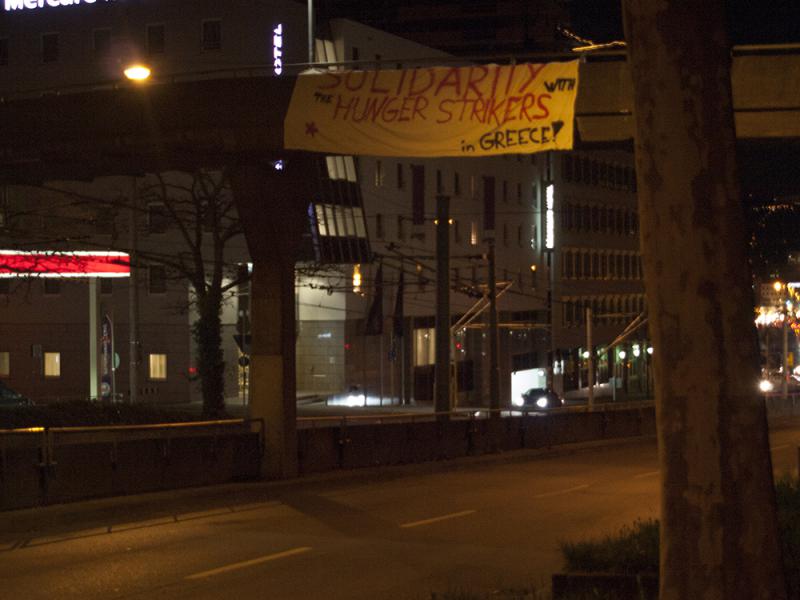 Solidarity banner for international action day for prisoners on hunger strike in Greek prisons. Immediate victory for the demands of the prisoners now.
Tags: Banner drop, Germany, Hunger Strike, Solidarity Action, Stuttgart
Posted in Prison Struggle
Thursday, April 2nd, 2015
Poland, Torun: "Solidarity with anarchist fighters who are on hunger strike in Greek prisons from 2.3 – Fire to the prisons!"
Tags: Banner drop, Conspiracy of Cells of Fire, Hunger Strike, Poland, Solidarity Action, Torun
Posted in Direct Action
Thursday, April 2nd, 2015
In spontaneous response to the call from the Network of imprisoned social fighters we have performed a symbolic solidarity action – which took the shape of devastating the facade of the Greek embassy in Warsaw, Poland, on the morning of April 1st. Symbolic, because real solidarity is shown in everyday struggle against our enemies. Reputation of the Greek State is already stained so only facades were clean.
Revolutionary greetings from Warsaw!
Freedom to CCF relatives, and all prisoners in the world!
Two Anarchists
Tags: Conspiracy of Cells of Fire, Hunger Strike, Network of Fighting Prisoners (NFP), Paint attack, Paint bombs, Poland, Sabotage, Solidarity Action, Warsaw
Posted in Direct Action
Wednesday, April 1st, 2015
28/03/2015
I. On the 02/03 a fight against modern anti-terrorist policy begins in prisons, a policy reflected in a series of repressive laws that confirm that there is a war between the world of authority and the world of struggle.
Anarchists and communists prisoners, from Greece and Turkey, with their bodies as weapons, are on a hunger strike, having as common demands the following:
– The abolition of C type prisons
– The abolition of paragraphs 187 and 187A (anti-terrorist law)
– The abolition of the law that considers it a statutory offense when a crime is committed while a person's characteristics are hidden
– The delimited usage of DNA as evidence
– The release of Savvas Ksiros
Meanwhile, the imprisoned members of CCF are also on a hunger strike, as well as Anggeliki Spyropoulou, demanding the release of Gerasimos' and Christos' Tsakalos relatives.
II. For the first time such an important situation has occurred, a situation which due to its overall characteristics and demands does not only contain the imprisoned fighters, but a big part of society, too. This specific situation, also due to the change of government, leaves us no room for complacency and makes distinct the necessity to raise mounds against the dominion of the state and capital and defend our communities. We have no illusions, we are not moved by their leftist rhetoric. Because the whips may have changed hands, they, however, leave the same marks on the repressed ones' backs. We do not forget the recent invasions in fighters' houses, the suicide committed by a detained Pakistani in the dungeons of their prisons, the vengeful imprisonments of the relatives of CCF's members, the provocative statements made by the deputy minister of Citizen Protection Panousis. There are yet much more to see…
III. After many days of hunger strike the comrades have started being transferred to hospitals, where in some specific cases, the care being offered by the staff bears no resemblance with the medical care a hunger striker should have. The same applies to Fivos Charisis' case, in which we saw that arrogance has no limits when the director of the pathological clinic of Tzaneio Hospital, Stelios Drimis, with excess pride, was willing to sign the comrade's return to prison, putting the responsibility on him, as Foivos would not accept to be receive serum. This incident is not an isolated case, but, as we have seen in previous hunger strikes as well, it completes the picture of full of EKAM and EOM (special police units) hospitals, with the strikers being denied visiting and correspondence, doctors collaborating with the police, doctors testing the endurance of hunger strikers by bringing them food and treating them disparagingly, playing the role of torturer much better than the one of the doctor. This scum is one of the above cases. We cannot overlook that part of the medical community which stands to the occasion helping by every means, understanding the seriousness of such a struggle.
IV. On Saturday night of the 28th of March, we visited Stelios Drimis' house in Nea Smyrni and placed an incendiary device (of low force) at the entrance. This action is a clear message to every potential torturer that nothing shall be done without consequences, nothing shall remain unanswered.

VICTORY TO THE STRUGGLE OF THE IMPRISONED HUNGER STRIKERS
PARTICIPATION – CONSISTENCY – CONTINUITY
ALL FOR ALL
Arsonists' Cell "Night Response"
———
Translated by Inter Arma
Tags: Arson, Arsonists' Cell "Night Response", Athens, Greece, Hunger Strike, Solidarity Action, Stylianos Drimis
Posted in Direct Action
Monday, March 30th, 2015
Today at 1pm in Cardiff city centre we held a demonstration in solidarity with the hunger striking members of CCF and their friends and families. We handed out flyers explaining their situation and demands while shouting chants in English and Greek. After the demonstration we hung a banner in the city and scattered flyers from the roof. Strength and complicity to CCF and their friends and relatives.

Long live anarchy!
*we will send pics soon.
Tags: Cardiff, Conspiracy of Cells of Fire : Imprisoned Members Cell, Demo, Greece, Hunger Strike, Solidarity Action, UK, Wales
Posted in Direct Action
Saturday, March 28th, 2015
Todo en las ciudades esta diseñado para promover y perpetuar el constante flujo de mercancía, humana y de la otra. Millones de pesos se invierten en remodelaciones de estaciones de trenes e inauguraciones de otras, en construcción y mantenimiento de rutas, en mecanismos tecnológicos de control y represión, en recursos para lxs sirvientes armadxs al servicio del poder. Pensando en esto es que el día de hoy
buscamos sabotear aunque sea por un instante el normal funcionamiento de los engranajes que sostienen la estructura de dominación, atacando el tramo que une las vías de Floresta con Villa Luro mediante un artefacto incendiario/explosivo.
No entraremos en el juego de que con estas acciones perjudicamos solo a lxs trabajadorxs. Hoy lo importante fue romper la normalidad asfixiante aprobada por la inmensa mayoría de la sociedad policial.
¡En directa solidaridad y complicidad con nuestrxs hermanxs de la Conspiración de las Células del Fuego que se encuentran en huelga de hambre en las prisiones griegas desde el 2 de marzo pasado, exigiendo la inmediata liberación de su entorno mas próximo! Se hace urgente accionar pues el estado de nuestrxs compañerxs es grave, prueba suficiente es que 6 de ellxs se encuentran en el hospital. ¡Solidaridad con Angeliki y con lxs demás huelguistas!
¡Fuerza a lxs compañerxs de Chile en este nuevo aniversario del Día del Joven Combatiente. Extendamos los disturbios por todas partes!
Concretemos las venganzas de lxs muertxs, presxs y torturadxs por luchar contra el putrefacto estado Argentino…
Circulo del Fuego
Tags: Aggeliki Spyropoulou, Argentina, Buenos Aires, Conspiracy of Cells of Fire, International Solidarity, Sabotage, Solidarity Action
Posted in Direct Action
Thursday, March 26th, 2015
An evening event was organized on Monday, March 16 in Brussels by the "Initiative for solidarity with the Greece that resists" with the presence of a Greek politician (not the Syriza MP as announced but Epaminondas Marias, from the rightist party of the "Independent Greeks" – ANEL). Members of Secours Rouge/Red Aid intervened by speaking out, with leaflet distribution and deployment of a support banner for the demands of the Greek political prisoners on hunger strike (abolition of special repression laws, isolation prisons (Type C) and the release of Savvas Xiros, member of 17 November).
http://www.secoursrouge.org/IMG/pdf/tract_grece.pdf
Tags: ANEL, Belgium, Brussels, Greece, Hunger Strike, International Solidarity, Savvas Xiros, Solidarity Action, SY.RIZ.A., Type C prisons
Posted in Direct Action
Thursday, March 26th, 2015
Night of propaganda and agitation for a new March 29 ("Day of the young combatant") and with messages of militant solidarity with our comrades in struggle within the prisons.
From the dignity of companero Juan Flores who was hit by prison-guards a few days ago in Chile, to the hunger strikes carried out by comrades of CCF and other comrades in Greece, to Jose Antunez and Javier Guerrero in Spain, through to the agitation and punishment in prisons in Italy against anarchist prisoners, our actions spread one international language: MEMORY, SOLIDARITY AND FIGHTING POWER.

No prison can stop the struggle for total liberation !!!

(more…)
Tags: Action, Chile, International Solidarity, Santiago, Solidarity Action
Posted in Direct Action
Tuesday, March 24th, 2015
Inter Arma received and translated:
While social democratic reserves of the regime try to flatter us and ecstatic besotted petty bourgeois voters are dancing sirtaki at Syntagma, during demonstrations in favor of the government (!), the wolves that escaped the hunt come down to the city with rage…
It goes without saying that no faction of authoritarian potty politicians would ever be able to satisfy our wild desires. You're talking about left government, we wish for the State to be destroyed. You're promising salary increases, reduced taxes, jobs, we want the elimination of money, commodity and labor. You're asking for "democratization of the security forces," we want the cops dead on asphalt. You're fighting for better conditions in the neighborhoods, but we want to just have fun on the flaming ruins of your cities. You do politics, we make war. Things are difficult dear perry politicians. You understand that there is a vast existential abyss bestacnedrug.com between us and there is not much room for dialogue.
So, it is no wonder that on Monday 23/3, at dawn, the official day of the "neighborhood cop" return, we chose to offer the office of the local organization of the governing party into the flames of negation, in Patisia.
We dedicate this attack to our brothers and sisters on hunger strike and we demand the immediate satisfaction of all of their demands, without implying that any of the enemy's concessions, on such particular demands, can silence our longing for the total destruction of your world and your emetic society:
– Immediate release of Savas Ksiros
– Immediate release of the Tsakalos' brothers' mother and Gerasimos' partner.
– Abolition of the counter-terrorist laws and the hood-law.
– Abolition of C' Type prisons.
– Abolition of the provisions relating to violent DNA taking.
– Free internet access for all the prisoners.
NO TRUCE – THE WAR CONTINUES

nihilistic patrol / neighborhood arsonists
Tags: Arson, Athens, Greece, Hunger Strike, Patisia, Solidarity Action, SY.RIZ.A., Type C prisons
Posted in Direct Action
Monday, March 23rd, 2015
The war drums sounded again through the unending darkness of prison, the war is constant, it never stopped. But it is the hour of the new attack. Women and men hold tight with passion the weapons of freedom and throw themselves into another battle.
The enemy is locked up in the towers and castles he watches.
Afraid. Afraid of that which he cannot understand. That which is unknown for him. He made new laws, rules, built new dungeons. He hunted witches, he tortured, intimidated, threatened, blackmailed, imprisoned, promised. In vain.
He is afraid. Afraid of those who move camouflaged around him. The uncaught accomplices. They take and give strength to his prisoners. They declare being his mortal enemies and seek his destruction.
Today at dawn, we blew up one of the 4 entrances-exits of the courts located at the centre of Heraklion.
This attack was symbolic.
In case of murder or cause of a permanent health problem to a hunger striker, the fire that burns inside us will turn the night into day.
This is not a threat. It is a promise.
Strength to the free prisoners.
FAI-IRF Heraclion Cell
———-
Translated by Inter Arma
Tags: FAI-IRF Heraclion Cell, Greece, Heraclion, Hunger Strike, Informal Anarchist Federation (FAI), International Revolutionary Front, Solidarity Action
Posted in Direct Action
Monday, March 23rd, 2015
Radio Kokkino (pro-syriza radio station) was occupied today by supporters of the hunger strikers. More updates as they come. . .
An excerpt from their communique: "We of the occupation of 'Kokkino 105.5' are taking things into our own hands and making counter-information a weapon! This action is a part of the polymorphous movement of solidarity with the imprisoned hunger strikers. For the victory of the hunger strikers! Destroy all prisons!"
Tags: Athens, Greece, Hunger Strike, Occupation, Radio Kokkino, Solidarity Action, SY.RIZ.A.
Posted in Direct Action
Monday, March 23rd, 2015
Inter Arma received:
Today in Kadıkoy, we marched in solidarity with prisoners in Greek prisons, who are in hunger strike since 2nd of March and who turn to death fast. During march, we chanted slogans: "Destroy Prisons, Free the Prisoners", "Wage Slavery System will end with anarchy", "Greetings to the comrades who are fighting and fallen", "Insurrection, Revolution, Anarchy". This action was finished in a peaceful way, but if something come over our comrades, we'll turn the streets to hell.

Long Live Anarchy!
Shadowlesses (Gölgesizler)
———
Source: Sosyal Savas
Tags: Demo, Hunger Strike, Istanbul, Solidarity Action, Turkey
Posted in Direct Action
Friday, March 20th, 2015
(Athens, 05-14/03/2015)
Inter Arma received and translated:
"The State terrorizes,
It slings mud, it fools, it besots, it pretends
Its omnipotence is now a myth
Our rage, it makes us stronger, its alienation doesn't touch us
The store windows of authority are smashed by us with stones
The chains of obedience are melted by us with the rebellious flame that burns inside every oppressed one
Our eyes are open
Our ears capture every sound
Our thinking is crystal
Our fury is unthinkable
Our choice is one: Violent, uncontrollable and constant struggle against state and authority
We are angry, we are rebellious,
WE ARE YOUR WORST NIGHTMARES"
After the disclosure of the escape plan of the Conspiracy of Cells of Fire from Korydallos prison, for which its members have claimed full responsibility, the counter-terrorism agency, exposed by the complete plan prepared by the imprisoned comrades, unleashed, with the full cooperation of the known snitches of the mass media of deception, a wild pogrom of arrests of their relatives and friends which resulted in the detention of the mother of Gerasimos and Christos Tsakalos and of the girlfriend of the first one, on charges of participation in a terrorist organization. The targeting of relatives and friends of imprisoned anarchists by the slimy judges and the motherfuckers of the counter-terrorism agency is not something new, as we have seen it repeatedly in the past, in cases such as the wife of Dimitris Koufodinas who was imprisoned in the underground isolation cells of Korydallos prison for participation in N17 [November 17, armed group] and the wife of Kostas Gournas, member of Revolutionary Struggle, who was put on trial for the case.
In this [present] case, the ridiculous accusations attributed to relatives of the Conspiracy, signed by the vile Nikopoulos and Asprogerakas (at the same time the latter one signed the prison releases of the members of the [neo-nazi party] Golden Dawn), display the vengeful fury of the repressive authorities against the unyielding and proud attitude of the imprisoned comrades, putting before them the emotional blackmail of the imprisonment of their loved ones. The comrades and anarchist Angeliki Spyropoulou in response to the vindictive detention of their relatives, are since March 2 on hunger strike until death demanding their immediate release. On the same day Maziotis, Koufodinas and Gournas and anarchist prisoners participating in NFP [Network of Fighting Prisoners] started a hunger strike against the counter-terrorism legislation, Type C prisons and demand the immediate release of Savvas Xiros [injured-disabled imprisoned member of N17]. Apart from the different starting points and theoretical perceptions we may have, we believe that the demands for which the anarchists hunger strikers struggle, concern everyone, so we support their struggle.
Through our action we want to send our strength and incendiary solidarity to the imprisoned brothers of the Conspiracy and to Aggeliki Spyropoulou. Brothers and sisters stay strong, our time will come. On March 5 we torched a vehicle in Messologiou street in Dafni owned by ISS company, which among others provides security services and has also undertaken the cleaning of the sterile spaces of mechanized movement of the Subway, and on March 14 we delivered a truck owned by VODAFONE company in Theocritus Street, in Nea Smyrni to the fire.
"Society is the mirror of the absurd part where I am locked up: a prison made by insuperable walls and invisible cells"
Adriano Antonacci
Social control is one of the main consolidation strategies of domination. Its practical applications respond to the historical circumstances that it has to face and they ensure their formal justification for "security reasons". The feeling of security is referred to as a social good, the common good, ceases to exist as a fundamental achievement of the social structure when it is challenged, when it cracks and the stake of social peace becomes fragile. The destabilization of the social fabric is expressed in the practical challenge, declared by the aggressive actions and the internal hostilities of the anarchist war which develop their own potential, expressing a direct threat to all kinds of authority. Their present and their diffusion are State policy priorities which are articulated basically on two main axes: 'risk prevention efforts' and an indefinite extension of the concept of the 'suspect'.
These two elements are the components of the modern repressive paradigm expressed significantly through the consolidation of a panopticon-like control system. Movements, behaviors, relationships, communication become an observation field from which the mechanisms of authority try to predict by mining information. The security cameras in every corner of the metropolis, targeted searches and area patrols by private security companies and the monitoring of telephone communications are indicative practices of a control policy displayed with the refined image of modernization. The interference in our private moments that aims at extracting and processing information in order to form a more complete profile about an individual, happens through technological progress and its practical applications which especially in recent years seems to grow and target towards that direction specifically. The repressive paradigm is the safety of authority. That's all it ever was and that's what it will continue to be.
"Today that the world is rotting and dishonesty and compromise humiliate even the bravest souls, only one tactic is practical and beneficial. To be unflinching."
Nikos Kazantzakis
Starting from the conclusion that the state and society are inherent elements of this aged civilization, no matter the face and facet they are presented through, being an enemy of individual freedom, we, from our side, welcome to the political foreground the leftist-statists of SYRIZA and the nationalists of ANEL promising to disturb their social peace in every opportunity and with all our strength.
As every herd need its shepherd, so does the majority, which sealed in the elections the perpetuation of its slavery, needs its savior. This time it chose to wait under the governmental table of SYRIZA's vendors of hope hoping to grab a pittance, waiting the social and economical advancement their Alexis had promised them before the elections. Promises given by SYRIZA were particularly attractive and alleviative for the masses, severely in the regard of the latest period of harsh state politics of the previous governments. Politics implemented by the capitalist states, regardless of ideological differences and colors, aims at the conservation of social peace and that's why they make sure the resentment and indignation of the masses are absorbed at the source. The digestible left rhetoric and its promises for moderation seemed to have convinced not only the chameleon voters but also a part of the anarchist milieu which rushed to support it, notarizing its flirt with the Left regime. Reality, however, confirms that hopes remain illusions. Humanitarian, reformist or refined authority means nothing more than the assignment of our lives' administration to others.
The same time that the mob celebrates along with SYRIZA for the so-called victories in the European negotiations, the same time the internal judgments in police [performance] take place while simultaneously a huge terror-show is being organized with invasions into anarchists' houses, abductions and arrests of people followed by the relevant TV cannibalism, presenting them as products for consumption in favor of society's TV tastes. It'd be best for the leadership and hangers on of the Ministries of Justice and Public Order to realize that we are not going to stay and watch our comrades and anarchist prisoners being derided. As long as authority exists there will always be rebellious individualities embodying the internal enemy.
"The most important thing, however, is to juxtapose ourselves against society. A behavior that will indicate that we are not going to surrender to society, nor centralize our activities around it, but that we will live by our own terms."
Feral Faun
We call every rebellious individuality, every anarchist of praxis to increase and escalate our attacks in solidarity with the hunger strikers.
STRENGTH TO THE PROUD MEMBERS OF CONSPIRACY OF CELLS OF FIRE
STRENGTH TO AGGELIKI SPYROPOULOU
STRENGTH TO ALL ANARCHISTS HUNGER STRIKERS – IMMEDIATE SATISFACTION OF ALL DEMANDS
STRENGTH TO ANARCHIST SPYROS MANDYLAS WHO IS ON A HUNGER STRIKE SINCE MARCH 14 DEMANDING HIS IMMEDIATE RELEASE
GREETINGS OF SOLIDARITY TO ALL ANARCHISTS IN THE LAND OF CAPTIVITY WORLDWIDE
ATTACK THE PRISON SOCIETY – DEATH TO THE CIVILIZATION OF EXPLOITATION
FOR CHAOS AND ANARCHY
Informal Anarchist Federation / International Revolutionary Front
Fire and Fury
P.S. To be continued
Tags: Aggeliki Spyropoulou, Arson, Athens, Car Burning, CCF Escape case, Christos Tsakalos, Conspiracy of Cells of Fire, Gerasimos Tsakalos, Greece, Informal Anarchist Federation (FAI), International Revolutionary Front, ISS Company, Korydallos Prison, Lambros Foundas, Solidarity Action, Spyros Mandylas, SY.RIZ.A., Vodafone
Posted in Direct Action