Posts Tagged 'Solidarity Event'
Tuesday, November 12th, 2019
We talk about the "political climate related to political prisoners in Greek prisons, the historical time-line of the solidarity fund, what we have done, what we are currently busy with and what our future steps will be"
Any income from the event will be given to the solidarity fund for the material support of prisoners and persecuted militants.
Tags: Berlin, Germany, Greece, International Solidarity, Solidarity Event, Tameio
Posted in Prison Struggle
Saturday, October 5th, 2019
Solidarity with the anarchists arrested for the "Renata" operation, accused of attacking the headquarters of State racism, the apparatus of technological control, the exploitation agencies, the armed banks, the servants in uniform of power.
If they are "innocent" they have all our solidarity.
If they are "guilty" they have even more.

Friday, October 18, 2019
9.00 am: Presence of solidarity inside and outside the court of Trento (largo Pigarelli) for the start of the trial.
6.00 pm: Solidarity gathering in Verdi street (in front of the Faculty of Sociology), in Trento.
Freedom for Agnese, Giulio, Stecco, Rupert, Sasha, Poza, Nico.
Terrorist is the State.
Tags: Demo, Italy, Operation Renata, Repression, Solidarity Event, Trial
Posted in Social Control
Saturday, June 1st, 2019
El domingo 19 de mayo, con amor y rabia dimos vida a la actividad "Memoria y Kontrakultura" conmemorando 10 años de la muerte en acción del Punki Mauri.
En esencia la Anarquía es anticarcelaria, por lo mismo generamos un espacio para difundir la movilización que está ocurriendo en las distintas cárceles del territorio contra la ley 321 que transforma la libertad condicional de un derecho a un beneficio penitenciario y además duplica el mínimo de tiempo en prisión necesario para poder optar a la condicional. (more…)
Tags: Chile, CSO Sacco and Vanzetti, Mauricio Morales, Santiago, Solidarity Event
Posted in Autonomy
Wednesday, May 15th, 2019
NOISE DEMO HMP PENTONVILLE
ACAB-FTP-YOLO
[8pm, 1 June 2019]
Bring mask, noise, banner, rage
No photos/filming
No talking to pigs
'Let's go into the streets together, to send up our rebel signal to those held hostage in the entrails of Fortress Britain. Let's go out into the night and make a dent, however brief, in the illusion of the authority of the courts, cells, judges, screws and cops who would separate and govern us, and pretend themselves our captors.'
Tags: ABC London, Demo, London, Solidarity Event, UK
Posted in Prison Struggle
Wednesday, May 15th, 2019
Hacia la Liberación Total… MEMORIA Y KONTRAKULTURA en recuerdo del compañero Mauricio Morales
Compañerxs lxs invitamos a hacerse parte de la jornada kontrakultural a realizarse el día 19 de mayo desde las 14 hrs en el Salón Multiuso de la Villa Francia, en memoria del compañero Mauricio Morales, el "Punki Mauri" a 10 años de su muerte en acción.
Habrá videos contrainformativos, información de compañerxs presxs, puestos de distintas bibliotecas antiautoritarias y material de propaganda anárquica, lxs invitamos a que lleven sus ferias.
NUESTRA MEMORIA ES NEGRA, NUESTRO CORAZÓN TAMBIÉN.
Tags: Chile, Mauricio Morales, Santiago, Solidarity Event
Posted in Autonomy
Tuesday, May 7th, 2019
21 de mayo. Hermosamente Violento.
Conversaciones, memoria y tensiones.
A 10 años de la muerte de Mauricio Morales.
21 de Mayo/16:00hrs. Av. Brasil #658. Santiago Centro.
Esta actividad se gesta con la intención de evaluar y tensionar lo que han sido estos 10 años de memoria y combate, ver en la amplitud de la lucha de varias generaciones de compañerxs las formas de recuerdo a
nuestrxs muertxs, las experiencias individuales y colectivas, las críticas y el balance en la memoria que hemos ido generando entre todxs, como también las distintas formas del como ver y/o formar una "comunidad
de lucha" y sus proyecciones.
Durante la jornada habrá comida en solidaridad con lxs compañerxs en prisión, música para amenizar, además del lanzamiento de la revista "Hermosamente Violento", pero sobre todo buscamos que sea un espacio para conversar, evaluar y proyectar entre todxs.
¡Por un Mayo negro!
¡Nuestra memoria es negra, nuestro corazón también!
Tags: Chile, Mauricio Morales, Santiago, Solidarity Event
Posted in Autonomy
Sunday, April 28th, 2019
Compañerxs, lxs invitamos a hacerse parte de la Feria por la Memoria Anticarcelaria en recuerdo de Mauricio Morales y los 81 presos asesinados por el Estado, el próximo domingo 5 de mayo, desde las 16 hrs, frente a la cárcel de San Miguel. (more…)
Tags: Anarchist Gathering, Chile, CSO Sacco and Vanzetti, Mauricio Morales, Santiago, Solidarity Event
Posted in Autonomy
Wednesday, April 3rd, 2019
Our friend Radek, has been held in custody, in the Netherlands, for 5 months now. He was charged with attempted arson at the Polish embassy, which carries a sentence of up to 12 years in jail. Radek – just as many other workers on emigration – had dealt with exploitation by the employers, on a daily basis. Exploitation, unfair pay, unpaid overtime, atrocious living conditions – the realities of work in the West. Radek had tried to solve those problems in a less radical matter. He had given a shot by going public with it, informing the media, executing his rights. None of it helped. Eventually, he took a brave step forward. He went to the Polish embassy in The Hague, with a can full of gas and a lighter. He then informed, that he would burn the place and asked for people inside the building to be evacuated. In reality: springs from the lighter were taken out, so as to make sure, that starting a fire wouldn't be possible. (more…)
Tags: Demo, Den Haag, Netherlands, Poland, Radoslaw Bogacki (Radek), Solidarity Event, Trial, Warsaw
Posted in Prison Struggle
Tuesday, April 2nd, 2019
Queremos invitarles el próximo sábado 6 de abril desde las 10am en la ciudad de Bogotá a las primeras jornadas anticarcelarias. Con la temática: Mujer y encierro, las situaciones que viven las mujeres tras
las rejas. Familiares de casos en el territorio colombiano. Charla sobre la primera carcel de mujeres en Colombia. Red Trans, Cuerpos en prision, mentes en acción. Taller: La prisión interna. Actualización Presxs Anarquistas en el mundo. Conversas con el cono sur y actualización de compañeras en prisión.
Tags: Anarchist Gathering, Anti-Prison, Bogata, Colombia, International Solidarity, Solidarity Event
Posted in Prison Struggle
Friday, February 22nd, 2019
Saludamos y alentamos la iniciativa de lxs compañerxs que aun
transitando una situación de encierro deciden sacar estas páginas a las calles. Páginas cargadas de experiencias, anécdotas y reflexiones que a su vez son parte de un recorrido salvaje que con sus errores, contradicciones y aprendizajes nos demuestran que la lucha no termina en el cautiverio, por el contrario, ella prevalece como una de las múltiples acciones que dan vida a la ofensiva contra el poder, por encima de todos los pronósticos y aun en un terreno con total adversidad.
¡¡¡ Adelante compañerxs, el abismo no nos detiene, decididxs vamos en busca de la libertad absoluta !!!
Tags: Argentina, Buenos Aires, Solidarity Event, Zine
Posted in Prison Struggle
Wednesday, January 9th, 2019
Contribution from La Rebelión de las Palabras for the meeting taking place in Santiago, Chile on 23rd December in combative memory of nihilist-anarchist comrade Sebastian Oversluij, "Angry". The meeting was also within the context of Black December and internationalist anarchist praxis. 5th year since Sebastian's death during a bank expropriation.
From the Spanish State, we greet first of all the compas that raised the commemorative activity for Angry, to a new anniversary of his death in action when he was trying to expropriate one of the temples of Capital. The noise of the blast that killed him awoke new feelings of rabid sadness that roamed the globe, unleashing actions of revenge, activities in his memory, and that inspired more individuals and groups that from the offensive or not, returned to take a breath to continue on this difficult path. We did not know Angry, nor did we know the political and social context of the Chilean territory where he developed, lived and fought. However, the courage, the determination and the coherent commitment that he showed with his last action reverberate in us, and we also feel affinity with his words, his music with the rap band Palabras En Conflicto, which we know and like, and with his drawings and gestures, contributions that mark his offensive trajectory, feeling honored to be able to participate in this activity contributing the present writing.
We have been asked to write something about the context of anarchism in the territories dominated by the Spanish State. However, to be honest, we do not feel legitimacy for such a task, since we do not know in depth the concrete context of many places of the state, and others we know them in a partial, ephemeral way or in any case, from an approach that starts from our assessment, our subjectivity and our own processes, affinities, preferences, with what we have decided to make a general assessment that, we repeat, part of our own personal valuations, without having to be taken as an absolute reason or that we intend to speak for others companions who, perhaps, have another point of view and something to say about it. (more…)
Tags: Black December, Chile, Counter-info, International Solidarity, La Rebelión de las Palabras, Santiago, Sebastián Oversluij Seguel, Solidarity Event, Spain
Posted in Autonomy
Wednesday, December 26th, 2018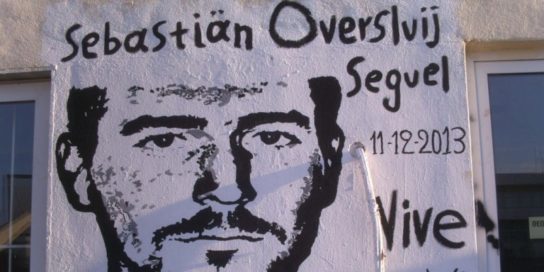 Nota: Palabras leídas en actividad conmemorativa por el -Angry- en la Biblioteca Antiautoritaria Sebastián Oversluij ubicada en algún lugar de Santiago de Chile el 23/12/2018.
"Al ke roba porke no tiene komida va a dar kon sus huesos a la kárcel de por vida… Al ke si tiene komida pero odia a los bankeros y les roba el dinero ke reparte entre sus kompañerxs". (Kanción de Rap)
En la kárcel y en la kalle la memoria sin axión kotidiana es komo un kuerpo sin alma, komo un kúmulo de palabras vacías ke se usan sin darle koherencia real a nuestras konvixiones antagónikas… Por ello la importancia esencial de mantener vivxs entre nosotrxs a todxs nuestrxs hermanxs ke han kaído en la lucha direkta y frontal kontra el Poder, el Dominio y toda Autoridad. (more…)
Tags: Chile, Marcelo Villarroel Sepúlveda, Santiago, Sebastián Oversluij Seguel, Solidarity Event
Posted in Prison Struggle
Sunday, December 23rd, 2018
ES: Contribución del proyecto contrainformativo anarquista 325 al Encuentro en Memoria del Angry
Contribution for the meeting taking place in Santiago, Chile on 23rd December in combative memory of nihilist-anarchist comrade Sebastian Oversluij. 5th year since Sebastian's death during a bank expropriation.
Dear comrades,
We are writing from '325', which is a nihilist-anarchist and anti-civilisation group of counter-information and action. Since 2003 we exist as an informal group originally out of UK and spread into Europe. We want to send our greetings to all the comrades at the gathering, for many years we follow the struggle there in Chile and try to spread solidarity to the fight. From Chile to Indonesia, to Europe, and beyond…
We think that the tendencies of attack are the most vital part of anarchy, as direct action is the constitutive part of the fight for freedom, liberation and eco-defense. We think that it's important to combine and multiply our struggle with comrades around the globe, because everywhere that anarchists are fighting, we can become a more dangerous and subversive threat against power when we internationalise and break down the borders between us. This is the reason that the States and corporations across the world are becoming afraid of anarchy again in the 21st Century, because we are the only real opposition to power's domination and they do not want us to grow and link up with each other to conspire.
On the 5th year since Sebastian Oversluij`s death in a bank robbery, we keep him present, with all the comrades that are still living with us in our hearts and deeds. Even though we never met Sebastian we are inspired by his actions and life's vision as he himself expressed it. We are touched by his freedom and energy. The banks and the capitalists are our enemies, and those that attack and expropriate them are our comrades, accomplices and friends.
The future belongs to those who struggle for liberation. They hasten the collapse of this prison-world.
Let's light up the nights and days,
Blazing hugs for a Black December
325
Tags: Black December, Chile, Counter-info, International Solidarity, Santiago, Sebastián Oversluij Seguel, Solidarity Event
Posted in Autonomy
Monday, December 3rd, 2018
"Para kienes nos rebelamos frente a lo existente peleando milimétricamente contra este presente de mierda, el llamado es a fortalecer y konstruir redes de complicidad, konfrontando a todxs aquellxs ke siembran la diskordia y fragmentación atomizante en la lucha antikarcelaria. Generar práktikas de enkuentro es la urgencia vital para romper con el aislamiento ke viven y han vivido muchxs compañerxs kautivxs en los últimos años"
-M. V.
ALMUERZO SOLIDARIO
Hacemos una invitación abierta para una jornada solidaria a realizarse el Sábado 15 de Diciembre desde las 13:00hrs (puntual) en BAR UNO, Barrio Bellavista, Santiago de Chile.
El aporte será de $2.000.
Habrá lasaña vegana, seitán con arroz, repostería, bebestibles varios.
En la jornada se presentarán: Weichan Punk Rock Mapu, Loko Way, Juan Trova, D' Yerman y Andariego Tango.
También habrá Poesía y Teatro, con la participación especial de Feñita Payaso.
Tendremos una Rifa, además de Feria Anarquista/Anticarcelaria.
Todo lo recaudado es en directa solidaridad con un compañero prisionero de guerra por el Estado chileno.
Asiste, Difunde y Participa!!!
MIENTRAS EXISTA MISERIA, HABRÁ REBELIÓN!!!
Tags: Chile, Santiago, Solidarity Event
Posted in Autonomy
Friday, August 31st, 2018
Todas las actividades agendadas en el Espacio Libertad 53 (ex-arcis) han sido canceladas por motivos externos a la toma que se efectuaba ahí.
Estamos gestionando otro espacio para no cancelar el Almuerzo Solidario del día 08/09, atentxs. ¡Fuerza a lxs compas del Espacio Libertad!
Almuerzo solidario con lxs presxs en Espacio Libertad 53 [08/09/2018]
ALMUERZO SOLIDARIO POR LA DESTRUXIÓN DE LAS PRISIONES
Día y hora: Sábado 08 de Septiembre, 13:00hrs Puntual
Lugar: Espacio Libertad 53, metro ULA, Santiago de Chile
Plato $2.000: Lazaña y seitán con verduras + ensalada
Habrá también:
-Feria anarquista/anticarcelaria
-Repostería, sopaipillas, bebestibles varios
Música en vivo:
-Weichan Punk Rock Mapu
-Colectivo Raíces Latinas Hip-Hop
-Yigo Dosmildosis
Show: Feñita Payaso
Obra de teatro: Onirik Babska

¡MIENTRAS EXISTA MISERIA HABRÁ REBELIÓN!
Organiza: Red Solidaria Antikarcelaria con Juan y Marcelo.
Tags: Chile, Santiago, Solidarity Event
Posted in Autonomy