Posts Tagged 'Spain'
Saturday, November 7th, 2020
October 31, 2020
"The mass pickets and protests against the curfew and the increase in restrictive measures to stop the coronavirus pandemic have resulted yesterday night with dozens of people arrested and police officers injured in cities such as Barcelona, ​​Burgos , Sevilla, Bilbao, Santander. etc.
The most serious incidents took place in Barcelona, ​​where 14 people were arrested -two of them minors- and 30 were injured -20 Mossos d'Esquadra agents, three urban guards and seven citizens-, in the clashes that took place in the center of Barcelona at the end of a demonstration against the new restrictions of the Generalitat. (more…)
Tags: Barcelona, Bilbao, Burgos, Cantabria, Coronavirus, Riot, Rioters, Riots, Santander, Seville, Spain, Valenica
Posted in Direct Action
Wednesday, November 4th, 2020
via Actforfree:
To all the solidarity comrades.
With these lines we want to update very briefly the situation of our comrade Gabriel Pombo da Silva.
Since he is in the prison of León, for the first time in his life as a prisoner, in general one can say that he is not suffering from open provocations and that he is being left "in peace". However, a few weeks ago they began not to deliver the books sent by mail with the old excuse that they have no legal deposit (some have legal deposit and others do not) and it seems that correspondence has become slower, which, until now, despite the intervention of communications, has worked quite well. (more…)
Tags: Gabriel Pombo da Silva, León, Spain
Posted in Prison Struggle
Thursday, October 29th, 2020
Rotating Hungerstrike in Spanish prisons
From last 1st of September on at least 14 prisoners, mostly anarchists, take actually part of a new rotating hunger strike against the precarious health conditions in the Spanish prisons. They reinvicate also a 14 point program against isolation custody (FIES/DERT), tortures and physical and psychical violence from the prison guards, dispersion of prisoners far from their home, etc. Every comrade is doing a 10-days-hungerstrike, one following other, every month 3 prisoners.
Violence in Spanish prisons is very common, every year 200 prisoners die inside Spanish prisons violently or from drugs, no medical attention or diseases. Actually in corona times, the conditions in jail are mostly insoportables (bad food, no activities, no visits…). Last month of August our comrade Carmen Badía Lachos was violated from a prison guard inside the 'hospital' part of the Zuera-prision (Zaragoza). (more…)
Tags: Carmen Badía Lachos, Claudio Lavazza, Gabriel Pombo da Silva, Hunger Strike, International Solidarity, Repression, Spain
Posted in Prison Struggle
Friday, September 25th, 2020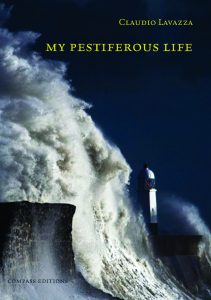 Claudio Lavazza, rebel, anarchist, bank robber and gentleman. During the 70s in Italy he participated in the struggle against State and Capital, arms in hand. Contrary to the grave-diggers of subversion, after this experience, he never traded his desire to overthrow the existent for a political career. He never resigned, nor sought refuge in any State, which could have granted him a controlled freedom. He kept fighting, against winds and tides.
After 16 years on the run, never renouncing his anarchist coherence, nor the joy of living as a free man, he was arrested after a bank robbery in Córdoba, Spain, in 1996. On this occasion, three comrades, including Claudio, were seriously injured and two policewomen lost their lives. Claudio was subsequently locked up in the special prison regime FIES, where – even in this toxic place – he continued his battle with firmness and perseverance.
After serving twenty-two years in the Spanish dungeons, he was temporarily extradited to France – since his sentence in Spain is not yet finished – in the summer of 2018. Here he would stand trial for a bank robbery of the National Bank of Saint-Nazaire, which took place in 1986. For this robbery he had already been sentenced in absentia to thirty years of prison.
Going to take money where there is plenty is always a possibility, as a refusal of the blackmail of work and exploitation, to seize the necessary means to carry out a struggle against the State. However, back then in Saint-Nazaire, "the tightrope robbers" did not just touch any safe. They expropriated the State's vault, emptying the pockets of those who oil the gears of power of almost twenty-six million euros.
Even when faced with the most adverse conditions, when everything needed to be rebuilt and re-imagined, Claudio beat his own path, with countless smiles and struggles. As an anarchist, his passion is freedom; his enemy is power. There is no time to waste when one is armed with this conscience.
It is up to each one of us to forge our own journeys, to undermine, harm, expropriate and destroy everything that belongs to power, its structures and its servants.
Claudio Lavazza, My Pestiferous Life
300 pages / 8 euros
Printed May 2020
Compass Editions
via Actforfreedomnow.
Tags: 'My Pestiferous Life', Bank Robbery, Claudio Lavazza, Córdoba, FIES, France, Italy, Spain, Zine
Posted in Library
Monday, September 14th, 2020
ES | Barcelona, España: Adjudicación de atentado incendiario contra antena telefónica
FR | Barcelone (Espagne) : Incendie d'une antenne-relais
Technological domination is a giant with feet of clay. All it takes is a little bit of determination and caution to make it wobble. On the night of August 31st we set fire to a mobile phone antenna in El Prat de Llobregat (Barcelona).
Solidarity and complicity with all those who walk with their heads held high, both inside and outside the prisons.
And long live anarchy!
Tags: Arson, Barcelona, Catalonia, Catalunya, Sabotage, Spain
Posted in Direct Action
Monday, September 14th, 2020
via: Attaque
27th of August 2020
Claudio Lavazza has been transferred to Spain.
Here is his new address :
Claudio Lavazza
CP Teixeiro – modulo 11
carretera de Paradela s/n
15310 Teixeiro- Curtis
A Coruña (Espagne)
Translated by Act for freedom now!
Tags: Claudio Lavazza, France, Prison Transfer, Spain
Posted in Prison Struggle
Monday, August 10th, 2020
Also read : Porto, Portugal – Words from Gabriel Pombo Da Silva (March-April 2020)
Here at Gabriel giugno in Italian you can download Gabriel's writings, below is the introductive note via: roundrobin.info
Translated to English by Act for freedom now!
–
Gabriel Pombo Da Silva communique
Gabriel has asked us to select some of his words from his more recent letters and compile a communique addressed to all those who would like to read it, as it is impossible for him to write one now that would get out of the prison where they are holding him kidnapped. The letters in question, which arrived after much delay, are dated from 11th April to 20th May when he wrote the only letter in the prison of Badajoz in Portogal, [he has since been transferred to the prison of Mansilla de las Mulas in León].
Gabriel sends strong hugs to all the comrades who are supporting him sincerely and to all the dignified individuals who continue to struggle for freedom in whatever part of the world they find themselves.
Freedom for Gabriel!
Freedom for all!
Long live Anarchy!
–
Words from Gabriel Pombo Da Silva, April – May 2020
"… what is happening has no logic or rules… it's like playing a game of chess where every now and again someone buts in and moves a piece on the board… how can you play or win a game like that? What are the 'rules' or the 'limits'? I can't even talk about 'Law' (regardless of what I think about it) or appeal to 'Rights' after all I have gone through… that's why I am wondering: given that I don't have any 'Rights', what are the 'rules' of this struggle? In the end the State's war against resilient individuals is always dirty, without any 'rules'…" (more…)
Tags: Badajoz, FIES, Gabriel Pombo da Silva, Letter, Oporto, Portugal, Spain
Posted in Prison Struggle
Sunday, July 19th, 2020
From Enough 14.
Social rebel, counterfeiter, bandit, modern Robin Hood – the list of titles with which our anarchist comrade Lucio Urtubia was honoured is long. His life, which sounds like an adventure novel, is a mirror of the revolutionary movements in Europe in the second half of the 20th century. Lucio Urtuba passed away today. Rest In Power Lucio!
Lucio Urtubia was born in 1931 in a small village in Navarre and grew up in poor conditions. When he was called up for military service, he deserted to France shortly afterwards, where he worked as a bricklayer from then on. He came into contact with anarchist groups and met his political foster father: the legendary Sabaté, who organized the armed resistance against the Franco dictatorship from France. Forging documents, hiding underground fighters and illegal fundraising activities play a major role in his life from then on. Numerous resistance organisations, which have a base of operations in France or are looking for a place to retreat, benefit from his skills: Black Panthers, Tupamaros, European guerrillas. Lucio's solidarity is with every act of revolt aimed at a more just social order. (more…)
Tags: Bank Robbery, Citibank, Counterfeit, Lucio Urtubia, Spain, Video
Posted in Uncategorised
Thursday, July 2nd, 2020
Comrade Elisa has sent us information about our anarchist comrade Gabriel Pombo da Silva, who has already been transferred and is in the prison of Mansilla de las Mulas in León. Although she has not yet been able to speak directly with Gabriel, she knows that he is well and that the prison in Leon is a compliance prison, so they will want to keep him there for a while.
You can write to him and keep in touch with him at the following address:

Gabriel Pombo da Silva
C.P. Mansilla de las Mulas
Place Villahierro
24210 – Mansilla de las Mulas (León)
SPAIN
We cannot forget our imprisoned comrades!
The struggle continues!
Freedom for anarchist prisoners!
Freedom for our comrade Gabriel Pombo!
via Contra Info, translated into English by Anarchists Worldwide
Tags: Gabriel Pombo da Silva, Prison Transfer, Spain
Posted in Prison Struggle
Wednesday, June 17th, 2020
EN | Charity machinery or revolutionary solidarity?
PDF: ¿Maquinaria de la caridad o solidaridad revolucionaria?
"…establecer, fuera de toda política burguesa, la solidaridad de la acción revolucionaria…"
Las redes de apoyo mutuo, las redes vecinales, el voluntariado (o los asalariados), los bancos de alimentos, todo el inmenso aparato surgido en pocas semanas para contener las desastrosas consecuencias económicas y sociales que la pandemia ha provocado han acaparado la atención de muchas, bien sea por altruismo, bien sea por pura y simple necesidad. Y es normal, dado que como en cualquier crisis que atraviese el sistema capitalista, las consecuencias más graves las sufren en mayor medida aquellos que previamente a la crisis estaban ya jodidos, es decir, los y las pobres, en Madrid o en Sebastopol. Los capitalistas siguen una sencilla lógica: socializar las pérdidas, cuando las haya, y acaparar los beneficios, siempre. Es una de las lógicas que atraviesan una sociedad dividida entre explotados y explotadores, entre gobernados y gobernantes. (more…)
Tags: Analysis, Coronavirus, Flyposter, Madrid, Repression, Revolutionary Solidarity, Spain
Posted in Autonomy
Tuesday, June 16th, 2020
15.06.2020: Last Thursday, June 11, the Provincial Court, the court at the base of the judicial pyramid in Spain, demonstrated its inquisitorial power by rejecting the request for annulment of the OEDE (European Arrest Warrant) that sent our comrade back to the dungeons of the State after three and a half years of freedom.
After a year and a half of clandestinity, Gabriel was arrested last January 25th in Portuguese territory as a result of the above-mentioned OEDE issued by the Court No. 2 in Girona (specifically by Judge Mercedes Alcázar Navarro), with the intention that he would serve another 16 years in prison counted as a residual sentence (response to the complaint of malfeasance against the judge for having hidden the order for Gabriel's immediate release in June 2016, which delayed his release, that judge has set in motion her own revenge!).
After three and a half months of pre-trial detention (months during which it was clear that Portugal had submitted to the pressure of Girona Court No. 2 and that the European rules that would have allowed the release of our comrade had not been applied), on 12 May, he was handed over to the Spanish authorities and is currently in the prison of Badajoz (Extremadura). (more…)
Tags: Badajoz, Extremadura, FIES, Gabriel Pombo da Silva, Spain
Posted in Prison Struggle
Saturday, June 13th, 2020
12/6/20: Pending further information we learn from the regime press that this morning the judiciary in Rome carried out 7 arrests resulting in 5 people being taken to jail within a repressive operation named "Bialystok".
https://roundrobin.info/2020/06/roma-nuova-operazione-di-polizia-ed-arresti/
Arrests in Rome [one arrest was made near Almerìa, Spain, and one in Saint Etienne, France, with the collaboration of police of those respective states]
The comrades Daniele, Nico, Francesca, Falla, Flavia, Claudio and Robi, have been arrested, perhaps for 270bis and instigation.
Named "operation Bialystock", according to the newspapers seven comrades have been arrested with the accusation of association for the purpose of terrorism or subversion of the democratic order, act of terrorism with deadly devices and explosives, possession of and carrying explosive material, instigation to commit crimes against State personalities as well as fire and aggravated damage with the purpose of terrorism and subversion of the democratic order.
The investigations started after the explosive attack on the Roma San Giovanni carabinieri barracks on December 7 2017.
https://plagueandfire.noblogs.org/arresti-a-roma/
Translated by Act for freedom now!
–
About the Bialystok operation
Aridaje.
The umpteenth anti-anarchist repressive operation began at dawn on 12/06/20 in the territories dominated by the Italian, French and Spanish states. In grand style, wearing balaclavas and carrying weapons, the guards searched several houses, seized the usual equipment and arrested 7 people, 5 of them are in jail and 2 under house arrest.
Nothing new under the starry sky.
The charges that the state moves against them are various, including the usual subversive conspiracy to commit terrorism as well as arson, incitement to commit crimes, etc., etc..
Now, it is not important to stay behind their judicial quibbles, but it is necessary to reiterate that direct action, mutual support, rejection of all hierarchy and all authorities and that the practice of solidarity are an expression of our anarchic tension.
We are not interested in entering into the logic of innocent / guilty, the individuals affected are our comrades and will have our closeness, solidarity and complicity.
Ros merde
To each their own.
– An occupant of the Bencivenga Occupato
For the moment, the known addresses of the arrested comrades are:
Nico Aurigemma
C.C Rieti
Viale Maestri Del Lavoro, 2 – 02100 Vazia (RI)
Flavia Di Giannantonio
C.C Femminile Rebibbia
Via Bortolo Longo 92. Roma 00156
Claudio Zaccone
C.C Siracusa Via Monasteri, 20C.
Contrada Cavadonna
Siracusa 96100
via Round Robin, translated into English by Anarchists Worldwide
Tags: Bencivenga Squat, France, International Solidarity, Italy, Operation Bialystok, Raids, Repression, Rome, Spain
Posted in Social Control
Wednesday, June 10th, 2020
PDF: Mundo Covid-19 #3
PDF: Mundo Post Covid-19
Tags: Coronavirus, Madrid, Mundo Covid-19, PDF, Spain, Zine
Posted in Library
Tuesday, May 19th, 2020
Statement by Amadeu Casellas, after his release
Salud compañerxs,
Yesterday, May 14, I received provisional freedom, awaiting an acquittal or conviction. As you already know, justice in this state is not impartial, depending on whether the prosecutor has been military, fascist or ecclesiastical, that is already a problem for the working class. The same is the case with presidents, magistrates or judges, who depending on their ideology, can also be condemnatory or acquittal. I no longer want to talk about the state hitmen, also called Mossos d'Esquadra [police force in Catalonia], who are manipulative, corrupt and pathetic.
In any case, as you can imagine, I am very happy with my freedom, after the two years I have been unjustly locked up in prison.
But this is not over yet, because I have to go and collect the conviction or acquittal, and as you can imagine, if it is condemnatory I will have to appeal it. Among other things, because the state's hired killers, the Mossos d'Esquadra, manipulated evidence, which was demonstrated in the trial that took place on the 5th and 6th, as well as other evidence that was manipulated by themselves.
I want to thank all the Grup de Suport for all the help they have given me during these two years, which has been a lot, and I hope that the next few days we can all stay together and celebrate my freedom.
And to be able to start, for those who want to participate in new struggles against the many abuses that are inside the prisons, the fact that I have come out does not mean that this has ended.
The struggle continues, because there are many Amadeus in prisons and many fascists that watch over them, torture and humiliate them. For those who want to continue organizing the struggles of the prisons in the Catalan and Spanish death centers, we will be in contact.
Thanks to everyone for your support.
Salud and Anarchy
Amadeu Casellas
Tags: Amadeu Casellas, Anti-Prison, Catalonia, International Solidarity, Letter, Spain
Posted in Prison Struggle
Sunday, May 17th, 2020
The counter-information site La Rebelion de las Palabras recently discontinued their blog. Below is a translated statement about their reasons to do so.
Since the emergence of what is termed the International Network of Counter-Information and Translation in the anarchic sphere, a multitude of individuals and groups construct and maintain regular and not so regular transmissions, crossing borders and bringing news of resistance and repression further than before. The limits of these new-medias, not so new after years of development and recuperation, are increasingly being known, and many counter-information groups have added to the debate with their contributions, ongoing or usually at the closure of their site with their own reflections.
Hello everyone.
For some time now, we have been internally questioning the real usefulness of this blog for social movements, or revolutionaries, in our environment and beyond. We have tried to review which were really our contributions to the fight and which, on the other hand, only contributed to the spectacle, the folklore, and a purely aesthetic radicalism. We wanted to look back, see the changes in the news and materials, the drifts we had taken, a little driven by our own criteria, but also by fluctuations in the type of content that came to us. Through this exercise, we realized that we also had another need. It had to do with the way in which certain movements or spaces of struggle perceived us and did or did not count on us as a space for dissemination of their initiatives, calls, projects or reflections. And this, in turn, led us to the situation we have now. (more…)
Tags: Analysis, Counter-info, La Rebellion de las Palabras, Spain
Posted in Autonomy