Posts Tagged 'Spain'
Thursday, October 29th, 2020
Rotating Hungerstrike in Spanish prisons
From last 1st of September on at least 14 prisoners, mostly anarchists, take actually part of a new rotating hunger strike against the precarious health conditions in the Spanish prisons. They reinvicate also a 14 point program against isolation custody (FIES/DERT), tortures and physical and psychical violence from the prison guards, dispersion of prisoners far from their home, etc. Every comrade is doing a 10-days-hungerstrike, one following other, every month 3 prisoners.
Violence in Spanish prisons is very common, every year 200 prisoners die inside Spanish prisons violently or from drugs, no medical attention or diseases. Actually in corona times, the conditions in jail are mostly insoportables (bad food, no activities, no visits…). Last month of August our comrade Carmen Badía Lachos was violated from a prison guard inside the 'hospital' part of the Zuera-prision (Zaragoza). (more…)
Tags: Carmen Badía Lachos, Claudio Lavazza, Gabriel Pombo da Silva, Hunger Strike, International Solidarity, Repression, Spain
Posted in Prison Struggle
Wednesday, October 14th, 2020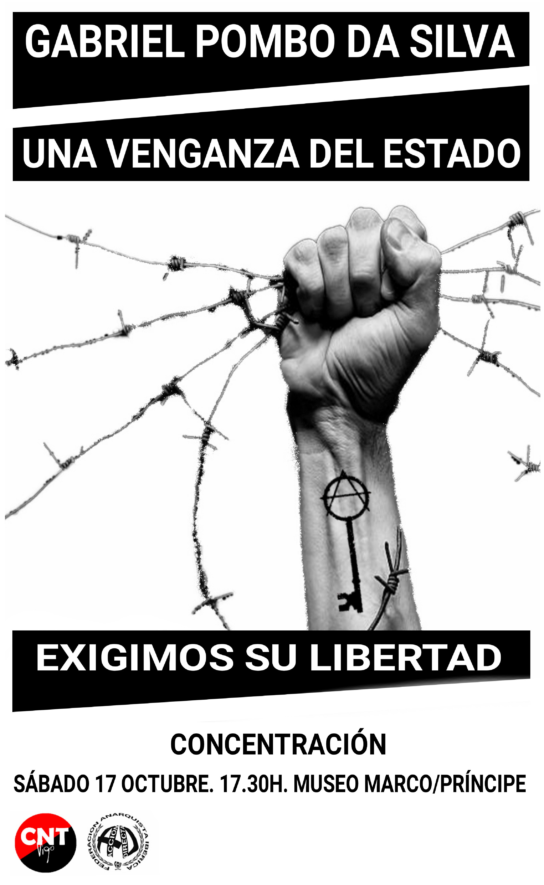 El compañero Gabriel Pombo Da Silva fue arrestado en Portugal, el 25 de enero pasado, en virtud de una ODE, Euroorden, emitida por el Juzgado de lo Penal nº 2 de Girona, del que es magistrada juez Mercedes Alcázar Navarro, la cual, en mayo del 2016, ordenó al entonces director de la cárcel de Dueñas (Palencia) ocultar la orden de liberación inmediata de Gabriel quien, tras tres semanas de "secuestro", fue finalmente liberado el 16 de junio, por lo que se iniciaron los trámites para denunciarla por prevaricación. A cada cual la conclusión de la obcecación de esa magistrada juez en proceder mediante una ODE a la persecución europea del compañero, pese a que Gabriel fuera puesto en libertad en España, dicho 16 de junio de 2016, al haber cumplido la totalidad de su condena. Se aclara que con posterioridad a esa fecha, el compañero no ha sido incriminado por delito alguno, por lo que no existe ninguna sentencia de condena posterior. (more…)
Tags: Anti-Prison, Badajoz, Demo, FIES, Gabriel Pombo da Silva, Girona, International Solidarity, Repression, Spain
Posted in Prison Struggle
Thursday, October 8th, 2020
El próximo día 23 de octubre tendremos una interesante charla y debate en el Ateneo con el título: COVID-19 : LA ANARQUÍA EN TIEMPOS DE PANDEMIA.
Quedáis invitados … Salud para tod@s.
En el EKO, calle Ánade 10 -Madrid (Metro Oporto) a las 19:00 horas.
ATENEO LIBERTARIO DE CARABANCHEL LATINA
PARA Y POR LA ANARQUÍA
Tags: Coronavirus, International Solidarity, Madrid, Spain
Posted in Autonomy
Thursday, October 8th, 2020
APLAZAMIENTO MANIFESTACIÓN EN DEFENSA DE LOS PUESTOS DE TIRSO DE MOLINA
Desde la asamblea de los puestos políticos de Tirso de Molina hemos decidido APLAZAR la convocatoria de MANIFESTACIÓN del próximo 11 DE OCTUBRE.
En su lugar realizaremos, como venimos haciendo desde hace más de dos meses una CONCENTRACIÓN EN LA PLAZA A LAS DOCE DE LA MAÑANA.
La caótica situación que estamos viviendo en Madrid en las últimas dos semanas nos ha llevado a tomar esta decisión. Los madrileños somos víctimas de las políticas partidistas tanto del gobierno regional como del central, que no dudan en usarnos como rehenes de estrategias "sanitarias" que tienen poco que ver con la salud pública, y más con los cálculos electorales o de posibles mociones de censura. Asistimos atónitos a medidas de control de la epidemia de cara a la galería, cuyo objetivo final no es la defensa de la salud de los trabajadores, inmigrantes, pobres, etc, y a las amenazas veladas de nuevas medidas restrictivas de las pocas libertades que nos quedan. Ante este panorama preferimos seguir con el formato de las concentraciones todos los domingos en la plaza, espacio amplio en el que podemos mantener suficiente distancia, sin renunciar por ello a seguir movilizándonos en defensa de nuestros legítimos intereses.
Animamos a todos los compañeros/as que tenían previsto acudir a la manifestación a que en su lugar se acerquen este domingo a la plaza a las doce de la mañana, para decirle al alcalde y al concejal de centro que ¡los puestos de Tirso se quedan!
Esta desconvocatoria es un APLAZAMIENTO así que permanecer atentos a próximas convocatorias.
¡NO PASARÁN!
#tirsosequeda
Asamblea de los puestos de Tirso.
MÁS INFORMACIÓN: https://puestostirso.noblogs.org/
Tags: Coronavirus, Demo, Madrid, Spain, Tirso de Molina
Posted in Autonomy
Friday, October 2nd, 2020
Episode number 38 (09/2020) of "B(A)D NEWS – Angry voices from around the world", a monthly news program from the international network of anarchist and anti-authoritarian radios, consisting of short news segments from different parts of the world, is now online.
Length: 49:03 min
In this episode you will hear contributions from:
1. Radiofragmata (Athens, Greece) on direct actions, environmental struggles and the upcoming anniversary of the death of Pavlos Fyssas. One of his songs is featured at the end of their segment. Rest In Power Killah P!
2. The Anarchist Radio Berlin in conversation with comrades from the "Burning Arks" collective, discussing solidarity work around a police operation not so well known outside of Spain, called "Operation Ark", which took place in May of 2019.
3. Dissident Island Radio from London with a short roundup of union wins, animal action, eco-wars and acab ammo from a largely wet august on the steadily sinking ship that is the so called United Kingdom.
4. Radiozones of Subversive Expression contribute reports about the fire that recently devastated the Moria refugee camp and the evacuation of the Rosa Nera squat.
5. Frequenz A with a short report about the ongoing struggle against gentrification in Leipzig (Germoney).
6. Free Social Radio 1431AM from Thessaloniki with updates about the eviction of Terra Incognita squat, the invasion of cops in Libertatia squat and comrades in hunger strike and the martyr Ebru Timtik in Turkey.
Or visit the anarchist 24/7 online stream from the Channel Zero Network:
Enjoy!
A-Radio Berlin
ps1.: We are on Twitter and Mastodon! Please feel welcome to follow us at @aradio_berlin!
ps2.: Please note: We are always looking for people willing to lend us a hand with transcriptions and translations from Spanish or German into English as well as people able to do voice recordings – in order to amplify our international radio work. You can contact us at
aradio-berlin/at/riseup(dot)net!
Tags: Anarchist Radio, Anarchistisches Radio Berlin, Berlin, Dissident Island, Ebru Timtik, Free Social Radio 1431AM, Frequenz(A), Greece, Leipzig, London, Migrant Struggle, Moria, Operation Arca, Pavlos Fyssas, Racism, Radio, Radio Fragmata, Radiozones of Subversive Expression, Rosa Nera Squat, Spain, Terra Incognita Squat, Thessaloniki, Turkey, UK
Posted in Interviews
Wednesday, September 30th, 2020
Tags: Anti-Prison, Demo, Madrid, Repression, Solidarity Event, Spain
Posted in Prison Struggle
Wednesday, September 30th, 2020
CONVOCATORIA MANIFESTACIÓN EN DEFENSA PUESTOS POLÍTICOS TIRSO DE MOLINA
Pueblo de Madrid:
Os invitamos a acudir en masa a la MANIFESTACIÓN convocada para el próximo domingo 11 de octubre a las 11:30 horas.
Recorrido Atocha – plaza Tirso de Molina.
Debemos movilizarnos si queremos defender los espacios que hemos arrancado al poder mediante la lucha colectiva. Perder Tirso de Molina como espacio libre de difusión sería una enorme derrota de los movimientos revolucionarios.
Manteniendo la distancia de seguridad y portando mascarilla como recomiendan las autoridades sanitarias no hay riesgo. No caigamos en la
paranoia a la que nos empujan los medios de comunicación de masas para desactivar las luchas populares.
#tirsosequeda
TODOS A ATOCHA EL DOMINGO 11 DE OCTUBRE.
¡NO PASARAN!
ASAMBLEA DE PUESTOS POLÍTICOS DE TIRSO DE MOLINA. (more…)
Tags: Demo, Eviction, Madrid, Repression, Spain, Tirso de Molina
Posted in Autonomy
Monday, September 28th, 2020
Un año más y ya van 18!!!
Nuevamente se realiza el encuentro del libro anarquista de Madrid, consideramos necesario fomentar espacios donde acercar las distintas posturas anarquistas tanto entre nosotros como de cara fuera… Ya que nos hayamos en la sociedad más interconectada y sin embargo es el periodo en el que más desconexión hay.
Vivimos tiempos donde la profundización y el debate se han convertido en frases de 200 caracteres y textos que de forma individualizada se leen siempre y cuando no sean demasiado largos…
Por esto y mucho más continuamos forjando espacios donde debatir, conocerse y profundizar en la lucha.
frente a la una cultura infantilizadora que fomenta el individualismo y nos condena al aislamiento mediante el miedo y la justificación tecnocratica sanitaria, ahora que nos condenan al distanciamiento social es cuando mas necesario es conocer difundir y poner en practica la cultura libertaria, solidariad, apoyo mutuo y horizontalidad.
El evento tendrá lugar los días 4,5 y 6de Diciembre
+Info en: encuentrodellibroanarquista.org
Tags: Anarchist bookfair, Anarchist Gathering, Madrid, Spain
Posted in Cognitive Liberty
Friday, September 25th, 2020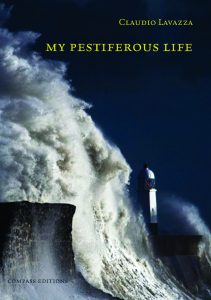 Claudio Lavazza, rebel, anarchist, bank robber and gentleman. During the 70s in Italy he participated in the struggle against State and Capital, arms in hand. Contrary to the grave-diggers of subversion, after this experience, he never traded his desire to overthrow the existent for a political career. He never resigned, nor sought refuge in any State, which could have granted him a controlled freedom. He kept fighting, against winds and tides.
After 16 years on the run, never renouncing his anarchist coherence, nor the joy of living as a free man, he was arrested after a bank robbery in Córdoba, Spain, in 1996. On this occasion, three comrades, including Claudio, were seriously injured and two policewomen lost their lives. Claudio was subsequently locked up in the special prison regime FIES, where – even in this toxic place – he continued his battle with firmness and perseverance.
After serving twenty-two years in the Spanish dungeons, he was temporarily extradited to France – since his sentence in Spain is not yet finished – in the summer of 2018. Here he would stand trial for a bank robbery of the National Bank of Saint-Nazaire, which took place in 1986. For this robbery he had already been sentenced in absentia to thirty years of prison.
Going to take money where there is plenty is always a possibility, as a refusal of the blackmail of work and exploitation, to seize the necessary means to carry out a struggle against the State. However, back then in Saint-Nazaire, "the tightrope robbers" did not just touch any safe. They expropriated the State's vault, emptying the pockets of those who oil the gears of power of almost twenty-six million euros.
Even when faced with the most adverse conditions, when everything needed to be rebuilt and re-imagined, Claudio beat his own path, with countless smiles and struggles. As an anarchist, his passion is freedom; his enemy is power. There is no time to waste when one is armed with this conscience.
It is up to each one of us to forge our own journeys, to undermine, harm, expropriate and destroy everything that belongs to power, its structures and its servants.
Claudio Lavazza, My Pestiferous Life
300 pages / 8 euros
Printed May 2020
via Actforfreedomnow.
Tags: 'My Pestiferous Life', Bank Robbery, Claudio Lavazza, Córdoba, FIES, France, Italy, Spain, Zine
Posted in Library
Tuesday, September 22nd, 2020
NUEVA NORMALIDAD: EL TECNOMUNDO
JORNADAS DE REFLEXIÓN Y CRÍTICA CONTRA LA SOCIEDAD TECNOCIENTÍFICA
2 Y 3 DE OCTUBRE. MADRID
– Para descargar el texto para imprimir, pincha aquí.
Viernes 2 de octubre.
18:30h. "Actualización de los casos represivos del estado e internacional. Caso Bankia."
19:00h. Charla: "Herramientas de control social que nos ha traído la COVID-19, la distancia social y el confinamiento."
Local Anarquista Motín C/Matilde Hernández, 47 Vista Alegre u Oporto.
Sábado 3 de octubre.
13:00h. "Presentación de la revista "Libres y Salvajes", n.º 5.
17:00h. "Actualización de casos represivos a nivel estatal e internacional. Operación Arca."
18:00h. Mesa redonda: "La anarquía frente al Tecnomundo: Debate sobre cómo afrontar la situación actual."
EOA La Emboscada, C/Azucena, 67. Tetuán.
– (more…)
Tags: 5G, Anti-technology, Artificial Intelligence (AI), Biotechnology, Contra toda Nocividad (Zine), Coronavirus, Madrid, Nanotechnology, Smart Cities, Solidarity Event, Spain, Surveillance, Technological Singularity
Posted in Eco Struggle
Saturday, September 19th, 2020
+ Amenaza Inminente de Desalojo del Ateneo Libertario de Vallekas
El pasado 16 de septiembre se volvió a dejar constancia de que la solidaridad y la acción directa es la mejor arma de la que disponemos como medio de defensa frente al Estado y la represión. Alrededor de 150 personas de vallekas y otros barrios de la ciudad se plantaron en la puerta del Ateneo para impedir el desalojo del espacio. No se trata solo del desalojo de un espacio, es la defensa de la okupación como herramienta de lucha en la guerra social, como herramienta para crear con nuestras propias manos, al margen de partidos e instituciones, espacios de lucha, encuentro y aprendizaje.
Y lo conseguimos (gracias a todos y a todas). Contamos con un tibio despliegue de periodistas, furgonas de la policía municipal y el comisario del distrito. Debido a la fluencia de solidarias, la secretaria judicial no tuvo más remedio que pasar de largo. Ahora, cualquier día y sin previo aviso, el Ateneo puede ser desalojado.
Más especial resulta esta muestra de solidaridad si tenemos en cuenta como se esta desplegando el discurso represivo sobre vallekas (y los barrios obreros de Madrid en general): criminalización mediática, constante señalamiento de los medios y la clase política por los casos de Covid-19, persecución a las personas migrantes, abusos policiales, videovigilancia, multas y una persecución especialmente intensificada a la okupación en los últimos meses. Todo ello con la retina cargada de imágenes como las colas del hambre, que no cesan, los desahucios y desalojos, que no cesan, los centros de salud, colapsados, los trabajadores hacinados en el metro y esperando que un político les diga si pueden salir a la calle para algo que no sea trabajar para nuestros patrones. Esa es la lógica del estado y el capital para los pobres y los barrios donde vivimos.
La lucha continua por muchas y variadas formas, la solidaridad no tiene límites ni barreras, y va más allá de los días concretos de desalojos: bancos, inmobiliarias, especuladores, policías, medios de co- municación, políticos y empresarios siguen ahí, manejando y gestando las condiciones de nuestra explotación. Llamamos a extender la solidaridad en todas sus formas.
Este domingo convocamos nuevamente jornadas de resistencia en el Ateneo, y seguimos con el llamamiento: el viernes de la semana del desalojo del Ateneo, manifestación a las 20H en vallekas en solidaridad con los espacios okupados. El lugar exacto lo confirmaremos el día del desalojo.
¡Solidaridad con los espacios okupados!
¡Ningún desalojo, ningún desahucio sin respuesta!
¡Okupación, resistencia y acción directa!
ateneolibertariovallekas@riseup.net
ateneolibertariovk.noblogs.org
Tags: Ateneo Libertario de Vallekas, Eviction, Madrid, Repression, Spain
Posted in Autonomy
Monday, September 14th, 2020
ES | Barcelona, España: Adjudicación de atentado incendiario contra antena telefónica
FR | Barcelone (Espagne) : Incendie d'une antenne-relais
Technological domination is a giant with feet of clay. All it takes is a little bit of determination and caution to make it wobble. On the night of August 31st we set fire to a mobile phone antenna in El Prat de Llobregat (Barcelona).
Solidarity and complicity with all those who walk with their heads held high, both inside and outside the prisons.
And long live anarchy!
Tags: Arson, Barcelona, Catalonia, Catalunya, Sabotage, Spain
Posted in Direct Action
Monday, September 14th, 2020
via: Attaque
27th of August 2020
Claudio Lavazza has been transferred to Spain.
Here is his new address :
Claudio Lavazza
CP Teixeiro – modulo 11
carretera de Paradela s/n
15310 Teixeiro- Curtis
A Coruña (Espagne)
Translated by Act for freedom now!
Tags: Claudio Lavazza, France, Prison Transfer, Spain
Posted in Prison Struggle
Thursday, September 10th, 2020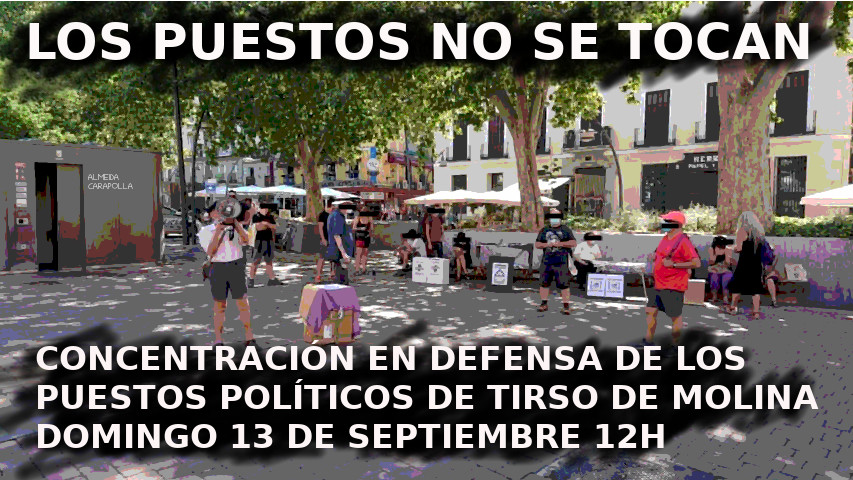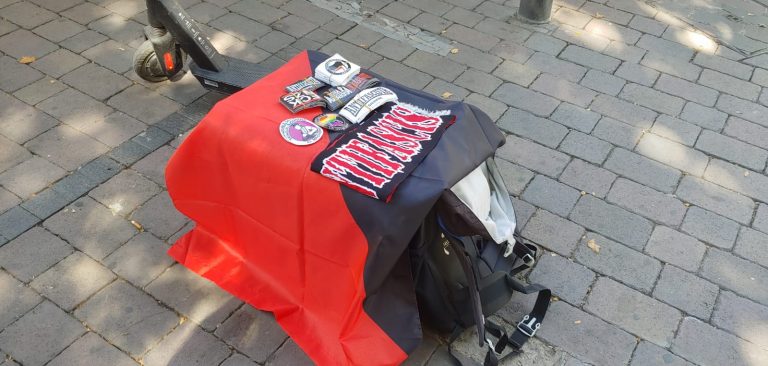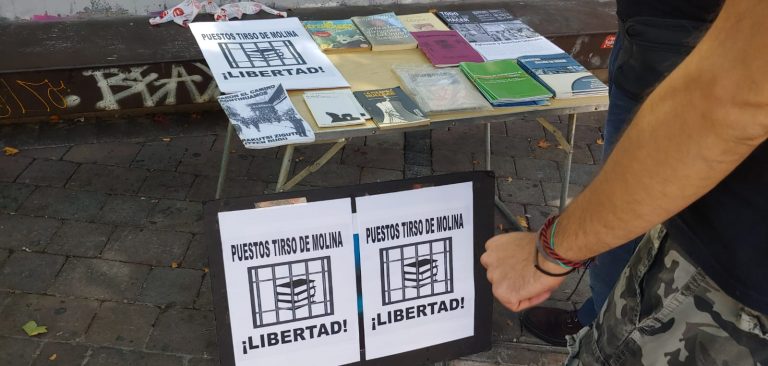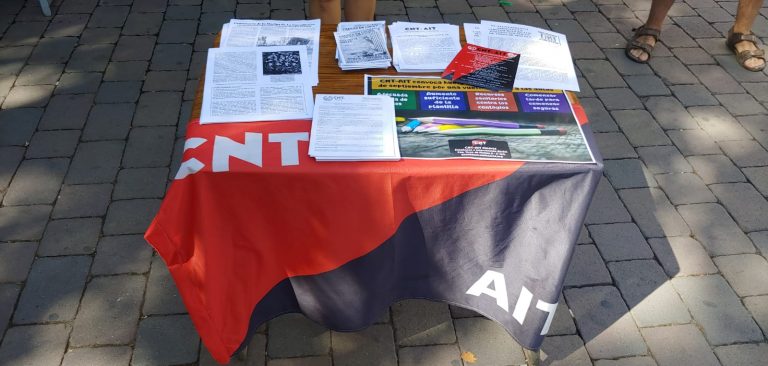 Since last July 19, the date on which the municipal police evicted us from the Tirso de Molina square with the threat of sanctions and seizure of the stands, we have been gathering every Sunday to protest against this arbitrary decision by the City Council. We maintain that it is a political decision rather than a health one, since that day we were complying with the measures imposed by the Community; masks, distance between the stalls, hand disinfection gels, if we add to this that the space in the plaza is wide and the number of stalls that we set up that morning was small, it was not possible that there would be crowds.
In fact, the only official justification we received from the agents was not having a license and the assertion that "El Rastro was closed by municipal order." The reality is that El Rastro continues to be closed as of today since the stalls do not accept the City Council's reform plans that seek to end the emblematic market as we know it and also know that for more than three decades political stands lack licenses. For this reason, we are convinced that the Pandemic is only an excuse to eliminate political positions that spread ideas and free culture, and it is clear that Tirso de Molina and El Rastro are also part of the gentrification plans that we have been suffering in the area in recent years. (more…)
Tags: Coronavirus, El Rastro, Eviction, Madrid, Repression, Spain, Tirso de Molina
Posted in Autonomy
Thursday, September 3rd, 2020
EN | Madrid: Imminent threat of eviction of the Ateneo Libertario de Vallekas
PDF: Panfleto
AMENAZA INMINENTE DE DESALOJO DEL ATENEO LIBERTARIO DE VALLEKAS
A finales de agosto recibíamos una bonita notificación del juzgado en el que se nos comunicaba que el día 16 de septiembre se personaría en el espacio la policía y el cerrajero para proceder al desalojo. Nuestro espacio lleva dos años sirviendo como lugar de actividades, debates, asambleas, gimnasio y punto de encuentro e impulso de diversas iniciativas libertarias.
Tags: Ateneo Libertario de Vallekas, Demo, Eviction, Madrid, Repression, Spain
Posted in Autonomy