Posts Tagged 'Spain'
Wednesday, February 6th, 2013
*URGENT SOLIDARITY WITH NOELIA COTELO***
*RISK OF HYPOGLYCEMIC COMA***
*FROM 08/01/2013 in HUNGER STRIKE***
SEND FAXES TO THE SECRETARY-GENERAL OF PRISONS AND THE OMBUDS PERSON
*February 6-7-8***
*Fax S.G.I.P.: (+ 34) 913354052***
*Fax Ombuds Person: (+ 34) 913081158*
* * (more…)
Tags: Hungerstrike, Noelia Cotelo, Spain
Posted in Prison Struggle
Monday, January 28th, 2013
IN HUNGER STRIKE FROM 08/01/2013. BRIEVA JAIL (AVILA-SPAIN)
Her aim: to go out of Brieva's jail and to return to her land, near her family (Galicia).
COLLECTION OF SOLIDARITY SIGNATURES ONLINE
Noelia is 25 years old, she entered the jail with a sentence of one year and a half. Today, January 2013, she is marking her fifth year in prison, and many more could come. During these 5 years she has born all kinds of pressures and ill-treatments, the institutions have made life almost impossible for her and her family.
January 8, she decided to begin an Indefinite Hunger strike with the support of her friends, relatives and imprisoned companions in struggle.
The life of Noelia is in serious danger, the authorities of the jail of Brieva refuse to provide her with medical attention. We would like to ask you to read and inform yourselves about her case, and to provide us with your signature, so we can fight for Noelia and similar cases of imprisoned persons who suffer similar realities. We have to finish with the impunity, the law of the silence, the ill-treatment and the tortures. (more…)
Tags: Brieva, Noelia Cotelo, Spain
Posted in Prison Struggle
Friday, January 25th, 2013
According to a message we received from RadioAzione, Gabriel Pombo da Silva, anarchist fighter imprisoned by German authorities after a shootout with border cops, has been extradited to Madrid. Gabriel had escaped from the prisons of Spain and fled, now it is thought he'll be forced to 'finish' his prison time before being released.
Destroy the prisons and detention centres
Freedom for Gabriel
Tags: Aachen, Gabriel Pombo da Silva, Germany, Prison Transfer, RadioAzione, Spain
Posted in Prison Struggle
Thursday, December 13th, 2012
Solidarity with Alfon, only one arrested remaining in jail after the paneuropean strike on 14-N: new Spanish political prisoner.
Spain – kingdom of satraps, thieves and butchers. The number of political prisoners rises in Europe. After the first pan-European strike on 14-N there is still one person in jail. It is not a coincidence, as Alfonso Fernandez, Alfon, like his mother, are well know as activists. His detention was not fortuitous, 100m from his home door, accompanied by his girlfriend. Hours of police interrogatories every two hours, tortures and death threats made by hooded terrorists. And as always police manipulation and political interest. The government can't break his decision to fight, neither of his family. (more…)
Tags: Alfon, Madrid, N14, Repression, Spain
Posted in Prison Struggle
Wednesday, November 21st, 2012
From Tarcoteca:
CNT update pickets around the Spanish state. The general trend: fairly quiet day in many cities and fulfilling the goal of stopping the activity in the industrial areas and major markets. Widespread impact of the pickets also in the city centers. Massive demonstrations followed in the afternoon. Anti-repressive alert in Logroño and Granada!
Translation from: CNT, Cobertura informativa: General Strike 14N
http://tarcoteca.blogspot.com.es/2012/11/cnt-informative-coverage-general-strike.html
–
Portugal, Lisbon – Clashes outside parliament
Italy – Revolt Everywhere, Freedom for All!
–
Spain, Pontevedra : Sabotage of ATMs
Tags: General Strike, Greece, Italy, Portugal, Spain
Posted in Direct Action
Wednesday, November 14th, 2012
This poem is released for the date of the combative November 14 2012 general strike called for the entire southern european area. This is a general strike that has heard a specific call to go beyond simply one day of refusal, towards an entire rejection of the manufactured crisis of capitalism. For insurrection and the destruction of the existent.

(to the sound of Greek bagpipes)
Today, the Greek Government
executed by firing squad
1000 pensioners, along
with 2000 workers, as part
of a package of financial
reforms, to reassure
the markets and permit
the Troika to release one
more tranch of the bail-out.
How one feels for the victims
In all this, the bankers
criminalised, shorn
of bonuses, the markets
bearish, nervous as
kittens, the green back,
the pound, the tsunami
floating yen, scurrying
between time-sealed
vaults and safe-havens,
exposed to the sniping
of credit default swaps
as Molotov cocktails
rain down relentlessly
from Fitch's, Moody's,
and S.& P.'s. Will
the friendly Troika
contrive fresh reforms?
Will our young friend,
the euro, be vaporised?
Growth is a must, come
what may, be it 3000
health workers hung,
drawn and quartered,
4000 firemen burned
at the stake, even
the odd politician garrotted.
Landeg White
Landeg White is a scholar, translator, novelist and poet, who has taught at universities in Trinidad, Malawi, Sierra Leone, the University of the West Indies, Trinidad, the University of Malawi and was the Director of the Centre for South African Studies at York University. Among his various books are studies of V.S. Naipaul, of Mozambican and Malawian history, and of southern African praise poetry, together with five collections of poems. His translation of Camoes' 'The Lusiads' won the Texeira Gomes prize for 1998. His most recent book is "Studying to be Singular: John Gabriel Stedman, 1744-1797".
Tags: Economic Crisis, General Strike, Greece, Italy, Landeg White, Portugal, Spain, Tattoo
Posted in Library
Wednesday, October 17th, 2012
From liberaciontotal, transl waronsociety:
Don Pedro was (and may still be) a "true Stoic," a "Unique" and "Egoist" being who ended up in prison for killing or stabbing someone (I have never been able to find out the entirety of that chapter of his life)…
I met him in the "Special Department" (FIES module) of "El Acebuche," in Almería. Physically, he was a person who perfectly matched that stereotype we all have of Don Quijote: relatively tall, thin, in his fifties, with a pointy grey goatee and short hair… (more…)
Tags: Don Pedro, FIES, Gabriel Pombo da Silva, Germany, Spain
Posted in Prison Struggle
Tuesday, July 17th, 2012

Alboroto ("Riot") is a counter-information collective with the aim of spreading the word on the current fight in the streets of the Iberian peninsula and islands, emphasising the fight and discourse from an anti-authoritarian point of view.
CONTACT: alboroto[at]espiv.net
WEBSITE: http://alboroto.espivblogs.net
BANNER: http://alboroto.espivblogs.net/files/2012/07/banner5.jpg
Tags: Alboroto, Counter-info, Riots, Spain
Posted in Autonomy
Friday, April 13th, 2012

325 receives and transmits:

We are autonomous individuals in Cambridge who wish to react to the state-seizure and international extradition of a Cambridge resident, Eneko Gogeaskoetxea Arronategui, who is accused of being an anti-imperialist fighter of Basque independence group ETA.
E. Gogeaskoetxea was arrested in July ('11) and now faces extradition to Spain where he faces 8 arrest warrants alleging a series of actions, such as attacks on a police station and an airport, as well as plotting to kill the Spanish King Juan Carlos II in 1997. When the state takes hostages of the social/revolutionary struggle, the words 'innocent' and 'guilty' do not mean anything to us.
We are anarchists and while we criticize through words and action political leftism and militaristic, national-focused revolutionary organisation, we stand alongside other oppressed people in asymmetric war with our enemy the state and the elite classes. The British authorities are planning on handing over E. Gogeaskoetxea to the Spanish state – the same Spanish state that has locked up and murdered many Basque fighters, anarchists, anti-fascists, autonomous and subversive elements.
In the isolation/torture cells of Spanish democratic-fascism, as all over Europe and all the worlds states, they intend to disappear and silence revolutionary consciousness by trying to disappear and silence those in struggle. We affirm that violent struggle against the class oppressors is necessary, whether in the territories occupied by UK PLC or the Spanish state, and will not let the police snatch a man from the street, accused of being an enemy of the state and disappear them into democracy's prisons.
For international anti-capitalist struggle.
Innocent or guilty – Solidarity with Eneko Gogeaskoetxea!
Against state extradition and counter-insurgency – The State is the Terrorist!
Tags: Cambridge, Eneko Gogeaskoetxea, Euskadi (Basque Country), Extradition, Graffiti, Solidarity Action, Spain, UK
Posted in Direct Action
Wednesday, April 11th, 2012
from liberaciontotal, transl waronsociety:
It is the hour of the social tragedy!
We will destroy laughing.
We will set fires laughing.
We will kill laughing.
We will expropriate laughing.
And society will fall.
The fatherland will fall.
The family will fall.
All will fall after the free man is born.
The one is born who has learned the Dionysian art of joy and laughter through tears and sorrow.
The hour has come to drown the enemy in blood…
The hour has come to wash our minds in blood.
Enough, enough, enough!
As the poet transforms his lyre into a dagger!
As the philosopher transforms his probe into a bomb!
As the fisherman transforms his oar into a formidable ax.
As the miner comes up from the unbearable caves of the dark mines armed with his shining iron.
As the farmer transforms his fruitful spade into a war lance.
As the laborer transforms his hammer into a scythe and cleaver.
And forward, forward, forward.
It is time, it is time — it is time!
And society will fall.
The fatherland will fall.
The family will fall.
All will fall after the Free Man is born.
Forward, forward, forward, oh joyful destroyers.
Beneath the black edge of death we will conquer Life!
Laughing!
And we will make it our slave! Laughing!
And we will love it laughing!
Since the only serious people are those who know how to be actively engaged laughing.
And our hatred laughs…
Red laughter. Forward!
Forward, for the destruction of the lie and of the phantoms!
Forward, for the complete conquest of individuality and of Life!
RENZO NOVATORE – TOWARD THE CREATIVE NOTHING
1922, ITALY.
A few days ago, the security apparatus at the hand of the Italian State perpetrated a repressive raid against anarchist comrades and the Culmine blog, a raid carried out in various cities and towns of that country, resulting in 4 comrades arrested under accusations that are the most common accusations in Italy and under which many other comrades have been arrested and incarcerated in the past, in similar repressive raids. Accused of Terrorism and subversive association, our comrades find themselves in the clutches of the State and need to be vindicated in the same way that those anarchist comrades in affinity in Italy have shown themselves in solidarity with the struggles and the prisoners in other parts of the World. (more…)
Tags: Billy, Braulio Arturo Durán González, Chile, Conspiracion Acrata, Conspiracy of Cells of Fire, Culmine, Eat, Gabriel Pombo da Silva, Germany, Greece, Indonesia, Informal Anarchist Federation (FAI), International Revolutionary Front, International Solidarity, Italy, Letter, Long Live Luciano Tortuga Cell - International Revolutionary Front - FAI, Marco Camenisch, Mexico, Parole Armate, Revolutionary Struggle, Spain, Switzerland
Posted in Cognitive Liberty
Sunday, March 4th, 2012
From culmine:
1 March 2012
Ours is the conviction
Gendarmería, Local, and Buenos Aires Federal police, civilian brigades, anti-terrorist laws, biometric identification systems, thousands of cameras throughout the city, vigilant citizens ready to betray, overcrowded jails, torture, murder … this is the scenario where our struggle, in a context similar to many other cities, attacking comrades, individually or collectively, without any social consensus and without the approval of any leader, alone and with their principles and values, ​​burn like a fire.
For our part, we report that on Thursday March 1st at 2:30 in the morning, we attacked with an explosive / incendiary, the Criminal Court in Calle Paraguay 1536, in the city center, causing visible damage to the facade and their windows.
We're thinking of the comrades Freddy Fuentevilla Saa, Marcelo Villarroel Sepulveda and Juan Aliste Vega, who were on hunger strike in prison in Santiago on February 17, within days of international turmoil (19 to 29 February).
Compañeros: The subversion is awake and will not disappear! While there is poverty there will be rebellion!!
The brothers of the Conspiracy of Cells of Fire, that even within the prison continue war unabated. We are brothers with their words, their gestures and their actions and with the project of the Informal Anarchist Federation, to which we contribute and strengthen.
With love and complicity for the companion Luciano Pitronello (Turtle), wounded and kidnapped by the Chilean state. Gabriel Pombo da Silva, prisoner in Germany – anarquista integro; Marco Camenisch, fighter for the liberation of the earth; and comrade-prisoners in Mexico, Spain, Italy, Indonesia…
With Mauricio Morales and Lambros Foundas always present in the combative memory.
War without truce to the whole system of domination
Indomitable Nucleus for the Spread of the Fire / FAI
Tags: Argentina, Billy, Buenos Aires, Chile, Conspiracy of Cells of Fire, Eat, Freddy Fuentevilla Saa, Gabriel Pombo da Silva, Germany, Indomitable nucleus for the spread of the fire / FAI, Indonesia, Informal Anarchist Federation (FAI), International Revolutionary Front, International Solidarity, Italy, Juan Aliste Vega, Lambros Foundas, Luciano Pitronello Schuffeneger, Marcelo Villarroel Sepúlveda, Marco Camenisch, Mauricio Morales, Mexico, Spain, Switzerland
Posted in Direct Action
Wednesday, November 23rd, 2011
November 17-20, 2011 – Coordinated actions by Anti-authoritarian Insurgency of Action / Informal Anarchist Federation
– translated by war on society:
Communique:
We always ask ourselves why in the Spanish state the strategy of a unified international federation has not been proposed. Instead of waiting and continuing to ask questions, we offer a small step.
After about one year of small anonymous actions of sabotages, failures, and small victories, we have decided to contemplate Anarchy from another perspective, thus we have made the decision to form part of the Informal Anarchist Federation and of the International Revolutionary Front. We want to experiment with the feeling that comes with adhering to this project, to study new forms of understanding Chaos* and participate in all fields of struggle. Anarchism is a movement of liberation, a weapon of struggle, a form of life and/or action, or at least many understand it as such. We want to have an opportunity to have a crucial role in the social war and beginning with the daily practice, we will be steadfast. Likewise, we intend to 'open the can' or raise from self-criticism new forms of direct action and animate informal, horizontal and combative organization. We believe in anti-authoritarianism, in chaos and in a strong anarchist praxis, likewise the constant reproduction of sabotages, boycotts and attacks that trouble and could undermine capital's projects and capital itself. Also in this form of struggle we opt for and accept the direct attack against Nazi-fascism; in the struggle against authority and against the system, the powerful attack against Nazi-fascism is another front, and the direct and from-behind struggle to crush those who believe themselves racially or politically superior to the rest is fundamental. We seek the creation of a continual situation of tension and conflictuality against power.
"In the face of a system of control and domination, only the combative struggle can prevail"
We understand attacks and the destruction of the social order as a very valid and decisive tool, however, we do not make it a revolutionary dogma nor a fetishism, and depending on the situation its application, reproduction and deployment can vary. Following reflection, thought and analysis, we believe that in attacks a certain quality is required, in effect, without leaving the quantitative aside.
We consider it clear that the qualitative is essential, we must look to harm the system and its functioning at the root; that is, for example seeking some way of striking the consumption of commodities such as the attack on WalMart in Mexico, sabotaging an election day and making its normal functioning impossible, destroying the machines and possessions of some despot, and aggressions and direct attacks that provoke true fear in those responsible for governmental terror. Also it can be very effective to saturate the metropolitan media with subversive propaganda or propaganda in solidarity with imprisoned comrades. Actions and attacks against capitalism as an effective MEDIUM.
"But it is interesting to ask oneself if now, little by little we are learning from our past, little by little we are widening our dream of an Informal Anarchist Federation / International Revolutionary Front. If now our affinities in the Iberian Peninsula will also remain in the medium of anonymous crowds, or on the contrary will join the revolutionary effort." – Gabriel Pombo da Silva
In the Spanish state (may its flag burn!) we have experienced harsh periods of repression, since armed groups and resistance in the 70s and 90s were very forceful, the system and the state became especially repressive against any organized dissent and any insurgent cell. The prisons and the prison system are especially repressive and the conditions of the prisoners (and more so of political prisoners) are bad, very bad. Thus it is understandable that up to this moment actions have been anonymous. However, in the face of new political situations and new revolutionary processes, some have seen the necessity of forming part of a common project, of extending the revolutionary family through more horizons and raising their fists against the old dogmas, seeking new fronts and trying to operate as an antagonist cell. Gabriel Pombo da Silva (a salute to him) is right, from our own experiences we must continue searching, studying and acting to aggrandize our experience and the wounds against the new phases of capitalism each time more and more monopolistic. That is, to join the revolutionary effort. However, the FAI/IRF is an option for anyone who wants it, for anyone who wants to use that medium as a tool of struggle and how to approach other comrades who unfortunately live farther away.

"To defend oneself by saying that the political context in the place one lives is not adequate for the struggle, is just an excuse for not breaking the tranquility of the everyday." – Silvia Guerini
It is easy to be a mere spectator of the social war from the computer screen, but just because it is easy does not mean it is valid. We believe that not everything depends on the context and the situation, like something external that floats in the air. Situations are made by us, by creating for ourselves, working hard and creating our own projects, being protagonists of the social war and having an active role, being the protagonists of our own reality and struggle. The ecological problems and what creates them–nanotechnology and biotechnology–not to combat them only, but exactly the contrary. It is necessary to create spaces of practice and counterpower for escaping from the established, but above all if these have a direct role against the state and the view it creates, a role destructive of the hypertechnological system. Ground work is indispensable, as is participation in social struggles and involving oneself in many causes, but always recognizing the root problem and seeking its total destruction. If we do not hurry in the creation of a consolidated and strong resistance, an active opposition, within a few years we will be obliged to give thanks to work entire days in the trenches until the age of 67. Thus, from now on we associate ourselves in the Informal Anarchist Federation and the revolutionary front as a way and contribution to expanding the federation and the development of the true revolutionary movement (either as part of the federation and the front, or in autonomous and anonymous groups).
"This is what has happened, what we have. If anything scares us it is the return to normality, because in the streets in the actions, the expropriations, etc, in our cities of light and death, we do not see only the consequences of our rage, but rather attempts to be able to live again. We have nothing to do but turn it into a living reality, to halt the field of everyday life, our power to materialize our desires, our power to not contemplate but rather transform the real–that is our vital space, everything else is dead."
"Those who want to understand will understand, now is the moment to shatter our invisible cages and to transform our small and pathetic lives."
We escape from the networks and structures of capital created by sociopaths, we escape from the substitution of the social networks that make us avoid ourselves for a better world in which we only speak with the wall, developing the cancer that presupposes [also entails, signifies – transl] appearances, and we do not want to appear [as in to seem, to feign – transl] but rather to attack. We unite with the insurgents. That it's no use from the start, the critique of this–our actions and struggle–does not have a political expression, our struggle is our political expression.
Our struggle is the only thing we have. We are not for making a fool of anyone, we are precarious youth at war against domination.
To part with the appointed times: we consider that during and after an action or demonstration a series of things happen; first we gain–that is, we achieve the objective thereby concretely sabotaging the objective, and then we lose since we return to adhering to spectacular normality, we abandon the subversive role and we go on to exist within the networks again; thus and so far as it is possible, actions should go on extending themselves, perpetuating themselves and making themselves daily and habitual until–together with words, solidarity and every type of anarchist practice–they can create some subversive social fabrics and some strong bases of counterpower.
We did not want these words to just be dead words.
Coordinated actions:
Mailing of envelopes that simulated explosive letters:
On November 17th and 18th, two envelopes that simulated explosive letters we sent to the headquarters of the PSC and the PPC in Barcelona.[1] The same day of the 18th, notes were left at the door of both headquarters reading: "The domination, abuses, terror and control do not go unnoticed; expressions of rage will not be mere simulations next time. Death to capital and the politicians. Long live anarchy."
Barcelona, November 20th, 2011:
In the late night to early hours of November 19th-20th, the locks of 15 polling stations were sealed, some cameras located in the same centers were obscured and attacked. Later, at 1:30am, the street was blockaded at Av. Meridiana and Ruben Dario (around #460), later at 2:15-2:30 the street was blockaded between Claramunt and Serós.
On November 20th, 12:30pm, Barcelona: bomb threat in the city of (in)justice.
On November 20th, 7:50pm, Badalona: bomb threat to the courthouse of Badalona.
On November 20th, no one votes, active abstention, They do not represent us!
Anti-authoritarian Insurgency of Action / Informal Anarchist Federation
For the comrades of other countries who don't understand:
1. PPC and PSC are the Cataluña branches of the (un)Popular Party and the P$OE — parties that represent in the $tate the major political forces enacting and coordinating cuts and privatizations.
* Translation notes: The Spanish language, in addition to 'anarchism' and 'anarchy,' has a third related term–acracia–which can be translated as anarchy. It has the most apolitical connotation of the three, so we translate it here as 'chaos.' We generally translated its adjective form as 'anarchic.'
Tags: Badalona, Barcelona, Bomb threats, Catalunya, Gabriel Pombo da Silva, Informal Anarchist Federation (FAI), Insurgencia Antiautoritària d'Acció / Federación Anarquista Informal, International Revolutionary Front, Letter Bomb, P$OE, PPC, PSC, Sabotage, Silvia Guerin, Spain
Posted in Direct Action
Tuesday, November 15th, 2011
325 receives and transmits:

9 November 2011
In the night of 9th November 2011, in Milano (Italy), we smashed 7 bank ATMs.
We decided to attack the banks as they are the symbolic institutions of money, the pillar of today's alienated and false social relations (work/consume) and of the power relations between the dominant élites and the mass of the exploited.
Crisis or no crisis, it's the same existence of any economic system that disgusts us, a system that we're not interested in saving or reforming but only in destroying.
The executives of the financial institutions, closed in their offices, everyday move huge quantities of capital, in order to gain as much profit as possible, not caring about the devastating effects that the projects they finance (wars and weapons, highways, energy plants, high speed trains, security and social control systems and so on) have on entire territories and populations.
This action is dedicated to Luciano Tortuga, Chilean anarchist comrade wounded while he was attacking a bank in Santiago.
Solidarity is not only words! Complicity and solidarity to all the prisoners that resist, and to anybody who fights here as in Chile, Greece, Russia, Belgium, Germany, Indonesia, Spain, Sweden, USA and anywhere else… against any form of oppression!
Riot shouldn't be just a day of temporary joy but a permanent life condition… to take our lives back in our hands… more attacks against the symbols of State and Capital!
Revolting Individualists
Tags: ATM, Belgium, Chile, Economic Crisis, Germany, Greece, Indonesia, International Solidarity, Italy, Luciano Pitronello Schuffeneger, Revolting Individualists, Russia, Spain, Sweden, USA
Posted in Direct Action
Saturday, October 29th, 2011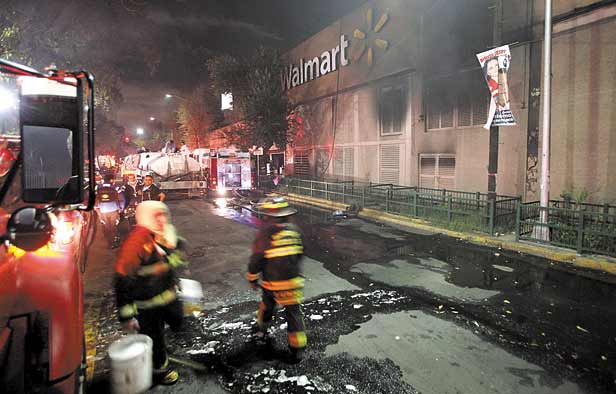 From culmine via this is our job:
To all like-minded arsonists and antagonists, the fourth communiqué from the Conspiracy of Cells of Fire – Mexico / Informal Anarchist Federation:
Neither exasperated, indignant, nor broken! Arsonists at war against every authority!
All our solidarity with comrade Gabriel Pombo da Silva!
We're celebrating two months of direct attacks on capital and the State!
Against the system of domination!
For Total Liberation!
Yesterday [26/10/11] at 6:23 p.m., liberatory fire again burned where it hurts most, destroying merchandise. The Conspiracy of Cells of Fire (CCF) faction of the Mexican Informal Anarchist Federation (FAI-M), Veracruz section, gave life to liberatory fire at the Wal-Mart located at Universidad and Avenida Las Palmas in the heart of Coatzacoalcos, Veracruz. With this new attack, we avenge comrade Gabriel Pombo da Silva (held captive in Aachen prison) and demand his immediate release from the German and Spanish states. We also stand in solidarity with our comrade Tamara, with the Bombings Case compas in Chile, with the imprisoned Conspiracy of Cells of Fire compas in Greece, and with all our comrades abducted by the State in Mexico and the rest of the world. (more…)
Tags: 14/14, Arson, Coatzacoalcos, Conspiracy of Cells of Fire, Conspiracy of Cells of Fire - Mexico, Conspiracy of Cells of Fire : Imprisoned Members Cell, Gabriel Pombo da Silva, Germany, Informal Anarchist Federation - Mexico (FAI-M), Informal Anarchist Federation (FAI), International Solidarity, Luciano Pitronello Schuffeneger, Mexico, Revolutionary Struggle, Spain, Tamara, Veracruz, Wal-Mart
Posted in Direct Action
Wednesday, October 12th, 2011
325 receives and transmits:
10 October 2011
On the night of Monday 10 October we hit the bastard system again with more fiery anger. Two cars at the GP Motors dealership in Newnham, Cambridge, were arsoned – we hope the flames spread to the others, bringing a roaring inferno to the quiet leafy streets. No one was outside, the only sign of the middle class residents awake was the blue glow of TV screens from curtained windows! While the insurrectionary action cell had adrenaline pumping, joy in the heart, the moon shining bright above and the refreshing night air.
Shout out to the impatient and the bored shaking off passiveness and going on the attack against society!!
To the Greek uprizers and most especially the CCF, you fill us with strength, stay strong and stay unbowed!
And to the anarchists on the attack around the world, in Mexico, Chile, Spain, Indonesia, Russia, Argentina, Italy, and everywhere else – we are winning, winning against society's cloying herd mentality and the meaningless lot set out for us in life.
As we know in our hearts, what we win is right here right now living with the head held high, the smile as we face a new day with dignity, the knowledge that whether or not the broader population upsurges against the imposed system and we have anything like the anarchist dream of a world of freedom and equality with no domination, we live without regrets as anarchists NOW.
Against the whole fucking disgusting cage of civilisation – wild destruction for total liberation!
Fire Cell / Informal Anarchist Federation

Tags: Argentina, Arson, Cambridge, Chile, Conspiracy of Cells of Fire, Fire Cell / Informal Anarchist Federation, GP Motors, Greece, Indonesia, Informal Anarchist Federation (FAI), International Revolutionary Front, International Solidarity, Italy, Mexico, Russia, Spain, UK
Posted in Direct Action