Posts Tagged 'Spain'
Friday, March 8th, 2019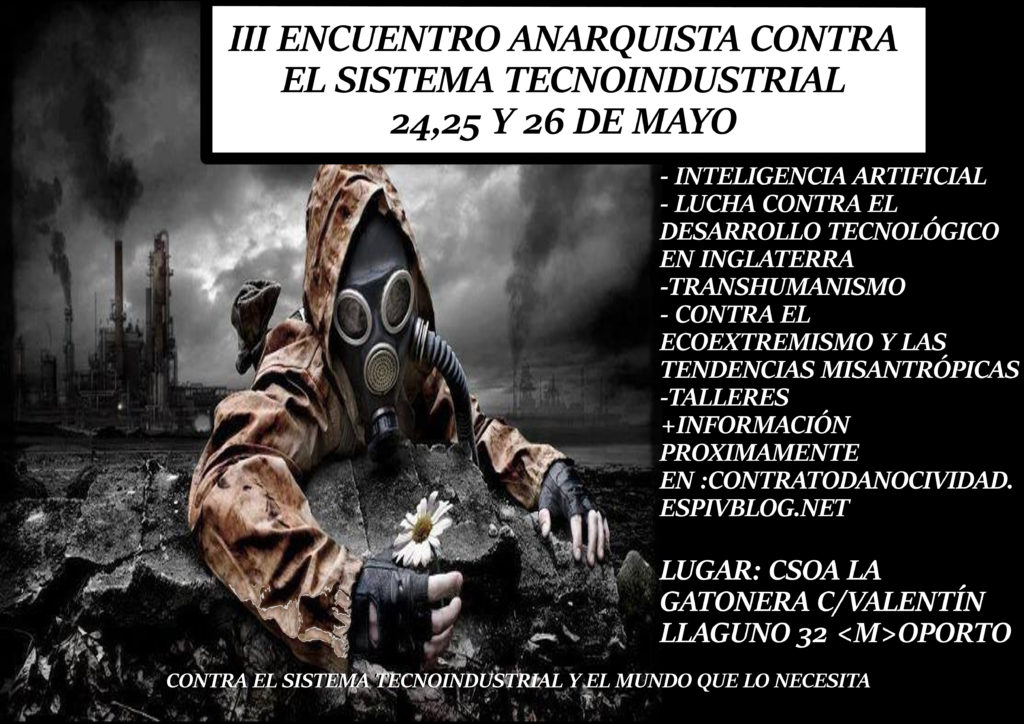 III ENCUENTRO ANARQUISTA CONTRA EL SISTEMA TECNOINDUSTRIAL Y SU MUNDO
Por tercer año consecutivo tendrá lugar en el CSOA La Gatonera (C/ Valentín Llaguno, 32) el Encuentro contra el sistema tecnoindustrial.
Este encuentro surge debido a la necesidad de generar un discurso contra el sistema de dominación en el que nos hayamos, dicho sistema impregna el mundo que nos rodea bajo una lógica tecnocientifica donde todo es medible, cuantificable y por tanto, está sujeto a un control. Dicho desarrollo se basa en la sustitución de los procesos naturales por procesos técnicos sometiendo así a los individuos, animales y el ecosistema a la mega máquina.
Cómo anarquistas consideramos que la lucha debe integrar la necesidad de proteger nuestro medio y recuperar la autonomía que este sistema nos ha arrebatado.
Durante el encuentro se realizarán charlas sobre:
– Inteligencia artificial
– Lucha contra el desarrollo tecnológico en Inglaterra
– Transhumanismo
– Contra el ecoextremismo y las tendencias misantrópicas
Y mucho más…
+ Información próximamente en:
contratodanocividad.espivblogs.net
– Para contactar: contratodanocividad@riseup.net
ACUDE Y DIFUNDE
¡POR LA LIBERACIÓN TOTAL!
Tags: Anti-technology, Madrid, Spain
Posted in Eco Struggle
Friday, March 8th, 2019
En el marco de la semana de "Agitación y propaganda contra la gentrificación y la especulación capitalista y en defensa de la okupación" dos vehículos de las empresas "E-Move" y "Car to Go" fuegon incendiados, en los barrios de Arganzuela y Prosperidad.
Nos encontramos en la consolidación de la última reinvención democrática y de las ilusiones renovadas en las caducas estructuras del Estado y el parlamentarismo. La irrupción en el panorama político de la "nueva política" ha servido al sistema para renovar sus estructuras de dominio y dotarles de un nuevo aire de legitimidad, desgastada tras los años de la crisis. A medida que la vía electoral cobraba fuerza, la agitación en las calles disminuía. Como siempre.
Paralelamente, nos hemos encontrado con la infiltración y convivencia dentro de los llamados "movimientos sociales" de políticos y lidercillos que instrumentalizaban cualquier conato de lucha entre las muchas marcas blancas de Podemos a nivel municipal, en un reparto de la tarta del Poder municipal. Es cada vez más habitual ver a personajes como Errejón en las protestas contra los CIES, parlamentarios en desahucios como el de la calle Argumosa o observar como pululan concejales y otros tipos de políticos por algunos centros sociales okupados o no okupados, en tal o cual asamblea… (more…)
Tags: Arson, Car Burning, Madrid, Sabotage, Spain
Posted in Direct Action
Sunday, March 3rd, 2019
On the night of February 18, a bank ATM in the Usera neighborhood was set on fire. This small action is a sign of encouragement for Lisa, recently moved from Germany to Madrid; for the repression of the G20; the comrades arrested in Madrid on 30 October – accused of burning another Bankia ATM – and for the comrades in Italy, recently beaten in new operations against the anarchist environments in Turin and Trento, as well as for the comrades on trial in the Scripta Manet and Panic operations.
Let the Spanish and Italian states know that anarchist solidarity will not stop. And it will be formed by more than words. Sabotage is easy and simple. In the possibilities of its reproduction is its strength.
Also, this small action serves as a contribution to the week of agitation and propaganda against gentrification, spatial capitalism and in defense of squatting.
Freedom for Lisa, freedom for all!
Long Live Anarchy!
Tags: Arson, ATM Burned, G20, International Solidarity, Lisa, Madrid, Operation Panic, Operation Scripta Manent, Sabotage, Solidarity Action, Spain
Posted in Direct Action
Sunday, March 3rd, 2019
Lisa was put in isolation following her transfer from Willich prison [in Germany] to Madrid. In a recent letter she says she has gone [from the FIES regime] to ordinary detention conditions and that she no longer has restrictions on her mail. She is well and strong.
To write to her :
Lisa Dorfer
C.P. Madrid V
Módulo 13
Carretera M609, km 3,5
28971 Soto del Real, Spain.
via: Sansattendre
Translated by Act for freedom now!
Tags: Isolation, Lisa, Madrid, Spain
Posted in Prison Struggle
Thursday, February 28th, 2019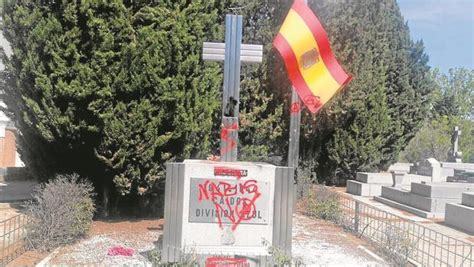 Last Friday, February 8, we vandalized the monument to the División Azul in the Almudena cemetery in Madrid. There are reasons to do it any day, but this date we chose with pleasure because the next day the fascists paid homage and on Sunday an amalgam of rancid ultra-Catholics, fascists, geriatics, neo-Nazis and various imbeciles walked with their anachronistic and disgusting symbols for a few streets in Madrid.
We carry the historical memory in our hearts. In the invisible scars that have left us with centuries of oppression. In our ideology and our practices. In our incessant search for freedom. We do not need governments or laws that change symbols for others. We will always have fun staining the dirty symbols of the authorities, whether they represent democracy or fascist dictatorships.
Death to the State and Long Live Anarchy!
Tags: División Azul, Madrid, Sabotage, Spain, Vandalism
Posted in Direct Action
Sunday, February 17th, 2019
Recibido por correo electrónico
A principios de julio de 2017 tuvo lugar en Hamburgo la reunión del g20. Representantes de los países dueños de la economía mundial, planeaban durante dos días como seguir manteniendo ese sistema de miseria, explotación y muerte. Manifestaciones, bloqueos, sabotajes, enfrentamientos con las fuerzas del orden, saqueos… (al igual que ataques descentralizados las semanas previas) pretendieron, y lograron durante muchos momentos, interrumpir el normal funcionamiento de esta cumbre.
El 6 de junio, el día que llegaban los políticos, acompañados de sus más de 6000 delegados, seguidos en todo momento por más de 3000 periodistas y protegidos por unos 10000 policías, estaba convocada una manifestación anticapitalista bajo el lema de Welocome to Hell. (more…)
Tags: G20, Germany, Hamburg, International Solidarity, PDF, Repression, Spain, Zine
Posted in Library
Wednesday, January 9th, 2019
Contribution from La Rebelión de las Palabras for the meeting taking place in Santiago, Chile on 23rd December in combative memory of nihilist-anarchist comrade Sebastian Oversluij, "Angry". The meeting was also within the context of Black December and internationalist anarchist praxis. 5th year since Sebastian's death during a bank expropriation.
From the Spanish State, we greet first of all the compas that raised the commemorative activity for Angry, to a new anniversary of his death in action when he was trying to expropriate one of the temples of Capital. The noise of the blast that killed him awoke new feelings of rabid sadness that roamed the globe, unleashing actions of revenge, activities in his memory, and that inspired more individuals and groups that from the offensive or not, returned to take a breath to continue on this difficult path. We did not know Angry, nor did we know the political and social context of the Chilean territory where he developed, lived and fought. However, the courage, the determination and the coherent commitment that he showed with his last action reverberate in us, and we also feel affinity with his words, his music with the rap band Palabras En Conflicto, which we know and like, and with his drawings and gestures, contributions that mark his offensive trajectory, feeling honored to be able to participate in this activity contributing the present writing.
We have been asked to write something about the context of anarchism in the territories dominated by the Spanish State. However, to be honest, we do not feel legitimacy for such a task, since we do not know in depth the concrete context of many places of the state, and others we know them in a partial, ephemeral way or in any case, from an approach that starts from our assessment, our subjectivity and our own processes, affinities, preferences, with what we have decided to make a general assessment that, we repeat, part of our own personal valuations, without having to be taken as an absolute reason or that we intend to speak for others companions who, perhaps, have another point of view and something to say about it. (more…)
Tags: Black December, Chile, Counter-info, International Solidarity, La Rebelión de las Palabras, Santiago, Sebastián Oversluij Seguel, Solidarity Event, Spain
Posted in Autonomy
Friday, December 28th, 2018
In the night of 30th November at 8pm, as the neighbourhood of Sant Andreu (Barcelona) was in the middle of a celebration and patrols were going around, a cash machine of Deutsche Bank was happily burning.
A piece of writing, 'prisoners of war'.
An individual action.
Coherent consequence of my anarchist orientation.
Let the flames lighten up my comrades' nights, even if only with a simple smile.
To the prisoners of war in the Spanish peninsula. Onwards, comrades!
To the Italians persecuted in the operations panico and scripta manent.
To Paska, a comrade on hunger strike since 5th November. Strength to you, comrade!
To Anahi, in coma following an attack in Argentina. Resist, comrade!
To Hugo and Marcos, rebels and avengers. Onwards!
To Juan Aliste. Irreducible!
To the Greek and Chilean warriors.
To Lisa, I'm waiting for you with a complicit smile.
To all the coherent and consequent individuals. Let's continue the struggle!
To the compas in Madrid.
Let M.I.L. cash machines burn!
roundrobin.info
Translated from Italian by act for freedom now!
Tags: Arson, ATM Burned, Barcelona, Catalunya, International Solidarity, Sabotage, Spain
Posted in Direct Action
Wednesday, December 26th, 2018
On Friday December 21 the comrade was transferred to Madrid, to Soto del Real prison. As far as we know there are no restrictions on incoming or outgoing post, so it would be really nice if everyone were to write to her. Here is her new address:
Lisa Dorfer
Módulo 15
Centro Penitenciario Madrid V
Carretera M609 km.3,5
28791 Soto del Real
Madrid
Spain
Monday, December 31 at 10.30 gathering outside the WAD-RAS prison.
Translated by Act for Freedom Now!
Source
Tags: Germany, Lisa, Madrid, Prison Transfer, Soto del Real, Spain
Posted in Prison Struggle
Tuesday, November 20th, 2018
Claims received by the comrades in Madrid in solidarity with the comrades arrested on October 29. The companions ask for diffusion and translation:
1. https://contramadriz.espivblogs.net/2018/11/20/a-martillazos-contra-los-cajeros-de-carabanchel-solidaridad-anarquista/
2. https://contramadriz.espivblogs.net/2018/11/20/ataque-a-inmobiliaria-en-carabanchel-guerra-a-la-especulacion-capitalista/
3. https://contramadriz.espivblogs.net/2018/11/16/madrid-ataques-quot-simbolicos-quot-a-cajeros/
4. https://contramadriz.espivblogs.net/2018/11/16/madrid-cajero-en-llamas-en-carabanchel/
5. https://contramadriz.espivblogs.net/2018/11/12/madrid-sabotajes-a-cajeros-automaticos-en-solidaridad-con-les-companeres-detenides/
Tags: International Solidarity, Madrid, Repression, Sabotage, Solidarity Action, Spain
Posted in Direct Action
Wednesday, November 7th, 2018
Last Monday, October 29, the Information Brigade went to the houses of two anarchist comrades in Madrid to arrest them. They are charged with the crime of damages caused by the burning of a Bankia ATM in the Vallekas neighborhood during the week of action on the anniversary of the arrest of Comrade Lisa, who is currently in the custody of the German state sentenced to 7 years and accused of robbing a bank.
It is not the first nor the last time that the State represses any indication of direct anarchist action. The State has been improving its repressive machinery for some time. Proof of this is the proliferation of surveillance cameras (as in this case) and the taking of DNA and the coordination with other police bodies at European level (as in the case of Lisa or those hunted and imprisoned for the events at the [Hamburg] G20, which had its last chapter in the Spanish State on October 19 with house searches of comrades in Palencia and Madrid).
These arrests, in the way they have been carried out, mean a change of repressive strategies away from the media's spectacularization of past police operations against anarchist environments (Pandora, Piñata, Pandora II, Ice). The goal is the same, however: intimidation, fear and the consequent paralysis of the struggle. (more…)
Tags: International Solidarity, Madrid, Repression, Spain
Posted in Social Control
Sunday, October 28th, 2018
Six anarchists have been arrested in Murcia by the Spanish National Police who accuse them of being responsible for several explosive and incendiary attacks against infrastructure including pylons. The six anarchists aged 21 to 27 are accused of possession, storage and trafficking of explosives, and property damage. This operation follows an arrest and search that took place in June this year in the town of Molina de Segura (Murcia region), during which a young anarchist was arrested and explosive material seized. Thirty similar actions in their equipment and targets took place in Murcia. The six anarchists arrested are charged for the last nine attacks.
Tags: Molina de Segura, Murcia, Repression, Sabotage, Spain
Posted in Social Control
Wednesday, October 10th, 2018
Some prisioners from diferent spanish jails are going to start a new hunger strike. In the last hunger strike the 1th of May, they didn't get attention from media or society so they are going to make theirselves in danger again to get the rights that they legally have. Their objective is having a less hard diary life and prove that jail is not the solution: It's just a place to shut in people that are not agree with the system or these who are not productive for it. (more…)
Tags: Hunger Strike, International Solidarity, Spain
Posted in Prison Struggle
Thursday, September 27th, 2018
During the International Week of Solidarity with Anarchist Prisoners more than a dozen ATMs in different neighborhoods of Madrid were sabotaged. The tools for these types of sabotage and simple and easy: hammers and sprays.
We understand solidarity as a continuity of the struggle that has led to our compañerxs being held in the prisons of the State. Anarchist solidarity is much more than just a written word or doing assistance work with the prisoners. This solidarity is materialized via attacks against the structures of capitalism and State, and seeks to deepen the conflict through direct action.
Down with the walls of the prisons. Long live anarchy.
For the compañerxs hit by Operation Scripta Manent!
For the compañerxs facing repression following the Hamburg G20 summit!
For the Indonesian anarchists prosecuted after May 1st!
For Lisa and all the anarchist prisoners!
Anarchists
Tags: G20, International Week for Anarchist Prisoners, Madrid, Operation Scripta Manent, Sabotage, Spain
Posted in Direct Action
Sunday, July 22nd, 2018
The anarchist prisoner Claudio Lavazza (in prison in Spain since 1996) has been transferred several days ago to a maximum security prison in the Paris region. The transfer, which Claudio expected, is due to the conclusion of the definitive trial for actions for which he has been accused in France since the 1980s; Once the trial is over, he will return to Spain to finish serving his remaining sentence in that country.
When there are more updates, we will give you more news.
Against all prisons!
Tags: Claudio Lavazza, France, Prison Transfer, Spain, Trial
Posted in Prison Struggle