Posts Tagged 'Spain'
Saturday, January 2nd, 2016
AGAINST REPRESSION… NOT EVERYTHING GOES
The State uses different strategies to eliminate its enemies and anyone who raises their voice to criticize the established order.
It wants to eliminate and eradicate all initiatives of rebellion; for this purpose it can rely on a powerful judicial apparatus which holds a wide punitive spectrum, ranging from light sentences, which in general result in fines or suspended sentences, to the use of harder instruments, including the wild card of the Antiterrorism Law, a card frequently played at power's game table. For anyone who sees prison as an eventuality in the struggle against dominion, we observe how the current political context tends to make this more likely for many others: there are many who don't know if they'll wake up in a cell tomorrow, and we who are already inside don't know how long we'll be in here. At times the situation becomes confused as we are faced with a machine of repression set in motion by its own paranoia and hallucinations; and ultimately this is one of the many ways of exercising power. The rapidity of several police operations in succession adds to the confusion, especially as the charges are often 'imaginary', and everything goes with the spectacularization made by the media of Power. Whoever exercises and supports domination will never understand our antiauthoritarian tension, because they try to place us within their line of reasoning. (more…)
Tags: Francisco Solar, Letter, Monica Caballero, Spain
Posted in Prison Struggle
Saturday, January 2nd, 2016
Title: Against Democracy
Author: Coordination of Anarchist Groups.
Translator: Anonymous, 2015.
First edition: 2013.
Self-published.
Please copy and distribute these texts, citing the source, for noncommercial purposes.
This work is free but it took effort, time and money to make, so any contributions will be welcomed. (more…)
Tags: GAC (coordinated anarchist groups), PDF, Spain, Why attack democracy?, Zine
Posted in Library
Thursday, December 24th, 2015
Prosecutor Teresa Sandoval, of the Audiencia Nacional, has submitted the prosecution's demand to the 6th tribunal of the Audiencia Nacional, a demand that reflects the investigators' thesis on comrades Monica and Francisco's lives.
In their thesis the powerful falsely maintain that GAC (Grupos Anarquistas Coordinados) are an action group responsible for several explosive and incendiary attacks, which the group allegedly claimed. The inquisitor in charge is trying to take advantage of the antiterrorist hysteria caused by the attacks perpetrated by ISIS religious fascists in Europe, remarking that 'the insurrectional affinity groups, like the jihadist cells, are perfectly clear about their generic enemy and therefore need no superior command in order to set an attack in motion.'
The prosecutor acknowledges that before the attack on the Basilica del Pilar a warning telephone call was made to a nearby beauty centre so that the authorities were alerted. As the receivers believed it was a joke they didn't alert the authorities and the device detonated while people were inside the building; as a result a person suffered ear damage.
Following this rambling on terrorism, the sentence demanded against the comrades is 44 years each, comprising:
Belonging to a terrorist organization: 9 years
Ear damage caused to a victim: 12 years
Terrorist attack (the explosion at the Basilica del Pilar): 18 years
Conspiracy to commit similar attacks (alleged reconnaissance of the Basilica de Montserrant in Barcelona): 5 years
The threat of stratospheric sentences is nothing new to the comrades: at the trial for the 'Caso Bombas' in Chile the prosecutors' request was 20 years for Monica and 25 for Francisco. It won't be the threat of years in prison made by the Spanish State that will stop insurrection or the will to struggle.
International and insurrectional solidarity for the destruction of all sentences!
Eternal love in revolt for the comrades… Always ready for action, not a step back!
–

via actforfree
Tags: 14/14, Chile, Francisco Solar, GAC (coordinated anarchist groups), Monica Caballero, Repression, Spain, Trial
Posted in Prison Struggle
Tuesday, December 8th, 2015
Barcelona, Spanish State: The attack continues in the face of the blows inflicted by power
After the recent police operations against anarchist milieus, so much has been written and said; statements and opinions mainly denounce or 'condemn' the repression inflicted by the authorities. After the latest repressive operation and the reactions that followed, we reckon we should give our point of view.
Starting from the fact that the ongoing repression is the State's logical response to those who consider themselves (or the State considers) its enemies, we don't understand certain communiqués full of victimization, where in practice (and with the most appropriate words, of course) they beg the State to stop unleashing its cops 'indiscriminately' against anarchists. And they say that repression is unjustifiable, and of course they use and abuse the word 'frame-up', and say we do nothing wrong, and that they attack us because we 'think in a different way'… They try to give a picture of 'normality' and endeavour with all means to make this picture clean and socially acceptable. They do their best to take distance from violent words and actions; and as they become entrapped in the game of power and use the latter's language, they make distinctions between 'good' anarchists and 'bad' ones, thus promoting criminalization from within their ranks.
At this point some of these 'anarchists' don't feel ashamed at giving pitiful interviews to the media, and what is worse they pose as spokespersons of the 'anarchist movement' (and then of all social movements); these would-be politicians and leaders of the masses try their best to alienate anarchism from its subversive and conflictual character, and present anarchism as a simple movement of activists, deprived of any words or actions that clash against power and the established order.
Then there are those who just talk of how terrible repression is, how all comrades are under strict surveillance, and one can't do anything; this kind of attitudes only spread collective panic and paranoia, and these are the attitudes of those who hide their inactivity behind the pretext of ever present repression, surveillance, 'I'm being strictly watched', etc. Anyone who is reluctant to take responsibility can be so according to their personal decisions; but to hide oneself behind uncontrolled and often groundless fear and to spread discouraging feelings wherever one goes, is dangerous and counter-productive. This doesn't mean that there are the 'brave' ones and the 'cowardly' ones; it's perfectly normal to fear police checks, prison, beatings, torture and murders committed by cops and jailers…
But spreading fear leads to panic and paranoia, and in turn this leads to discouraging speeches calling for inaction, maintaining that 'to behave' is better for both oneself and other comrades so as not to be the objects of police investigations.
To conclude this topic it must be said that even if the State has shown us nothing more than the tip of the iceberg, this is nothing compared to what could happen; in fact it's sufficient to look at repression currently occurring in other areas of the world (and not even that far) or in the Spanish State itself a few decades ago. It should be clear that as we stand as anarchists we live with the risk and possibility to be hit by the machine of repression, also at the margins of our practices, because, as we've seen, there are times when the same repressive machine tries to stir fear among the enemies and strikes everyone rather than inflict targeted blows; as a consequence anyone of us can be a target.
However, in spite of the deployment of police operations, arrests and slanders that have been carried out (and in spite of what has to come yet), power knows that there will always be individuals who cannot be controlled or frightened, no matter what, our desire to destroy everything that oppresses us cannot be put off. We are glad to see how in spite of everything, they didn't manage to stop the attack on the existent; every day there are some who still don't give in to fear and social submission and go on constant attack. Multiform anarchist action keeps on spreading through many neighbourhoods, cities and countries in the form of publications and militant texts, posters, graffiti, banners, sabotage, fires and explosions, roads blocked with barricades, clashes, attacks on the buildings of power and disorders during demonstrations…
Although the Spanish state prefers not to make claims known so that actions are silenced, we know for certain what's happening, with more or less frequency. The violence of the minority will continue, and we talk about violence openly and without troubles because we are convinced that power won't fall by itself, nor will any Messiah come from heaven with a solution.
We don't use words such as 'self-defence' or 'counter-violence'; nor do we talk of anarchist violence only in a context of mass uprising when it's more acceptable. We've found out that in spite of everything, insurrectional practices and attacks are still possible; police can't be everywhere, they don't spy on us all or control us all, some common sense, good planning and good will are more than enough to prove that the picture of a controlled and pre-arranged world is just an illusion; it's up to us to break this illusion of tranquility.
For in the face of the blows of power and the misery of some 'anarchists' who only care to give an image of good innocent boys to society in order to be safe, we arm our desires and passions, and go on the attack. To the masses and their inactivity we offer our aggressiveness, we expect nothing and throw ourselves into constant anarchist revolt.
We are the rebels who have decided to carry on and run the risk, and dare live anarchy here and now.
Words without action are dead words to us, so we take the occasion of this communiqué to claim the following actions carried out in several neighbourhoods in Barcelona: the fire on vehicles of security companies, private ones as well as State-owned ones; attacks on bank branches through damages to windows and ATMs caused by hammers, stones, paint and fire; fire and destruction of urban structures.
With this communiqué we want to give our warm greetings to our prisoners, especially Monica and Francisco, who have been in pre-trial detention for over two years always with their heads held high; to comrades Nicola and Alfredo, the comrades of the CCF and the comrades imprisoned in Chile; and we want to remember our fallen ones and greet those who day by day continue to bet on constant conflict and anarchist insurrection, and make anarchy be once again a threat.
For a Black December everywhere!
For the black international of the anarchists of action!
For the spreading of chaos and Anarchy!
Nothing ends, the war continues…

Individualities for the Diffusion of Chaos – FAI / FRI

–
via: croceneranarchica
Translated by act for freedom now
Tags: Alfredo Cospito, Arson, ATM Burned, Barcelona, Black December, Catalunya, Chile, Conspiracy of Cells of Fire : Imprisoned Members Cell, Francisco Solar, Informal Anarchist Federation (FAI), International Revolutionary Front, International Solidarity, Monica Caballero, Nicola Gai, Sabotage, Spain
Posted in Direct Action
Tuesday, November 10th, 2015
Manifestación en la Embajada de España en Londres en solidaridad con los anarquistas perseguidos a raíz de la Operación Pandora en Barcelona en los últimos meses.
Demonstration at the Spanish Embassy in London in solidarity with anarchists persecuted following Operation Pandora in Barcelona in the last months.
Saturday, November 14
6:00pm
Spanish Embassy
SW1X 8SB, London, UK
Solidarity to all the prisoners of the Spanish State – Destroy the Prisons.
https://www.facebook.com/events/926372350792952/
Tags: Demo, International Solidarity, London, Operation Pandora, Solidarity Action, Spain, UK
Posted in Social Control
Monday, November 9th, 2015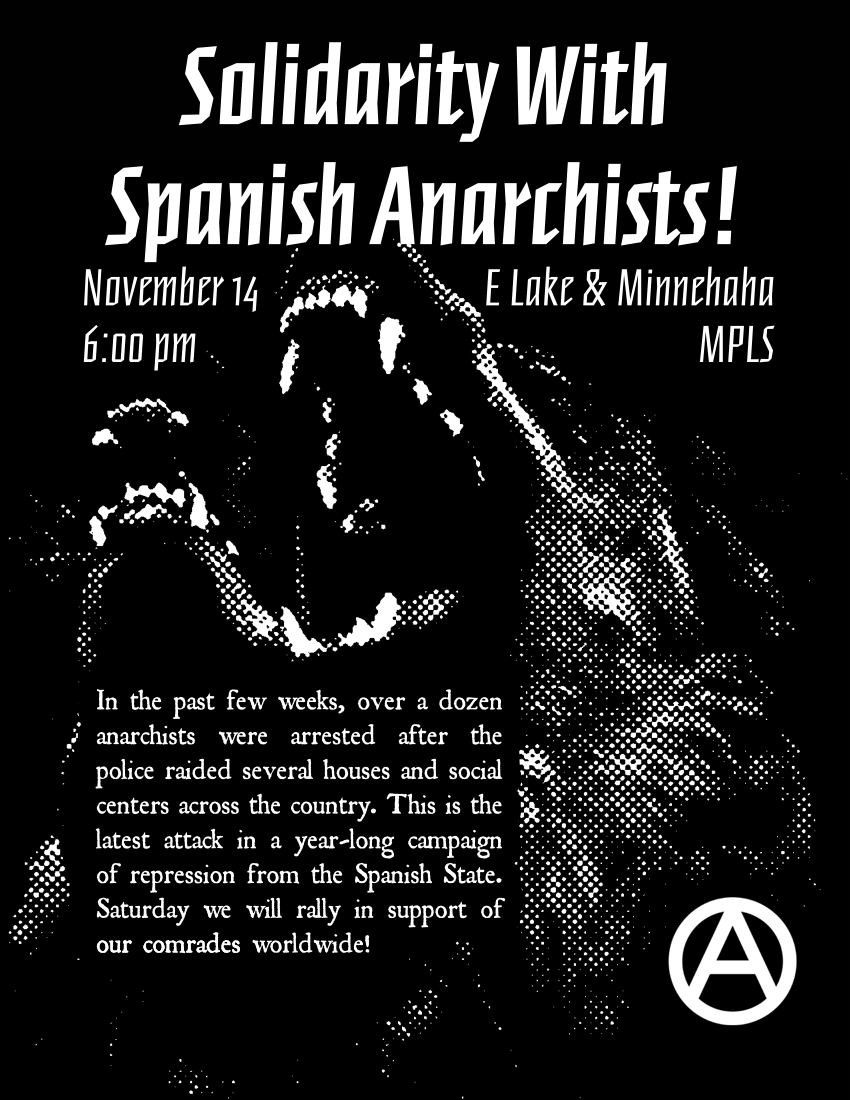 Updated: Here's the reportback.
Almost a year ago, the Spanish State began a campaign of repression against anarchists, arresting dozens, including nine in late October, and five more in November of this year. Their imprisonment is justified with the invention of a fictional terrorist group, the GAC-FAI-IRF. No attack has ever been claimed with this set of acronyms, and the GAC (Coordinated Anarchist Groups) are only the authors of a recent book, Contra la Democracia (eerily similar to the Tarnac Affair and The Coming Insurrection in France, 2008).
On Saturday we will rally in solidarity with those arrested, at 6:00pm at the corner of E Lake St & Minnehaha Ave in Minneapolis.
More info here: Efecto Pandora & Conflict MN.
Tags: Catalunya, Demo, GAC (coordinated anarchist groups), International Solidarity, Minneapolis, Spain, USA
Posted in Social Control
Thursday, November 5th, 2015
If last week we awoke to 9 comrades arrested in Barcelona and Manresa, of which one has to stay in prison [Enrique Costoya Allegue] and the rest have been released pending trial in an extension of Operation Pandora, and the extension of preventive prison to Mónica and Francisco, yesterday, November 4, we awoke to a new beat. In this case, Operation Ice in which they have been arrested 5 companions of the collective Straight Edge Madrid. Again the state hits.
The allegations, belonging to a criminal organization with terrorist aims, damages and apology of terrorism.
The henchmen of the Information Brigade of the National Police say they have found material for making explosives, gunpowder and bomb-making manuals.
It alleges them responsible for the attack with incendiary devices against four bank branches in Madrid as well as other actions in Barcelona. In addition, as has become customary, they are accused of relations with GAC (Grupos Anarquistas Coordinados) – coordinated anarchist groups.
In this case, they have seized documents and propaganda concerning Anarchist groups, for them a confirmation of their coordinated relationship with them, referring specifically to the comrades arrested last March 30 in Operation Piñata.
So it goes in the Spanish state, operation after operation still beating us.
But whatever they do they will not get us to stop fighting.

Freedom for anarchist prisoners!
Solidarity with the repressed!
Innocent or guilty, just anarchists!
Death to the state and long live anarchy!!!!!
via ContraMadriz.
Write to Enrique:
Enrique Costoya Allegue
CP Madrid V Soto del Real
Ctra M-609, km3,5 Módulo 15
28791 Soto del Real (Madrid)
Spain
Tags: Enrique Costoya Allegue, GAC (coordinated anarchist groups), Madrid, Operation Ice, Operation Pandora, Operation Piñata, Repression, Spain, Straight Edge Madrid, Straight-Edge
Posted in Social Control
Wednesday, November 4th, 2015
Some anarchist individuals take the initiative to get these posters out in solidarity with our arrested comrades in the latest blow, Pandora II, and Monica and Francis, whom the Spanish government has extended the detention for another two years. The idea was to get them out in different languages so that solidarity will spread across borders. The posters are ready to download and print. Let's cover your walls with our solidarity!
If they search for us door to door, we will resist them shoulder to shoulder!

Neither innocent nor guilty, just anarchists!
http://contramadriz.espiv.net/index.php/component/k2/item/804-carteles-en-solidaridad-con-los-represalidos-en-la-operacion-pandora-ii-y-con-monica-y-francisco
Tags: Catalunya, Flyposters, Francisco Solar, Monica Caballero, Operation Pandora, Repression, Spain
Posted in Social Control
Wednesday, November 4th, 2015
via Publicacion Refractario & Insurrection News:

On Wednesday October 28 nine of us were arrested in connection with a new anti-terrorist operation orchestrated by the Catalan Regional Police in collusion with court number 3 of the Spanish National Court. After the ransacking and looting of our homes and the Libertarian Ateneo de Sants (an anarchist social center in Sants) we were taken to different police stations on the outskirts of Barcelona. The next day we were delivered to the Civil Guard and transferred to Madrid. On Friday at noon we were brought before Judge Juan Pablo Gonzalez. The judge ordered two of us to be released with charges, 6 of us to be bailed upon payment of a bail surety and unconditional imprisonment for our comrade who is currently locked up in Soto del Real prison.

We the detainees who at present are back on the street wish to make a series of reflections and political positions:
The generic accusation against all 9 of us is "belonging to a criminal organization with terrorist aims." Specifically we are charged with being part of 'GAC-FAI-IRF,' which as we all know is a concept that has been constructed by the police. A set of acronyms which they have quite calculatedly mixed together – the coordination of anarchist collectives (GAC) along with the 'signature' used internationally by some groups to claim acts of sabotage (FAI–IRF).
The construction of this organizational framework gives the police all of the repressive
resources that the anti-terrorism laws provide: closed courts, greater legal uncertainty, much tougher sentences for comrades convicted of carrying out certain actions, isolation, special prison regimes, the criminalization of personal friendships / partners and relatives, amplified media coverage and social stigmatization etc. It is enough to say that during the whole process of our detention – from the moment we saw our homes being invaded and looted right up until we were brought before the judge – we did not even know what we were being accused of. (more…)
Tags: Catalunya, Enrique Costoya Allegue, GAC (coordinated anarchist groups), Informal Anarchist Federation (FAI), International Revolutionary Front, Mossos d'Escuadra, Operation Pandora, Repression, Spain
Posted in Social Control
Thursday, October 29th, 2015
Mónica and Francisco pretrial detention extended.
On Tuesday 27 the judicial review was held where it was decided to extend the
remand of Monica and Francisco or release them pending trial. The review has
left the resolution, and so has extended it.
Although the Spanish legislation provides for two years as the maximum
time a person can remain in pretrial detention, the State has the
possibility to lengthen (arguing some sort of exception in the case) for
two years, and has done.
Two years ago, on 13 November 2013 they were arrested along with three
others, to which the case has been filed against them. Monica and Francisco are
awaiting trial on charges of belonging to a terrorist organization and
conspiracy to cause havoc.
The same day of the leave of this resolution, 9 people were detained in a new blow to
anarchism in Barcelona and Manresa, ten searches in houses and premises.
And in this we just have to roll with the punches and keep going,
showing them they are not alone and that our solidarity will not get slow.

THEY CAN ARREST US, BUT NOT STOP US!
FREEDOM ANARCHIST PRISONERS!
SOLIDARITY WITH ARRESTED!
WE WANT OUR PARTNERS IN THE STREET NOW!
Tags: Francisco Solar, Monica Caballero, Repression, Spain
Posted in Prison Struggle
Monday, October 26th, 2015
Note: A 'concentration' literally means a 'concentration' of comrades; a demo of small number but never insignificant. Solidarity to the two imprisoned compas.
Tuesday, October 27. 9:00 am. C / C Genoa / Farcía Gutierrez. National audience. (Madrid)
On Tuesday October 27 the hearing of two of the arrested in the case of November 2013 is at the National Hearing. After spending nearly two years on remand, (November 13 completes two years), the judges will have to solve if they prolong the two year custody or give bail to those awaiting trial.
Therefore, this Tuesday at 9:00 we will be with them at the gates of the audience, because they are not alone, because we will not slow our solidarity.
They can lock us up but it will not stand.
DEATH TO THE STATE AND LONG LIVE ANARCHY
————–
If they enacted the extension of preventive detention to see you all 20:00 pm in the Plaza de Tirso de Molina

From ContraMadriz
Tags: Francisco Solar, Madrid, Monica Caballero, Spain, Trial
Posted in Prison Struggle
Friday, August 28th, 2015
The Spanish Interior Minister of State fears an anarchist attack against prison officials this week.
From contramadriz via freeonline; in the context of the official report, the anarchist comrades F.Solar and M.Caballero were also referenced.
Spain: A digital media site of disinformation has "uncovered" a Prisons Circular recently distributed to its workers demanding extreme measures to protect themselves against possible suspicious packages received between 23 and August 30th. The reason for this is the "discovery" by the Information Service of the paramilitary Civil Guard of the international call for solidarity with anarchist prisoners from 23 to 30 August.
According to these coppers, the poster is "much more aggressive than the last year's" In fact, you can read the legend "fire to the prisons and jailers", which leads them to conclude that the "main objective of the anarchist movement" at the moment are Prison Officers "or any persons related to the facilities of the General Secretariat of Penitentiary Institutions". All because someone added "and the Jailors" to the traditional "Fire to The Prisons" slogan. (more…)
Tags: Francisco Solar, GAC (coordinated anarchist groups), International Week for Anarchist Prisoners, Letter Bomb, Monica Caballero, Repression, Spain
Posted in Social Control
Friday, August 21st, 2015
Hace un año que el compañero Gabriel Pombo Da Silva fue trasladado al centro penitenciario de Topas (Salamanca). Ahí continúa resistiendo a la dura experiencia de la privación de libertad (después de haber pasado ya más de 30 años trás las rejas), así como a los distintos dispositivos que la administración penitenciaria no para de perfeccionar como mejor conviene a sus intereses y los de sus patrocinadores.
La prisión de Topas fue creada en el marco del programa de construcción de 20 macrocárceles promulgadas al inicio de los años 90 por el gobierno del PSOE de Felipe González. En la misma época, el siniestro y socialista director de Instituciones Penitenciarias, Antoni Asunción, introdujo la directiva interna que administraba los regímenes FIES.
La prisión de Topas tiene pues, las características de estas nuevas fábricas de encarcelamiento en masa – en España el número de personas presas se ha doblado en 20 años, pasando a grosso modo de 35.000 en 1991 a 70.000 en 2011. (more…)
Tags: FIES, Gabriel Pombo da Silva, Repression, Spain
Posted in Prison Struggle
Thursday, July 9th, 2015
Dear comrades,
We send you our warmest revolutionary greetings in solidarity with the two comrades who are arrested by the Spanish state for being fighters for humanity.
This attack against the two comrades who went to Rojava to fight there against the fascist Daesh gangs, is not only an attack against them and your party, its an attack against the international revolutionary movement and against all people who fight against fascism and imperialism. In this moment they attack two of yours but they mean to attack all of us. In this situation the international solidarity is our biggest weapon.
The comrades fought in a legitimate and rightful struggle in Rojava and the people of Rojava will never forget what they did there! We are strongly condemn this repression of the Spanish bourgeois state. Resistance and the fight for humanity, freedom and democracy is not terrorism!
Long live international solidarity!
Long live the international freedom battalion!
Long live the legitimate and rightful fight in Rojava!
Long live PML (RC)!
With revolutionary greetings,
MLKP
Turkey/Kurdistan
International Bureau
Tags: International Brigades (Anti-ISIS/Daesh), International Solidarity, Islamic State in Iraq and Syria (ISIS), Kurdistan, Letter, Marxist-Leninist Party of Turkey (MLKP), Repression, Rojava, Spain, Turkey, War
Posted in Social Control
Tuesday, July 7th, 2015
URGENT: 2 SPANISH MEMBERS OF INTERNATIONAL BRIGADE ARRESTED
During this morning, the repressive forces of the Spanish State are carrying out the arrest of the comrades who have been fighting the fascist forces of DAESH (Islamic State) in Rojava. Due to the lack of further information, we ask you for support, solidarity and spreading the message.
The homes of the comrades were searched by investigators of the Provincial Brigade Intelligence Office of the Madrid police. These comrades are two militants of the Partido Marxista-Leninista (Reconstrucción Comunista) that are accused by the police of appearing in the video above. Police said that the two activists came into Syria via Turkey and Germany. They are accused of participating in an armed conflict outside Spain without the permission of the State, of collaborating with a terrorist organization (this is probably the PKK – Kurdish People's Party being described here), use of military weapons and explosive devices, and of seriously undermining Spanish national interests. Reconstrucción Comunista is an organization composed of members of the Communist Youth who have broken with the Partido Comunista de España, PCE. Its founding members initially were active in this organisation before founding their own organization, close to the MLKP (Marksist-Leninist Komünist Partisi – Turkey) in 2009.
WE WANT THE SPANISH MEMBERS OF THE INTERNATIONAL BRIGADE WHO HAVE FOUGHT ISIS TO BE RELEASED WITHOUT CHARGES!
DEFENDING THE CIVIL POPULATION FROM ISIS TERRORIST ATTACKS CAN'T BE PERSECUTED!
FREEDOM FOR THE ANTIFASCIST COMBATANTS!
INTERNATIONALIST SOLIDARITY IS NOT A CRIME!
Info from Marxist-Leninist Party (Reconstrucción Comunista), 6th July 2015, via RHI-SRI – Secours Rouge.
–
Update – International Brigade comrades Paco & Martos released on conditional bail
According to the Spanish mainstream press, National Court judge Eloy Velasco has released Paco and Martos, the two comrades from the International Brigade who fought for six months against Daesh / Islamic State in Rojava. The two comrades have been charged with membership of a 'terrorist organization' along with associated charges and have been released on conditional bail. The conditions of the comrade's bail are weekly reporting to the police, surrendering of their passports and a ban on leaving the country.
Solidarity with Paco and Martos!
The Spanish state must drop the charges!
International Solidarity is not a crime!
Tags: International Brigades (Anti-ISIS/Daesh), Islamic State in Iraq and Syria (ISIS), Kurdistan, Madrid, Marxist-Leninist Party (Reconstrucción Comunista), Marxist-Leninist Party of Turkey (MLKP), People's Defence Units (Y.P.G.), PKK (Kurdish People's Party), Repression, Rojava, Spain, Syria, War
Posted in Social Control