Posts Tagged 'Spain'
Thursday, October 29th, 2015
Mónica and Francisco pretrial detention extended.
On Tuesday 27 the judicial review was held where it was decided to extend the
remand of Monica and Francisco or release them pending trial. The review has
left the resolution, and so has extended it.
Although the Spanish legislation provides for two years as the maximum
time a person can remain in pretrial detention, the State has the
possibility to lengthen (arguing some sort of exception in the case) for
two years, and has done.
Two years ago, on 13 November 2013 they were arrested along with three
others, to which the case has been filed against them. Monica and Francisco are
awaiting trial on charges of belonging to a terrorist organization and
conspiracy to cause havoc.
The same day of the leave of this resolution, 9 people were detained in a new blow to
anarchism in Barcelona and Manresa, ten searches in houses and premises.
And in this we just have to roll with the punches and keep going,
showing them they are not alone and that our solidarity will not get slow.

THEY CAN ARREST US, BUT NOT STOP US!
FREEDOM ANARCHIST PRISONERS!
SOLIDARITY WITH ARRESTED!
WE WANT OUR PARTNERS IN THE STREET NOW!
Tags: Francisco Solar, Monica Caballero, Repression, Spain
Posted in Prison Struggle
Monday, October 26th, 2015
Note: A 'concentration' literally means a 'concentration' of comrades; a demo of small number but never insignificant. Solidarity to the two imprisoned compas.
Tuesday, October 27. 9:00 am. C / C Genoa / Farcía Gutierrez. National audience. (Madrid)
On Tuesday October 27 the hearing of two of the arrested in the case of November 2013 is at the National Hearing. After spending nearly two years on remand, (November 13 completes two years), the judges will have to solve if they prolong the two year custody or give bail to those awaiting trial.
Therefore, this Tuesday at 9:00 we will be with them at the gates of the audience, because they are not alone, because we will not slow our solidarity.
They can lock us up but it will not stand.
DEATH TO THE STATE AND LONG LIVE ANARCHY
————–
If they enacted the extension of preventive detention to see you all 20:00 pm in the Plaza de Tirso de Molina

From ContraMadriz
Tags: Francisco Solar, Madrid, Monica Caballero, Spain, Trial
Posted in Prison Struggle
Friday, August 28th, 2015
The Spanish Interior Minister of State fears an anarchist attack against prison officials this week.
From contramadriz via freeonline; in the context of the official report, the anarchist comrades F.Solar and M.Caballero were also referenced.
Spain: A digital media site of disinformation has "uncovered" a Prisons Circular recently distributed to its workers demanding extreme measures to protect themselves against possible suspicious packages received between 23 and August 30th. The reason for this is the "discovery" by the Information Service of the paramilitary Civil Guard of the international call for solidarity with anarchist prisoners from 23 to 30 August.
According to these coppers, the poster is "much more aggressive than the last year's" In fact, you can read the legend "fire to the prisons and jailers", which leads them to conclude that the "main objective of the anarchist movement" at the moment are Prison Officers "or any persons related to the facilities of the General Secretariat of Penitentiary Institutions". All because someone added "and the Jailors" to the traditional "Fire to The Prisons" slogan. (more…)
Tags: Francisco Solar, GAC (coordinated anarchist groups), International Week for Anarchist Prisoners, Letter Bomb, Monica Caballero, Repression, Spain
Posted in Social Control
Friday, August 21st, 2015
Hace un año que el compañero Gabriel Pombo Da Silva fue trasladado al centro penitenciario de Topas (Salamanca). Ahí continúa resistiendo a la dura experiencia de la privación de libertad (después de haber pasado ya más de 30 años trás las rejas), así como a los distintos dispositivos que la administración penitenciaria no para de perfeccionar como mejor conviene a sus intereses y los de sus patrocinadores.
La prisión de Topas fue creada en el marco del programa de construcción de 20 macrocárceles promulgadas al inicio de los años 90 por el gobierno del PSOE de Felipe González. En la misma época, el siniestro y socialista director de Instituciones Penitenciarias, Antoni Asunción, introdujo la directiva interna que administraba los regímenes FIES.
La prisión de Topas tiene pues, las características de estas nuevas fábricas de encarcelamiento en masa – en España el número de personas presas se ha doblado en 20 años, pasando a grosso modo de 35.000 en 1991 a 70.000 en 2011. (more…)
Tags: FIES, Gabriel Pombo da Silva, Repression, Spain
Posted in Prison Struggle
Thursday, July 9th, 2015
Dear comrades,
We send you our warmest revolutionary greetings in solidarity with the two comrades who are arrested by the Spanish state for being fighters for humanity.
This attack against the two comrades who went to Rojava to fight there against the fascist Daesh gangs, is not only an attack against them and your party, its an attack against the international revolutionary movement and against all people who fight against fascism and imperialism. In this moment they attack two of yours but they mean to attack all of us. In this situation the international solidarity is our biggest weapon.
The comrades fought in a legitimate and rightful struggle in Rojava and the people of Rojava will never forget what they did there! We are strongly condemn this repression of the Spanish bourgeois state. Resistance and the fight for humanity, freedom and democracy is not terrorism!
Long live international solidarity!
Long live the international freedom battalion!
Long live the legitimate and rightful fight in Rojava!
Long live PML (RC)!
With revolutionary greetings,
MLKP
Turkey/Kurdistan
International Bureau
Tags: International Brigades (Anti-ISIS/Daesh), International Solidarity, Islamic State in Iraq and Syria (ISIS), Kurdistan, Letter, Marxist-Leninist Party of Turkey (MLKP), Repression, Rojava, Spain, Turkey, War
Posted in Social Control
Tuesday, July 7th, 2015
URGENT: 2 SPANISH MEMBERS OF INTERNATIONAL BRIGADE ARRESTED
During this morning, the repressive forces of the Spanish State are carrying out the arrest of the comrades who have been fighting the fascist forces of DAESH (Islamic State) in Rojava. Due to the lack of further information, we ask you for support, solidarity and spreading the message.
The homes of the comrades were searched by investigators of the Provincial Brigade Intelligence Office of the Madrid police. These comrades are two militants of the Partido Marxista-Leninista (Reconstrucción Comunista) that are accused by the police of appearing in the video above. Police said that the two activists came into Syria via Turkey and Germany. They are accused of participating in an armed conflict outside Spain without the permission of the State, of collaborating with a terrorist organization (this is probably the PKK – Kurdish People's Party being described here), use of military weapons and explosive devices, and of seriously undermining Spanish national interests. Reconstrucción Comunista is an organization composed of members of the Communist Youth who have broken with the Partido Comunista de España, PCE. Its founding members initially were active in this organisation before founding their own organization, close to the MLKP (Marksist-Leninist Komünist Partisi – Turkey) in 2009.
WE WANT THE SPANISH MEMBERS OF THE INTERNATIONAL BRIGADE WHO HAVE FOUGHT ISIS TO BE RELEASED WITHOUT CHARGES!
DEFENDING THE CIVIL POPULATION FROM ISIS TERRORIST ATTACKS CAN'T BE PERSECUTED!
FREEDOM FOR THE ANTIFASCIST COMBATANTS!
INTERNATIONALIST SOLIDARITY IS NOT A CRIME!
Info from Marxist-Leninist Party (Reconstrucción Comunista), 6th July 2015, via RHI-SRI – Secours Rouge.
–
Update – International Brigade comrades Paco & Martos released on conditional bail
According to the Spanish mainstream press, National Court judge Eloy Velasco has released Paco and Martos, the two comrades from the International Brigade who fought for six months against Daesh / Islamic State in Rojava. The two comrades have been charged with membership of a 'terrorist organization' along with associated charges and have been released on conditional bail. The conditions of the comrade's bail are weekly reporting to the police, surrendering of their passports and a ban on leaving the country.
Solidarity with Paco and Martos!
The Spanish state must drop the charges!
International Solidarity is not a crime!
Tags: International Brigades (Anti-ISIS/Daesh), Islamic State in Iraq and Syria (ISIS), Kurdistan, Madrid, Marxist-Leninist Party (Reconstrucción Comunista), Marxist-Leninist Party of Turkey (MLKP), People's Defence Units (Y.P.G.), PKK (Kurdish People's Party), Repression, Rojava, Spain, Syria, War
Posted in Social Control
Saturday, June 6th, 2015
On June 1 we got the great news that three of the five comrades being held in preventive detention, accused of being part of a terrorist group under Operation Piñata (including one who was already arrested and imprisoned in Operation Pandora) are being released without bail. They still have all their charges and have to sign in frequently at court, and two of them are prohibited from leaving the country.
Operation Pandora was launched in December in Catalunya, and Operation Piñata on March 30 all across the Spanish state but focused in Madrid. The operations resulted in the arrests of 26 anarchist comrades (plus the arrests of over a dozen more for resisting the raid on a social center) on anti-terrorism charges, the raids of dozens of houses and social centers, the theft of cash, and the seizure of computers, harddrives, phones, etc.
(more…)
Tags: Barcelona, Catalunya, Demo, GAC (coordinated anarchist groups), Informal Anarchist Federation (FAI), International Revolutionary Front, International Solidarity, Operation Pandora, Operation Piñata, Repression, Spain
Posted in Social Control
Wednesday, June 3rd, 2015
Greetings comrades and those in affinity. I'd like to send out some words as an anarchist, taking as good the many positions and visions that anarchism can adopt, all equally valid when they are seeking to destroy power, authority and the State.
I think that is the beauty of our ideas and in my opinion all these trajectories can coexist and merge in search of much longed for total liberation. I want to express my hatred, disgust and contempt for everything that concerns the State, power, authority and in particular that instrument of annihilation called prison, which uses isolation as its main weapon.
I have always maintained that anarchists must prepare themselves and be aware that at any moment the day can come when they will have to face prison and, in my opinion, this is logical, because if you try to destroy the State, it will try to arrest you in order to nullify you, paralyze and destroy you. (more…)
Tags: Letter, Madrid, Operation Piñata, Paul Jara "Pol", Soto del Real, Spain
Posted in Prison Struggle
Sunday, April 12th, 2015
From Pubblicacion Refractario:
'Are we persecuted? Well, it's logical that we are persecuted because we are a constant threat for who represents the system. In order not to be prosecuted we would have to adapt to their laws, comply with them, integrate into the system, let bureaucracy penetrate our spinal cord and become perfect traitors… but is that what we want? No. So our everyday actions have to be nourished with our creative imagination. Our strength is our ability to resist. We can fail but must never bow down to anyone.' Buenaventura Durruti.
There can be many and varied explanations for the repressive blow of December 16th, just as the general and specific causes that intertwined to create a delirious net of power leading to the arrest of our friends and comrades are many.
Perhaps one of the general causes could be the introduction of the Law on Citizens Security, known as the 'Gag law'; this, along with the exacerbation of the penal code, which has re-introduced life sentences, creates a pattern whereby the control exercised by power is more efficient and strengthened by constant paranoia. Sentences for attacks on authorities, public disorder and disobedience have been exacerbated; at the same time social protests like those of 15M [blockade of parliament] and of PAH (a group against housing taxes) are being punished. Progressives and social-democrats say that the State is 'leaving less space for freedom' and that 'the struggle for rights is being criminalized'. As you can see, the turn of the screw by the repressive-judicial apparatus is striking citizens, that is to say those who struggle for more and better laws, more and better democracy, for more participation in the management of misery. Freedom and law is inconsistent with one another. As anarchists we are aware that the more rights are granted the stronger the State becomes and as a consequence our submission grows. Not because it will cease to be such with a subtle, more democratic oppression, but quite the opposite it becomes more natural and firm in its being invisible. (more…)
Tags: FIES, Francisco Solar, Letter, Operation Pandora, Repression, Spain
Posted in Social Control
Saturday, April 11th, 2015
**NB: There is a demonstration organised for Brighton at the Clock-Tower on Sunday 12th at 6pm**
Last Monday (April 30th) there was a new repressive strike against the anarchist movement in Spain. Thirty-eight people were arrested in a police operation under the name 'Operación Piñata'. Fifteen of them are facing charges of terrorism and five are in preventive imprisonment. The raids were carried out on private homes, social centres and squatted spaces in Madrid, Barcelona, Palencia and Granada.
These police raids were carried out in a very open way, trying to create the maximum social alarm. The media have published the names of the people arrested and the groups they are involved in, presenting the fake police accusations as fact. They talk about 'anarchist terrorism' and organisations with leaders, hierarchical infrastructures and various 'capitation' methods the arrested allegedly use to 'fund' their 'illegal' activities.
These raids are a continuation of police operation 'Operación Pandora', which took place last December within the context of the increasingly repressive politics employed by the Spanish government. (more…)
Tags: ABC Brighton, Brighton, Catalunya, Demo, International Solidarity, Operation Pandora, Operation Piñata, Spain, UK
Posted in Direct Action
Monday, March 30th, 2015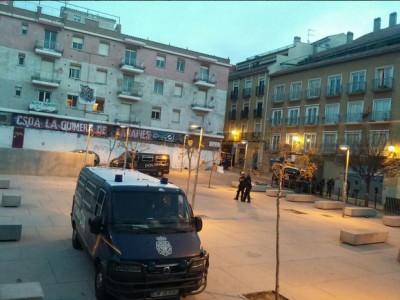 UPDATE: Operation Piñata – Five comrades imprisoned, ten conditionally bailed, address for three of the prisoners
Via squat.net:
This morning in Operation Piñata (following Pandora in December) cops have raided social centres and arrested people (at least 26) in Barcelona, Madrid, Palencia and Granada.
La 13-14 in Madrid announced it was being raided this morning.
CSOA La Redonda in Granada released a communique condemning the raids, which they said occurred without a warrant.
Centro Social (re)Okupado La Quimera in Lavapies, Madrid was evicted. It also stated no warrant was shown after its doors were smashed at 06:30 and added:

"This is just another attack on the anarchist movement with intent to criminalize and victimize our struggle."
Other raided social centres were la Magdalena and La Enredadera de Tetuán.
In solidarity!
On squat.net:
Estado español: Zarpazo represivo, al menos 26 detenciones. Desalojan el CSOA La Quimera

La policia espanyola deté 27 persones en una operació contra col·lectius anarquistes
Tags: Barcelona, Catalunya, Granada, Madrid, Operation Pandora, Operation Piñata, Palencia, Raids, Repression, Spain, Squatting
Posted in Social Control
Thursday, February 5th, 2015
In the night of January 30th, 2015, the 7 comrades who were still imprisoned following the arrests on the 16th of December 2014 as part of Operation Pandora were released.
One day before, the instructing judge of the Audiencia Nacional (Madrid) permitted access to the investigative file, and what we know at the moment is what has been circulated through the website of Mossos d'Esquadra in a press communiqué. They are facing charges such as membership in GAC (Coordinated Anarchist Groups), attacks against banks, posting parcel bombs (one to the Archbishop of Pamplona, one to a member of the fascist congregation Legionaries of Christ, and others to Italian companies), while "they are linked"—always according to the police—with the explosive attacks against the Cathedral of Almudena in Madrid (February 7th, 2013) and the Basilica of the Pillar in Zaragoza (October 2nd, 2013), the latter having led to the indictment and pretrial detention of our comrades Mónica and Francisco. (more…)
Tags: Francisco Solar, GAC (coordinated anarchist groups), Informal Anarchist Federation (FAI), International Revolutionary Front, Monica Caballero, Operation Pandora, Repression, Spain
Posted in Social Control
Friday, January 30th, 2015
Action in solidarity with Mónica, Francisco and the Operation Pandora prisoners
In the night of January 16th, 2015, responding to the call of solidarity with those who have suffered reprisals in "Operation Pandora", we sabotaged 16 ATMs.
Freedom for all!
We want them home now!
Solidarity is our best weapon
– ContraInfo
Tags: ATM, Francisco Solar, Madrid, Monica Caballero, Operation Pandora, Sabotage, Solidarity Action, Spain
Posted in Direct Action
Friday, January 9th, 2015
A year has passed since police stormed our flat yelling: 'Have you got something hot?' I was surprised and at the same time it made me laugh. Then we realized that they meant a trap using an explosive device, which made us laugh even more.
For a year I've been held hundreds of kilometres away from my companion and during this time I have only been able to hear her voice for 5 minutes every 2 weeks.
For a year I've been locked up in solitary confinement in 3 different prisons of the kingdom of Spain. Prisons that base their management on psychiatry and cure prisoners to the point of annihilation, implementing total control of communication and contact with the outside. In these prisons of the developed world priority is given to impersonal contact with the outside as any physical contact is strictly limited, contrary to my experience in the Chilean prisons. The possibility of being with your people is out of the question in places like this.
For a year solidarity has always been there, in particular from the anarchists of Barcelona, who have destroyed separation and isolation with their determination and initiative. They have demonstrated that solidarity is not an empty word, that it is inseparable from all our practices of struggle for total liberation.
And in the face of this, power has once again distinguished itself; it doesn't have the faintest idea of what keeps us together. The hardships they inflict on us make us stronger, we know each other better in difficult times and learn to know each other even more, and we laugh more at what we thought was insurmountable. If we decide to confront the State it is because we decided to stop living on our knees a long time ago.
Francisco Solar
13th November 2014
From RadioAzione
Translated by act for freedom now
Tags: Francisco Solar, Letter, Spain
Posted in Prison Struggle
Thursday, January 1st, 2015
Democracy justifies itself by principles which, though they are repeated a thousand times, do not become true, but have become so internalised that even its opponents believe in them. The popular idea of the goodness of this regime has become so ingrained and immobile that change appears impossible, no one now proposes any other forms of organisation, or even other forms of living.
To us the daughters of democracy, they have told us that this is the best of all regimes, our parents and grandparents lived under a system where coercion and repression were more direct, and now that things are gentler, we are obliged from birth to accept it. How is it that we are becoming a generation more impoverished than those before, without going through a war? Because of a situation that is imposed by this system as inevitable.
The free association in which democracy is said to be based is nothing of the sort, because from birth we are obliged to belong to this regime without being allowed to choose other forms of life. We do not associate freely within educational institutions because other ways of learning are made illegal, we do not associate freely within work because we do not control what we produce, nor the time clock, nor do we have the capacity to organise ourselves together with companions.
Universal suffrage, a concept that throughout history has been praised as a victory for increasingly greater parts of the population, puts itself in question. They have always told us that the vote is free when in reality it is a limited choice, because consciousness is not free, it is subject to the propaganda of the regime and the culture defended by the groups in power. It also denies freedom by reducing it to no more than giving an opinion, "yes" or "no" or on what party is going to govern, denying us the possibility to develop other proposals for living together. And because it is anonymous, is there no freedom of expression?
In democracy we give up our interests, the satisfaction of our needs and the organisation of human relations and of life, into the hands of others. By means of the vote we supposedly choose those who can better represent our interests, but here we collide with reality: the political parties defend their own interests in accordance with the rules they themselves have established, they seek to accumulate levels of economic and political power in order to maintain their domination and influence on the rest of society. (more…)
Tags: Catalunya, GAC (coordinated anarchist groups), Madrid, Operation Pandora, Repression, Spain, Why attack democracy?
Posted in Library