Posts Tagged 'SPIE (Prison Industry)'
Sunday, November 25th, 2018
16.11.18: Last Friday night we torched a car belonging to the Spie Fleischhauer company in Leipzig Connewitz. And so, we made a small expression of our contempt and hatred towards the cruel prison industry. The direct attack against the property of those who allow domination and oppression is a necessary part of the struggle for a liberated society!
Our greetings go out to all those who sit in the dungeons of the rulers, do not lose heart and oppose each day of repression and exploitation. In particular, we send greetings to Nero and our comrades in Berlin after last week's raids*. Your courage and determination give us strength!
Spie is one of the leading coal, lignite and nuclear industry service providers, and not just in Germany. After torching a Spie van in April, in Berlin, Sébastien Briat summed it up in a few words:
"In France, Spie is Vinci's biggest competitor in the service sector. The company, based in France, is involved in the nuclear industry via its subsidiary Spie
Nucléaire. In Germany, Spie SAG is involved in the generation of electricty from coal and boasts of its long-standing partnership with RWE. For example, the settlers for lignite mining for RWE were transported from Spie to Hambacher Forest."
The subsidiary Spie Fleischhauer GmbH is an information, security, media and electrical engineering company that is also active in the prison industry. Here Spie
Fleischhauer specializes, among others, in hazard management and telecommunication systems. For wealthy individuals, banks and corporations, it offers intelligent property protection surveillance systems. In Leipzig, the company is participating in the current expansion of Leipzig prison.
A free and self-determined life cannot exist with a state and its institutions. We stand in fighting solidarity with all the people who are harassed, exploited and imprisoned by cops, prosecutors and judges!

Freedom for Nero!
*Free Nero Blog: https://freenero.blackblogs.org/texte/
R94 statement on the raids: https://de.indymedia.org/node/26080
… In addition, we observed following our nightly excursion that cops seem to pass by and ignore burning company cars and luxury cars in Leipzig Connewitz. That means for us: Let more cars go up in flames!
It's easy: instructions can be found here: https://militanz.blackblogs.org/42/
(in German)

Source
Tags: Arson, Germany, Leipzig, Sabotage, SPIE (Prison Industry)
Posted in Direct Action
Wednesday, October 17th, 2018
Destroy the Prison Society
Spie is a company the builds prisons and more broadly is an essential wheel in the machinery that controls us, monitors us, imprisons us and deports us. So I destroyed one of their trucks this Tuesday, October 16th between 3 and 4AM on Captain André David street in Nantes. 2 plastic bottles filled with a mixture of 2/3 gasoline and a third of engine oil, with blocks of lighters cellotaped against the bottle and placed behind the tires. Then there is more to light and ciao, hasta la malekoum…
Freedom for everyone, with or without papers!
A madman against the state and its minions
Tags: Arson, France, Nantes, Sabotage, SPIE (Prison Industry)
Posted in Direct Action
Thursday, July 5th, 2018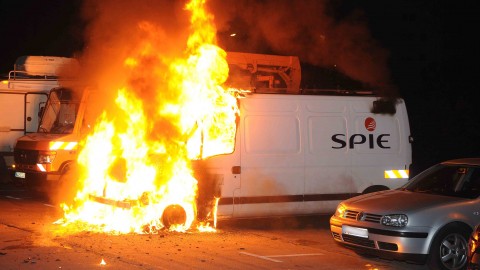 05.07.18: The wave of exuberant hatred for the arbitrariness of uniformed individuals spills once more across the borders of France to us. For the last two nights in Nantes, hundreds of teenagers have destroyed shops, set fire to cars and attacked the CRS (Compagnies Républicaines de Sécurité / general reserve of the French National Police) with Molotovs.
Aboubakar was executed on Tuesday night in a suburb of Nantes in his car by a police officer after he was placed under arrest during a vehicle inspection…
The police spread their version that they were in danger and it was in self-defense. It is obvious that the 'legitimacy' of the murder that they make public is found only in the self-created legitimacy of the police apparatus. Since we refuse to recognize that law, there can never be legitimacy for execution by a cop. (more…)
Tags: ABC Berlin, Arson, Germany, Nantes, Solidarity Action, SPIE (Prison Industry)
Posted in Direct Action