Posts Tagged 'Squatting'
Monday, February 15th, 2016
La Solidaria is an autonomous social center that opened it's doors in 2012. The building was occupied in order to serve as a tool to help practice our own autonomy and the development of the social struggle. Near the end of October last year we received a letter of eviction urging us to abandon the building. Just as it had happened in 2013 it'll be difficult for them to beat us.
We have defended and we shall defend this place, not just as a physical building, but as headquarters to codes and principles opossed to the relationships set by the State and Capital. It's used to power another type of relationships based on solidarity, self-management, horizontality and direct action. We consider ourselves to be part of the social conflict, part of a bigger project to transform our current reality. To end this world run by money and create one based on freedom and solidarity.
The press is already running errands to the State and the speculators who bought the house, they're preparing the terrain for the eviction. We find the project in crucial moments, throughout the last week of February the final decisions will be made about the eviction. It is for this reason that we call for a week of actions in cooperation with this space, a week of solidarity against the eviction of La Solidaria.
Every hit reaffirms our way and make us stronger! To the threats of eviction: More resistance! More action! Solidarity knows no boundaries. Keep their hands out of our social centers!

Assembly of the autonomous social center La Solidaria.
lasolidaria[at]mail[dot]com
Tags: International Solidarity, La Solidaria (CSO), Montevideo, Squatting, Uruguay
Posted in Autonomy
Friday, January 29th, 2016
PDF: Squatters of London Action Paper (SLAP!) 1st Edition

Please spread & repost!
Tags: London, PDF, Squatters of London Action Paper - SLAP!, Squatting, UK, Zine
Posted in Library
Sunday, November 15th, 2015
Received from Squatters and Homeless Autonomy Collective:
Coming to Terms
In Camden, an eight-month squat is evicted by pigs and three are arrested under Section 144, the 2012 ban on residential squatting. A man in a SUPPORT YOUR LOCAL SQUAT t-shirt waits for NELSN to forward a text. Two arrive from a council-estate squat further north. Builders begin to secure the building. Against Section 144, against increasing precarity and repression, broken self-identity and fractured organisation, London squatting seems to have begun a coming-to-terms.
Attempts to surround the fragility of the squat scene with nostalgia have come thick and fast: Remember the Squatters' Union; remember unrestricted residential squatting; remember squatters' rights. As ever this nostalgia is a thinly disguised dose of forgetfulness: Squatting has always meant struggle; and no mourning for a golden age can deny the permanence of our struggles and the permanent need to politicise them. (more…)
Tags: London, Squatting, UK
Posted in Autonomy
Tuesday, November 3rd, 2015
PDF : Assillo Text
THE SHIP HAS LIFTED THE ANCHOR AWAY
"ASSILLO" IS BACK
On the 24th of October we squatted a building in Trento, Italy.
We need places to live differently and and where we can organize ourselves.
The demonstration that those are not only our needs is proved by many and many people who joined the experience of the "Assillo" and "Villa Assillo", places left empty for years that started to live again for months before the police came and evicted us destroying the roofs – because police fear our will to manage our own lives.
We are stubborn. We view our passions as real because we believe in their reality.
Without the struggles that put brakes on it, the Power is walking on million of people's lives with a roadroller, every day more precarious, more isolated, more senseless. (more…)
Tags: Assillo Squat, Italy, Squatting, Trento
Posted in Autonomy
Thursday, October 15th, 2015
Dear all,
As Anarchist Radio Berlin we had the opportunity of talking to an
activist who is part of a group of people squatting an allotment garden
in Warsaw, Poland. In this interview, we get to know a bit of the
origins of this project that started in Spring of this year. The squat
itself is based on the Reclaim the Fields initiative in Poland and has
organized some action days a short while ago.
Some more interviews with anarchist organizations and anarchist projects
will follow soon as part of our new series on anarchism and social
struggles in Eastern Europe.
You'll find the audio (to listen online or download in different sizes)
here:
http://aradio.blogsport.de/2015/10/14/a-radio-in-english-eastern-europe-2-the-squatted-rod-garden-in-warsaw/
Length: 7:54 min
You can find other English and Spanish language audios here:
http://aradio.blogsport.de/englishcastellano/.
Tags: Anarchistisches Radio Berlin, Poland, Squatting, Warsaw
Posted in Interviews
Wednesday, September 2nd, 2015
Award giving in recognition of services to landlords and their rights.
We proudly presented bricks through windows of CJA estate agents in Southville on the night of 31st August. All windows smashed and the international squatter symbol painted on their wall. Because despite the ban on squatting houses everyone should have a decent home.
CJA have showed real resilience and single mindedness to make a stand for maximum profit regardless of the tough conditions faced by tenants everywhere. In a letter to Bristol landlords in March this year they encouraged landlords to hike their rents and cynically take advantage of the housing crisis. Because the crisis is for landlords and property developers another business opportunity. They then arrogantly ignored a campaign by a local community union to hold them to account. So we found another way to encourage them to see the costs of their actions. Thousands of us are trapped in overcrowded, over priced and chronically undermaintained and decaying rented houses. We constantly struggle to pay the rent under the ever present threat of eviction and homelessness. Gentrification and colonisation of our areas pushes rents ever higher and forces us further out. This is social cleansing and it is a very profitable business. For greedy landlords and estate agents like CJA, decent, affordable homes don't come into their sums. It's all about investment opportunities and ruthless profiteering. Meanwhile, there is a huge increase in homelessness and the hostels are full to bursting. We don't have to take this.
Let's fight for a world without landlords, where people's homes are not for the profit of the rich.
Tags: Bristol, Housing, Sabotage, Southville, Squatting, UK
Posted in Direct Action
Tuesday, June 9th, 2015
Yesterday's A to B march – RabbleLDN
A growing mood of angry defiance of the capitalist system has been in evidence on the streets of the UK in recent weeks.
The latest instance took place in Brighton on Saturday June 6, where a large anti-austerity protest in the city culminated in the storming of the former Barclays bank at Preston Circus. (more…)
Tags: Acorn, Barclays bank, Brighton, Conservative Party, Demo, Douglas Carswell (UKIP), Fuck the Elections, Liverpool, London, Squatting, UK
Posted in Direct Action
Tuesday, April 21st, 2015
Monday 20 April: Last night in the early morning hours, police raided a house squatted by activists in Mariacka street, Katowice. The police used rubber bullets, smoke, and stun grenades. 21 people were beaten up and arrested. (At least 3 people were taken to hospital) The people imminently stated that they are starting a hunger strike against their detention. According to the police, the people are accused of breaching domestic peace (in an empty building!). Solidarity picket took place at 13:00 in front of the cop station at Lompy 19, Katowice. In Poznan at 14:00 solidarity picket in front of the Regional Police station, Kochanowskiego 2a.
—
Solidarity communique:
European Economic Congress in Katowice: full hotels, empty houses – Antiterrorists fighting social change
Katowice. Another day of meetings for the European elites. The subject is TTIP and hundreds of other anti-social programs, forced on people against their will. A group of anarchists and trade unionists who organize Anticongress, together with the people that need a roof above their head, have squatted one of the thousands of empty buildings, which after being 'cleaned' of the tenants awaits its demolition and transformation into an office building. On the front wall, a huge banner is hung, saying 'human capital resists!'. In the newly opened space, the 'Alternative Economical Forum' took place. The debates started on a different kind of economic politics, the kind that could reverse the trend of radical accumulation of wealth into the hands of the elites in Europe and the world. (more…)
Tags: European Economical Congress, Katowice, Poland, Police Brutality, Raids, Repression, Squatting
Posted in Social Control
Monday, March 30th, 2015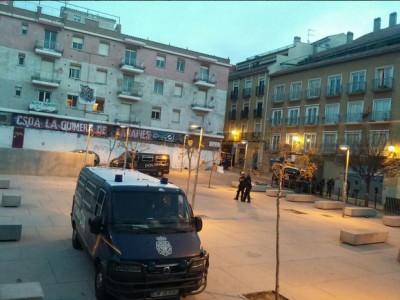 UPDATE: Operation Piñata – Five comrades imprisoned, ten conditionally bailed, address for three of the prisoners
Via squat.net:
This morning in Operation Piñata (following Pandora in December) cops have raided social centres and arrested people (at least 26) in Barcelona, Madrid, Palencia and Granada.
La 13-14 in Madrid announced it was being raided this morning.
CSOA La Redonda in Granada released a communique condemning the raids, which they said occurred without a warrant.
Centro Social (re)Okupado La Quimera in Lavapies, Madrid was evicted. It also stated no warrant was shown after its doors were smashed at 06:30 and added:

"This is just another attack on the anarchist movement with intent to criminalize and victimize our struggle."
Other raided social centres were la Magdalena and La Enredadera de Tetuán.
In solidarity!
On squat.net:
Estado español: Zarpazo represivo, al menos 26 detenciones. Desalojan el CSOA La Quimera

La policia espanyola deté 27 persones en una operació contra col·lectius anarquistes
Tags: Barcelona, Catalunya, Granada, Madrid, Operation Pandora, Operation Piñata, Palencia, Raids, Repression, Spain, Squatting
Posted in Social Control
Monday, March 30th, 2015
Hi, we have another update about the eviction resistance in Dublin!
Yesterday (Friday) we had court again, this time the judge had made a decision. He said the Injunction was successful, but he would delay it until May 4th. This means they will not try to evict us until then, but after that they will try to evict us.
We are hoping that the time we've been given will allow people to travel to help us, and for us to raise support and prepare ourselves. We're expecting quite a heavy eviction so we're preparing ourselves for that, and the more help we get the better chance we have of winning! We have a lot of local support but it would be great if people with experience of evictions, squatting etc could come to help in any way
they could.
We were thinking maybe some people would like to come for May Day here in Dublin, and then stay for a little while and help out with the eviction?
We managed to fight them back when they came without warning, when we weren't prepared, so we can fight them back again now that we know when it'll happen, we can be ready for them! We just need help!
Thank you to everyone who has sent us messages of support so far, and we hope to see you soon!
We can win this!

Solidarity to the arrested squatters in Amsterdam.
ACAB
SquatCity x
Tags: Dublin, Eviction, Ireland, SquatCity, Squatting
Posted in Autonomy
Thursday, March 26th, 2015
Another update: Court was adjourned until 3pm 27 March, and may be delayed again after that. If anybody can get out and help/support us, we now have at least a little time.
Update: New email address – squatcitydublin(at)riseup.net
SquatCity (GrangeGorman), Dublin, currently resisting eviction. We are putting out an international callout for support, to help us resist the eviction of our homes, and to defend squatting in Dublin. We have been subject to a large scale eviction attempt over the last couple of days, and we are currently resisting, and appealing for help and support. Many of you would have stayed there during the International Squatters Convergence, and saw the space for yourselves.
Here is a brief timeline of what happened, as well as a short description of the space.
On Monday 23rd March, the squatted buildings at Grangegorman, where a community has been living for a year-and-a-half, was the subject of a violent attempted eviction by a large force of contractors and cops. Here is a summary of the situation.
THE SPACE:
The space consists of three houses, three converted office buildings, five warehouses, a main courtyard and two smaller yards, all home to around 30 people.
We are reclaiming unused space and building a community around it so it can be used autonomously for projects that would not be possible within the constraints of a rented space. (more…)
Tags: Dublin, Eviction, Ireland, SquatCity, Squatting
Posted in Autonomy
Saturday, February 21st, 2015


From rabbleLDN:
The main article below is reposted from inthebellyofthebeast. Also see fightfortheaylesbury website for further reports and updates. As of today (21 Feb), the occupation of the new block (69-76 Chartridge) continues, and this afternoon the squatters are holding a "fun day" with food and football.
17th Feburary 2015
On Tuesday night Southwark council workers along with 100 cops attacked squatters on the abandoned Aylesbury housing estate (one of the largest in Europe), in a 'para-military' operation.
The cops & council workers were prevented from entering the squatted building earlier in the evening by a burning barricade of mattresses and steel sheets. An army of TSG (Tactical Support Group, riot police unit) then descended upon the other steel plated entrance with angle grinders, as sparks started to fly a ferocious resistance ensued, the squatters preventing the cops from entering for two whole hours, as they pelted the cops with any object to hand and broke their angle grinder several times. (more…)
Tags: Aylesbury Estate, Eviction, Gentrification, London, Repression, Riots, Solidarity Action, Squatting
Posted in Autonomy
Friday, November 28th, 2014
Resistance in Milan
A report of rebellion, resistance and riot in Milan.
Milano, Italy. November 2014.
Thursday 14th N:
Eviction of two families from popular neighbourhood in suburb "Mecenate".
Activists/comrades and non-activists of the neighbourhood show solidarity immediately, started clashes with police to resist. The eviction has gone to bad, but people started to block the streets. A meeting was held in the afternoon to organize people.

17th & 18th N:
Riots are back in the town! Violent clashes erupted in 2 different popular suburbs ‪"Giambellino"‬ and "Corvetto"‬ against eviction and police militarization (and by
Carabinieri too).
On Monday, in Giambellino eviction of 2 families from flats. Many people has joined the barricades from the popular houses of the area: barricades, clashes, teargas (head height), cops and people injured, cops run to beat people too! (more…)
Tags: Italy, Milan, Racism, Riots, Squatting
Posted in Autonomy
Tuesday, September 16th, 2014
via squat.net:
Series of big anti-nazi demos against fascist squatters… Anti-fascists seize 'white Spanish only' food stall and distribute to all.. Fascist squatters may have owners permission… Squatters movement disowns fascist squat… Police turn blind eye to nazi "okupas" in Tetuan barrio…. Fascist thugs from MSR squat injure local youths.. Media equates nazi' Social Home' with long existing popular and anti racist Squat center 'La Enrededera' to demand its eviction.
Thousands of neighbours have come out against the nazi squat.
They are not squatters: they are Nazis.
On 18 August, the neo-Nazi group Social Republican Movement (MSR) announced on social media their entry into an abandoned building in Madrid's Tetuan barrio and their intention to turn it into a social center for 'those in need' provided they were white and of Spanish nationality.
Opening such center in the district with the largest migrant population of Madrid and the opposition it generated among neighbors attracted media attention, especially after the massive demonstration against held the same day as opening of the center, on August 30.
Since then, it has been common to see the press referred to the center as a "squatted building" and members of the neo-Nazi group as "squatters" in an error which is then repeated in social networks. The center is equated with the squatting movement, which has always had among its main objectives the recovery of abandoned homes to become social centers and buildings.
This assimilation was false, but the reality mattered little. (more…)
Tags: Madrid, Nazi squat 'Ramiro Ledesma', Neo-Nazis, Racism, Social Republican Movement (MSR), Spain, Squatting, Tetuan, The Enrededera ('Climbing Plant')
Posted in Anti-Fascist
Friday, September 12th, 2014
FR: Makassar (Indonésie): l'expulsion du quartier squatté de Pandang Raya n'aura pas eu lieu sans résistance…
NEWS:
Pandang Raya (Makassar) has been demolished to the ground. Friday 12 September, at 5 o'clock in the morning. Pandang Raya inhabitants and other rebels, build a barricade across the street with wood, tires, and rocks. At 6am, there's appearance of pigs without uniform watching the blockade. Two of them watching the blockade close by. About an hour more, police vehicles filled with 600 pigs in uniform, including 365 the notorious Brimob (special police–my ass). Not long after that the battle began: Pandang Raya combatants throw molotovs, rocks, and other traditional weapon (such as arrows). The resistance were responded by huge blows of water canons and after that, large numbers of gangsters, who claimed that they got orders from Court of Law tried to entered the fights but were denied by the pigs because they don't carry their ID's. At 8.30 the pigs have successfully break the resistance. Other combatants have successfully fled from police arrest. But 9 person were arrested. Afterwards, several years of organizing side by side with anti-authoritarians, leftist, and other organisations; creating library and meeting place; in which Pandang Raya have already become their own 'Cinema Paradiso', have been destroyed to the ground entirely using big excavators and other heavy machines. The last stand and they were lost.
Ps: Rich people and their politicians, and also with their dogs or pigs in uniform, wanted Pandang Raya to be developed for their business purposes due to its strategic geographical location in the city.
In need of solidarity! Not money. Not banners.
But full frontal attacks of every political institution abroad and every fucking developer.
Let the fire rhyme!
The last stand and another battle is lost?
After Karawang and then Pandang Raya, which is next? Wait and see? More formal meetings? More worthless gossips and dead-end ideological subdivisions. An act of war is not negotiation. And how useless the so-called movement when this sort of thing comes.
More updates soon.
Tags: Goman Waisa, Indonesia, Makassar, Makassar City, Padang Raya, Pandang Raya, Squatting, Village Struggle
Posted in Social Control