Posts Tagged 'Stuttgart'
Friday, April 3rd, 2015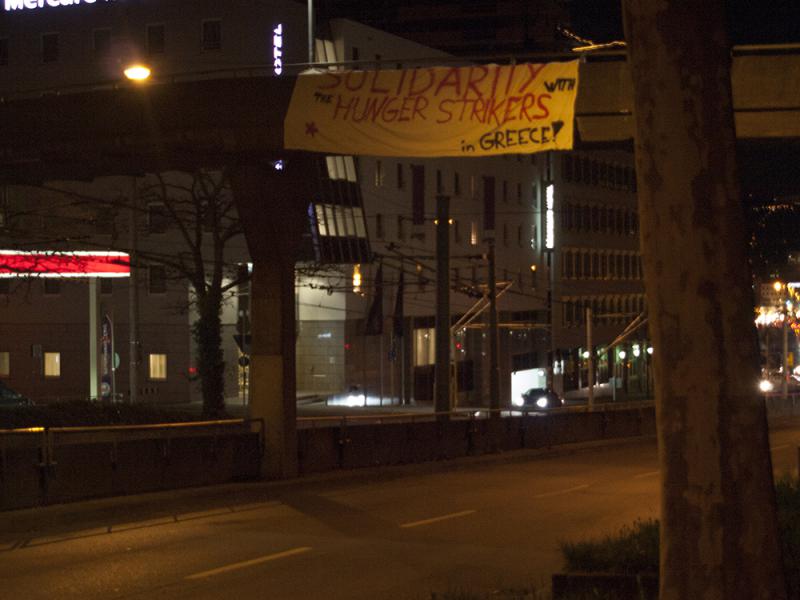 Solidarity banner for international action day for prisoners on hunger strike in Greek prisons. Immediate victory for the demands of the prisoners now.
Tags: Banner drop, Germany, Hunger Strike, Solidarity Action, Stuttgart
Posted in Prison Struggle
Tuesday, January 10th, 2012
The night of the new year's eve has seen again a lot of different type of protests taking place in Germany against prisons and all forms of detention, as well as against some of those, who daily enforce their existence.
The traditional demonstrations at local prisons saw an increase in their numbers and more cities decided that this was a good way to salute the upcoming year.
In Berlin, the month of December hosted several events under the motto "Behind different windows… but the chains remain the same ones! New year's eve to the prisons – question, demount and destroy the machine of prison!", events ranged from discussion about ongoing trials against comrades, the building of a new detention center at the new Berlin's airport, to a demonstration against the local detention center for immigrants. (more…)
Tags: ABC Berlin, All Cops Are Bastards - Team Kreuzberg 36, Berlin, Bremen, Christian Gauger, Cologne, Dennis J., Dortmund, Dresden, Frankfurt, Freiburg, Friedrichshain, Fuck the Law, Germany, Hamburg, Kreuzberg, Moabit, New Year, Prison demo, Revolutionary Cells (RZ), Sonja Suder, Stammheim, Stuttgart
Posted in Prison Struggle