Posts Tagged 'Surveillance'
Sunday, December 29th, 2019
From A2day:
Anarchist sites report that in recent months in Donetsk and Kiev region base stations (aka towers) of mobile operators were attacked 4 times. Behind the attacks are mostly anarchists.
The first attack was to blow up the base station of the Phoenix operator. Then it was reported that two Lifecell towers were set on fire. December 10, 2019 it was reported about the arson of the mobile base station "Vodafone Ukraine".
For example, when attacking the Lifecell communication towers, anarchists claimed that the main reason for the attack was solidarity with the Democratic Federation of North and East Syria (Rojava), the struggle of the Kurdish people for liberation from the Turkish occupation.
Wishing to give intensity to these attacks, we, a cell of the Informal Anarchist Federation, set fire to another cell communication base station in Kiev. Unlike the aforementioned attacks, our motives and view of the targets under attack are different. We suggest taking a broader look at the topic of communication towers.
Mobile operators are eager to capture as many subscribers as possible. This is a fact. There are three main operators in Ukraine: "Kyivstar", "Vodafone Ukraine", Lifecell. These companies do anything to place their mobile antennas everywhere, to get more money and control. They do not care what we think about it. But the most important thing is that the operators cooperate perfectly with the police, leaking them all the data of their subscribers. Each mobile operator receives more than 20,000 court orders annually for temporary access to things and documents.
(more…)
Tags: Anti-technology, Arson, Black December, FAI Cell "Misha Zhlobitsky", Informal Anarchist Federation (FAI), International Solidarity, Kiev, Kyivstar, Lifecell, Misha Zhlobitsky, Rojava, Sabotage, Smartphones, Surveillance, Ukraine, Vodafone
Posted in Direct Action
Thursday, December 19th, 2019
"I believe that within the next generation the masters of the world will discover that childhood conditioning and narco-hypnosis are more efficient tools for governing than batons and prisons, and that their lust for power can be completely satisfied by inspiring people to love their slavery, instead of crushing them and reducing them to obedience".
Aldous Huxley, letter to George Orwell of October 21, 1949
Half a century ago, Piazza Fontana. The start of the so-called strategy of tension. A bomb exploded inside a crowded bank, just a few steps from the Cathedral of Milan. Over one hundred victims are dead and wounded, a massacre of blood-letting perpetrated in order to spread fear, terror and anguish throughout the country, to trigger the conditioned reflexes of Order. To sow a panic such as to justify, if not to invoke, the intervention of the State (also through its armed wing of police, also by suspending some liberties taken for granted).
Half a century after Piazza Fontana, we are in a full strategy of relaxation. After the bombs, the smartphone. After the blood, the ringtones. Millions of hyper-connected people, a massacre of neurons carried out in order to spread the entertainment, amusement and satisfaction that's necessary to neutralize the unconditional reflection of revolt. To sow a distraction such as to legitimise, if not naturalise, the presence of the State (even of its armed wing of the law, even of the suspension of some liberties taken for granted).
(more…)
Tags: Analysis, Anti-Authoritarian, Anti-technology, Dictatorship, Italy, Milan, Repression, Smartphones, Surveillance
Posted in Social Control
Sunday, December 15th, 2019
From It's Going Down:
Report from insurrectionary anarchist publication Anathema on the growth of networks of surveillance being developed by Amazon and local police departments.
In November, The Intercept reported that internal documents at Ring, the home security company owned by Amazon, reveal that the company is planning to create automated neighborhood "watch lists" by incorporating facial recognition technology into its increasingly vast network of "smart home" doorbell cameras. The feature would alert camera-owners via smartphone when someone deemed "suspicious" pops up on their cameras. Like the old-fashioned "neighborhood watch" that Ring wants to replace, the feature would extend the power of the police and as well as make certain areas of town more dangerous for anyone Ring camera owners deem "suspicious."
Ring's documents do not define what "suspicious" means. In practice, this will likely be defined by gentrifiers and cops, whose systemic racism is well documented. At its core, the watch list would identify people who "don't belong" in certain areas; this means black and brown people, poor people, and anyone whose appearance deviates from social norms. Ring's Neighbors program — an online discussion forum between camera owners — is already well known for its aggressive racism and for generally heightening distrust and paranoia within neighborhoods. For many people, Ring's new feature would make it dangerous to be in certain neighborhoods at all — a victory for the forces of gentrification everywhere.
Ring doorbell cameras have already allowed police to significantly expand their operations, simply by appropriating private citizens' technology for no additional expense. The technology therefore has immense "value," not only for the company, but for the state. For decades it's been steadily expanding policing in order to keep its increasingly immiserated people under control, while struggling to balance its own budgets. (more…)
Tags: Amazon (Company), Anathema, Facial Recognition, Intelligent Surveillance, Palantir, Rekognition, Repression, Ring (Surveillance Company), Smart Cities, Surveillance, USA
Posted in Social Control
Tuesday, December 10th, 2019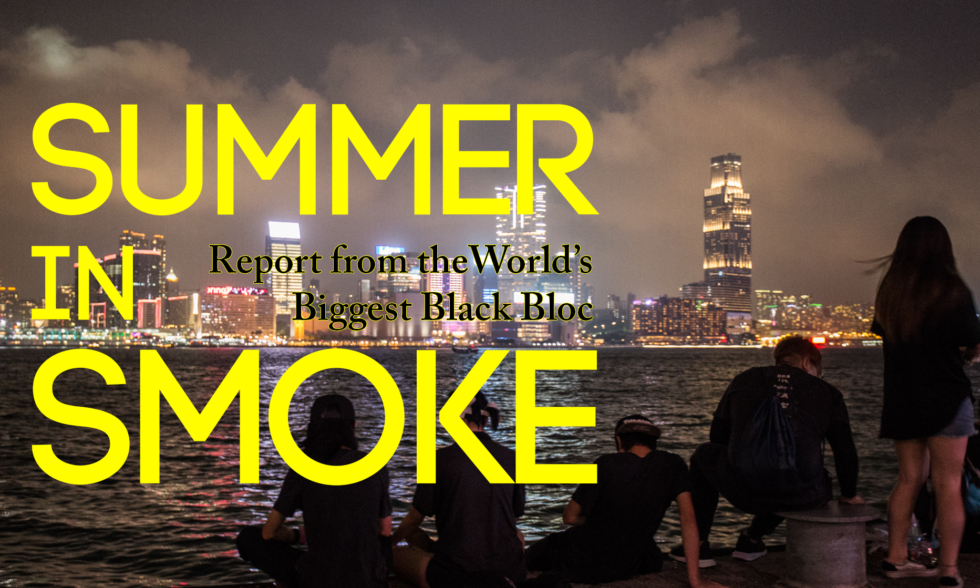 The following article was submitted to Chuang by Vitalist International. It is an account of events in Hong Kong over the summer and early fall of 2019, much of it from a firsthand perspective. We provided minor edits and designed the layout, but otherwise reproduce the piece here in more or less its original form. While the main thrust of the article is in agreement with our own views of events in Hong Kong, the piece is an intake and the opinions expressed here belong to its authors. At the bottom, we've included a gallery (provided by the authors) of 70+ posters, memes, graffiti and other graphics used in the movement.
für Sandra in liebendem Angedenken
by Vitalist International
It was only a matter of time before it happened. The protesters and the cops both knew it. On October 1st, a teenager was shot point-blank in the chest by police. The bullet missed his heart by approximately three centimeters.
Thousands of Hong Kongers gathered the next evening at a playground to fold paper cranes and wish the young protester a speedy recovery. They held banners saying "stop shooting our children!" and used the flashlights on their smartphones as torches to light up the night. In the center of the playground, a thousand origami cranes spelled out "Hong Kongers, Add oil!", a Chinese expression which has come to define the movement, meaning roughly: don't stop, keep going, add fuel to the fire. Within an hour, the protesters were setting up barricades in the streets and throwing molotovs at the nearest police headquarters.
The movement that began as a protest against a proposed extradition agreement with China has now entered its fourth month of unrest, with no end in sight. The bill — now withdrawn — would have granted the Chinese State unprecedented authority to extradite dissidents, criminals, and refugees to be processed in the shadowy court system of the mainland. Coming on the heels of 2012's Moral and National Education Law and 2014's Electoral Reform Bill,[i] this amendment was only the latest attempt at slowly dismantling the region's tenuous political arrangement of "One Country, Two Systems." With the movement rapidly evolving into widespread resistance against Chinese control, and the Hong Kong government declaring a State of Emergency, the situation has reached a political stalemate, with violence escalating on both sides. (more…)
Tags: Analysis, Arson, Black Bloc, China, Dictatorship, Hong Kong, How to make Molotovs, Intelligent Surveillance, International Solidarity, Letter, Repression, Revolution, Riots, Sabotage, Social Insurrection, Surveillance, Xinjiang
Posted in Autonomy
Tuesday, December 10th, 2019
While the garbage in uniforms occupied for another night Exarchia and the center of Athens, to fulfill the dreams of Mr. Chryssochidis of a dead and safe city, our ways lead to a soft target.
The image of George Orwell "1984" is already reality. The internet of things implements televisions, refrigerators and other electronic stuff in our homes, in order to collect our data, to survey our habits, to transform human life in digital algorithm. They call it Smart City, we call it a totalitarian society.
A company which sells the hard ware of the smart city and also its ideologies, is the security company "Alphacom". Alphacom not only provides this, but also CCTV technology and other equipment for the rich and for authorities, to protect their interests. And last but not least, Alphacom is selling and installing the products of Tyco. Tyco is a mulitinational company, which produces surveillance technologies for prisons worldwide and other security forces.
In the early hours of December 2, we burned the van of Alphacom in front of their shop in Kaisariani.
This fire was lit for anarchist prisoner Dino Giagtzoglou, who wrote a letter to the International Meeting against the Techno-Sciences in Italy (July 2019)
in which he mentions many reasons to fight this part of the capitalist powersystem. We welcome the upcoming research about the players in this game.
This fire was also lit for Loic, still in prison in Hamburg.
Finally, this attack was made in solidarity and sympathy with those persecuted for the Revolutionary Self-Defense case, as well as those persecuted for good intentions, kinship or friendship. Our strength and solidarity are superior to the politics and repressive operations.
Strength to the comrades Michailidis, Athanassopoulou, Chatzivasileiadis, who are in illegality.
Anarchists
via mpalothia
Tags: Alphacom, Arson, Athens, Car Burning, Exarchia, Greece, Konstantinos Yagtzoglou, Sabotage, Solidarity Action, Surveillance, Tyco
Posted in Direct Action
Tuesday, December 3rd, 2019
To avoid or at least minimize the risk of leaving DNA tracks it is necessary to use new gloves, mouthguard, Hairnet or even better closed headcovering (e.g. bathing cap) and washed clothes with long sleeves and trouser legs. However, usually all the other People leave traces as well, means that on more or less public places it won't be enough of the cops to simply sweep the mixed dirt – also frequently touched things lead sometimes to mixed traces which can't be evaluated. But to rely on this can be dangerous: In some cases they make extensive analyses, and if your DNA is found between many others, it's still there.
Often they find DNA on the fibers of clothes. Also places where people did piss can be interesting for the cops. Very famous are the thrown away cigarettes and saliva remains on stamps and envelops. Also famous, but less interesting is the hair, it's only valid for DNA analysis if the root of the hair remains. Not helpful to confuse the cops is the DNA of non-human beings. But a specific dog can be identified through DNA what could be a hint for the cops. (more…)
Tags: Analysis, DNA Forensics, Repression, Surveillance
Posted in Social Control
Thursday, November 14th, 2019

From Ears & Eyes:
When cops decide to spy on us using surveillance devices such as hidden microphones and cameras or GPS trackers, they need to get the devices from somewhere. It seems that they often buy these devices from private companies. The companies that manufacture and market those devices are part of what we call the surveillance industry.
We think that understanding how the surveillance industry works, who sells the surveillance devices to the cops and what the devices look like will help us to oppose this surveillance. So we have started a research work focused on this industry, and particularly on the companies that participate in it.
On our website you will find an overview of the surveillance industry, a list of companies that sell surveillance devices to cops worldwide, a list of the trade shows and other events where you are likely to find these companies, a glossary of the specific terms of the industry, and a list of other resources on the subject. All this is available in english and french. (more…)
Tags: Analysis, DSE (Digital Surveillance Equipment), Elkron/Urmet (Surveillance), Reconyx (Surveillance), Surveillance
Posted in Social Control
Thursday, October 31st, 2019
Tags: Flyposter, Surveillance
Posted in Library
Wednesday, August 21st, 2019
CCTV Burnt and Advertising Attacked in Bristol, on the 30th July.
A new LED advertising screen by the M32 motorway in Bristol tells us to "Be On It"… Well, we are!!! The screen was damaged using sling shots. Advertisers want people to focus their attention on shitty corporate messaging instead of concentrating on their driving. We are "on it", and we are not excited by the products, upgrades ,and the boring lifestyles and aspirations they are selling… We desire damage and destruction… and dream of sabotage.
CCTV was also burnt out at Gaunts Ham Park (a day centre for homeless people in Lawrence Hill). The wiring was destroyed in an expression of rage against the surveillance state that increasingly targets those who do not conform. Using a long pole, and a firelighter attached to a clothes peg, this act was "begging" to be done! More and more people are marginalised, and the housing crisis in Bristol is one aspect of the social war which we are all part of…..
Solidarity with all those resisting it! Especially to: 'Der Drei Von Der Parkbank' in Hamburg, and those imprisoned as part of 'Operation Panico'.

Anti-Social Angry Vagrants
Tags: Arson, Bristol, CCTV, Sabotage, Solidarity Action, Surveillance, UK
Posted in Direct Action
Monday, December 3rd, 2018
The States, according to their role of repression of individuals and groups doing subversive actions, put in place ways of keeping those individuals and groups under surveillance. It seems that some of this surveillance is done through the hiding of surveillance devices in the spaces we live in.
These devices take different forms : microphones, cameras, geolocation devices. Targeted spaces can be all the spaces we go through : buildings, vehicles, public space. These practices are sometimes legal, authorized by a judge for example, and sometimes not, done illegally by intelligence agencies.
We noticed the lack of informations available around us concerning this kind of surveillance. What is the real use of these devices by intelligence agencies? Which kind of devices are used? In which contexts? How efficiently? What can we do to oppose this kind of surveillance?
Therefore we decided to gather informations about the subject, with the idea of writing and publishing a booklet in a few months. (more…)
Tags: Repressions, Surveillance, Zine
Posted in Social Control
Friday, November 9th, 2018
Никогда не выключай телефон: новый подход к культуре безопасности
In the 80s, an anarchist who wanted, for example, to burn some building, developed his/her plan and at the same time looked to see if there were no listening devices in his/her house. In the late 90s, the same anarchist turned off the phone and used encrypted traffic on the Internet. In the 2020s, we need to reconsider our strategy, intelligence gathering has improved and we must also take this into account.
To begin with, let's see how big data analysis is used. To do this, we need to talk about 3 things: metadata, templates and networks. It seems boring and difficult, but I am not a technician, and I will not bore you with technical language, I will make it as simple as possible.
Metadata: In the context of online activity, "content" means "the message you sent", and "metadata" means "everything except the content". So, for example, if you send a text about lunch to your friend, the content may be "Let's go on lunch", and the metadata may be "Message sent 01/04/2018 11.32 from 0478239055 to 079726823 using Signal".
This information is recorded by your phone, even if the application encrypts your actual message. Your metadata is very poorly protected by technology and very poorly protected by law. No matter what country you are in, the majority of your metadata is freely available to special services, regardless of whether you are suspected of something.
Templates: Whether you realize this or not, your metadata has a template. If you have daily work, you can have a very consistent pattern, if there is no such work, your template may be more flexible, but you have a template. If someone wants to know the rhythm of your day, they can do it very easily, because your template is in metadata. (more…)
Tags: Counter-info, Intelligent Surveillance, Surveillance
Posted in Social Control
Wednesday, October 10th, 2018
As requested, here is the 'Against Surveillance State UK' CCTV article as an A4 PDF to be enlarged to A3 and flyposted as a spread, or printed out on to double-sided A4 and handed out.
PDF: A4 – Against Facial Recognition CCTV
Tags: Analysis, Anti-technology, CCTV, Facial Recognition, Flyposter, Intelligent Surveillance, PDF, Surveillance, UK
Posted in Social Control
Thursday, September 20th, 2018
EN: Against Surveillance State UK – Against Facial Recognition CCTV
CONTRA LA VIGILANCIA DEL ESTADO DE REINO UNIDO – CONTRA EL CCTV DE RECONOCIMIENTO FACIAL
Gran Bretaña es un Estado autoritario de vigilancia, que ha sido pionero en el aspecto de muchas de las sociedades modernas; que están completamente cubiertos por cámaras de seguridad en casi cada punto urbano, plaza, camino, esquina, tienda, autobús, tren, etc. Parcialmente en un estado de perpetua decadencia y deterioro, aquí han construido una vida como si fuera una gran prisión, y es como se ve su mundo. Sociedad carcelaria un sinfín de monótonos centros comerciales, urbanizaciones, bloques de pisos, áreas industriales y recreativas, las cuales son capaces de encerrarlos en un corto plazo. Simulacros de respuesta antiterrorista de múltiples agencias a gran escala practicados regularmente para posibles ataques terroristas o disturbios en el centro de la ciudad. Los medios de control mental emiten mentiras, medias verdades, distracciones, deseos imposibles de consumismo, mañana, tarde y noche. Cada evento masivo potencialmente perturbador, crisis social y ambiental, es promocionado por los medios como una amenaza de un final tan abrupto a la normalidad que al menos todos los recursos de la policía serán tan escasos que los militares tendrán que involucrarse para restaurar el orden bajo la ley marcial. Austeridad, inundaciones, Brexit, inmigración, islamismo. Los discursos e ideologías reaccionarias, racistas, nacionalistas están en todas partes; grupos neonazis, religiosos y de extrema derecha se están reagrupando. La idea anarquista y de la eco-acción se les llaman "extremismo" o "terrorismo", en el doble discurso del estado policial. Nunca habrá ninguna posibilidad de cambio individual, social y ambiental sin la recreación de la vida diaria en una existencia que refleje nuestros deseos, pasiones y alegrías, en lugar de ser un engranaje en su sistema de miedo. Asimismo, no hay posibilidad de ningún cambio social sin una insurrección, una guerra social. (more…)
Tags: Analysis, Anti-technology, CCTV, Facial Recognition, Intelligent Surveillance, Repression, Surveillance, UK
Posted in Social Control
Wednesday, September 19th, 2018
This article is also available as an A4 PDF to be enlarged to A3 and flyposted as a spread, or double-sided A4 to hand out.
Against Surveillance State UK – Against Facial Recognition CCTV
Britain is an authoritarian surveillance State, which has pioneered how many modern societies look; entirely covered by security cameras at almost every urban point, place, square, road, corner, shop, bus, train, etc. Partially perpetually in a state of decay and disrepair, here they have built a life almost as in a vast prison, and it is what their world looks like. Prison society; endless drab shopping centres, housing estates, tower blocks, industrial and recreational areas capable of being on lock-down at short notice. Regularly practised large-scale multi-agency counter-terror response drills to terrorist attacks, inner-city riots. Mind-control media beams out lies, half-truths, distractions, impossible consumer desires, morning, noon and night. Every potentially disruptive mass event, social and environmental crisis, is hyped by the media as threatening such an abrupt end to normality that at least all the police's resources will be stretched so thin that the military will have to be involved to restore order under martial law. Austerity, flooding, Brexit, immigration, Islamism. Reactionary, racist, nationalist discourses and ideologies are everywhere; religious and far-right neo-nazi groups are regrouping. Anarchist and eco-action is called "extremism" or "terrorism", in the double-speak of the police-state. There will never be any chance of individual, social and environmental change without the recreation of daily life into an existence that reflects our desires, passions and joys, rather than a cog in their system of fear. Likewise there is zero possibility of any social change without an insurrection, a social war. (more…)
Tags: Analysis, Anti-technology, CCTV, Facial Recognition, Intelligent Surveillance, Repression, Surveillance, UK
Posted in Social Control
Tuesday, August 25th, 2015
Video featuring 3 activists, talk filmed at Chaos Communication Camp, Germany. Also read article on undercoverinfo.
Tags: Climate Chaos, Fuck the Police, Germany, Repression, Surveillance, UK, Undercover Police, USA
Posted in Social Control