Posts Tagged 'Surveillance'
Wednesday, September 9th, 2020
De la revista 325 (próximamente en español):
DE | Automatisierung, Robotik und Arbeit in der 4ten und 5ten industriellen Revolution
EN | Automation, Robotics & Labour in the 4th & 5th Industrial Revolutions
Desde que comenzó la primera Revolución Industrial en la década de 1700, las sucesivas revoluciones industriales han afectado profundamente a los trabajadores, a los propios trabajadores, creando incluso el concepto de 'clase trabajadora', cómo vivían, su integración en los agujeros del infierno urbano que avanzaban, las prisiones de las fábricas, molinos y pozos mineros, incluso sus hijos no se libraron de la indignidad, ni siquiera de la muerte de la esclavitud moderna de la época. La industrialización, el resultado de la mecanización en la industria, alimentó la esclavitud moderna y la domesticación de los seres humanos en todos los rincones de los imperios y colonias en expansión, no solo en el resto del planeta vivo. Ahora estamos en la cúspide del comienzo de una 4ta Revolución Industrial (4IR) e incluso una 5ta (5IR) que afectará tan radicalmente nuestro encarcelamiento dentro de la sociedad tecnológica como las hizo en las anteriores. El concepto mismo de trabajo, incluso el trabajo mismo, cambiará más allá del reconocimiento una vez más. Ya en la consiguiente 'pandemia del coronavirus' y en los controles de toque de queda que se han aplicado a miles de millones en todo el mundo, las señales de las próximas revoluciones industriales ya están apareciendo, y se informa que millones perdieron sus empleos en muchos países. (more…)
Tags: 'The Uncivilized', 3D Printing, 4ta Revolución Industrial (4IR), 5G, 5ta Revolución Industrial (5IR), Alfredo M. Bonanno, Analysis, Artificial Intelligence (AI), Automation, Cashless Society, Coronavirus, Drones, Fifth Industrial Revolution, Fourth Industrial Revolution, From Riot to Insurrection, Ingreso Básico Universal, Intelligent Surveillance, Internet of Things, Reino Unido, Repression, Robotics, Surveillance, UK, Universal Basic Income
Posted in Library
Wednesday, September 9th, 2020
From 325 #12:
DE | Automatisierung, Robotik und Arbeit in der 4ten und 5ten industriellen Revolution
ES | Automatización, robótica y mano de obra en la 4ta y 5ta revoluciones industriales
Since the first Industrial Revolution began in the 1700's, successive industrial revolutions have profoundly affected labour, the workers themselves, creating even the concept of the 'working class', how they lived, their integration into the advancing urban hell holes, the prisons of the factories, mills and mining pits, even their children were not spared the indignity, even death of modern slavery of the time. Industrialization, the result of mechanisation in industry, fed modern enslavement and domestication of human beings in every corner of the spreading empires and colonies not just the rest of the living planet.
We are now on the cusp of the beginning of a 4th Industrial Revolution (4IR) and even a 5th (5IR) that will affect just as radically our imprisonment within the technological society as it did in the previous ones. The very concept of labour, even work itself will change beyond recognition once again. Already in the ensuing 'coronavirus pandemic' and curfew controls that have been enforced on billions worldwide, the signals of the coming industrial revolutions are already appearing, with millions being reported to lose their jobs in many countries. (more…)
Tags: 'The Uncivilized', 3D Printing, 5G, Alfredo M. Bonanno, Analysis, Artificial Intelligence (AI), Automation, Cashless Society, Coronavirus, Drones, Fifth Industrial Revolution, Fourth Industrial Revolution, From Riot to Insurrection, Intelligent Surveillance, Internet of Things, Repression, Robotics, Surveillance, UK, Universal Basic Income
Posted in Library
Friday, July 3rd, 2020
The reasons for opposing the 5G network are many, often overshadowed by the predominant (and absolutely legitimate) concern driven by an extremely noxious technology that will invade bodies and spaces with grave consequences from the point of view of health and environmental pollution. But when it comes to 5G we cannot just think of a mere advancement of the current 4G network, therefore a more rapid way of navigating. When we talk of 5G we can't even see it as "just" yet another toxicity, and oppose it exclusively in terms of health safety of individuals and protection of the environment. The 5G network is above all a necessary infrastructure for the various actors in the field. For the bosses to increase profits on the backs of the workers; for States to increase social control within national borders, and to better orchestrate military operations on the various war fronts.
Let's take a look at these aspects…
Yet another infrastructure for the bosses' benefit
The 5G network will permit more simultaneous connections and passing of data with zero delay. These characteristics are fundamental for the large scale explosion of technologies that use Artificial Intelligence. As we know, Artificial Intelligence is becoming part of the production process by replacing human labour (or trying to).
Thus the worker is becoming more and more dependent on a mechanism, often without knowing how it works, more and more alienated, more and more dominated by work rhythms dictated from above. Their autonomy can only be reduced. They are no longer a protagonist but the terminal of a machine which, if it doesn't overwhelm them, is because it has already kicked them out of the production process and taken their place. The 5G network corresponds more to the needs of industrialists than to those of average users (as they want us to believe). In fact, the Industry 4.0 model foresees that industrial plants (manufacturing, post-production and energy generation) will benefit from services created on the new mobile network. (more…)
Tags: 5G, Analysis, Anti-Militarism, Artificial Intelligence (AI), Biometrics, Corealis, Facial Recognition, Fourth Industrial Revolution, Horizon 2020, Internet of Things, Italy, Livorno, Smart Cities, Surveillance
Posted in Social Control
Sunday, April 5th, 2020
For a few weeks now, almost three billion people have been forced into home detention.
In Italy, as in other parts of the world, the first people who rebelled against the worsening conditions of their survival, the prisoners, have been repressed with dead and wounded.
While science proposes conflicting theses, part of the scientific community states that the quarantine period, although in alternating phases, will last at least until next year.
The state, however, has already chosen which truth to propagate to justify the measures taken. Forced isolation at home is being prolonged, the only proposal-constriction made to the population is to obey and wait by watching and self-surveillance… but for how long?
For now the end of the measures has been postponed until April 13th, but most likely there will be further extensions…
April 25th is the feast of liberation. Liberation not only from Nazi-Fascism, but from all forms of oppression.
The oppression of living in a world where movements are continuously controlled and monitored, with checkpoints, soldiers everywhere, drones, cameras, electronic bracelets.
The oppression of being individually considered as infected if we do not respect the laws and think that socializing and the possibility of going out are not transferable in exchange for the security of survival.
The oppression of living in terror of the invisible, because the problem is not the virus, but the ecological and social conditions in which it spreads. (more…)
Tags: Anti-Fascism, Climate Chaos, Coronavirus, Demo, Dictatorship, International Solidarity, Italy, Repression, Surveillance
Posted in Autonomy
Wednesday, February 19th, 2020
On January 31st we found microphones* in the Garage Anarchico in Pisa, as well as in the house of a comrade, in Follonica. The devices were connected to the electrical systems of both buildings and were used to listen to discussions over a period of several months. It should be noted that the spies entered the premises with a technological device that does a kind of ultrasound scan of the inside of the locks.
The cops began their investigations following an arson attack on a vivisection laboratory in Pisa, which was never reported in the press.
* The company that supplied the devices is Lutech Spa, based in Roncello (MB).
[Translation taken from earsandeyes.noblogs.org].
Tags: Follonica, Garage Anarchico, Italy, Lutech Spa, Pisa, Repression, Surveillance
Posted in Social Control
Wednesday, February 5th, 2020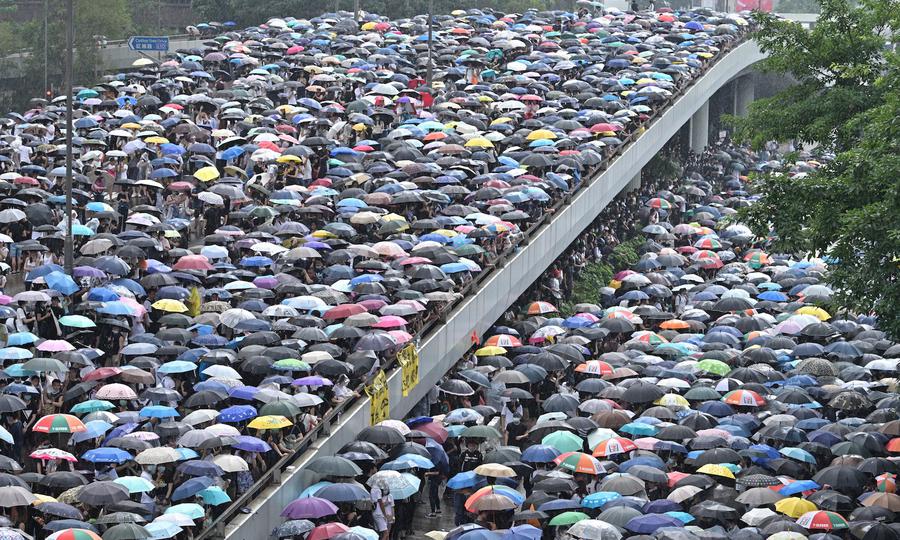 "On Wednesday 12th June, when someone shouted out that drones had started flying above them, everyone opened up their umbrellas almost simultaneously."
Four texts from Dialectical Delinquents:
1. Coronavirus – an exercise in intensified social control.
2. Hong Kong – its relevance to the rest of us… …its resistance to the science & technology of social control.
4. China: A-Z of some moments of international opposition.
Tags: Anti-technology, CCTV, China, Coronavirus, Dictatorship, Facial Recognition, Hong Kong, Repression, Riots, Social Insurrection, Surveillance
Posted in Social Control
Sunday, December 29th, 2019
From A2day:
Anarchist sites report that in recent months in Donetsk and Kiev region base stations (aka towers) of mobile operators were attacked 4 times. Behind the attacks are mostly anarchists.
The first attack was to blow up the base station of the Phoenix operator. Then it was reported that two Lifecell towers were set on fire. December 10, 2019 it was reported about the arson of the mobile base station "Vodafone Ukraine".
For example, when attacking the Lifecell communication towers, anarchists claimed that the main reason for the attack was solidarity with the Democratic Federation of North and East Syria (Rojava), the struggle of the Kurdish people for liberation from the Turkish occupation.
Wishing to give intensity to these attacks, we, a cell of the Informal Anarchist Federation, set fire to another cell communication base station in Kiev. Unlike the aforementioned attacks, our motives and view of the targets under attack are different. We suggest taking a broader look at the topic of communication towers.
Mobile operators are eager to capture as many subscribers as possible. This is a fact. There are three main operators in Ukraine: "Kyivstar", "Vodafone Ukraine", Lifecell. These companies do anything to place their mobile antennas everywhere, to get more money and control. They do not care what we think about it. But the most important thing is that the operators cooperate perfectly with the police, leaking them all the data of their subscribers. Each mobile operator receives more than 20,000 court orders annually for temporary access to things and documents.
(more…)
Tags: Anti-technology, Arson, Black December, FAI Cell "Misha Zhlobitsky", Informal Anarchist Federation (FAI), International Solidarity, Kiev, Kyivstar, Lifecell, Misha Zhlobitsky, Rojava, Sabotage, Smartphones, Surveillance, Ukraine, Vodafone
Posted in Direct Action
Thursday, December 19th, 2019
"I believe that within the next generation the masters of the world will discover that childhood conditioning and narco-hypnosis are more efficient tools for governing than batons and prisons, and that their lust for power can be completely satisfied by inspiring people to love their slavery, instead of crushing them and reducing them to obedience".
Aldous Huxley, letter to George Orwell of October 21, 1949
Half a century ago, Piazza Fontana. The start of the so-called strategy of tension. A bomb exploded inside a crowded bank, just a few steps from the Cathedral of Milan. Over one hundred victims are dead and wounded, a massacre of blood-letting perpetrated in order to spread fear, terror and anguish throughout the country, to trigger the conditioned reflexes of Order. To sow a panic such as to justify, if not to invoke, the intervention of the State (also through its armed wing of police, also by suspending some liberties taken for granted).
Half a century after Piazza Fontana, we are in a full strategy of relaxation. After the bombs, the smartphone. After the blood, the ringtones. Millions of hyper-connected people, a massacre of neurons carried out in order to spread the entertainment, amusement and satisfaction that's necessary to neutralize the unconditional reflection of revolt. To sow a distraction such as to legitimise, if not naturalise, the presence of the State (even of its armed wing of the law, even of the suspension of some liberties taken for granted).
(more…)
Tags: Analysis, Anti-Authoritarian, Anti-technology, Dictatorship, Italy, Milan, Repression, Smartphones, Surveillance
Posted in Social Control
Sunday, December 15th, 2019
From It's Going Down:
Report from insurrectionary anarchist publication Anathema on the growth of networks of surveillance being developed by Amazon and local police departments.
In November, The Intercept reported that internal documents at Ring, the home security company owned by Amazon, reveal that the company is planning to create automated neighborhood "watch lists" by incorporating facial recognition technology into its increasingly vast network of "smart home" doorbell cameras. The feature would alert camera-owners via smartphone when someone deemed "suspicious" pops up on their cameras. Like the old-fashioned "neighborhood watch" that Ring wants to replace, the feature would extend the power of the police and as well as make certain areas of town more dangerous for anyone Ring camera owners deem "suspicious."
Ring's documents do not define what "suspicious" means. In practice, this will likely be defined by gentrifiers and cops, whose systemic racism is well documented. At its core, the watch list would identify people who "don't belong" in certain areas; this means black and brown people, poor people, and anyone whose appearance deviates from social norms. Ring's Neighbors program — an online discussion forum between camera owners — is already well known for its aggressive racism and for generally heightening distrust and paranoia within neighborhoods. For many people, Ring's new feature would make it dangerous to be in certain neighborhoods at all — a victory for the forces of gentrification everywhere.
Ring doorbell cameras have already allowed police to significantly expand their operations, simply by appropriating private citizens' technology for no additional expense. The technology therefore has immense "value," not only for the company, but for the state. For decades it's been steadily expanding policing in order to keep its increasingly immiserated people under control, while struggling to balance its own budgets. (more…)
Tags: Amazon (Company), Anathema, Facial Recognition, Intelligent Surveillance, Palantir, Rekognition, Repression, Ring (Surveillance Company), Smart Cities, Surveillance, USA
Posted in Social Control
Tuesday, December 10th, 2019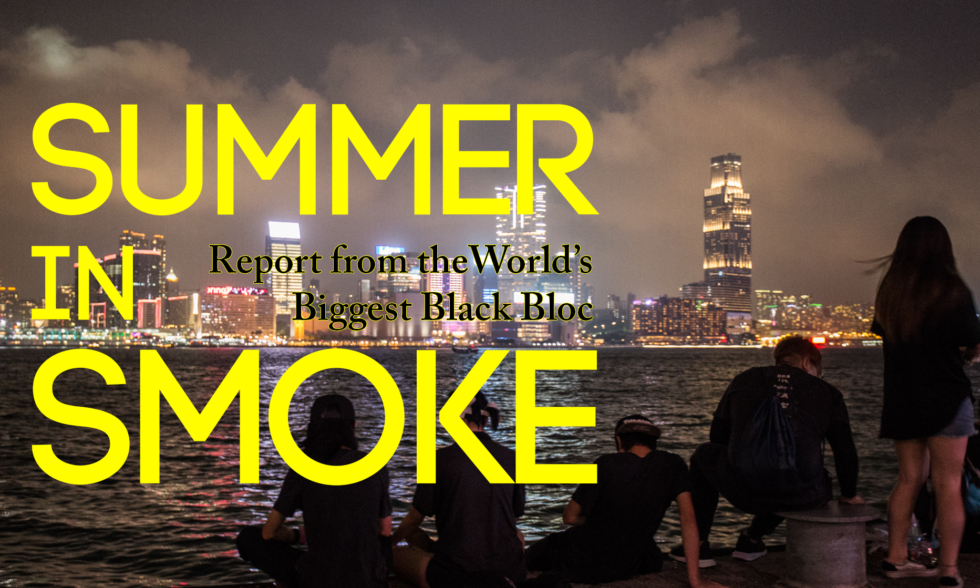 The following article was submitted to Chuang by Vitalist International. It is an account of events in Hong Kong over the summer and early fall of 2019, much of it from a firsthand perspective. We provided minor edits and designed the layout, but otherwise reproduce the piece here in more or less its original form. While the main thrust of the article is in agreement with our own views of events in Hong Kong, the piece is an intake and the opinions expressed here belong to its authors. At the bottom, we've included a gallery (provided by the authors) of 70+ posters, memes, graffiti and other graphics used in the movement.
für Sandra in liebendem Angedenken
by Vitalist International
It was only a matter of time before it happened. The protesters and the cops both knew it. On October 1st, a teenager was shot point-blank in the chest by police. The bullet missed his heart by approximately three centimeters.
Thousands of Hong Kongers gathered the next evening at a playground to fold paper cranes and wish the young protester a speedy recovery. They held banners saying "stop shooting our children!" and used the flashlights on their smartphones as torches to light up the night. In the center of the playground, a thousand origami cranes spelled out "Hong Kongers, Add oil!", a Chinese expression which has come to define the movement, meaning roughly: don't stop, keep going, add fuel to the fire. Within an hour, the protesters were setting up barricades in the streets and throwing molotovs at the nearest police headquarters.
The movement that began as a protest against a proposed extradition agreement with China has now entered its fourth month of unrest, with no end in sight. The bill — now withdrawn — would have granted the Chinese State unprecedented authority to extradite dissidents, criminals, and refugees to be processed in the shadowy court system of the mainland. Coming on the heels of 2012's Moral and National Education Law and 2014's Electoral Reform Bill,[i] this amendment was only the latest attempt at slowly dismantling the region's tenuous political arrangement of "One Country, Two Systems." With the movement rapidly evolving into widespread resistance against Chinese control, and the Hong Kong government declaring a State of Emergency, the situation has reached a political stalemate, with violence escalating on both sides. (more…)
Tags: Analysis, Arson, Black Bloc, China, Dictatorship, Hong Kong, How to make Molotovs, Intelligent Surveillance, International Solidarity, Letter, Repression, Revolution, Riots, Sabotage, Social Insurrection, Surveillance, Xinjiang
Posted in Autonomy
Tuesday, December 10th, 2019
While the garbage in uniforms occupied for another night Exarchia and the center of Athens, to fulfill the dreams of Mr. Chryssochidis of a dead and safe city, our ways lead to a soft target.
The image of George Orwell "1984" is already reality. The internet of things implements televisions, refrigerators and other electronic stuff in our homes, in order to collect our data, to survey our habits, to transform human life in digital algorithm. They call it Smart City, we call it a totalitarian society.
A company which sells the hard ware of the smart city and also its ideologies, is the security company "Alphacom". Alphacom not only provides this, but also CCTV technology and other equipment for the rich and for authorities, to protect their interests. And last but not least, Alphacom is selling and installing the products of Tyco. Tyco is a mulitinational company, which produces surveillance technologies for prisons worldwide and other security forces.
In the early hours of December 2, we burned the van of Alphacom in front of their shop in Kaisariani.
This fire was lit for anarchist prisoner Dino Giagtzoglou, who wrote a letter to the International Meeting against the Techno-Sciences in Italy (July 2019)
in which he mentions many reasons to fight this part of the capitalist powersystem. We welcome the upcoming research about the players in this game.
This fire was also lit for Loic, still in prison in Hamburg.
Finally, this attack was made in solidarity and sympathy with those persecuted for the Revolutionary Self-Defense case, as well as those persecuted for good intentions, kinship or friendship. Our strength and solidarity are superior to the politics and repressive operations.
Strength to the comrades Michailidis, Athanassopoulou, Chatzivasileiadis, who are in illegality.
Anarchists
via mpalothia
Tags: Alphacom, Arson, Athens, Car Burning, Exarchia, Greece, Konstantinos Yagtzoglou, Sabotage, Solidarity Action, Surveillance, Tyco
Posted in Direct Action
Tuesday, December 3rd, 2019
To avoid or at least minimize the risk of leaving DNA tracks it is necessary to use new gloves, mouthguard, Hairnet or even better closed headcovering (e.g. bathing cap) and washed clothes with long sleeves and trouser legs. However, usually all the other People leave traces as well, means that on more or less public places it won't be enough of the cops to simply sweep the mixed dirt – also frequently touched things lead sometimes to mixed traces which can't be evaluated. But to rely on this can be dangerous: In some cases they make extensive analyses, and if your DNA is found between many others, it's still there.
Often they find DNA on the fibers of clothes. Also places where people did piss can be interesting for the cops. Very famous are the thrown away cigarettes and saliva remains on stamps and envelops. Also famous, but less interesting is the hair, it's only valid for DNA analysis if the root of the hair remains. Not helpful to confuse the cops is the DNA of non-human beings. But a specific dog can be identified through DNA what could be a hint for the cops. (more…)
Tags: Analysis, DNA Forensics, Manuals, Repression, Surveillance
Posted in Social Control
Thursday, November 14th, 2019

From Ears & Eyes:
When cops decide to spy on us using surveillance devices such as hidden microphones and cameras or GPS trackers, they need to get the devices from somewhere. It seems that they often buy these devices from private companies. The companies that manufacture and market those devices are part of what we call the surveillance industry.
We think that understanding how the surveillance industry works, who sells the surveillance devices to the cops and what the devices look like will help us to oppose this surveillance. So we have started a research work focused on this industry, and particularly on the companies that participate in it.
On our website you will find an overview of the surveillance industry, a list of companies that sell surveillance devices to cops worldwide, a list of the trade shows and other events where you are likely to find these companies, a glossary of the specific terms of the industry, and a list of other resources on the subject. All this is available in english and french. (more…)
Tags: Analysis, DSE (Digital Surveillance Equipment), Elkron/Urmet (Surveillance), Reconyx (Surveillance), Surveillance
Posted in Social Control
Thursday, October 31st, 2019
Tags: Flyposter, Surveillance
Posted in Library
Wednesday, August 21st, 2019
CCTV Burnt and Advertising Attacked in Bristol, on the 30th July.
A new LED advertising screen by the M32 motorway in Bristol tells us to "Be On It"… Well, we are!!! The screen was damaged using sling shots. Advertisers want people to focus their attention on shitty corporate messaging instead of concentrating on their driving. We are "on it", and we are not excited by the products, upgrades ,and the boring lifestyles and aspirations they are selling… We desire damage and destruction… and dream of sabotage.
CCTV was also burnt out at Gaunts Ham Park (a day centre for homeless people in Lawrence Hill). The wiring was destroyed in an expression of rage against the surveillance state that increasingly targets those who do not conform. Using a long pole, and a firelighter attached to a clothes peg, this act was "begging" to be done! More and more people are marginalised, and the housing crisis in Bristol is one aspect of the social war which we are all part of…..
Solidarity with all those resisting it! Especially to: 'Der Drei Von Der Parkbank' in Hamburg, and those imprisoned as part of 'Operation Panico'.

Anti-Social Angry Vagrants
Tags: Arson, Bristol, CCTV, Sabotage, Solidarity Action, Surveillance, UK
Posted in Direct Action