Posts Tagged 'Syria'
Tuesday, May 19th, 2020
Episode number 34 (05/2020) of "B(A)D NEWS – Angry voices from around the world", a monthly news program from the international network of anarchist and antiauthoritarian radios, consisting of short news segments from different parts of the world, is now online.
Length: 1:22 h
You'll also find the audio on A-Radio Berlin's new website.
In this episode you will hear contributions from:
1. Free social radio 1431AM:
• Hunger strike of V. Dimakis
• 1st of May in Greece
• Some words about Grup Yorum, the hunger strikes and the deaths of 3 comrades.
2. A-Radio Berlin:
• Interview on the film "Radical Resilience" about political burnout and how to avoid it.
3. FrequenzA:
• The audio is from two internationalist, which are based in Rojava at the moment, about their thoughts and analysis of the impact of COVID-19 on the society there and why it makes sense to fight the capitalist system worldwide.
4. Radio Fragmata:
• Updates on situation in Greece and coronavirus (May Day 2020, New environment destructive policy, police brutality, refugees struggles and fascists attacks, anarchist and revolutionary prisoners situation, mutual aid actions)
5. Invisible Radio:
• Voices of people from Moria camp and Last incidents in prisons and camps in Greece
Other audios from A-Radio Berlin in English here:
https://www.aradio-berlin.org/en/audios-2
Or visit the anarchist 24/7 online stream from the Channel Zero Network:
http://channelzeronetwork.com/
Enjoy!
A-Radio Berlin
Tags: 1st May, Anarchist Radio, Anarchistisches Radio Berlin, Athens, Coronavirus, Free Social Radio 1431AM, Frequenz(A), Greece, Grup Yorum, Hunger Strike, International Solidarity, Interview, Invisible Radio, Mayday, Migrant Struggle, Moria, Racism, Radio, Radio Fragmata, Repression, Rojava, Syria
Posted in Autonomy
Monday, December 30th, 2019
The genocide in Syrian territory since the invasion of the fascist Turkish state, with the agreement and complicity of the international community, continues. Day by day hundreds of civilians find themselves on the agonizing receiving end of the bombings and attacks carried out Erdogan's fascist army and ISIS's reemerging Islamist terrorism. For 2.5 months the revolutionary forces of rebel militias intensify defensive confrontation with every means against the imperialist international monopolies, which attempt to occupy the Syrian territories, displacing thousands of civilians with their military operations.
The NATO summit in London at the beginning of December ended with a pervasive sense of unity and an exchange of guarantees between the member states, despite superficial disagreements over the fascist Turkish state's invasion of Syria. The constant arrests and interrogations of militants in various states on suspicion of supporting the Kurdish rebels are proof of this. The latest anti-terrorist operation in the UK against the family environment of a YPG volunteer has led to his father being arrested on charges of supporting a terrorist organization.
The fascist Turkish state builds rivalry in the areas of security and energy in the eastern Mediterranean as it chooses to seal the alliance with Libya on the same day as the slaughterer of the Palestinians, Netanyahu is in Athens for the trilateral agreement between Greece, Cyprus and Israel for the EastMed pipeline. They also called for NATO's support, demanding that alliance members officially declare the YPG and the YPJ as terrorist organizations. A prime example is Erdogan's message to the Greek government amid transnational shocks and destabilization in relations between the two states on the basis of the disputed agreement with Libya: power relations and instability can change for the benefit of the Greek state with the precondition that the YPG/YPJ and DHKP-C Kurdish and Turkish fighters are extradited as terrorists. (more…)
Tags: Arson, Car Burning, Greece, International Solidarity, Islamic State in Iraq and Syria (ISIS), NATO, People's Defence Units (Y.P.G.), Revolutionary Solidarity Commando Haukur Hilmarsson, Rojava, Sabotage, Syria, Thessaloniki, Turkey, War, YPJ (Women's Protection Unit)
Posted in Direct Action
Wednesday, November 20th, 2019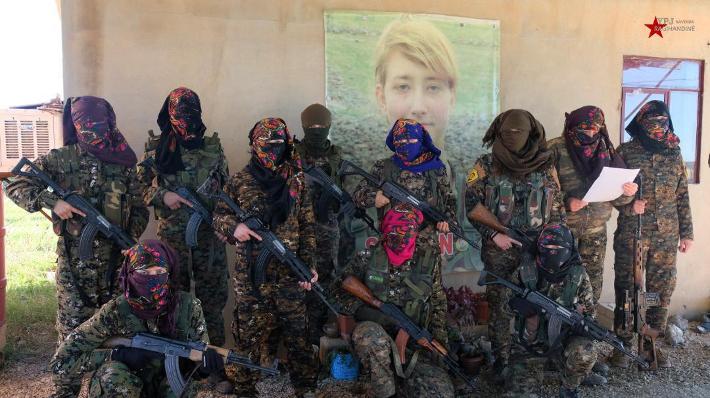 نامه ای از جانب یک آنارشیست انترناسیونالیست در روژاوا
Translation to Persian: Hasse Golkar
via barrikade:
Comrades,
I think it is important now that our voices of Rojava, out of the heart of that battle, are being heard. A fight for the life, for an existence in dignity, for real democracy and for the freedom of all women. I want to tell how the resistance of Serekaniye went on, how the beginning was, how the end was and also what happened in between. Serekaniye right now is in the hands of jihadist groups that are being supported by Turkey, upon approval by the United States. At a time they said there would be a five-day firearm rest…. we didn't believe it for one second. And that's how it was – the attacks didn't stop, maybe they've been reduced, but they continued attacking us with heavy artillery, bombings and airplanes. When there are bombings, there is not much that can be done; hide behind a tree and hope, that they didn't see you running or that they found your place.
Those five days of supposed firearm rest actually have been decisive for the United States and Turkey, to redefine the conflict, to realign the situation of war, confrontation and resistance against our forced withdrawal that no one expected. No one could believe it, after 11 days of resistance, beautiful and very hard at the same time. Leaving the city. The Turkish invasion of Serekaniye did start some days before, 8th of October, with a bombing of our military post that hasn't been answered, for not to unleash what happened later anyway. It was an attempt of the friends to protect the people and the society. But the next day, about 3 to 4 pm, another bombing of a post of the YPG took place, where 5 friends have fallen, and since then they bombed the whole border. (more…)
Tags: Islamic State in Iraq and Syria (ISIS), Kurdish Struggle, Kurdistan, Letter, People's Defence Units (Y.P.G.), Rojava, Serekaniye, Syria, Til Temir, Turkey, War, YPG International
Posted in Autonomy
Thursday, November 14th, 2019
In October 2019 the Turkish state invaded Northern Syria. The target of their aggression was Democratic Federation of Northern and Eastern Syria (Rojava). By the fault of rulers blood is being shed again and peacful people are suffering and dying. The goal of the president of Turkey Erdogan is to destroy revolutionary Autonomy of Syrian Kurds. Revolutionaries of Kurdistan build a society of stateless popular self-management. And Rojava became an example and model for Kurds in Turkey. That is why «Turkish sultan» started a war.
In the night of November 11 we destroyed two cell phone network towers of the Lifecell company settled by the Zahaltsy and Piskivka settlements in Kyiv region. Lifecell is fully owned by Turkish giant TURKCELL, the largest mobile provider of the State of Turkey. As a large corporate tax payer Turkcell appears as the indirect sponsor of the aggression of Erdogan`s regime. There are also widely known connections of the provider with the ruling «Justice and Development Party» which construct the basis of the current system in the country. These are the reasons why we consider the property of Lifecell as a legitimate target for the sabotage.
We stay in solidarity with revolutionaries and people of Kurdistan. They fight the occupation and oppression — for the liberty and social justice. We call to everyone who cares about the situation to participate in the resistance in a manner according to their abilities.
Freedom to the peoples — death to the Empires!

Сell of Revolutionary Solidarity
Tags: Arson, International Solidarity, Kiev, Kurdish Struggle, Lifecell, Rojava, Sabotage, Syria, Turkcell, Turkey, Ukraine, Сell of Revolutionary Solidarity
Posted in Direct Action
Monday, October 28th, 2019
A coalition of Bristol groups blocked all the entrances to BAE and MDBA in Filton this morning, [25/10/19] preventing the arms factories from opening. We stand in solidarity with the people of North and East Syria and against Turkish fascism! #Riseup4Rojava #BoycottTurkey #StopArmingTurkey

via Bristol Kurdish Solidarity Network
Tags: Anti-Fascism, Anti-Militarism, Bristol, International Solidarity, Kurdish Struggle, Rojava, Syria, UK
Posted in Direct Action
Saturday, October 26th, 2019
US State gives green light for the Turkish military invasion of Northern Syria
October 7th, 2019
After a period of a hypocritical stance by the American state towards the Kurds of Northern Syria and the other rebellious peoples of the region whom they supported militarily as they gave their lives in battle against ISIS (Islamic State) and their armed forces of men and women liberated one city after another by expanding the revolutionary project of Democratic Confederalism, the US regime has shown its true face by giving the green light to the Turkish state for the military invasion of the region. It is the expected development of the "democratic" American state and the "democratic" West in general. (more…)
Tags: Athens, Greece, International Solidarity, Kurdish Struggle, Kurdistan, Nikos Maziotis, People's Defence Units (Y.P.G.), Pola Roupa, Revolutionary Struggle, Rojava, Syria, War
Posted in Autonomy
Friday, October 11th, 2019
In the afternoon of 9 October the fascist Turkish occupation army and its Islamist murder gangs started their war of aggression against the liberated areas of Rojava. With massive artillery fire and widespread air raids on towns and villages along the Syrian-Turkish border, the front was opened and ground invasion began.
The fascist AKP-MHP regime is turning its threats into reality and under the cynical name 'Operation Sources of Peace' has launched a new campaign of extermination against the people of the region. From the North, jihadist gangs try to advance to the cities and settlements along the border and the villages in the vicinity have become the scene of fierce battles between the self-defence forces of the population and the invading troops. While the fascist invaders attack the civilian population of Rojava under the protection of their heavy weapons, artillery and the bombardment of their war planes, sleeper cells of the Islamic state carry out coordinated attacks in the interior and spread fear and terror. (more…)
Tags: Afrin, Al-Nusra Front, Antifa, International Solidarity, Islamic State in Iraq and Syria (ISIS), Kurdish Struggle, Kurdistan, People's Defence Units (Y.P.G.), Repression, Rojava, Syria, Turkey, War
Posted in Anti-Fascist
Monday, January 28th, 2019


"All power to the Kurdish people fighting for their autonomy and liberation."
Ikarus Gang Solidarity. East Borneo, Balikpapan.
Tags: Indonesia, International Solidarity, Kurdish Struggle, Rojava, Syria
Posted in Direct Action
Monday, October 29th, 2018
Elefterya Hambi is an internationalist in northern Syria and is fighting in the YPJ ranks. In an interview, she talks about her reasons why she decided to help create a new social model in Rojava.
Tags: Germany, Hambach Forest, International Solidarity, Islamic State in Iraq and Syria (ISIS), Kurdish Struggle, Rojava, Syria, War, Women's Defense Units (YPJ)
Posted in Interviews
Friday, October 12th, 2018
ES: SIRIA: MUERE ANARQUISTA EN ROJAVA, ŞEHÎD ŞAHÎN QEREÇOX

This epitaph was written by a friend and comrade of Şahin / Waka / Farid

Şehîd Şahîn Qereçox, known as Waka to his many friends, was sadly martyred in the fight against Daesh in Hajin on 6th October. He had been serving in the YPG, fighting for the revolution in Rojava for 4 months. For as long as I'd known him he was a loving comrade and a true revolutionary. I'm still struggling to find the words to describe him – he was so thoughtful and creative he defied simple generalisation. Whatever I write will merely scratch the surface of what he meant to me and so many people. (more…)
Tags: Islamic State in Iraq and Syria (ISIS), Kurdish Struggle, People's Defence Units (Y.P.G.), Rojava, Şehîd Şahîn Qereçox 'Waka', Syria, War
Posted in Anti-Fascist
Thursday, October 4th, 2018
Memorial video for the anarchist internationalist fighter of Rojava Haukur Hilmarsson (Sahin Huseyni). Sehid Sahin has fought against I.S. (DAESH) in Raqqa and martyred while he was defending Afrin from Turkish State's military invasion.
Ruis Rojava
https://www.youtube.com/channel/UCtUPN9d4Y6I8Br8GrrfiFyg
Tags: Afrin, Haukur Hilmarsson, Islamic State in Iraq and Syria (ISIS), Kurdish Struggle, Middle East, People's Defence Units (Y.P.G.), Raqqa, Rojava, Syria, War, YPG International
Posted in Anti-Fascist
Thursday, September 27th, 2018
Erdogan – the stray dog from the Bosporus – will come to Berlin on September 29 and become a terrorist legitimized through the German state government. The warmongers and fascists will meet to resolve further deals on the "refugee issue". While the arms industry pops bottles and the Federal Republic of Germany grants arms exports into the billions, innumerable people are dying in this war. This is the reason for us to disturb, sabotage, and attack this state visit. Not all of us are facing this destruction deedless. Our signs of rage and resistance reached as well our international comrades, who will fight with us on the day the fascist is coming to Germany. Shoulder to shoulder against fascism! Down with Erdogan and his fascist collaborateurs! For freedom! (more…)
Tags: Afrin, Germany, International Solidarity, Kurdish Struggle, Rojava, Sabotage, Syria, Turkey
Posted in Direct Action
Tuesday, October 24th, 2017
No to State, No to war. Yes for self-administration and the Social revolution
Immediate call to all our comrades Anarchists and Libertarians wherever they are
A direct and special call to our comrades Anarchists and Libertarians Arabic-speaking
No to State, No to war. Yes for self-administration and the Social revolution
For years and years we, anarchists and libertarians in Iraqi "Kurdistan", Europe and other countries all our publicities and our slogan have been about Yes for self-administration in everywhere and for all the communities, but No to State.
We raised our voice against the Kurdistan Regional Government (KRG) and its very recent scenario of referendum on "independent Kurdish State". We are very sure the other anarchists among Arab, Turkish, Assyrian and others had the same attitude. We also believe the same attitude from our anarchist comrades throughout the world to say no to State, authority, nationalism and to be against the nationalist and against pro-fascist war. (more…)
Tags: Anti-War, Civil War, International Solidarity, Iraq, Kurdish-Speaking Anarchist Forum (KAF), Kurdistan, Revolution, Syria, Turkey, War
Posted in Autonomy
Friday, August 25th, 2017
Two activists Markéta Všelichová and Miroslav Farkas were arrested on the 13th of November 2016 while attempting to cross the Habur border crossing from Turkey to Iraq. They were accused of participating in terrorist activity in Northern Syria and taken into custody.
On the 2nd of August they were sentenced to 6 years and 3 months for belonging to the Kurdish defence forces YGP/YPJ (these non-state kurdish groups are fighting Daesh/ISIS, the turkish army which has been repressing Kurds for several decades, and the dictatorial regime of Bashar Al-Asad).
Markéta had been to Rojava twice, according to her own words she joined the defence forces and fell in love with the region and its specific cultural and political situation. This time she and Mirek were on their way to Rojava, where they planned to set up a field hospital for fighters and civilians, and eventually help with defence, as she says herself. Together they made a campaign before their big journey, during which they wanted to acquire the necessary material, while also not being afraid to make lectures about life, fighting and revolution in the region. These public activities also probably raised the interest of Turkish agents.
In an interview Markéta said she feels with people, who risk their life in the fight against evil, that she would like to help Rojava with anything it needs, and that she realizes that as a European she has greater possibilities how to get involved and help. A bit my own way, but with them, as she said. (more…)
Tags: ABC Czech Republic, Czech Republic, Iraq, Kurdish Struggle, Kurdistan, Markéta Všelichová, Miroslav Farkas, People's Defence Units (Y.P.G.), Repression, Rojava, Syria, Turkey, Women's Defense Units (YPJ)
Posted in Prison Struggle
Tuesday, December 6th, 2016
**UPDATE** via Kurdish Question
People's Protection Units (YPG) volunteers, American Michael Israel (27) from Colorado and German Anton Neshek (Zana Ciwan), were killed by Turkish warplanes on 29 November according to another international volunteer fighting alongside the pair against the Islamic State group (IS/ISIS/ISIL), north of Raqqa. [updated].
On his Facebook page, the international volunteer, who was amongst the group killed by Turkish warplanes wrote:
"We were taking a small village when we got hit by Turkish jets in the night. Two of my friends, Anton and Michael were killed among many others. I'm staying to finish out my six months. Fuck Erdogan and Fuck Turkey."
The YPG have informed both men's families. (more…)
Tags: Islamic State in Iraq and Syria (ISIS), Kurdistan, Lions of Rojava, People's Defence Units (Y.P.G.), Raqqa, Rojava, Syria, Turkey, War, Women's Defense Units (YPJ)
Posted in Uncategorised