Posts Tagged 'TAV'
Thursday, October 8th, 2020
IT | PDF: "Andare all radice" – Marco Camenisch & John Zerzan
"Andare alla radice"
È uscito l´opuscolo "Andare alla radice" contenente un intervista di John Zerzan a Marco Camenisch.
PREFAZIONE
In una soleggiata cucina del sudest della Svizzera ho preso parte a questa magnifica conversazione con uno dei miei eroi, Marco Camenisch, e un caro amico che gli aveva più volte fatto visita durante i molti anni passati in prigione. Quest'incontro aveva per me un valore importantissimo, soprattutto perché, a differenza di Matteo, avevo conosciuto Marco solo la notte prima. Scriversi è una cosa, per quanto molto preziosa, ma di certo nulla può sostituire la possibilità di sedere faccia a faccia, l'uno di fronte all'altro. La nostra causa comune, per come la vedo io, è quella di eliminare la civilizzazione, la sua marcia funebre, e sostituirla con comunità di rapporti diretti, faccia a faccia. La società di massa ha soppresso la comunità. Ogni volta che ci s'incontra, come nel nostro caso, ci si prepara al suo ritorno. La nostra esplorazione ha ravvivato in ciascuno di noi l'anelito profondo per un nuovo mondo. È presente in ognuno, per quanto soffocato o deformato, nonostante le mastodontiche e onnipresenti forze contrarie. Le ore passate in così buona compagnia mi hanno rigenerato, stando assieme a guerrieri che non si arrendono. Prima di tornare in Italia con Matteo, ho salutato Marco che stava pulendo il pavimento della cucina della casa dove alcuni compagni ci avevano ospitato. Sorrideva e canticchiava, e questo mi ha reso ancor più felice!
John Zerzan
Eugene, Oregon, febbraio 2020
–
"Andare alla radice"
The booklet "Going to the root" has been published with an interview by John Zerzan with Marco Camenisch.
PREFACE
In a sunny southeastern Swiss kitchen I took part in this wonderful conversation with one of my heroes, Marco Camenisch, and a dear friend who had visited him several times during his many years in prison. This meeting had a very important value for me, especially because, unlike Matteo, I had met Marco only the night before. Writing is one thing, though very precious, but certainly nothing can stop you from sitting face to face, one in front of the other. Our common cause, as I see it, is to eliminate civilization, its funeral march, and replace it with a community of direct, face-to-face relationships. Mass society has suppressed the community. Every time we meet, as in our case, we prepare for its return. Our exploration has enlivened in each of us the deep yearning for a new world. It is present in each one of us, no matter how stifled or deformed, despite the mastodontic and omnipresent opposing forces. The hours spent in such good company have regenerated me, being together with warriors who do not give up. Before returning to Italy with Matteo, I said goodbye to Marco who was cleaning the kitchen of the house where some of our comrades had hosted us. He was smiling and humming, and that made me even happier!
John Zerzan,
Eugene, Oregon, February 2020
https://istrixistrix.noblogs.org/
Tags: Analysis, Anti-Nuclear, Anti-technology, Ecological Destruction, Interview, Italy, John Zerzan, Marco Camenisch, PDF, Repression, Switzerland, TAV, Zine
Posted in Library
Tuesday, September 22nd, 2020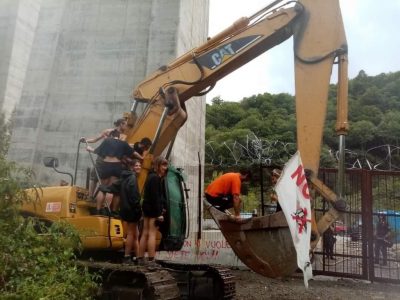 The No TAV campaign in northern Italy has been fighting an expensive, unneeded and corrupt high speed railway link for over three decades. The proposed mafia-linked freight train service from Turin to Lyon has been repeatedly exposed for its fantastical predictions and is slated by local people who see no reason to leave their homes for a white elephant. If you are already thinking about the similarities to HS2 here in England then you are in the right place. I will start by giving a very brief history of No TAV, then an update on recent events. In the second half, I will concentrate on what the Stop HS2 movement can learn from No TAV.
For those who have never heard of the No TAV movement, it is a campaign born thirty odd years ago to resist the construction of a 270 kilometre long high speed railway (Treno di Alta Velocita) between Turin (in Italy) and Lyon (in France). There is widespread opposition on both French and Italian soil, since the railway is a corrupt scheme proposing to transport freight based on fantasy figures and the people who live along the route see no benefit (the train won't be stopping there). They argue that the already existing railway infrastructure should be improved instead. The resistance is greatest in the breathtakingly beautiful Val di Susa (Susa Valley), which stretches from Turin to the Alps for fifty kilometres. In summer, the valley is bright with colours, the blue sky and green grass bisected by the snow on the mountains. It has a unique environment, since one side sees the sun and the other does not. The train line would rip straight through it before entering a tunnel of 57.5 kilometres to France. This tunnel would be longer than the Chunnel and in fact would just squeeze in as the longest rail tunnel in the world, if it ever gets built. Local people are concerned that drilling into the mountains will disturb uranium and asbestos deposts, that mafia construction will lead to health hazards and that the overall economic case for TAV no longer stands up. (more…)
Tags: Ecological Destruction, France, HS2, Italy, Lyon, TAV, Turin, UK, Val di Susa
Posted in Eco Struggle
Tuesday, November 17th, 2015
Siamo anarchici e siam molti
E la vostra inane legge
Non ci doma né corregge
Né ci desta alcun terror
Guerra, guerra e guerra sia!
L' ideal per cui pugnamo
No, non teme i vostri orror
Siam ribelli, e forti siamo,
il terror degli oppressor!
I potenti della terra
Anarchist chant
"Anyone with some common sense, who has even a distant notion of what the nature of the No Tav movement is and of the ethical framework within which this struggle expresses its 20-year-long resistance, can see that I was not there with the intent to pursue terror or worse". Mattia
"On the other hand, those who struggle have learned, with intelligence, to channel even those strong and impetuous passions that are born of the many hits we took, like when a friend lost an eye from a tear gas grenade or when another came close to death". Niccolò

"Military and paramilitary attacks, indiscriminate violence and weapons of war belong to states and those who emulate them". Chiara
"We are accused of having acted to strike people or at least of having no regard for their presence, as if we had no regard for the lives of others…In relation to the accusation of terrorism I have no intention of defending myself. The solidarity we were shown from the moment of our arrest up until the present day has gone far to dismantle this daring incrimination". Claudio

"Your words, as well as sounding proud, sound just, in the sense that they are both ethically upstanding and attuned". Open letter to Chiara, Niccolò, Mattia and Claudio
"The prosecution wanted to create dissociations, namely, to push the movement to distance itself from its own power… We can say, quite plainly, that the movement held out by fully grasping what was at stake… The demands made by the prosecution are what in lawyers' jargon is called 'fence-sitting'. Go ahead and give them the minimum sentence, but convict them of terrorism". Open letter to Chiara, Niccolò, Mattia and Claudio
We can quite plainly say that the 'movement' has secured yet another victory. Not only has it managed to market a watered-down, inoffensive and whiny version of sabotage, but simultaneously, it has used its superior "ethical code" to blacklist all violent direct action that goes beyond striking a compressor with a Molotov. The courts have also won, by managing to impose boundaries that good kids shouldn't cross, if they want to avoid anything more than a sounding spanking.
For that matter, the victory for the courts has been sweeping, because through the terroristic prospect of years and years of prison, they made sure that comrades themselves – with their own statements – were the ones to draw up the boundaries that could not be crossed. (more…)
Tags: Alfredo Cospito, Italy, Letter, Nucleo Olga FAI/FRI, Roberto Adinolfi, Sabotage, TAV
Posted in Social Control
Thursday, January 8th, 2015
Chiara, Claudio, Mattia and Niccolò were convicted in the first degree for the specific crimes, that they claim as an action of resistance to the TAV high speed train, 3 years and 6 months, against the request of nine years for the aggravating circumstance of terrorism. Now they are on house arrest.
—
Also for Francesco, Graziano and Lucio the crime of terrorism doesn't exist. The charges remain of possession and manufacture of molotovs and resisting a public officer, accusations that keep them in precautionary detention. They have been transferred in the High Security prison Ferrara.
Graziano Mazzarelli
Lucio Alberti
Francesco Sala
C.C. via Arginone, 327 – 44122 Ferrara (FE)
Italia
–

Cassa di Solidarietà Aracnide
Tags: Chiara Zenobi, Claudio Alberto, Francesco Sala, Graziano Mazzarelli, Italy, Lucio Alberti, Mattia Zanotti, Niccolò Blasi, TAV
Posted in Prison Struggle
Saturday, December 27th, 2014
A week after being sentenced, Chiara, Claudio, Niccolò and Mattia were placed under house arrest, with all restrictions. Thus, they are now released from prison, but banned from meeting with anyone who is not habitually residing in the same house.
On December 22nd, Lucio – like Francesco and Graziano – was transferred to the AS2 section of Ferrara prison. For those who want to write to them, here's their new address:
Francesco Sala
Graziano Mazzarelli
Lucio Alberti
c/o C.C. via dell'Arginone, 327 – 44100 Ferrara (Italy)
source: macerie, via contrainfo
Tags: Chiara Zenobi, Claudio Alberto, Francesco Sala, Graziano Mazzarelli, Italy, Lucio Alberti, Mattia Zanotti, Niccolò Blasi, Repression, TAV
Posted in Social Control
Monday, December 15th, 2014
Oggi a Roma un numeroso gruppo di solidali No Tav ha voluto inviare un concreto messaggio di solidarietà nei confronti di Chiara, Claudio, Mattia e Niccolò, che nella giornata di mercoledì 17 si vedranno giudicati in primo grado al Tribunale di Torino con l'accusa di terrorismo, per la ben nota vicenda del danneggiamento del compressore del cantiere di Chiomonte. Il blocco del treno alta velocità nella stazione Ostiense è servito per imprimere sopra di esso il nostro grido di libertà, in modo che dopo aver attraversato il paese possa raggiungere proprio Torino. Cogliamo l'occasione per rilanciare la mobilitazione anche nella nostra città, in vista del mese di gennaio, in cui arriverà la sentenza nel maxi-processo che vede imputate 53 persone di tutta Italia per le grandi giornate di lotta del 27 giugno e 3 luglio 2011. Sempre negli stessi giorni ci sarà anche la sentenza per i fatti del 15 ottobre 2011 a Roma. Il 17 gennaio un corteo popolare tornerà nelle strade di Roma per rivendicare la libertà di tutti e tutte, e per ribadire che il Tav in Val di Susa non si farà mai. Per parlare di questa ed altre iniziative invitiamo a partecipare ad un'assemblea pubblica venerdì 19 dicembre alle 17 all'università La Sapienza. NO TAV LIBERI/E!!! NO TAV FINO ALLA VITTORIA!!!
–

Rome: High Speed Train Blocked & Sprayed In Solidarity With Chiara, Claudio and Niccolo, anti-TAV prisoners
Today in Rome a large group of No TAV solidarians wanted to send a concrete message of solidarity with Chiara, Claudio, Mattia and Niccolo, who on Wednesday 17 December will be judged in the first instance at the Court of Turin on charges of Terrorism, for the well-known story of the compressor damage at the [TAV] construction yard of Chiomonte. The blockade of the high-speed train in the station of Ostiense served to impress upon all our cry of freedom, so that it crosses the country to reach Turin. We take this opportunity to revive the mobilization in our city, in view of the month of January, which will come the judgment in the maxi-process in which 53 people are charged from across Italy in the great days of struggle of June 27 and July 3, 2011. On the same days there will also be judgment for the events of October 15, 2011 in Rome. On January 17, a popular parade will return to the streets of Rome to demand the freedom of all and for all, and to reiterate that the TAV in Val di Susa never will pass. To talk about this and other initiatives we invite you to attend a public meeting Friday, December 19 to 17 at the University of La Sapienza. NO TAV – FREEDOM FOR ALL!!! NO TAV – UNTIL VICTORY !!!
Tags: Chiara Zenobi, Claudio Alberto, Italy, Mattia Zanotti, Niccolò Blasi, Solidarity Action, TAV
Posted in Eco Struggle
Wednesday, February 26th, 2014
325 receives and transmits:
On the night of February 22nd, we poured a mixture of sand and water into the fuel tanks of two tractors used in the construction of a new Atlanta streetcar. The streetcar is one of many major development projects the city has initiated in the past few years as a part of a general plan to revitalize downtown. We know that this plan only means more police and unaffordable housing.
We offer this small gesture of solidarity to the ZAD, the No TAV movement, and the occupation of the Hambach Forest. We would also like to send strength to those affected by increased surveillance or repression the new developments have brought to Atlanta.
Our action was very simple to perform. It did not take long to plan or to enact and we found all of the materials on the side of the road. We do not believe that an accumulation of "actions" makes a revolution, but we wanted to give encouragment to the current and future participants of revolutionary struggles. Onward, strong hearts!
Tags: Atlanta, Hambach Forest, Sabotage, Solidarity Action, TAV, USA, ZAD
Posted in Direct Action
Tuesday, February 18th, 2014
TERRORISTS ARE THOSE WHO DEVASTATE AND MILITARIZE THE TERRITORY
CALL FOR A DAY OF MOBILIZATION
There are approximately 600 people accused, over a thousand investigated, dozens of people under several restrictions (home confinement, expulsion order), fines for hundreds of thousands of euros, a trial against 53 No Tav protesters, and several comrades who have been under house arrest for months now. These numbers show the repressive fury against the No Tav movement. This August, the Prosecutor of Turin added yet another chapter to their crusade: No Tav rotesters were investigated for "actions aimed at a terroristic attack" for one of the many actions taken against the construction site of Chiomonte – and for this reason subject to restraining measures. (more…)
Tags: Italy, Repression, TAV, Val Susa
Posted in Eco Struggle
Tuesday, April 2nd, 2013
TORINO (21th of March)
During the night, an arson targeted the entrance gate of Geo Studio Servizi, an architects company which collaborates with the construction of a High Speed Train (TAV) in Val Susa.
TORINO (14th of March)
During the night, three banks were attacked with hammers. The windows got broken and the ATM's damaged. Tags were painted on the walls saying "Basta sfratti" (stop expulsions) and "Pagherete tutto" (You will pay for everything). According to the police, this attack could be a vengeance for the arrest of three comrades during an anti-expulsion action.
NAPOLI (4th of March)
During the night the Citta della Scienza (City of Science) in Napoli burned to the ground. This institution was well known, even beyond the national borders and consisted of a incubator for companies and a training center to promote the "scientific citizenship". In a few hours this monument of technological research was destroyed. According to the newspapers it was an arson.
TORINO (2th of March)
During the night, fire was put to an electrical cabin which provides electricity for the Office for Immigration in the corso Verona. Some say this attack could be linked to the recent revolts in the detention center for immigrants in Torino.
News translated from different Italian websites.
Tags: Arson, Geo Studio Servizi, Italy, Napoli, Sabotage, TAV, Torino, Val Susa
Posted in Direct Action
Thursday, January 31st, 2013
(KOMUNIKE VERSI BAHASA INDONESIA)
Perjuangan kami tidak dapat dibatasi dalam terma-terma peradaban. Kami tak dapat dimengerti. Kami liar dan merupakan musuh peradaban. Tidak hanya negara dan kapital, tapi seluruh peradaban: kami menentang seluruhnya.
Kami adalah mereka yang dengan bangga menanggalkan kedamaian sosial, melangkah keluar dari zona-zona nyaman kami dan melakukan serangan terhadap apa yang kami benci. Kami mendeklarasikan perang terhadap peradaban dan seluruh propertinya dan bergabung dalam perang gerilya urban internasional bersama saudara-saudari seperjuangan kami di Federasi Informal Anarkis dan Front Revolusioner Internasional.
Kami mengklaim dan mengambil tanggung jawab atas aksi pembakaran terhadap mobil dan rumah Wakil Sekretaris DPD Demokrat (partai pemenang pemilu 2009) di Sumatera Selatan, aksi pembakaran terhadap 4 mesin ATM di Makassar, dan serangan terhadap dua gardu listrik di Jakarta selama seminggu terakhir.
Aksi-aksi kami dipersembahkan sebagai solidaritas terhadap perjuangan petani Ogan Kemilir Ilir, kepada pemberontak di Papua: Buktar Tabuni dan Dominikus Sorabut yang ditahan oleh pemerintah Indonesia, kepada seluruh perjuangan anti tambang yang tersebar dan mekar di sepanjang pesisir selatan Jawa, dan kepada masyarakat adat di Kalimantan, Mentawai, Jambi dan Papua.
Kami juga mengirimkan salam revolusioner teruntuk Tukijo: petani pemberani dan terhormat dari Kulon Progo, teruntuk tahanan-tahanan kasus NO TAV, tahanan-tahanan ELF di Amerika Serikat, teruntuk Marco Camenisch dan Gabriel Pombo da Silva, juga teruntuk para tahanan anarkis yang tidak pernah mundur dan tunduk di bawah hukum.
Juga kepada organisasi-organisasi revolusioner: Konspirasi Sel-sel Api (KSA) dan Perjuangan Revolusioner (PR) di Yunani, seluruh seksi dan fraksi dari Front Pembebasan Bumi (FPB) dan Front Pembebasan Hewan (FPH) di seluruh dunia, Individu-individu Yang Liar (IYL) di Meksiko, dan seluruh sel Federasi Informal Anarkis/Front Revolusioner Internasional (FIA/FRI).
Kepada para kamerad Konspirasi Internasional untuk Balas Dendam: mari bakar habis kemeleratan dan perbudakan!
Hingga pada keruntuhan peradaban!
Hingga pada kebebasan utuh dan kehidupan liar!
Front Pembebasan Bumi
Fraksi Indonesia

(ENGLISH VERSION COMMUNIQUE)
Our struggle can't be limited under civilization terms. We out of it. We are wild and we are enemies of civilization. Not only the state and capital (in old terms of anarchism), but all the civilization: we are against it.
We are the ones who proudly throw out the social peace, walk out from our comfort zones and carried an attack actions against what we hate. We are declaring war against civilization and it's property and join in the international urban guerrilla warfare with all our brothers and sisters in Informal Anarchist Federation and International Revolutionary Front.
We claim and take responsibility for arsons against car and shop belonging to the Vice Secretary of Demokrat in South Sumatera (winning party of 2009 general election), arsons against 4 ATMs in Makassar, and actions against two electrical substations during last week in Jakarta.
Our actions are dedicated to the farmers struggle in Ogan Kemilir Ilir, to the rebels in Papua: Buktar Tabuni and Dominikus Sorabut who are imprisoned by the Indonesian State, to the struggles against mining which spread and blossomed in south coast of Java, and to the natives in Kalimantan, Mentawai, Jambi and Papua.
We also want to send our revolutionary greetings to Tukijo: brave and dignified farmer from Kulon Progo, to the NO TAV prisoners in Italia, to the ELF prisoners in USA, to Marco Camenisch and Gabriel Pombo da Silva and to all anarchist prisoners who never step down and bow under the law.
Also to revolutionary organizations: Conspiracy of Cells of Fire (CCF) and Epasnatatikos Agonas (EA) in Greece, all the sections and fractions of Earth Liberation Front (ELF) and Animal Liberation Front (ALF) around the world, to Individualidades Tendiendo a lo Salvaje (ITS) in Mexico and to all cells of Informal Anarchist Federation/International Revolutionary Front (FAI/IRF).

To our comrades of International Conspiracy for Revenge: let's burn down this misery and slavery!
Till the collapse of this civilization!
Till to the total freedom and wild life!

Earth Liberation Front
Indonesian Fraction
Tags: ALF, Arson, ATM Burned, Buktar Tabuni, Conspiracy of Cells of Fire, Dominikus Sorabut, Earth Liberation Front, ELF- Indonesian Fraction, Gabriel Pombo da Silva, Indigenous Struggle, Individualists Tending towards the Wild (ITS), Indonesia, Informal Anarchist Federation (FAI), International Conspiracy for Revenge, International Revolutionary Front, International Solidarity, Jakarta, Kulon Progo, Makassar, Marco Camenisch, Ogan Kemilir Ilir, Revolutionary Struggle, Sabotage, TAV, Tukijo
Posted in Direct Action
Friday, December 14th, 2012
Download and distribute – December 2012 version of the international anti-prison anarchist freesheet to copy on the fly.
PDF: Dark Nights 29: Considerations on Action and Anarchy
Frontpage article from Italy considers the laming of Ansaldo Nucleare CEO Roberto Adinolfi, the zine also includes letters from imprisoned anarchist comrades, news and a direct action/sabotage round-up. Gabriel Pombo da Silva penned a letter in solidarity with Marco Camenisch this month, Marco is a persecuted eco-anarchist standing firm against the inquisition of nun Manuela Comodi in Italy and the prison authorities of Switzerland. Lastly, but not least, the call for an International Direct Action Week in solidarity with the always unyielding Mario Antonio López 'Tripa' from the 15th to the 22nd of December by the Anticivilization Fraction of the Earth Liberation Front in Mexico.
Not forgetting the yearly call for international anti-prison demonstrations and actions on New Years Eve – the time when people are encouraged by the system to spend even more money in consumerist temples and forget their problems through illusions.
Merry Crisis & Happy New Fear – For a Black Xmas!
Tags: Alessio Del Sordo, Alfredo Cospito, Ansaldo Nucleare, Anticivilization Fraction of the Earth Liberation Front, Athens, Billy, Chile, Considerations on Action and Anarchy, Conspiracy of Cells of Fire, Conspiracy of Cells of Fire : Imprisoned Members Cell, Dark Nights, Earth Liberation Front, Gabriel Pombo da Silva, Germany, Greece, Informal Anarchist Federation (FAI), International Revolutionary Front, International Solidarity, Italy, Letter, Long Live Luciano Tortuga Cell - International Revolutionary Front - FAI, Luciano Pitronello Schuffeneger, Marco Camenisch, Mario 'Tripa' Lopez, Maurizio Ferrari, Mexico, New Year, Nicola Gai, Nucleo Olga FAI/FRI, Operation Ardire, PDF, Revolutionary Struggle, Roberto Adinolfi, Switzerland, TAV, Theofilos Mavropoulos, Vryona 4, Zine
Posted in Library
Sunday, December 2nd, 2012
From Tarcoteca:
Alessio del Sordo, anarchist comrade, has always been a committed activist. In prison after the crackdown against NoTAV resistance of Jan26. The Italian political police, the DIGOS, has always been very aware, so it is of the few people still in jail even though the rest have been released. As so often we find a police set whose sole purpose is the domestication and control over the people in their desire to create slaves.
Faced with a new punishment moving to other prison we publish a letter of August 23 so you can see how far the power of a person to preserve his dignity. The puerile attempt by the state to break their will and eliminate its membership is having the opposite effect expected, creating solidarity circles beyond the struggle for liberation. (more…)
Tags: Alessio Del Sordo, Italy, Letter, Operation Ardire, TAV
Posted in Prison Struggle
Friday, August 31st, 2012
325 was wrongly attributed as the source of the following story which appeared on anarchistnews. Solidarity with Massimo and Daniella. Open source warfare against the existent. Down with the Italian regime of bankers and military-fascist corporations. See also : 1 & 2
From anarchistnews.org:
The most totalitarian society is that which knows how to paint chains with the color of liberty, which is the commodity par excellence today. If the most effective repression is that which nullifies the very desire to rebel, social consensus is preventive repression, the policing of ideas and decisions.
This morning, the 27th of August, in an operation by the special forces of the Carabinieri, in which dozens of police participated and more than ten houses were searched, at two anarchist centers (in Trent and Rovereto) they detained comrades Massimo Passamani and Daniella Battisti, the first is in jail at Tolmezzo and the second on house arrest. (more…)
Tags: Daniella Battisti, Italy, Massimo Passamani, Operation Ardire, Repression, TAV, Val Susa
Posted in Social Control
Monday, July 2nd, 2012
From informa-azione.info
We receive and transmit this letter from Alessio Del Sordo, anarchist comrade and NO TAV prisoner detained in the prison of Turin.
HEAD DOWN
On 6th December 2008, an infamous cop murdered Alexis Grigoropoulos in the Exarchia neighbourhood in Athens. Following that infamy, attacks on the structures of power and their men took place all over Greece. Street clashes, cash machines destroyed, police stations assaulted. Exactly a year after Alexis' murder, on 6th December 2009, in the vicinity of the spot where he was killed, a spontaneous march was repeatedly charged by antiriot cops on motorbikes, the Delta Corps, financed by the European Union and trained by Italian instructors. (more…)
Tags: Alessio Del Sordo, Greece, Italy, Letter, Repression, TAV, Val Susa
Posted in Prison Struggle
Wednesday, June 20th, 2012
325 receives and transmits:
"The time will come when men such as I will look upon the murder of animals as they now look upon the murder of men." – Leonardo Da Vinci

"The way we treat animals is measure of us as human beings. Without animals there will be no humanity. In a world devoid of animal and plant life, human life will cost less than nothing." – Somebody we wholeheartedly support
Thus on the 9th of May (Victory Day in ex-USSR) we approached local solid waste landfill. Our target was company tasked with capture and disposal of stray animals, cages with captured stray dogs, crematory and company office. It is worth mentioning that company office sported a sign that read "Veterinary". Animal care service in the middle of garbage heap – civilizational paradox. It would seem that animal care services should work for the benefit of animals, not municipal authorities. (more…)
Tags: ALF, Billy, Chile, Conspiracy of Cells of Fire : Imprisoned Members Cell, Costantino Ragusa, Eat, Greece, Indonesia, Informal Anarchist Federation (FAI), International Revolutionary Front, Italy, Luca Abba, Luca Bernasconi, Luciano Pitronello Schuffeneger, Marco Camenisch, Nucleo Olga FAI/FRI, Olga Economidou, Sabotage, Silvia Guerin, Switzerland, TAV, Two Sequoias ALF - FAI/IRF, Ukraine
Posted in Direct Action