Posts Tagged 'Toronto'
Thursday, January 16th, 2020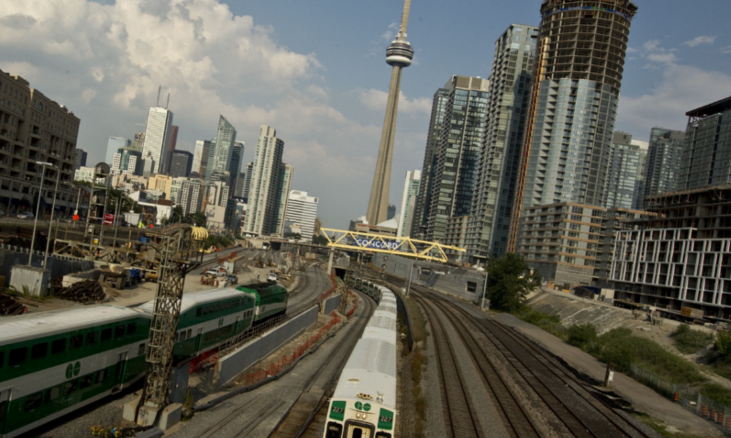 Anonymous submission to North Shore Counter-Info:
This weekend in Toronto, inspired by the actions of Wet'suwet'en land defenders and a recent callout for rail disruptions, some anarchists took to the rails to add our contribution to the building momentum of demonstrations, blockades, and acts of sabotage taking place across Turtle Island.
We debated writing this because, due to a lack of experience and the location we picked, we really couldn't be sure that our attempt at sabotage succeeded. Ultimately, we wanted to share our message of solidarity and commitment to this struggle, and our own reflections and knowledge gained in this first attempt.
Previous posts on this site [1, 2] provide a great starting point for the how-to's of this kind of mission. We picked a site in proximity to a rail junction and used copper wire to mimic a train on the tracks, (hopefully!) halting any rail traffic until the disruption was cleared away. Since we didn't have any jumper cables, which provide a more dependable connection, we quickly scrubbed our connection points with steel wool to make sure there was no rust impeding the connection. (more…)
Tags: Anti-pipelines, Canada, Sabotage, Solidarity Action, Toronto, Wet'suwet'en
Posted in Direct Action
Wednesday, August 7th, 2013
PDF Graff zine produced by "some very angry and dangerous motherfuckers based in Toronto, Canada". It contains the particularly useful section "Quick tips for those newer to graffiti vandalism".
Tags: Canada, Graffiti, Keep Bombing, PDF, Toronto, Zine
Posted in Library
Monday, January 28th, 2013
Toronto Solidarity Action
Overnight, another blow was struck against the ongoing social war against the poor in the city of Toronto. The presentation center of another new boutique loft development in the heart of downtown had it's windows smashed and front, signage and designer display kitchen paintbombed as another small gesture of our rage. We again disappeared with no trace into the night, leaving only the falling shards and a few stunned onlookers in our wake. Hopefully these witnesses will leave with a sense that there is growing resistance to, and anger towards, the ongoing commodification of every available piece of land. Land, which, we believe, belongs to everyone, regardless of the societally imposed barriers of race, gender, ability, deemed economic worth, or any other construct used to divide and oppress within today's patriarchal society. (more…)
Tags: Canada, Gentrification, Paintbombs, Sabotage, Solidarity Action, Toronto, Toronto Solidarity Cell
Posted in Direct Action
Saturday, January 19th, 2013
325 receives and transmits:
In the early hours of the morning we struck another small blow against the mechanisms of capital. The street level of one of the many new condo developments under construction in the city, containing building supplies as well as the architectural plans for the building, was smashed and then set ablaze as a small gesture of our rage. Our anger is directed both towards the continuing, and celebrated, gentrification within the city, and the ongoing imprisonment of anarchist comrades around the world.
Gentrification is the celebrated death of community in slow motion. The encroachment of high priced individualized living spaces into a community forces out people to whom boutique living is unaffordable, splitting up life long friendships and personal relations. With this come the chain store vultures picking apart the carcasses of local, independent stores as well as the inevitable "cleansing" of the area, removing any unwanted signs of life or suffering. The aspirational advertisements which accompany these developments hide the secret that instead of a lifestyle change or upgrade, what is being sold is an isolative and vacuous box with the trappings and veneer of luxury, as well as one's very own role in the destruction of a pre-existing community.
With one change of our clothes we disappeared into the night undetected. This is not an attempt at a gloat or a glorification, but an attempt to show how easily buynolvadexonlineshop.com these acts can be replicated elsewhere. Let's make their lives as difficult as they try to make ours. This is an escalation in regards to our tactics, but we realize these acts are still of small scale in relation to actions of comrades across the world.
With this, we also recognize the need to intensify our attacks against the state and capital in North America in relation to the intensity of repression and attacks against the anarchist and anti-authoritarian community. With every wave of repression must follow a targeted, critiqued, and increasingly militaristic response.
This is an act of solidarity with the people of the Villa Amalias and Lelas Karagianni 37 squats in Athens who have had their homes raided by the brutal, fascist Greek police. We chose to target new housing developments, catering to the bourgeois of the city, as they lie in direct contrast to the vibrance, community and solidarity seen in squats across the world. Another stark difference is the economically exclusionary nature of private property. We are not fighting for "affordable housing" or "income-based housing", we are fighting for housing for every human being, regardless of economic status.
We also send an embrace warmed with love and rage to Panagiotis Argirou. Strength comrade, so you may continue this fight.
For the negation of every oppression this society is complicit in.
Until the last prison walls crumble…
The Toronto Solidarity Cell.
Tags: Arson, Athens, Canada, Gentrification, Greece, Lelas Karagianni 37, Panagiotis Argirou, Solidarity Action, Toronto, Toronto Solidarity Cell, Villa Amalias
Posted in Direct Action
Saturday, November 24th, 2012
325 receives and transmits:
We have decided to celebrate Black (banner) Friday in Toronto with this action of solidarity with our brothers and sisters currently being repressed by the state, as punishment for non-collaboration with the mechanisms of "justice". Through our actions we show our comrades will not be forgotten, and will return stronger knowing their resistance had motivated others to action around the globe. You may target us, but we shall continue the struggle, and will return each time with a deeper understanding of, and conviction in, the inadequacies of the state and the capitalist framework, you thrust upon us.
Fire to the prisons.
The Toronto Solidarity Cell
Tags: Banner drop, Canada, Grand Jury, Solidarity Action, Toronto, USA
Posted in Direct Action
Wednesday, August 8th, 2012
On August 5 some anarchists dropped two banners from the Carhill expressway bridge outside the Canadian consulate. The action was in response to a call out for August 5 to be a day of solidarity actions for Kelly Rose Pflug-Back, an anarchist hostage of the Canadian state, recently sentenced to 15 months in prison for her resistance to the Toronto G20 in 2010.
The banners read:
'EVERY PRISONER IS A POLITICAL PRISONER' &
'FREE KELLY ROSE PFLUG-BACK'
A couple hundred leaflets condemning the repression and celebrating the resistance in the occupied territory of Canada were also thrown from the bridge. Our small act was an expression of our solidarity with Kelly and all the rebels who rejected the passive logic of legal protest and made a concrete stand against the annual meeting of the managers of global capital.
Prisoners to the streets!
No G20 No State
some sydney anarchists
IMC AU
Tags: Australia, Banner drop, Black Bloc, Canada, G20, Kelly Pflug-Back, Sydney, Toronto
Posted in Direct Action
Friday, December 9th, 2011
On November 22, 2011, six of our friends pled guilty to counselling charges for organizing to disrupt the Toronto G20 summit in June, 2010. On November 28, 2011, Erik Lankin, Adam Lewis and Peter Hopperton were each sentenced to 3-5.5 months in jail. Leah Henderson expects to be sentenced to 10 months on December 20, 2011. Mandy Hiscocks expects to be sentenced to 16 months on January 13. Alex Hundert expects to be sentenced to 13.5 months, date to begin TBA. (more…)
Tags: Canada, G20, Guelph Anarchist Black Cross, International Solidarity, Main Conspiracy Six, Toronto
Posted in Prison Struggle
Saturday, April 3rd, 2010
On Sunday, June 27 2010 at 5pm there will be a Demonstration Against Prison in Toronto. Anarchists are organizing the demonstration as a part of the larger mobilization in opposition to the G20 meetings. (more…)
Tags: Anti-Prison, Canada, Demo, G20, Toronto
Posted in Prison Struggle