Posts Tagged 'Torture'
Wednesday, October 14th, 2020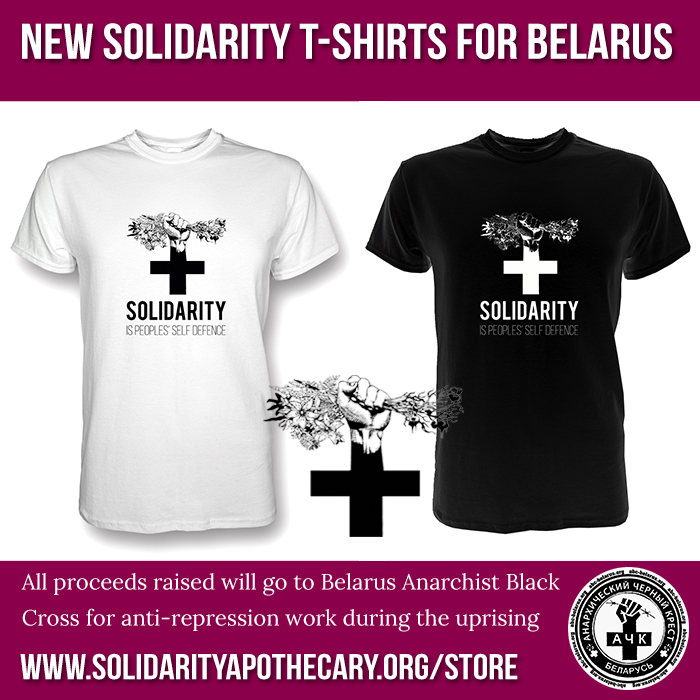 The Solidarity Apothecary is screenprinting tshirts to help raise funds to send to Anarchist Black Cross Belarus.
You can buy one here: https://solidarityapothecary.org/store/
People in Belarus are no stranger to state violence or repression living under a Dictatorship. However, as people have taken to the streets to protest, thousands are experiencing state violence at an unprecedented scale. In the first three days of the uprising in August, more than 5000 were detained by police. Many are experiencing beatings, torture, rape and sexual assault. One person was murdered. Despite the repression, people continue to fight on the streets.
Income from this t-shirt will go towards defendant support, meeting people from jails, legal costs and other anti-repression work. Solidarity is the peoples' self defence!
Please note this is a pre-order. An order will be placed with the printer on the 3rd of October and may take longer than usual to screenprint due to covid-19 restrictions. Thank you for your patience!
To learn more about the situation in Belarus check out:
ABC Belarus – https://abc-belarus.org
Belarus: Anarchists in the uprising against the Dictatorship – https://crimethinc.com/2020/08/12/belarus-anarchists-in-the-uprising-against-the-dictatorship-an-interview
Pramen (for translated news) – https://pramen.io/en/main/
Tags: ABC Belarus, Belarus, International Solidarity, Police Brutality, Repression, Social Insurrection, Solidarity Apothecary, Torture, UK
Posted in Prison Struggle
Tuesday, February 11th, 2020
ACERKA DE LA RESISTENCIA A LA PRISIÓN Y LA NECESIDAD DE EXTENDER LA LUCHA AUTÓNOMA ANTIKARCELARIA.
Una breve mirada a las experiencias de lucha desde el encierro, sus énfasis y los kontextos en ke se han desarrollado.
«Sin ningún Comité Central ni ninguna jerarquía que clasifique nuestrxs miembrxs, solo podemos conocer caras extrañas como amigxs a través de sus acciones. Lxs queremos, Ixs abrazamos, al igual que sabemos que otrxs lo harán. Otras células, secciones, grupos.»
Brigada de la Cólera
1970.-
En tiempos de agudización del konflikto social la kárcel es el principal instrumento de kontrol y kastigo para kienes no se someten y se rebelan.
Históricamente el dominio a través de todos sus dispositivos ke sostienen el poder, la autoridad, el mundo de las jerarkías, el patriarkado y el kapital a usado la sanción normalizadora para kombatir toda forma de Resistencia ke atake y amenace su paz social.
Sin ir más lejos no fue sino en la diktadura de Pinochet en donde esta dinámika afectó masiva y sistemátikamente a miles y miles de Rebeldes ke la kombatieron entregando los mejores días de sus vidas.
Se reformuló el marko jurídiko fundado en la doktrina de seguridad nazional ke veía un enemigo interno al ke había ke aplastar bajo la exkusa de «kombatir el káncer marxista» según la voz de los genocidas de la époka.
Operaba la pútrida «justicia militar»:
Miles de muertxs, desaparecidxs, exiliadxs, perseguidxs, violentadxs, torturadxs son el rekuerdo imborrable y el triste legado de la refundación kapitalista neoliberal del imperio yanky a través de la insurrexión militar burguesa del genocida ejército chileno. (more…)
Tags: 14/14, Anti-Prison, Chile, Dictatorship, General Pinochet, International Solidarity, Isolation, Letter, Mapuche, Marcelo Villarroel Sepúlveda, Repression, Torture
Posted in Prison Struggle
Tuesday, February 11th, 2020
Note from the Russian Reader: This verdict doesn't leave me at a loss for words. I'm just convinced there is no point in using them when everyone who could listen has made a point of tuning out people like me. If someone invited me to appear on their aptly named alternative radio program or their globe-spanning Qatar-based international TV network (as nearly happened in the past), I could talk for hours about the Network Case. But that's not going to happen. Although if I were a betting man, I would wager that our tiresome planet's obnoxious pillars of liberal truth—the New York Times, the Guardian, the Washington Post, and Al Jazeera, among others—will suddenly weigh in on the case after blithely ignoring it for two years, as will many if not all of the crypto-Putinist "Russia watchers" in our midst, eerily silent until now. Barring a sudden revolution, don't imagine this is the last such case in Russia, a country that has worried so many people around the world for the last several years that they're determined not to know anything particular about it except "Putin" and "troll factories." And don't imagine that a show trial just as juicy and unjust won't be coming to a theater near you. Please don't reprint, repost or otherwise reference this article without prefacing it with my remarks. I'd like to preempt "spontaneous" shows of "solidarity" by people who couldn't be bothered to do anything when it would have made a difference. Despite the well-known saying, it IS a popularity contest, and seven innocent young men in Penza have lost it.
Bumaga
February 10, 2020
The Volga District Military Court, [sitting in Penza], has [convicted and] sentenced seven defendants in the Network Case.
Dmitry Pchelintsev was sentenced to 18 years in a maximum-security penal colony. Ilya Shakursky was sentenced to 16 years in a penal colony and fined 50,000 rubles. Investigators claimed they were organizers of a "terrorist community." Both men alleged that FSB officers had electrocuted them in order to obtain confessions.
Maxim Ivankin was given 13 years in a maximum-security penal colony, while Andrei Chernov was sentenced to 14 years, and Mikhail Kulkov, to 10 years. They were found guilty of involvement in a "terrorist community" and attempting to sell drugs.
Vasily Kuksov was sentenced to 9 years in a penal colony. He was accused of involvement in a "terrorist community" and illegal possession of a weapon. Another defendant, Arman Sagynbayev, received 6 years in prison.
The verdict handed down by the court in Penza suggests that the acquittal of the Petersburg defendants in the case is less likely, Viktor Cherkasov, the lawyer for Viktor Filinkov, a defendant in the Network Case, told Bumaga.
"It sends a message," said Cherkasov. "It is difficult to hope [for a positive outcome], but we are still determined to protect Filinkov's interests."
Cherkasov said that he planned in court to point to the faked evidence in the case. He also that he would take the case to the European Court of Human Rights if Filinkov were found guilty. The next hearing in the Network Case in Petersburg should take place between February 25 and February 28.
[In October 2017 and January 2018], antifascists and anarchists were detained in Penza and Petersburg. They were accused of organizing a "terrorist community," allegedly called "the Network." Its alleged purpose was to "sway the popular masses for further destabilization of the political situation" in Russia.
The defendants in the case said investigators had tortured them as a way of forcing them to confess and weapons had been planted on their persons and property to further implicate them. [Some of] the arrested men had played airsoft together: this, investigators, said was proof they were planning terrorist attacks.
Investigators claim that the Petersburg defendants in the case, Filinkov and Yuli Boyarshinkov, acted as the group's sapper and signalman, respectively. Their trial is scheduled to resume in late February.
Translated by the Russian Reader
Tags: "Network Case", Andrei Chernov, Arman Sagynbayev, Dmitry Pchelintsev, Ilya Shakursky, International Solidarity, Maxim Ivankin, Mikhail Kulkov, Penza, Repression, Russia, St. Petersburg, Torture, Trial, Vasily Kuksov, Viktor Filinkov, Yuli Boyarshinkov
Posted in Prison Struggle
Sunday, December 29th, 2019
OVD Info
December 26, 2019
The state prosecutor has asked the Volga District Military Court to sentence the five defendants in the Penza portion of the Network Case to between six and eighteen years in prison, according to a member of the campaign to support the defendants who was present in the courtroom.
The prosecution asked the court to hand down the longest sentence to Dmitry Pchelintsev: 18 years in a maximum-security penal colony. It asked the court to sentence Ilya Shakursky to 16 years, Andrei Chernov to 14 years, Maxim Ivankin to 13 years, Mikhail Kulkov to 10, Vasily Kuksov to 9 years, and Arman Sagynbayev to 6 years. It asked that all the defendants except Kuksok and Sagynbayev be sent to maximum-security penal colonies.
The prosecutor told the court that the defendants' accounts that they were tortured into testifying had not been corroborated.
All the defendants are accused of involvement in a "terrorist community," punishable under Article 205.4.4 of the Russian Criminal Code. Pchelinsky and Shakursky are accused of organizing a "terrorist community," punishable under Article 205.4. In addition, some of the defendants are accused of illegal possession of firearms (Article 222.1), illegal possession of explosives (Article 222.1.1), attempted arson or bombing with mischievous intent (Article 167.2 in combination with Article 30.3), and large-scale attempted drug trafficking (Article 228.1.4.g in combination with Article 30.3).
The criminal case against the Network "terrorist community" was launched in October 2017. According to the FSB, eleven young men in Penza and Petersburg organized the Network and were planning to overthrow the government. The defendants in the case claimed the FSB subjected them to psychological pressure, tortured them with electric shocks, beat them, and planted weapons on them. Some of the defendants recanted the confessions they made in the days following their arrests. OVD Info has reported on each of the defendants in the case in detail.
via The Russian Reader.
Tags: "Network Case", Frame-up, International Solidarity, Repression, Russia, Torture, Trial
Posted in Social Control
Wednesday, October 30th, 2019
On the Sunday morning, October 27, 2019, an explosion occurred in the Proletarsky district of Donetsk. The mobile communications tower of the Phoenix operator was blown up. The civilian population was not injured, but the equipment was destroyed. An explosive device was landed under a booth with equipment and triggered remotely. The people who committed the explosion published a video of the action. They also demonstrated a leaflet explaining their motives: "This was done to draw the attention to the inhuman tortures in the basements of the MGB (Ministry of State Security of "Donbass People's Republic"). Abuses and tortures with electric wires in the "people's" republics has become an everyday normality. The people of Donbass should go to a protest rally against tortures, or the fascist republic will be left without communication. "
Our comrades from the Combatant-Anarchist resource report that they received anonymous information that this action was performed by anarchists, in memory of the act of Mikhail Zhlobitsky.

From Anarchy Today
Tags: Donetsk, Russia, Sabotage, Solidarity Action, Torture, Ukraine, Videos
Posted in Direct Action
Tuesday, March 26th, 2019
Anahi Salcedo has been held in Ezeiza Prison since January 10th. She is on remand accused of the explosive attack against the tomb of the infamous, genocidal torturer, Commissioner Ramón Falcón, Chief of the Argentine Federal Police that took place on November 14th, 2018 – 109 years since Falcón was executed by Anarchist comrade Simón Radowitzky.
Anahi received serious injuries to her hand and face, allegedly following the premature detonation of a homemade explosive device at the tomb. At the time of her arrest, Anahi lost three fingers on one hand and suffered serious injuries to the rest of her body including a fracture of the clavicle on her other arm. (more…)
Tags: Anahi Salcedo, Argentina, Repression, Torture
Posted in Prison Struggle
Thursday, November 1st, 2018
October 31, 2018 8:52 local time in the city of Arkhangelsk at the entrance to the reception room of the Regional Directorate of the FSB of the Russian Federation in the Arkhangelsk Region an explosion was heard. The rebel anarchist Mikhail Vasilievich Zhlobitsky, also known in the Telegram channel as Valerian Panov, blew himself up. This is the first case of anarchists undermining the FSB in 19 years – the previous attack was organized in 1999 against the reception office of the FSB in Moscow by the New Revolutionary Alternative organization.
Mikhail Zhlobitsky died as a result of a self-detonation, causing injuries of varying severity to three FSB officers. He was 17 years old.
A few minutes before the explosion, the anarchist left a message in the chat group under the nickname Valerian Panov. Here is what he wrote: (more…)
Tags: Arkhangelsk, Attentat, FSB, Misha Zhlobitsky, Russia, Torture
Posted in Direct Action