Posts Tagged 'Transantiago'
Monday, September 28th, 2020
Santiago, Chile: Barricades before October and in memory of comrade Javier Recabarren
On the eve of October – when the protests against Piñera's government are expected to resume – and at the end of Black September, barricades were erected in commemoration of all those who were arrested, disappeared, murdered, mutilated and imprisoned before and during the revolt that began almost a year ago.
Pamphlets were thrown and a canvas was hung in memory of the young fighter Javier Recabarren, who lost his life after being run over by a Transantiago bus. Javier was a vegan, hooded, anti-species, animal lover and a fellow fighter who fought tirelessly until his death.
Recorded by the comrades of Photographic Front
Some date, some places.
Santiago, Black September/Antispeciesist 2020.
–
Santiago, Chile: Barricadas previo a octubre y en memoria del compañero Javier Recabarren
En vísperas de octubre -en el que se espera que se retomen las protestas contra el gobierno de Piñera- y términos de Septiembre Negro. Se levantaron barricadas en conmemoración por todos/as lxs detenidxs desaparecidxs, las asesinadas, lxs mutiladxs y las encarceladas antes y durante la revuelta que se inició hace casi un año.
Se lanzaron panfletos y se colgó un lienzo en memoria del joven combatiente Javier Recabarren, que perdió su vida tras ser atropellado por un bus del Transantiago. Javier era vegano, encapuchado, antiespecista, amante de los animales y un compañero que luchó incansablemente hasta su muerte.
Registro por lxs compas de Frente Fotográfico.
Alguna fecha, algunos lugares.
Santiago, Septiembre Negro/Antiespecista 2020.
Tags: Black September, Burning Barricades, Chile, Javier Recabarren, Santiago, Solidarity Action, Transantiago
Posted in Direct Action
Friday, September 11th, 2020
Desde los inicios de lo que hoy conocemos como dominio y civilización, la cosificación y explotación de lo salvaje ha reducido la vida a simples productos y servicios, y por lo tanto, necesita que estos sean movilizados y dirigidos hacia y dentro de las grandes urbes, siguiendo con esto las trayectorias trazadas por los artífices del modelo económico imperante en los distintos períodos de la historia conocida.
El transporte de la mercancía ha resultado ser desde entonces un órgano vital para el Poder y sus propósitos de control sobre los territorios que hoy denominan ciudades. La organización y la forma en que se rige el ritmo de la vida en estos lugares, responde solo a los intereses y el beneficio de unos pocos orquestadores de este sistema de consumo y muerte.
Las máquinas que día a día recorren las innumerables carreteras y calles transportando mercancía humana, son igualmente incinerables que las que transportan mercancías extraídas de la tierra. Ambos tipos cotidianamente mueven a través de las innumerables carreteras y calles, tanto en el Wallmapu como en $antiago, lo que llaman "recursos"; unos producto de la explotación de la tierra, otras para la explotación humana. Así es como se mantiene el flujo de la devastación de la tierra, y así se mantiene el flujo de la devastación de nuestras vidas. (more…)
Tags: Arson, Black September, Chile, Claudia López, Francisco Solar, Jhonny Cariqueo, Joaquín García Chanks, José Huenante, Juan Aliste Vega, Macarena Valdés, Marcelo Villarroel Sepúlveda, Monica Caballero, RED (Ex-Transantiago Bus Company), RP Global (Company), Sabotage, San Miguel, Santiago, Transantiago, Wallmapu
Posted in Direct Action
Thursday, August 27th, 2020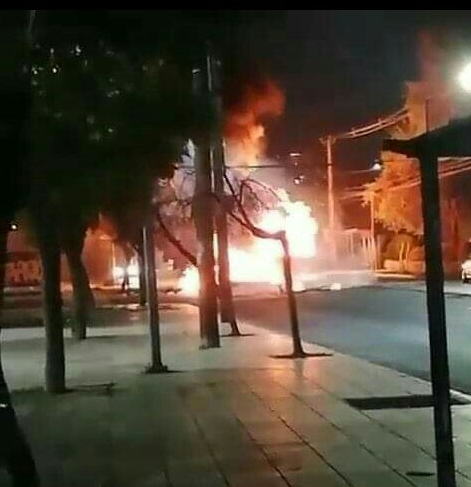 The context of fear and submission to the pandemic that has been so well capitalized on by states around the world, especially the one that the "Chilean" state is trying to subjugate us with. And one month after the arrest of Mónica Caballero and Francisco Solar.
Different anarchic individuals organized themselves in advance to give a little taste of the incendiary sabotage during the commemoration of the murder of the land fighter Maca Valdés in the emblematic and historical town of Simón Bolívar and the fighters Erick Rodríguez and Iván Palacios.
At 21:30 we intercepted a caterpillar bus from route 402 of the modern fleet of the wealthy and fascist company Metbus. It came without people because it was the last route. We got the driver off the bus – not before he had taken all his things out – and reminded him that this was not against him but against his bosses. We gave him money to pay for a taxi to his house and set the machine on fire to the sound of the shouts of joy and adrenaline from the people who were demonstrating. (more…)
Tags: Arson, Chile, Francisco Solar, Monica Caballero, Sabotage, Santiago, Transantiago
Posted in Direct Action
Thursday, April 16th, 2020
31 March 2020
12 years after the death of Jonny Cariqueo Yáñez, who was assassinated on March 31 by a heart attack caused by a strong beating by the repressive forces of the State of $hile, during his arrest in a police hunt that March 29, 2008 in the commune of Pudahuel.
On the afternoon of March 31 of this year, a few hours from the curfew, we abandoned an homemade incendiary device on a Transantiago bus, for it to catch fire in or near its terminal, in one of the peripheries from the city.
This is an attack on the cruel and bloody machinery that governs civic life, against amnesia, passivity and inertia, attitudes which we reject, even in times of sanitary protection, since the war continues. The political-social-economic crisis that was being experienced in the country, which has been enhanced with the current world health crisis, shows us, once again, the clear interests and priorities of power in preserving the pockets of the rich and their companies rather than looking after the well-being of the common people, the poor people, the people marginalized and hostages of the police state. So we insist on breaking with the tranquility that seeks and promotes power. (more…)
Tags: Anti-Prison, Arson, Chile, Coronavirus, Day of the Young Combatant, International Solidarity, Javier Recabarren, Jonny Cariqueo, Norma Vergara, Santiago, Solidarity Action, Transantiago
Posted in Direct Action
Wednesday, August 21st, 2019
Communiqué received together with the photos on 08/16/2019:
I. Street fight in confluence with the new urban guerrilla
As groups, we use revolutionary violence to make visible the obvious contradictions that the systemic and changing operation of capital implies, depending on the State that legitimizes it as the social order of the day.
Each gear justifies the next and is consolidated as a structure under the protection of a judicial apparatus that condemns many to misery, softens abuses and violations of priests condemned to a life of confinement in palaces, and forgives tax crimes within the reach of 1% of Chilean citizens that conserve 26.5% of the wealth; an executive power in charge of justifying and accelerating the measures that favor the wealthy and thirsty group of tyranny that is on duty; a legislative power in charge of discussing among its caste the daily evolution of millions of people… and always protecting their privileged status in power. (more…)
Tags: Antagonist Cells of the New Urban Guerrilla, Antagonistic Nuclei of the New Urban Guerrilla, Arson, Attentat, Chile, Chilectra, Erick Rodríguez, Forces for the Overflow of Civilization, Heather Heyer, Herminia Concha, Insurrectional Column "Ira and Complot" - FAI / FRI, Iván Palacios, Javier Recabarren, Juan Aliste Vega, Karr-kai cell / Antagonist Cores of the New Urban Guerrilla, Kevin Garrido, Marcelo Villarroel Sepúlveda, Michele Angiolillo, Mikhail Zhlobitsky, Misha Zhlobitsky, Sabotage, Santiago, Santiago Maldonado, Sebastián Oversluij, Sebastián Oversluij Seguel, Transantiago
Posted in Direct Action
Thursday, August 25th, 2016
English translation via InsurrectionNews. Full pictures for the schematics of the fuse and incendiary device on ContraInfo.
To the anarchists of praxis
To the prisoners and fugitives of the social war
On the night of August 18 we activated an incendiary device during the journey of the 110 Transantiago bus in the neighborhood of Maipú. We do not whether our handcrafted ingenuity was a success or not as the action was silenced by the media.
We carried out this action in accordance with our ideas, principles and convictions. We seek to attack the service that transports thousands of people that reproduce the gears of the capitalist system. This service is one more cog, one that is destroying the earth and is complicit in the death of human and animal comrades. Our action damages the machinery of the social order, the law, its guardians, civilization and power.
Against all odds, when times are tough, we do not immobilize ourselves and continue to attack. We are not indifferent to the political prisoners, nor to the solidarity campaigns that arise for them, despite the various onslaughts of power. For our prisoners, fugitives and fallen we continue unabated. (more…)
Tags: Arson, Chile, Herminia Concha Nucleus of Attack, Santiago, Transantiago
Posted in Direct Action