Posts Tagged 'Trial'
Friday, February 22nd, 2019
Today, Friday 25th January 2019, 15 of the 18 defendants in the "Basel"-process have been found guilty of willful damage of property, actual bodily harm, breach of the peace, multiple acts of violence, threats against public authorities and officials and breach of the traffic laws. The preposterous sentence ranges from 20 months conditionally to two years, up to 27 months unconditionally. Thereby the three judges of the criminal court of Basel city followed the claims of the prosecution in most parts. Some persons even had to pay an additional fine of 200,000 Swiss franks for the violation of the ban on wearing face coverings, as well as individual fines – between five and ten daily fines in lieu of jail time – for insults, violation of the gun control law, trespassing or hindrance to an offical act.
The amounts of the fines seems even more preposterous in the light of the court rating various charges of the prosecution as unfulfilled (e.g. multiple attempted severe assaults, raids or disturbances against the public transport). The main cause therefor was, that the court held on to the controversial construct of co-offendership – for all to bear the blame equally – and in their verdict supported this intensified interpretation. (more…)
Tags: Basel, Demo, Repression, Switzerland, Trial
Posted in Social Control
Thursday, December 13th, 2018
At the hearing on 14th November a calendar of future hearings was once again announced after the expert appointed by the court to transcribe phone tapping asked for more time, obtained a 60-day extension and a second expert was also appointed. The prosecutor made it known that the judicial police had forgotten to deliver a CD audio and asked for an extension of the custody measures, but for the moment a calendar was set out complying with the length of custody… which is due to expire at the end of February (taking account of the 30/35 hearings till now, from mid-January the deadline slides to 18th February, plus some more days considering the hearings due in January). During the hearing of 14th, a DNA expert appointed by the court following Capra (DNA expert for the defence)'s report, gave his statement; the expert for the defence had challenged the reliability of the old report in several points. (more…)
Tags: Alfredo Cospito, Italy, Operation Scripta Manent, Trial
Posted in Prison Struggle
Tuesday, December 11th, 2018
Deutsch | Arabisch | Türkisch | Farsi | Englisch
Hallo liebe Freund*innen,
wir möchten am Samstag, den 15. Dezember 2018, gemeinsam von Berlin aus
zur "Freiheit für Musa Aşoğlu"-Demo nach Hamburg fahren. Hierzu treffen
wir uns am 15. Dezember um 7.30 Uhr am Ostbahnhof, Gleis 7. Wir besorgen
uns zusammen Wochenendtickets. Der Zug fährt dann um 7.52 Uhr ab. Wir
wären dann pünktlich in Hamburg, wo die Demo um 12 Uhr vor der Roten
Flora beginnen soll. Im Anschluss an die Demo würden wir gemeinsam
wieder zurück nach Berlin reisen.
Musa Aşoğlu wurde am 2. Dezember 2016 verhaftet und befindet sich
seitdem in Hamburg in Isolationshaft. Ihm wird nach §129b
(Mitgliedschaft in einer verbotenen terroristischen Vereinigung)
vorgeworfen, Mitglied der in der Türkei kämpfenden DHKP-C (Revolutionäre
Volksbefreiungspartei-Front) zu sein. Dass Oppositionelle in der Türkei
verfolgt, gefoltert und ermordet werden, stört die BRD in keinster Weise
– ist er doch enger Verbündeter und politischer Stabilidsator des immer
offener faschistisch agierenden Regimes in der Türkei.
Der §129b-Prozess gegen Musa Aşoğlu dauert seit dem 25. Januar 2018 an
und wir gehen davon aus, dass dieser im Frühjahr 2019 enden könnte.
Wir möchten Musa Aşoğlu und alle §129b-Gefangenen durch unsere
Teiilnahme an der Demo supporten. Schließt euch uns an. (more…)
Tags: Berlin, Demo, DHKP-C (Democratic People's Liberation Party-Front), Germany, Hamburg, Musa Aşoğlu, Repression, Trial, Turkey
Posted in Prison Struggle
Friday, December 7th, 2018
Network Case Suspects Go on Hunger Strike
OVD Info
December 2, 2018
Dmitry Pchelintsev and Andrei Chernov, residents of Penza and suspects in the so-called Network case, have gone on hunger strike, claiming remand prison officials and FSB officers have intimidated them during their review of their criminal case file, something to which they are entitled by Russian law. Several Penza suspects in the case have claimed they have been put in solitary confinement, handcuffed to radiators, and threatened with violence.
Pchelintsev and Chernov went on hunger strike on November 29, as reported by the Parents Network, a support group established by the mothers and fathers of the young men, who have been accused of involvement in a "terrorist community" that, allegedly, was planning an armed uprising during the March 2018 presidential election and 2018 FIFA World Cup, held in Russia this past summer.
It was on November 29 that wardens put Pchelintsev in solitary, demanding he admit to breaking the rules by talking with other inmates during yard time. He responded by going on hunger strike, and Chernov joined him as a token of support and solidarity. On November 30, wardens again tried to bargain with Pchelintsev and threaten him. (more…)
Tags: FSB, Hunger Strike, International Solidarity, Repression, Russia, Trial
Posted in Prison Struggle
Thursday, December 6th, 2018
On Monday 03.12.18 at 9AM, the 4th trial of Revolutionary Struggle continues in the Korydallos Prison Court for cases of 'theft' attributable to the organization with the employees of banks appearing as witnesses.
The prosecution have combined around 9 cases of bank expropriation (dating from 2008-2015) carried out by Revolutionary Struggle with the aim of depoliticizing the organization and deconstructing their actions by adding additional charges and convictions.
Revolutionary Struggle members Pola Roupa and Nikos Maziotis have previously assumed political responsibility for the bank expropriations that were carried out to finance and continue the actions of the organization.
In this trial, those who are accused of involvement or are being investigated for the expropriations are accused of violating Article 187P.K for membership of a criminal organization as well as 187A for financing a criminal organization. Those being accused and judged in the first instance are: N. Maziotis – member of Revolutionary Struggle, Maria Theofilou, G. Petrakakos, Themistocles and Fotis Assimakapolulos, Marios Seisidis, Kostas Sakkas, Panagiotis Argyros, Grigoris Tsironis and Spyros Christodoulou (During an EKAM / Special Counter-Terrorist Unit operation, Spyros Dravillas shot and killed himself before he could be arrested. Spyros Christodoulou, G. Petrakakos and Grigoris Tsironis were arrested during the same operation).
The next hearing is scheduled for 12.12.18.
Tags: Athens, Greece, Korydallos Prison, Nikos Maziotis, Pola Roupa, Revolutionary Struggle, Trial
Posted in Prison Struggle
Friday, November 23rd, 2018
Source: Anarchici fiorentini
Translated by act for freedom now!
–
The third hearing of the trial concerning Operation Panico took place on Thursday 8th November. We don't know how it went nor are we much interested. The events speak for themselves. Giova, Ghespe, Paska, some of the other comrades on trial and an audience of comrades were in court. As soon as the hearing started, through his lawyer Paska demanded to speak in order to read out a declaration. He had come to court with the signs of the beating he had been given in La Spezia prison in the morning before being transferred to Florence. He started to read out his declaration, which began by telling of the screws' beating, but the judge immediately ordered his microphone to be switched off, blabbing that what the comrade was saying was not pertinent to the trial, that the court was not the place to denounce this kind of thing and similar bullshit. (more…)
Tags: Italy, Operation Panic, Paska, Repression, Trial
Posted in Social Control
Friday, November 16th, 2018
On November 19, 2018, the appeal court will review the 13-year sentence against anti-authoritarian comrade Joaquín García, convicted for the placement of an explosive device against a police station and the possession of a revolver.
The intention of the legal defense is to annul the trial and make a new one. This call is to be attentive to the new judicial scenarios that can develop.
Solidarity with the prisoners of the social war!
Tags: Chile, Joaquín García Chanks, Trial
Posted in Prison Struggle
Saturday, November 10th, 2018
Trial update for the Mayday case 2018.
Information update from the Prisoners in Yogyakarta as of now, they are as well as can be expected. Even though comrade BV is experiencing shortness of breath, and now it's beginning to get better.
The trial process is very long, especially for comrade BV, AM, and W. Those whose the trials already happened on 8.11.18 have already proceeded to the trials of pleading (defendent's defence), and before that they already receive the demands from the Public Prosecutor with a maximum penalty of 10 months at their trial on 1.11.18 at the Sleman District Court. At the moment they are being retained at Cebongan Prison, Sleman awaiting the following trial process with the agenda for the verdict to be handed down on 22.11.18.
We will keep updating information for you with further developments.
TILL ALL ARE FREE
More Information
Instagram: palang__hitam
Web: palanghitam.noblogs.org
Email: civilrebellion@riseup.net
Tags: Indonesia, Mayday, Repression, Trial, Yogyakarta
Posted in Prison Struggle
Saturday, November 3rd, 2018
Receive and transmit:
A critical and at times biting look back on the fight against J20 repression. This text will hopefully lead to more reflections, responses, and above all – critical reflection as we look back and assess our own activity.
I'm a former J20 defendant.
Off the bat, I want to say that I only speak for myself. I've learned this is important. No one has permission to speak for me, and I don't permit myself to speak for anyone else. I think this is the common mistake made by "organizations" of any form, all these tiny Leviathans that pick up this or that cause, on behalf of such and such people: their project is still representation, the creation of subjects and sovereigns, still business as usual. In the end, I think they manage our struggles for us.
Our struggles need to be direct. They have to emerge directly from within our own lives, our particular situations, and we need to embrace a willingness to confront them. No one is coming to liberate us but ourselves. I think this is a good thing however, it means there's no one to wait for.
I'm not going to discuss what happened on January 20th, 2017. The majority of ex-defendants had their charges dismissed without prejudice, and in addition to possibly placing them at risk, recounting a few (allegedly) shattered windows during a largely symbolic protest doesn't mean nearly as much to me as the last eighteen months of concentrated, intense state repression. (more…)
Tags: Analysis, J20, Repression, Trial, USA
Posted in Social Control
Monday, October 22nd, 2018
On Tuesday 23/10 at 10PM in the Korydallos Prison Judicial Hall, the Court of Appeal continues for the 250 explosive and arson attacks by the CCF. 10 members of the organization were sentenced from 21 to 28 years in prison.
Comrades who are prisoners of the state are part of our struggle and part of us.
Solidarity with prisoners and persecuted comrades is inextricably linked to the struggle for the revolution, for a society of equality and freedom, for anarchy.

IN-OUT counter-info and solidarity group for political prisoners.
Tags: Athens, Conspiracy of Cells of Fire, Greece, Informal Anarchist Federation (FAI), International Revolutionary Front, Korydallos Prison, Trial
Posted in Prison Struggle
Monday, October 15th, 2018
Some Yogyakarta prisoners are free!
Here are some Yogyakarta prisoners who have been released after undergoing trial and reading the verdict:
– MD detention decision of 5 months, the term of detention served, free October 9, 2018.
– OO for 5 months detention decision, deducted the period of detention served, free October 9, 2018.
– MI and MEA prisoner decision 5 months 15 days, detained prison term, free 14 October 2018.
– ZW and AMH detention decision 5 months 15 days, the detention period will be deducted, free October 14, 2018.
There are still other prisoners undergoing the trial process including Ucil (BV).
We will provide updates on any developments in the trial as soon as the information is available.
Nobody is free until everybody is free!
(Info via Palang Hitam Indonesia / Anarchist Black Cross Indonesia)
–
Sebagian tahanan Yogyakarta sudah bebas!
Berikut adalah beberapa tahanan Yogyakarta yang sudah dibebaskan setelah menjalani sidang dan pembacaan putusan:
MD putusan tahanan 5 bulan, bebas 9 Oktober 2018
OO putusan tahanan 5 bulan, bebas 9 Oktober 2018
MI dan MEA putusan tahanan 5 bulan 15 hari, bebas 14 Oktober 2018
ZW dan AMH putusan tahanan 5 bulan 15 hari, bebas 14 Oktober 2018
Hari ini, Senin 15 Oktober 2018 sidang dilakukan untuk MC dengan kesaksian dari BV dan AM.
Perkembangan persidangan akan segera kami kabari kembali.
Tidak ada yang bebas sampai semuanya bebas!
Tags: Brian Valentino (Ucil), Indonesia, Mayday, Repression, Trial, Yogyakarta
Posted in Prison Struggle
Sunday, October 7th, 2018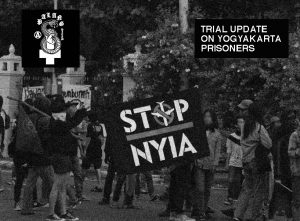 We need to explain, that we have difficulty finding information regarding detainees due to separate case files and also different the trial schedules between them and the schedules change of the trial day, but this did not stop us from giving information to you (readers).
Since October 6, 2018, we have been striving to get the latest information regarding the Class War Prisoners in Yogyakarta who were related to the M1 incident that happened in the past at the intersection of UIN Yogyakarta, from those 11 prisoners they have all received legal assistance (Advocate), with the following details: (more…)
Tags: Indonesia, Repression, Trial
Posted in Prison Struggle
Sunday, September 9th, 2018
Finally, last Wednesday, September 5, was the reading of the sentences against comrades Kevin and Joaquin, these sentences can be appealed, but for the moment it is unknown what actions their lawyers will carry out.
The sentences were as follows:
KEVIN GARRIDO FERNÁNDEZ: 17 years of prison in maximum security, for possession of explosives and the placement and possession of explosive devices. In addition, sentenced to 61 days in minimum degree for illegal possession of a bladed weapon.
JOAQUÍN GARCÍA CHANKS: 10 years of prison in medium security, for placing explosive devices and a 3-year prison term in maximum security for the crime of illegally carrying a firearm.
For the moment this is what we can tell, as soon as we have more information we will update on the situation of the comrades. We make a call to demonstrate solidarity in the face of the prison sentences dictated against Kevin and Joaquín. No sentence against our comrades should be left without an answer.
SOLIDARITY AND STRUGGLE!
INSURRECTION AND ANARCHY!
FREEDOM TO KEVIN AND JOAQUIN NOW!
–
CHILE: SENTENCIAN A 17 AÑOS A KEVIN GARRIDO Y 13 AÑOS A JOAQUÍN GARCÍA
Finalmente el pasado miércoles 5 de Septiembre se realizó la lectura de las sentencias contra los compañeros Kevin y Joaquín, estas condenas pueden ser apeladas, por el momento se desconoce el accionar a llevar a cabo por lxs abogadxs.
Las sentencias fueron las siguientes:
KEVIN GARRIDO FERNÁNDEZ: a 17 años de presidio mayor en su grado máximo como autor de los delitos de colocación de artefacto explosivo y posesión y tenencia de explosión. Además de 61 días de presidio menor en su grado mínimo por porte ilegal de arma punzante.
JOAQUÍN GARCÍA CHANKS: a 10 años de presidio mayor en su grado medio por colocación de artefactos explosivos y a 3 años de presidio mayor en su grado máximo por el delito de porte ilegal de armas de fuego.
Por el momento es lo que podemos contar, en cuanto se tenga mayor información se actualizará la situación de los compañeros. Hacemos un llamado a demostrar la solidaridad frente a las condenas de prisión dictadas contra Kevin y Joaquín. Ninguna sentencia contra nuestrxs compañerxs puede quedar sin una respuesta.

¡SOLIDARIDAD Y LUCHA!
¡INSURRECIÓN Y ANARQUÍA!
¡LIBERTAD A KEVIN Y JOAQUÍN AHORA!
Tags: Chile, Joaquín García Chanks, Kevin Garrido, Santiago, Trial
Posted in Prison Struggle
Monday, August 20th, 2018
6 detainees will soon have finished their trial process, they are waiting to find out the results of the trial and how long their sentences will be. However there are 4 prisoners who still remain in Cebongan Prison (including Ucil) and 1 other prisoner who is still being held in Sleman Police Station, it is still unclear what is happening with their trial process.
On Tuesday, August 14th ,2018, the trial for comrades O and M began, while on Thursday, August 16th, 2018, the trials began for comrades MI, MEA, AMA, and ZW.
As for Brian Valentina (Ucil) , his trial will be held on Tuesday, August 21st, 2018.
Let's express our solidarity by attending the trial every Tuesday and Thursday at 10AM in the Sleman District Court or by visiting the comrades in Cebongan Prison and Sleman Police Station who do not have clear information yet about their trial process.
More information,
Instagram account: @palang__hitam
Website: palanghitam.noblogs.org
Email: civilrebellion@riseup.net
Tags: Brian Valentino (Ucil), Indonesia, Trial, Yogyakarta
Posted in Prison Struggle
Wednesday, August 8th, 2018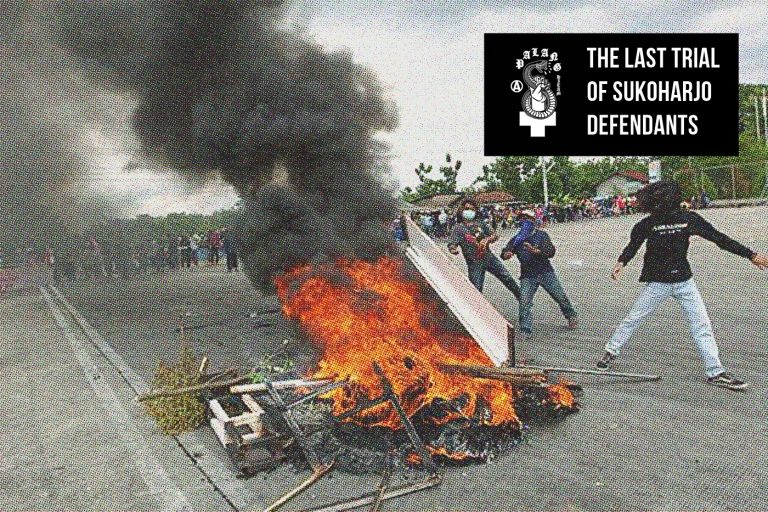 07.08.18: The 7 prisoners from Sukorharjo charged for involvement in the the riots outside the PT. RUM synthetic cotton factory faced their final hearing on Tuesday, August 6th. The riots followed on from the demonstration that took place in front of the factory due to it emitting a foul, toxic odor. The demonstration descended into a chaotic riot that led to the torching of security posts and clashes with the police and soldiers. The 7 prisoners have been detained since their arrests in February 2018. The trial was chaired by Chief Judge Sigit Hariyanto. The sentences of the 7 prisoners were as follows:
1. Muhamad Hisbun Payau (Iss), a member of left-wing student organization Pembebasan, sentenced to two years and three months imprisonment.
2. Sutarno, a resident of Karanganyar, sentenced to two years imprisonment.
3. Brilian, a resident of Nguter, sentenced to two years imprisonment.
4. Bambang, a resident of Bulakrejo, sentenced to three years imprisonment and fined 10 million Rupiah.
5. Kelvin, a resident of Plesan, sentenced to two years and three months imprisonment.
6. Sukemi, a resident of Celep, sentenced to two years and three months imprisonment.
7. Danang, a resident of Nguter, sentenced to two years imprisonment and fined 10 million Rupiah.
The first 3 defendants were convicted for violating Article 406, paragraph (1) of the Indonesian Criminal Code regarding "the destruction of property belonging to another person". The judge's sentencing was lighter than the demands of Prosecutor Rohmadi who was seeking 4 years and two months imprisonment for Iss and 4 years imprisonment for Sutarno and Brilian.
The last 4 defendants were charged and convicted for violating Article 187, paragraphs (1) and (2) along with Article 170, paragraph (1) of the Criminal Code.
The sentences for Danang and Bambang were lower than what the Prosecutor was seeking – the Prosecutor was seeking 4 years imprisonment and a fine of 50 million Rupiah for Danang and 5 years imprisonment along with a 50 million Rupiah fine for Bambang.
For more information:
Instagram account: @palang__hitam
Website: palanghitam.noblogs.org
Email: civilrebellion@riseup.net
Tags: Indonesia, Trial
Posted in Prison Struggle