Posts Tagged 'Trial'
Sunday, November 22nd, 2015
Translated by actforfree from silviacostabillyliberi:
The appeal hearing due on 5th October 2015 was postponed to 19th October because an expert appointed by the prosecution and a DIGOS officer [political police] from Pisa in charge of the investigation were absent.
The comrades' communiqués:
Silvia and Costa:
A high voltage pylon run by Terna [electricity company] on the La Spezia-Acciaiolo railway track was sabotaged in 2005 with two dynamite charges. The action seriously damaged the pylon but did not cause it to fall down.
In the days that followed an anonymous letter sent to press agencies and the Pisa editorial group of the radical eco paper Terra Selvaggia explained that the action had been carried out against renewed plans to reinstate nuclear power. These plans had never been really dismissed after the referendum following Chernobyl, but they continued to be pursued in numerous research centres, such as the Faculty of Nuclear Engineering of the University of Pisa, considered an institute of excellence on a national level. In the same area, at the S. Rossore natural park, another structure stands out: the CISAM, site of an experimental nuclear reactor and a military research centre. This plant recently caused controversy because of the dumping of radioactive water in the Navicelli canal linking the city of Pisa to the sea. Toxic water, which has been declared safe by the usual local servants of ARPAT [state agency dealing with environmental matters] and ASL [state health agency]. On the contrary this poisonous water reminds us that there's no way out of nuclear power: what has been produced or left as waste is the legacy of a world where energy production and military control come before anything else, even if all they give is a landfill-like world. (more…)
Tags: Anti-Nuclear, Costantino Ragusa, Ecological Destruction, Fukushima, Italy, Marco Camenisch, Nuclear Disaster, Pisa, Sabotage, Silvia Guerin, Terna, Terra Selvaggia, Trial
Posted in Eco Struggle
Monday, October 26th, 2015
Note: A 'concentration' literally means a 'concentration' of comrades; a demo of small number but never insignificant. Solidarity to the two imprisoned compas.
Tuesday, October 27. 9:00 am. C / C Genoa / Farcía Gutierrez. National audience. (Madrid)
On Tuesday October 27 the hearing of two of the arrested in the case of November 2013 is at the National Hearing. After spending nearly two years on remand, (November 13 completes two years), the judges will have to solve if they prolong the two year custody or give bail to those awaiting trial.
Therefore, this Tuesday at 9:00 we will be with them at the gates of the audience, because they are not alone, because we will not slow our solidarity.
They can lock us up but it will not stand.
DEATH TO THE STATE AND LONG LIVE ANARCHY
————–
If they enacted the extension of preventive detention to see you all 20:00 pm in the Plaza de Tirso de Molina

From ContraMadriz
Tags: Francisco Solar, Madrid, Monica Caballero, Spain, Trial
Posted in Prison Struggle
Saturday, October 24th, 2015
"Those who live on 300 or 400 euros a month are not terrorised by Revolutionary Struggle, but by you and your regime."
In a climate of tension, a new trial for Nikos Maziotis unfolded in the specially designed court in the female prison wing of Korydallos. He is now being accused for acts allegedly committed during the period that he was wanted by police. His co-defendants are his fugitive companion, Pola Roupa, the anarchist A. Stamboulou who is denying the charges, and the recently arrested G. Petrakakos.
The defendants are charged with, among other things, the offenses of membership and participation in a terrorist organization of which the leader is claimed to be Maziotis, an accusation of exploding a car bomb at the Bank of Greece on Amerikis Street in April 2014, for which Maziotis has taken political responsibility, and also for supply and possession of explosives, explosions, and two robberies. Moreover, Nikos Maziotis is accused of attempted homicide in the shoot-out with policemen in Monastiraki in the summer of 2014 when he was arrested.

The manifesto and the banks
The request of the lawyers of Nikos Maziotis for the prosecution to produce representatives of the banks which he reportedly robbed, made the presence of the defense strongly felt. The accused took the floor and said the banks were, "predatory organizations, there was no robbery, expropriation is the reality of the event."
And when asked by the court to speak in his defense, the accused read a text-manifesto with harsh words against the political system and the judges. "Those who live on 300 or 400 euros a month are not terrorised by Revolutionary Struggle, but by you and your regime," he said addressing the judges. Nikos Maziotis declared himself an "anarchist prisoner of war". He described the trial as political, claiming it was a title of honor for him to be armed.
The other defendant A. Stamboulou claimed himself an "anarchist prisoner of war" and denied the charges, claiming that they have no relation to reality as there has, "not been found any evidence against him." And he called his trial "political" and attributed his persecution to the "rage of repressive mechanisms."
G. Petrakakos, in turn, denied the charges and reserved the right not to speak in his own defense.

'Evening' trial

The tone went up further when the presiding judge announced that the court sessions would start at noon and will last until the evening as there is a risk of the expiration of 18 months [of pretrial detention time] for the accused Stamboulou. The legal advocates responded by invoking the "special status" of the trial, accusing the court that it gives priority to the principle of expediency, not of legality.
"Make a trial by yourself, your shame stands revealed!", cried the packed audience.
"Arrange when we will come not from Pangrati but from the provinces," complained witnesses.
"We will reach out to the Chief of Appeals, it is humanly impossible to meet," said the lawyers.
Finally, after these reactions, the President interrupted the schedule for the morning of October 19, clarifying however that the other meetings will be held. . . in the afternoon and then proceeded to call out the the names of witnesses, amid loud protests.

(via The Barbarian Times)
Tags: Antonis Stamboulos, Athens, Greece, Korydallos Prison, Nikos Maziotis, Pola Roupa, Revolutionary Struggle, Trial
Posted in Prison Struggle
Monday, June 29th, 2015
From: supportericking.wordpress.com
A quick update for supporters around the world. A continuance has been
filed for Eric King's federal trial, pushing the trial date back from
July 13th to October 26th. We will keep you updated on the progress of his
case and reach out when we're starting to prepare to pack the court for
his trial.
In the mean time, Eric remains housed in segregation at CCA Leavenworth.
We ask for all your love and solidarity while he continues to fight for
medical care, including outside testing for an increasingly serious
medical situation. We will update everyone as we get more information
about his health. (more…)
Tags: Eric G. King, Trial, USA
Posted in Prison Struggle
Saturday, June 6th, 2015
5 June 2015, Athens – Christodoulos Xiros, ex-member of the Revolutionary Organisation 17 November, who is facing charges for participation in the Conspiracy of Cells of Fire escape attempt that was foiled in January by the Greek authorities, denied to answer any questions from the judicial apparatus and made a political statement.
In his brief political statement, Xiros expressed his views and called on the examining magistrate Eftihis Nikopoulos and everyone that he works for to apologize themselves.
Part of his statement read: "I have nothing to say to mechanisms that support the occupation forces and their local collaborators. You and those you serve should apologize to the people and history."
Tags: 17 November, Athens, CCF Escape case, Christodoulos Xiros, Greece, Trial
Posted in Prison Struggle
Friday, May 29th, 2015
22.5.2015 – Comrades Nikos Maziotis and Kostas Gournas were transferred yesterday from Domokos prisons to Koridallos prisons where the upcoming trial will begin today 22.5.15 in the special court room of the prison.
The comrades were take straight to the basement cells of the female prisons, where they are basically in isolation…
After the demand by comrade Nikos Maziotis for a postponement in order for him to contact his lawyer since his transfer from Domokos was only the previous day, the court decided to adjourn till Wednesday June 10th at 9am.
After communicating with the comrades of the Revolutionary Struggle over the phone, we can state that they are strong and their morale is high!
via actforfree.
Tags: Athens, Domokos, Greece, Korydallos Prison, Kostas Gournas, Nikos Maziotis, Prison Transfer, Revolutionary Struggle, Trial, Type C prisons
Posted in Prison Struggle
Friday, May 8th, 2015
On 5 May, the court of appeal dismissed the application for revocation of the decision which had sentenced comrade Tamara Sol to seven years, six months and a fine for the shooting of a security guard in a branch of Banco Estado. On hearing the decision unrest broke out in the courtroom and on the street outside the building, which resulted in five arrests.
———

Translated by Inter Arma
Source: Publicacion Refractario
Tags: Chile, Sol F. Vergara, Tamara Sol, Trial
Posted in Prison Struggle
Friday, May 8th, 2015
In early May, the Supreme Court decided to reduce the sentences of comrades Alfredo Cospito and Nicola Gai, who have been sentenced for the shooting of the manager of the nuclear company Ansaldo Nucleare, Roberto Adinolfi.
The final sentences are:
Alfredo Cospito: 9 years, 5 months and 10 days (from 10 years and 8 months)
Nicola Gai: 8 years, 8 months, 20 days (from 9 years and 4 months)
———
Translated by Inter Arma
Source: Machorka
Tags: Alfredo Cospito, Informal Anarchist Federation (FAI), International Revolutionary Front, Nicola Gai, Nucleo Olga FAI/FRI, Roberto Adinolfi, Trial
Posted in Prison Struggle
Friday, April 17th, 2015
Eric G. King, a 28-year-old vegan anarchist, was arrested and charged
with an attempted firebombing of a government official's office in
Kansas City, MO in September 2014. Eric is being charged with throwing a
hammer through a window of the building, followed by two lit Molotov
cocktails. The criminal complaint states that both alleged incendiary
devices failed to ignite. Scheduled to go to trial in July 2015, he is
facing up to 30 years in federal prison.
Eric was identified as a suspect by local police because he had
previously come under suspicion for anti-government and anti-police
graffiti. He is currently being held in the Corrections Corporation of
America's Leavenworth Detention Center. (more…)
Tags: Eric G. King, Repression, Trial, USA
Posted in Prison Struggle
Friday, March 6th, 2015
UPDATED
As is known, the CCF imprisoned members are on hunger strike until death. Christos' and Gerasimos' mother and Gerasimos' wife testified to the investigating judge on Tuesday, where they both denied the charge of being members of a "terrorist organization" (which is what they are charged with). The comrades' mother only accepted the charge of "harboring a criminal", and she was remanded by the counter-terror state. Gerasimos' wife was also remanded the same day.
On March 4th, Christos Tsakalos wrote a political claim of his own, concerning the escape attempt, and Giorgos Polydoros published a text as well, as a personal friend of his brother was arrested (he was released along with the woman who was arrested on Saturday).
On March 5th, Aggeliki S. and the 39-year-old comrade Christos R. who was arrested in the neighbourhood of Galatsi on February 28th were demanded to testify. Aggeliki gave a statement saying she did not recognise the court and declared herself as anarchist. Aggeliki was then detained in Korydallos, and she had already began a hunger strike from the point of her arrest with the common aims of CCF. Christos R. also gave a statement, and was immediately remanded to Domokos Type C prison.
On March 6th, Christos Polydoros, brother of Giorgos, voluntarily went to the public prosecutor to speak against the repression of the family and friends of CCF, so the prosecutor vermin ordered his arrest. Currently, Christos Polydoros is being held by the anti-terrorist force in the Athens police headquarters [he is now released, 10 March].
Death to the police – Death to the state
Tags: Aggeliki Spyropoulou, CCF Escape case, Christos Polydoros, Christos Rodopoulos, Christos Tsakalos, Domokos, Gerasimos Tsakalos, Giorgos Polydoros, Hunger Strike, Korydallos Prison, Trial, Type C prisons
Posted in Prison Struggle
Friday, February 27th, 2015
From InterArma:
Today, Thursday 26th of February, the trial concerning the inner-movement conflicts of 2012 in Thessaloniki was continued after a break.
From my side, it became clear from the first moment, the fact that the trial cannot take place at this time because my lawyer Fragiskos Ragousis faces some impediment and I am already on the trial concerning "Phoenix" project which takes place in Athens.
Today, the court decided to begin the process although I was not represented by a lawyer. It should be noted that in this trial I am accused of felonies concerning explosions, possession and use of explosives etc. (more…)
Tags: Greece, Letter, Spyros Mandylas, Thessaloniki, Trial
Posted in Prison Struggle
Wednesday, February 25th, 2015
Spread around. Lumpen-proletarian rebel arrested recently in Oakland, CA USA at anti-police demonstration. Squatter and anarchist. Facing serious charges. Help get word out.
Dante Cano is currently being held in Santa Rita jail for participation in a demonstration against police brutality and murder in the Bay Area and across the United States. At the time of his arrest, police in near-by Emervyville had just killed Yuvette Henderson in early February. At the same time, police also had just shot people in San Jose, East Oakland, and also the courts had exonerated the police that shot and killed Alex Nieto in San Francisco. This happened against a back-drop of ongoing police murder and violence across the US as well as a deep and furious revolt in the Bay Area against this murder and repression. (more…)
Tags: California, Dante Cano, Oakland, Police Bastards, Police Brutality, Repression, Trial, USA
Posted in Prison Struggle
Sunday, February 22nd, 2015
From informa-azione.info
Translated by act for freedom now
THE TRIAL OF BILLY SILVIA AND COSTA IS APPROACHING:
LET'S RELAUNCH THE STRUGGLE AGAINST TOXICITY
Five years have passed since we were arrested in Switzerland when police at a checkpoint on the Albis pass, Canton of Zurich, found explosives, propane gas canisters, petrol cans and several copies of a claim by Switzerland Earth Liberation Front in the car we were in. The target of the proposed attack was the Binning and Rohrer Nanotechnology Centre, a structure that was under construction at the time, property of IBM in collaboration with ETH, the Federal Polytechnic of Zurich.
The trial took place a year and a half later where we were accused of: preparing deliberate arson; concealing and transporting explosive material; unauthorized trade (importation) of explosives. Federal prosecutor Hansjörg Stadler demanded sentences of 3 years and 4 to 8 months, broadly accepted by federal judge Walter Wütrich. The court confirmed all the charges, except that of illicit traffic (importation) of explosives, a charge we were cleared of.
Parallel to this, the Public Prosecutor of Turin had begun a thorough investigation of the explosive cartridges that the Swiss authorities had found on us to find out where the material had come from. When the investigation was completed, prosecutor Enrico Arnaldi Di Balme issued three more charges against us: terrorist activity involving lethal and explosive devices, possession and transport of explosives in the public space and receiving stolen goods (explosives), all charges aggravated with 'terrorist intent'. (more…)
Tags: Binning and Rohrer Nanotechnology Centre, Costantino Ragusa, ETH, IBM, Italy, Luca Bernasconi, Repression, Silvia Guerini, Switzerland Earth Liberation Front, Trial
Posted in Eco Struggle
Wednesday, February 4th, 2015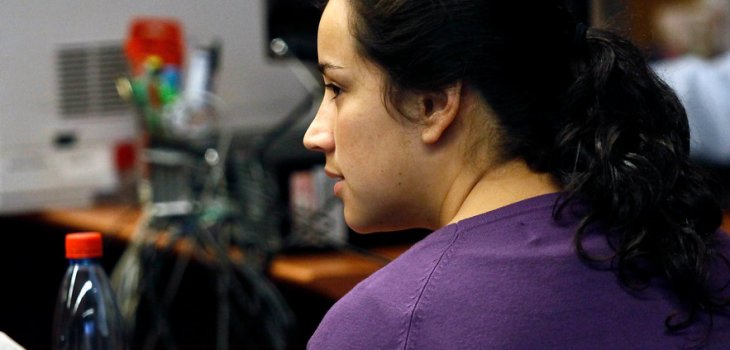 Updated:
According to info received, Tamara Sol was found guilty by the court and sentenced to 7 years and 2 months in prison, with a fine of $215.000 (US$ 345 – €300). Recall that Tamara Sol is the comrade who was arrested after a BancoEstado security guard was shot in revenge for the death of Sebastián Oversluij Seguel.
Definitive charges and sentences are the following:
Attempted Murder: 7 years
Theft [of the gun of the security guard who was shot]: 61 Days + fine.

After the trial, there was clashes between Sol family's and the tribunal guards (gendarmes). The family rebuked the judges and threw leaflets, calling the judges "fascists" and accusing them of developing a biased and political judgment. Also, the judges order to take a DNA sample of Sol, to include it in the National Register of Convicted.
However, there still exists an appeal opportunity against the sentence.
A video of the audience: http://www.youtube.com/watch?v=_eFns2YZUFY
And pictures of the meeting:

(from left to right: Luisa Toledo -grandmother-; Ana Vergara -mother-; Manuel Vergara -grandfather-)

(the man with the red megaphone is the father of Sol)
Solidarity to Tamara Sol!
Tags: Chile, Repression, Sebastián Oversluij Seguel, Sol F. Vergara, Tamara Sol, Trial
Posted in Prison Struggle
Tuesday, February 3rd, 2015
Inter Arma received from Sin Banderas Ni Fronteras:
After one year of detention in San Miguel prison, anarchist comrade Tamara Sol started to face the trial in which power aims to annihilate her. Tamara is accused of shooting a bank guard in January 2014, just days after a bank guard killed comrade Sebastian Oversluij in an attempted bank robbery, in a different bank branch.
In November 2014, a brief preparation for trial against Tamara was performed, which finally started on this January 23. Tamara is facing a democratic inquisition that wants to sentence her to several years in prison, with charges of attempted murder and accomplished simple theft. (more…)
Tags: Argentina, Banner drop, Buenos Aires, Chile, Sebastián Oversluij Seguel, Sol F. Vergara, Solidarity Action, Tamara Sol, Trial
Posted in Prison Struggle