Posts Tagged 'Turkey'
Wednesday, November 20th, 2019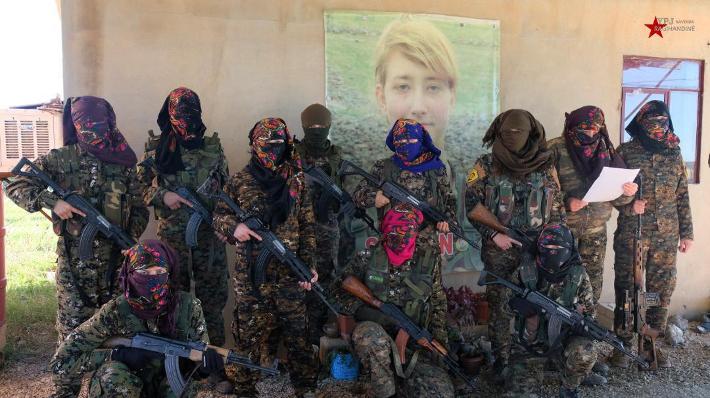 نامه ای از جانب یک آنارشیست انترناسیونالیست در روژاوا
Translation to Persian: Hasse Golkar
via barrikade:
Comrades,
I think it is important now that our voices of Rojava, out of the heart of that battle, are being heard. A fight for the life, for an existence in dignity, for real democracy and for the freedom of all women. I want to tell how the resistance of Serekaniye went on, how the beginning was, how the end was and also what happened in between. Serekaniye right now is in the hands of jihadist groups that are being supported by Turkey, upon approval by the United States. At a time they said there would be a five-day firearm rest…. we didn't believe it for one second. And that's how it was – the attacks didn't stop, maybe they've been reduced, but they continued attacking us with heavy artillery, bombings and airplanes. When there are bombings, there is not much that can be done; hide behind a tree and hope, that they didn't see you running or that they found your place.
Those five days of supposed firearm rest actually have been decisive for the United States and Turkey, to redefine the conflict, to realign the situation of war, confrontation and resistance against our forced withdrawal that no one expected. No one could believe it, after 11 days of resistance, beautiful and very hard at the same time. Leaving the city. The Turkish invasion of Serekaniye did start some days before, 8th of October, with a bombing of our military post that hasn't been answered, for not to unleash what happened later anyway. It was an attempt of the friends to protect the people and the society. But the next day, about 3 to 4 pm, another bombing of a post of the YPG took place, where 5 friends have fallen, and since then they bombed the whole border. (more…)
Tags: Islamic State in Iraq and Syria (ISIS), Kurdish Struggle, Kurdistan, Letter, People's Defence Units (Y.P.G.), Rojava, Serekaniye, Syria, Til Temir, Turkey, War, YPG International
Posted in Autonomy
Wednesday, November 20th, 2019
Solidarität mit Grup Yorum
Eine Infoveranstaltung mit Solikonzert
Freitag, 22. November 2019, ab 19 Uhr
Jockel, Ratiborstr. 14C, 10999 Berlin
The band Grup Yorum is facing massive repression in Turkey. Their cultural association Idil has been the target of state attacks multiple times in the last few years and several of their members have been placed on so-called terror lists, imprisoned, or are living in exile. In protest of these measures, members of the band have been on hunger strike for over 150 days.
This event will provide current information on the band's situation, followed by a soli concert with bands, choirs and surprise guests.
Die Band Grup Yorum ist in der Türkei massivster Repression ausgesetzt. Ihr Kulturverein Idil ist in den vergangenen Jahren etliche Male zur Zielscheibe staatlicher Angriffe ausgesetzt gewesen und mehrere ihrer Mitglieder wurden auf sogenannte Terrorlisten gesetzt, befinden sich im Gefängnis und im Exil. Um sich gegen diese Maßnahmen zur Wehr zu setzen, haben sich Mitglieder der Band vor rund 150 Tagen in einen Hungerstreik begeben.
Auf unserer Veranstaltung möchten wir aktuelle Infos zur Situation der Band geben und anschließend ein Solikonzert machen, wo Bands, Chöre und Überraschungsgäste auftreten werden.
Grup Yorum, Türkiye'de yoğun baskılara maruz kalmaktadır. Grubun da içinde bulunduğu İdil Kültür Merkezi son yıllarda defalarca kez devlet saldırılarının hedefinde oldu ve grubun birçok üyesi sözde terör listelerine konuldu. Grubun bir kısmı hapiste ve bir kısmı sürgünde. Bu uygulamalara karşı direnerek Grup Yorum üyeleri yaklaşık 150 gün önce açlık grevine başladı.
Etkinliğimizde Grup Yorum'la ilgili güncel gelişmeleri aktarıp ardından da değişik müzik gruplarının, koroların ve sürpriz misafirlerin yer alacağı bir dayanışma konseri düzenleyeceğiz.
Tags: Berlin, Germany, Grup Yorum, Solidarity Event, Turkey
Posted in Social Control
Thursday, November 14th, 2019
In October 2019 the Turkish state invaded Northern Syria. The target of their aggression was Democratic Federation of Northern and Eastern Syria (Rojava). By the fault of rulers blood is being shed again and peacful people are suffering and dying. The goal of the president of Turkey Erdogan is to destroy revolutionary Autonomy of Syrian Kurds. Revolutionaries of Kurdistan build a society of stateless popular self-management. And Rojava became an example and model for Kurds in Turkey. That is why «Turkish sultan» started a war.
In the night of November 11 we destroyed two cell phone network towers of the Lifecell company settled by the Zahaltsy and Piskivka settlements in Kyiv region. Lifecell is fully owned by Turkish giant TURKCELL, the largest mobile provider of the State of Turkey. As a large corporate tax payer Turkcell appears as the indirect sponsor of the aggression of Erdogan`s regime. There are also widely known connections of the provider with the ruling «Justice and Development Party» which construct the basis of the current system in the country. These are the reasons why we consider the property of Lifecell as a legitimate target for the sabotage.
We stay in solidarity with revolutionaries and people of Kurdistan. They fight the occupation and oppression — for the liberty and social justice. We call to everyone who cares about the situation to participate in the resistance in a manner according to their abilities.
Freedom to the peoples — death to the Empires!

Сell of Revolutionary Solidarity
Tags: Arson, International Solidarity, Kiev, Kurdish Struggle, Lifecell, Rojava, Sabotage, Syria, Turkcell, Turkey, Ukraine, Сell of Revolutionary Solidarity
Posted in Direct Action
Saturday, October 26th, 2019
On Monday, October 21nd, we send a message to several world media. We wrote an e-mail, that the bomb is in Istanbul Airport (Turkish Airlines company) and in MKEK – Mechanical and Chemical Industry company in Ankara.
There was no bomb. We just wanted to start a evacuation. When the police evacuate some place, they block production in this place.
This is sabotage of Turkish economy!
This is sabotage of Turkish army!
This is our support for revolutionary fighters in Rojava!
# Anarchists
Tags: Ankara, Evacuation warning, Istanbul, Kurdish Struggle, MKEK, Rojava, Turkey, Turkish Airlines
Posted in Direct Action
Saturday, October 26th, 2019
Branches of Turkish banks was attacked
Berlin, London, Sofia, Amsterdam, Paris. In these cities was attacked branches of Turkish bank (Işbank). For actions we used manual from the Network of Revolutionary Cells (SRB): "How to start evacuation"
Money from Turkish bank support terrorism of Turkish state. Turkish army killing civil people. For example, they killing a child named Sara Yusuf Hüseyin. Turkish army also killing revolutionary fighters in Rojava. We have to stop it!
Fight against Turkish bank is fight against terrorism!
– Commando Sara Yusuf Hüseyin
Tags: Berlin, Bulgaria, Commando Sara Yusuf Hüseyin, Evacuation warning, France, Germany, Kurdish Struggle, Kurdistan, London, Paris, Rojava, Sofia, Turkey, Turkish bank (Işbank), UK, War
Posted in Direct Action
Friday, October 11th, 2019
In the afternoon of 9 October the fascist Turkish occupation army and its Islamist murder gangs started their war of aggression against the liberated areas of Rojava. With massive artillery fire and widespread air raids on towns and villages along the Syrian-Turkish border, the front was opened and ground invasion began.
The fascist AKP-MHP regime is turning its threats into reality and under the cynical name 'Operation Sources of Peace' has launched a new campaign of extermination against the people of the region. From the North, jihadist gangs try to advance to the cities and settlements along the border and the villages in the vicinity have become the scene of fierce battles between the self-defence forces of the population and the invading troops. While the fascist invaders attack the civilian population of Rojava under the protection of their heavy weapons, artillery and the bombardment of their war planes, sleeper cells of the Islamic state carry out coordinated attacks in the interior and spread fear and terror. (more…)
Tags: Afrin, Al-Nusra Front, Antifa, International Solidarity, Islamic State in Iraq and Syria (ISIS), Kurdish Struggle, Kurdistan, People's Defence Units (Y.P.G.), Repression, Rojava, Syria, Turkey, War
Posted in Anti-Fascist
Sunday, September 15th, 2019
In Turkey, Aydin Hunter Association (Aegean Region) was attacked by ALF. The locks of the association were glued, slogans were painted to the doors. The signboards were destroyed.
Hunting is murder!
Until all are free.
The action was dedicated to the vegan anarchist prisoner Marius Mason.
Turkhis:
Aydın'daki avcılık derneğine ALF tarafından saldırı düzenlendi. Derneğin kapısı yapıştırıcı ile kullanılamaz hale getirildi, derneğin tabelaları parcalandı, kapılara yazılamalar yapıldı.
Av, cinayettir!
Tüm hayvanlar özgür olana kadar!
Eylem, vegan anarşist tutsak Marius Mason'e adandı.
Tags: Animal Liberation Front, Aydin Hunter Association, Marius Mason, Turkey
Posted in Eco Struggle
Thursday, August 22nd, 2019
Kundgebung in Solidarität mit Grup Yorum!
Freitag, 23. August 2019, 18 Uhr
Kottbusser Tor – Kreuzberg
Grup Yorum im Hungerstreik. Am 25. August 2019 werden es 100 Tage sein.
Mitglieder der Musikband Grup Yorum begaben sich am 17. Mai 2019 in einen Hungerstreik. Ihre Hungerstreik-Erklärung enthielt diverse Forderungen, darunter die Freilassung der gefangenen Bandmitglieder und die Einstellung der Verfahren, die Beendigung der Polizeirepression gegen den Istanbuler Kulturverein İdil, die Streichung der Namen der Bandmitglieder von den "Terrorlisten" und die Aufhebung der Konzertverbote. (more…)
Tags: Berlin, Demo, Germany, Grup Yorum, Hunger Strike, International Solidarity, Turkey
Posted in Prison Struggle
Wednesday, August 21st, 2019
For three weeks already the offensive of the United Revolutionary Movement of the Peoples HBDH (Turkish: Halkların Birleşik Devrim Hareketi) continues unabated. For weeks now the fascist AKP-MHP regime and its supporters in the whole of Turkey and the occupied Northern Kurdistan have been shaken by endless fire and bomb attacks of the militias and guerrilla forces of the revolutionary alliance.
The United Revolutionary Movement of Peoples was founded on March 12, 2016 and is the front organization of various revolutionary, socialist and communist parties and organizations of Turkey and Kurdistan. In the HBDH the Kurdish Freedom Movement in leadership of the Kurdistan Workers Party PKK unites with the revolutionary left of Turkey to a common front in the struggle against AKP-MHP fascism, for the liberation of the occupied Kurdistan and the establishment of a socialist Turkey.
Simultaneously with the renewed rise of the threats of Turkish fascism against the Democratic Federation of Northeast Syria, the militias and guerrilla units started a new offensive in the heart of Turkish colonialism. In the following some of the past actions are summarized:

Declaration of 30 June
On the 29.06 at 16.00 o'clock, in the district Datca of Muğla, Palamutbükü, a sabotage action against a television station was accomplished. The United Revenge Militia of the Peoples confessed to the action with which a television station was met, which legitimizes fascism with its propaganda of lies. Tourists from home and abroad were warned against using Turkey as a holiday destination. Nobody should travel to the areas used by AKP-MHP fascism as the main source of financing for war and massacres.

Declaration of 02 July
In a statement signed with United Revenge Militia of Peoples, the group confessed to a sabotage action against the Grand Efe Hotel and surrounding hotels in the Özdere region in the Menderes district of Izmir. Two hotels had to be evacuated as a result of the action. The group threatened with further attacks against tourist destinations and called on domestic and foreign tourists to stay away. Otherwise they would have to face the reality and pain of the dirty war. The group called on the oppressed, workers, women and youth to stand against fascism. (more…)
Tags: Anti-Fascism, Arson, Attentat, Insurrection, International Solidarity, Kurdistan, PKK (Kurdish People's Party), Rojava, Sabotage, Social War, Turkey, United Revolutionary Movement of Peoples (HBDH), War
Posted in Direct Action
Tuesday, December 11th, 2018
Deutsch | Arabisch | Türkisch | Farsi | Englisch
Hallo liebe Freund*innen,
wir möchten am Samstag, den 15. Dezember 2018, gemeinsam von Berlin aus
zur "Freiheit für Musa Aşoğlu"-Demo nach Hamburg fahren. Hierzu treffen
wir uns am 15. Dezember um 7.30 Uhr am Ostbahnhof, Gleis 7. Wir besorgen
uns zusammen Wochenendtickets. Der Zug fährt dann um 7.52 Uhr ab. Wir
wären dann pünktlich in Hamburg, wo die Demo um 12 Uhr vor der Roten
Flora beginnen soll. Im Anschluss an die Demo würden wir gemeinsam
wieder zurück nach Berlin reisen.
Musa Aşoğlu wurde am 2. Dezember 2016 verhaftet und befindet sich
seitdem in Hamburg in Isolationshaft. Ihm wird nach §129b
(Mitgliedschaft in einer verbotenen terroristischen Vereinigung)
vorgeworfen, Mitglied der in der Türkei kämpfenden DHKP-C (Revolutionäre
Volksbefreiungspartei-Front) zu sein. Dass Oppositionelle in der Türkei
verfolgt, gefoltert und ermordet werden, stört die BRD in keinster Weise
– ist er doch enger Verbündeter und politischer Stabilidsator des immer
offener faschistisch agierenden Regimes in der Türkei.
Der §129b-Prozess gegen Musa Aşoğlu dauert seit dem 25. Januar 2018 an
und wir gehen davon aus, dass dieser im Frühjahr 2019 enden könnte.
Wir möchten Musa Aşoğlu und alle §129b-Gefangenen durch unsere
Teiilnahme an der Demo supporten. Schließt euch uns an. (more…)
Tags: Berlin, Demo, DHKP-C (Democratic People's Liberation Party-Front), Germany, Hamburg, Musa Aşoğlu, Repression, Trial, Turkey
Posted in Prison Struggle
Thursday, September 27th, 2018
Erdogan – the stray dog from the Bosporus – will come to Berlin on September 29 and become a terrorist legitimized through the German state government. The warmongers and fascists will meet to resolve further deals on the "refugee issue". While the arms industry pops bottles and the Federal Republic of Germany grants arms exports into the billions, innumerable people are dying in this war. This is the reason for us to disturb, sabotage, and attack this state visit. Not all of us are facing this destruction deedless. Our signs of rage and resistance reached as well our international comrades, who will fight with us on the day the fascist is coming to Germany. Shoulder to shoulder against fascism! Down with Erdogan and his fascist collaborateurs! For freedom! (more…)
Tags: Afrin, Germany, International Solidarity, Kurdish Struggle, Rojava, Sabotage, Syria, Turkey
Posted in Direct Action
Tuesday, November 14th, 2017
From Athens IMC, Actforfreedomnow:
On Sunday 31st of August, a little before dawn, we carried out an armed intervention against the Mexican state, by shooting at the building of its embassy in Athens. On Wednesday 9th of October, at quarter to five a.m. we carried out another armed intervention against the French state, by throwing a hand grenade next to the guard of its embassy in Athens, opposite the Greek parliament. These two aggressive actions of our organization, together with our first armed intervention on the 25th of May 2014 against PASOK, defy in deed the armed domination of the Greek state and at the same time they express the vision of social revolution and of the dissolution of authoritative institutions here and now.
In order to construct a revolutionary movement on sturdy foundations, we must study the defeats of the past. We must focus on the contradictions of past movements and analyze the dynamics of class antagonism today, as a result of a historical evolution. The totalitarian capitalist aggression, which began two and a half decades ago and spreads around the globe, is connected to the fundamental crisis of the socialist movement.
The main contradiction which brought about the demise of the revolutionary wave of the 20th century is statism. Parliamentary democracy, dictatorship of political parties and, at the same time, the repression of workers' self organization implanted bourgeois authority in the loins of social revolutions, ever since the French revolution. The revolution in Russia was led by a political and technocratic elite. (more…)
Tags: Analysis, Athens, Attentat, Christoforos Marinos, Embassy, France, Georges Ibrahim Abdallah, Greece, Grenade, Hezbollah, Insurrection, International Solidarity, Mexico, Michalis Nikolopoulos, Nikos Maziotis, Organization for Revolutionary Self-Defense, Panagiotis Argyrou, Remi Fraise, Savvas Xiros, SY.RIZ.A., Turkey, Type C prisons
Posted in Direct Action
Monday, November 13th, 2017
Dear friends,
Probably you remember me, because you had already published some of my articles criticising Islam.
I am the first Turkish poet in history who have written a poem about Armenian,
Assyrian and Greek genocides of our Turkish ancestors named "Barbarian and Ms Daisy" which had been accepted to the "Armenian Poetry Project" in 2014.
I wish you publish my poem too.
Best regards
Serkan Engin
***
Barbarian and Ms Daisy
(Dedicated to all victims of Armenian, Assyrian and Greek genocides perpetrated by my Turkish ancestors)
yes, you are right Ms Daisy, they came
with the wild winds of Greed, brutally
slaughtered all the innocent letters
written on the wall of Grace, even also babies
by burning them alive, before most of them
could not have a toy in their short-length life
with an insufferable last sequence
Tags: Serkan Engin, The Misery of Islam, Turkey
Posted in Cognitive Liberty
Tuesday, October 24th, 2017
No to State, No to war. Yes for self-administration and the Social revolution
Immediate call to all our comrades Anarchists and Libertarians wherever they are
A direct and special call to our comrades Anarchists and Libertarians Arabic-speaking
No to State, No to war. Yes for self-administration and the Social revolution
For years and years we, anarchists and libertarians in Iraqi "Kurdistan", Europe and other countries all our publicities and our slogan have been about Yes for self-administration in everywhere and for all the communities, but No to State.
We raised our voice against the Kurdistan Regional Government (KRG) and its very recent scenario of referendum on "independent Kurdish State". We are very sure the other anarchists among Arab, Turkish, Assyrian and others had the same attitude. We also believe the same attitude from our anarchist comrades throughout the world to say no to State, authority, nationalism and to be against the nationalist and against pro-fascist war. (more…)
Tags: Anti-War, Civil War, International Solidarity, Iraq, Kurdish-Speaking Anarchist Forum (KAF), Kurdistan, Revolution, Syria, Turkey, War
Posted in Autonomy
Monday, September 18th, 2017
Hello everybody, friends and comrades. Everybody knows the politics in Turkey some more than others. I want to try to tell you, to help you understand about the situation in Turkey and I would like to ask for your attention and international solidarity in this matter. Turkey became a nation in 1923. Since this historical moment Turkey was caught in a history of facist military coups. In general they have been 8 fascist coups and related to that ten thousands of revolutionary communists and anarchists were killed. In the last military coup ın 1980 almost one million people were tortured and detaıned ın prısons.Now, after 22 years Recep Tayyip Erdoğan who describes himself as a Muslim, won the elections through manipulation and became the prime minister of Turkey. He has influenced the mind of most people in Turkey through elaborate promises and community schemes to ınfluence the mınds of the people. In the following elections he was elected again through further manipulation (different practices). He has begun to fight against the democratic powers in the society and put every critical voice in prison. (more…)
Tags: Athens, Greece, Hunger Strike, Nuriye Gülmen, Rosa de Foc Squat, Semih Özakça, Solidarity Action, Turkey
Posted in Prison Struggle