Posts Tagged 'UK'
Thursday, November 5th, 2020
Born in Ravensburg in 1938, Klaus Schwab is a child of Adolf Hitler's Germany, a police-state regime built on fear and violence, on brainwashing and control, on propaganda and lies, on industrialism and eugenics, on dehumanisation and "disinfection", on a chilling and grandiose vision of a "new order" that would last a thousand years.
Schwab seems to have dedicated his life to reinventing that nightmare and to trying to turn it into a reality not just for Germany but for the whole world.
Worse still, as his own words confirm time and time again, his technocratic fascist vision is also a twisted transhumanist one, which will merge humans with machines in "curious mixes of digital-and-analog life", which will infect our bodies with "Smart Dust" and in which the police will apparently be able to read our brains.
And, as we will see, he and his accomplices are using the Covid-19 crisis to bypass democratic accountability, to override opposition, to accelerate their agenda and to impose it on the rest of humankind against our will in what he terms a "Great Reset".
Schwab is not, of course, a Nazi in the classic sense, being neither a nationalist nor an anti-semite, as testified by the $1 million Dan David Prize he was awarded by Israel in 2004.
But 21st century fascism has found different political forms through which to continue its core project of reshaping humanity to suit capitalism through blatantly authoritarian means. (more…)
Tags: Analysis, Anti-technology, Coronavirus, Fourth Industrial Revolution, Klaus Schwab, Repression, The Acorn, Transhumanism, UK, World Economic Forum
Posted in Eco Struggle
Friday, October 30th, 2020
Episode number 39 (10/2020) of "B(A)D NEWS – Angry voices from around the world", a monthly news program from the international network of anarchist and antiauthoritarian radios, consisting of short news segments from different parts of the world, is now online.
Length: 33:29 min
In this episode you will hear contributions from:
1. Radiozones of Subversive Expressions in Athens, Greece, on the topics of school squats, Omada Laikon Agoniston, Pagrati Filolaou, SVEOD and the responses of Greek courts to the charges against the neo-nazi Golden Dawn Party;
2. Radio Fragmata, also in Athens, Greece, you'll hear more news and struggle from around the city and country;
3. A-Radio Berlin, from Germany, then shares audio about the eviction of the anarcha-queer-feminist house project Liebig34 in Berlin;
4. And finally, you'll hear updates from Dissident Island Radio from the Capital of Capitol, London, UK from the last month.
Other audios from A-Radio Berlin in English here.
.
Or visit the anarchist 24/7 online stream from the Channel Zero Network.
Enjoy!
A-Radio Berlin
Tags: Anarchist Radio, Germany, Greece, Radio, UK
Posted in Autonomy
Wednesday, October 14th, 2020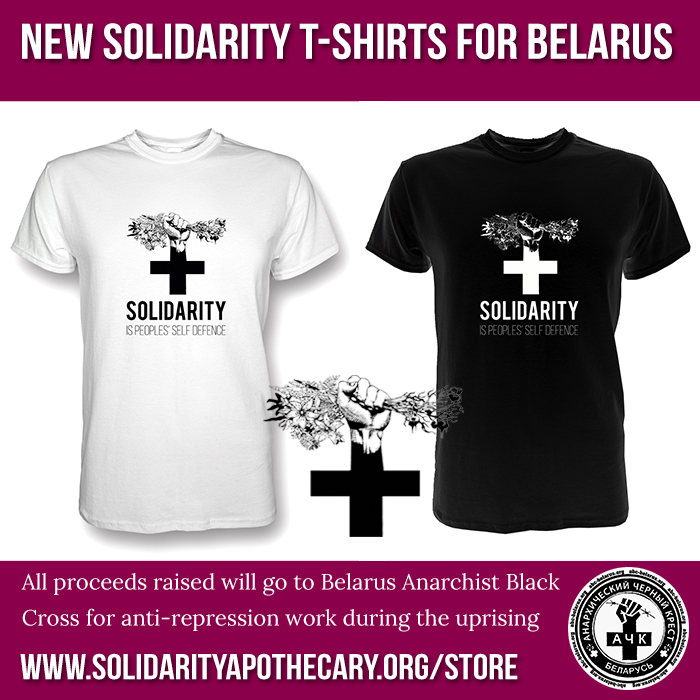 The Solidarity Apothecary is screenprinting tshirts to help raise funds to send to Anarchist Black Cross Belarus.
You can buy one here: https://solidarityapothecary.org/store/
People in Belarus are no stranger to state violence or repression living under a Dictatorship. However, as people have taken to the streets to protest, thousands are experiencing state violence at an unprecedented scale. In the first three days of the uprising in August, more than 5000 were detained by police. Many are experiencing beatings, torture, rape and sexual assault. One person was murdered. Despite the repression, people continue to fight on the streets.
Income from this t-shirt will go towards defendant support, meeting people from jails, legal costs and other anti-repression work. Solidarity is the peoples' self defence!
Please note this is a pre-order. An order will be placed with the printer on the 3rd of October and may take longer than usual to screenprint due to covid-19 restrictions. Thank you for your patience!
To learn more about the situation in Belarus check out:
ABC Belarus – https://abc-belarus.org
Belarus: Anarchists in the uprising against the Dictatorship – https://crimethinc.com/2020/08/12/belarus-anarchists-in-the-uprising-against-the-dictatorship-an-interview
Pramen (for translated news) – https://pramen.io/en/main/
Tags: ABC Belarus, Belarus, International Solidarity, Police Brutality, Repression, Social Insurrection, Solidarity Apothecary, Torture, UK
Posted in Prison Struggle
Monday, September 28th, 2020
FR | Bath (UK) : Incendie en solidarité avec les six inculpé.e.s de l'attaque d'une antenne 5G en France
We torched an Orange mast in the South West; a few miles outside of Bath (UK), to show that we too despise the dodgy technology that promises to enhance our futures, while imprisoning our minds. Solidarity with the six comrades who were arrested for an arson attack on an Orange relay 5-SFR antenna that was burnt in the industrial zone of Douai-Dorignies, France.
Act locally, give solidarity globally….
….especially solidarity with those on the streets across the world who have resisted lock-downs, and pushed beyond the mediated options of social media, to physically attack the racist police, and all the structures that support them.
See you on the streets. Stay safe, stay rowdy.
Tags: 5G, Anti-technology, Arson, Bath, International Solidarity, Orange (Phone Company), Sabotage, Solidarity Action, UK
Posted in Direct Action
Tuesday, September 22nd, 2020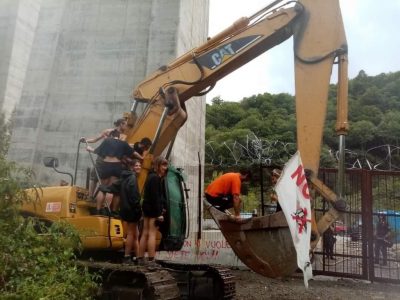 The No TAV campaign in northern Italy has been fighting an expensive, unneeded and corrupt high speed railway link for over three decades. The proposed mafia-linked freight train service from Turin to Lyon has been repeatedly exposed for its fantastical predictions and is slated by local people who see no reason to leave their homes for a white elephant. If you are already thinking about the similarities to HS2 here in England then you are in the right place. I will start by giving a very brief history of No TAV, then an update on recent events. In the second half, I will concentrate on what the Stop HS2 movement can learn from No TAV.
For those who have never heard of the No TAV movement, it is a campaign born thirty odd years ago to resist the construction of a 270 kilometre long high speed railway (Treno di Alta Velocita) between Turin (in Italy) and Lyon (in France). There is widespread opposition on both French and Italian soil, since the railway is a corrupt scheme proposing to transport freight based on fantasy figures and the people who live along the route see no benefit (the train won't be stopping there). They argue that the already existing railway infrastructure should be improved instead. The resistance is greatest in the breathtakingly beautiful Val di Susa (Susa Valley), which stretches from Turin to the Alps for fifty kilometres. In summer, the valley is bright with colours, the blue sky and green grass bisected by the snow on the mountains. It has a unique environment, since one side sees the sun and the other does not. The train line would rip straight through it before entering a tunnel of 57.5 kilometres to France. This tunnel would be longer than the Chunnel and in fact would just squeeze in as the longest rail tunnel in the world, if it ever gets built. Local people are concerned that drilling into the mountains will disturb uranium and asbestos deposts, that mafia construction will lead to health hazards and that the overall economic case for TAV no longer stands up. (more…)
Tags: Ecological Destruction, France, HS2, Italy, Lyon, TAV, Turin, UK, Val di Susa
Posted in Eco Struggle
Wednesday, September 16th, 2020
via: Sans Nom
At around 4am during the night of Thursday September 10, in Otley Road, Bradford (West Yorkshire), a pylon topped with a 5G antenna was set on fire. The fire lit at the foot of the pylon rose right to the summit, destroying everything along the way.
The next day. Given the structural damage to the pylon, it had to be cut in three and disassembled. At least 90 mobile phone antennas have been sabotaged [in the UK] since April and the last period of lockdown, often by fire, according to official figures.
As has now become customary in some countries, vultures and State parrots immediately jumped on the hypothesis of conspiratorial opponents to 5G, while this attack is anonymous and there are plenty of other reasons for taking on this kind of telecommunication structure.
These devices contribute to alienation and the alimentation of this techno-scientific world, that empties our existence and perfects the exercise of power through control. Against all viruses, including that of the technological pandemic, fire is in any case a good remedy. Next!
[summary from the English press, 11 September 2020]
Translated by Act for freedom now!
Tags: 5G, Arson, Bradford, Sabotage, UK
Posted in Direct Action
Monday, September 14th, 2020


Demo – The annual United Families and Friends Campaign rally will take place in London on Saturday 31 October 2020.
via Inquest.
Tags: #BlackLivesMatter, Anti-Prison, Fuck the Police, Kano, London, Police Brutality, Racism, Repression, UK, Video
Posted in Anti-Fascist
Wednesday, September 9th, 2020
De la revista 325 (próximamente en español):
DE | Automatisierung, Robotik und Arbeit in der 4ten und 5ten industriellen Revolution
EN | Automation, Robotics & Labour in the 4th & 5th Industrial Revolutions
Desde que comenzó la primera Revolución Industrial en la década de 1700, las sucesivas revoluciones industriales han afectado profundamente a los trabajadores, a los propios trabajadores, creando incluso el concepto de 'clase trabajadora', cómo vivían, su integración en los agujeros del infierno urbano que avanzaban, las prisiones de las fábricas, molinos y pozos mineros, incluso sus hijos no se libraron de la indignidad, ni siquiera de la muerte de la esclavitud moderna de la época. La industrialización, el resultado de la mecanización en la industria, alimentó la esclavitud moderna y la domesticación de los seres humanos en todos los rincones de los imperios y colonias en expansión, no solo en el resto del planeta vivo. Ahora estamos en la cúspide del comienzo de una 4ta Revolución Industrial (4IR) e incluso una 5ta (5IR) que afectará tan radicalmente nuestro encarcelamiento dentro de la sociedad tecnológica como las hizo en las anteriores. El concepto mismo de trabajo, incluso el trabajo mismo, cambiará más allá del reconocimiento una vez más. Ya en la consiguiente 'pandemia del coronavirus' y en los controles de toque de queda que se han aplicado a miles de millones en todo el mundo, las señales de las próximas revoluciones industriales ya están apareciendo, y se informa que millones perdieron sus empleos en muchos países. (more…)
Tags: 'The Uncivilized', 3D Printing, 4ta Revolución Industrial (4IR), 5G, 5ta Revolución Industrial (5IR), Alfredo M. Bonanno, Analysis, Artificial Intelligence (AI), Automation, Cashless Society, Coronavirus, Drones, Fifth Industrial Revolution, Fourth Industrial Revolution, From Riot to Insurrection, Ingreso Básico Universal, Intelligent Surveillance, Internet of Things, Reino Unido, Repression, Robotics, Surveillance, UK, Universal Basic Income
Posted in Library
Wednesday, September 9th, 2020
From 325 #12:
DE | Automatisierung, Robotik und Arbeit in der 4ten und 5ten industriellen Revolution
ES | Automatización, robótica y mano de obra en la 4ta y 5ta revoluciones industriales
Since the first Industrial Revolution began in the 1700's, successive industrial revolutions have profoundly affected labour, the workers themselves, creating even the concept of the 'working class', how they lived, their integration into the advancing urban hell holes, the prisons of the factories, mills and mining pits, even their children were not spared the indignity, even death of modern slavery of the time. Industrialization, the result of mechanisation in industry, fed modern enslavement and domestication of human beings in every corner of the spreading empires and colonies not just the rest of the living planet.
We are now on the cusp of the beginning of a 4th Industrial Revolution (4IR) and even a 5th (5IR) that will affect just as radically our imprisonment within the technological society as it did in the previous ones. The very concept of labour, even work itself will change beyond recognition once again. Already in the ensuing 'coronavirus pandemic' and curfew controls that have been enforced on billions worldwide, the signals of the coming industrial revolutions are already appearing, with millions being reported to lose their jobs in many countries. (more…)
Tags: 'The Uncivilized', 3D Printing, 5G, Alfredo M. Bonanno, Analysis, Artificial Intelligence (AI), Automation, Cashless Society, Coronavirus, Drones, Fifth Industrial Revolution, Fourth Industrial Revolution, From Riot to Insurrection, Intelligent Surveillance, Internet of Things, Repression, Robotics, Surveillance, UK, Universal Basic Income
Posted in Library
Sunday, August 16th, 2020
Stuart Christie, founder of the Anarchist Black Cross and Cienfuegos Press and co-author of The floodgates of anarchy has died peacefully after a battle with lung cancer.
Born in Glasgow and brought up in Blantyre, Christie credited his grandmother for shaping his political outlook, giving him a clear moral map and ethical code. His determination to follow his conscience led him to anarchism: "Without freedom there would be no equality and without equality no freedom, and without struggle there would be neither." It also led him from the campaign against nuclear weapons to joining the struggle against the Spanish fascist dictator Francisco Franco (1892-1975).
He moved to London and got in touch with the clandestine Spanish anarchist organisation Defensa Interior (Interior Defence). He was arrested in Madrid in 1964 carrying explosives to be used in an assassination attempt on Franco. To cover the fact that there was an informer inside the group, the police proclaimed they had agents operating in Britain – and (falsely) that Christie had drawn attention to himself by wearing a kilt.
The threat of the garotte and his twenty year sentence drew international attention to the resistance to the Franco regime. In prison Christie formed lasting friendships with anarchist militants of his and earlier generations. He returned from Spain in 1967, older and wiser, but equally determined to continue the struggle and use his notoriety to aid the comrades he left behind. (more…)
Tags: Cienfuegos Press, Stuart Christie, UK
Posted in Uncategorised
Tuesday, June 30th, 2020
Akua is Co-founder of Hub and Culture an African and Caribbean cooperative life style shop and event space in Peckham, London, and a psychedelic fashion designer. She's also an advocate of individual therapeutic uses of psychedelics to combat depression, illness and white supremacy racism.
Tags: Akua Ofosuhene, County Lines, Gangs, London, Racism, Repression, UK, War on Drugs
Posted in Cognitive Liberty
Wednesday, June 10th, 2020
PDF: Engaged Combatant (Cover)
PDF: Engaged Combatant (Contents)
This is a collection of poetic ramblings by an anarcho-nihilist hooligan in Bristol, UK.
Forging some kind of weapon by merger metaphors and poetry from lived experiences, an alternative from quick-fix solutions in the fast lane of instant gratification, stolen and twisted out of meaning, into some spiritual sloganeering which hopefully challenges a life of just material band-aid.
The author feels like they are tidying up the loose ends in their mind!
Tags: Bristol, Engaged Combatant (Zine), PDF, UK, Zine
Posted in Library
Sunday, May 31st, 2020
Tags: Bristol, Fuck the Police, George Floyd, Graff, Graffiti, International Solidarity, Police Brutality, Racism, UK, USA
Posted in Direct Action
Sunday, May 31st, 2020
Everyone, everywhere, will be feeling the pinch of lockdown. Nobody has been left untouched and it's not just the direct effects making their mark.
We are seeing the indirect result too.
You will have noticed that many of the already existing problems in our society are being exacerbated. There have been plenty of reports of increased domestic abuse, mental health crises and financial instability to cite but a few examples.
But what has it all meant for the prisoners?
Well, in some senses it's business as usual. Much of the freedom you have temporarily lost, never exists here in the first palace. And many of the freedoms you are relying on to cope, are completely beyond our reach. There are no Zoom parties, Netflix binges or streamed concerts here.
There has been an impact though.
All temporary release has stopped. This is generally used to help re-integrate people back to normal life prior to their full release. This is particularly important for those who have spent a long time in prison.
They now face being dumped at the front gate with no time to adjust and no real support.
All education and other activities have stopped. Some have been working towards qualifications (for many for the first time in their life) and are left wondering was it all for nothing. Potentially, people will be put off further self-development as a result.
All in all, probably the best way to describe prison during Covid in mindless agony made more mindless and agonizing. These days, often monotonous and lacking in purpose, are now intolerably so. As a result, there is a real danger of a spike in terms of mental illness and drug addiction. And the situation was already far from okay.
Unless, or until, we can access reliable data on things like suicide and self-harm, we won't be able to assess the damage. But be under no illusion, there will be damage. Unfortunately, by the time the information becomes available, it may be too late.
Although you still have your modern luxuries to help you cope, some insight into our experiences is possible. Next time you use the internet, your smart phone or relax in your garden with your family, reflect that we don't have that privilege. For just a second, put yourselves in our shoes.
John Paul Wootton
To write to the comrade:
John Paul Wootton
HM Prison Maghaberry
17 Old Road,
Lisburn BT28 2PT, UK
For more information on John Paul Wootton see
https://325.nostate.net/tag/craigavon-2/
Tags: Coronavirus, Craigavon 2, Ireland, John Paul Wootton, Letter, Northern Ireland, UK
Posted in Prison Struggle
Sunday, April 19th, 2020
ES | PAÍSES BAJOS Y REINO UNIDO: OLEADA DE SABOTAJES ANTI-5G
According to corporate media over the last fortnight a wave of arson attacks took place in the Netherlands against cellular phone repeaters. The last reported by the corporate media took place in Groningen. "Fuck 5G" was written at one site. The actions did not appear to be claimed. At least 15 attacks took place according to the info issued by the Dutch government through the media. Apparently the first fire was in Beesd on April 4. Since then transmission masts were also torched in Neerkant, Rotterdam, Nuenen, Dronten, Groningen, Oudenbosch, Veldhoven, Tilburg, and Almere. Reportedly, none of the antenna were 5G carriers, being 2G, 3G and 4G masts. Police reported that the method of sabotage was similar at each site. One instigator of the Groningen fire was caught on surveillance camera. Reportedly, European law enforcement officials are being pulled off terrorism cases in order to investigate arson attacks against 5G cellphone towers. The anti-5G arson attacks which initially took place in UK have sparked a blaze of attacks across Europe and beyond.
The Dutch security services started an anti-terrorist investigation covering the attacks. Further information and reports about the specifics of the actions are scarce. Dutch Prime Minister Mark Rutte was forced to make a statement about the anti-5G sabotage as the Dutch regime could not ignore it any longer. The sabotage seriously weakens the ability of the state to respond during a heightened moment of instability due to the coronavirus. Telecommunications industry companies are engaged in a public relations battle about the anti-5G actions and the implications for the expansion of 5G and the 'Internet of Things'.
According to UK authorities and mobile companies another 20 attacks against 5G masts took place in UK over the Easter weekend. Arsons were reported in England, Wales and Scotland over the bank holiday – and follow others the previous weekend. Additional incidents were reported on Tuesday. So far 53 attacks have taken place from media news reports. Corporations continue with a joint media offensive to discredit the attacks, blaming them on the results of "misinformation" spread by "conspiracy theorists" and bot networks controlled by state actors such as Russia, Iran and others. Phone company EE issued a statement that it will be increasing security at high-risk sites. They said that guards who are patrolling those sites are being supplied with body cameras and are being instructed to alert local police. All of the communications industry companies had their infrastructure hit in the arson attacks.
Sabotage the Techno-Industrial System!
Tags: 5G, Anti-technology, Arson, EE (Phone Company), Internet of Things, Netherlands, Sabotage, Technological Singularity, UK
Posted in Direct Action