Posts Tagged 'UK'
Monday, April 18th, 2016
From a comrade of ABC Brighton:
March 17
A secret world exists within the high security prison estate in England, known as the Close Supervision Centre (CSC) system. It is notorious amongst the few who know of it, a place only the most unfortunate men ever see. Reports of serious mistreatment and torture are routine from the victims detained within the CSC, but almost nothing is ever done about the biggest demonstration of inhumanity to take place in this country.
In order to excuse this torture chamber, the dehumanization of CSC prisoners begins at a very early stage of official justifications for the creation of the CSC system, which focus on the need to contain a new breed of unmanageable and unpredictable risks. It continues with the creation of classificatory categories of 'dangerousness' which objectify prisoners and make more of the category and less of the human in them, and it is reinforced by the tightly controlled and highly regulated routines in CSC's, treating prisoners as highly dangerous creatures, capable of superhuman acts of violence – not quite human and in need of the extreme oppression the CSC provides.
When it comes to the 'worst of the worst', isolation is wrongly seen as a necessity but insufficient measure by prison management. In addition to isolation and extremely restricted movements, prisoner in-cell provisions and their belongings are carefully regulated and subjected to relentless scrutiny and inspection. (more…)
Tags: Close Supervision Centre CSC, Demo, Isolation, Kevan Thakrar, UK
Posted in Prison Struggle
Friday, April 8th, 2016
From AFN:
Today, anti-fascists from across the country stood in solidarity with locals from around Dover to oppose neo-nazis and assorted far-right rejects who descended on the town, once more openly flying fascist flags and seig heiling.
The AFN had organised coaches from across the country, with groups traveling from Brighton, Berkshire, Oxford, Bristol, Portsmouth and London amongst others. London2Calais also organised transport, as did the UAF. We were met in Dover by a large contingent of locals organised by the Kent Anti-Racism Network.
All in all, around 350 antifascists gathered around a KARN aid convoy to Calais, which, after being filled with donations from locals, was to be sent to the port. (more…)
Tags: Antifa, Demo, Dover, Migrant Struggle, Neo-Nazis, Racism, UK
Posted in Anti-Fascist
Tuesday, March 29th, 2016
Anti-fascist demo called by Kent Anti-Racist Network to counter violent neo-nazi and far-right nationalist groups who are making a demo themselves in the town.
Stop the Nazis marching – Dover 2 April, 11am
The neo-Nazi South East Alliance (SEA) and others have announced a 'Unity' march through Dover on Saturday 2 April.
These groups left a trail of violence and vandalism in the town when they last marched on January 30. They are seig-heiling Hitler-loving neo-Nazis that try whip up hatred and intolerance. They have no support in the town, but bring their hatred to our community, pretending to care about locals and lorry drivers. They are the British equivalent of the groups in Europe that are attacking and murdering migrants. (more…)
Tags: Antifa, Demo, Dover, Migrant Struggle, Neo-Nazis, Racism, UK
Posted in Anti-Fascist
Tuesday, March 29th, 2016
"Unconditional real love for all mankind" Asad Shah
A "popular, well respected and much loved" Ahmadiyya Muslim man, Asad Shah, who ran a local shop in the Shawlands area of Glasgow was murdered 9pm, 24th March, hours after posting messages of peaceful tolerance online and giving out chocolate Easter eggs to his customers. Asad was brutally stabbed to death and had his head stamped on in front of his own brother outside his shop, by a 32 year old sectarian Islamist fanatic who had travelled 200 miles from Bradford to slay Asad. One man from the gym next to Asad's shop, was also injured during the attack on Asad. Afterwards there was a big outpouring of grief and respect for Asad, with a gathering in the street, tribute of flowers laid and call for unity. More than £87,000 has been raised to support the family of Asad.
Asad belonged to the Ahmadiyya Muslim faith which faces sectarian bigotry from many reactionary and orthodox Muslims and has suffered violence at their hands in those countries. Asad was known to create his own Christmas cards each year for his friends and customers and was very beloved in the community.
"Asad was a humble, gentle man – he did not deserve this. He was also a very social man, always laughing. A real gentleman." Sister of Asad Shah
Tags: Ahmadiyya Muslim faith, Asad Shah, Glasgow, Islamism, Scotland, UK
Posted in Anti-Fascist
Thursday, March 24th, 2016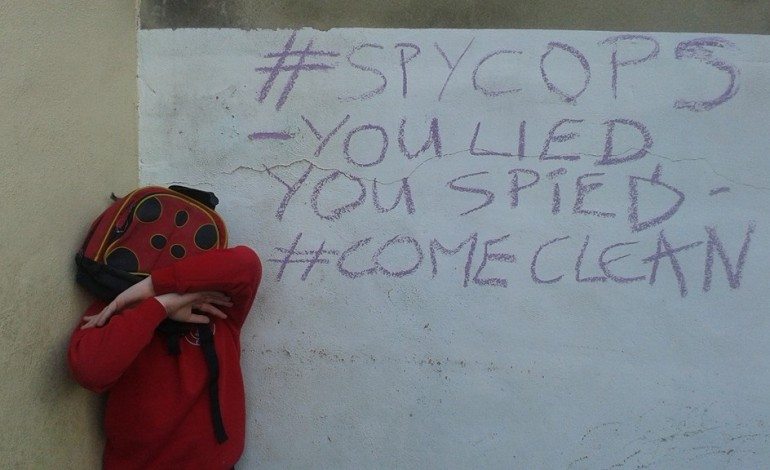 From The Canary:
The Undercover Policing Inquiry, chaired by Lord Justice Pitchford, resumed this week with legal arguments being made by the police which, if implemented, would essentially mean most of the inquiry being held in secret. Central to their position is a continuation of the policy of neither confirming nor denying (NCND) whether a person was an undercover officer.
However, whilst the lawyers for the police have been arguing that revealing the identities of officers would infringe their Article 8 right to privacy and family life, The Canary can reveal that police officers have been recording details of activists' young children.
Mae Benedict put in a Subject Access Request to find out what information the domestic extremist units held on her. She believed she might have a file as she had been arrested in the past for environmental activism. She had also been close to the only known female undercover officer, Lynn Watson. However, she was shocked to discover her file left out details of "several arrests and a conviction" but contained details of her young child:
It made me furious that my kid is on a police file already, and mostly it was really intrusive. Instead of details of when I HAD been found guilty of a crime, the focus instead was on me as a parent, and, by default, my child as a child of mine. (more…)
Tags: #Spycops, Bob Lambert, Fuck the Law, Fuck the Police, Lynn Watson (Undercover Cop), Repression, UK, Undercover Police
Posted in Social Control
Thursday, March 24th, 2016
Libcom & Aufheben – Snitches, collaborators and enemies…
Three years ago a small scandal took place when the Greek group TGTP published in an open letter that the co-founder of Aufheben, John Drury, lead workshops for the police and military and is known as a "provider of ideas" in these circles. These workshops took part within the framework of his academic career researching Crowd Control, mass panics and rescue operations. Together with his closest colleagues Stott and Reicher he has developed the Elaborated Social Identity Model (ESIM). The social psychologist Stott is renowned to be one of the globally leading experts for protests and violent uprisings. ESIM claims that a 'mob' acts according to certain patterns: people in a crowd have individual thoughts and emotions, so when the crowd is attacked indifferently by the police, people act in solidarity with each other and resist together. Therefore ESIM advices that the police should proceed in a multi-levelled approach and extract 'individual perpetrators' from the crowd. Using such kind of methods, Stott coordinated security preparations for the European football cup in Poland and Ukraine in 2012. (for more details see both open letters by TPTG)[1]
Aufheben is a group from Brighton, which publishes one of the few collectively produced magazines of the radical left in England. The magazine consists of mainly long articles tackling fundamental questions (what was the Soviet Union, decadence theory, "Green New Capitalism" etc.). They often deal with similar subjects as us (theory of the oil rent, criticism of Negri's autonomist marxism, debate about Beverly Silver's book). We have translated some of their articles (21st century Intifada, criticism of the commons thesis by Massimo de Angelis, Dole Autonomy) and have criticised them at certain points (e.g. in wildcat 89, "The oil rent, Ricardians amongst themselves"). We share similar positions when it comes to the issues of working-time reductions and guaranteed income. During the end of the 90s we initiated a closer collaboration with Aufheben and other collectives in Europe, which ultimately failed.
Therefore the revelation about John Drury came as quite a shock – which in itself would not have been a reason to write in Wildcat about it. But the way the debate about this case was lead within the left-communist scene in Europe has initially left us speechless. Most of the people shook it off ("let's move on") or attacked those who had made these scandalous facts public. (more…)
Tags: Aufheben, Clifford Stott, John Drury, Libcom, Repression, UK, Wildcat (Germany)
Posted in Social Control
Tuesday, March 22nd, 2016
Attacking UK's coal transport system – Severing the lines that feed the machine
Severing the lines that feed the machine is not impossible. When people take up civil uprising in the UK, if people are able to shove their obligations to one side to open up an avenue, they mainly have the ability and possibility to be able to grasp their will for something new. The war is not over when those moments stop, it sparks up in little raptures here and there, showing that we are not crushed, things can be brought to a grinding halt again, even for a split second.
It just takes a few bright spirits and we see it clear, when the smug confidence of authorities is knocked, a few pins get hit out and things can be seen in a different light. Out of synch and off balance, everything no longer appears structurally sound, life feels more up for grabs.
The new horizon peaked through our cloudy day, Sunday 6th March, and we hope this uncomplicated act of sabotage we have undertaken exposes the vulnerability of their complex matrix.
We took a risk assessment and as night just started to close in we entered the 1st railway tunnel, we cut both lines with a portable disc cutter, we didn't imagine de-railing a locomotive but wrecking disruption and economic damage (time is money). We entered a 2nd and did a further two cuts, marking them all with pink paint, and leaving a banner as a warning. (more…)
Tags: Anti-Coal, Avon Gorge, Avonmouth, Bristol, Sabotage, UK
Posted in Eco Struggle
Monday, March 21st, 2016
Stop the Cover-Up of Secret Police Abuses
Demo – Tuesday 22 March
9 – 10am Royal Courts of Justice
The Strand
London
Spycops inquiry: 'If it's in secret, it's dead in the water'
Following the exposure of police spy Mark Kennedy in 2010, activists and journalists slowly began to lift the lid on political policing in Britain. Their investigations found that the state had used undercover officers to infiltrate hundreds of political groups to surveil their activity and attempt to undermine dissent.
We now know that officers commonly used intimate relationships with targets as a tactic, stole the identities of dead children, spied upon families fighting for justice following the death of loved ones in police custody, and lied in court to secure convictions against activists. Disturbingly, internal investigations by state agencies over the same period revealed little.
In 2012, Mark Ellison QC conducted an independent review into police corruption during the Stephen Lawrence murder investigation. The findings were damning. Following increased public pressure, the Home Secretary announced an independent public inquiry into undercover police operations. Lord Justice Pitchford was appointed to lead the Inquiry. (more…)
Tags: Fuck the Law, Mark Kennedy (Undercover Cop), Repression, UK
Posted in Social Control
Friday, March 11th, 2016
Fuck you all, it's the Fuck Parade
Meet Sunday 1st May 2016, 6pm @ One Commercial Street, Aldgate, London E1 7PT. Bring what you expect to find.
http://fuckparade.wordpress.com
Tags: 1st May, Demo, Fuck McDonalds, Fuck the Church, Fuck the Law, Fuck the Mainstream Media, Fuck the Police, Fuck the Queen, Fuck Work, Fuck You Tesco, London, UK
Posted in Direct Action
Wednesday, March 9th, 2016
From Winter Oak:
If there is one present-day current of thought that stands out as even more repugnant than all the other repugnance of industrial capitalism, it is transhumanism.
For those who have not come across it before, this is a warped ideology that wants to physically merge humans and industrial technology, with the "dream" of abolishing mortality and creating a super-race of cyborgs or Daleks.
Whether or not this is ever likely to come true is pretty much beyond the point – the transhumanists are dangerous simply in that they are promoting a way of thinking, a way of envisaging the future, that is completely bound up with the extension of industrial capitalism and, of course, completely against any idea of caring about the living planet.
The transhumanists form part of an ultramodern neoliberal cult – also worryingly infecting supposedly "radical" circles – which regards the very idea of "nature" as out of date and builds its cold worldview on a fetish for all that is false, artificial, inhuman. (more…)
Tags: Acorn, Anti-technology, Didier Coeurnelle, France, Lyons, Technological Singularity, Transhumanism, UK
Posted in Eco Struggle
Thursday, February 25th, 2016
February 24 2016: The eco-activists known as the 'Heathrow 13' were today sentenced to six weeks suspended for 12 months for aggravated trespass at Heathrow Airport in July 2015. The eco-activists had made a direct action blockade of the runway to highlight the destructive effect of man-made climate-change, particularly against the ongoing effect of emissions at Heathrow Airport, which led them to occupy the airport's north runway on 13 July 2015 causing up to 25 flights to be cancelled.
Tags: Blockade, Climate Chaos, Heathrow Airport, Repression, Trial, UK
Posted in Eco Struggle
Tuesday, February 2nd, 2016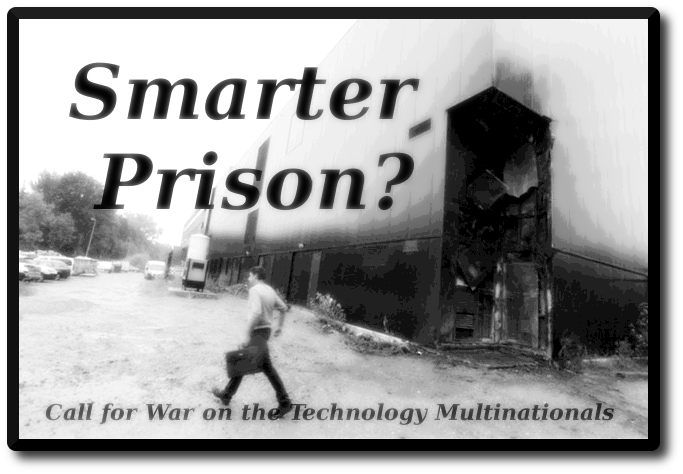 Submitted to Return Fire in the last month of 2015, as part of the challenge to create diverse Black December activities. Return Fire take full responsibility for delaying publication while we awaited corrections, which we now amended into the text and formatted for release. Big love from our trench to the comrades standing proud in the Turin courts around this very time. Shouts to the fighters who carry on beyond the Black December timeframe and harry the dominators in all corners of our lives. Freedom. R.F.
– solidarity with Silvia, Costa & Billy
Note from Return Fire: We transcribed the following essay, submitted by 'Radical Interference', which unfortunately cannot fit into our upcoming Volume 3 (Winter 2015-2016). We are happy to see that the invitation from the Greek dungeons for a Black December campaign (to re-intensify our insurrectionary fervour while not forgetting to "exchange experiences and rationales around various topics of struggle") was taken up in this form, so as to broaden and develop the offensive against modern domination. Solidarity and strength to Silvia, 'Costa', 'Billy', Marco, Adrián, Nicola and Alfredo, and to the rest of the comrades in our struggle. In the spirit of 'Avalon'; always present in our memories and active hands. Let's extend the energy of Black December beyond the New Year, through the trial that starts in January and the proposed week of mobilisation, and onwards on the path of total liberation. Winter Solstice, 2015
INTRODUCTION AND DEDICATION IN ANTICIPATION OF THE TRIAL ON 13th JANUARY 2016
At this time, as the wheels of this monstrous society continue to grind on, and the scattered insurgents make to throw what they can beneath the tracks to slow it down in whatever way, we are left with some questions. These are questions that, in our opinion, deserve more thought and provocation than they usually assume in the circles of anarchists, rebels and land-defenders. Namely; it is clear that mobilisations (independent of any timeframe), such as those for our imprisoned or fallen, are a practical necessity in order to constitute diverse forces that are ready to face and understand the consequences of any struggle that materially contests the ruling order; in other words, so that repression lessens in its power to stop us in our own tracks. (more…)
Tags: Analysis, Black December, Costantino Ragusa, Luca Bernasconi, Radical Interference, Return Fire, Silvia Guerini, UK
Posted in Library
Saturday, January 30th, 2016
Since my arrival at Wakefields Close Supervision Centre (CSC), I have experienced something unlike any other prison in the pure extent of the blatant racism which is encouraged by prison officers. Benefits and bonuses are given to racist prisoners, whilst others are kept in total isolation from each other and there is little action which can be taken against the culprits.
For several weeks now the racist Islamaphobic prisoner Nathan Livesy from Manchester has been the main perpetrator of these attacks. Currently undergoing an assessment for his suitability for selection onto the CSC system following slashing another prisoners face at HMP Manchester, and expulsion from Ashworth High security hospital due to his predatory behaviour, Livesy is looking for any way possible to please his captors. He has taken to squirting urine and spitting out of the window onto the ethnic minorities which the officers deliberately place in the exercise cage directly adjacent to his cell, as well as continuously abusing them whilst the officers stand by laughing. Having made open threats to "kill the first Muslim" he sees, Livesy believes he will be returned to normal location in order to carry out his plan.
(more…)
Tags: Close Supervision Centre CSC, HMP Wakefield, HMP Woodhill, Kevan Thakrar, Letter, Racism, UK
Posted in Prison Struggle
Friday, January 29th, 2016
25 January 2016
The Heathrow 13 were today found guilty at Willesden Magistrates' Court of
aggravated trespass and being in an unauthorised area of Heathrow Airport in summer
2015. Sentencing has been adjourned until Wednesday, 24th February and the
defendants bailed until then.
The defendants were taking direct action against the ongoing effect of emissions at
Heathrow Airport and occupied the airport's north runway on 13 July 2015 causing up
to 25 flights to be cancelled.
Tags: Airport, Blockade, Climate Chaos, Heathrow Airport, Trial, UK
Posted in Eco Struggle
Friday, January 29th, 2016
PDF: Squatters of London Action Paper (SLAP!) 1st Edition

Please spread & repost!
Tags: London, PDF, Squatters of London Action Paper - SLAP!, Squatting, UK, Zine
Posted in Library