Posts Tagged 'UK'
Tuesday, February 2nd, 2016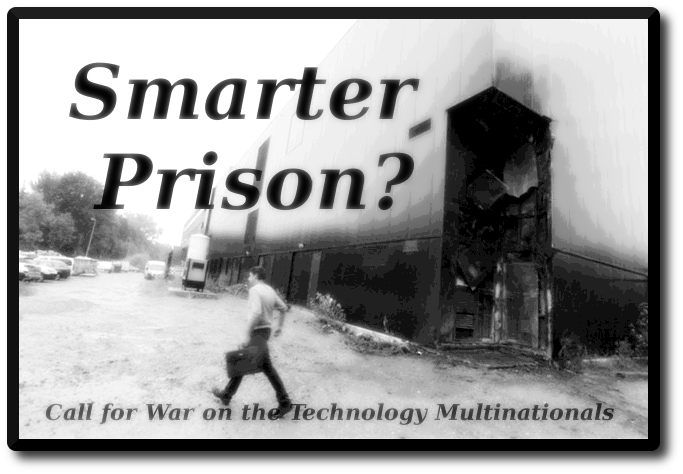 Submitted to Return Fire in the last month of 2015, as part of the challenge to create diverse Black December activities. Return Fire take full responsibility for delaying publication while we awaited corrections, which we now amended into the text and formatted for release. Big love from our trench to the comrades standing proud in the Turin courts around this very time. Shouts to the fighters who carry on beyond the Black December timeframe and harry the dominators in all corners of our lives. Freedom. R.F.
– solidarity with Silvia, Costa & Billy
Note from Return Fire: We transcribed the following essay, submitted by 'Radical Interference', which unfortunately cannot fit into our upcoming Volume 3 (Winter 2015-2016). We are happy to see that the invitation from the Greek dungeons for a Black December campaign (to re-intensify our insurrectionary fervour while not forgetting to "exchange experiences and rationales around various topics of struggle") was taken up in this form, so as to broaden and develop the offensive against modern domination. Solidarity and strength to Silvia, 'Costa', 'Billy', Marco, Adrián, Nicola and Alfredo, and to the rest of the comrades in our struggle. In the spirit of 'Avalon'; always present in our memories and active hands. Let's extend the energy of Black December beyond the New Year, through the trial that starts in January and the proposed week of mobilisation, and onwards on the path of total liberation. Winter Solstice, 2015
INTRODUCTION AND DEDICATION IN ANTICIPATION OF THE TRIAL ON 13th JANUARY 2016
At this time, as the wheels of this monstrous society continue to grind on, and the scattered insurgents make to throw what they can beneath the tracks to slow it down in whatever way, we are left with some questions. These are questions that, in our opinion, deserve more thought and provocation than they usually assume in the circles of anarchists, rebels and land-defenders. Namely; it is clear that mobilisations (independent of any timeframe), such as those for our imprisoned or fallen, are a practical necessity in order to constitute diverse forces that are ready to face and understand the consequences of any struggle that materially contests the ruling order; in other words, so that repression lessens in its power to stop us in our own tracks. (more…)
Tags: Analysis, Black December, Costantino Ragusa, Luca Bernasconi, Radical Interference, Return Fire, Silvia Guerini, UK
Posted in Library
Sunday, January 31st, 2016
From Rabble:
Anonymous submission. Note: we have made one edit to the content, the author can contact us if they want to discuss this.
Words without actions are nothing but corpses rotting in the mouths of those "charming and sophisticated" ones, ever ready to smear and drown out the insurrectional project of anarchists of praxis with speech.
Actions without words will never be enough to address and confront our daily struggles for individual liberation and autonomy, for it is with both the pen and the sword, theory and practise, that one is properly armed to give context and coordination to our struggles, to share solidarity and proposals in the most unmediated form, the direct attack against civilisation.
When attacks against the world of power are not claimed or publicised, the potential for spreading radical discussion, tactics and solidarity between whoever is interested is negated. Thus the aims to build a reciprocal, polymorphous and dynamic anarchist offensive is hindered, and the knowledge of so many attacks are lost to the void of clandestinity. (more…)
Tags: Anti-Surveillance Front / Incendiary Nomad Cell / F.A.I, Brighton, Informal Anarchist Federation (FAI), Sabotage, UK
Posted in Direct Action
Saturday, January 30th, 2016
Since my arrival at Wakefields Close Supervision Centre (CSC), I have experienced something unlike any other prison in the pure extent of the blatant racism which is encouraged by prison officers. Benefits and bonuses are given to racist prisoners, whilst others are kept in total isolation from each other and there is little action which can be taken against the culprits.
For several weeks now the racist Islamaphobic prisoner Nathan Livesy from Manchester has been the main perpetrator of these attacks. Currently undergoing an assessment for his suitability for selection onto the CSC system following slashing another prisoners face at HMP Manchester, and expulsion from Ashworth High security hospital due to his predatory behaviour, Livesy is looking for any way possible to please his captors. He has taken to squirting urine and spitting out of the window onto the ethnic minorities which the officers deliberately place in the exercise cage directly adjacent to his cell, as well as continuously abusing them whilst the officers stand by laughing. Having made open threats to "kill the first Muslim" he sees, Livesy believes he will be returned to normal location in order to carry out his plan.
(more…)
Tags: Close Supervision Centre CSC, HMP Wakefield, HMP Woodhill, Kevan Thakrar, Letter, Racism, UK
Posted in Prison Struggle
Friday, January 29th, 2016
25 January 2016
The Heathrow 13 were today found guilty at Willesden Magistrates' Court of
aggravated trespass and being in an unauthorised area of Heathrow Airport in summer
2015. Sentencing has been adjourned until Wednesday, 24th February and the
defendants bailed until then.
The defendants were taking direct action against the ongoing effect of emissions at
Heathrow Airport and occupied the airport's north runway on 13 July 2015 causing up
to 25 flights to be cancelled.
Tags: Airport, Blockade, Climate Chaos, Heathrow Airport, Trial, UK
Posted in Eco Struggle
Friday, January 29th, 2016
PDF: Squatters of London Action Paper (SLAP!) 1st Edition

Please spread & repost!
Tags: London, PDF, Squatters of London Action Paper - SLAP!, Squatting, UK, Zine
Posted in Library
Friday, January 29th, 2016
From Police Spies Out of Lives:
On Friday 15th January 2016, the Metropolitan Police withdrew their defence in a case brought against them over undercover police relationships. In a significant development at the High Court, the police asked for judgment to be entered against them in respect of the claims for deceit, assault/battery, misfeasance in public office and negligence.
The claim had been brought by Kate Wilson, who was deceived into a 2-year relationship with undercover officer Mark Kennedy. The successful claim states that supervising officers had been negligent and had acted improperly in causing or allowing the relationship to happen.
The implication of this judgment is that the actions of Mark Kennedy "were undertaken with the express or tacit knowledge of other police officers employed by [the Metropolitan Police]". Supervising and managing officers "knew that [Mark Kennedy] was abusing the power that he was given as an undercover police officer", and their failure to act on this knowledge was "unlawful and in abuse of their own duties as supervisors and managers of [Mark Kennedy's] undercover activities." (more…)
Tags: UK, Undercover Police
Posted in Social Control
Sunday, January 24th, 2016
Tags: Antifa, Birmingham, Demo, Pegida UK, Racism, UK
Posted in Anti-Fascist
Wednesday, January 20th, 2016
PDF: Genesis P-Orridge – Esoterrorist
It is always difficult to know what to say when one introduces new ideas to the public, particularly when such ideas run against the grain of established thought. The work and writings of Genesis P-Orridge are no exception to this rule.
The writings in this volume are by no means the collected output of one who has spent their entire adult life publicly questioning inherited values and thought patterns, rather, this is a representation of their work spanning the later Throbbing Gristle era (ca. 1980) through about 1988. No attempt has been made to collate the pieces either chronologically or by subject, it seems preferable to offer them in random order. Thus, it is not essential to read them sequentially – pick up the book, thumb through the pages until something arouses your interest, then read that article or passage.
Tags: Esoterrorist, Genesis P-Orridge, Industrial Music, PDF, UK
Posted in Cognitive Liberty
Tuesday, January 19th, 2016
Investigating division and conflict amongst the poorest and most oppressed as a means of control has always been a favoured strategy of the ruling class and within it's prisons (the laboratories of oppression) where the most disempowered experience naked repression the weapon of divide and conquer is sometimes used with murderous effect.
Within the British prison system there exist prisons within prisons, places of concentrated repression where "troublemakers" and those who fight back are sent to be broken, and where those who inflict the repression encourage prisoners to take the rage created by that repression out on each other, thereby generating an unending cycle of violence, which is used to justify the use of even greater repression. (more…)
Tags: Close Supervision Centre CSC, HMP Wakefield, HMP Woodhill, John Bowden, Kevan Thakrar, Letter, UK
Posted in Prison Struggle
Tuesday, January 12th, 2016
via RabbleLDN, also see – "Schedule 7″ – Important Advice for Anarchists Travelling To/From the UK.

Bristol Anarchist Chases Away Counter-Terror Police
Today at Stansted Airport, plainclothes police officers pulled aside a travelling anarchist (Tim from Bristol) and seemingly sought to coerce him into becoming an informant with a combination of intimidation, veiled threats, and offers of free alcohol. But when he started recording the officers on his mp3 player they quickly terminated the exchange and made a sharp exit.
He believes he was targeted by counter terror police because of his Anarchism, stating: "Anarchism is about ordinary people standing up to the rich and powerful – exactly what the police are there to prevent. These people claim to be protecting us, but they spend most of their time blacklisting trade unionists, spying on activists and harassing ethnic minorities."
Here's his full account of what happened today:
"As I was leaving the EU e-passport gate about 1pm today, I was approached by a man who came out from behind the desk to the left. He was a similar height to me, with short light brown hair/beard, and a light northern English accent. He said "Hi Tim, I'd like to have a word with you. I think you know what this is about". I got my phone out and called a friend as soon as he started speaking. I told him I had a phone call which I needed to take. A man who had approached in the mean-time from the right, wearing a grey suit-jacket, asked me to turn my phone off. I repeated that I had to take the call. When my friend picked up I asked them to call my solicitor. (more…)
Tags: Bristol, Fuck the Police, Police Bastards, Repression, Schedule 7, UK
Posted in Social Control
Saturday, December 5th, 2015
31/12/2015
NYE Prisoner solidarity demonstration beginning at
8:00 pm Pentonville
then moves onto
9:30 pm Holloway
START ADDRESS: HMP Pentonville,Caledonian Rd, London N7 8TT
BRING NOISE MAKERS
http://network23.org/londonabc/2015/12/01/2015-nye-london-prisoner-solidarity-demo/

This is also in solidarity with comrades from Greece
Comrades coming from various geographies and different paths of
struggle, yet having the same longing for the diffusion of anarchist
offensive, support the call for a Black December
Tags: ABC London, Black December, Demo, London, UK
Posted in Prison Struggle
Thursday, November 26th, 2015
Tags: Facom Unit, France, Spiral Tribe, UK
Posted in Library
Saturday, November 21st, 2015
Silhan Özçelik, an 18 year-old Kurdish woman from London, has been convicted of trying to go abroad join the PKK. Silhan has been held on remand in Holloway prison since January charged with 'engaging in conduct in preparation to for giving an effect to an intention to commit acts of terrorism' under section 5 (10)(a) of the Terrorism Act 2006. It's apparently the first time a British person has been convicted for trying to join the PKK.
Silhan was sentenced to 21 months in prison. If her prison details come through, we'll post them here.

via rabbleLDN.
Tags: Kurdistan, PKK (Kurdish People's Party), Repression, Shilan Ozcelik, UK, War
Posted in Social Control
Wednesday, November 18th, 2015
John Hirst, the chief executive of Destination Bristol, the former manager of the Galleries shopping mall has a job that is about distraction through consumption. While many of us are stuck elbowing each other out the way to get the elusive best deal, buying stuff we don't really need and sinking deeper into debt in a vain attempt to feel like we're doing ok, John and his business class are doing very nicely. They get expensive cars and exotic holidays and we get bailiffs and debt recovery. One thing we do share is a planet on the brink of ecological collapse due to destructive mass consumerism championed and toasted by people like John. He claims he cycles 100 miles each week and is keen to show off how he does his bit for charities, but presides over the accelerating privatisation and corporate control of our city, the encroaching concretisation of green spaces like Castle Park and ever more CCTV surveillance of our every move. No dogs, no skaters, no street drinking, no street stalls, no demonstrations… the list goes on and quickly ends up as no unlicenced anything. Nothing without permission and nothing without payment.
John may be all smiles about making good business for Bristol but as always the wealth creation is only good for a few; the winners, like John. For most of us, the losers, it means getting trampled on by the needs of the rich and forced to work harder to pay so much more for everything. There's a lot of us but we're not all defeated and although we don't dress as sharply as Lord John, we too can get things done.
On the night of Sunday 15th November we visited his posh (easily over half a million £!) house in quiet, suburban Downend to give some rewards of capitalism. As a reminder of all the shit jobs and environmental mess and as a contribution to the upcoming international day of action against consumerism, we left animal waste and coat hangers all over John's garden and cars. Punctured tyres and spraypaint on his sports Jaguar and her Range Rover showed our contempt for his easy money and how John and his friends make their wealth at everyone else's expense. Now we're wondering if King Georgie red trousers [clownish leftie Mayor of Bristol] has a 24/7 bodyguard…
Tags: Bristol, Destination Bristol, Downend, John Hirst, UK, Vandalism
Posted in Direct Action
Sunday, November 15th, 2015
Received from Squatters and Homeless Autonomy Collective:
Coming to Terms
In Camden, an eight-month squat is evicted by pigs and three are arrested under Section 144, the 2012 ban on residential squatting. A man in a SUPPORT YOUR LOCAL SQUAT t-shirt waits for NELSN to forward a text. Two arrive from a council-estate squat further north. Builders begin to secure the building. Against Section 144, against increasing precarity and repression, broken self-identity and fractured organisation, London squatting seems to have begun a coming-to-terms.
Attempts to surround the fragility of the squat scene with nostalgia have come thick and fast: Remember the Squatters' Union; remember unrestricted residential squatting; remember squatters' rights. As ever this nostalgia is a thinly disguised dose of forgetfulness: Squatting has always meant struggle; and no mourning for a golden age can deny the permanence of our struggles and the permanent need to politicise them. (more…)