Posts Tagged 'UK'
Tuesday, March 22nd, 2016
Attacking UK's coal transport system – Severing the lines that feed the machine
Severing the lines that feed the machine is not impossible. When people take up civil uprising in the UK, if people are able to shove their obligations to one side to open up an avenue, they mainly have the ability and possibility to be able to grasp their will for something new. The war is not over when those moments stop, it sparks up in little raptures here and there, showing that we are not crushed, things can be brought to a grinding halt again, even for a split second.
It just takes a few bright spirits and we see it clear, when the smug confidence of authorities is knocked, a few pins get hit out and things can be seen in a different light. Out of synch and off balance, everything no longer appears structurally sound, life feels more up for grabs.
The new horizon peaked through our cloudy day, Sunday 6th March, and we hope this uncomplicated act of sabotage we have undertaken exposes the vulnerability of their complex matrix.
We took a risk assessment and as night just started to close in we entered the 1st railway tunnel, we cut both lines with a portable disc cutter, we didn't imagine de-railing a locomotive but wrecking disruption and economic damage (time is money). We entered a 2nd and did a further two cuts, marking them all with pink paint, and leaving a banner as a warning. (more…)
Tags: Anti-Coal, Avon Gorge, Avonmouth, Bristol, Sabotage, UK
Posted in Eco Struggle
Monday, March 21st, 2016
Stop the Cover-Up of Secret Police Abuses
Demo – Tuesday 22 March
9 – 10am Royal Courts of Justice
The Strand
London
Spycops inquiry: 'If it's in secret, it's dead in the water'
Following the exposure of police spy Mark Kennedy in 2010, activists and journalists slowly began to lift the lid on political policing in Britain. Their investigations found that the state had used undercover officers to infiltrate hundreds of political groups to surveil their activity and attempt to undermine dissent.
We now know that officers commonly used intimate relationships with targets as a tactic, stole the identities of dead children, spied upon families fighting for justice following the death of loved ones in police custody, and lied in court to secure convictions against activists. Disturbingly, internal investigations by state agencies over the same period revealed little.
In 2012, Mark Ellison QC conducted an independent review into police corruption during the Stephen Lawrence murder investigation. The findings were damning. Following increased public pressure, the Home Secretary announced an independent public inquiry into undercover police operations. Lord Justice Pitchford was appointed to lead the Inquiry. (more…)
Tags: Fuck the Law, Mark Kennedy (Undercover Cop), Repression, UK
Posted in Social Control
Friday, March 11th, 2016
Fuck you all, it's the Fuck Parade
Meet Sunday 1st May 2016, 6pm @ One Commercial Street, Aldgate, London E1 7PT. Bring what you expect to find.
http://fuckparade.wordpress.com
Tags: 1st May, Demo, Fuck McDonalds, Fuck the Church, Fuck the Law, Fuck the Mainstream Media, Fuck the Police, Fuck the Queen, Fuck Work, Fuck You Tesco, London, UK
Posted in Direct Action
Wednesday, March 9th, 2016
From Winter Oak:
If there is one present-day current of thought that stands out as even more repugnant than all the other repugnance of industrial capitalism, it is transhumanism.
For those who have not come across it before, this is a warped ideology that wants to physically merge humans and industrial technology, with the "dream" of abolishing mortality and creating a super-race of cyborgs or Daleks.
Whether or not this is ever likely to come true is pretty much beyond the point – the transhumanists are dangerous simply in that they are promoting a way of thinking, a way of envisaging the future, that is completely bound up with the extension of industrial capitalism and, of course, completely against any idea of caring about the living planet.
The transhumanists form part of an ultramodern neoliberal cult – also worryingly infecting supposedly "radical" circles – which regards the very idea of "nature" as out of date and builds its cold worldview on a fetish for all that is false, artificial, inhuman. (more…)
Tags: Acorn, Anti-technology, Didier Coeurnelle, France, Lyons, Technological Singularity, Transhumanism, UK
Posted in Eco Struggle
Thursday, February 25th, 2016
February 24 2016: The eco-activists known as the 'Heathrow 13' were today sentenced to six weeks suspended for 12 months for aggravated trespass at Heathrow Airport in July 2015. The eco-activists had made a direct action blockade of the runway to highlight the destructive effect of man-made climate-change, particularly against the ongoing effect of emissions at Heathrow Airport, which led them to occupy the airport's north runway on 13 July 2015 causing up to 25 flights to be cancelled.
Tags: Blockade, Climate Chaos, Heathrow Airport, Repression, Trial, UK
Posted in Eco Struggle
Tuesday, February 2nd, 2016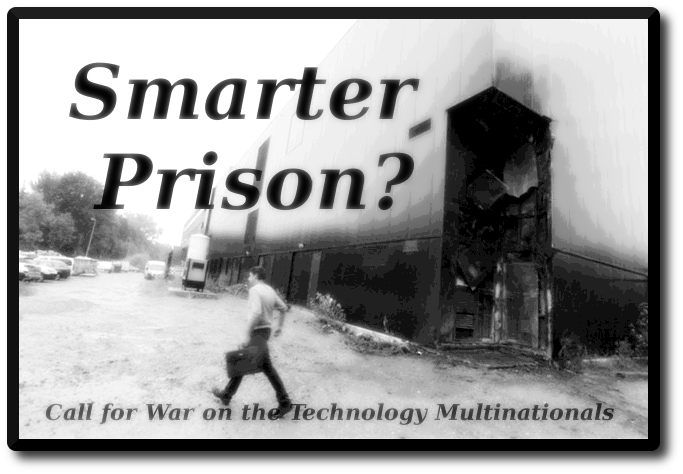 Submitted to Return Fire in the last month of 2015, as part of the challenge to create diverse Black December activities. Return Fire take full responsibility for delaying publication while we awaited corrections, which we now amended into the text and formatted for release. Big love from our trench to the comrades standing proud in the Turin courts around this very time. Shouts to the fighters who carry on beyond the Black December timeframe and harry the dominators in all corners of our lives. Freedom. R.F.
– solidarity with Silvia, Costa & Billy
Note from Return Fire: We transcribed the following essay, submitted by 'Radical Interference', which unfortunately cannot fit into our upcoming Volume 3 (Winter 2015-2016). We are happy to see that the invitation from the Greek dungeons for a Black December campaign (to re-intensify our insurrectionary fervour while not forgetting to "exchange experiences and rationales around various topics of struggle") was taken up in this form, so as to broaden and develop the offensive against modern domination. Solidarity and strength to Silvia, 'Costa', 'Billy', Marco, Adrián, Nicola and Alfredo, and to the rest of the comrades in our struggle. In the spirit of 'Avalon'; always present in our memories and active hands. Let's extend the energy of Black December beyond the New Year, through the trial that starts in January and the proposed week of mobilisation, and onwards on the path of total liberation. Winter Solstice, 2015
INTRODUCTION AND DEDICATION IN ANTICIPATION OF THE TRIAL ON 13th JANUARY 2016
At this time, as the wheels of this monstrous society continue to grind on, and the scattered insurgents make to throw what they can beneath the tracks to slow it down in whatever way, we are left with some questions. These are questions that, in our opinion, deserve more thought and provocation than they usually assume in the circles of anarchists, rebels and land-defenders. Namely; it is clear that mobilisations (independent of any timeframe), such as those for our imprisoned or fallen, are a practical necessity in order to constitute diverse forces that are ready to face and understand the consequences of any struggle that materially contests the ruling order; in other words, so that repression lessens in its power to stop us in our own tracks. (more…)
Tags: Analysis, Black December, Costantino Ragusa, Luca Bernasconi, Radical Interference, Return Fire, Silvia Guerini, UK
Posted in Library
Saturday, January 30th, 2016
Since my arrival at Wakefields Close Supervision Centre (CSC), I have experienced something unlike any other prison in the pure extent of the blatant racism which is encouraged by prison officers. Benefits and bonuses are given to racist prisoners, whilst others are kept in total isolation from each other and there is little action which can be taken against the culprits.
For several weeks now the racist Islamaphobic prisoner Nathan Livesy from Manchester has been the main perpetrator of these attacks. Currently undergoing an assessment for his suitability for selection onto the CSC system following slashing another prisoners face at HMP Manchester, and expulsion from Ashworth High security hospital due to his predatory behaviour, Livesy is looking for any way possible to please his captors. He has taken to squirting urine and spitting out of the window onto the ethnic minorities which the officers deliberately place in the exercise cage directly adjacent to his cell, as well as continuously abusing them whilst the officers stand by laughing. Having made open threats to "kill the first Muslim" he sees, Livesy believes he will be returned to normal location in order to carry out his plan.
(more…)
Tags: Close Supervision Centre CSC, HMP Wakefield, HMP Woodhill, Kevan Thakrar, Letter, Racism, UK
Posted in Prison Struggle
Friday, January 29th, 2016
25 January 2016
The Heathrow 13 were today found guilty at Willesden Magistrates' Court of
aggravated trespass and being in an unauthorised area of Heathrow Airport in summer
2015. Sentencing has been adjourned until Wednesday, 24th February and the
defendants bailed until then.
The defendants were taking direct action against the ongoing effect of emissions at
Heathrow Airport and occupied the airport's north runway on 13 July 2015 causing up
to 25 flights to be cancelled.
Tags: Airport, Blockade, Climate Chaos, Heathrow Airport, Trial, UK
Posted in Eco Struggle
Friday, January 29th, 2016
PDF: Squatters of London Action Paper (SLAP!) 1st Edition

Please spread & repost!
Tags: London, PDF, Squatters of London Action Paper - SLAP!, Squatting, UK, Zine
Posted in Library
Friday, January 29th, 2016
From Police Spies Out of Lives:
On Friday 15th January 2016, the Metropolitan Police withdrew their defence in a case brought against them over undercover police relationships. In a significant development at the High Court, the police asked for judgment to be entered against them in respect of the claims for deceit, assault/battery, misfeasance in public office and negligence.
The claim had been brought by Kate Wilson, who was deceived into a 2-year relationship with undercover officer Mark Kennedy. The successful claim states that supervising officers had been negligent and had acted improperly in causing or allowing the relationship to happen.
The implication of this judgment is that the actions of Mark Kennedy "were undertaken with the express or tacit knowledge of other police officers employed by [the Metropolitan Police]". Supervising and managing officers "knew that [Mark Kennedy] was abusing the power that he was given as an undercover police officer", and their failure to act on this knowledge was "unlawful and in abuse of their own duties as supervisors and managers of [Mark Kennedy's] undercover activities." (more…)
Tags: UK, Undercover Police
Posted in Social Control
Sunday, January 24th, 2016
Tags: Antifa, Birmingham, Demo, Pegida UK, Racism, UK
Posted in Anti-Fascist
Wednesday, January 20th, 2016
PDF: Genesis P-Orridge – Esoterrorist
It is always difficult to know what to say when one introduces new ideas to the public, particularly when such ideas run against the grain of established thought. The work and writings of Genesis P-Orridge are no exception to this rule.
The writings in this volume are by no means the collected output of one who has spent their entire adult life publicly questioning inherited values and thought patterns, rather, this is a representation of their work spanning the later Throbbing Gristle era (ca. 1980) through about 1988. No attempt has been made to collate the pieces either chronologically or by subject, it seems preferable to offer them in random order. Thus, it is not essential to read them sequentially – pick up the book, thumb through the pages until something arouses your interest, then read that article or passage.
Tags: Esoterrorist, Genesis P-Orridge, Industrial Music, PDF, UK
Posted in Cognitive Liberty
Tuesday, January 19th, 2016
Investigating division and conflict amongst the poorest and most oppressed as a means of control has always been a favoured strategy of the ruling class and within it's prisons (the laboratories of oppression) where the most disempowered experience naked repression the weapon of divide and conquer is sometimes used with murderous effect.
Within the British prison system there exist prisons within prisons, places of concentrated repression where "troublemakers" and those who fight back are sent to be broken, and where those who inflict the repression encourage prisoners to take the rage created by that repression out on each other, thereby generating an unending cycle of violence, which is used to justify the use of even greater repression. (more…)
Tags: Close Supervision Centre CSC, HMP Wakefield, HMP Woodhill, John Bowden, Kevan Thakrar, Letter, UK
Posted in Prison Struggle
Tuesday, January 12th, 2016
via RabbleLDN, also see – "Schedule 7″ – Important Advice for Anarchists Travelling To/From the UK.

Bristol Anarchist Chases Away Counter-Terror Police
Today at Stansted Airport, plainclothes police officers pulled aside a travelling anarchist (Tim from Bristol) and seemingly sought to coerce him into becoming an informant with a combination of intimidation, veiled threats, and offers of free alcohol. But when he started recording the officers on his mp3 player they quickly terminated the exchange and made a sharp exit.
He believes he was targeted by counter terror police because of his Anarchism, stating: "Anarchism is about ordinary people standing up to the rich and powerful – exactly what the police are there to prevent. These people claim to be protecting us, but they spend most of their time blacklisting trade unionists, spying on activists and harassing ethnic minorities."
Here's his full account of what happened today:
"As I was leaving the EU e-passport gate about 1pm today, I was approached by a man who came out from behind the desk to the left. He was a similar height to me, with short light brown hair/beard, and a light northern English accent. He said "Hi Tim, I'd like to have a word with you. I think you know what this is about". I got my phone out and called a friend as soon as he started speaking. I told him I had a phone call which I needed to take. A man who had approached in the mean-time from the right, wearing a grey suit-jacket, asked me to turn my phone off. I repeated that I had to take the call. When my friend picked up I asked them to call my solicitor. (more…)
Tags: Bristol, Fuck the Police, Police Bastards, Repression, Schedule 7, UK
Posted in Social Control
Saturday, December 5th, 2015
31/12/2015
NYE Prisoner solidarity demonstration beginning at
8:00 pm Pentonville
then moves onto
9:30 pm Holloway
START ADDRESS: HMP Pentonville,Caledonian Rd, London N7 8TT
BRING NOISE MAKERS
http://network23.org/londonabc/2015/12/01/2015-nye-london-prisoner-solidarity-demo/

This is also in solidarity with comrades from Greece
Comrades coming from various geographies and different paths of
struggle, yet having the same longing for the diffusion of anarchist
offensive, support the call for a Black December
Tags: ABC London, Black December, Demo, London, UK
Posted in Prison Struggle