Posts Tagged 'UKBA'
Tuesday, November 8th, 2016
A couple of weeks ago the Home Office once again sent their uniformed bullies into Easton. This time things did not go smoothly for them.
Early evening on a weekday in mid-October: word spread that 'immigration enforcement' vans had been spotted near an off-license in the backstreets of Easton, Bristol. People soon started to gather. Some had heard what was happening, others were passing by and stopped to watch.
Several of the 'enforcement' thugs were inside the off-license, and a couple of people went inside briefly, presumably to make sure everyone inside knew their rights. Before long someone from inside was marched out and put in the van. The small crowd followed, heckling and shaming the racist quasi-cops as they went.
Then the van drove off, leaving two of the 'enforcement' bods behind in the offie. People stuck around to see what they were up to next. As they loitered we overheard them on the phone sounding mildly rattled.
Then they made a silly mistake – they came back again with the same van to pick up these stragglers. By now the crowd of people wanting to challenge them was just a bit bigger, and a bit more confident – enough to make the difference between heckling and resistance.
Finding their van blocked on several sides, while louder chants filled the air, they panicked and turned down a one-way street – the wrong way! As they realised their mistake and came to a halt, they were quickly surrounded and blocked. One of their tyres started to lose some air, albeit very slowly.
A standoff ensued: those inside the van sitting tight waiting for the police to rescue them, those outside unable to find a way to free the person imprisoned inside. Someone was holding up useful phone numbers next to the window, but who knows if they had a pen, let alone their phone?
Eventually, a group of cops turned up, on foot, running and somewhat out of breath. Apparently the rush hour chaos on the main roads had combined with the various one-way backstreets of the area to make life a bit stressful for them.
Bizarrely, their first demand (to someone standing in the road nearby) was: "Who are you with?". Cue a certain amount of confusion, causing even more grumpiness on their parts.
After a certain amount of shoving and threatening arrest, they pushed us out of the road. The van drove off, in spite of the low tyre, with its kidnapped captive still inside. Not what we might have hoped for, but at least we made it difficult for them – and began to prove to ourselves that it is possible to stop them.
Tags: Bristol, Easton, Immigration Raids, Racism, UK, UKBA
Posted in No Borders
Tuesday, June 30th, 2015
Also: "This is how we do it": Neighbourhood Solidarity after East Street raid.

In the wake of the militant resistance to the immigration raid on East Street London on the 21st, this message above was painted …
As one of the East Street Two remains caged at Gatwick Detention Centre we sprayed our message of vengeance at the offices of the United Kingdom Border Agency.
To explain the organised misery of their oppression the agents of this racist state need scapegoats to blame. We dismiss their petty attempts to divide us and will continue to fight together as we did on Sunday until all borders are destroyed, their fences and prisons torn down.
With paint, fists and crowbars we will destroy the rotten infrastructure and poisonous ideology of this racist system. Let this message be a warning – every deportation must be met with furious resistance.
Fuck UKBA- Vegeance on all authority – until every deportation is stopped.
Tags: East Street Market, Fuck the Police, Graffiti, Racism, UK, UKBA
Posted in No Borders
Tuesday, June 23rd, 2015
Home Office immigration enforcement have been targeting the East Street market in Walworth, London SE17, all week, with no less than five raids over previous days. Today they came again at 5PM and snatched one man from a fish shop, presumably accused of working without legal documents.
But this time, things were not going to go so easy for the thugs in blue. After call-outs went out through the local grapevine and also on social media, people from the area including the next door Aylesbury Estate rushed down to the scene. The Home Office snatch van was blockaded and penned in on a side street off the market. The bullies retreated inside the van with their prisoner while it was surrounded by people's bodies and by makeshift barricades, the tires were let down, and it was pelted with rotten fruit and eggs from the market.
(more…)
Tags: East Street Market, Fuck the Police, Immigration Raids, London, Racism, Riots, UK, UKBA
Posted in No Borders
Saturday, April 18th, 2015
From Movement for Justice via RabbleLDN:
Anna Rjabova and Lillija Jezdovska are brave fighters for their own freedom and for the rights and freedom of their fellow detainees in the notorious Yarl's Wood detention centre, near Bedford. On Thursday 9th April they were part of an integrated group of African, Caribbean and East European women who gathered to physically block the deportation of Lucy N, a victim of torture from Kenya. The women gathered together, sitting around Lucy, linking arms and singing.
That afternoon 30+ 'guards' employed by Serco (the private company that manages Yarl's Wood) forced their way into Lucy's room, wearing full riot gear and armed with batons. You can hear the moment the guards entered the room and dragged the women away here, there were 3 guards for every woman. Anna, Lillija and four other women were handcuffed and taken to Kingfisher wing, the isolation block within Yarl's Wood.
Anna and Lillija had been brutally beaten on their legs with a baton by one of the guards, Jo Singh, against whom Lillija had previously made official complaints. Anna had to be taken to Bedford hospital for treatment on Saturday. They have made further complaints and have spoken to the Prison Inspectors currently visiting Yarl's Wood. (more…)
Tags: Jo Singh, Racism, Serco, UK, UKBA, Yarl's Wood Detention Centre
Posted in No Borders
Tuesday, March 10th, 2015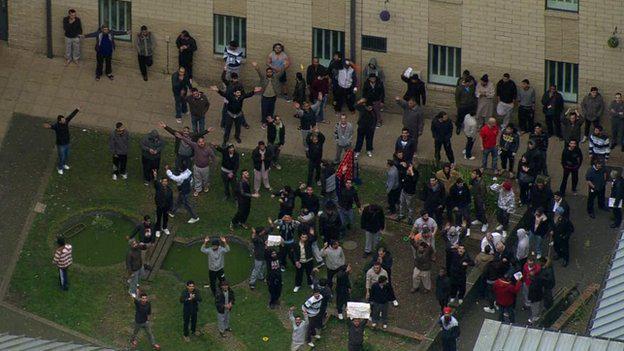 Update: Protests spreading across immigration detention centres in UK.
Resistance continued yesterday at Harmondsworth and Colnbrook. Over 70 people detained had gathered in the courtyard to continue the protest.
Outside at 9am a group of people made a solidarity demonstration in support of the protests. They could hear people shouting 'Freedom' and 'No Food'. The police were called to the protest and one person was pushed aggressively. Guards and centre managers are asking detainees to go to their rooms and come to talk to the managers one-by-one or in pairs. Detainees have refused and ask the management/staff to come and listen to them in the yard. (more…)
Tags: Colnbrook, Demo, Harmondsworth, Hunger Strike, Migrant Struggle, Racism, UK, UKBA
Posted in No Borders
Wednesday, September 24th, 2014
During the course of the week of action against the NATO summit a diverse range of actions were taken by many different groups and individuals. Here is a summary of what happened:
Friday 29th August
– Stop NATO camp set up at Tredelgar park in Newport
– BAE systems attacked with fire in Filton and vehicles torched at army cadet base in Bristol as acts of resistance against NATO
Saturday 30th August
– Mass march and radical bloc against NATO in Newport
– Effigy of Obama burned in Cardiff
Sunday 31st August – Action against securitisation and repression at the 'fence' in Cardiff
Monday 1st September – Sabcats anti-austerity action at Newport jobcentre and army recruitment centre.
Tuesday 2nd September
– No borders noise demo at UK Borders Agency in Cardiff
– Activist locks himself inside Cardiff Keep in Cardiff Castle where the NATO dinner is due to be held
Wednesday 3rd September – Activists hand in a demand for the arrest of NATO leaders to police in Newport, based on evidence leaked by Chelsea Manning of war crimes.
Thursday 4th September
– No to NATO March on Celtic Manor from centre of Newport and mass demo against the NATO dinner at Cardiff Castle
– Activists chalk out the connections between NATO and arms companies in Newport
Friday 5th September
– Activists again try to present evidence of war crimes at Newport police station
– Occupation of Barclays Bank in Newport calling for Barclays to ditch their shares in Israeli arms company, Elbit. Four activists glue themselves inside the bank
Saturday 6th September – Solidarity demonstrations outside Newport Magistrates Court in support of Barclays occupiers.
–
The struggle continues
Last week we saw a diverse struggle against NATO in Cymru. Marches against NATO in the streets of Newport and Cardiff; actions against the forces driving war in the banks and the securitised zones; workshops and discussions at the camp about connected issues from Gaza to police repression at the camp; people spreading the word in a hundred different ways, from conversations with locals, to the camp, to the web. But the struggles against capitalism and militarism are not a one-day, or even a one-week, event. The actions taken this week by Stop NATO Cymru, the Anarchist Action Network and other organisations are a small part of building up a movement capable of bringing about radical change.
So, when we look back, does it make sense to ask whether we "succeeded" in the week of action? We think it does. If one more mind went beyond the distortions of the mainstream media because of what we did, then yes we 'succeeded'. If one more pair of feet was spurred onto the streets by what we did, then we succeeded. And if one more pair of hands joined with ours, yes, we succeeded. In the coming struggles, those hands will again pick up the tools to take action, until the last drone is smashed. We hope to see you there.
Tags: BAE Systems, Barclays bank, Cardiff, Chelsea Manning, Demo, Elbit, NATO, Newport, Sabotage, UK, UKBA, Wales
Posted in Direct Action
Wednesday, September 24th, 2014
On the 2nd of September, at 12pm around 50 people gathered outside the Cardiff Home Office Buildings for the noise demo planned as part of the Stop NATO Cymru week of action. In the past, there have been monthly noise demos by No Borders South Wales group, with many different points of focus, ID cards, destitution, dawn-raids and anti-deportation. The focus of this particular demo was how border controls relate to militarism and the NATO war machine. This was called because NATO are part of the samesystem that divides and isolates through borders. Borders are a mechanism for the divide and rule of working class people. Borders kill innocent people around the world as does militarism. (more…)
Tags: Cardiff, Demo, NATO, Racism, UK, UKBA, Wales
Posted in No Borders
Wednesday, January 1st, 2014
Banardos is a children's welfare charity that legitimizes the role of the UK Border Regime in their abuse of children. The charity plays a similar role to that of the Red Cross in Italy, where many comrades have attacked this NGO due to their 'humanitarian' part in the detention and 'relief' of refugees.
325 receives and transmits:
We claim responsibility for the spontaneous attack on the Barnardos store located in Broomhill shopping centre, Glasgow on the night of 28/10/13. Two rocks were thrown, smashing the windows of the shop.
Solidarity to all held prisoner by the state and its tools of racist oppression.
We call for an increase in attacks against all responsible and affiliated with the detention, deportation and racist immigration policies carried out by the UKBA, private security firms such as G4S, and anyone, like Barnardos who in any way make possible the kidnap and torture of innocent people.
International Solidarity Fraction. FAI
Tags: Banardo's Charity, Informal Anarchist Federation (FAI), International Solidarity Fraction / FAI, UK, UKBA
Posted in Direct Action
Sunday, December 8th, 2013
UPDATE: Ira has been released!

http://en.squat.net/2013/12/09/london-solidarity-demo-with-195-mare-street-squatter-and-russian-lgbtq-activist-facing-deportation/
LGBTQ ACTIVIST IRINA PUTILOSS FACES DEPORTATION TO RUSSIA DESPITE FLEEING BRUTAL PERSECUTION SIX MONTHS AGO.
Irina is an LGBTQ activist seeking asylum in the UK. On 6/12/13 she was unexpectedly detained by UKBA officials and taken to Yarl's Wood Immigration Removal Centre. Yarl's Wood has been the subject of recent controversy as cases of sexual abuse by private security guards against female detainees came to light (1). Despite the complexities of her case, she has been 'fast tracked' for a decision and faces potential deportation in a matter of days.
The so-called 'Fast Track' system allows asylum claims to be processed within 2 weeks, but has come under extensive criticism from migrant rights groups who claim it is heavily biased against the claimant. Less than 1% of fast track claims are successful. (more…)
Tags: Repression, Russia, UK, UKBA
Posted in No Borders
Saturday, July 13th, 2013
Another sad story, one that passes from time to time on the liberal media; a migrant is killed during deportation. Did this one starve themselves, sew their lips together, swallow razor blades in some private detention centre hell? No, Jimmy Mubenga was killed by three G4S security guards on a plane full of people during an episode of 'legal restraint techniques' that they inflicted upon him until he died. The Criminal Prosecution Service (CPS) decided not to prosecute the murder.
"Please, please, they are killing me." cried Mubenga repeatedly to the passengers on the plane. Jimmy had a wife and a family that the UK Border Agency had snatched him from earlier. They would never see him again. And on the plane, the people saw him murdered by those "just doing their job", and didn't do anything about it. Now it's more grief, as if death weren't enough: the "inquest" of "British justice" rubber-stamps the approved killing and serves more white justice to black faces. (more…)
Tags: Border Agency, G4S, Jimmy Mubenga, Migrant Struggle, Migrants, Racism, UK, UKBA
Posted in No Borders
Saturday, July 13th, 2013
Britain, like any other country of the western world, is a huge prison for thousands and thousands of people who come here in search of a better life, the so-called 'asylum seekers'. It's not by chance that so many desperate people try to enter the U.K. as well as the other rich countries. They can't do otherwise. In their homeland not even the basic conditions of surviving are left.
The globalisation of capital requires the maximum production at the lowest cost. That's how the bosses move the centres of production from one country to the other searching for the cheapest labour cost. And that's also the way they spread poverty and desolation and rob millions and millions of their resources. When the occasion occurs, the bosses and their armed mercenaries invade other countries to steal their oil or in order to keep some geopolitical context in equilibrium. (more…)
Tags: Border Agency, Migrant Struggle, Migrants, Racism, UK, UKBA
Posted in No Borders
Saturday, June 22nd, 2013
Hidden inside a quiet business park in Portishead, just outside Bristol, is a UK Border Agency office from where an immigration crime team work with police, including launching raids in the south-west. We visited Thursday night into Friday (with the death of anarchist Carlo Guiliani in combat with police during the G8 summit 12 years ago still fresh in our minds) to set fires that damaged the building and burnt 6 vehicles stationed there – 3 cars, 2 blacked-out people carrier vans (known to be used for dawn snatches of immigrant family groups) and 1 large van. The border regime mercenaries draw the attention of our total contempt the same as any other cop does, and now this long arm of the State has felt that we are close and we don't stop.
A couple of weeks earlier, high noon on Sunday 2nd at a Tascor corporation depot at a Cribbs Causeway/Patchway area trading estate, 2 minibuses with barred passenger windows had their windscreens smashed and multiple dents to the bodywork of the cabs. Tascor (formerly Reliance Secure Task Management) work for the Border Agency and Border Force to 'escort' detainees between immigration prisons and to their deportations, utilizing the consequence-free violence their position furnishes them with such as during the recent forced removals of Marius Betondi and Raul Ally, and are the largest private sector provider of this 'service' worldwide (having taken over these duties in the UK from Group 4 Security in 2011). They also run designated holding rooms and short-term holding facilities throughout the UK as well as for UK border forces in Calais and Coquelles, France.
Capitalism profit greatly from a pool of cheap migrant labor, including known 'illegals' who are even more vulnerable to the bosses' blackmail. The State criminalizes those they decide are non-productive, utilizing poisonous nationalism to further divide the exploited (like the recent wave of hatred against anyone thought to appear 'Muslim') and to win elections. The 'lucky' migrants get to arrive in the slums of alienated Western society and are thrust into competition with other urban poor, the 'unlucky' or unprofitable in deportation prisons, in both cases governed by fear and racialized policing. However this sorting of human bodies doesn't always go as smoothly as planned: mass hungerstrikes in Dutch detention facilities and heavy rioting on the streets of Sweden are recent instances of refusal to submit to such degradation.
We don't want a world where the tyranny of immigration bureaucrats can mean the difference between life and death, and unique beings are categorized and labelled to wring the maximum profit and subordination from us all. We don't want the indignity of every movement being scrutinized for the purposed of social control and enclosure, whether at borders, on the housing estates, in school or at work.
The legend has it that 'we' are lucky to live here, under democratic totalitarianism with some comfortable cages and technological addiction to escape from reality. But infact we are surrounded by depression, divides of wealth and race and gender, devoid of any earth-based selfsufficiency and dependant on the very machine we hate. This machine is only fuelled by rampant exploitation here and largely in the countries that migrants have fled from, creating a disgusting feedback loop as industrial civilization consumes everything in its path. We want to demolish the myth that there is any good place to be within a global system of interconnected misery.
Our struggle is far from the calls for peaceful (re)integration of 'illegals' into this faceless society. We also don't want to set ourselves up as advocates of homogenized groups of migrants, nor to sanctify them all for their specific oppression. Instead of abstract humanitarian charity, we search for the rebel affinity that may be found with migrants who maybe want more than a different regime, and who breach borders, wound guards and destroy prisons from the Mediterranean to Australia; that may be found in the hearts of those who self-organize, with or without accomplices.
Borders are just one significant expression of the currently dominant order, in a world of divisions both physical and psychological, of walls segregating populations, classes and imaginations. Our attack carries the seeds for another world. One where each and every creature is free to roam as they choose. Our borderless solidarity bursts out like our flames for people struggling for life unchained, for Gabriel Pombo da Silva, the CCF imprisoned members, comrades raided in Belgium, Marco Camenisch, Henry Zegarrundo, the anarchists held in Italy and Denmark, the dignified criminals, lawless fugitives, rebellious migrants and other socially disaffected who arm their rage to fight for liberation.
We would consider this our leaving gift to the UK Border Agency, due to be renamed and reorganized in the future – except it turns out it'll mainly be "the same jobs", "in the same places", "with the same mission". We know that their same regime of exploitation will continue more adapted and integrated, so likewise our war is perpetually against all forms of categorization and control that attempt to hinder free movement and wild life on Earth. Nothing is over, everything continues.
Borderless Solidarity Cell (Informal Anarchist Federation)
Tags: Arson, Border Agency, Borderless Solidarity Cell (Informal Anarchist Federation), Bristol, Carlo Giuliani, Conspiracy of Cells of Fire, Conspiracy of Cells of Fire : Imprisoned Members Cell, Gabriel Pombo da Silva, Informal Anarchist Federation (FAI), International Revolutionary Front, International Solidarity, Marco Camenisch, Migrant Struggle, Migrants, Portishead, Racism, Tascor, UK, UKBA
Posted in Direct Action
Friday, February 8th, 2013
Solidarity with friends of Saleh family arrestees.
SUPPORT THE TWO FRIENDS OF THE SALEH FAMILY WRONGLY ARRESTED DURING THE DAWN RAID ON THE FAMILY HOME.
18/02/2013 @ Cardiff Magistrates Court
Friends arrested during dawn raid of family home:
Last October at around 6.30am Mrs Saleh and her two children were woken up by half a dozen UKBA officials and told to prepare themselves for deportation. Mrs Saleh's daughter and other friends of the family quickly came to the house and video footage of some of these events can be found here: http://www.youtube.com/watch?v=N1NXwTOnzp8
Two friends of the family were arrested outside the families home, without being told what they were being arrested for. Later at the station, charges were made up citing obstruction of UKBA officers during their official duty.
The two friends have known the family personally for some time and were well aware of the fear the family faced at the threat of being sent back to Egypt. More on the background of Mrs Saleh's claim can be found here: http://ncadc.org.uk/blog/2012/10/instead-of-protection-the-saleh-familys-ordeal-continued-in-the-uk
Their court case is on Monday 18th February 9:30am in Cardiff Magistrates court. This is a call out for solidarity with this case and the wider struggle for freedom of movement.
Friends of Saleh Family Campaign
– Homepage: http://www.facebook.com/SaveSalehFamily
Tags: Cardiff, Deportation, Egypt, Racism, UK, UKBA, Wales
Posted in No Borders
Tuesday, February 5th, 2013
February 2nd: UKBA raid West African Restaurant, Old Kent Road, near Elephant and Castle.
On Saturday night, approximately 6-7 UKBA officers and around 4 police officers rushed into a West African restaurant at 8.55pm. The raiding party arrived in one white van and one silver van, licence plate BP55DCU. But this time the operation wasn't going to take place in silence.
About 20 people from the Anti Raids network entered the restaurant hot on their heels and informed everyone present of their rights in the face of immigration checks: you do not have to answer any questions, and you are free to leave at any time. Many people immediately got up and left – presumably not wanting to spend their night out being interrogated by UKBA thugs. (more…)
Tags: London, Migrant Struggle, Racism, UK, UKBA
Posted in No Borders
Sunday, November 4th, 2012
We are presenting this information from Harmondsworth Immigration Removal Centre, regarding the death of Prince Ofosu, a detainee aged 31 years.
What we do know about the death of Prince Ofosu, the Ghanaian detainee who died on Tuesday 30th October, 2012 is as follows:
1. Prince Ofosu was forcibly restrained by GEO officers employed by the UKBA.
2. We understand that Prince Ofosu sustained some injuries. The GEO officer, Jim by name who inflicted massive blows on prince Ofosu had some blood stains on his uniform, but he was asked to remove the blood stained clothes so that no one would notice what happened. His clothes were changed for him. That happened in a room known as "block" [rule 40]. (more…)
Tags: GEO, Ghana, Prince Ofosu, Racism, UK, UKBA
Posted in No Borders