Posts Tagged 'Undercover Police'
Tuesday, July 3rd, 2018
This document is a release of basic information about the former police infiltrator, Mark Kennedy. It describes his whereabouts, and his work and hobbies. It also includes a note on the former police infiltrator 'Lynn Watson'. We hope it will bring them, and those like them, a sense of fear and insecurity. May it also provide those willing to act on such information with a good starting point….
Mark Kennedy infiltrated anarchist and activist groups and campaigns between 2003 and 2010 under the name of 'Mark Stone'. As far as we know, he was involved with groups and individuals in the UK, Iceland, Germany, France, Denmark, the US and Spain where he gathered information for different police forces, sometimes unofficially, sometimes as part of formal international operations. He continued in similar roles for the private sector after leaving the police, and set up at least two of his own companies. (more…)
Tags: Darwin Escapes, Lynn Watson (Undercover Cop), Mark 'Marco' Jacobs (Undercover Cop), Mark Kennedy (Undercover Cop), Repression, Snitches / Informers, The Barnstormers, UK, Undercover Police
Posted in Social Control
Thursday, March 24th, 2016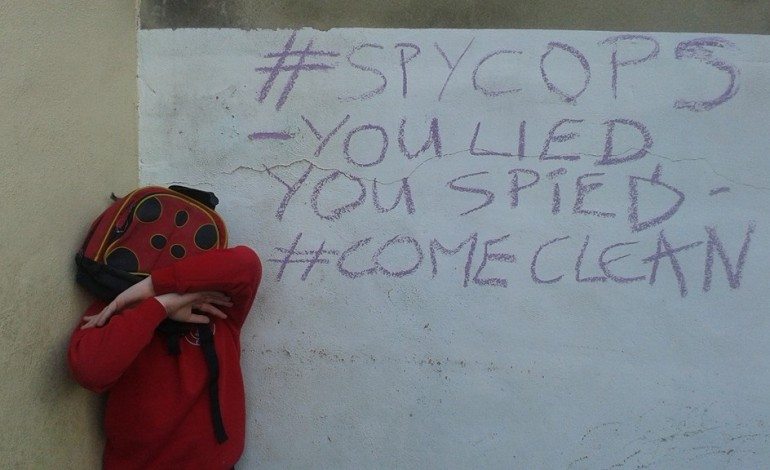 From The Canary:
The Undercover Policing Inquiry, chaired by Lord Justice Pitchford, resumed this week with legal arguments being made by the police which, if implemented, would essentially mean most of the inquiry being held in secret. Central to their position is a continuation of the policy of neither confirming nor denying (NCND) whether a person was an undercover officer.
However, whilst the lawyers for the police have been arguing that revealing the identities of officers would infringe their Article 8 right to privacy and family life, The Canary can reveal that police officers have been recording details of activists' young children.
Mae Benedict put in a Subject Access Request to find out what information the domestic extremist units held on her. She believed she might have a file as she had been arrested in the past for environmental activism. She had also been close to the only known female undercover officer, Lynn Watson. However, she was shocked to discover her file left out details of "several arrests and a conviction" but contained details of her young child:
It made me furious that my kid is on a police file already, and mostly it was really intrusive. Instead of details of when I HAD been found guilty of a crime, the focus instead was on me as a parent, and, by default, my child as a child of mine. (more…)
Tags: #Spycops, Bob Lambert, Fuck the Law, Fuck the Police, Lynn Watson (Undercover Cop), Repression, UK, Undercover Police
Posted in Social Control
Friday, January 29th, 2016
From Police Spies Out of Lives:
On Friday 15th January 2016, the Metropolitan Police withdrew their defence in a case brought against them over undercover police relationships. In a significant development at the High Court, the police asked for judgment to be entered against them in respect of the claims for deceit, assault/battery, misfeasance in public office and negligence.
The claim had been brought by Kate Wilson, who was deceived into a 2-year relationship with undercover officer Mark Kennedy. The successful claim states that supervising officers had been negligent and had acted improperly in causing or allowing the relationship to happen.
The implication of this judgment is that the actions of Mark Kennedy "were undertaken with the express or tacit knowledge of other police officers employed by [the Metropolitan Police]". Supervising and managing officers "knew that [Mark Kennedy] was abusing the power that he was given as an undercover police officer", and their failure to act on this knowledge was "unlawful and in abuse of their own duties as supervisors and managers of [Mark Kennedy's] undercover activities." (more…)
Tags: UK, Undercover Police
Posted in Social Control
Thursday, November 5th, 2015
Dear all,
As Anarchist Radio Berlin we had the opportunity of documenting a presentation organized by the magazine Cilip in Berlin with the title "Undercover for State and Capital". Therein, Kate Wilson talked about her relationship to [undercover cop] Mark Kennedy and Eveline Lubbes about the spying of multinationals and the Undercover Research Group. Unfortunately, due to technical problems, we could only record the first part of the presentation where Kate talks about her experiences.
The presentation was held in English.
You'll find the audio (to listen online or download in different sizes) here:
http://aradio.blogsport.de/2015/11/04/a-radio-auf-englisch-audio-documentation-undercover-for-state-and-capital/
Length: 33 min
You can find other English and Spanish language audios here:
http://aradio.blogsport.de/englishcastellano/.
Tags: Anarchistisches Radio Berlin, Berlin, Germany, Undercover Police
Posted in Interviews
Tuesday, August 25th, 2015
Video featuring 3 activists, talk filmed at Chaos Communication Camp, Germany. Also read article on undercoverinfo.
Tags: Climate Chaos, Fuck the Police, Germany, Repression, Surveillance, UK, Undercover Police, USA
Posted in Social Control
Monday, January 19th, 2015
Update: Ex-undercover cop Bob Lambert resigns from two university jobs.
325 is very happy to spread this call to ruin the life of a no-good pathetic scrote of a man, Robert Lambert. Death to police spies and informers. Revenge.
Via Rabble LDN, From Islington Against Police Spies:
SACK BOB LAMBERT!
Former Police Spy, Serial Liar & Exploiter of Women
Join us to demand the removal of Bob Lambert from London Metropolitan University.
Picket London Met
Friday January 30th
12.00 – 2.00pm
LMU Tower, 166-220 Holloway Road, 
London N7 8DB
Bring placards, banners, anything to make noise…
In November Islington Against Police Spies (IAPS) held a lively picket of London Metropolitan University in Holloway, launching our campaign to demand the sacking or resignation of Bob Lambert. Former police spy, Special Branch manipulator, abuser of women, agent provocateur, Lambert is now lecturing at London Met on policing and criminology.
For a brief account of Bob Lambert's dubious record, check out this pdf flyer. Which you can also spread as wide as possible…
As local residents we feel it is totally inappropriate for London Metropolitan to be employing a man with Lambert's record in such a position; where he has influence and power over the lives of students, who may be young or vulnerable. Most particularly Lambert has shown he cannot be trusted not to abuse and lie to women. (more…)
Tags: Bob Lambert, Demo, Police Bastards, UK, Undercover Police
Posted in Direct Action