Posts Tagged 'Unicredit Bank'
Saturday, July 21st, 2012

From informa-azione via actforfree:
Translation act for freedom now/B.pb
We receive from anonymous mail:
Dedicated to those who are in prison, wanted by police, sentenced and searched…. to the anarchists hit by the repressive forces of the State/Capital…
FRASCATI (ROME)
In the night of Wednesday July 18 2012, two banks were attacked in Frascati.
Two molotov bottles and an incendiary device were thrown at the Unicredit bank and the BNL bank.
Unicredit got completely destroyed.
Graffiti was left: EARTH IS WORTH MORE THAN YOUR MONEY and an encircled A.
PUBLIC NUISANCE:
'To get rid of mental sophistry and social restriction is a way to face this war.
To destroy the normality of order, authority, jobs and appointments, the normality of scientific-technological experimentation and creation, their judicial right on the bodies in court trials, their right to accuse but also the right to defend oneself.
Points of view are for those who decide for others, those who are delegated and appointed by society, the citizens; wild drives don't need political/cultural explanations.
We can see and feel directly what they are doing to the Earth, to the animals, to anti-authoritarians, and this is sufficient to give a reason to our attacks, every time with more determination and strength… forward anarchists, let's sabotage and destroy the present!'
Finally everything finds it nonsense, our bodies moving in daily appearance, among weak citizens opposing rebellion, waiting for the next chance to stir up our instincts and anger.
We found but never met practical allies all over the world, united in the new anti-authoritarian guerrilla against the existent. Anarchist of action bound by a unique force, total liberation of the living, the individual (especially oneself), the Earth, for the total destruction of the State, religion and military authority.
Our trajectory is far from a road full of signs, we are moving on wild and impenetrable paths, in a daily war that liberates us in pain.
We individuals of violent and practical actions shut out moral and social fears and indecision, of condemnation or death, on which the dominating power feeds itself. We are going to throw those fears out in the form of terror.
"Now I know. I know exactly what I have to do. Let's go then, once again. This time with feeling. Until the end. Long live Anarchy." CCF
WITH THE BLACK INTERNATIONAL
LONG LIVE THE FIRE OF ANARCHY!
INTERNATIONAL REVOLUTIONARY FRONT
INFORMAL ANARCHIST FEDERATION
Subversive Anticivilization Individualities
FAI IRF
Tags: Arson, BNL Bank, FAI - Subversive Individualism Anti-civilization, Frascati, Informal Anarchist Federation (FAI), International Revolutionary Front, Italy, Molotovs, Unicredit Bank
Posted in Direct Action
Friday, December 9th, 2011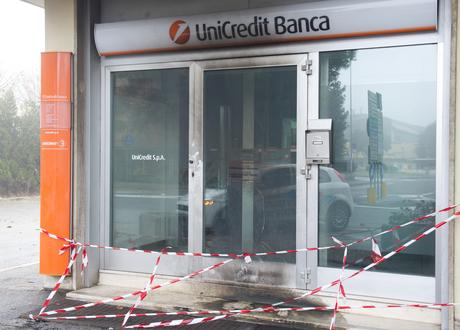 From Anarchists for the Destruction of the Existent, via culmine and war on society:
3 December 2011
Many are the reasons that groups or individuals go on the attack, and great is the hatred for a world that does not belong to us and in which we spend too much time.
Everywhere, brave comrades decide to attack the system with direct action of any kind against any of its aspects – offices, banks, schools, churches and so on – carrying forward the war against all authority.
We have decided to take part in this war, attacking during the night of December 3-4 a Unicredit Bank branch, leaving a clear message to the exploiters of Ravenna and of the whole world and to all their guards: the powder keg is about to explode. We will reappropriate all that they have taken by force and with all means.
This is no time to remain immobile in the face of the destruction of our lives and of our dreams. It is time to attack, here and now.
We also want to renew the call to international solidarity, asking all comrades in affinity to strike Capital as they see fit and as the opportunity presents itself.
We dedicate this action to the comrade Luciano "Tortuga" and we send him all our affection. We are with you comrade, and we hope that these flames are able to show you that.
We are close to the comrades in Bologna who face trial December 12. You have all our support and we hope that this has given you some strength.
We want to send a fiery embrace to the comrades of the Conspiracy of Cells of Fire because their courage and determination have inspired us. We are on your side in this war, until the end.
We salute, finally, any comrade who chooses to attack with any means this nightmare, and all those who find themselves imprisoned for their desire for freedom.
For comrades who are fallen or confined in society's cages
For a Black International
For Anarchy
Anarchists for the Destruction of the Existent
Tags: Anarchists for the Destruction of the Existent, Arson, Black International of Anarchists of Praxis, Bologna, Chile, Conspiracy of Cells of Fire, Greece, International Revolutionary Front, International Solidarity, Italy, Luciano Pitronello Schuffeneger, Ravenna, Unicredit Bank
Posted in Direct Action