Posts Tagged 'USA'
Friday, April 13th, 2012
New prison measures vindictively applied against eco-anarchist comrades Sadie & Exile, unrepentant members of the Earth Liberation Front. Letters of solidarity are appreciated by the two wild ones… nothing forgotten, nothing forgiven…
Text by Leslie James Pickering
Earth Liberation prisoners Joyanna "Sadie" Zacher and Nathan "Exile" Block, who are a married couple, have been disallowed correspondence by their captors with the excuse that Sadie is "unrepentant" of her crimes. Sadie and Exile are nearing the end of their seven-year-and-eight-month federal prison sentences for two million-dollar arsons prosecuted under the FBI's Operation Backfire investigation into the Earth Liberation Front. Specifically, the couple has been convicted of the the $959,000 arson of the Romania Chevrolet dealership on March 30, 2001 and the $994,412 arson of Jefferson Poplar on May 21, 2001. (more…)
Tags: ELF, Exile, Sadie, USA
Posted in Eco Struggle
Friday, February 24th, 2012
325 receives and transmits:
24 February 2012
Anonymous have struck a blow against the Prison-Industrial Complex and eliminated the online presence of prison for profit scumbags GEO group from the face of the internet…
The website http://www.geogroup.com was defaced with a youtube hip-hop video paying tribute to US political prisoner Mumia Abu Jamal and a statement from Antisec. (more…)
Tags: #anonymous, #antisec, #FuckFBIFriday, #Occupy, #OCCUPYWALLST, 325 4 teh lulz, 4 da lulz, Fuck the Law, GEO, Hacking, Mumia Abu-Jamal, teh internets, USA
Posted in Direct Action
Saturday, February 4th, 2012
A recent trans-Atlantic call between the FBI and the UK's Scotland Yard in which operatives from the two law enforcement agencies discussed ongoing cases regarding a number of alleged hackers was intercepted and recorded—by hackers.
Tags: #anonymous, #antisec, #FuckFBIFriday, 325 4 teh lulz, 4 da lulz, Fuck the Law, Hacking, teh internets, UK, USA
Posted in Direct Action
Saturday, January 28th, 2012
Written by George Pumphrey, Berlin, Germany.
When news broke that, at the request of the US government, Portugal had arrested George Wright (Jose Luis Jorge dos Santos), a Portuguese citizen, for consideration of his extradition to the United States for having escaped prison, there was an air of the spectacular in the news articles. The accent in many articles was on the arrest of a "convicted murderer," who had been a fugitive for 40 years.
George Wright had escaped from the Bayside State Prison in Leesburg, N.J., in 1970, where he had served more than seven years of a 15 – 30 year prison sentence for murder. It was also reported – almost in passing – that Wright and four other Afro-Americans had hijacked a Delta Airlines jet from the US to Algeria in 1972 with a ransom of $1 million destined to the foreign section of the Black Panther Party located in Algeria. (more…)
Tags: Black Panther Party, Fuck the Mainstream Media, George Pumphrey, George Wright, Jose Luis Jorge Dos Santos, Portugal, Repression, USA
Posted in Social Control
Monday, January 2nd, 2012
325 receives and transmits:
CALIFORNIA LAW ENFORCEMENT ASSOCIATION – DEFACED AND DESTROYED BY ANTISEC
*******************************************************************************/
Soundtrack to the Rev Track: The Coup – Five Million Ways to Kill a CEO
http://www.youtube.com/watch?v=1Jotps9V4as
I'm from the land where the Panthers grew
You know the city and the avenue
If you the boss we be smabbin through
And we'll be grabbin' you
To say "What's up with the revenue?"
Most everybody already knows that we don't like police very much. Shit, just
about everybody hates them, everybody except for the rich and powerful who
depend on their protection. But which state got the most blood on their hands?
Well we already owned pigs in Texas and Arizona, and many many others; guess its time to ride on the California police.
From the murder of Oscar Grant, the repression of the occupation movement, the
assassination of George Jackson in San Quinten prison, the prosecution of our
anonymous comrades in San Jose, and the dehumanizing conditions in California
jails and prisons today, California police have a notorious history of brutality
and therefore have been on our hitlist for a good minute now.
So we went ahead and owned the California State Law Enforcement Association
(CSLEA.COM), defacing their website and giving out live backdoors. (more…)
Tags: #antisec, 4 da lulz, California State Law Enforcement Agency, Fuck the Law, Hacking, Happy Birthday Bradley Manning, Oscar Grant, USA
Posted in Direct Action
Thursday, December 22nd, 2011
Here is an English translation of an article from the journal Conspiracion Acrata from Mexico referring to the idea of "Antiguiridismo Anarchico". We hope you like it.
"Antigiuridismo Anarchico" which translates to "Anti-Judicial Anarchism" is a concept which has been used throughout anarchist history to define the attitude of a radical and total rejection of the concept and practice of the "justice" of the State, or as otherwise said – the judicial methods of the State including defence through a lawyer. This attitude or concept is or should be something normal within the anarchist movement but there are few companer@s who have put it into practice for diverse reasons or strategies.
Antigiuridismo Anarchico is the rejection of declaring a position to the State in front of the court or contributing to the circus of the State. Often the declarations of those who position themselves in this attitude are only directed as a dialogue or explanation to the compañer@s of their movement. This attitude is the rejection of any legal resources through which one could obtain "freedom". (more…)
Tags: Argentina, Azione Rivoluzionaria, Brigate Rosse, Conspiracion Acrata, Conspiracy of Cells of Fire, Emma Goldman, Gabriella Segata Antonilli, Greece, Italy, Luigi Galleani, Mario Buda, Max Stirner, Mexico, Sacco and Vanzetti, Severino Di Giovanni, USA
Posted in Library
Thursday, December 15th, 2011
325 receives and transmits:
The US-Justice System is Seeking Revenge
This week, on the basis of press agency information, ND ("Neues Deutschland") reported that a "wanted criminal" – wanted since breaking out of a US prison – had been apprehended in Portugal. George Pumphrey, a US-American with French citizenship, living in Berlin, knows the "criminal" George Wright. Roland Etzel interviewed Pumphrey.
?? Where did you first encounter George Wright?
It was in Paris. I had fled to Paris because of political and racist persecution in my country. George Wright, along with four other Afro-Americans had hijacked a jetliner from the USA to Algeria and later came to Paris. A French underground organization, that aided national liberation movements in the "Third World", had supported us, which is how we met. (more…)
Tags: Black Panther Party, George Pumphrey, George Wright, Jose Luis Jorge Dos Santos, Portugal, Repression, USA
Posted in Prison Struggle
Thursday, December 15th, 2011
325 receives and transmits:

28 November 2011
Communique:
On the night of November 28th, 2011, we sabotaged a rail line in Southern Oregon as part of a coordinated effort to disrupt the flow of commerce on the West Coast. We got tired of watching trains pass through our towns loaded with lumber, ore, cheap commodities, and other resources pillaged from the earth without consequence. We didn't do this out of a desire to create a more green, sustainable or humane civilization—we want nothing less than to see the total failure of this sick and rotten society.
This action was not only easy to carry out, but positively satisfying. We used 4AWG copper wire with the ends stripped of insulation and wrapped around the two sides of the track with the rest of it buried in the middle, which falsely indicated to a sensor that there was a train stopped on the railway.
We did this in solidarity with currently imprisoned members of the Long-Live Luciano Tortuga Cell/Indonesian FAI, to whom we send our most passionate revolutionary greetings.
We would also like to send our love to ALF prisoner of war, Walter Bond.
Towards an end to this nightmare world
Tags: Billy, Eat, Indonesia, International Solidarity, Luciano Pitronello Schuffeneger, Oregon, RO-FAI (Indonesia Section), Sabotage, USA, Walter Bond
Posted in Direct Action
Friday, December 9th, 2011
From solidariedadejorgedossanto(at)gmail.com:
By George Pumphrey, Berlin, Germany.
Many news articles had an aura of the "spectacular" in their reporting on Portugal's arrest of the Portuguese citizen, Jose Luis Jorge Dos Santos (George Wright), at the request of the US government for consideration of his extradition to the United States. The articles placed their accent on the arrest of a "convicted murderer," who had been a fugitive for 41 years.
Portuguese police arrested Jose Luis Jorge Dos Santos, earlier known as George Wright, September 26, 2011. In 1970, after serving eight of a 15 – 30 year sentence, Wright, along with three other inmates escaped from the Bayside minimum security prison facility in Leesburg N.J. According to the media, US officials are allegedly seeking to have Wright return "to serve the remainder of a 15- to 30-year jail sentence for the killing of Walter Patterson," during a 1962 gas station hold-up in New Jersey. (One must add "allegedly," because the media quotes no specific US official alleging that this is the sole or even the main reason for their seeking his return.)
In 1972, Wright, and 4 other Afro-American (taking along 3 children), hijacked a Delta Airlines flight from the USA to Algeria with a ransom of $1,000,000 destined for the foreign section of the Black Panther Party, based in Algiers at the time. (more…)
Tags: Black Panther Party, George Wright, Jose Luis Jorge Dos Santos, Portugal, Repression, USA
Posted in Social Control
Monday, November 21st, 2011
325 receives and transmits:
19 November 2011
ANTISEC LEAKS DOJ SPECIAL AGENT SUPERVISOR'S PRIVATE EMAILS, IACIS CYBERCRIME INVESTIGATOR COMMUNICATIONS care of the #OCCUPYWALLST CRACKDOWN RETALIATION TASK FORCE.
Greetings Pirates, and welcome to another exciting #FuckFBIFriday release.
As part of our ongoing effort to expose and humiliate our white hat enemies, we targeted a Special Agent Supervisor of the CA Department of Justice in charge of computer crime investigations. We are leaking over 38,000 private emails which contain detailed computer forensics techniques, investigation protocols as well as highly embarrassing personal information. We are confident these gifts will bring smiles to the faces of our black hat brothers and sisters (especially those who have been targeted by these scurvy dogs) while also making a mockery of "security professionals" who whore their "skills" to law enforcement to protect tyrannical corporativism and the status quo we aim to destroy.
We hijacked two gmail accounts belonging to Fred Baclagan, who has been a cop for 20 years, dumping his private email correspondence as well as several dozen voicemails and SMS text message logs. While just yesterday Fred was having a private BBQ with his CATCHTEAM high computer crime task force friends, we were
reviewing their detailed internal operation plans and procedure documents. We also couldn't overlook the boatloads of embarrassing personal information about our cop friend Fred. We lulzed as we listened to angry voicemails from his estranged wives and ex-girlfriends while also reading his conversations with girls who responded to his "man seeking woman" craigslist ads. We turned on his google web history and watched him look up linux command line basics, golfing tutorials, and terrible youtube music videos. We also abused his google
voice account, making sure Fred's friends and family knew how hard he was owned.
Possibly the most interesting content in his emails are the IACIS.com internal email list archives (2005-2011) which detail the methods and tactics cybercrime units use to gather electronic evidence, conduct investigations and make arrests. The information in these emails will prove essential to those who want to protect themselves from the techniques and procedures cyber crime investigators use to build cases. If you have ever been busted for computer crimes, you should check to see if your case is being discussed here.
There are discussions about using EnCase forensic software, attempts to crack TrueCrypt encrypted drives, sniffing wireless traffic in mobile surveillance vehicles, how to best prepare search warrants and subpoenas, and a whole lot of clueless people asking questions on how to use basic software like FTP. In the end, we rickrolled the entire IACIS list, causing the administrators to panic and shut their list and websites down.
These cybercrime investigators are supposed to be the cream of the crop, but we reveal the totality of their ignorance of all matters related to computer security. For months, we have owned several dozen white hat and law enforcement targets– getting in and out of whichever high profile government and corporate system we please and despite all the active FBI investigations and several billion dollars of funding, they have not been able to stop us or get anywhere near us. Even worse, they bust a few dozen people who are allegedly part of an "anonymous computer hacking conspiracy" but who have only used kindergarten-level DDOS tools– this isn't even hacking, but a form of electronic civil disobedience.
We often hear these "professionals" preach about "full-disclosure," but we are sure these people are angrily sending out DMCA takedown notices and serving subpoenas as we speak. They call us criminals, script kiddies, and terrorists, but their entire livelihood depends on us, trying desperately to study our techniques and failing miserably at preventing future attacks. See we're cut from an entirely different kind of cloth. Corporate security professionals like Thomas Ryan and Aaron Barr think they're doing something noble by "leaking" the public email discussion lists of Occupy Wall Street and profiling the "leaders" of Anonymous.
Wannabe player haters drop shitty dox and leak partial chat logs about other hackers, doing free work for law enforcement. Then you got people like Peiter "Mudge" Zatko who back in the day used to be old school l0pht/cDc only now to sell out to DARPA going around to hacker conventions encouraging others to work for the feds. Let this be a warning to aspiring white hat "hacker" sellouts and police collaborators: stay out the game or get owned and exposed. You want to keep mass arresting and brutalizing the 99%? We'll have to keep owning your boxes and torrenting your mail spools, plastering your personal information all over teh internets.
Hackers, join us and rise up against our common oppressors – the white hats, the 1%'s 'private' police, the corrupt banks and corporations and make 2011 the year of leaks and revolutions!
We are Anti-Security,
We are the 99%
We do not forgive.
We do not forget.
Expect Us!
–
video message from #AntiSec : http://www.youtube.com/watch?v=fBtCBg9HgZI
Browse the emails using Tor Hidden Services:
http://ibhg35kgdvnb7jvw.onion/cybercrime <- on tor http://ibhg35kgdvnb7jvw.tor2web.org/cybercrime <- not on tor [*] Download the emails using BitTorrent: http://www.thepiratebay.org/user/AntiSecurity
[*] Donate BitCoins for future leaks!! 18NHixaoQekQJ3y52aBGJJwgBWX9X3myYR
Tags: #antisec, #FuckFBIFriday, #Occupy, #OCCUPYWALLST, 325 4 teh lulz, Fred Baclagan, Fuck the Law, Hacking, IACIS, teh internets, USA
Posted in Direct Action
Tuesday, November 15th, 2011
325 receives and transmits:

9 November 2011
In the night of 9th November 2011, in Milano (Italy), we smashed 7 bank ATMs.
We decided to attack the banks as they are the symbolic institutions of money, the pillar of today's alienated and false social relations (work/consume) and of the power relations between the dominant élites and the mass of the exploited.
Crisis or no crisis, it's the same existence of any economic system that disgusts us, a system that we're not interested in saving or reforming but only in destroying.
The executives of the financial institutions, closed in their offices, everyday move huge quantities of capital, in order to gain as much profit as possible, not caring about the devastating effects that the projects they finance (wars and weapons, highways, energy plants, high speed trains, security and social control systems and so on) have on entire territories and populations.
This action is dedicated to Luciano Tortuga, Chilean anarchist comrade wounded while he was attacking a bank in Santiago.
Solidarity is not only words! Complicity and solidarity to all the prisoners that resist, and to anybody who fights here as in Chile, Greece, Russia, Belgium, Germany, Indonesia, Spain, Sweden, USA and anywhere else… against any form of oppression!
Riot shouldn't be just a day of temporary joy but a permanent life condition… to take our lives back in our hands… more attacks against the symbols of State and Capital!
Revolting Individualists
Tags: ATM, Belgium, Chile, Economic Crisis, Germany, Greece, Indonesia, International Solidarity, Italy, Luciano Pitronello Schuffeneger, Revolting Individualists, Russia, Spain, Sweden, USA
Posted in Direct Action
Thursday, November 3rd, 2011
Hello, my name is Walter Bond. I am currently serving a prison sentence in the United States for 3 A.L.F. arsons totaling nearly 2 million dollars' worth of damage. Recently, I read a statement in solidarity with the Conspiracy Cells of Fire attempting to create a real voice for all of us political prisoners and prisoners of war, those of us that have fought and still fight from our prison cells against all civilization. I was happy to see that solidarity was signed with me in that article as well. As a small token of my support please accept the enclosed brief letter of solidarity that I have written for the Informal Anarchist Federation. Animal Liberation, Whatever It May Take! (more…)
Tags: ALF, Animal Liberation, Conspiracy of Cells of Fire, Conspiracy of Cells of Fire : Imprisoned Members Cell, Earth Liberation Front, ELF, Informal Anarchist Federation (FAI), International Words of Solidarity with the Conspiracy of Cells of Fire pamphlet, USA, Walter Bond
Posted in Eco Struggle, Prison Struggle
Thursday, October 27th, 2011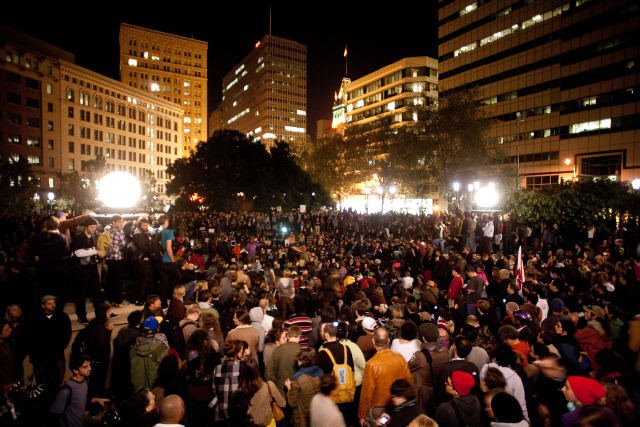 325 receives and transmits : Source
Below is the proposal passed by the Occupy Oakland General Assembly on Wednesday October 26, 2011 in reclaimed Oscar Grant Plaza. 1607 people voted. 1484 voted in favor of the resolution, 77 abstained and 46 voted against it, passing the proposal at 96.9%. The General Assembly operates on a modified consensus process that passes proposals with 90% in favor and with abstaining votes removed from the final count.
PROPOSAL:
We as fellow occupiers of Oscar Grant Plaza propose that on Wednesday November 2, 2011, we liberate Oakland and shut down the 1%.
We propose a city wide general strike and we propose we invite all students to walk out of school. Instead of workers going to work and students going to school, the people will converge on downtown Oakland to shut down the city.
All banks and corporations should close down for the day or we will march on them.
While we are calling for a general strike, we are also calling for much more. People who organize out of their neighborhoods, schools, community organizations, affinity groups, workplaces and families are encouraged to self organize in a way that allows them to participate in shutting down the city in whatever manner they are comfortable with and capable of.
The whole world is watching Oakland. Let's show them what is possible.
The Strike Coordinating Council will begin meeting everyday at 5pm in Oscar Grant Plaza before the daily General Assembly at 7pm. All strike participants are invited.
Stay tuned for much more information and see you next Wednesday.
Since this announcement, social media has been abuzz with calls for a US-wide General Strike and a Global General Strike!
Tags: #Occupy, Economic Crisis, General Strike, Oakland, Occupy Oakland General Assembly, Oscar Grant, Oscar Grant Plaza, USA
Posted in Autonomy
Monday, June 27th, 2011
Walter Bond was arrested on July 23, 2010 and has plead guilty to the arson of the Sheepskin Factory in Colorado and openly admits that he is the ALF (Animal Liberation Front) "Lone Wolf". Bond has plead not guilty to federal charges. He has also been indicted in Utah for the arsons of the Tandy Leather Factory and Tiburon (foie gras restaurant).
Resist to Exist
I am an anarchist.
I'm not the politically-correct hipster anarchist.
I am not the rhetorical anarchist either.
Reading dry accounts of the various factions of anarchism has never held much interest for me. I am an insurgent, an opposser. Why? Because I was born that way. When I was in kindergarten my teacher, Ms. Whirly, had a parent/teacher conference with my mom. I remember her saying something about me being a very bright young man but that I had serious problems with authority and one day it would get me in a lot of trouble. I do, and it did.
I came to find out that school doesn't want you to be a 'bright young man'. Serious questioning is the enemy of primary and secondary schools' indoctrination of youth. While my grade school teachers prattled on and all the kids answered in unison, I sat at the back of the class reading about dinosaurs, mythology, and astronomy. It made me feel hopeful that places or times existed that were far from here. far from Iowa's Aryan education. times and places where humans weren't the center of the entire universe. (more…)
Tags: ALF, Letter, Lone Wolf, USA, Walter Bond
Posted in Prison Struggle
Monday, June 13th, 2011
325 presents this interview which can be found in document format here, on the website of the 11th June International day of Solidarity with Marie Mason, Eric McDavid and Long-term Anarchist Prisoners. Our editing & transliteration monkeys refused to co-operate with us this week and went on banana strike, so we've kept Eric's mobilefone text-speak way of writing intact, as that's how he usually writes his letters. Eric McDavid out now in the streets!
Jeff Luers set fire to three SUVs at a car dealership in Eugene, OR during the summer of 2000 in response to the environmental devastation that he saw occurring on a global scale. The court levied an egregious sentence to make an example out of him, to send a clear message to others who might share Jeff's outrage and will.
In 2004 Jeff was three years into his 22+ sentence. That year his support crew announced that June 11th was the International Day of Solidarity with Long-term Anarchist Prisoner Jeff "Free" Luers. In the following years, June 11th served as a day for anarchists, environmental radicals and forest defenders alike to show some kind of support for Jeff. (more…)
Tags: Eric McDavid, Greenscare, Interviews, Jeff 'Free' Luers, Repression, USA
Posted in Prison Struggle