Posts Tagged 'USA'
Thursday, May 14th, 2020
We are Humyn Beings!!!
Revolutionary Greetings Fellow Workers and comrades all over the World!!
"Nothing Lasts.
Relationships end.
Friends die.
Even Capitalism will be history someday.
It's what we do to re-awaken each other that matters.
Breathing life into self organization, the working actuality of freedom.
That's the victory, the revolution,
The Truth of Power: That we know how to create lives worth living.
Knowing that such moments, too, won't last.
—–CINDY MILSTEIN an excerpt from:
CODA: WAKING TO REVOLUTION
More and more people are becoming aware and supporting our Solidarity Actions which seek to support the Prisoner Humyn Rights Struggle. The Momentum is building and what happened on May 7th is only a preview for things to come.
May 7th was the First Action that will usher in our 2020 Prisoner Humyn Rights Movement and Actions—Black August is approaching fast. (more…)
Tags: Anti-Prison, Coronavirus, Keith Malik Washington, Letter, USA
Posted in Prison Struggle
Tuesday, May 5th, 2020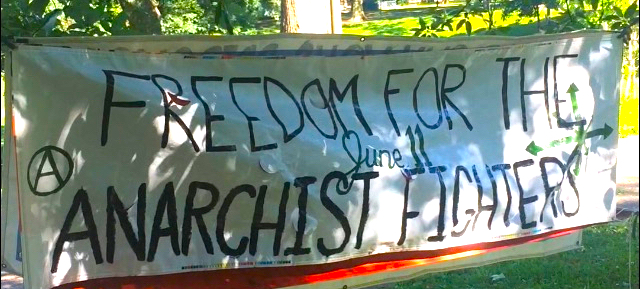 June 11th: International Day of Solidarity with Marius Mason and All Long-Term Anarchist Prisoners. In the 16 years this tradition has been observed, June 11th has facilitated support and action inspired by imprisoned anarchists — from noise demonstrations outside of jails to letter-writing nights, from fundraisers to arson. Setting aside this day is one way of remembering anarchists who are serving long prison sentences, generating support for them, and inspiring solidarity actions.
Because social struggles phase in and out, this day is a way to make sure that our imprisoned comrades are not forgotten. June 11th is a way of combating amnesia, of trying to sustain a long-term memory in the anarchist space. June 11th is a day against oblivion.
The context of June 11th this year is one in which our lives have been wrenched out of normality. A scary time, but also a time for innovation. And an especially important time to remember and support our imprisoned loved ones. While calls to release people from jails, prisons, and ICE detention facilities during the pandemic are growing louder and having some success, it's likely that many of our comrades' names will not be on the list for early release. Whether it's due to marginalized identities, terrorism enhancements, a history of standing up to guards and prison administration, or just being an outspoken anarchist, this means that their long sentences and already abhorrent health care and mistreatment could carry even worse consequences.
Our new daily lives and our responses to the pandemic can carry with them the memory and support for imprisoned anarchists. Where we are working fewer hours, we can write more letters. Where our kids are now learning from home, we can include prisoners' names in lessons about courage and about state repression. Where we give ourselves over to mutual aid projects, we can take inspiration from our comrades and invoke their contributions and memories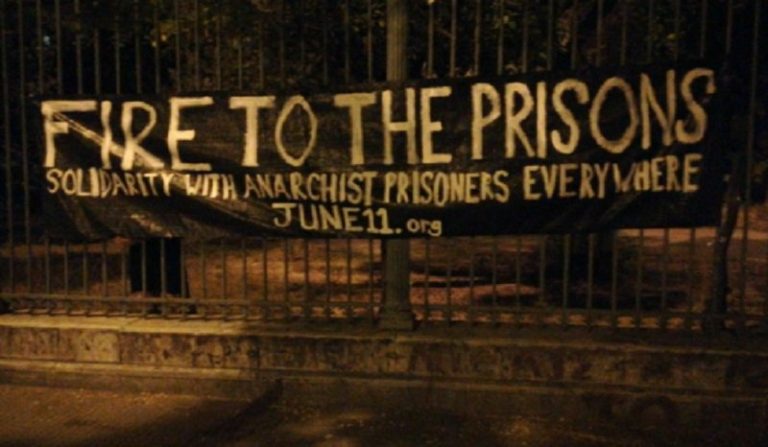 In the last year, Connor Stevens of the Cleveland 4, all remaining members of the Conspiracy of Cells of Fire urban guerrilla group in Greece, and Tamara Sol in Chile have been released from prison.
Eric King is still in segregation and now faces a 20 year charge related to self-defense actions he took in 2018. His support team has started a legal defense fund. He is scheduled to go to trial in the summer of 2020.
Anna Beniamino co-initiated a hunger strike against especially-repressive prison conditions in May 2019. Alfredo Cospito and other imprisoned anarchists in Italy later joined this hunger strike. Alfredo reported experiencing health problems related to the strike.
Michael Kimble was put in solitary after defending a prisoner from being beaten by guards. In February he and his support team launched a fundraising campaign for a lawyer to overturn his conviction. Jeremy Hammond was called in October to testify in the same grand jury that re-imprisoned Chelsea Manning. Both refused to testify. In March, Jeremy was released from contempt as the grand jury concluded and was returned to the federal prison system, though he is currently being held in the Grady County Jail in Oklahoma.
Marius Mason continues to serve his 22 year sentence, currently at Danbury CT. He is petitioning for compassionate release for health reasons during Covid-19. His support site is currently down, but people can donate through PayPal and Venmo and updates will be coming on Twitter and FB until the website is back up.
Lisa of the Aachen bank robbery case was recently restricted by a prison magistrate from being able to leave prison on weekends and during the day.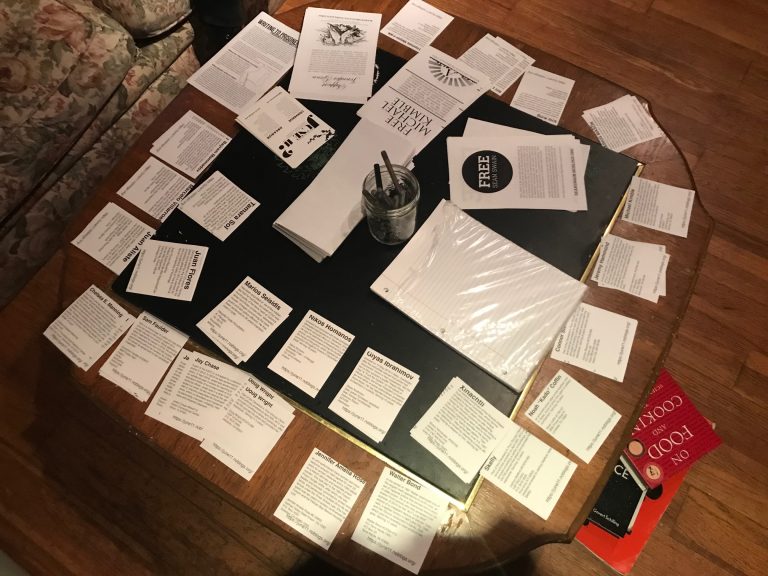 As members of the struggles of the '60s and '70s complete their sentences, and younger partisans of recent struggles emerge from shorter stints in prison, we can connect with them in mutually-enriching relationships. The challenges of being released from prison can be mitigated by a strong community of support; communities of support can deepen their own understanding of prison by direct interaction with former prisoners. These relationships can strengthen each of their participants, and expand beyond in the form of new projects and initiatives to free those still held captive.
One important and often neglected aspect of prisoner support is aid to the families of the imprisoned. Family members – often constituting a prisoner's primary or only base of support – bear the emotional, financial, and mental hardships of their loved ones behind bars. The exorbitant costs of commissary, phone calls, and visits put undue strain on those who, in most cases, are already struggling to make ends meet. Social atomization, which leaves most of us feeling lost, can be hell for those whose close companions have been stolen by the state, and who lack communities of support. These struggles continue after prisoners are released, with friends and family trying to find them employment, places to live, help with parole or other forms of diffuse detention, etc. Project FANG provides travel funds to the families and friends of animal and earth liberation prisoners, allowing them to visit their imprisoned loved ones. The Rosenberg Fund for Children provides aid to the children of activists targeting by the state. Aside from supporting these projects, we encourage anarchists to form relationships with the families of anarchist prisoners: some may not share our ideas (though many do!), but they do share our desire to see loved ones in prison survive and thrive.
As the world descends further into crisis, we are less and less able to evade questions about how we live, what sorts of relationships we create together, and what worlds we wish to inhabit. On the one hand, there is ever-increasing state power, the slavery of the individual to the technological system, and the anomic loneliness of modern life. On the other, there are complex and difficult possibilities of decentralized lifeways in which individual freedom and shared joys mix in an alchemy which affirms both. Our bonds, tempered over years of living and fighting together, can prove the starting point for these new forms of existence. Those behind bars – who we have kept present with us in our garden plots and forest wanderings, in the melodies of our songs and in the adrenaline rush of our night work – are a part of the new world we hope for. Let's not forget them for one moment.
We encourage translation and dissemination of this call. Please email translations to june11th (at) riseup (dot) net.
Tags: International Solidarity, June 11, June 11th Solidarity, USA
Posted in Prison Struggle
Tuesday, May 5th, 2020
"As for me, I have chosen: I will be on the side of crime. And I will help the children, not to win back access to your houses, your factories, your schools, your
laws and sacraments, but to destroy them." Jean Genet
As the realities of school and rent vanish at our backs we find ourselves unleashed into a world of urgency and play. The ubiquity of masks transforms even delayed grocery trips into hunting expeditions guided by howls of distress.
It is not naive to claim that we are the one's we have been waiting for and emerge from quarantine to lay siege to the colony. Surviving Covid-19 and attacking at the heart of the plague-making machine calls for lots of affinity groups, shared risk thresholds and games to sharpen our claws. It is not enough to someday 'burn a prison to the ground' when new forms of captivity are being engineered to rise from it's ashes as we speak, disguised as clinics, hospitals, shelters…
So just like that, we descended on Heartland Alliance's driveway, slashed six tires, and disabled three vehicles.
(A)
Tags: Chicago, Heartland Alliance, Illinois, Sabotage, USA
Posted in Direct Action
Monday, May 4th, 2020
Another May Day, another cell tower set alight. A small act in the earliest hours, but an escalation beyond the norm. And we never want to return to 'normalcy.' We don't know the difference between 4G and 5G. All we know is we want none of it.
The tower's proximity to a train yard, a major pharmaceutical company's office, and other military/mercenary enterprises in the Philadelphia Navy Yard was intended to interfere with their operations, however small the impact. It should also be a reminder that no one is untouchable if you have the appropriate determination. And this particular act was quite easy.
The first flame was a warm hug for the comrade Badger, allegedly on the run after a series of similar incidents in Bristol. Stay free!
The ensuing smoke a signal to the comrades undergoing the Scripta Manent persecution in Italy… we stand with you!

For freedom,
for anarchy!

Bristling Badger Brigade
Tags: 1st May, 5G, Arson, Huw 'Badger' Norfolk, International Solidarity, Mayday, Operation Scripta Manent, Philadelphia, Sabotage, Solidarity Action, USA
Posted in Direct Action
Monday, May 4th, 2020
For autonomous, decentralized May Day, we torched an Amazon van in Los Angeles County.
We could not sit idly by and watch the spread of COVID-19 turn ICE detention centers into full blown death camps
Amazon provides the cloud servers that hosts the Investigative Case Management system, the database utilized by ICE and other Federal agencies to compile public and private data to track and deport immigrants. Amazon plays a role in every raid; every family separation; and every death at the hands of ICE. It was the goal of this action to raise the stakes for companies like Amazon that provide critical border enforcement infrastructure.
In solidarity with with migrants currently on hunger strike in ICE facilities throughout the country. In solidarity with warehouse and grocery workers engaging in wildcat strikes on May Day.
Against the imposition of borders and the proliferation of the surveillance state
Anarchist Fire
#DestroyWhiteSupremacy
#MayDayStrike
Tags: 1st May, Amazon (Company), Arson, Coronvirus, Immigration Customs and Enforcement (ICE), Los Angeles, Los Angeles County, Mayday, Migrant Struggle, Sabotage, USA
Posted in Direct Action
Friday, May 1st, 2020
"I will not equivocate — I will not excuse — I will not retreat a single inch — AND I WILL BE HEARD. The apathy of the people is enough to make every statue leap from its pedestal, and to hasten the resurrection of the dead."
Fraternal, revolutionary greetings, in the true spirit of internationalism and solidarity against all forces of evil, destruction and self-destruction, hoping this one finds you, family and friends in the very best, as it leaves me, during these trying times of not only the deadly Coronavirus COVID-19, but of the same deadly white supremacist pig-germ that now occupies the White House, that is as deadly as COVID-19 for our impoverished communities, and for the imprisoned, and poor immigrants seeking a better way of life, all pushed back by this sheer imperialist arrogance and elitism of the billionaire, money-laundering pig club that has taken over the halls of political power in the U.S. of A., a clear and present danger to all of humanity and planet Earth. Let future generations disown us and label us as spineless cowards, if we do not act to stop this insanity and madness!
You have the free liberty to duplicate these materials and share them with the rest of the world, on social media or to whomever or wherever you find my words, in the hopes that this extreme state repression I am being subjected to by these racist police state pigs may stir the senses of world humanism, and motivate others to join the freedom train, in whichever ways they can, in spreading the word of the true realities of what Amerikkka's racist, pig prison torture chambers are all about, all in the name of the corporate greed profiteering of those who make a livelihood of imprisoning others and upholding the fascism of this capitalist/imperialist totalitarian police state. There is only one way out of this misery for us, and that is through class struggle and social revolution. I have my shovel in hand, and have joined the club of grave diggers, to dig the future grave of this racist, oppressive and criminal system of robbery called capitalism. Expropriate the expropriators! (more…)
Tags: Anti-Prison, Coronavirus, International Solidarity, Letter, Texas, USA, Xinachtli
Posted in Prison Struggle
Friday, May 1st, 2020
Welcome to the 33rd edition of Bad News. This is our Angry Voices From Around The World for April, 2020. A report from the international network of anarchist and anti-authoritarian radios.
If you'd like to get involved in the network or want to hear more – send an email to a-radio-network@riseup.net.
Check out all the shows look for the a-radio-network collection on archive.org or at our website, a-radio-network.org.
Contents:
1. Črna Luknja sharing a thought on how does corona virus influence our society and thoughts on how to intervene politically in state of emergency – from Federation for Anarchist Organizing from Slovenia and part of Croatia.
2. 105fm (Mytilene, Lesvos) for the general situation in Lesvos, situation in Moria camp and hunger strike in Moria's prison.
3. The Final Straw Radio sharing a short description of recent covid-19 subjects in the US and some commentary by anarchist prisoner Sean Swain on how to make it through isolation more safely.
4. R.O.S.E. (Athens) with updates and news from Athens.
5. A-Radio Berlin on a commentary about the global situation these days.
6. Free Social Radio 1431AM (Thessaloniki) about
the cut of power supply in BIO.ME. (an occupied and self-organized factory in Thessaloniki)
movements and struggles in prisons during the quarantine and corona-virus.
repression in so-called Greece during the quarantine and corona-virus.
arrests of Kurdish and Turkish comrades in Athens.
evictions of migrant's "home" squats.
7. Dissident Island (London) focuses on issues around housing in the UK, discussing moves the state has made to protect landlords, the lip service paid to renters and homeless folk, and the self-organised solutions that are emerging through rent strike and mutual aid groups.
8. Frequenz A with an interview with somebody of the anarchist network Dresden (Germoney) about their initiative in their neighborhood during the covid-19 crisis.
9. Radio Fragmata (Athens) with an introduction on the socio-political situation and struggles in Greek territory.
Tags: Anarchist Radio, Anarchistisches Radio Berlin, Athens, Berlin, Coronavirus, Croatia, Dresden, Germany, Greece, Lesvos, London, Migrant Struggle, Radio, Radio Fragmata, Repression, Sean Swain, Slovenia, Thessaloniki, UK, USA
Posted in Autonomy
Tuesday, April 21st, 2020
Like many of you in the free world, I have been monitoring closely the daily COVID-19 briefings broadcast from the White House. I have also been observing and analyzing the propaganda disseminated by the mainstream media in regard to the deadly pandemic.
What has been missing from the presidential daily briefings and news media platforms such as CNN and Fox News is any mention of the effect COVID-19 has had on Amerika's world leading prison population.
There has been a glaring lack of transparency and accountability in regard to what is actually happening inside both federal prisons and immigration detention centers as well as state prisons all across the United Snakes of Amerika. With your mutual aid and solidarity, I will attempt to fill that void in reporting.
I am an older Black man who is currently incarcerated at a high security federal prison in Louisiana, USP Pollock. A few miles down the road from USP Pollock is a low security federal prison known as FCI Oakdale.
The most recent data and information coming out of FCI Oakdale reports over 60 confirmed cases of COVID-19 and at least 10 deaths. I request that all of you reading this report help confirm these numbers. Bureau of Prisons (BOP) employees have been instructed to keep quiet in respect to the current situation at FCI Oakdale. (more…)
Tags: Coronavirus, FCI Oakdale, International Solidarity, Keith Malik Washington, Letter, Louisiana, Racism, Repression, Tasheem Carter, USA, USP Pollock
Posted in Prison Struggle
Thursday, April 9th, 2020
Revolutionary Greetings Comrades! Today is Tuesday, April 7th, 2020. This morning the entire prison population here at USP Pollock was screened for Covid-19 and issued protective Masks! The Registered Nurse who was part of the screening team was named Pennison. I asked Mr. Pennison Two Important questions:
#1.) Are there any Confirmed Cases of Covid-19 on the entire Federal Correctional Complex here at Pollock?
He answered: "No"
#2.) Have there been any Suspected Cases of Covid-19 on the Complex??
His answer was: "Yes, but they have been ruled out."
Be advised that this morning a prisoner on my Housing Unit claimed to have Covid-19 symptoms! He has been placed in quarantine. Please Pray for the Best!
The Fcc-complex at Pollock includes a Satelite Camp, a Medium Facility and a U.S. Penitentiary where I am currently Housed.
I Must take this opportunity to issue a National Call for Action!!! Now!!!
(more…)
Tags: Anti-Prison, Coronavirus, Keith Malik Washington, Letter, USA
Posted in Prison Struggle
Thursday, April 9th, 2020
Volume 6 Issue 3 (PDF for reading 8.5 x 11)
Online only this issue 🦠😷
In this issue:
From Future To Present Tense
COVID-19: A Fork In The Road
What Went Down
Earth's Destruction Deemed "Essential"
Black Socialists In America Approached By The FBI
COVID In Prisons
The Last Assembly: A Report Back
Mutual Aid Toward Freedom
Tags: Anathema, Coronavirus, PDF, Philadelphia, USA, Zine
Posted in Library
Tuesday, April 7th, 2020
I've Spent 27 Years in Solitary Confinement. Here Are Some Tips on Making the Best Use of Time Alone.
By Keith Lamar, via AMW.
In solitary, I'm already quarantined somewhat. The only way we would get sick is if a CO [correctional officer] or somebody brings it in. It's probably inevitable because the guards, even if they don't have a temperature, can still be carrying the virus. And they are the ones who pass out mail, who give us food. I'm doing what I can in terms of washing my hands frequently, but there's only so much you can do. You just sitting here waiting to catch it.
I had a strict rule with my family that if anyone is sick please don't come visit, because once you get the flu [here] it's just torture. They don't give you any medications, beyond ibuprofen, so you pretty much have to suffer through. If you catch something as severe as coronavirus, I don't know how they intend to deal with that. Perhaps they would ship you out to another facility, a hospital. I'm definitely afraid.
They have suspended all visitations, so our families aren't able to come. Before, I was getting five to six visits a month: nieces and nephews, my uncles, aunts, friends. I realize there's a pandemic, so I'm all for suspending visits temporarily. My fear is that after this is said and done, they will use this as an excuse to extend the no-visit policy. I went 18 years without being able to hug my family. That's the only concern I have, besides getting sick. (more…)
Tags: Coronavirus, Isolation, Keith Lamar, Letter, Repression, USA
Posted in Prison Struggle
Monday, March 30th, 2020
From Black Ink.
What is a friendship? Is it two people that hang around each other or talk to each other every day, or just two people that party together? No—a friendship is a bond you make with someone. A bond you can't break. A bond so strong that no matter what happens it won't break. But when a friendship is questioned by another person, show them how strong it is by showing them what a friend is for.
When your bro is down, be there by his side when he falls. When he needs somebody to talk to, lend him your shoulder. If he goes to battle, be there for him in that fight—be ready to take a bullet for your bro.
I can tell you this: I'm willing to die for my bros, for real. I'm ready to take a bullet or a beat-down for my bro, because at the end of the day, when my bro needs my help, best believe I will be there in a heartbeat, and I will be there till we done. If my help causes me to die then so be it.
They call me a racist for hanging around white people. Let me tell you something: there was more white people there for me in my lifetime than my own kind. If my own kind was there for me, they was there for what I got. Only a handful of my kind was real to me, and those are the people I still talk to today.
Yeah, I hang around white people, and I will continue to do that. I got a white friend inside prison called Daustin Luck, and let me tell you this: he is the most realest person I had in my entire life, and I would stand on that—I will die for that boy. You know why? Because he was so good to me. He didn't care what I had. He was there when I was down and out, so I have a mission to be there for him. I devote my life to him.
There's another person like that. We call him Guy. He is the most realest person I had in my life. Guess what? He blacker than my handful of black people and I will die for him. To these two people I will give my life, and get the tar beat out of me, fighting by they side, and beside my family and my girl.
I say to the world, right here, right now: when we come home, those that supported me in here and out there are the people I will mess with, because those people was there for me inside prison. They held my head above water when I went under. When I was on drugs in here they was there to drag me out. They didn't stop messing with me because I used. My bro Luck used a lot, but he overcame and he got me through a lot of shit.
People of the nation: when these two people come home, please recognize them as real friends. Give them the same respect y'all do me because they deserve that shit. Remember these names and share them with the world, please:
DAUSTIN LUCK (1326362)
GUY WOOLFOLK (1007482)
I love these people to death. Get in contact with them, please. I beg you, let's give them the same support y'all give me. If you want to send money or letters you can. Let's show how y'all can support them.
Joshua Williams
The Ferguson Uprising took place the day after the fatal shooting of Michael Brown by police officer Darren Wilson on August 9, 2014, in Ferguson, Missouri. The brutal killing sparked mass protests and riots across America that had reverberations around the world. Write to Joshua, find his prison address and financial solidarity details on this page.
Tags: Ferguson, Joshua Williams, Letter, Racism, Riots, USA
Posted in Prison Struggle
Friday, March 27th, 2020
As nihilist-anarchists against civilisation we share this text we were sent, as recognition of the call from the FAI/IRF cell in Argentina to be open to indigenous thoughts and life-ways:
"This moment humanity is going through can be seen as a portal and as a hole. The decision to fall into the hole or go through the portal is up to you. If they repent of the problem and consume the news 24 hours a day, with little energy, nervous all the time, with pessimism, they will fall into the hole. But if you take this opportunity to look at yourself, rethink life and death, take care of yourself and others, you will cross the portal. Take care of your home, take care of your body. Connect with the middle body of your spiritual house, all this is synonymous, that is to say the same. When you are taking care of one, you are taking care of everything else. Do not lose the spiritual dimension of this crisis, have the aspect of the eagle, which from above, sees the whole, sees more widely. There is a social demand in this crisis, but there is also a spiritual demand. The two go hand in hand. Without the social dimension, we fall into fanaticism. But without the spiritual dimension, we fall into pessimism and lack of meaning. You were prepared to go through this crisis. Take your toolbox and use all the tools at your disposal. Learn about resistance with indigenous and African peoples: we have always been and continue to be exterminated. But we still haven't stopped singing, dancing, lighting a fire and having fun. Don't feel guilty about being happy during this difficult time. You don't help at all by being sad and without energy. It helps if good things emanate from the Universe now. It is through joy that one resists. Also, when the storm passes, you will be very important in the reconstruction of this new world. You need to be well and strong. And, for that, there is no other way than to maintain a beautiful, happy and bright vibration. This has nothing to do with alienation. This is a resistance strategy. In shamanism, there is a rite of passage called the quest for vision. You spend a few days alone in the forest, without water, without food, without protection. When you go through this portal, you get a new vision of the world, because you have faced your fears, your difficulties…
This is what is asked of you. Let them take advantage of this time to perform their vision seeking rituals.
What world do you want to build for yourself? For now, this is what you can do: serenity in the storm. Calm down and pray. Everyday. Establish a routine to meet the sacred every day. Good things emanate, what you emanate now is the most important thing. And sing, dance, resist through art, joy, faith and love."
Resiste – Renace
Tags: Coronavirus, Hopi, Indigenous Struggle, USA
Posted in Cognitive Liberty
Monday, March 9th, 2020
In this episode we have a discussion with West Northwest, a philosopher of technology with a specific focus on the existential dangers of 21st century technologies to the freedom and autonomy of human beings and to the entirety of the natural world, and on the need to resist those technologies and the system that is bringing them into existence. West Northwest brings deep wisdom and analysis to the technological tyranny threatening us all. We are grateful for this clear and concise voice in critiquing technology.
To complement the discussion with West Northwest, we have a reading of Feral Magick by Jason Rodgers.
We opened the episode with Foster's Mill, a traditional song penned anonymously which triumphs the tactics of the Luddites. The song refers to a mill owned by a Mr. Foster. The mill was stormed, set fire and machinery smashed by an armed crowd of 300 on April 9, 1812. Although Luddites struggled against a very different technological reality than we do today, the Luddites fundamentally rejected the same logic which we stand face to face with now. For the forever smashing of looms, this is Oak, enjoy the episode
https://soundcloud.com/oakjournal/be-friction-in-the-gears
Tags: Anti-technology, Oak Journal, USA, West Northwest
Posted in Cognitive Liberty
Monday, March 9th, 2020
Here is a report from the Texas political prisoner Xinachtli, discussing his conditions of confinement and asking for people to show solidarity on May Day:
"Love is contraband in Hell, cause love is an acid that eats away bars. But you, me, and tomorrow hold hands and make vows that struggle will multiply." – Comrade Assata Shakur, Black Liberation Army (in exile in Cuba)
In the spirit of revolutionary proletarian internationalism, from within the belly of this racist, fascist, neo-colonial military stockade, also known as the Guantanamo of Texas prisons, from the occupied territories of the U.S. Southwest under siege for over 500 years, I salute you, and thank you and all freedom-loving peoples of the world, who support me, the Texas prisoner freedom struggles, and the global fight against monopoly capitalism and imperialism.
Viva la revolucion obrera! Viva la lucha! Long live the struggle!
Since my return trip from Polunsky in Livingston, TX, from my Hep C medical treatment, I found a "new administration" in ad. seg. (meaning solitary confinement), more repressive than the last one when I left here in July 2019. Since my return on October 18, 2019, I have been repeatedly assigned to a "disciplinary segregation" cellblock, more punitive than the regular ad. seg. cellblock. I mean, the pigs claim it is just a temporary 30-day "assignment", but they keep repeating me on it, saying it is due to "overcrowding overflow", but of over 500 ad. seg. prisoners, who they could easily "rotate", they have singled me out for repeated assignments to this merry-go-round, under false pretexts. (more…)
Tags: 1st May, Anti-Prison, International Solidarity, Letter, Mayday, Racism, Repression, Texas, USA, Xinachtli
Posted in Prison Struggle