Posts Tagged 'USA'
Thursday, December 15th, 2011
325 receives and transmits:

28 November 2011
Communique:
On the night of November 28th, 2011, we sabotaged a rail line in Southern Oregon as part of a coordinated effort to disrupt the flow of commerce on the West Coast. We got tired of watching trains pass through our towns loaded with lumber, ore, cheap commodities, and other resources pillaged from the earth without consequence. We didn't do this out of a desire to create a more green, sustainable or humane civilization—we want nothing less than to see the total failure of this sick and rotten society.
This action was not only easy to carry out, but positively satisfying. We used 4AWG copper wire with the ends stripped of insulation and wrapped around the two sides of the track with the rest of it buried in the middle, which falsely indicated to a sensor that there was a train stopped on the railway.
We did this in solidarity with currently imprisoned members of the Long-Live Luciano Tortuga Cell/Indonesian FAI, to whom we send our most passionate revolutionary greetings.
We would also like to send our love to ALF prisoner of war, Walter Bond.
Towards an end to this nightmare world
Tags: Billy, Eat, Indonesia, International Solidarity, Luciano Pitronello Schuffeneger, Oregon, RO-FAI (Indonesia Section), Sabotage, USA, Walter Bond
Posted in Direct Action
Friday, December 9th, 2011
From solidariedadejorgedossanto(at)gmail.com:
By George Pumphrey, Berlin, Germany.
Many news articles had an aura of the "spectacular" in their reporting on Portugal's arrest of the Portuguese citizen, Jose Luis Jorge Dos Santos (George Wright), at the request of the US government for consideration of his extradition to the United States. The articles placed their accent on the arrest of a "convicted murderer," who had been a fugitive for 41 years.
Portuguese police arrested Jose Luis Jorge Dos Santos, earlier known as George Wright, September 26, 2011. In 1970, after serving eight of a 15 – 30 year sentence, Wright, along with three other inmates escaped from the Bayside minimum security prison facility in Leesburg N.J. According to the media, US officials are allegedly seeking to have Wright return "to serve the remainder of a 15- to 30-year jail sentence for the killing of Walter Patterson," during a 1962 gas station hold-up in New Jersey. (One must add "allegedly," because the media quotes no specific US official alleging that this is the sole or even the main reason for their seeking his return.)
In 1972, Wright, and 4 other Afro-American (taking along 3 children), hijacked a Delta Airlines flight from the USA to Algeria with a ransom of $1,000,000 destined for the foreign section of the Black Panther Party, based in Algiers at the time. (more…)
Tags: Black Panther Party, George Wright, Jose Luis Jorge Dos Santos, Portugal, Repression, USA
Posted in Social Control
Monday, November 21st, 2011
325 receives and transmits:
19 November 2011
ANTISEC LEAKS DOJ SPECIAL AGENT SUPERVISOR'S PRIVATE EMAILS, IACIS CYBERCRIME INVESTIGATOR COMMUNICATIONS care of the #OCCUPYWALLST CRACKDOWN RETALIATION TASK FORCE.
Greetings Pirates, and welcome to another exciting #FuckFBIFriday release.
As part of our ongoing effort to expose and humiliate our white hat enemies, we targeted a Special Agent Supervisor of the CA Department of Justice in charge of computer crime investigations. We are leaking over 38,000 private emails which contain detailed computer forensics techniques, investigation protocols as well as highly embarrassing personal information. We are confident these gifts will bring smiles to the faces of our black hat brothers and sisters (especially those who have been targeted by these scurvy dogs) while also making a mockery of "security professionals" who whore their "skills" to law enforcement to protect tyrannical corporativism and the status quo we aim to destroy.
We hijacked two gmail accounts belonging to Fred Baclagan, who has been a cop for 20 years, dumping his private email correspondence as well as several dozen voicemails and SMS text message logs. While just yesterday Fred was having a private BBQ with his CATCHTEAM high computer crime task force friends, we were
reviewing their detailed internal operation plans and procedure documents. We also couldn't overlook the boatloads of embarrassing personal information about our cop friend Fred. We lulzed as we listened to angry voicemails from his estranged wives and ex-girlfriends while also reading his conversations with girls who responded to his "man seeking woman" craigslist ads. We turned on his google web history and watched him look up linux command line basics, golfing tutorials, and terrible youtube music videos. We also abused his google
voice account, making sure Fred's friends and family knew how hard he was owned.
Possibly the most interesting content in his emails are the IACIS.com internal email list archives (2005-2011) which detail the methods and tactics cybercrime units use to gather electronic evidence, conduct investigations and make arrests. The information in these emails will prove essential to those who want to protect themselves from the techniques and procedures cyber crime investigators use to build cases. If you have ever been busted for computer crimes, you should check to see if your case is being discussed here.
There are discussions about using EnCase forensic software, attempts to crack TrueCrypt encrypted drives, sniffing wireless traffic in mobile surveillance vehicles, how to best prepare search warrants and subpoenas, and a whole lot of clueless people asking questions on how to use basic software like FTP. In the end, we rickrolled the entire IACIS list, causing the administrators to panic and shut their list and websites down.
These cybercrime investigators are supposed to be the cream of the crop, but we reveal the totality of their ignorance of all matters related to computer security. For months, we have owned several dozen white hat and law enforcement targets– getting in and out of whichever high profile government and corporate system we please and despite all the active FBI investigations and several billion dollars of funding, they have not been able to stop us or get anywhere near us. Even worse, they bust a few dozen people who are allegedly part of an "anonymous computer hacking conspiracy" but who have only used kindergarten-level DDOS tools– this isn't even hacking, but a form of electronic civil disobedience.
We often hear these "professionals" preach about "full-disclosure," but we are sure these people are angrily sending out DMCA takedown notices and serving subpoenas as we speak. They call us criminals, script kiddies, and terrorists, but their entire livelihood depends on us, trying desperately to study our techniques and failing miserably at preventing future attacks. See we're cut from an entirely different kind of cloth. Corporate security professionals like Thomas Ryan and Aaron Barr think they're doing something noble by "leaking" the public email discussion lists of Occupy Wall Street and profiling the "leaders" of Anonymous.
Wannabe player haters drop shitty dox and leak partial chat logs about other hackers, doing free work for law enforcement. Then you got people like Peiter "Mudge" Zatko who back in the day used to be old school l0pht/cDc only now to sell out to DARPA going around to hacker conventions encouraging others to work for the feds. Let this be a warning to aspiring white hat "hacker" sellouts and police collaborators: stay out the game or get owned and exposed. You want to keep mass arresting and brutalizing the 99%? We'll have to keep owning your boxes and torrenting your mail spools, plastering your personal information all over teh internets.
Hackers, join us and rise up against our common oppressors – the white hats, the 1%'s 'private' police, the corrupt banks and corporations and make 2011 the year of leaks and revolutions!
We are Anti-Security,
We are the 99%
We do not forgive.
We do not forget.
Expect Us!
–
video message from #AntiSec : http://www.youtube.com/watch?v=fBtCBg9HgZI
Browse the emails using Tor Hidden Services:
http://ibhg35kgdvnb7jvw.onion/cybercrime <- on tor http://ibhg35kgdvnb7jvw.tor2web.org/cybercrime <- not on tor [*] Download the emails using BitTorrent: http://www.thepiratebay.org/user/AntiSecurity
[*] Donate BitCoins for future leaks!! 18NHixaoQekQJ3y52aBGJJwgBWX9X3myYR
Tags: #antisec, #FuckFBIFriday, #Occupy, #OCCUPYWALLST, 325 4 teh lulz, Fred Baclagan, Fuck the Law, Hacking, IACIS, teh internets, USA
Posted in Direct Action
Tuesday, November 15th, 2011
325 receives and transmits:

9 November 2011
In the night of 9th November 2011, in Milano (Italy), we smashed 7 bank ATMs.
We decided to attack the banks as they are the symbolic institutions of money, the pillar of today's alienated and false social relations (work/consume) and of the power relations between the dominant élites and the mass of the exploited.
Crisis or no crisis, it's the same existence of any economic system that disgusts us, a system that we're not interested in saving or reforming but only in destroying.
The executives of the financial institutions, closed in their offices, everyday move huge quantities of capital, in order to gain as much profit as possible, not caring about the devastating effects that the projects they finance (wars and weapons, highways, energy plants, high speed trains, security and social control systems and so on) have on entire territories and populations.
This action is dedicated to Luciano Tortuga, Chilean anarchist comrade wounded while he was attacking a bank in Santiago.
Solidarity is not only words! Complicity and solidarity to all the prisoners that resist, and to anybody who fights here as in Chile, Greece, Russia, Belgium, Germany, Indonesia, Spain, Sweden, USA and anywhere else… against any form of oppression!
Riot shouldn't be just a day of temporary joy but a permanent life condition… to take our lives back in our hands… more attacks against the symbols of State and Capital!
Revolting Individualists
Tags: ATM, Belgium, Chile, Economic Crisis, Germany, Greece, Indonesia, International Solidarity, Italy, Luciano Pitronello Schuffeneger, Revolting Individualists, Russia, Spain, Sweden, USA
Posted in Direct Action
Thursday, October 27th, 2011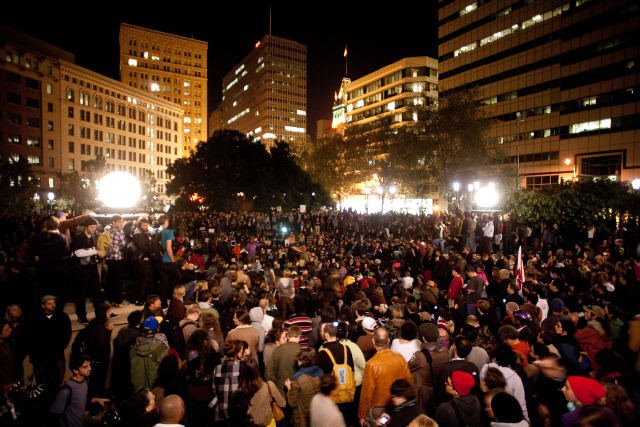 325 receives and transmits : Source
Below is the proposal passed by the Occupy Oakland General Assembly on Wednesday October 26, 2011 in reclaimed Oscar Grant Plaza. 1607 people voted. 1484 voted in favor of the resolution, 77 abstained and 46 voted against it, passing the proposal at 96.9%. The General Assembly operates on a modified consensus process that passes proposals with 90% in favor and with abstaining votes removed from the final count.
PROPOSAL:
We as fellow occupiers of Oscar Grant Plaza propose that on Wednesday November 2, 2011, we liberate Oakland and shut down the 1%.
We propose a city wide general strike and we propose we invite all students to walk out of school. Instead of workers going to work and students going to school, the people will converge on downtown Oakland to shut down the city.
All banks and corporations should close down for the day or we will march on them.
While we are calling for a general strike, we are also calling for much more. People who organize out of their neighborhoods, schools, community organizations, affinity groups, workplaces and families are encouraged to self organize in a way that allows them to participate in shutting down the city in whatever manner they are comfortable with and capable of.
The whole world is watching Oakland. Let's show them what is possible.
The Strike Coordinating Council will begin meeting everyday at 5pm in Oscar Grant Plaza before the daily General Assembly at 7pm. All strike participants are invited.
Stay tuned for much more information and see you next Wednesday.
Since this announcement, social media has been abuzz with calls for a US-wide General Strike and a Global General Strike!
Tags: #Occupy, Economic Crisis, General Strike, Oakland, Occupy Oakland General Assembly, Oscar Grant, Oscar Grant Plaza, USA
Posted in Autonomy
Monday, June 13th, 2011
325 presents this interview which can be found in document format here, on the website of the 11th June International day of Solidarity with Marie Mason, Eric McDavid and Long-term Anarchist Prisoners. Our editing & transliteration monkeys refused to co-operate with us this week and went on banana strike, so we've kept Eric's mobilefone text-speak way of writing intact, as that's how he usually writes his letters. Eric McDavid out now in the streets!
Jeff Luers set fire to three SUVs at a car dealership in Eugene, OR during the summer of 2000 in response to the environmental devastation that he saw occurring on a global scale. The court levied an egregious sentence to make an example out of him, to send a clear message to others who might share Jeff's outrage and will.
In 2004 Jeff was three years into his 22+ sentence. That year his support crew announced that June 11th was the International Day of Solidarity with Long-term Anarchist Prisoner Jeff "Free" Luers. In the following years, June 11th served as a day for anarchists, environmental radicals and forest defenders alike to show some kind of support for Jeff. (more…)
Tags: Eric McDavid, Greenscare, Interviews, Jeff 'Free' Luers, Repression, USA
Posted in Prison Struggle
Wednesday, June 8th, 2011
From the USA comrades organising the International Day of Solidarity with Eric McDavid, Marie Mason & Long-term anarchist prisoners. Revolutionary solidarity with our prisoners of war – A movement which forgets the prisoners is dead. This article is available as a PDF:
This is a strategy proposal for June 11th as a part of a broader push to develop livable support for long-term anarchist prisoners in the US. This statement specifically contemplates an audience of radicals & anarchists coming out of environmentalist, animal rights and/or anti-globalization milieus. Though, the readership is likely to include more people, that just happens to be my background and that Marie's and Eric's. (more…)
Tags: Eric McDavid, International Solidarity, June 11, Marius Mason, USA
Posted in Prison Struggle
Saturday, May 28th, 2011
Received from the USA collective June 11th Solidarity. In this time of ecological collapse and social repression let's show solidarity with our prisoners of resistance, who have paid a high price for their ideals, as well as all those who deny to legitimate the demands of authority, – it's time to attack again the concepts, symbols and structures of the cruel and exploitative capitalist system.
–
June 11th Reminder and Event Suggestions
ANNOUNCEMENT
May 27, 2011
The Day for Solidarity with Long-term Anarchist Prisoners is now two weeks away. June 11th is an open invitation to demonstrate support for Marie Mason and Eric McDavid, who are each serving 20 years. This date provides an opportunity to build links of affinity and solidarity towards the destruction of the prisons and prison-society. (more…)
Tags: Eric McDavid, International Solidarity, June 11th Solidarity, Marius Mason, USA
Posted in Prison Struggle
Saturday, April 9th, 2011
International day of action called by American comrades for the long-term revolutionary eco-anarchist prisoners under severe prisons conditions and subject to FBI & prison authority repression. The day is also called for all long-term anarchist prisoners around the world.
International Day of Solidarity for Marie Mason and Eric McDavid!
June 11th began as an international day of solidarity with long-term anarchist prisoner Jeff "Free" Luers in 2004. At the time, Jeff was serving 22+ years. Infuriated by the environmental devastation he saw occurring on a global scale, Free torched three SUVs at a car dealership in Eugene, Oregon (OR). The sentence imposed on him was meant to send a clear message to others who were angered by capitalism's continued war on the Earth's ecosystems – and to those who were willing to take action to put a stop to it. Free is, after all, not alone in his concerns about climate change, fossil fuels, pollution and genetically modified organisms.
After years of struggle, Jeff and his legal team won a reduction in his sentence and he was released from prison in December 2009. But in the years intervening Jeff's arrest and release, the FBI had carried out a series of indictments and arrests in an attempt to devastate the radical environmental and anarchist communities. Two of the people caught up in this maelstrom of repression were Eric McDavid and Marie Mason. (more…)
Tags: Eric McDavid, International Solidarity, Marius Mason, USA
Posted in Eco Struggle, Prison Struggle
Sunday, March 6th, 2011
The following is a statement from Jason Campbell, an inmate in Ohio State Penitentiary where Lucasville uprising prisoners Siddique Abdullah Hasan, Bomani Shakur and Jason Robb recently won significant improvements in the terms of their confinement through a 12-day hunger strike and an international campaign of support. Campbell chose Feb. 27 to start his hunger strike because it is the 38th anniversary of the liberation of Wounded Knee by the American Indian Movement. Since he wrote this statement, the prison has moved him to segregration (the hole) and confiscated as contraband a necklace with religious significance that he had permission to have.
Thank you for your interest in my current plight. I am grateful that there is at least one voice still willing to speak up on behalf of those in my position. (more…)
Tags: American Indian Movement, Hunger Strike, Jason Campbell, Ohio, USA, Wounded Knee anniversary
Posted in Cognitive Liberty, Prison Struggle
Saturday, February 27th, 2010
Received via contact form
27 February 2009
"Capitalism is a system of relationships, which goes from inside to out, from outside to in, from above to below, and from below to above. Everything is relative, everything is in chains. Capitalism is a condition both of the world and of the soul."
-Franz Kafka
There is nothing left; nothing that hasn't been molded, molested, or completely crushed; nothing that has managed to escape the network of power as it scours every inch of the earth, lodging itself into every crevice.
Crowding each moment, the omnipresent asphyxiation provides ample evidence to this all-encompassing totalization. Heads bowed, backs bent, we bear the weight of the day in our beleaguered entrails.
Now taking on increasingly monstrous qualities, a vampire-likeness of achieved full nocturnality, even the sleeper finds his dreams inhabited. Robbing us of expectations, snatching away our latent potential, Capital has acquired the speculative capability to recuperate futures and integrate things before their invention. After colonizing the entire world, the enemy now works to conquer the collective realm of our imaginations where we once plotted and, consequently, envisioned its very demise.
The cooption of creativity signaled the predetermined defeat, which led the Marxists to surrender to the British Museum before they realized an 1848. The only pseudo-victory to their credit consists in pushing Negri out of
the spotlight by ushering "communization" and "insurrection" into the academy's discursive field. Both trends can be written off as failed experiments because each has neglected to activate the only concept capable of giving jargon any significance. The Struggle.
"To fight, to be defeated, to fight again, to be defeated again, to fight anew until the final victory."
-An old Italian adage
In practice, the clashes and occupations have divorced the leftist baggage and chosen everyday life as the terrain for conflict, yet unfortunately expression still continues to abide by the activist calendar. A day of action is paled by a year of misery. Like long fits of depression, extended bouts of downtime undermine each subversive act, resulting in the production of militant event planners: blinded to the past and merely anticipating the next unsuccessful Bastille storming. They strike at the same tempo ordinary citizens attend birthday parties, riot at the same rate of wedding crashers and surely, at this pace, they will never RSVP the bourgeoisie funeral.
Detached theory and relegated practice present themselves as nothing other than the comorbid symptoms of statified ideology. Now we can confidently diagnose that the much prophesized "coming" can only amount to a
passing fad.
We notice the relentless internalized repression masquerading as patience and so we refuse to wait for March 4th, the ides of March or, for that matter, any date to come. We expressed our distaste for the veiled technological prison of surveillance and electronic monitoring by sabotaging several of the soon to be installed ID-card scanners at the Hunter College campus. Against education as such, we then struck Brooklyn College's administrative building. Lastly, we attacked Marathon bank, a subsidiary of the same Piraeus bank that Alfredo Bonanno and Christos Stratigopoulos are accused of expropriating. We extend our solidarity to the two imprisoned comrades and, as Bonanno's health deteriorates in a prison cell, we adhere to the following principle:
"For an eye, two eyes. For a tooth, the whole face."
Tags: Alfredo M. Bonanno, Christos Stratigopoulos, New York, Revolutionary Solidarity, Solidarity Action, USA
Posted in Direct Action
Monday, February 15th, 2010
Mumia Abu-Jamal is an innocent man on death row. In two recent decisions, the US Supreme Court has ignored both evidence of his innocence and it's own precedents to deny Mumia's appeal and bring him closer to execution. In this statement, the Labor Action Committee To Free Mumia Abu-Jamal lays bare the truth behind these actions, and proposes a course of workers' and mass action to free Mumia. (more…)
Tags: Mumia Abu-Jamal, Racism, USA, Workers Autonomy
Posted in Prison Struggle
Saturday, December 19th, 2009
by Edward Julious on behalf of Cleveland Anarchist Black Cross
On Easter Sunday, April 11, 1993, a riot broke out at the infamous Southern Ohio Correctional Facility at Lucasville. Lucasville had a reputation as one of the most violent and predatory prisons in the country. The prison and the atmosphere at the prison had become extraordinarily tense since the arrival of Warden Arthur Tate Jr. in 1990. (more…)
Tags: ABC Cleveland, Edward Julious, Lucasville, Prison Riot, USA
Posted in Prison Struggle
Wednesday, November 11th, 2009
By: Gloria La Riva
U.S. Supreme Court to rule on reactionary 'states rights' argument
The life of African American leader and death-row prisoner Mumia Abu-Jamal is in new danger. A pending U.S. Supreme Court ruling on a case in Ohio could set the stage for the reinstatement of Mumia's death sentence. Mumia's case is also separately before the U.S. Supreme Court, but presented by Philadelphia prosecutors seeking to have his death sentence reinstated. (more…)
Tags: Death Penalty, MOVE, Mumia Abu-Jamal, Racism, USA
Posted in Prison Struggle