Posts Tagged 'USA'
Thursday, November 16th, 2017
Statement from Walter Bond recorded by the North American Animal Liberation Press Office on 11/15/17
(Audio Message)
https://soundcloud.com/rufrebelradio/urgent-message-special-announcement-from-walter-bond-the-alf-lone-wolf
"Since my arrival in Greenville two-and-a-half years ago, my
communications with the world have been made incredibly difficult and at
times impossible. I have been repeatedly denied books, magazines,
letters and pictures. It's standard operating procedure that my mail –
be it my email or snail mail — is habitually days, weeks and even
months late. It is not at all uncommon for my mail, both incoming and
outgoing, to simply never arrive." (more…)
Tags: ALF, Animal Liberation, Hunger Strike, Lone Wolf, USA, Walter Bond
Posted in Prison Struggle
Tuesday, November 14th, 2017
via itsgoingdown:
Below is a statement written by anarchist prisoner Eric King in October. For more info on how to support Eric, go here.
What does it look like to be antifascist in federal prison in 2017? It may not be what you think.
If you picture coming into the feds with your fist swinging, taking on every racist, swastika wearing trash you see, that is not a reality. That line of thinking will get us nowhere. Racism at the federal level is very real and played out in a very archaic way. At CCA Leavenworth I pictured going into ANY spot guns blazing, taking on bigots in a very macho, aggressive, violent way. At CCA that was actually somewhat doable, even at Englewood-FCI (low security) it was somewhat a reality because you could dog them out and clown them for their ridiculousness… the reality is though, that the higher up in custody you go and the further west coast you end up, the more serious the game gets and the less likely you are to be able to express your own antifascist ideas without facing some serious backlash. (more…)
Tags: Anti-Fascism, Antifa, Eric G. King, Letter, Racism, USA
Posted in Prison Struggle
Tuesday, November 14th, 2017
via itsgoingdown:
This following essay is written by anarchist prisoner, Sean Swain, and was originally released on the Final Straw Radio show. For more info about how to support Sean, go here.
In Ohio prisons, pretty much everyone is in a gang whether they're in a gang or not. If you're an Ohio prisoner and you're not in a gang, prison administrators will put you in one. And if there's no gang for you, they'll just create a new one.
The reason is, it's a federal bloc grant swindle. Here's how it works:
The U.S. Department of Justice keeps a kind of database on what it calls "Security Threat Groups," or STGs, not to be confused with STDs, or "sexually transmitted diseases." The Department of Justice does not monitor chlamydia or gonorrhea. Yet. At least, as far as I know.
(more…)
Tags: Gangs, Letter, Racism, Sean Swain, USA
Posted in Prison Struggle
Monday, November 13th, 2017
From Plain Words:
Louis Lingg was born on September 9, 1864 in Mannheim, Germany. Early in his life, he began working as a carpenter, eventually involving himself in revolutionary struggles. His politicization compelled him to evade military service, so he fled Germany for Switzerland, only to be expelled in 1885. That summer, Lingg immigrated to the United States, settling in Chicago, one of the epicenters of the vibrant German-American anarchist movement.
On May 3, 1886, police attacked a strike at the McCormick Harvesting Machine Company plant, killing two workers. The following day, during a rally against this brutal repression, police attacked demonstrators. In the melee that followed, an unidentified person threw a bomb into the crowd of police, killing seven of them and injuring many others. At least four other people were killed in the ensuing firefight between police and demonstrators. (more…)
Tags: Louis Lingg, USA
Posted in Uncategorised
Tuesday, October 24th, 2017
Dear all,
Episode number 5 (10/2017) of "B(A)D NEWS – Angry voices from around the world", a monthly news program from the international network of anarchist and antiauthoritarian radios, consisting of short news segments from different parts of the world, is now online.
Length: 1:15 h
You'll find the audio here.
Content:
* 98fm: Laws, actions and repression in Greece
* A-Radio Berlin: The Anarchist Days in Dresden, Germany
* Radio Fragmata: Struggles in Greece
* 105fm: Immigration struggles, gender violence and other topics from Lesvos, Greece
* The Final Straw: Interview on the case of Hermann Bell in the USA
* Bilda Kedjor: Antifa action in Gothenburg, Sweden
* Radio Kurruf: Mapuche hungerstrike and repression in Chile
* Dissident Island: DSEI arms fair in London and October Revolution 1917
* Frequenz A: Update about repression and solidarity related to the protests against G20 in Hamburg
Other audios from A-Radio Berlin in English (or Spanish) here.
Or visit the new anarchist 24/7 online stream from the Channel Zero
Network: http://channelzeronetwork.com/
Enjoy!

A-Radio Berlin
Tags: Anarchist Radio, Anarchistisches Radio Berlin, Chile, DSEi, G20, Germany, Greece, Hermann Bell, Mapuche, Sweden, UK, USA
Posted in Autonomy
Tuesday, September 26th, 2017
New text in English and two Spanish translations and comment from La Rebellion de las Palabras:
Of Indiscriminate Attacks & Wild Reactions by Edelweiss Pirates
EE.UU. – "No son nuestros compañeros: ITS ataca al anarquismo", por Scott Campbell
EE.UU. – Sobre el conflicto con LBC durante la Feria del Libro Anarquista de Seattle
"Last month there was an altercation during the Seattle Anarchist Book Fair between two anarchists and members of the publisher and distributor Little Black Cart that began when anarchists asked the members of Little Black Cart for an explanation of the publication and dissemination of their "Atassa: Readings on Eco-Extremism" and in the absence of reasons decided to act and break the publication for supporting eco-extremist ideas, causing the members of Little Black Cart to physically attack these anarchists for breaking their material, a reasonable reaction (we would have done the same if someone appears and breaks our material), although it is also reasonable to think that after months of eco-extremist writings charged with threats, direct attacks by eco-extremists against groups and anarchists, of eco-extremist texts mocking anarchists assassinated or in prison, celebrating attacks of ISIS or humiliating victims of earthquakes and floods, the spread of eco-extremist propaganda would not be well received in anarchist spaces."
La Rebellion de las Palabras

"Not to leave any space to the eco-fascists, not in the street, not in the debates, not in publications, nor in the spaces.
A no dejar ningun espacio a los eco fascistas, ni en la calle, ni en los discursos, ni en las paginas, ni en los espacios."
From comrades in Chile

Ninguna permisividad hacia los círculos eco-extremistas
No permissiveness towards eco-extremist circles
Tags: Analysis, Eco-Extremism, Individualists Tending Toward the Wild (ITS), USA
Posted in Eco Struggle
Friday, September 22nd, 2017
Throughout my whole life, I've had a running list of worst fears that changed over the years, as many times as I have. My latest, having been the most likely to occur were fears of houseless-ness and prison. I used to have nightmares of the two where I would wake up in sweats. I've since been cured of them both but only by living through each.
With work inside our local communities, most, if not all, activists see people when they need solidarity the most. The houseless, the jobless, the drug addicts, the ones that have been tossed out, abused, and left for dead by our capitalistic system are the ones who we eat dinner with, laugh with, seek treatment with or aid mutually more than most others. A lot of these people have hit the preverbal bottom with unwavering abandonment from the state. The presence of these fears was only the state legitimizing itself in my subconscious mind. Facing my fear of houseless-ness was voluntary and a choice I made before leaving for Standing Rock last year. My arrest on Jan 21st was not voluntary what so ever and I would soon learn how to de-legitimize the state through control of ones own fears.
After the courts released me on January 26th, my fears were put into overdrive after five days in DC jails' intake wing. Our culture is centered around punishment. Our TV's highlight it, our movies romanticize it, our politicians run on it's platform, and our judges make a mockery of it by sending youth to "Scared Straight" programs. The latter of these I had the honor of attending at the youthful age of 14. Having grown adults insinuate that they would kill you if given the chance at such a young age is a shining example of just how loving our justice system is. Occupied Turtle Islands' obsession with punishment is unavoidable and a symptom of society's sickness in the same way that cops are glorified and reality TV stars become president. (more…)
Tags: Dane Powell, J20, USA
Posted in Prison Struggle
Monday, September 18th, 2017
A poem written by Eric
I was arrested by two ugly shades,
holding two ugly guns
pointed directly at my face
wearing a backpack full of gasoline and paint thinner
One to create, one to tear down
pockets full of shells and notes to remember
my tshirt was solid black
my jeans hadn't been washed in weeks
Calvin was patted and released
he had to work for me that night
the cops of me of the beatings and sexual assault
that I had to look forward to that evening in holding
while handcuffed to a bench
stayed there for 3 days
ate 1 cinnamon bun
Was wearing the red pumas with the white laces
that Andrea had given me for surviving to be 25
achievements of all sizes
I was arrested on September 16th, 3 years ago
although it always feels
much longer ago
the interrogator was
fuming after my laughing
subsided
after they asked if "was
this an occupy plot?!"
They had a warrant for my
body
A warrant for my spit
My mom cried on the
phone " your family saw
you all over the news!
And they used a terrible picture!"
Eric has been locked up for three years now, he was arrested on September 16th 2014. Between Kansas, Oklahoma, and now Colorado he has seen a lot of different jails and prisons and has had his share of struggles along the way. There's no denying it has been a long road and unfortunately there's an even longer road ahead.
The support and solidarity we can provide Eric in the coming months and years will only help him in maintaining his spirit, fortitude and overall position in a very tough place. He has said many times that the time he has spent in the S.H.U (secure housing unit) at various points along the way would have been much harder if it wasn't for the love and support he received in the form of letters, cards, and books. It's clear that is also the case while he does his time in the general population.
There are a multitude of reasons why it may take Eric time to write you back, or unfortunately not be able to write back at all. However, please know he very much appreciates and gains strength from every piece of mail he gets. So please keep him on your mind, spread the word about his plight, and keep the mail coming.
You can write Eric at:

Eric King # 27090045
FCI FLORENCE
FEDERAL CORRECTIONAL INSTITUTION
PO BOX 6000
FLORENCE, CO 81226
USA
We'd also like to take the time to remind you about a new edition to our website which is the Merch page. Please take some time to see if there's anything you'd like that we are offering there and then pass around the link. The money we raise will go towards commissary, phone calls for Eric as well as travel funds so his partner can visit him more easily.
Thank you so much to everyone around the world for the support and solidarity,
The Eric King Support Crew
Tags: Eric G. King, USA
Posted in Prison Struggle
Monday, September 18th, 2017
Since October 2015, Bloomington Anarchist Black Cross has been providing consistent monthly funds to anarchist prisoners throughout the United States via our Anarchist Prisoner War Fund. We are now asking for help keeping this project going strong into the future.
We have specifically chosen comrades who were receiving very little money or support from the outside, who have no familial support, or who were otherwise in need of monetary aid. These funds have been essential when some comrades did stints in solitary due to activities surrounding the September 9th prison strike, aiding their survival in the most oppressive conditions. We also emphasize support for rebellious prisoners who have maintained the struggle behind the walls. We want to make it clear to our comrades in prison and those taking action on the outside that they can continue to struggle without fear of abandonment if they are caught.
(more…)
Tags: ABC Bloomington, USA
Posted in Prison Struggle
Wednesday, August 23rd, 2017
In the early morning on August 16th Clint Durnay's truck, which is shrouded in white supremacist and neo-fascist imagery, was torched. this golden state skinhead (gss) member was attacked at his home: 5032 kenneth ave., fair oaks , ca. many hours later it was confirmed that there was extensive damage to his truck.
This attack is in direct response to June 26th and the rising fascist tide in the united states.
At the state capitol in Sacramento, ca on june 26th, 2016 approximately 20 gss and traditionalist workers party (twp) members had their rally shut down by hundreds of brave individuals who showed up to confront and halt white supremacy head on. frustrated at the shut down of their rally, gss and twp advanced upon the anti-fascist protesters and violently attacked them with knives, metal rods, and wooden poles. this vicious attack sent 9 anti-fascist individuals to the hospital many of whom were in critical condition. the entirety of the individuals attacked were either people of color or trans folks. this shines a light upon the exceptionally targeted act of racist and transphobic violence that it was. there are photos that clearly depict Clint Durnay attacking anti-fascists that day.
We understand June 26th wasn't the beginning, and sadly it won't be the end. from Sacramento to Charlottesville, it's clear the fascist movement is growing and will stop at nothing short of murder to quell our resistance to them.
They cannot continue to attack, kill, and stifle us! We will fight back!
For a world free of fascism in all of it's oppressive manifestations!
Love and solidarity,

Anti-nazis at night (anan)
Tags: Arson, California, Clint Durnay, Neo-Nazis, Sacramento, USA
Posted in Direct Action
Saturday, May 13th, 2017
"When horror knocks at your door, it's difficult to hide from. All that can be done is to breathe, gather strength, and face it…. I shared news of the woman found in University City. From the first moment, I was angered and protested the criminalization of the victim. The next morning I woke up to the horror and pain that she was my relative."
– Statement from the family of Lesvy Rivera to Mexican society
"[W]e take responsibility for the homicide of another human in University City on May 3rd….Much has emerged about that damned thing leaning lifeless on a payphone… 'that she suffered from alcoholism, that she wasn't a student, this and that.' But what does it matter? She's just another mass, just another damned human who deserved death."
– 29th Statement of Individualists Tending Toward the Wild (ITS)
Some things shouldn't have to be said, but as is too often the case in this disaster of a world, that which should be most obvious often gets subsumed to the exigencies of politics, ideologies, money, emotion, or internet clicks. The purpose of this piece is to condemn the recent acts of eco-extremists in Mexico and those who cheer them on from abroad.
This critique does not aspire to alter the behavior of Individualists Tending Toward the Wild (ITS), Individualities Tending Toward the Wild (ITS), Wild Reaction (RS), Indiscriminate Group Tending Toward the Wild (GITS), Eco-extremist Mafia, or whatever they will change their name to tomorrow. Like any other deluded, sociopathic tyrant, these individuals have declared themselves above reproach, critique, reason, or accountability. They have appointed themselves judge, jury, and executioner; the guardians and enforcers of Truth using a romanticized past to justify their actions. As absolutist authoritarians, they have constructed a theoretical framework that, while ever-shifting and inconsistent, somehow always ends with a justification for why they get to hold a knife to the throats of all of humankind. In short, they think and act like the State. (more…)
Tags: Analysis, Anti-Fascism, Eco-Extremism, Individualists Tending Toward the Wild (ITS), Mexico, USA
Posted in Eco Struggle
Saturday, May 13th, 2017
June 28th of this year will mark one year since Eric King was sentenced to 10 years in prison, and one year since he stood up in court in Kansas City, Missouri. EK read the statement he had prepared declaring why he took action on that fateful night and that he still has no regrets. Eric has seen and experienced a lot in the nearly three years of his incarceration, and every step of the way he is unwavering in who he is and with the principles he upholds. From long stints in the S.H.U (Secure Housing Unit), to getting moved from one institution to another, to anxiety filled situations where he doesn't know where he might be going next, he always maintains a kind of spirit that keeps him afloat no matter what they throw at him.
He also understands that while he may be locked up, he is far from forgotten about, as evidenced through the collective efforts of those actively supporting him directly or on the periphery. EK is emboldened by anyone who responds to that fire inside, fights against oppression as a part of the anarchist struggle undeterred, and who remains unrelenting no matter what that state throws at you. (more…)
Tags: Eric G. King, International Solidarity, USA
Posted in Prison Struggle
Monday, April 24th, 2017
June 11, 2017 – Communication is a Weapon
By now it is a platitude to speak of the isolation and silence that prisons strive to impose. Every week another one of our imprisoned friends tells us that their mail is getting fucked with, the phones on their unit are "broken," or that our publications are being rejected with no recourse.
For us, one of the most exciting elements of June 11, 2016 was the proliferation of words and ideas shared between and from anarchist prisoners. Along with spreading material solidarity internationally and keeping the names of our comrades on our lips, our contribution to facilitating that communication is one of our most important tasks. While the starting point of our project was support for Marius Mason and Eric McDavid (the first of whom remains imprisoned in an extremely restrictive unit, while the latter has been freed!), it has been through a spreading web of communications that we have expanded the scope of our project to solidarity with long-term anarchist prisoners around the world. This year, we are seeking to emphasize this communication.
Maintaining communication is a lifeline for those caught in the snares of state repression or locked in its dungeons. Prisons function to isolate those held within these dungeons, to remove them from human community, and to break their will. Receiving letters and publications, being able to connect with individuals outside of the walls, and being able to call upon the solidarity of comrades on the outside are all vitally important to retaining dignity in dehumanizing conditions. When Chelsea Manning attempted suicide, communication enabled her and those close to her to mobilize and act. For prisoners who seem to live under a microscope due to their rebellious activities, a constant stream of letters shows their tormentors that they have friends on the outside and that there will be consequences for any action taken against them. Throughout the September 9th US prison strike, the relationships built over years made it possible to know of work strikes and rebellions happening in prisons all over the country, allowing supporters to organize counter-repressive action.
(more…)
Tags: International Solidarity, June 11th Solidarity, Marius Mason, USA
Posted in Prison Struggle
Sunday, March 19th, 2017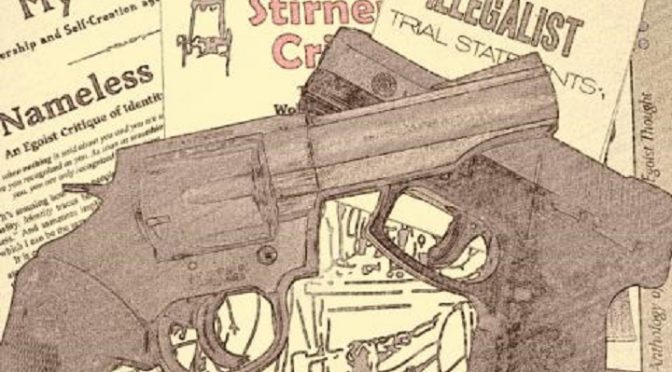 Translated version of "It's Time for Anarchists to Pick Up A Gun" by Dr. Bones.
Long live Black Praxis
https://czarnateoria.noblogs.org/
PDF: https://czarnateoria.noblogs.org/files/2017/03/czas-by-anarchi%C5%9Bci-chwycili-za-bro%C5%84.pdf
Tags: PDF, Poland, USA, Zine
Posted in Library
Thursday, March 16th, 2017
A few nights ago we sabotaged about 50 parking meters by gluing their locks, coin slots, and card readers. This was a simple act which took no specialized skill. Get some superglue, cover your face, keep your eyes peeled for cops or loyal citizens, and act.
These parking meters were targeted because they fund the Bloomington Police Department and because they force people to pay to be downtown. We hate the police and we hate gentrification and class society, so we chose to attack them.
We act as a gesture of combative memory for Lambros Foundas, anarchist of Revolutionary Struggle killed by the forces of the Greek state on March 10, 2010. Our memory is not one of passive mourning or martyrdom, but of active struggle against the state, capital, and domination in all of its forms. The flame of Lambros' life kept us warm as we walked through the winter night, and we will carry that flame with us in all parts of our lives, which are lived at war with this society of masters and slaves.
We send strength to all anarchist combatants held captive in the dungeons of the Greek state.
We send solidarity to all those facing the state's latest attacks against squatters, anarchists, and refugees: we are inspired by your refusal to be paralyzed.

For Lambros
Long live anarchy
Tags: Bloomington, Lambros Foundas, Sabotage, USA
Posted in Direct Action