Posts Tagged 'USA'
Wednesday, August 31st, 2016
Via Actforfree:
Open letter to compañerxs.
Note: The use of the word prison in this text refers to all artificial environments that domesticate us so as to insert us by force into the capitalist system of production; this is a contribution to deepen the reflection of all living beings in the hands of economic powers and the technological project…
Compas, I greet you with insurrectionary love, that these words of war may reach you; greeting as well the coming days of insurrection, as ideas bloom in the fields like flowers we should not stop tending. We do not know if there will be a victory, but what we do know is that they will not occupy our dreams and our lives…
The only truly free moment is when we fight for freedom, because we prefer to die rather than accept this way of life, and without realizing it we are already free, because nothing occupies our minds except the sole desire to set fire to reality…
But what hides behind this destructive war, behind the somber darkness of the human spirit? Is it not perhaps the reflection and poetic manifestation of beings taking back their lives and actively influencing the organization of the daily life? (more…)
Tags: Fernando Barcenas Castillo, Letter, Mexico, Prison Labour Strike, USA
Posted in Prison Struggle
Friday, August 26th, 2016
On September 9th, prisoners across the United States will begin a strike that will be a general work stoppage against prison slavery. In short, prisoners will refuse to work; they will refuse to keep the prisons running by their own labors. Prisoners are striking not just for better conditions or changes in parole rules, but against prison slavery. Prisoners state that under the 13th Amendment which abolished racial slavery, at the same time it allowed human beings to be worked for free or next to nothing as long as they were prisoners.
Prisoners see the current system of prison slavery to thus be a continuation of racial slavery, which is a system that generates billions of dollars in profits each year for major corporations in key industries such as fossil fuels, fast food, banking, and the US military.
Soon after the passing of the 13th Amendment, many former slaves were soon locked up in prisons on petty offenses, quickly returned to their former roles as slaves. Over a century later, the Drug War sought to deal with the growing unemployment rate brought on by changes in the economy (outsourcing, financialization, deregulation, etc), as well as the threat of black insurrection which grew in the 1960s and 70s, by throwing more and more people in prison. At the same time, the state and corporations continued to look towards prison labor as a source to generate massive profits. (more…)
Tags: Anti-Prison, International Solidarity, Letter, Prison Abolition, Prison Industrial Complex, Prison Labour, Prison Labour Strike, Repression, Sean Swain, USA
Posted in Prison Struggle
Tuesday, August 9th, 2016
Here is a poster (11×17) for the upcoming nationwide prisoner strike on September 9th. Download, print and put it up around your city if you feel it. There is a grayscale version here too.
For more information about the strike and the ongoing wave of prison rebellions across the country, check out these articles: Strike Against White Supremacy | Incarcerated Workers Take the Lead | Call To End Prison Slavery
Text from the poster:
"We are not beasts and we do not intend to be beaten or driven as such… What has happened here is but the sound before the fury of those who are oppressed."
– L. D. Barkley, participant in Attica rebellion
On September 9, 1971, the inmates of Attica Correctional Facility in upstate New York seized control of the prison. The Attica uprising, which lasted for five days, was not the first and certainly not the last prison rebellion. And yet its importance is indelibly marked within the history of the struggle against white supremacy and the prison society we still inhabit today.
In the forty years since Attica, prisons have swelled to bursting with the tragedies of disrupted lives, fractured families, and broken communities. In the last decade, resistance movements have steadily grown behind the prison walls. From the statewide work stoppage in Georgia prisons of 2010 to the hunger strike that spread throughout the California prison system in 2013; from fires lit in I.C.E. detention centers in Texas to riots and prison takeovers in Nebraska and Alabama, prisoners across the country are wide awake and on the move.
This September, prisoners, their families, and supporters on the outside are coordinating a nationwide prisoner strike to take place on the 45th anniversary of the Attica rebellion. This historic effort holds within it the potential to expand and embolden the movement against the horrific conditions of confinement, the prisons themselves and the society that creates them.
Towards the destruction of all prisons and the creation of a free and genuine human community!
Support Prisoner Resistance | IWW Incarcerated Workers Organizing Committee | Anti-State STL | IT'S GOING DOWN
Tags: Anti-Prison, Flyposter, Prison Industrial Complex, Prison Labour, Prison Labour Strike, Racism, USA
Posted in Prison Struggle
Tuesday, August 9th, 2016
[Download Issue #5] (Prints 8.5×11)
Summer is almost over but things are burning up in the prisons and in the streets. All around the United States, prisoners and comrades in the "free world" are gearing up for the beginning of coordinated anti-prison actions on September 9th, 2016. In just a few weeks, the Week of Solidarity with Anarchist Prisoners begins, marking with fire the state murder of Nicola Sacco and Bartolomeo Vanzetti on August 23. 1927, turning memory into active revolt for all anarchist combatants locked behind bars today.
In this issue of Wildfire, comrades continue the debate on reformist action that has been raging since issue 1, bring to light the presence of queer and transgender prisoners in ongoing prison rebellions, comment on recent retaliation against police, critically discuss prisoner apathy and revolt, and give a glimpse of possibilities for September 9th.
We hope that the coming months will be ones we, and our enemies, will never forget.

CONTENTS
–"Time…is Never Worth My Time" by Boots
–"Assuming the Risk of Demanding Real Social Change Requires Imagination and Daring" by Lacino Hamilton
–"Free Trans Political Prisoners" by Jennifer Gann
–"Oppression of Religion Inside" by Thomas Derring
–"Wake Up and Smell the Coffee" by Todd Shepard
–"We Hear You" by Provisionals
–"No Correction, Only Coercion" by Woody
–"The Untold Story" by Michael Kimble
–"A Message to a Message" by Anarcho-Faheem
–"Identity Crisis: Who Am I?" by Blacc Lion
–A letter from Luke O'Donovan
–"Violence is Not the Answer" by Sean Swain
–"Birth of the Free Virginia Movement" by the Free Virginia Movement Collective
–"The Parable of the Boiled Frog: The Virginia DOC's Protracted, Low-Intensity War Against a Complacent Prisoner-Class" by Uhuru B. Rowe
–Another installment of Buckin in the BOP by anonymous
–A chronology of the past few months of anarchist action and prison rebellion
[If you would like a PDF with a slightly more 'prison-friendly' cover, please write to us.]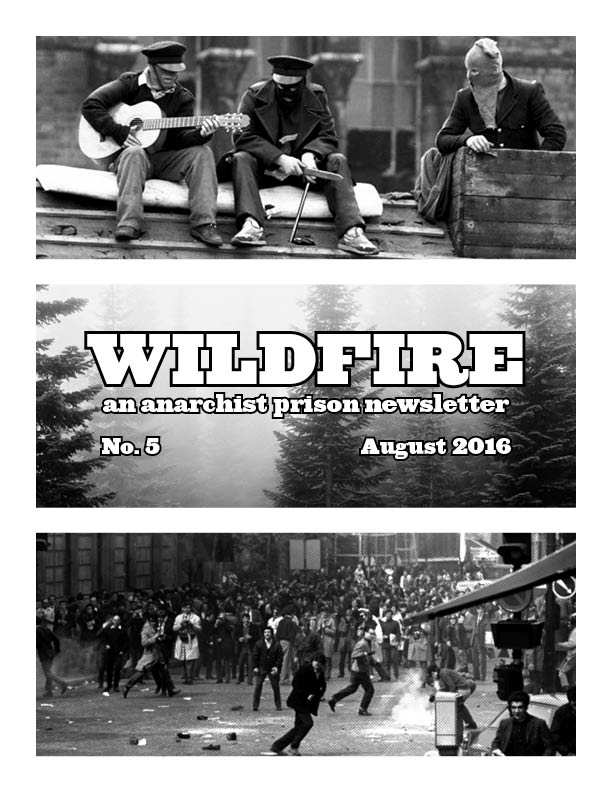 Tags: International Week for Anarchist Prisoners, PDF, USA, Wildfire (Prison Zine), Zine
Posted in Library
Tuesday, August 9th, 2016
At the moment I'm writing from segregation (lockup) after being stripped, handcuffed, slapped, and placed here by the CERT (riot squad) on Monday, August 1, 2016 at approximately 11:45 pm. It's now Wednesday and I haven't been given my personal property (shoes/slides, soap, deodorant, clothes, toothbrush, etc.) nor have I received a 72 hour investigation notice as to why I'm being held in segregation.
I'm assuming that I'm being held for being involved in a rebellion (riot) that popped off on August 1, 2016 at around 3:06 pm. Initially there was a fight between prisoners, but escalated into a rebellion against the guards when they tried to intervene after being told numerous times that things were under control.
The guards didn't listen and was chased out of C-dorm, which has become a space of self-governance and resistance against prison officials. Fires were set, control units taken.
I'm one of about ten prisoners who was also placed in segregation.
So, if you don't hear from me personally, it means that all my property, including letters, addresses, phone numbers, have been destroyed or lost. I've had to borrow writing materials to get this out.

from anarchylive
Tags: Isolation, Michael Kimble, Prison Riots, Repression, USA
Posted in Prison Struggle
Saturday, July 23rd, 2016
The Rojava revolution became a revolution for humanity which attracted the attention of the world with the valiance of the resistance of YPG, YPJ and the people of Rojava. One of them was our comrade Agir Servan, of US origin.
Heval Agir Şervan (LEVI JONATHAN SHIRLEY) came to Rojava in February 2015 and joined the YPG. Hevale Agir took part in the Martyr Rubar Qamislo Operation, always in the most advanced front. After the liberation of the Kezwane Mountains he went back to his homeland. In January 2016, Heval Agir came back to Rojava to the YPG and rejoined the revolution in the defence of the Kobani and Cizire cantons. After that, he joined the Martyr Abu Leyla Operation for the liberation of Minbij.
Heval Agir was known for his discipline and sense of responsibility. His style and personality were a source of strength, motivation, and morale for his friends. In the fight, Heval Agir was known and respected as a brave and altruistic person. (more…)
Tags: Heval Agir (Levi Shirley), Islamic State in Iraq and Syria (ISIS), Kubani, Kurdistan, Lions of Rojava, Martyr Abu Leyla Operation, Minbij, Operation Commander Rubar Qamishlo, People's Defence Units (Y.P.G.), Rojava, Syria, Til Tamar, USA, War
Posted in Autonomy
Tuesday, July 5th, 2016
What was supposed to happen Sunday June 26th 2016 was a mega-march of white supremacists groups against what they deemed to be the anitifa threat to their "faith, family and folk". The Traditionalist Workers Party, Golden State Skins and KKK were set to rally on the West Capitol steps in Downtown Sacramento.
They never made it onto those steps. within seconds of stepping onto the capitol they were chased away by a large crowd of anti-fascists. Over 300 anti-fascists and anti-racists had converged hours before the planned march in an attempt to shut it down. When 20 or so white supremacists armed with shields and adorned with TWP imagery attempted to take those steps they were attacked with rocks, bottles, knives, bats, fists, pepper spray and anything that those antifa could get their hands on. They were chased for blocks and when they attempted to escape in a waiting car, all of its windows were smashed out.
In the end it wasn't only white supremacist blood that splattered the ground. Several antifa comrades had also been stabbed, received knife wounds and suffered serious injuries. Later, the leader of the TWP would call the blood pouring from the chests of our friends a "victory" for him and his bonehead brethren.
Boneheads like the TWP and GSS are only the most obvious and explicit manifestations of white-supremacy. The police, the media and countless other institutions uphold white-supremacy in our everyday lives. On the 26th, anti-fascists fought against the police and the media as well as the more explicit racist in the streets. (more…)
Tags: Antifa, International Solidarity, Neo-Nazis, Sacramento, USA
Posted in Anti-Fascist
Tuesday, July 5th, 2016
On the night of July 4th, a small group of individuals had a noise demonstration at the local jail. We shouted to those held captive, lit off fireworks and smoke bombs, and scattered hundreds of leaflets.
There is no point in waiting until there are enough people, until the time is right: you will be waiting forever. Small, modest actions are the necessary groundwork for revolt. You do not need great numbers to do meaningful things.
Text from the leaflet:
FREEDOM NOW!
FIRE TO EVERY PRISON CELL & BORDER WALL!
DEATH TO THE STATE!
Solidarity with those in revolt behind prison walls.
Solidarity with anarchist prisoner Eric King.
Prisons cannot stop anarchy.
War against power.
Tags: Bloomington, Demo, Eric G. King, Indiana, Solidarity Action, USA
Posted in Direct Action
Tuesday, July 5th, 2016
Hello comrades abroad!,
We are getting in touch with you today to inform you about a historical day of action happening in the United States and to make a call for international solidarity actions, both inside and outside prisons across the world!
On September 9th, 2016, prisoners across the United States will be conducting work stoppages, hunger strikes and other forms of action in a call to end prison slavery. The call was originated by organizers from the Free Alabama Movement. A national coalition of community groups associated with the IWW's Incarcerated Workers Organizing Committee, Anarchist Black Cross chapters and others throughout the country have come together to build a national support network to push for a final end to prison slavery.
To achieve this goal, we need support from the international community.
We hope that prisoner support groups in the across the globe will hold solidarity demos and inform prisoners they are in contact with about the September 9th day of action. This spring and summer will be seasons of organizing, spreading the word, building networks of solidarity and showing that we're serious and what we're capable of. We ask that you organize some sort of solidarity action and help spread the word to prisoners in your area. We hope that the fires of prison rebellion spread from the United States to prisons across the globe! With one unified voice of rebellion we can send a strong message to captors across the globe that the iron bars of their cage cannot contain our thirst for freedom! (more…)
Tags: International Solidarity, Prison Labour, Prison Labour Strike, USA
Posted in Prison Struggle
Thursday, June 30th, 2016
Today, Eric King was sentenced to 10 years in federal prison in the federal district court in Kansas City, Missouri, USA. Eric accepted a non-cooperating plea to one count of "use of explosive materials to commit arson of property used in or affecting interstate commerce" (18 U.S.C. § 844[h]). The action he admitted taking was throwing a hammer and two Molotov cocktails through the window of the empty office of a US congressperson from Missouri late at night on September 11th, 2014.
The statutory minimum and maximum sentences for that charge are both 10 years, meaning that the set penalty is 10 years. Eric will receive credit for time served for almost two years of pre-trial incarceration, leaving him a little more than eight years to serve.
We do not know where he will be spending those years, though we commit to keeping you all up-to-date on his placement and well-being until he is free once more. The most recent updates will always be at www.supportericking.org. (more…)
Tags: Eric G. King, USA
Posted in Prison Struggle
Wednesday, June 22nd, 2016
The Anarchist Radio Berlin presents the "No Borders" project of the video collective "Sur Negro"!
'No Borders, Social Struggles across the world' (Sin Fronteras, La lucha social a través del mundo) is the name of a web series presenting experiences of social organizations and anti-capitalist resistance in different regions of the world. Its special focus lies on anti-authoritarian practices within social movements.
The first season of this web series was realized in cooperation with Anarchist Radio Berlin, Rosa Negra Anarchist Federation Locals (USA) and the anarchist social center Casa Volnitza (Santiago de Chile). Recorded in the year 2015 in 12 cities of the U.S. the web series is organized in 11 chapters. Each chapter of 30 minutes contains interviews with social and political organizations that explain their practices and therefore give detailed insights into the contexts of their social struggles in their city. In addition, each chapter has a music segment presenting musicians involved in their cities' struggles. The first episode is already online!
You'll find the trailer as well as more information and links on the project on the blog of A-Radio Berlin:
http://aradio.blogsport.de/2016/06/16/sur-negro-no-borders-new-antiauthoritarian-web-series-goes-live-1st-season-social-struggles-in-the-usa/
Enjoy! And please help us to spread the info on this great project by
putting it on your blogs or sharing this mail


A-Radio Berlin
Tags: Anarchistisches Radio Berlin, Casa Volnitza, Chile, Santiago, Sur Negro (Video Collective), USA
Posted in No Borders
Monday, June 20th, 2016
Here is a short run-down of events and actions that occurred in Bloomington related to the June 11th international day of solidarity with Marius Mason and all long-term anarchist prisoners:
– A benefit in late May raised over $350 for anarchist prisoners.
– A benefit dance party in late May raised over $600 for queer and trans prisoners, including anarchist comrade Michael Kimble.
– A 'packathon' event put together packages of books for prisoners.
– A letter writing night signed and mailed cards and letters to over 20 anarchist prisoners in the USA, Chile, Germany, Spain, Switzerland, Turkey, and Russia.
Individuals' translation skills enabled these to be written in the languages understood by comrades outside of the US.
– An informational night presented on the cases and current situations of over two dozen anarchist prisoners around the world.
– A movie showing of G.A.R.I., about an action group who held a banker hostage, demanding freedom for anarchists held captive in Franco's prisons.
– A microphone demonstration and picnic. We played recorded texts written by anarchist prisoners, which were amplified. For three hours, the center of town echoed with the words of our imprisoned comrades. Afterwards, hundreds of flyers about Marius Mason were scattered around downtown.
– On the night of June 11th, anonymous individuals smashed out the windows of the probation office.
– A walk in Yellowwood State Forest in honor of Marius Mason. Years ago, Marius had spiked trees in that exact forest, in defense of wild spaces in Indiana.
– At most of these events, we set up a large table of informational handbills, zines of prisoners' writings, posters, and prisoner addresses.
We are approaching the struggle against prison and the state with a basic proposal: that of polymorphous struggle.
We refuse any hierarchy of tactics, seeing each initiative as a tool which contributes to a diverse struggle. Fundraising, sending literature to prisoners, writing letters, spreading information about the struggles of our comrades, public demonstrations, attacking the state – all help create a space from which individuals can fight in whatever way is desirable to them or makes sense in their circumstances. We absolutely reject both the handwringing weakness that says that to act combatively for our comrades is dangerous, and the posturing militancy that finds no value in anything but "hard" actions. For us, everything that contributes to strengthening our comrades in prison and our shared struggle against the state is essential.
Anyone can contribute to this tapestry of struggle. All it takes is to be decided.
We send greetings to all imprisoned and fugitive comrades around the world.
Death to the state!
Long live anarchy!
Tags: Bloomington, Indiana, International Solidarity, June 11th Solidarity, USA
Posted in Prison Struggle
Monday, June 13th, 2016
On the night of June 11th, as a small gesture, we smashed out the windows of the probation office.

The police, courts, and prisons constitute a web of control that seeks to crush human beings, forcing conformity to a social order of hierarchy and exploitation.
While this manifests itself as police murders and the brutalization of prisoners, more and more it takes the role of diffuse repression via systems of home detention, work release, parole, and probation. In each of these systems of self-policing, the ability of collective resistance shrinks to none, isolating those rebels who will not submit to these forms of soft imprisonment.
We can no longer accept the role of judicial power in our lives. We do not care if this takes the form of police cars on our streets, prison walls separating us from our friends, ankle monitors, or daily check ins. It all must go. We attack the system that floods into our lives as a reminder that its sprawl should not be normalized. As forms of repression grow beyond the prison walls it should be met with consistent attacks.
Each act of revolt opens up space for joy in our lives, space to breathe freely.
Against the asphyxiation of prison society, we choose rebellion.
Total complicity with all those in revolt against prison and the state in all their forms.
Tags: Bloomington, Fuck the Law, Indiana, June 11th Solidarity, Sabotage, USA
Posted in Direct Action
Thursday, June 9th, 2016
Revolutionary greetings on this June 11! Solidarity with all Earth warriors and anarchists behind bars!
We are up against a system of power and profit, a system which is destroying the planet and forcing the people into poverty and imprisonment. Many of us who have fought back found ourselves in the crosshairs of an extensive counter-intelligence apparatus who use trumped-up "terrorism" charges and entrapment by informants to put us in prison for years. There are many lessons from each case to consider before engaging in future work, but it is most important that we do not let the seemingly overwhelming forces of domination intimidate us into inaction and passivity.
Even those of us doing time, you know we stay bucking the system, and it brings us strength and inspiration to hear about your work in the streets, to hear about ongoing campaigns – such as the fight to stop the Bureau of Prisons from building a new maximum security federal prison in Letcher County, Kentucky, in the middle of a mountaintop removal coal processing area. This is a winnable opportunity highlighting the connections between the prison industrial complex and the exploitation of the Earth by profiteering capitalists.
But to succeed, we must consider the full range of tactics available. Everything from organizing conferences and sending books to prisoners, from lawsuits to protest marches, to hacking websites and sabotaging infrastructure. Every act of defiance counts, even if we do not immediately see the results of our efforts, because even small ripples can make big waves. Local actions have global consequences. We are spreading seeds of revolution, growing wild and free. Until we can overgrow and overthrow this system once and for all!
For the rev!
Jeremy
(A)
Tags: Jeremy Hammond, June 11th Solidarity, Letter, USA
Posted in Prison Struggle
Thursday, May 26th, 2016
(A statement for the June 11th International Day of Solidarity with Long-Term Anarchist Prisoners)
First, I'd like to give warm revolutionary greetings to all those who have shown solidarity and supported me. Without that solidarity and support, I don't know how I would have survived for so long.
As one who has spent 30 years in U.S. prisons, I've become intimately acquainted with control units, whether we call them Security Management Units, Special Housing Units, or Administrative Segregation – all euphemisms of penological sophistication in an attempt to disguise the true purpose and intent of such sinister tools of control and torture. Let's be clear: they are torture chambers.
Former director of the Bureau of Prisons and now shareholder in the private prison firm GEO, Norman A. Carlson, stated that Marion's control unit's purpose is to "control revolutionary attitudes in prison and society" as well. Marion Federal Penitentiary is considered to be the first control unit in the U.S. (more…)
Tags: June 11th Solidarity, Letter, Michael Kimble, USA
Posted in Prison Struggle