Posts Tagged 'USA'
Thursday, December 10th, 2015
From Black Seed:
In This Issue:
* The End of the World?
* Activism and the Green Left
* An Introduction to the Anthropecene
* Interviews with Dominique & Knowing the Land is Resistance
* The Aftermath of the Katrina Disaster
* Anarcho-Primitivism and Green Platonism
* Nihilist Animism
* Reviews & More…

Editorial: Is the End of the World Upon us?
There are plenty of signs that would lead us to believe that this is the case. In
this issue we focus on natural catastrophies, both the incredibly dangerous ways
they're minimized by government agencies and popular media, as well as our total
lack of collective responsibility, demonstrated by our increasing consumption of
finite resources. Our world has gone mad with profit-for-the-very-few and the
political and social consequences of a world with as great a gap in income levels as
there has ever been are dangerous. How will the next economic crash look compared to the 1930s?
Will it take another war to end the next one? Can we survive such a war?
Finally, is the end of the world visible in how we allow ourselves to be treated by
the State? If Black Lives Matter has taught us anything it is that the human
capacity to objectify and destroy other humans is as high today as it has ever been
and that the rhetoric is even more sophisticated (and not) and even less forgiving.
If the end of the world is a measurable event there is plenty of evidence that the
meter for it is at a near high. (more…)
Tags: Black Seed (Zine), Ecological Destruction, USA, Zine
Posted in Eco Struggle
Tuesday, December 8th, 2015
From seanswain.org:
Black December is coming, and none too soon. We've hashed out our theories and we've analyzed our reality, we know what kind of future we want and what we are going to have to tear apart in order to get it. The time for philosophizing and talking it out has ended and we face the inevitable moment of conflict with the forces of control and conformity and subjugation.
December really is the perfect starting point, here in the U.S. anyway. It's the darkest month of the year, the most non-daylight hours to carry our acts of resistance and rebellion. Also, in the cold, everyone wears ski masks. So, a rebel about to strike a Walmart or a police car or some fascist administrator's house doesn't look quite as conspicuous as he or she might look in, say, July or August in the same gear.
Having read the Black December proposals, I would like to speak to those who are, so far, paralyzed by fear and skepticism, who still don't believe that we can undertake radical, militant actions against the common enemy, that political violence even of the clandestine variety is doomed, and that it's okay to "play" at being anarchists, but it's foolhardy for us to put our proverbial money where our mouths are. (more…)
Tags: Black December, Letter, Sean Swain, USA
Posted in Prison Struggle
Saturday, December 5th, 2015
From Wildfire

Download Issue #3: PDF
It seems fitting that we are releasing this issue now, in December. Following the letter from imprisoned anarchists in Greece and the call for international activity, Black December rages on, writing the memory of our fallen comrades with words, banners, stones, and fire. In that spirit, we dedicate this third issue of Wildfire to the memory of New Afrikan anarchist and Black Liberation Army combatant Kuwasi Balagoon, and earth liberationist William Avalon Rogers.
Kuwasi Balagoon was killed by medical neglect while doing a life sentence for an expropriation in which two police and one guard were killed. Kuwasi died from an AIDS-related illness on December 13, 1986. William Avalon Rogers took his own life while in jail on charges related to arsons committed by the Earth Liberation Front. He died on the winter solstice, December 21, 2005. This month will mark the ten year anniversary of Avalon's death.
We write this not as a reminder of the risks inherent in struggle, nor to emphasize the brutality of the state. We remember Kuwasi and Avalon because their lives have created small spaces in our own lives where domination ceases and freedom blooms. We remember Kuwasi and Avalon because they have inspired us to act, in our own ways, against order. We remember Kuwasi and Avalon because we want to continue the struggles to which they gave their lives.
Most of all, we remember Kuwasi and Avalon because so many others involved in the struggles for black liberation, earth liberation, animal liberation, and anarchy remain behind bars. We intend to see all of these comrades free, and until that day, to act in solidarity with their struggles and with prison revolts wherever they happen.
Unwavering solidarity to all rebellious prisoners!
Memory is a weapon.
CONTENTS
– "A Balanced Approach" by Lacino Hamilton
– "The Freedom Movement" by Terrence Adderly
– A letter from Casey Brezik
– "Who Should Step Down?" by Jose Villareal
– News from Alabama by anonymous
– A response to Sean Swain by Christopher Reynolds
– A response to issue #1 by Anarcho-Faheem
– A reply to Michael Kimble by Sean Swain
– "Work Strikes: A Response" by Michael Kimble
– "Buckin in the BOP" by anonymous
– Call for a Black December
– A chronology of some actions August-November 2015
Tags: Avalon, Black December, Black Liberation Army, Casey Brezik, Christopher Reynolds, Jose Villareal, Kuwasi Balagoon, Lacino Hamilton, Michael Kimble, PDF, Sean Swain, Terrence Adderly, USA, Wildfire (Prison Zine), Zine
Posted in Library
Saturday, December 5th, 2015
Saboteur
An interview with a domestic insurgent
Chapter 12 of the book
RADICAL PEACE: People Refusing War
By William T. Hathaway
I first met the man we'll call Trucker in 1970 at a rally against the Vietnam War. Our demo was going to start on the Berkeley campus and continue with a march down Telegraph Avenue. This was shortly after the National Guard and police had murdered six demonstrators at Kent State and Jackson State, so the mood was extremely tense. The Berkeley city government had denied us a permit to march and called in police reinforcements from Oakland. The Oakland cops had a reputation for brutality (based on their treatment of the black population), and we were expecting an ugly and possibly violent confrontation. Out of fear, many people decided not to march, but others of us argued that marching was now more important than ever. We needed to defy the government's attempts to scare us into silence.
After speeches and music in front of Sproul Hall, we marched off the campus and were met by a wall of police sealing off Telegraph Avenue. Some of our hard-cores in front tried to break through the barrier but were clubbed down. Cops began firing what looked liked shotguns, and people started screaming and running in panic, but it turned out to be tear gas. (more…)
Tags: Anti-Militarism, Anti-War, Arson, Non-violence/pacifism, Radical Peace: People Refusing War, Sabotage, USA, William T. Hathaway
Posted in Interviews
Thursday, December 3rd, 2015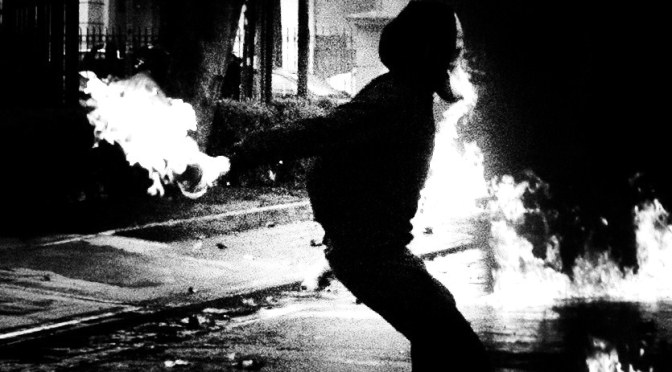 From Anarchy Live:
Just as a worm struggles in resistance against the foot that crushes it so do we anarchists struggle and fight for the total destruction of a world system of coercive authority and domination in all of its manifestations and that wants to crush our spirits of resistance.
Kuwasi Balagoon, revolutionary extraordinaire and unrepentant anarchist within the Black Liberation Army, fell at the hands of the state of New York, USA in December 1986 through medical neglect.
In memory of this New Afrikan anarchist soldier I take the initiative to compose my contribution to the strategy of total annihilation of the state and its institutions by which the state exercises its power.
For me devising a strategy to destroy the state is simple. Attack the symbols of power using all tactics including improvised ammunitions, molotovs, demonstrations, etc. In other words, our strategy should be by any means necessary, including everything and excluding nothing. The debate about the fetishization of direct action needs to end. Direct action and counter-info projects both contribute to the destruction of power. Kuwasi understood this and so did Alexandros. The only strategy left to us is action/attack and that's what Alexandros and Kuwasi both knew and practiced. We can do no less. The war continues to wage, find your place on the battlefield.

Michael Kimble
Tags: Black December, Black Liberation Army, Kuwasi Balagoon, Letter, Michael Kimble, USA
Posted in Prison Struggle
Thursday, November 19th, 2015
From seanswain.org:
Sean Swain is having a very hard time right now and could really use being reminded that he is not alone. If you haven't written to Sean in a while or haven't heard back from him due to the ODRC messing with his mail or cutting off his other methods of communication, now would be a great time to flood him with letters, cards, photos, drawings, books, zines, anything.
In particular, now would be a good moment to remind Sean that he matters to you, that you are glad he is alive, and that you see him as contributing to the world in a way that matters to you. Every once in a while we all need a loving kick to the head to get us back on track and feeling ready to continue fighting. Now is that moment for Sean. So send him a kick; he deserves it.
Write to Sean at:
Sean Swain #243-205
Warren Correctional Inst.
P.O. Box 120
Lebanon, Ohio 45036
USA
Tags: Ohio, Sean Swain, USA
Posted in Prison Struggle
Sunday, November 15th, 2015
New anti-civ/anti-colonial vegan straight-edge anarchist zine from Feral Punxvx.
Check out: theferalspacecollectivexvx.blogspot.com
Tags: PDF, Straight-Edge, The Feral Space Collective, USA, Zine
Posted in Library
Tuesday, November 10th, 2015
As many of you know, Seth has had a chronic cough since May of this year for which he did not receive any diagnosis or treatment for many months.
When Seth finally saw the pulmonologist at Coxsackie on Monday, November 2, the doctor wanted to know why the medical personnel at Sullivan had waited so long to bring Seth for a pulmonary exam. The pulmonologist intends to schedule for Seth a CT scan, a CT scan of his heart, and bloodwork. The pulmonologist thought there might be some infection, but needs more info.
In addition, the facility doctor (Dr. Sidorowicz) told Seth to come to the clinic to use the nebulizer whenever he feels short of breath. Seth has been using an inhaler twice a day (Seth does not get to carry his inhaler, and so needs to go to medical when he gets short of breath) and also the nebulizer twice a day for a while now, although he does not yet have a diagnosis of the cause of this chronic cough. (more…)
Tags: Black Liberation Army, Black Panther Party, Repression, Robert Seth Hayes, USA
Posted in Prison Struggle
Monday, November 9th, 2015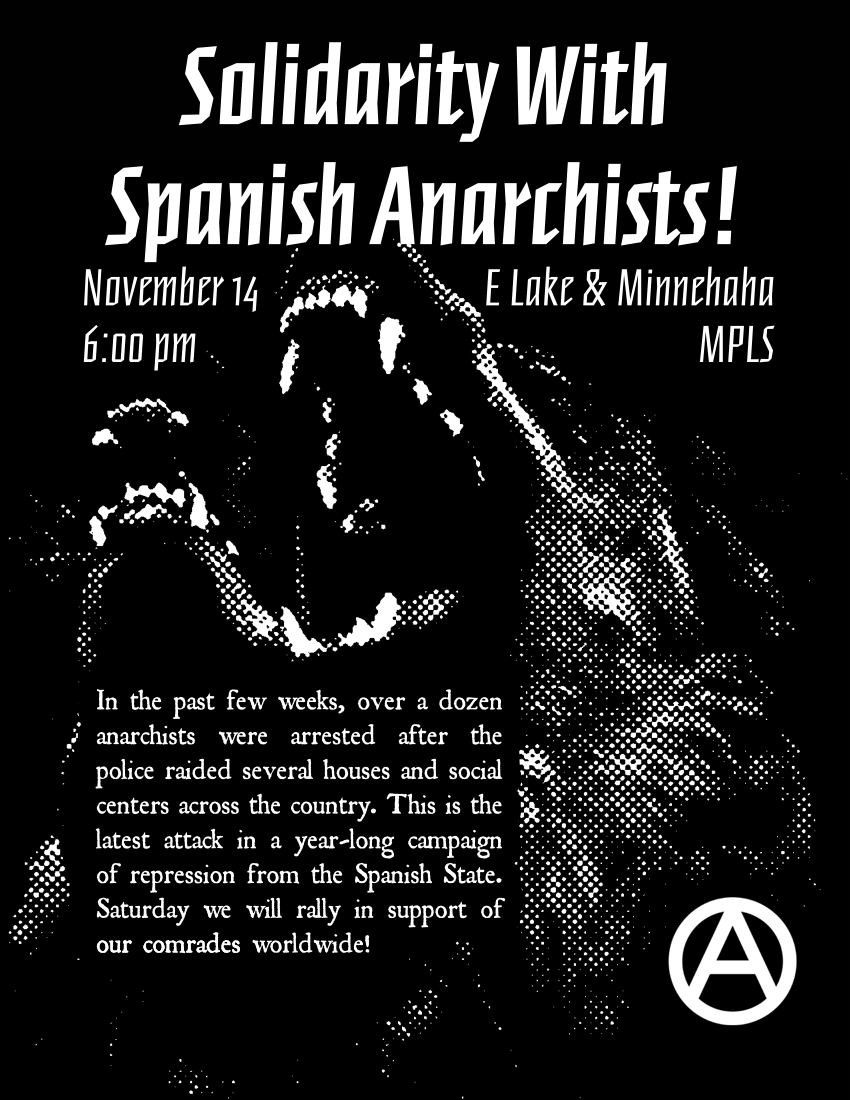 Updated: Here's the reportback.
Almost a year ago, the Spanish State began a campaign of repression against anarchists, arresting dozens, including nine in late October, and five more in November of this year. Their imprisonment is justified with the invention of a fictional terrorist group, the GAC-FAI-IRF. No attack has ever been claimed with this set of acronyms, and the GAC (Coordinated Anarchist Groups) are only the authors of a recent book, Contra la Democracia (eerily similar to the Tarnac Affair and The Coming Insurrection in France, 2008).
On Saturday we will rally in solidarity with those arrested, at 6:00pm at the corner of E Lake St & Minnehaha Ave in Minneapolis.
More info here: Efecto Pandora & Conflict MN.
Tags: Catalunya, Demo, GAC (coordinated anarchist groups), International Solidarity, Minneapolis, Spain, USA
Posted in Social Control
Thursday, October 29th, 2015
Political Prisoner Radio is a program that seeks to educate the public on the individual cases of political prisoners and prisoners of war being held by the United States government, many for decades under torturous conditions. It features former political prisoners, advocates, family members and organizations work to free these individuals. The program often discusses the historical political repression and social conditions that existed and still exist within the United States of America.
www.politicalprisonerradio.blogspot.com
politicalprisonerradio.blogspot.com/p/tune-in.html
Tags: Black Panther Party, Counter-info, Ferguson, Leonard Peltier, MOVE, Racism, USA
Posted in Prison Struggle
Tuesday, October 20th, 2015
Amazon, a transfemale from Gender Anarky in prison in California, began
a hunger strike the morning of October 7, 2015 for transfer to a women's
prison. Amazon is legally a female. In January 2015, Amazon's birth
certificate was amended by the Office of Vital Records in Sacramento to
record her sex as "female." Under a new law signed by the governor,
transexuals no longer need full sex-reassignment surgery to amend their
vital records, but instead a doctor's declaration of transition to
reflect their current gender. Amazon accomplished this. She then applied
for a transfer to a women's prison. The prison required Amazon to
present her new birth certificate. However, prison rules prohibit
inmates from possessing birth certificates and Amazon asked the prison
to verify the document with the Office of Vital Records. The prison
refused to do so. Amazon then attempted to file a grievance over the
issue, but she was again required to produce her birth certificate to
pursue a grievance. This is an example of the notorious mind games that
prison officials play on inmates to suppress legitimate issues and
prevent them from seeking an administrative resolution of the problem.
(more…)
Tags: Amazon (Eva Contreraz), California, Hunger Strike, USA
Posted in Prison Struggle
Thursday, October 15th, 2015
New site from USA releasing the home addresses and personal info of prison officials, guards, corporate CEO's etc. Hunt and stalk.
It's been an exciting few months over here in the battlefield of the blogosphere. We've had infos dropped about the home addresses of various public officials, prison employees, and even profiteering CEO's (Shout out to Ryan Shapiro!) Our presence has caused some squirming on all sides. We thinks that it is completely paramount to ask ourselves why. Why would people who claim to desire the destruction of the prison system and capitalism be uncomfortable with doxing the people who have been doxed on our site? Why would people who seem so secure in their power and moral righteousness feel threatened by the presence of their home addresses on our website? Posted by bona fide punk ass trolls no less? Why would anarchists and jailers share the same opinions? Most importantly: What side are you on? (more…)
Tags: #Lulz Not Lulls Dox Campaign, Counter-info, Fuck the Law, Sean Swain, The Blast! Blog, USA
Posted in Prison Struggle
Saturday, October 10th, 2015
Early morning on October 2, we attacked the westside olympia police substation. We smashed the windows and door security keypads, glued the locks, tagged the outside, and trashed the inside with paint mixed with brake fluid. One tag read "no cops no charges." Our hearts swelled with joy. A few blunt objects, some super glue,and some paint can be found lying around in nearly any garage (make sure there is nothing incriminating left behind), or can be scored for a few bucks (use cash). A group of trusted comrades with a plan can break piggy's hearts with relative ease, they are too demoralized to even clean up their own sty.
If this strikes you as "violent," consider the fact that the police are the most consistently racist and misogynist of all mass buytramadolmed.com shooters.
We loved seeing the light reflect off city hall's shattered windows as the leaves turned from green to golden. We hope the westside substation stays trashed, with its windows boarded up, keeping out the sunlight. We hope that this way the swine get just a tiny taste of the misery they inflict on millions of people by imprisoning them in cells for years on end. We hope they incinerate themselves inside, and nothing is left, like the prisons we want to see in ashes.
We fight from where we stand. We hope others do the same.
We attack because we want to communicate with you, because we are inspired to act against the police.
We hope you will act in your own way to fight for a world without police.
Tags: Fuck the Police, Olympia, Sabotage, USA
Posted in Direct Action
Tuesday, September 15th, 2015
The CCA Leavenworth mailroom has been blocking some of Eric's incoming
mail, censoring publications for ridiculous reasons (or for no stated
reason at all), and even blocking some of his outgoing mail.
Recently, a book about the Black Panthers was rejected because the prison
evidently considers them a "hate group." Around that same time, right­wing
Christian literature with homophobic rhetoric made it through to another
prisoner. Eric is clearly being targeted for his political beliefs and
interests.
If you have been writing to Eric and have not heard back from him, it is
very possible that he has not received your letters or you have not
received his. (more…)
Tags: Eric G. King, Repression, USA
Posted in Prison Struggle
Friday, September 11th, 2015
Keep On Rockin'
Chapter 11 of the book
RADICAL PEACE: People Refusing War
By William T. Hathaway
RADICAL PEACE is a collection of reports from antiwar activists, the true stories of their efforts to change our warrior culture. An American exchange student in one of my courses here in Germany contributed the following essay about how she became an anarchist for peace. Because of her activism she wishes to remain anonymous.
Jason was my boy-friend for a while in high school. It wasn't a match made in heaven. Looking back, I think the main thing we had in common was that I wanted a boy-friend and he wanted a girl-friend. Other than that there wasn't much between us, as we discovered whenever we tried to talk about anything. I broke up with him when he asked me to go rabbit hunting with him. We stayed friends, though, probably because since it was obvious we could never be a real couple, neither of us had hard feelings.
We both left town after graduation; I went to college, Jason went to the marines. Two years later we were both back home; I was on summer vacation, Jason was on medical leave after having half his leg blown off in Iraq. He'd been riding in a truck that hit a mine. (more…)
Tags: Anti-Militarism, Anti-War, Iraq, Radical Peace: People Refusing War, Sabotage, USA, William T. Hathaway
Posted in Library