Posts Tagged 'USA'
Thursday, June 9th, 2016
Revolutionary greetings on this June 11! Solidarity with all Earth warriors and anarchists behind bars!
We are up against a system of power and profit, a system which is destroying the planet and forcing the people into poverty and imprisonment. Many of us who have fought back found ourselves in the crosshairs of an extensive counter-intelligence apparatus who use trumped-up "terrorism" charges and entrapment by informants to put us in prison for years. There are many lessons from each case to consider before engaging in future work, but it is most important that we do not let the seemingly overwhelming forces of domination intimidate us into inaction and passivity.
Even those of us doing time, you know we stay bucking the system, and it brings us strength and inspiration to hear about your work in the streets, to hear about ongoing campaigns – such as the fight to stop the Bureau of Prisons from building a new maximum security federal prison in Letcher County, Kentucky, in the middle of a mountaintop removal coal processing area. This is a winnable opportunity highlighting the connections between the prison industrial complex and the exploitation of the Earth by profiteering capitalists.
But to succeed, we must consider the full range of tactics available. Everything from organizing conferences and sending books to prisoners, from lawsuits to protest marches, to hacking websites and sabotaging infrastructure. Every act of defiance counts, even if we do not immediately see the results of our efforts, because even small ripples can make big waves. Local actions have global consequences. We are spreading seeds of revolution, growing wild and free. Until we can overgrow and overthrow this system once and for all!
For the rev!
Jeremy
(A)
Tags: Jeremy Hammond, June 11th Solidarity, Letter, USA
Posted in Prison Struggle
Thursday, May 26th, 2016
(A statement for the June 11th International Day of Solidarity with Long-Term Anarchist Prisoners)
First, I'd like to give warm revolutionary greetings to all those who have shown solidarity and supported me. Without that solidarity and support, I don't know how I would have survived for so long.
As one who has spent 30 years in U.S. prisons, I've become intimately acquainted with control units, whether we call them Security Management Units, Special Housing Units, or Administrative Segregation – all euphemisms of penological sophistication in an attempt to disguise the true purpose and intent of such sinister tools of control and torture. Let's be clear: they are torture chambers.
Former director of the Bureau of Prisons and now shareholder in the private prison firm GEO, Norman A. Carlson, stated that Marion's control unit's purpose is to "control revolutionary attitudes in prison and society" as well. Marion Federal Penitentiary is considered to be the first control unit in the U.S. (more…)
Tags: June 11th Solidarity, Letter, Michael Kimble, USA
Posted in Prison Struggle
Thursday, May 26th, 2016
May 25, 2015
Please accept our apologies for the sparse updates that have come out the last couple of months regarding Jay Chase.
As you may know, Jay received a one year sentence after pleading in Cook County to assault on a correctional officer. We support Jay in pleading out to one year versus rolling the dice and potentially getting 3-5 more years tacked on his sentence. His judge in that case was the same as in the original NATO 3/entrapment case and no one had any thoughts that this time, he would be fair, or cognizant of Jay's terminal illness he struggles with daily (Huntington's Disease).
To make matters worse, Jay recently found out he lost one full year of good time which pushes his release date back to November 6, 2017. This loss of good time is based on incident reports or 'tickets' Jay received while vigorously and persistently demanding treatment for the terminal illness and Hepatitis C. It is a cruel irony that the Illinois Department of Corrections not only medically neglects its own prisoners but then punishes anyone for speaking out and demanding treatment. This is about neglect and indifference that is bigger than Jay's specific case- a point he makes clearly in letters sent out from solitary, which brings us to the reason for this dispatch. (more…)
Tags: Jared Chase, Letter, USA
Posted in Prison Struggle
Wednesday, May 11th, 2016
On May 1st, 2016, prisoners in Alabama will be staging a workstrike at a number of Alabama prisons.
My reasons for shutting down is simple, I want to bring as much pain and disorder to the state (ADOC) as I can as an individual in any way that I can. I don't give a fuck about "changing any laws" because they are the mechanism that is used to keep people from being free. Fuck the law! The only true freedom is when we act outside of the law.
But in the cause of solidarity I'm asking all outside rebels to express their solidarity with the striking prisoners through free direct action. Join us, protest at an Alabama prison, burn some shit down/up, drop some banners, just cause some fucking chaos. Shit is getting real in Alabama prisons, not that it wasn't already.
It's going down! Fire to the prisons and the society that creates them, upholds them, and maintains them. Fuck peace! Locking humans in cages is not peace.
In Love & Rage,
Michael
For more info see: freealabamamovement.com
Tags: Alabama, Letter, Michael Kimble, Prison Labour Strike, USA
Posted in Prison Struggle
Monday, April 18th, 2016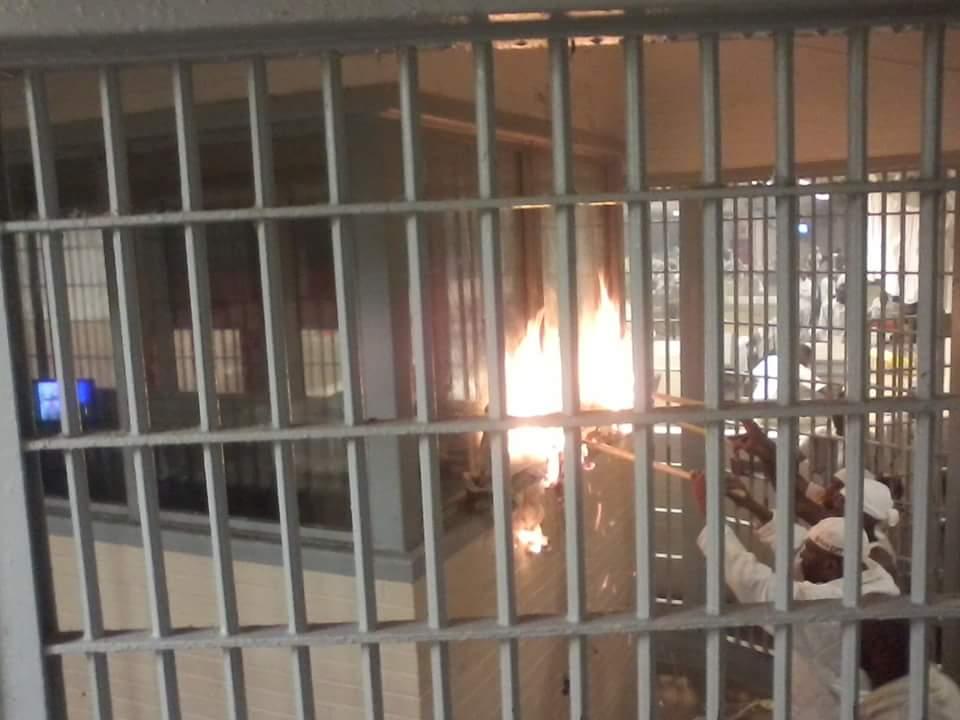 Friday, Feb. 12, 2016 – Monday, Feb. 15, 2016
What began as a confrontation between prisoners from different regions of Alabama – namely, B'ham and Montgomery, with B'ham being the largest – escalated into two short riots against the pigs. After the prisoners squashed the beef among themselves without any violence, two pigs ran into C-dorm, which houses 114 prisoners and was informed that there was no problem and everything was under control.
One pig (Tate) tried to bogart his way through a crowd of prisoners and was immediately stabbed a number of times. After the two pigs ran out the dorm, one bloodied the warden, Carter Davenport, who has a reputation as an extremely sadistic, disrespectful, and nasty scumfuck fascist, who was recently removed from his post as warden at St. Clair maximum security prison for assaulting a prisoner, and reassigned as warden at Holman in 2015. He was stabbed after entering C-dorm like some kind of god. (more…)
Tags: Alabama, Letter, Michael Kimble, Prison Riots, USA
Posted in Prison Struggle
Friday, April 8th, 2016
Apr 11 at 9 AM to Apr 15 at 5 PM in CDT
Cook County Criminal Courthouse
2600 S California Ave, Chicago, Illinois 60623
The day is here. Our friend and comrade Jared 'Jay' Chase goes on trial starting Monday. Will you stand with him?
Jay is supposed to be coming home on May 6th but this trial is creating a situation where he may not. We need you to PACK THE COURT. The attendance at previous hearings has been small at best. Jay is in prison on entrapment charges from the NATO 3 case and these charges stem from his time in solitary confinement at Cook County Jail.
Anita Alvarez is prosecuting Jay. Yes, the same Anita whose events you disrupted and who you voted out of office. The same fascist who prosecuted the NATO 5 cases, the Tinley Park 5 and Jason Hammond, the same monster who is finally leaving office. This is her legacy though. It does not matter that she lost -her office is prosecuting Jay for alleged assault charges. It is great that people disrupted her campaign events but will they show up for his trial?
Jay was diagnosed with Huntington's disease while in captivity in Cook County Jail and the ongoing brutalization and isolation he has faced has contributed to a noticeable and alarming deterioration in his health.
This trial is not just about a few extra years being tacked on to his current sentence which is coming to an end in May. The State has made it very clear through this obviously vindictive prosecution that they want to ensure Jay lives out his days in their cage.
Jay needs your support and solidarity. Everyone needs to see that Chicago stands with him and we have his back.
NATO 3 Defense Committee
freethenato3.wordpress.com
Tags: Jared Chase, Trial, USA
Posted in Prison Struggle
Monday, April 4th, 2016
United States – Last Friday prisoners across the US released a call to action announcing a nationally coordinated prisoner protest on the anniversary of the Attica prison uprising. On the heels of a similar announcement of an April 4th workstoppage issued by Texas prisoners, the call to action states that "[s]lavery is alive and well in the prison system, but by the end of this year, it won't be anymore." It calls for prisoners to "to stop being a slave, to let the crops rot in the plantation fields, to go on strike and cease reproducing the institutions of your confinement."
The coordinated strike is called for September 9th 2016, the forty-fifth anniversary of the most infamous prisoner revolt in US history. The announcement references Attica repeatedly, comparing recent upsurge of prisoner protest movements (from historic workstoppages in Georgia and Alabama to massive hunger strikes in California) to the years of prisoner unrest surrounding the flashpoint of the Attica rebellion. (more…)
Tags: Attica (Prison Uprising), Prison Labour, Prison Labour Strike, Texas, USA
Posted in Prison Struggle
Wednesday, March 30th, 2016
Joseph Konopka is an individual in America who is currently serving 13 years in prison for 2 felony acts of conspiracy to commit acts of terror. He was also charged with 6 felony counts of arson and vandalism, as well as trespassing, and sentenced to an additional 10 years. However, these charges were later dropped on a federal appeal. Konopka was arrested in 2002, by Chicago Police after he was caught hoarding potassium cyanide and sodium cyanide in an unused Chicago Transit Authority storeroom in the Chicago 'L' Blue Line subway. Konopka had picked the locks on several doors and disused rooms in the tunnels. Konopka had formed the group 'Realm of Ch@os' who were responsible for 28 power failures and 20 other service interruptions at various Wisconsin power plants. They also committed arson, disrupted radio and television broadcasts, disabled an air traffic control system, sold bootlegged software, and damaged an internet service provider's computer system. It was established that Konopka and his group caused more than 50 acts in various Wisconsin counties that affected more than 30,000 power consumers and caused more than $800,000 in damage.
CONSPIRACY: BLACK_RAINBOW received & transcribed:
'22 Mar. 2016
Greeting from America's second finest facility. I believe the local constabulary has rejected some of your correspondence – 'it contains numbers and symbols that cannot be translated.' Can't entirely blame 'em, I find some of it a bit baffling myself… Not sure I am really your target demographic, what with all the wifi neuroviruses and such.
The following rant may explain why – you're welcome to publish it if you like.
Western society is to an ever greater degree becoming a construct in which interaction and liberties are mediated by machines. This can engender a mindset among freedom-oriented people that technology is a tool of the oppressor and should be shunned. That mindset is wrong.
When Europeans invaded the Americas (and Africa), the indigenous peoples feared the invaders technology and generally failed to adopt it until too late, if at all. When Europeans again tried to suppress the nascent American nation with superior technology (i.e. better guns, a navy), the Americans responded in kind and then some [more]. Whose strategy was superior? Ask a Cherokee. Ask an Inca or an Aztec if you can find one.
The problem with technology isn't the technology per se, it's the sociopolitical structures that implement it. Machines make great impartial arbiters, and provide a way to have rules without rulers – think Bitcoin, of TCP/IP. A technocracy can be the epitome of freedom or fascism: it's up to the programmers. Open to scrutiny and understood by all, or closed corporate hegemony. Transparent and provably trustworthy, or declared trustworthy by CEO's and spooks. (more…)
Tags: Chicago, Joseph Konopka 'Dr Ch@os', Letter, USA, Wisconsin
Posted in Prison Struggle
Monday, March 21st, 2016
via ABC Brighton:
We are concerned about Mumia's deteriorating health, as has been witnessed in recent weeks by his visiting doctor, clergy, counselors, teachers, family and friends. Evidence of intensifying Hepatitis C symptoms and possible development of the diabetes that nearly killed him a year ago calls for immediate and appropriate treatment. We, therefore, urge you to:
DEMAND
1. Immediate provision to Mumia of anti-viral treatment to cure his Hepatitis C condition that is, as his doctor testified in court, the persistent cause of worsening skin disease, almost certain liver damage, now extreme weight-gain and hunger, and other diabetic-like conditions.
2. Immediate release of all recent blood test results to Mumia's attorneys.
3. Vigilant monitoring of Mumia for signs of diabetes, especially of his blood sugar level, since a diabetes attack nearly killed Mumia last Spring of 2015.
PHONE, FAX, AND E-MAIL THESE DEMANDS TO:
PA GOVERNOR, TOM WOLF
Phone: (010) 717 787 2500
Fax: (010) 717 772 8284
E-mail: governor@pa.gov
Pa Department of Corrections, Secretary, John Wetzel
Phone: (010) 717 728 2573, (010) 717 787 2500
E-mail: ra-contactdoc@pa.gov
MAHANOY PRISON, SUPERINTENDENT, Theresa DelBalso
Phone: (010) 570 773 2158
(You have to be transferred to her secretary, and she refuses to give out the fax number or e-mail for the Superintendent. Not surprising, given that this new superintendent has a very heavy military background.)
Sponsored by: International Concerned Family and Friends of Mumia Abu-Jamal, MOVE, Educators for Mumia, Free Mumia Abu-Jamal Coalition (NYC), Campaign to Bring Mumia Home, International Action Center.
–
Mumia Abu-Jamal Files Suit Over Refusal Of Medical Care
05/08/15
Attorneys for Mumia Abu-Jamal filed an amended lawsuit yesterday to challenge prison medical staff's denial of necessary medical treatment – denial that nearly killed Abu-Jamal earlier this year. (more…)
Tags: International Solidarity, Mumia Abu-Jamal, Repression, USA
Posted in Prison Struggle
Thursday, March 17th, 2016
"Things here are tense but festive. The C.O. and warden was stabbed… It has nothing to do with overcrowding, but with the practice of locking folks up for profit, control and subjugation. Fires were set, we got control of two cubicles, bust windows. The riot team came, shot gas, locked down, searched the dorms. Five have been shipped and two put in lockup."
– An inmate at Holman Correctional
This week, prison rebels at Holman Correctional Facility in Atmore, Alabama staged two riots in three days—battling guards, building barricades, stabbing the warden, taking over sections of the prison and setting a guard station on fire. These actions come as no surprise to those who have been paying attention to the crumbling prison system in Alabama and the increasing level of radicalization of the prison population there.
The uprising at Holman, and the conditions of Alabama prisons in general, provide a unique situation in which anarchist solidarity may prove strategic. Historically speaking, successful prison uprisings have often been the result of a degrading prison system (incompetence, understaffing, weak administration) in combination with a high level of prisoner-unity and the development of a strong political subculture within the prison that supports and encourages acts of resistance. These conditions shift the balance of power between prisoners and their captors and allow prisoners more latitude to take bold action. Prison rebels in Alabama report that guards often refuse to enter the cell blocks for months at a time out of fear of attacks. The conditions for rebellion are ripe in the Alabama prison system. (more…)
Tags: Alabama, Holman Correctional Facility (Atmore), Prison Riots, USA
Posted in Prison Struggle
Tuesday, March 15th, 2016
Received from blackdiamondprisonersupport:
To all Revolutionary prisoners and Anarchist comrades:
After my imprisonment in 1988 for armed robberies in California, I became politicized through participation in the 1991 Folsom Prison Hunger Strike. After more than a decade in solitary confinement in Pelican Bay SHU, where interacted with members of the Black Guerrila Family (BGF), Aryan Brotherhood (AB), and Mexican Mafia (EME), I had become deeply involved in political struggle with the prison abolition movement. I was convicted for Prisoner Resistance actions in two 1995 attacks on an Associate warden at New Folsom state prison and a Sacramento District Attorney prosecutor in the courthouse, I was beaten and tortured in multiple 'cell extractions' by armed teams of pigs. I was sentenced to multiple 25 years-to-life terms in state prison. (more…)
Tags: Black December, Conspiracy of Cells of Fire, Informal Anarchist Federation (FAI), Jennifer Gann, Letter, USA
Posted in Prison Struggle
Tuesday, March 1st, 2016
via Eric's soli-group:
After almost a year and a half of pre-trial detention in shitty conditions, court battles and other legal woes, and facing threats of forty years in prison, Eric King has finally decided to accept a non-cooperating plea agreement to ten years in federal prison.
If you live nearby, please consider attending Eric's hearing in Kansas City, MO next Thursday, March 3rd at 1:30p.m. The media and cops are likely to be well-represented, and it would be a meaningful moment to show Eric that he is not alone. Having supporters there may also create some pressure for the court to conduct itself better. It will also be useful to Eric and his support crew to have more people in attendance taking notes and keeping an eye on the proceedings. (more…)
Tags: Eric G. King, Trial, USA
Posted in Prison Struggle
Thursday, February 18th, 2016
Responding to the call for solidarity with Fernando Bárcenas, we hung a
banner with words of support for our comrade. Fernando is an anarchist
imprisoned by the Mexican state for burning a Coca-Cola tree during a
demonstration against the rise of Metro ticket prices.
We hope that small gestures like these will accumulate and spread,
contributing to an anarchist internationalism that seeks to destroy the
walls of borders and prisons alike.

Against all states, against all prisons!
Solidarity with Fernando and all rebellious prisoners!
Tags: Banner drop, Coca Cola, Fernando Barcenas Castillo, USA
Posted in Prison Struggle
Sunday, February 7th, 2016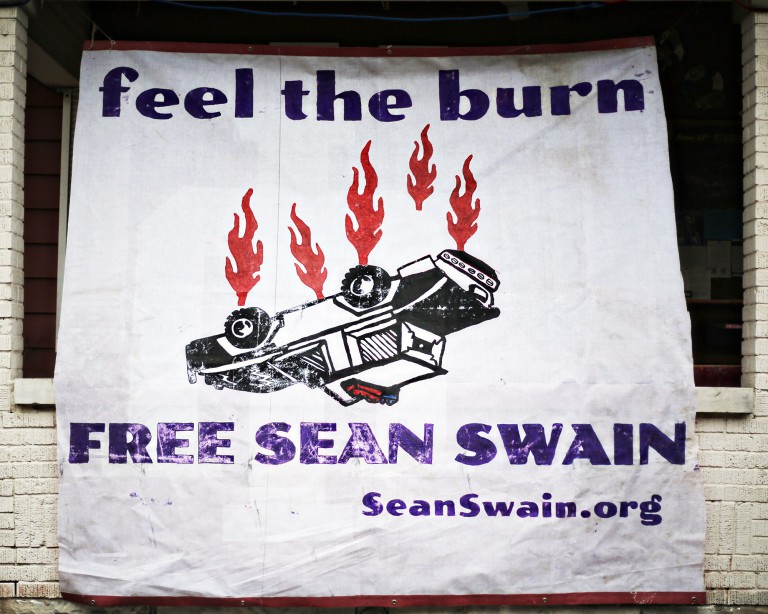 Warren Correctional Institution, not content with merely restricting Sean's communications with the outside world, has now assigned a lieutenant to read through all printed materials sent to Sean.
Please take a minute to send Sean some reading material. That stack of zines in the bathroom? That one book you've had for years but will never read? All those fancy new publications you designed? Send them all! Let's help Sean (and the fuckweasels who intercept his mail) something to pass the time.
Send reading material to:
Sean Swain #243-205
Warren CI
P.O. Box 120
Lebanon, Ohio 45036
USA
–
We receive & transmit:

Bloomington, Indiana (USA): Banner hung in solidarity with Sean Swain
We hung a banner in solidarity with Sean Swain's struggles against the prison system in Ohio. Despite repeatedly being transferred and having his communications cut off, Sean remains uncompromising in his pursuit of freedom, putting his life on the line in struggle against the state. We keep his words and deeds with us as we carry out our own struggles against prison society.
Fundraising, letters, demonstrations, banners, graffiti, and direct attacks form a bright tapestry of revolutionary solidarity. Let's always be searching for new ways to break down the isolation of imprisonment and build complicity through the prison walls.
Tags: Banner drop, Bloomington, Indiana, Sean Swain, USA
Posted in Prison Struggle
Friday, January 29th, 2016
As the viciousness of capitalism engulfs ever more of us, our yearnings for change are approaching desperation. The system's current leader, Barack Obama, has shown us that the only change we can believe in is what we ourselves create.
To do that, we need to know what is possible in our times and what isn't. The bitter probability is that none of us will see a society in which we'd actually want to live. Even the youngest of us will most likely have to endure an increasingly unpleasant form of capitalism. Despite its recurring crises, this system is still too strong, too adaptable, and has too many supporters in all classes for it to be overthrown any time soon. We're probably not going to be the ones to create a new society.
But we can now lay the groundwork for that, first by exposing the hoax that liberal reforms will lead to basic changes. People need to see that the purpose of liberalism is to defuse discontent with promises of the future and thus prevent mass opposition from coalescing. It diverts potentially revolutionary energy into superficial dead ends. Bernie Sanders' "long game" campaign is really only a game similar to that of his reformist predecessor, Dennis Kucinich, designed to keep us in the "big tent" of the Democratic Party. Capitalism, although resilient, is willing to change only in ways that shore it up, so before anything truly different can be built, we have to bring it down. (more…)
Tags: Analysis, USA, William T. Hathaway
Posted in Autonomy