Posts Tagged 'USA'
Tuesday, November 10th, 2015
As many of you know, Seth has had a chronic cough since May of this year for which he did not receive any diagnosis or treatment for many months.
When Seth finally saw the pulmonologist at Coxsackie on Monday, November 2, the doctor wanted to know why the medical personnel at Sullivan had waited so long to bring Seth for a pulmonary exam. The pulmonologist intends to schedule for Seth a CT scan, a CT scan of his heart, and bloodwork. The pulmonologist thought there might be some infection, but needs more info.
In addition, the facility doctor (Dr. Sidorowicz) told Seth to come to the clinic to use the nebulizer whenever he feels short of breath. Seth has been using an inhaler twice a day (Seth does not get to carry his inhaler, and so needs to go to medical when he gets short of breath) and also the nebulizer twice a day for a while now, although he does not yet have a diagnosis of the cause of this chronic cough. (more…)
Tags: Black Liberation Army, Black Panther Party, Repression, Robert Seth Hayes, USA
Posted in Prison Struggle
Monday, November 9th, 2015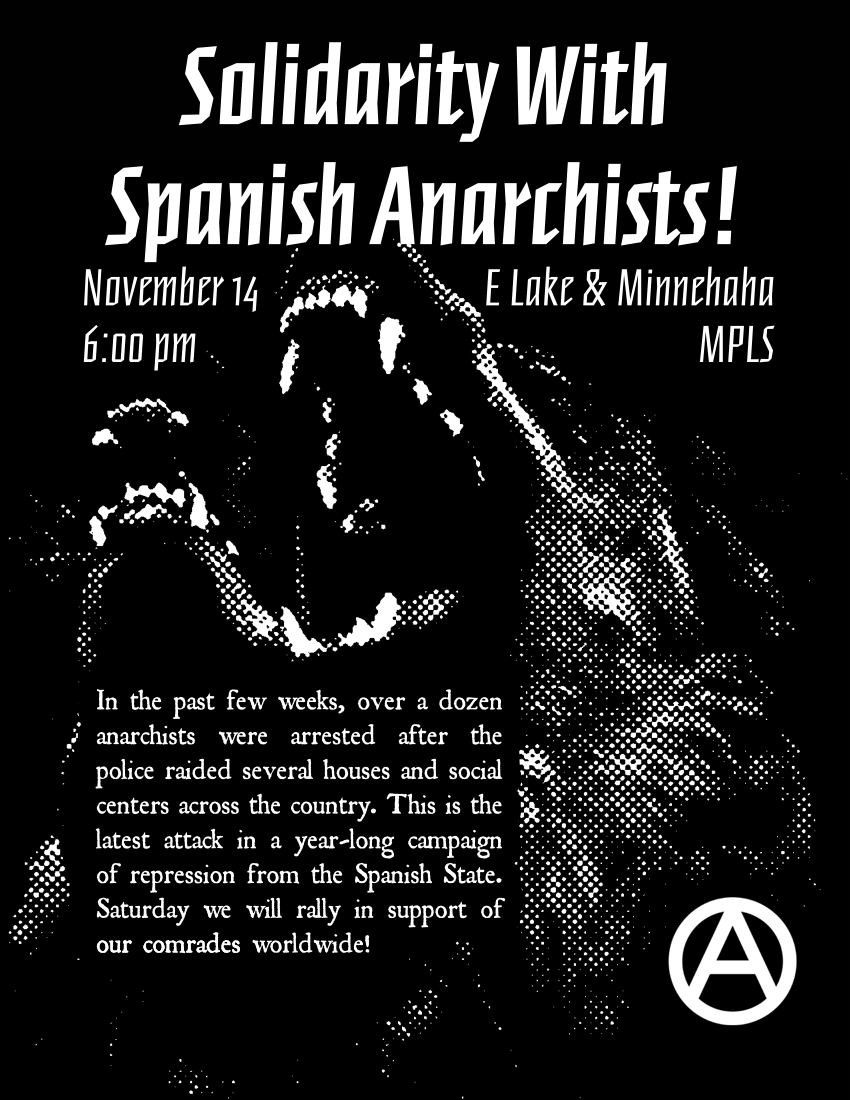 Updated: Here's the reportback.
Almost a year ago, the Spanish State began a campaign of repression against anarchists, arresting dozens, including nine in late October, and five more in November of this year. Their imprisonment is justified with the invention of a fictional terrorist group, the GAC-FAI-IRF. No attack has ever been claimed with this set of acronyms, and the GAC (Coordinated Anarchist Groups) are only the authors of a recent book, Contra la Democracia (eerily similar to the Tarnac Affair and The Coming Insurrection in France, 2008).
On Saturday we will rally in solidarity with those arrested, at 6:00pm at the corner of E Lake St & Minnehaha Ave in Minneapolis.
More info here: Efecto Pandora & Conflict MN.
Tags: Catalunya, Demo, GAC (coordinated anarchist groups), International Solidarity, Minneapolis, Spain, USA
Posted in Social Control
Thursday, October 29th, 2015
Political Prisoner Radio is a program that seeks to educate the public on the individual cases of political prisoners and prisoners of war being held by the United States government, many for decades under torturous conditions. It features former political prisoners, advocates, family members and organizations work to free these individuals. The program often discusses the historical political repression and social conditions that existed and still exist within the United States of America.
www.politicalprisonerradio.blogspot.com
politicalprisonerradio.blogspot.com/p/tune-in.html
Tags: Black Panther Party, Counter-info, Ferguson, Leonard Peltier, MOVE, Racism, USA
Posted in Prison Struggle
Tuesday, October 20th, 2015
Amazon, a transfemale from Gender Anarky in prison in California, began
a hunger strike the morning of October 7, 2015 for transfer to a women's
prison. Amazon is legally a female. In January 2015, Amazon's birth
certificate was amended by the Office of Vital Records in Sacramento to
record her sex as "female." Under a new law signed by the governor,
transexuals no longer need full sex-reassignment surgery to amend their
vital records, but instead a doctor's declaration of transition to
reflect their current gender. Amazon accomplished this. She then applied
for a transfer to a women's prison. The prison required Amazon to
present her new birth certificate. However, prison rules prohibit
inmates from possessing birth certificates and Amazon asked the prison
to verify the document with the Office of Vital Records. The prison
refused to do so. Amazon then attempted to file a grievance over the
issue, but she was again required to produce her birth certificate to
pursue a grievance. This is an example of the notorious mind games that
prison officials play on inmates to suppress legitimate issues and
prevent them from seeking an administrative resolution of the problem.
(more…)
Tags: Amazon (Eva Contreraz), California, Hunger Strike, USA
Posted in Prison Struggle
Thursday, October 15th, 2015
New site from USA releasing the home addresses and personal info of prison officials, guards, corporate CEO's etc. Hunt and stalk.
It's been an exciting few months over here in the battlefield of the blogosphere. We've had infos dropped about the home addresses of various public officials, prison employees, and even profiteering CEO's (Shout out to Ryan Shapiro!) Our presence has caused some squirming on all sides. We thinks that it is completely paramount to ask ourselves why. Why would people who claim to desire the destruction of the prison system and capitalism be uncomfortable with doxing the people who have been doxed on our site? Why would people who seem so secure in their power and moral righteousness feel threatened by the presence of their home addresses on our website? Posted by bona fide punk ass trolls no less? Why would anarchists and jailers share the same opinions? Most importantly: What side are you on? (more…)
Tags: #Lulz Not Lulls Dox Campaign, Counter-info, Fuck the Law, Sean Swain, The Blast! Blog, USA
Posted in Prison Struggle
Saturday, October 10th, 2015
Early morning on October 2, we attacked the westside olympia police substation. We smashed the windows and door security keypads, glued the locks, tagged the outside, and trashed the inside with paint mixed with brake fluid. One tag read "no cops no charges." Our hearts swelled with joy. A few blunt objects, some super glue,and some paint can be found lying around in nearly any garage (make sure there is nothing incriminating left behind), or can be scored for a few bucks (use cash). A group of trusted comrades with a plan can break piggy's hearts with relative ease, they are too demoralized to even clean up their own sty.
If this strikes you as "violent," consider the fact that the police are the most consistently racist and misogynist of all mass buytramadolmed.com shooters.
We loved seeing the light reflect off city hall's shattered windows as the leaves turned from green to golden. We hope the westside substation stays trashed, with its windows boarded up, keeping out the sunlight. We hope that this way the swine get just a tiny taste of the misery they inflict on millions of people by imprisoning them in cells for years on end. We hope they incinerate themselves inside, and nothing is left, like the prisons we want to see in ashes.
We fight from where we stand. We hope others do the same.
We attack because we want to communicate with you, because we are inspired to act against the police.
We hope you will act in your own way to fight for a world without police.
Tags: Fuck the Police, Olympia, Sabotage, USA
Posted in Direct Action
Tuesday, September 15th, 2015
The CCA Leavenworth mailroom has been blocking some of Eric's incoming
mail, censoring publications for ridiculous reasons (or for no stated
reason at all), and even blocking some of his outgoing mail.
Recently, a book about the Black Panthers was rejected because the prison
evidently considers them a "hate group." Around that same time, right­wing
Christian literature with homophobic rhetoric made it through to another
prisoner. Eric is clearly being targeted for his political beliefs and
interests.
If you have been writing to Eric and have not heard back from him, it is
very possible that he has not received your letters or you have not
received his. (more…)
Tags: Eric G. King, Repression, USA
Posted in Prison Struggle
Friday, September 11th, 2015
Keep On Rockin'
Chapter 11 of the book
RADICAL PEACE: People Refusing War
By William T. Hathaway
RADICAL PEACE is a collection of reports from antiwar activists, the true stories of their efforts to change our warrior culture. An American exchange student in one of my courses here in Germany contributed the following essay about how she became an anarchist for peace. Because of her activism she wishes to remain anonymous.
Jason was my boy-friend for a while in high school. It wasn't a match made in heaven. Looking back, I think the main thing we had in common was that I wanted a boy-friend and he wanted a girl-friend. Other than that there wasn't much between us, as we discovered whenever we tried to talk about anything. I broke up with him when he asked me to go rabbit hunting with him. We stayed friends, though, probably because since it was obvious we could never be a real couple, neither of us had hard feelings.
We both left town after graduation; I went to college, Jason went to the marines. Two years later we were both back home; I was on summer vacation, Jason was on medical leave after having half his leg blown off in Iraq. He'd been riding in a truck that hit a mine. (more…)
Tags: Anti-Militarism, Anti-War, Iraq, Radical Peace: People Refusing War, Sabotage, USA, William T. Hathaway
Posted in Library
Wednesday, August 26th, 2015
Eric G. King is a vegan anarchist comrade who is facing life imprisonment for a night time attack with molotovs against a government building in Kansas City. He is currently being held in the Corrections Corporation of America's Leavenworth Detention Center.
Support Eric King T-Shirts are Here!
We're excited to announce that the Eric King support t-shirts are in! Show your solidarity by ordering one today! We're asking for a $20 donation per shirt. All proceeds go to EK's support, including commissary and phone calls.
To order a shirt, donate online at and then email us at erickingsupportcrew(A)riseup.net with your shirt size (S, M, L, XL) and mailing address. You can also email us to get a mailing address for donations by check or money order.
In other good news, EK is out of solitary confinement! He now has greater access to recreation, is able to be social once more, and has been reunited with a friend who is also serving time there. Send him a letter or card to help him celebrate this change in his conditions and to let him know he's not forgotten!
Eric King
#27090045
CCA Leavenworth
100 Highway Terrace
Leavenworth, KS 66048
USA
Tags: Eric G. King, USA
Posted in Prison Struggle
Tuesday, August 25th, 2015
NYC Anarchist Black Cross is a collective focused on supporting US-held political prisoners and prisoners of war and opposing state repression against revolutionary social justice movements. We are a Support Group of the continental Anarchist Black Cross Federation.
NYC ABC maintains an illustrated guide to the prisoners in the United States we support, not all of whom are anarchists. It's regularly updated and includes a short biography for each prisoner. You can view it online or download it here.
This is our guide to political prisoners and prisoners of war we support. Feel free to download, print, and distribute as you see fit. The PDF file has been optimized to print in booklet layout through Acrobat.
In solidarity,
NYC ABC
Tags: New York, NYC ABC, USA
Posted in Prison Struggle
Tuesday, August 25th, 2015
The Transformer
Chapter 10 of the book
RADICAL PEACE: People Refusing War
By William T. Hathaway
A former student of mine works as a janitor. After graduating from college he worked as a market researcher and an advertising salesperson, but both jobs soured him on the corporate world. He hated being a junior suit, and the thought of becoming a senior suit was even worse.
He finds being a janitor a much better job. He's left alone, it's low pressure, and what he does improves the world rather than worsens it. The pay's lousy but that's standard these days. He loves music, so he loads up his MP3 and grooves to the sounds. Although the work is routine, it's brightened by occasional bits of human interest: used condoms in executive wastebaskets, marijuana butts in the emergency stairwell, a twenty-dollar bill under a desk. His shift is from 6 p.m. to 2 a.m., and afterwards he hits the late-night clubs, where he can enjoy the scene with the advantage of being sober. He works for a janitorial service company, and one of their clients is a defense contractor — not secret weapons, just ordinary supplies. (more…)
Tags: Anti-War, Radical Peace: People Refusing War, Sabotage, USA, William T. Hathaway
Posted in Library
Tuesday, August 25th, 2015
Video featuring 3 activists, talk filmed at Chaos Communication Camp, Germany. Also read article on undercoverinfo.
Tags: Climate Chaos, Fuck the Police, Germany, Repression, Surveillance, UK, Undercover Police, USA
Posted in Social Control
Thursday, August 20th, 2015
The Split
Differences over Israel tear apart a Jewish marriage
Chapter 9 the book
RADICAL PEACE: People Refusing War
By William T. Hathaway
Stan and Hannah Cooper are friends of mine from college days. Both are Jewish, but they have diametrically opposed views about Israel, and their differences have become so bitter that they've decided to divorce. As the three of us talked about this, it became clear that their dispute is a microcosm of the conflict that is tearing the Jewish community apart and also destroying lives in an increasingly large part of the world.
William: Your differences must have become quite serious if you've decided to end your marriage after all these years.
Stan: Well, these are very serious issues. If you take the Holocaust seriously, you have to support Israel. And Hannah doesn't. If she has her way, if the people she supports come to power in Israel and the USA, they'll stop resisting the terrorists and become holier than thou pacifists while the Arabs push the Jews into the sea and blow up half the USA. Then the pacifists will cry about what a tragedy it all is.
Well, I'm not going through another tragedy. I'm not going to see America and Israel destroyed because we didn't have the courage to stand up to fanatics. I'm not going to have our generation go through something like our grandparent's went through. Once is enough, once was way too many, and now we finally have to defend ourselves. (more…)
Tags: Anti-Semitism, Anti-War, Israel, Palestine, Radical Peace: People Refusing War, USA, William T. Hathaway
Posted in Library
Sunday, August 16th, 2015
From Anarchy Live!
For reading: http://anarchylive.noblogs.org/files/2015/08/anarchylive.pdf
For printing: http://anarchylive.noblogs.org/files/2015/08/anarchylive-imposed.pdf
A collection of some of Michael Kimble's recent writings; plus a new interview with
Michael on his life, prison struggle in Alabama, being gay, prison solidarity,
recent anti-police struggles, civilization, and anarchy.
CONTENTS
Introduction
"To My Comrades"
"Where Do We Go From Here"
"Up the Ante"
"From Afar"
"To the Carrboro Bookfair"
"Revolution Versus Reform"
June 11th statement
Interview
Tags: Michael Kimble, PDF, USA, Zine
Posted in Library
Saturday, August 15th, 2015
Mildly interesting article giving info on international police operations against the radical left, concerning the well known vastly over-hyped cases of the 'Invisible Committee' and Mark 'Stone' Kennedy, UK undercover cop.
Tags: France, Germany, UK, USA
Posted in Social Control