Posts Tagged 'Vandalism'
Friday, June 21st, 2019
For June 11 – Solidarity for long term anarchist prisoners
Just outside the city limits of Bristol tucked away in the dark is a poultry farm (Ivy Farm) owned by P&S Mitchell LTD. Located in Whitchurch Lane, Dundry, the birds never see the light of day. Despite the CCTV, the grain silo and broiler house were both spray-painted with the words "Animal Prison".
A new McDonalds restaurant that is not welcome is being built in Fishponds Road, but maybe the "Burger Off!" posters in local's front windows isn't enough. Graffiti was sprayed inside the building site – "McWork Prison".
Vinney Green, hidden in Emersons Green on the edge of Bristol is a special secure detention unit for 10-17 year old "dangerous kids". The unit holds up to 24 detainees. A large hole was cut in the perimeter fence and then the next inner security fence was broken through by bending back the bars, causing a second human size gap. Then the prison buildings themselves were sprayed with the words "Child Prison", "Screws Work Here".
Solidarity to Brian Vaillancourt who is serving a 9 year sentence in the USA for an arson of a McDonalds. To the imprisoned comrades in Italy who are fighting from inside the cells on hunger strike. To the 3 comrades arrested for bank robbery in Thessaloniki, Greece. To Lisa held in Spain. For all the imprisoned anarchists around the world.
Freedom for everyone!

Eco-anarchist vandals – FAI/IRF
Tags: Brian Vaillancourt, Bristol, Eco-anarchist vandals - FAI/IRF, Fuck McDonalds, Graffiti, International Solidarity, Ivy Farm (Poultry), June 11th Solidarity, Lisa, McDonalds Corporation, Paint attack, Solidarity Action, UK, Vandalism, Vinney Green
Posted in Direct Action
Monday, June 3rd, 2019
SAN FRANCISCO, EE.UU.: ANARQUISTAS ATACAN EL CONSULADO DE INDONESIA CON BOMBAS DE PINTURA CONTRA LA REPRESIÓN DEL PRIMERO DE MAYO
On June 1, a modest mob of 20+ anarchists in San Francisco carried out an attack in solidarity with our comrades in so-called Indonesia where 600+ anarchists were arrested this May Day. We threw 60 paintbombs and heavily tagged the Indonesian Consulate with circle-(A)s to send a message to the Indonesian government that despite the distance between us and our comrades, the State is not safe and will always be attacked.
The actions of the Indonesian comrades, simple gestures of paint on walls, resonated with us. In the afterimages of their act, and in their call for solidarity, we recognized friends across the dying ocean. Even more than expressing our contempt for the Indonesian State, we want to convey our love to the comrades struggling within and against its false borders. Ferocity and Strength to those facing repression and those on the run. (more…)
Tags: California, Indonesia, International Solidarity, Paint attack, Paint bombs, Sabotage, San Francisco, Solidarity Action, USA, Vandalism
Posted in Direct Action
Thursday, February 28th, 2019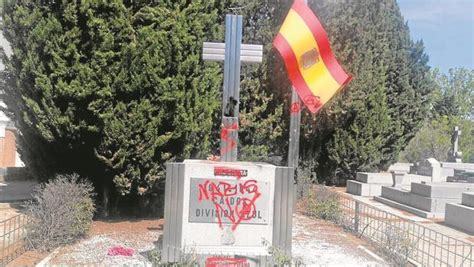 Last Friday, February 8, we vandalized the monument to the División Azul in the Almudena cemetery in Madrid. There are reasons to do it any day, but this date we chose with pleasure because the next day the fascists paid homage and on Sunday an amalgam of rancid ultra-Catholics, fascists, geriatics, neo-Nazis and various imbeciles walked with their anachronistic and disgusting symbols for a few streets in Madrid.
We carry the historical memory in our hearts. In the invisible scars that have left us with centuries of oppression. In our ideology and our practices. In our incessant search for freedom. We do not need governments or laws that change symbols for others. We will always have fun staining the dirty symbols of the authorities, whether they represent democracy or fascist dictatorships.
Death to the State and Long Live Anarchy!
Tags: División Azul, Madrid, Sabotage, Spain, Vandalism
Posted in Direct Action
Saturday, December 22nd, 2018
Happy Holidays Motherfuckers!
We don't know how to do Christmas. What do you give the greedy scrooges that already take everything? Instead of a goose, we gave gift cards up and glued into ATMs and locks.
*Sung to the tune of Twelve Days of Christmas*
1 parking meter, 1 racist Starbucks, 1 Illegal Tacos
2 OCF cafes, 3 Citibike kiosks
5 realty offices, 110 ATMs
—
Except this wasn't over 12 days it was in 1 night. This shit was fun and easy.
Here's some things to consider if you want to try this at home.
-Plan and dress for the weather.
-Set high goals.
-Watch each other's backs.
-Invite more people to participate with you.
-If using cardboard instead of gift cards don't drop it in a puddle.
-ATMs have high quality cameras, cover up well.
-Bring extra supplies in case an opportunity arises.
-Don't blow up your spot, look jolly not grinchy.
-Many small groups can cover more ground than one big group.
-For information on sabotaging ATMs read these communiques.
https://phlanticap.noblogs.org/atm-attacks/
https://itsgoingdown.org/striking-back-banks-portland/
On Mikhail, on Alexis, on PZS, on Sebastian!
Solidarity with people facing repression near and far!
Solidarity with the Vaughn 17!
Ten years since the insurrection in Greece!
For a Black December!
'Tis the season of rage!
Ghosts of No Christmas Future
Coordinated Cells of Grinches
War on Christmas
Ugly Christmas Sweater Moms
Tags: Black December, Philadelphia, Sabotage, USA, Vandalism
Posted in Direct Action
Monday, December 10th, 2018
Over a night in December acts of vandalism were carried out in Dublin against banks and ATM's. 3 banks had locks glued up, 2 banks had message of "Homes for all" sprayed across windows, and 3 ATM's were glued up. These acts were carried out in conjunction with struggle for housing being waged across Ireland.
These acts were but small acts of defiance and revolt against this prison society, to subvert the capitalist spectacle, if even only for a few hours. Actions like these expose the vulnerable spots of capitalism.
Reforms wont bring liberation, the state will never grant freedom. Reforms might make this prison society a little bit more nicer, but a prison is still a prison. The delusions and cowardice of the left has clearly failed. It's parties and unions betray and sell out every time.
FUCK THE LEFT, FUCK THE RIGHT, FUCK POLITICS
FUCK THE STATE
FUCK LANDLORDS
FOR STRUGGLE WITHOUT LEADERS, POLITICIANS, AND BUREAUCRATS.
FIRE TO THIS PRISON SOCIETY
LONG LIVE ANARCHY
THE SINISTER FRINGE
Tags: Dublin, Ireland, Sabotage, Vandalism
Posted in Direct Action
Monday, December 3rd, 2018
reported anonymously:
"Elgin, IL, USA
On the early morning of November 2nd, we emerged from the shadows and armed our veganism with attack upon a KFC and the Elgin BBQ Pit. Along with glued locks and smashed windows, the green spray-painted circle A's signify our way of 'going green'. Not as a consumer activity of capitalist reform, but as clandestine attack on this speciesist society.
With hostility towards speciesism and anthropocentric domination and for the destruction of all prisons, cages, and civilized systems of industrial control."
Tags: Animal Liberation, Elgin, Illinois, Sabotage, USA, Vandalism
Posted in Direct Action
Friday, November 16th, 2018
Anti-Gentrification Direct Actions
Philadelphia 2013-2018
Gentrification has been completely changing the city to cater to yuppies, while at the same time erasing the memory and culture of the poor and black and brown people that make up the majority of Philadelphia.
Some might say gentrification is an unstoppable force, a monster that is too far gone and is irreversible in its devastation. Although some of that may be true we don't want people to forget the struggles of resistance to it or for those struggles to become invisible.
PDF: AGDAP_print
PDF: AGDAP_web
Tags: Arson, Gentrification, PDF, Philadelphia, Sabotage, USA, Vandalism, Zine
Posted in Library
Sunday, October 14th, 2018
12/10/18, New York City: Anarchist cell smashes windows of ruling political party club building and sprayed slogans to co-incide with an event organised by them with the fascist Gavin McInness, co-founder of Vice Media and founder of Proud-Boys (American far-right group). Locks were also glued and digital keypad destroyed. No-one was arrested.
Tonight, we put the Republican Party on notice, in defiance to the policy of mass misery they have championed. The US government has established concentration camps around the country for Latino people, shamelessly murders black people, and continues its war machine that has slaughtered Muslim people with impunity for decades. The so-called "Land of the Free" leads the world in incarceration rates per capita, all the while profiteering in the new plantation within the prison walls.
While these atrocities persist unabated, the Metropolitan Republican Club chose to invite a hipster-fascist clown to dance for them, content to revel in their treachery against humanity. The Republican Party, joined by their spineless partners-in-crime, The Democrats, institute a policy of domestic and foreign terror felt the world over. Our attack is merely a beginning. We are not passive, we are not civil, and we will not apologize. Those of good conscience and clear mind know this state of oppression cannot remain. The US fascist political system is one of the most savage institutions in history and we will combat it relentlessly until all are free of American barbarism.
–The Korryn Gaines Anarchist Attack Cell
Tags: Anti-Fascism, Antifa, Gavin McInness, New York, Racism, Republican Party, Sabotage, USA, Vandalism
Posted in Direct Action
Friday, October 12th, 2018
We are a group consisting of autonomous individuals who carried out some poster bombing and vandalism actions against Bank of Indonesia, ATMs, police posts, the Digulist roundabout, the West Kalimantan governor's office and several other highly visible locations in Pontianak City. We carried out these actions as a response to the meeting between Global Capitalist organizations the World Bank Group and the International Monetary Fund that is being held in Bali from October 8-14, 2018.
These spontaneous actions we carried out express our uncompromising rejection of a normal life full of daily submission. These actions are a manifestation of our hatred, anxiety and and anger against a system that requires us to accept a society where we have no control over our own lives. Their meeting is a clear sign that Global Capitalism has improved it's position in controlling daily life with various disgusting economic schemes and investments.
For us there are two options: taking action or remaining silent – and we will never choose the second option. Passively watching or reading the news about the IMF-WBG meeting, that is not an option for us. If we take a deeper look, we can see that all aspects in this world relate to economics, and yes, they are the people who are behind all of this bullshit.
Here is a sentence that is appropriate for all those groups and individuals who condemn our actions as immoral and irrational acts: There is no system or morality that can hold us back when we reach the peak of our anger.
And another thing you should know: you are all under their control. You just don't realize that the concept of good / bad morality that you follow is what allows them to achieve their goals. You are all their obedient tools.

We are what you call Utopianists. We are Anarchists!
Tags: Bali, Counter-Summit, Indonesia, International Monetary Fund (IMF), Pontianak City, Sabotage, Vandalism, World Bank Group
Posted in Direct Action
Sunday, August 12th, 2018
The guitarist for 'Queensbury Rules' (a 'Blood & Honor' band) had his car sabotaged in the early hours of the 7th of August.
Wojciech (Woj) Wasilewski, a known fascist had all 4 tyres of his car punctured, the bodywork scratched and a message sprayed which reads: "Woj = Fascist" and on the otherside: "[heart symbol] ANNA YPG".
The car was parked on Trinity St (New Town) St Philips, sometimes parked on Hassell Drive, both near Trinity Police Station, Bristol. The car is a red Hyundai, reg: EA60TWX
Woj and his Polish friends live above 'Skin Deep', a tattooist shop on Old Market (close to where the car was parked). The shop is run by 'Ozzie', an old National Fronter from Kingswood, Bristol.
Woj has been seen in a 'Queensbury Rules' T-shirt with "Pie and Mash" printed on the back (cockney slang for 'fash'). It also had the slogan: "Five little words" which means "We go where we want". But the reality is they don't, their gigs are very secretive and so we decided to go below the belt and kick him in the bollocks.
There is graffiti near Woj's flat, which is separate from this attack, that also mentions Anna Cambell: "When you fight fascism, the rules of engagement should be of your own making"

Take 'em on the blind side cell.
Tags: Antifa, Blood & Honour, Bristol, Queensbury Rules (Fash Band), Racism, Sabotage, Skin Deep (Fash Tattoo), UK, Vandalism, Wojciech (Woj) Wasilewski
Posted in Anti-Fascist
Tuesday, August 7th, 2018
How many people would love to tell Jacob Rees-Mogg to go and fuck himself? Well, last night we did so in joyful fashion. We paid a little visit to the countryside just outside of Bristol, to his mansion called Gourney Court in the quiet village of West Harptree.
For those of you who are reading this and do not know who this man is, he is one of the most detestable members of parliament ever, and fuck me they're a bad bunch. Other politicians claim he is the one truly ruling this country from behind the scenes. Here are some of his charming characteristics…
He is extremely wealthy, staunchly Roman Catholic, a clear friend to fascist groups and has his eyes fixed on being the actual political leader of this fucking prison island (after May decomposes fully).
He was raised by his nanny. After prep school he attended Eton college and then Oxford university (for the poshest people in the country). Him and his wife have a 100 million quid together, they just bought a new house in London for 5 million, he makes 168,000 pounds a year from his partnership in a hedgefund business called Somerset Capital Management that is worth 7.5 billion pounds (apparently it invests in tobacco, mining and oil and is based in offshore tax havens, for those who care about such details). He proudly claims he has never changed a nappy in his life despite having 6 kids.
He uses his religion as an excuse for his xenophobic views. He is opposed to same sex marriage and contraception, he is against feminism, LGBTQI people and specifically gender re-assignment. He is opposed to abortion in all circumstances including cases of rape. He has argued for the abolition of environmental protections and for fracking, he is pro fox hunting and has also argued for the Conservative party to be almost entirely white skinned. He is opposed to immigration, he supports zero hours contracts and loves the equally charming DUP (Northern Irelands right-wing Democratic Unionist Party) and the Conservative governments billion pound deal with them.
He fucking idolizes Margaret Thatcher and we're not even done yet…
In May 2013, he addressed the annual dinner held by the Traditional Britain Group, a group of fascists that calls for non-white Britons to be deported. Apparently he had been informed about these things by anti-fascist group Searchlight prior to his attendance.
After Rees-Mogg was confronted by anti-fascists in Bristol a year ago, Britain First (another fascist organisation) pledged to protect him at future events.
Rees-Mogg is backed by Nigel Farage, the disgusting former leader of nationalist UKIP party, who has probably the second most punchable face in politics after Rees-Mogg himself. He's also met with Steve Bannon of Breitbart News in the US.
He constantly spouts-off about these high morals of Catholicism from his position of other-worldly privilege with no comprehension of the realities of people at the other end of the financial spectrum.
Phew, that is an impressively exhausting list to sum up a contender for the worlds biggest arsehole.
For all of these reasons and more he was chosen as a perfect symbol of many things we struggle against as anarchists. And so… last night we left him over 60 soiled nappies spread across his grounds as he's no idea what they look like (don't ask where they came from! haha). We spread around condoms to see if the idea would grow on him, even decorating a crucifix in his garden with them. We left lots of lovely messages sprayed around many of the buildings on his property letting him know exactly how we felt about him and causing a considerable clean up job. The pièce de résistance: his wife's car (license plate Y7 HRM) sprayed with "SCUM" across the side in massive letters with a big sucker dildo planted on the bonnet! Beautiful.
Our action is not revenge or punishment (how could it be, there is no balance between our prank and this list of his accomplishments), but one (slightly sillier) glimpse into one of the multitude ways we exercise our critical analysis.
The conditions of our existence are under the control of people like this, but make no mistake, unlike one member of Bristol antifa who confronted Rees-Mogg, we are not supporters of the left or defenders of Jeremy Corbyn, we are not interested in a different leadership, in another form of representation, in a regime change, or in anything that merely shuffles around the makeup of power. We are opposed to all political forms including democracy. Democracy is shit, it breaks the link between thought and action. It does nothing but maintain the existence of alienated power since it requires that our desires be separate from our power to act, and any attempts to engage in that system will only serve to reproduce it. Voting does not give you a voice, it takes it away.
We continue to struggle for our ourselves, in solidarity with our comrades (inside and outside of the prison walls, across national boundaries and to those continuing to struggle who have been forced underground)… and in honor of a comrade who fell in the midst of fighting and who spent her life struggling against many of the issues mentioned above. Like the graffiti says around Bristol, "keep fighting!".

The Cornerstone group(1) can shove their faith and their flag up their arse and Momentum(2) can go fuck themselves as well!
Down with politics and politicians, religion and the State!

The Home-visit Cell
PS. Sorry for the long communique, blame Jacob Rees-Mogg for being such a massive prick.
–
(1) https://en.wikipedia.org/wiki/Cornerstone_Group
(2) https://en.wikipedia.org/wiki/Momentum_(organisation)
Tags: Bristol, Conservative Party, Gourney Court, Graffiti, Home visit, Jacob Rees-Mogg, Paint attack, Vandalism, West Harptree
Posted in Direct Action
Tuesday, November 14th, 2017
Animal Liberation Front comrades in UK are getting active again despite years of repression and clampdowns by the state. Here's a quick list of actions that happened over the last month. Reports from Bite Back:
–
Anonymous report:
8 November 2017
"Several turkeys liberated from concentration camps (aka farms) in the UK last night."
– (more…)
Tags: ALF, Animal Liberation, Badger Cull, Barry Horne, Sabotage, UK, Vandalism
Posted in Eco Struggle
Friday, July 21st, 2017
Hey Walker, we recently had a nice view of your home from the pedestrian bridge in the small hours of the morning…
… a car and work van belonging to a UKIP candidate and ex-mayor (2012) of Bradley Stoke (Bristol, UK), Ben Walker, was damaged with paint and the tires were slashed on the driveway of his home: 136 Ferndene, Bradley Stoke, Bristol.
Also done recently…
…cars at Bath Audi and Mercedes car showrooms in Peasedown, Bath (UK) had their bodywork scratched up with broken glass (about 25 vehicles). This option of sabotage was chosen over a noisy one as we didn't want to wake the sleeping car-transporter guy who was in his cab with the curtains drawn.
With this action a warm firm hand goes out to the street fighters and black bloc who came together to trash the G20 in Hamburg, with bravery against such heavy odds, and to those spreading this fight over other German cities. Some of us are not up to the level of street combat of German cities or to go and engage with your cops, so here in the UK a few of us have been lubricating our rusty joints enough to be able to be active and show our distaste in a style we are more familiar with.
Although we may have different approaches to the same problems, we can pull together on a common thread, learn from each others qualities and mis-givings, and unite the effects of bloc and affinity group.
In the UK, through sabotage, we are trying to show others here that there is a positive path to take anger along while also putting a kick into the ribs of our pigs already low morale.
"All modern war-fighters know that the first step of any conflict is to disrupt the enemy's communication and control infrastructures" – Adbusters planetary engame (May/June 2017)

Eco-anarchist vandals – FAI/IRF
–

(Bristol,Reino Unido): Sabotaje a automóvil del político nacionalista Ben Walker, por Vándalxs Eco-anárquicxs-FAI/FRI

[Traducido por Sin Banderas Ni Fronteras desde 325nostate]
21 de julio de 2017
Hey Walker, recientemente tuvimos una bonita vista de su casa desde el puente peatonal en las pequeñas horas de la mañana…
… un coche y una furgoneta pertenecientes a un candidato del UKIP y al ex alcalde de Bradley Stoke (Bristol, Reino Unido), Ben Walker, resultó dañado con pintura y los neumáticos fueron cortados en el camino de su casa: 136 Ferndene, Bradley Stoke, Bristol.
También hecho recientemente …
… automóviles de Bath Audi y Mercedes en salas de exhibición quedaron con su carrocería arañada con cristales rotos (unos 25 vehículos). Esta opción de sabotaje fue escogida sobre alguna otra ruidosa, ya que no queríamos que se despertara al tipo que transporta los automóviles y que dormía en su cabina.
Con esta acción, una mano firme y cálida se dirige a lxs luchadorxs callejerxs y al bloque negro que se reunió para destrozar al G20 en Hamburgo, con valentía ante tan pesadas probabilidades, y a lxs que
extendieron esta lucha por otras ciudades alemanas. Algunxs de nosotrxs no estamos a la altura del combate callejero de las ciudades alemanas o para ir a enganchar con sus policías, así que aquí en el Reino Unido algunxs de nosotrxs lubricamos nuestras articulaciones oxidadas lo suficiente como para ser capaces de estar activxs y mostrar nuestro repudio en un estilo con el que estamos más familiarizados.
Aunque podamos tener enfoques diferentes a los mismos problemas, podemos unirnos en un hilo común, aprender de las cualidades y desajustes de cada unx, y unir los efectos del bloque y el grupo de afinidad.
En el Reino Unido, a través del sabotaje, estamos tratando de mostrar a otrxs aquí que hay un camino positivo para desplegar la rabia, asi como también dar una patada en las costillas de los ya desmoralizados bastardos.
"Todxs lxs combatientes de la guerra moderna saben que el primer paso de cualquier conflicto es interrumpir las infraestructuras de comunicación y control del enemigo" – Adbusters planetary engame (mayo/junio de 2017)

Vándalxs Eco-anárquicxs – FAI / FRI
Tags: Anti-Fascism, Ben Walker (UKIP), Bristol, Eco-anarchist vandals - FAI/IRF, Racism, Sabotage, UK, Vandalism
Posted in Direct Action
Thursday, April 20th, 2017
18th April – we thought it long overdue that 'Julie', a police informer in Yatton, near Bristol, received a home visit to remind her that we do not forget nor forgive. Badger stayed at Julie's house after being invited there by her when he was first on the run. Badger is wanted for the smashing of the Bristol Post newspaper offices in 2011 and the burning of a transmitter. As a minimum gesture of solidarity to wanted anarchist Badger, we painted "snitch" there and sabotaged her vehicle. We hope she crashes and is paralysed. Julie lives at 3 Barberry Farm Road where she resides with her partner and children. An older washed-out queer peace activist type of person, but actually just a disgusting betrayer and one who abused the trust put in her. Julie thought she could save herself from police attention by informing, but found that the pigs wanted more. So she even gave information on other people who came to visit Badger at her place and police were sure to send a forensic team to collect DNA. Snitch, you will be remembered as one more reactionary who deserves to live in misery. We hope the cancer that it is in your body kills you and we hope to make your last days as unhappy as possible. Die knowing you are hated. More activists (who we haven't forgotten about either) protected this snitch at the time of her informing, preventing those hunted from knowing that Julie had betrayed Badger and his friends. Millions of your pathetic activist lives add up to the sum total of fuck-all compared to the indomitable spirit of Badger.
Not very far away from Julie's house is Davis Lane, Clevedon, where mounted police are located with a stadium and next to this is a police specialist operations centre. We punctured the tyres on four horse transport vehicles and sprayed "Flat, Ha Ha!" on the sides. So much for security.
Stay free Badger – Fuck the Police
Solidarity to anarchist prisoners and those on the run.
Eco-anarchist vandals – FAI/IRF
Tags: 'Julie' (Snitch), Bristol, Clevedon, Eco-anarchist vandals - FAI/IRF, Fuck the Police, Huw 'Badger' Norfolk, Informal Anarchist Federation (FAI), Sabotage, UK, Vandalism, Yatton
Posted in Direct Action
Tuesday, September 13th, 2016
This is dedicated to all the very young ones, youths with no direction yet, the kids that punch out at everything. Those that hate being told what to do and hate authority, who've fell foul of the law, who don't even consider anarchy. Rebels without a cause. A prison gate is a border, it is a part of the class system, crime, scarcity and resource war. They need people to control and use in private prison labour. The prisons are exploding.
HMP Bristol, Horfield – 2 cars of screws are scratched up and tyres punctured, one a black sportscar – P6 SHT.
Horfield, Bristol – 12 Oak Road, house of screw has 'bars' sprayed on the windows and "screw" scrawled on the house in spraypaint.
Done in the International Week of Solidarity to Anarchist Prisoners, 23-30 August.
Solidarity to the anarchists in Italy arrested in Operation Scripta Manent and to all those in the prison uprising in America, 9 September.

Eco-anarchist vandals – FAI/IRF
Tags: Bristol, Eco-anarchist vandals - FAI/IRF, HMP Bristol, Informal Anarchist Federation (FAI), International Revolutionary Front, International Week for Anarchist Prisoners, Operation Scripta Manent, Prison Labour Strike, Sabotage, UK, Vandalism
Posted in Direct Action