Posts Tagged 'Vandalism'
Thursday, March 26th, 2020
Frente a las crecientes medidas de excepción por el Covid-19, en Porto Alegre salimos a colar unos afiches, para que el miedo no sea el único estímulo en las calles.
Porque sabemos que cuando el poder dice preocuparse por nosotros, necesitamos urgentemente desconfiar de él.
La normalidad que defienden, en estos tiempos de pandemia, saldrá triunfante de ella, con un control propio de un estado de guerra, impuesto en nombre de la salud y seguridad. Así, para nosotrxs, lxs anárquicxs, es imposible defender esa normalidad, no defenderemos una vida de miseria. Por eso, no retrocedemos al colmo de fomentar plataformas alternativas, consumos alternativos, espiritualidades alternativas, lecturas alternativas, sumisión alternativa que ayuden a pasar la cuarentena online. (more…)
Tags: Brazil, Coronavirus, Flyposters, Gabriel Pombo da Silva, Ilya Romanov, International Solidarity, Marco Camenisch, Porto Alegre, Sabotage, Vandalism
Posted in Direct Action
Friday, February 7th, 2020
This morning [Friday, January 24, 2020], the inhabitants of the 18th arrondissement of Paris were able to see that the premises of the party Les Républicains [the main right-wing party, formerly "RPR" at the time of Jacques Chirac's presidency and "UMP" at the time of Nicolas Sazkozy's presidency] were stormed tonight: the window was shattered and the words "Juppé, Woerth, Delevoye, the same struggle" has been left [Alain Juppé was prime minister during Chirac's presidency; Eric Woerth was minister of labour in Sarkozy's presidency; Jean-Paul Delevoye, former RPS, former UMP, who now is a member in parliament of La République en Marche, the party of Emmanuel Macron, was the extender of the pension reform project; France in recent months has been agitated by opposition to this reform project.].
For decades, the French state has been imposing its neoliberal policies on us through the various parties in power. Whether it is the RPR in 1995, the UMP in 2010 or LREM in 2020, they all serve the same objective of the bourgeoisie to exploit us for longer and at a cheaper price.
The workers and the exploited are mobilizing en masse to oppose the Delevoye reform, the government's response is complete disdain, and it counts on passing its law, no matter what the message of the square. In order to make it bend, in addition to the continuation of the mobilization and the general strike, let's take it directly to those who are our enemies in the social war: political parties, ministries, capitalist institutions. This is an appeal to multiply actions of this kind!
Let's show them that they are not at home, outside of the rich neighborhoods, and that never will a Republicains' place be welcome in the 18th [the poorest area in the French capital].
Let us show them that if they destroy our lives, we will destroy their world, and actions of this kind will become more numerous and offensive.
Let us show them that we are not afraid to retaliate with attacks on their attacks!
Against "Paris en commun" [the coalition supporting the current syndicate, Anne Hidalgo, of the Socialist Party, at the March 2020 municipal councils], for a Paris transformed into a commune, thanks to STAVO* for this work!
* Section Travailleurs.ses Autonomes Venère Offensive.
[Note: In square brackets there are clarifications by the person who translated, useful to understand the context in which the action fits. The acronym "STAVO" means "Section Travailleurs.ses Autonomes Venère Offensive", in English: "Angry and offensive self-employed workers section"].
Tags: France, Les Républicains (Right Wing Party), Paris, Sabotage, Vandalism
Posted in Direct Action
Saturday, December 21st, 2019
FR: Bristol (UK) : Sabotage chez l'entreprise d'armements Babcock
The war machine is in operation 24/7. Despite the night shift at Babcock in Long Ashton, we snuck over the fence and damaged a fuel tank that forms part of their heating system.
Babcock are the second biggest contractor to the Ministry of Defence in the UK. They have 4 premises in Bristol alone. They specialise in the navy and nuclear industries. We hope our small act will show how many different ways it is possible to resist, without voting!
This "prison island" will continue whoever is prime minister. We reject all politicians and have only contempt for those who buy their lies and cheap promises.
To those who forget the many aspects of control and repression used in the social war, and buy into Labour's hype by focusing only on the National Health Service… we laugh at you in the darkness, and angrily ask…. Do you remember Iraq?
Solidarity with those on the streets in the Green Zone in Baghdad, and belated greetings to everyone who rebelled on the International Day of Action for Rojava 14th December.
Tags: Anti-Militarism, Babcock (Arms Company), Bristol, International Solidarity, Iraq, Rojava, Sabotage, UK, Vandalism
Posted in Direct Action
Sunday, December 15th, 2019
From Anarchists Worldwide:
In the early morning hours of December 14th, 2019, the International Day of Action for Rojava, we paid a visit to the offices of local war profiteers, Trakka Corp/Trakka Systems, in Moorabin, south-east Melbourne, to let them know that their greed-driven collaboration with the fascist Turkish State's war machine has not gone unnoticed.
In August 2019, Trakka Systems were contracted by Sikorsky, a Lockheed Martin company, to supply "cutting edge, high intensity, multi-mission Trakka Beam A800 searchlights" for their Black Hawk helicopters, including the Sikorsky TAI (Turkish Aerospace Industries) variant destined for use by the fascist Turkish Armed Forces in their ongoing invasion and occupation of the Autonomous Administration of North and East Syria (Rojava).
As a small contribution to the International Day of Action for Rojava we decided to take direct action against Trakka Systems to express our solidarity with the people of Rojava and their internationalist comrades who, since October 9th, 2019, have courageously resisted the genocidal occupation plans of Erdoğan's fascist forces. We also carried out this action to highlight the shameless activities of capitalist vultures like Trakka Corp / Trakka Systems, one of many companies operating within so-called Australia who willingly collaborate with war-mongering authoritarian regimes for profit. Not only do Trakka Systems do business with the Turkish Armed Forces, they are also in bed with other international military and police forces such as those of Israel, Indonesia and the US, who they supply with the latest in 'Critical Vision Technology'.
Finally, we hope that our small action contributes in some way towards a revival of militant, targeted direct action and sabotage in so-called Australia.
Biji Rojava!
Death to Turkish State Fascism!
Death to War Profiteers!
Long Live International Solidarity!

– Anarchists
Tags: Australia, Graffiti, International Solidarity, Lockheed Martin, Melbourne, Rojava, Sabotage, Sikorsky, Trakka Corp / Trakka Systems, Vandalism
Posted in Direct Action
Thursday, December 12th, 2019
On a monotonous working morning, some lovers of the Smartcity and the hypocrisy of clean energy, with their brain intoxicated by apps, had to walk a long way before they could find a car…
During the previous night and under the cover of the fog, ten machines on the car sharing circuit were attacked in several areas of a neighborhood in Madrid.

Against technology, against the State and the Smart-zombie world!
Long live anarchy!
Some Friends of Ludd
via Anarquia.
Tags: Anti-technology, Madrid, Sabotage, Smart Cities, Spain, Vandalism
Posted in Direct Action
Thursday, December 12th, 2019
ES: Reino Unido – Ataque a la prisión juvenil de Vinney Green (Bristol)
PL: Bristol, Anglia: Akcja Sabotażowa w Więzieniu Dla Młodocianych "Vinney Green" z rąk eko-anarchistycznych wandali FAI-IRF
FR: Bristol (UK) : Sabotages à la prison pour mineurs
Back again! we paid another visit to Vinney Green 'Secure Unit' (AKA Youth Prison), on the outskirts of Bristol. We sabotaged and immobilised 4 cars belonging to screws. Vinney Green was previously attacked in June.
24 young people (aged 10-18) are incarcerated at Vinney Green. It is one of 15 secure units in England, and is currently being expanded. There were 144 assaults there last year. The prison has been publicly criticised for it's "high use of restraint" among other things (but do not mistake us; there is no such thing as a "good" prison, and it is never acceptable to use restraint)…
Remember the kids this Christmas. Remember Alexis Grigoropoulos, who was shot by police in Greece aged 15.
In this time when many are turning to the ballot box… we took to the streets. A juvenile prank, for those in juvie…. Their cameras and fences do not deter us… and our rage will never be silenced by their electioneering and rhetoric. Boris Johnson promises tougher sentences. We promise more actions….
Until next time.
Fire to the prisons!
December Cell
Eco-anarchist vandals – FAI/IRF
Tags: Alexis Grigoropoulos, Bristol, Eco-anarchist vandals - FAI/IRF, Fuck the Elections, Sabotage, UK, Vandalism, Vinney Green
Posted in Direct Action
Sunday, December 1st, 2019
In a nod of complicity to recent[1] attacks[2] by queers, we slashed all the tires of three GoPuff company vehicles using an awl.
GoPuff* solidifies an all encompassing reliance on technology by extending the digitalization of everyday life, isolating us from each other and our environment.
– Another queer in the night
[1] https://phlanticap.noblogs.org/fuckin-up-the-proudboy-hangout/
[2] https://phlanticap.noblogs.org/reportback-from-a-rainy-night-of-fun-and-friendship/
—
*GoPuff is an internet commodity retailer delivery service. 'In 2018, researchers from Northeastern University found that the GoPuff mobile app covertly records user interactions that involved personal information, and was transmitting the resulting video to a website affiliated with analytics company Appsee.' wiki
Tags: GoPuff, Philadelphia, Sabotage, USA, Vandalism
Posted in Direct Action
Monday, September 9th, 2019
In the heart of Easton, next to a school, in a busy residential area between a well used railway line and a motorway, is enough aviation fuel to cause a major explosion. Aviation fuel contains over 2,000 chemicals. Once ignited it has a much higher BTU (British Thermal Unit) than gasoline and can burn much longer. In Easton, there are 6 white tankers, each 60 foot long.
We are often labelled "terrorists" but if we were then… boom! bye, bye! Instead, we decided to attack these containers with dark blue paint. In executing this small act of defiance we hope to highlight their existance, and the danger they pose. This prank was also done to add to the current discourse and campaigns around the expansion of Bristol Airport. (more…)
Tags: Bristol, Easton, Paint attack, Solidarity Action, UK, Vandalism
Posted in Eco Struggle
Wednesday, August 21st, 2019
Recently received translations of two separate actions from earlier this year to highlight anarcha-feminist and anti-sexist struggle.
Athens, Greece: Antisexist scoutings in Exarchia
In response to the misogynistic culture of Exarcheia and the recent incidents of rape, sexual harassment and gendered violence in the streets of the area, we decided to show those who would have us live in fear that they are the ones with a reason to be afraid. On the night of the 10th of March we went on an antisexist scouting without the presence of cis men chanting slogans and demonstrating our ability to fight back.
On the night of the 15th of March we went on a second antisexist scouting by femmes in response to the misogynistic culture of Exarcheia and the recent incidents of rape, sexual harassment and gendered violence in the streets of the area. This time even more comrades participated in the intevention. We will continue being present in the street and we will be more and more. (more…)
Tags: Anarcha-Feminists, Athens, Corfu, Crete, Exarchia, Graff, Graffiti, Greece, Paint attack, Petralona, Sexism, Vandalism
Posted in Direct Action
Wednesday, August 21st, 2019
Against "smart cities", against green capitalism, against gentrification, against cities. Against the architecture of consumption, against the commodification of all ways of life, against property. Against peace, against the absence of tension, against democracy, Against authority. The night of July 26-27 we set fire to two rental bikes in the area of Moncloa (Madrid).
May the heat of the fire and our hugs reach the Park Bench 3 and those like them.
For conflict, for anarchy.
William Van Spronsen Spontaneous Night Group
Tags: Arson, Madrid, Sabotage, Spain, Vandalism, William Van Spronsen Spontaneous Night Group
Posted in Direct Action
Wednesday, August 21st, 2019
Graffiti on Hoarding Boards of 'Ashton Rise' new urban sprawl development…..
15/08/19
At the 'Ashton Rise' development on the South Bristol Metro Bus Route (near Bristol City Football Club) graffiti was sprayed:

"Yet more urban sprawl… this time on allotments, and social housing…. Check 325.nostate.net tag Bristol for eco-actions".
This was "socially cleansed" within 24 hours… maybe they feel a bit threatened? The standard "art-graffiti" around the area still remains.
Ashton Rise has a budget of £21 million. The council brag of it's "affordable" nature, but the only thing that's cheap about their project are the promises of "creating communities" and "sustainability".
They can remove our traces… but they will never crush our rebellious hearts!
—
Thanks to the vandals for the shout out.
Tags: Ashton Rise Development, Bristol, Graff, Graffiti, Paint attack, UK, Vandalism
Posted in Eco Struggle
Friday, June 21st, 2019
For June 11 – Solidarity for long term anarchist prisoners
Just outside the city limits of Bristol tucked away in the dark is a poultry farm (Ivy Farm) owned by P&S Mitchell LTD. Located in Whitchurch Lane, Dundry, the birds never see the light of day. Despite the CCTV, the grain silo and broiler house were both spray-painted with the words "Animal Prison".
A new McDonalds restaurant that is not welcome is being built in Fishponds Road, but maybe the "Burger Off!" posters in local's front windows isn't enough. Graffiti was sprayed inside the building site – "McWork Prison".
Vinney Green, hidden in Emersons Green on the edge of Bristol is a special secure detention unit for 10-17 year old "dangerous kids". The unit holds up to 24 detainees. A large hole was cut in the perimeter fence and then the next inner security fence was broken through by bending back the bars, causing a second human size gap. Then the prison buildings themselves were sprayed with the words "Child Prison", "Screws Work Here".
Solidarity to Brian Vaillancourt who is serving a 9 year sentence in the USA for an arson of a McDonalds. To the imprisoned comrades in Italy who are fighting from inside the cells on hunger strike. To the 3 comrades arrested for bank robbery in Thessaloniki, Greece. To Lisa held in Spain. For all the imprisoned anarchists around the world.
Freedom for everyone!

Eco-anarchist vandals – FAI/IRF
Tags: Brian Vaillancourt, Bristol, Eco-anarchist vandals - FAI/IRF, Fuck McDonalds, Graffiti, International Solidarity, Ivy Farm (Poultry), June 11th Solidarity, Lisa, McDonalds Corporation, Paint attack, Solidarity Action, UK, Vandalism, Vinney Green
Posted in Direct Action
Monday, June 3rd, 2019
SAN FRANCISCO, EE.UU.: ANARQUISTAS ATACAN EL CONSULADO DE INDONESIA CON BOMBAS DE PINTURA CONTRA LA REPRESIÓN DEL PRIMERO DE MAYO
On June 1, a modest mob of 20+ anarchists in San Francisco carried out an attack in solidarity with our comrades in so-called Indonesia where 600+ anarchists were arrested this May Day. We threw 60 paintbombs and heavily tagged the Indonesian Consulate with circle-(A)s to send a message to the Indonesian government that despite the distance between us and our comrades, the State is not safe and will always be attacked.
The actions of the Indonesian comrades, simple gestures of paint on walls, resonated with us. In the afterimages of their act, and in their call for solidarity, we recognized friends across the dying ocean. Even more than expressing our contempt for the Indonesian State, we want to convey our love to the comrades struggling within and against its false borders. Ferocity and Strength to those facing repression and those on the run. (more…)
Tags: California, Indonesia, International Solidarity, Paint attack, Paint bombs, Sabotage, San Francisco, Solidarity Action, USA, Vandalism
Posted in Direct Action
Thursday, February 28th, 2019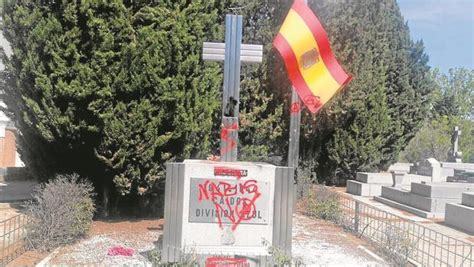 Last Friday, February 8, we vandalized the monument to the División Azul in the Almudena cemetery in Madrid. There are reasons to do it any day, but this date we chose with pleasure because the next day the fascists paid homage and on Sunday an amalgam of rancid ultra-Catholics, fascists, geriatics, neo-Nazis and various imbeciles walked with their anachronistic and disgusting symbols for a few streets in Madrid.
We carry the historical memory in our hearts. In the invisible scars that have left us with centuries of oppression. In our ideology and our practices. In our incessant search for freedom. We do not need governments or laws that change symbols for others. We will always have fun staining the dirty symbols of the authorities, whether they represent democracy or fascist dictatorships.
Death to the State and Long Live Anarchy!
Tags: División Azul, Madrid, Sabotage, Spain, Vandalism
Posted in Direct Action
Saturday, December 22nd, 2018
Happy Holidays Motherfuckers!
We don't know how to do Christmas. What do you give the greedy scrooges that already take everything? Instead of a goose, we gave gift cards up and glued into ATMs and locks.
*Sung to the tune of Twelve Days of Christmas*
1 parking meter, 1 racist Starbucks, 1 Illegal Tacos
2 OCF cafes, 3 Citibike kiosks
5 realty offices, 110 ATMs
—
Except this wasn't over 12 days it was in 1 night. This shit was fun and easy.
Here's some things to consider if you want to try this at home.
-Plan and dress for the weather.
-Set high goals.
-Watch each other's backs.
-Invite more people to participate with you.
-If using cardboard instead of gift cards don't drop it in a puddle.
-ATMs have high quality cameras, cover up well.
-Bring extra supplies in case an opportunity arises.
-Don't blow up your spot, look jolly not grinchy.
-Many small groups can cover more ground than one big group.
-For information on sabotaging ATMs read these communiques.
https://phlanticap.noblogs.org/atm-attacks/
https://itsgoingdown.org/striking-back-banks-portland/
On Mikhail, on Alexis, on PZS, on Sebastian!
Solidarity with people facing repression near and far!
Solidarity with the Vaughn 17!
Ten years since the insurrection in Greece!
For a Black December!
'Tis the season of rage!
Ghosts of No Christmas Future
Coordinated Cells of Grinches
War on Christmas
Ugly Christmas Sweater Moms
Tags: Black December, Philadelphia, Sabotage, USA, Vandalism
Posted in Direct Action