Posts Tagged 'Vandalism'
Sunday, December 1st, 2019
In a nod of complicity to recent[1] attacks[2] by queers, we slashed all the tires of three GoPuff company vehicles using an awl.
GoPuff* solidifies an all encompassing reliance on technology by extending the digitalization of everyday life, isolating us from each other and our environment.
– Another queer in the night
[1] https://phlanticap.noblogs.org/fuckin-up-the-proudboy-hangout/
[2] https://phlanticap.noblogs.org/reportback-from-a-rainy-night-of-fun-and-friendship/
—
*GoPuff is an internet commodity retailer delivery service. 'In 2018, researchers from Northeastern University found that the GoPuff mobile app covertly records user interactions that involved personal information, and was transmitting the resulting video to a website affiliated with analytics company Appsee.' wiki
Tags: GoPuff, Philadelphia, Sabotage, USA, Vandalism
Posted in Direct Action
Monday, September 9th, 2019
In the heart of Easton, next to a school, in a busy residential area between a well used railway line and a motorway, is enough aviation fuel to cause a major explosion. Aviation fuel contains over 2,000 chemicals. Once ignited it has a much higher BTU (British Thermal Unit) than gasoline and can burn much longer. In Easton, there are 6 white tankers, each 60 foot long.
We are often labelled "terrorists" but if we were then… boom! bye, bye! Instead, we decided to attack these containers with dark blue paint. In executing this small act of defiance we hope to highlight their existance, and the danger they pose. This prank was also done to add to the current discourse and campaigns around the expansion of Bristol Airport. (more…)
Tags: Bristol, Easton, Paint attack, Solidarity Action, UK, Vandalism
Posted in Eco Struggle
Wednesday, August 21st, 2019
Recently received translations of two separate actions from earlier this year to highlight anarcha-feminist and anti-sexist struggle.
Athens, Greece: Antisexist scoutings in Exarchia
In response to the misogynistic culture of Exarcheia and the recent incidents of rape, sexual harassment and gendered violence in the streets of the area, we decided to show those who would have us live in fear that they are the ones with a reason to be afraid. On the night of the 10th of March we went on an antisexist scouting without the presence of cis men chanting slogans and demonstrating our ability to fight back.
On the night of the 15th of March we went on a second antisexist scouting by femmes in response to the misogynistic culture of Exarcheia and the recent incidents of rape, sexual harassment and gendered violence in the streets of the area. This time even more comrades participated in the intevention. We will continue being present in the street and we will be more and more. (more…)
Tags: Anarcha-Feminists, Athens, Corfu, Crete, Exarchia, Graff, Graffiti, Greece, Paint attack, Petralona, Sexism, Vandalism
Posted in Direct Action
Wednesday, August 21st, 2019
Against "smart cities", against green capitalism, against gentrification, against cities. Against the architecture of consumption, against the commodification of all ways of life, against property. Against peace, against the absence of tension, against democracy, Against authority. The night of July 26-27 we set fire to two rental bikes in the area of Moncloa (Madrid).
May the heat of the fire and our hugs reach the Park Bench 3 and those like them.
For conflict, for anarchy.
William Van Spronsen Spontaneous Night Group
Tags: Arson, Madrid, Sabotage, Spain, Vandalism, William Van Spronsen Spontaneous Night Group
Posted in Direct Action
Wednesday, August 21st, 2019
Graffiti on Hoarding Boards of 'Ashton Rise' new urban sprawl development…..
15/08/19
At the 'Ashton Rise' development on the South Bristol Metro Bus Route (near Bristol City Football Club) graffiti was sprayed:

"Yet more urban sprawl… this time on allotments, and social housing…. Check 325.nostate.net tag Bristol for eco-actions".
This was "socially cleansed" within 24 hours… maybe they feel a bit threatened? The standard "art-graffiti" around the area still remains.
Ashton Rise has a budget of £21 million. The council brag of it's "affordable" nature, but the only thing that's cheap about their project are the promises of "creating communities" and "sustainability".
They can remove our traces… but they will never crush our rebellious hearts!
—
Thanks to the vandals for the shout out.
Tags: Ashton Rise Development, Bristol, Graff, Graffiti, Paint attack, UK, Vandalism
Posted in Eco Struggle
Friday, June 21st, 2019
For June 11 – Solidarity for long term anarchist prisoners
Just outside the city limits of Bristol tucked away in the dark is a poultry farm (Ivy Farm) owned by P&S Mitchell LTD. Located in Whitchurch Lane, Dundry, the birds never see the light of day. Despite the CCTV, the grain silo and broiler house were both spray-painted with the words "Animal Prison".
A new McDonalds restaurant that is not welcome is being built in Fishponds Road, but maybe the "Burger Off!" posters in local's front windows isn't enough. Graffiti was sprayed inside the building site – "McWork Prison".
Vinney Green, hidden in Emersons Green on the edge of Bristol is a special secure detention unit for 10-17 year old "dangerous kids". The unit holds up to 24 detainees. A large hole was cut in the perimeter fence and then the next inner security fence was broken through by bending back the bars, causing a second human size gap. Then the prison buildings themselves were sprayed with the words "Child Prison", "Screws Work Here".
Solidarity to Brian Vaillancourt who is serving a 9 year sentence in the USA for an arson of a McDonalds. To the imprisoned comrades in Italy who are fighting from inside the cells on hunger strike. To the 3 comrades arrested for bank robbery in Thessaloniki, Greece. To Lisa held in Spain. For all the imprisoned anarchists around the world.
Freedom for everyone!

Eco-anarchist vandals – FAI/IRF
Tags: Brian Vaillancourt, Bristol, Eco-anarchist vandals - FAI/IRF, Fuck McDonalds, Graffiti, International Solidarity, Ivy Farm (Poultry), June 11th Solidarity, Lisa, McDonalds Corporation, Paint attack, Solidarity Action, UK, Vandalism, Vinney Green
Posted in Direct Action
Monday, June 3rd, 2019
SAN FRANCISCO, EE.UU.: ANARQUISTAS ATACAN EL CONSULADO DE INDONESIA CON BOMBAS DE PINTURA CONTRA LA REPRESIÓN DEL PRIMERO DE MAYO
On June 1, a modest mob of 20+ anarchists in San Francisco carried out an attack in solidarity with our comrades in so-called Indonesia where 600+ anarchists were arrested this May Day. We threw 60 paintbombs and heavily tagged the Indonesian Consulate with circle-(A)s to send a message to the Indonesian government that despite the distance between us and our comrades, the State is not safe and will always be attacked.
The actions of the Indonesian comrades, simple gestures of paint on walls, resonated with us. In the afterimages of their act, and in their call for solidarity, we recognized friends across the dying ocean. Even more than expressing our contempt for the Indonesian State, we want to convey our love to the comrades struggling within and against its false borders. Ferocity and Strength to those facing repression and those on the run. (more…)
Tags: California, Indonesia, International Solidarity, Paint attack, Paint bombs, Sabotage, San Francisco, Solidarity Action, USA, Vandalism
Posted in Direct Action
Thursday, February 28th, 2019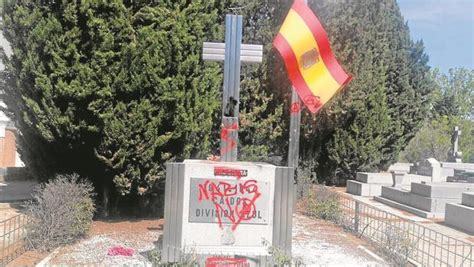 Last Friday, February 8, we vandalized the monument to the División Azul in the Almudena cemetery in Madrid. There are reasons to do it any day, but this date we chose with pleasure because the next day the fascists paid homage and on Sunday an amalgam of rancid ultra-Catholics, fascists, geriatics, neo-Nazis and various imbeciles walked with their anachronistic and disgusting symbols for a few streets in Madrid.
We carry the historical memory in our hearts. In the invisible scars that have left us with centuries of oppression. In our ideology and our practices. In our incessant search for freedom. We do not need governments or laws that change symbols for others. We will always have fun staining the dirty symbols of the authorities, whether they represent democracy or fascist dictatorships.
Death to the State and Long Live Anarchy!
Tags: División Azul, Madrid, Sabotage, Spain, Vandalism
Posted in Direct Action
Saturday, December 22nd, 2018
Happy Holidays Motherfuckers!
We don't know how to do Christmas. What do you give the greedy scrooges that already take everything? Instead of a goose, we gave gift cards up and glued into ATMs and locks.
*Sung to the tune of Twelve Days of Christmas*
1 parking meter, 1 racist Starbucks, 1 Illegal Tacos
2 OCF cafes, 3 Citibike kiosks
5 realty offices, 110 ATMs
—
Except this wasn't over 12 days it was in 1 night. This shit was fun and easy.
Here's some things to consider if you want to try this at home.
-Plan and dress for the weather.
-Set high goals.
-Watch each other's backs.
-Invite more people to participate with you.
-If using cardboard instead of gift cards don't drop it in a puddle.
-ATMs have high quality cameras, cover up well.
-Bring extra supplies in case an opportunity arises.
-Don't blow up your spot, look jolly not grinchy.
-Many small groups can cover more ground than one big group.
-For information on sabotaging ATMs read these communiques.
https://phlanticap.noblogs.org/atm-attacks/
https://itsgoingdown.org/striking-back-banks-portland/
On Mikhail, on Alexis, on PZS, on Sebastian!
Solidarity with people facing repression near and far!
Solidarity with the Vaughn 17!
Ten years since the insurrection in Greece!
For a Black December!
'Tis the season of rage!
Ghosts of No Christmas Future
Coordinated Cells of Grinches
War on Christmas
Ugly Christmas Sweater Moms
Tags: Black December, Philadelphia, Sabotage, USA, Vandalism
Posted in Direct Action
Monday, December 10th, 2018
Over a night in December acts of vandalism were carried out in Dublin against banks and ATM's. 3 banks had locks glued up, 2 banks had message of "Homes for all" sprayed across windows, and 3 ATM's were glued up. These acts were carried out in conjunction with struggle for housing being waged across Ireland.
These acts were but small acts of defiance and revolt against this prison society, to subvert the capitalist spectacle, if even only for a few hours. Actions like these expose the vulnerable spots of capitalism.
Reforms wont bring liberation, the state will never grant freedom. Reforms might make this prison society a little bit more nicer, but a prison is still a prison. The delusions and cowardice of the left has clearly failed. It's parties and unions betray and sell out every time.
FUCK THE LEFT, FUCK THE RIGHT, FUCK POLITICS
FUCK THE STATE
FUCK LANDLORDS
FOR STRUGGLE WITHOUT LEADERS, POLITICIANS, AND BUREAUCRATS.
FIRE TO THIS PRISON SOCIETY
LONG LIVE ANARCHY
THE SINISTER FRINGE
Tags: Dublin, Ireland, Sabotage, Vandalism
Posted in Direct Action
Monday, December 3rd, 2018
reported anonymously:
"Elgin, IL, USA
On the early morning of November 2nd, we emerged from the shadows and armed our veganism with attack upon a KFC and the Elgin BBQ Pit. Along with glued locks and smashed windows, the green spray-painted circle A's signify our way of 'going green'. Not as a consumer activity of capitalist reform, but as clandestine attack on this speciesist society.
With hostility towards speciesism and anthropocentric domination and for the destruction of all prisons, cages, and civilized systems of industrial control."
Tags: Animal Liberation, Elgin, Illinois, Sabotage, USA, Vandalism
Posted in Direct Action
Friday, November 16th, 2018
Anti-Gentrification Direct Actions
Philadelphia 2013-2018
Gentrification has been completely changing the city to cater to yuppies, while at the same time erasing the memory and culture of the poor and black and brown people that make up the majority of Philadelphia.
Some might say gentrification is an unstoppable force, a monster that is too far gone and is irreversible in its devastation. Although some of that may be true we don't want people to forget the struggles of resistance to it or for those struggles to become invisible.
PDF: AGDAP_print
PDF: AGDAP_web
Tags: Arson, Gentrification, PDF, Philadelphia, Sabotage, USA, Vandalism, Zine
Posted in Library
Sunday, October 14th, 2018
12/10/18, New York City: Anarchist cell smashes windows of ruling political party club building and sprayed slogans to co-incide with an event organised by them with the fascist Gavin McInness, co-founder of Vice Media and founder of Proud-Boys (American far-right group). Locks were also glued and digital keypad destroyed. No-one was arrested.
Tonight, we put the Republican Party on notice, in defiance to the policy of mass misery they have championed. The US government has established concentration camps around the country for Latino people, shamelessly murders black people, and continues its war machine that has slaughtered Muslim people with impunity for decades. The so-called "Land of the Free" leads the world in incarceration rates per capita, all the while profiteering in the new plantation within the prison walls.
While these atrocities persist unabated, the Metropolitan Republican Club chose to invite a hipster-fascist clown to dance for them, content to revel in their treachery against humanity. The Republican Party, joined by their spineless partners-in-crime, The Democrats, institute a policy of domestic and foreign terror felt the world over. Our attack is merely a beginning. We are not passive, we are not civil, and we will not apologize. Those of good conscience and clear mind know this state of oppression cannot remain. The US fascist political system is one of the most savage institutions in history and we will combat it relentlessly until all are free of American barbarism.
–The Korryn Gaines Anarchist Attack Cell
Tags: Anti-Fascism, Antifa, Gavin McInness, New York, Racism, Republican Party, Sabotage, USA, Vandalism
Posted in Direct Action
Friday, October 12th, 2018
We are a group consisting of autonomous individuals who carried out some poster bombing and vandalism actions against Bank of Indonesia, ATMs, police posts, the Digulist roundabout, the West Kalimantan governor's office and several other highly visible locations in Pontianak City. We carried out these actions as a response to the meeting between Global Capitalist organizations the World Bank Group and the International Monetary Fund that is being held in Bali from October 8-14, 2018.
These spontaneous actions we carried out express our uncompromising rejection of a normal life full of daily submission. These actions are a manifestation of our hatred, anxiety and and anger against a system that requires us to accept a society where we have no control over our own lives. Their meeting is a clear sign that Global Capitalism has improved it's position in controlling daily life with various disgusting economic schemes and investments.
For us there are two options: taking action or remaining silent – and we will never choose the second option. Passively watching or reading the news about the IMF-WBG meeting, that is not an option for us. If we take a deeper look, we can see that all aspects in this world relate to economics, and yes, they are the people who are behind all of this bullshit.
Here is a sentence that is appropriate for all those groups and individuals who condemn our actions as immoral and irrational acts: There is no system or morality that can hold us back when we reach the peak of our anger.
And another thing you should know: you are all under their control. You just don't realize that the concept of good / bad morality that you follow is what allows them to achieve their goals. You are all their obedient tools.

We are what you call Utopianists. We are Anarchists!
Tags: Bali, Counter-Summit, Indonesia, International Monetary Fund (IMF), Pontianak City, Sabotage, Vandalism, World Bank Group
Posted in Direct Action
Sunday, August 12th, 2018
The guitarist for 'Queensbury Rules' (a 'Blood & Honor' band) had his car sabotaged in the early hours of the 7th of August.
Wojciech (Woj) Wasilewski, a known fascist had all 4 tyres of his car punctured, the bodywork scratched and a message sprayed which reads: "Woj = Fascist" and on the otherside: "[heart symbol] ANNA YPG".
The car was parked on Trinity St (New Town) St Philips, sometimes parked on Hassell Drive, both near Trinity Police Station, Bristol. The car is a red Hyundai, reg: EA60TWX
Woj and his Polish friends live above 'Skin Deep', a tattooist shop on Old Market (close to where the car was parked). The shop is run by 'Ozzie', an old National Fronter from Kingswood, Bristol.
Woj has been seen in a 'Queensbury Rules' T-shirt with "Pie and Mash" printed on the back (cockney slang for 'fash'). It also had the slogan: "Five little words" which means "We go where we want". But the reality is they don't, their gigs are very secretive and so we decided to go below the belt and kick him in the bollocks.
There is graffiti near Woj's flat, which is separate from this attack, that also mentions Anna Cambell: "When you fight fascism, the rules of engagement should be of your own making"

Take 'em on the blind side cell.
Tags: Antifa, Blood & Honour, Bristol, Queensbury Rules (Fash Band), Racism, Sabotage, Skin Deep (Fash Tattoo), UK, Vandalism, Wojciech (Woj) Wasilewski
Posted in Anti-Fascist