Posts Tagged 'Veracruz'
Tuesday, June 9th, 2020
EN | Fires and Riots Across Mexico Against Police Repression
Reporte anarquista de lo que ocurre en México en estos momentos con movilizaciones antipolicia.
Asesinato de Giovanni y protestas en Guadalajara (4 de Junio)
Haciendo suma al clima internacional ocasionado no solo por la pandemia, sino a una crisis sistemática y civilizatoria que utiliza el covid-19 como pretexto para recrudecer la dominación social, y a solo unas semanas de la conmoción por las revueltas estadounidenses provocadas por el asesinato del afroamericano George Floyd a manos de policías supremacistas, se difunde por las redes uno de los tantos casos de violencia policial a los que estamos acostumbrados en México. Se trata de un video que muestra la detención de Giovanni López, un albañil que fue golpeado y asesinado por policía mientras se encontraba sentado en la calle sin portar cubre bocas, en el municipio de Ixtlahuacán de los Membrillos en Jalisco, el 4 de mayo del 2020. El jueves 4 de junio el centro de Guadalajara se vuelve escenario de una ardiente protesta que terminó con dos patrullas incendiadas, pintas en las paredes, destrucción de propiedad gubernamental. La policía atacó con gases lacrimógenos a las multitudes y la jornada terminó con más de una veintena de detenidxs. La opinión pública ciudadana saltó de indignación cuando uno de lxs manifestantes, embozado roció con gasolina a un policía motorizado y le prendió fuego con un encendedor.
Hay que aclarar que el gobierno de Jalisco, decidió optar por medidas policiaco-administrativas contra la población so pretexto de cuidar a la ciudadanía; esto se va sumando a un clima de militarización camuflada como optimización de los cuerpos policiacos en todo el país. (more…)
Tags: Fuck the Police, Guadalajara, Mexico, Mexico City, Repression, Riots, Veracruz
Posted in Direct Action
Saturday, October 29th, 2011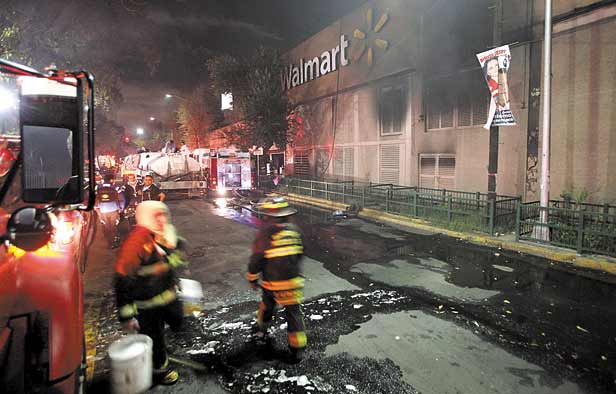 From culmine via this is our job:
To all like-minded arsonists and antagonists, the fourth communiqué from the Conspiracy of Cells of Fire – Mexico / Informal Anarchist Federation:
Neither exasperated, indignant, nor broken! Arsonists at war against every authority!
All our solidarity with comrade Gabriel Pombo da Silva!
We're celebrating two months of direct attacks on capital and the State!
Against the system of domination!
For Total Liberation!
Yesterday [26/10/11] at 6:23 p.m., liberatory fire again burned where it hurts most, destroying merchandise. The Conspiracy of Cells of Fire (CCF) faction of the Mexican Informal Anarchist Federation (FAI-M), Veracruz section, gave life to liberatory fire at the Wal-Mart located at Universidad and Avenida Las Palmas in the heart of Coatzacoalcos, Veracruz. With this new attack, we avenge comrade Gabriel Pombo da Silva (held captive in Aachen prison) and demand his immediate release from the German and Spanish states. We also stand in solidarity with our comrade Tamara, with the Bombings Case compas in Chile, with the imprisoned Conspiracy of Cells of Fire compas in Greece, and with all our comrades abducted by the State in Mexico and the rest of the world. (more…)
Tags: 14/14, Arson, Coatzacoalcos, Conspiracy of Cells of Fire, Conspiracy of Cells of Fire - Mexico, Conspiracy of Cells of Fire : Imprisoned Members Cell, Gabriel Pombo da Silva, Germany, Informal Anarchist Federation - Mexico (FAI-M), Informal Anarchist Federation (FAI), International Solidarity, Luciano Pitronello Schuffeneger, Mexico, Revolutionary Struggle, Spain, Tamara, Veracruz, Wal-Mart
Posted in Direct Action