Posts Tagged 'Vienna'
Monday, November 16th, 2020
… war der sofortige Tenor der Regierungsklasse nach dem Terroranschlag in der Wiener Innenstadt am 2. November, der vier Menschen das Leben kostete und bei dem über 20 zum Teil schwer verletzt wurden. Natürlich wird genau das von diesen Politikern jetzt gemacht.
Von denen, die seit Jahren nichts anderes tun, als durch die konstante, weitere Verschärfung der Lebensbedingungen Hass und Gewalt zu kultivieren. Genau die sprechen sich jetzt öffentlich gegen Hass und Gewalt aus (z.B. Kurz & Nehammer). Einem rechten Innenminister ist es nicht zu blöd sich selbst als den starken Anführer sämtlicher Polizeieinheiten zu stilisieren, der keine Straftat unbeantwortet lassen will und "gegen jeden Extremismus mit eiserner Hand vorgehen wird" (Zitat Nehammer). Als hätte das jemals einen Anschlag verhindert. Dabei: war es nicht das Bundesamt für Verfassungsschutz und Terrorismusbekämpfung BVT (welches ja bekanntlich dem Innenminister unterstellt ist), das im Juli 2020 die Ermittlungen gegen den bereits amtsbekannten Attentäter vom 2. November eingestellt hatte und zwar exakt an dem Tag, als dieser nachweislich versucht hatte, in der Slowakei Sprengstoff und Munition zu erwerben? (more…)
Tags: Analysis, Austria, Islamic State in Iraq and Syria (ISIS), Islamism, Neo-Nazis, Racism, Repression, Vienna
Posted in Social Control
Friday, July 3rd, 2020
What has been happening in Vienna, Austria these past few days has shown once again how real and dangerous fascism is. No matter where it is, or where it's from, and how little it concerns the political class and its executive arm so long as they can't be called out for it . But that is exactly what we must do. Yesterday. Today. And Tomorrow.
Favoriten, Vienna's tenth district, has a long tradition of being heavily working class and has long been a centre for radical politics, unfortunately on both sides. The Grey Wolves are a highly organized group of Turkish fascists who blindly follow the far right-wing party MHP and by extension the Turkish president Recep Tayyip Erdoğan and his offensive war on Kurdistan and its people. They are portrayed in the bourgeois media as being a loosely knit group of youths, when they are in fact internationally organized and highly dangerous, with the intent of carrying the Turkish war on the Kurdish people out into the world and enforcing their world view. In Vienna, they consider themselves the be the "watchers" of the 10th district, where they regularly disrupt leftwing rallies, intimidate Kurdish and left-wing groups, and try to hinder people from attending cultural events or even drinking alcohol in public during Ramadan.
A Kurdish women's organisation had been holding weekly events for months now towards the supposed end of the current pandemic in Austria. The Grey Wolves have a problem with this. Not only are the Kurdish activists speaking out against the fascist status quo in Turkey and are calling attention to the femicide carried out by the Turkish government, but they are Kurdish and they are women. Provocations started becoming more and more regular, and on Wednesday, 25 June 2020, the rally was attacked outright. The police did show up and try to stop the violence, but they were hopelessly overwhelmed when the Grey Wolves started to mobilise and hundreds of fascists showed up within minutes. The Kurdish women were able to flee into the nearby EKH, a squat that houses a number of Kurdish organisations. (more…)
Tags: Anti-Fascist, Austria, Demo, EKH (Ernst Kirchweger Haus), Grey Wolves (Turkish Fascists), Kurdish Struggle, Migrant Struggle, Squatting, Vienna
Posted in Anti-Fascist
Thursday, August 29th, 2019
(FR) Vienne, Autriche : Incendie d'une antenne d'autoroute en solidarité avec les trois du banc public de Hambourg
(IT) Vienna, Austria: Le nostre inclinazioni dannose si stanno consolidando
We learned with rage that our comrades of Hamburg known as "the park bench three", are in prison on remand. The fact that two of them are charged with "harmful inclinations" doesn't surprise us. Always, those who rebel against the prevailing order are condemned as "parasites".
Our comrades are clearly accused of attempted arson as they were arrested in possession of incendiaries in this Hamburg park. It should be clear to everyone that this is yet another repressive blow against the anti-G20 rebels and their world, also concerning the arrest on the day of the anniversary of the riots. (more…)
Tags: Arson, Austria, G20, Hamburg, International Solidarity, Park Bench 3, Sabotage, Solidarity Action, Vienna
Posted in Direct Action
Saturday, May 11th, 2019
On the weekend of 28th and 29th of April, 2 ATMs were burned in Vienna (Austria) as a message of solidarity with the comrade Lisa, who is imprisoned at the moment in Barcelona. She was charged for robbing a bank in Germany.
We don't want to live in a capitalist world, in which consumption and property are forming the center of being.
An action to strengthen ourselves, so we will never stop attacking these realities in all places – against the domination of capitalism and state, against prison and all other forms of incarceration and oppression
– for sticking together and for freedom!
Tags: Arson, ATM Burned, Austria, International Solidarity, Lisa, Sabotage, Solidarity Action, Vienna
Posted in Direct Action
Saturday, April 15th, 2017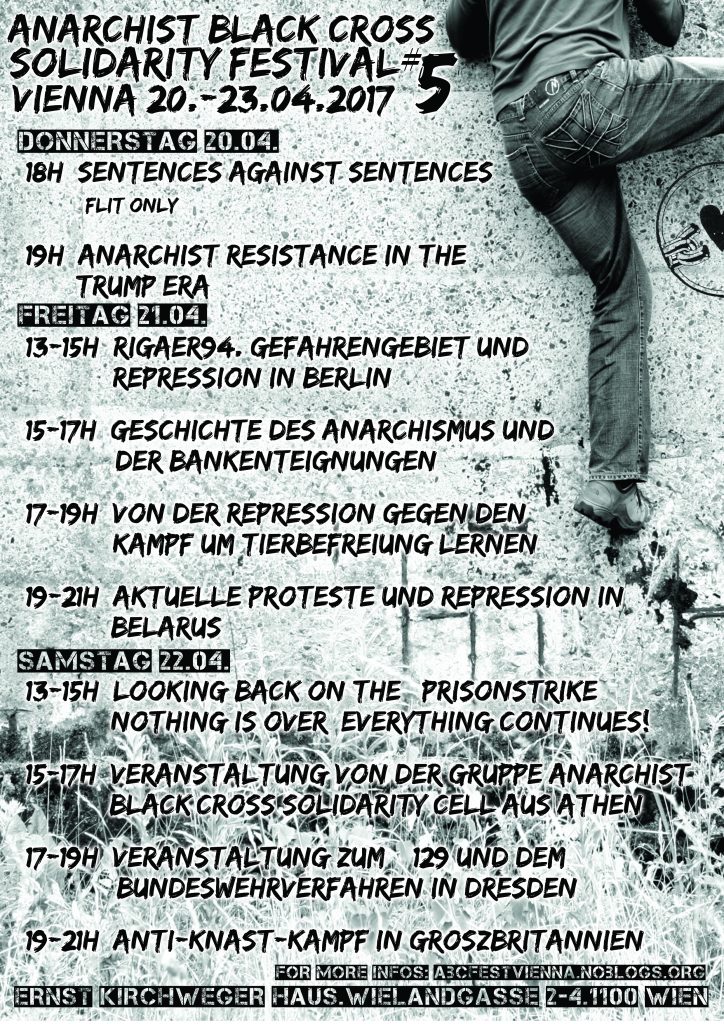 [Vienna] Solidarity event of "Anarchist Black Cross – Solidarity Cell" with imprisoned comrades of Koridallos prison (Athens) @ ABC FESTIVAL VIENNA (20. – 23. April 2017)

"As anarchists, we perceive the need of a multiform anarchist struggle, posing the issue of attack against state and vassalage that is imposed, with every means possible, here and now." (from the self presentation text of the ABC Group)
In this event the comrades from "ABC – Solidarity Cell" will talk about the importance of solidarity with anarchist prisoners and the connection of struggles inside and outside the walls.
Further, the talk will contain a deconstruction of the meaning of the 'anarchist movement' and the myth of the district of Exarchia.
"(…) we do not consider that the action of our anarchist comrades is finished after imprisonment or repression." (from the self presentation text of the ABC Group)
During the event there will be the presence of three anarchist prisoners, via Live-Connection, from Koridallos prison:

– Nikos Romanos
– Panagiotis Argyrou – CCF-Metropolitan Violence Cell/FAI-IRF
– Olga Oikonomidou – CCF-Urban Guerrilla Cell/FAI-IRF
They will talk about the following topics:
– The conditions in prisons and the situation of anarchist prisoners in Greece.
– The importance of solidarity assemblies for the anarchist prisoners and the connection of struggles inside and outside the walls.
– The choice and the importance of the armed struggle, the claim of responsibility for direct actions and the particulars of participation in armed organisations, and the importance and consignment of those choices.
– The choice of jail-breaking.
– The position of women in the armed struggle.
It will be also possible to raise questions to the comrades in prison, so the communication will be in both directions.
Some words from anarchist prisoner Panagiotis Argyrou dedicated to the ABC Festival:
There are times when you feel a certain kind of strength inside you.
This may be happening for different reasons each time but undoubtedly it is always a very positive feeling. Such a kind of strength a prisoner may feel when he/she discovers that there are other individuals wanting a touch, a contact, a communication, a conversation with him/her. It is a very strong feeling, a unique one, the feeling of a great strength filling you all over and this is something priceless. This feeling that you are not alone, that there are other comrades wanting to share moments, experiences or whatever, with you, is something so valuable that only freedom itself can compare with it. So let me thank you very much for the opportunity you offer me to have some contact even if it is for so little. I wish that the future brings us more opportunities so that one day we can have the chance to have a live talk outside the walls. A big warm hug,
Panagiotis Argyrou, member of CCF-FAI
Contacts:
ABC Solidarity Cell Website: https://abcsolidaritycell.espivblogs.net
E-Mail: abcsolidaritycell@riseup.net
Nikos Romanos State prison of Korydallos – Mens prison-ward A', P.C.
18110, Korydallos, Athens
Panagiotis Argyrou State prison of Korydallos – Mens prison-ward A',
P.C. 18110, Korydallos, Athens

Olga Oikonomidou State prison of Korydallos – Womens prison, P.C. 18110,
Korydallos, Athens
Other events @ the ABC Festival Vienna you can find here.
Location:

ERNST KIRCHWEGER HAUS
Wielandgasse 2-4
1100 Wien
Tags: ABC - Anarchist Solidarity Cell, ABC Wien, Anarchist Gatherings, Austria, Conspiracy of Cells of Fire, Exarhia, Greece, International Solidarity, Nikos Romanos, Olga Economidou, Panagiotis Argirou, Vienna
Posted in Prison Struggle
Friday, April 22nd, 2016
there will be english/german translation if needed at every workshop!
all workshops/talks will take place @ Medienwerkstatt/EKH!
there will be vegan food for donation every day.
Thursday 28.04.2016
Infopoint starts @ 18h
20h Film @ Medienwerkstatt, EKH 2. Stock: "WIR SIND ALLE §278A"
Doku über die Repression gegen TierrechtsaktivistInnen in Österreich 2008 (German with English subtitles) – Film about the repression of 2008 against animal rights activists in Austria
Trailer
22h Bands.
Schattenlicht (Black Metal Punk, Wien)
http://schattenlicht.bandcamp.com/
Human Host Body (Black Metal HC Punk, Koper)
http://humanhostbody.bandcamp.com/
Oaken (Dark Hc Punk, Budapest)
http://oaken.bandcamp.com/
Friday 29.04.2016
Infopoint starts @ 14h
17-19h @ Medienwerkstatt
Der Phönix stieg nicht aus der Asche
Seit einem Jahr sind AnarchistInnen und andere in Tschechien mit der größten Polizeirazzia der letzten Jahre konfrontiert. Die Operation 'Fenix' ist aber nicht nur eine Repressionswelle. Zum ersten Mal haben wir mit einem Hinterhalt der Bullen, Provokation, erfundenem Komplott und historisch zum ersten Mal mit dem Vorwurf des Terrorismus zu kämpfen. Warum passiert das alles gerade jetzt? Ist für die Repression wirklich der am meisten militante Teil der Bewegung verantwortlich und hilft es uns wenn wir uns zurückhalten, oder gibt es auch andere Formen und Wege sich mit der autoritären Macht des Staates auseinander zu setzen? (more…)
Tags: ABC Wien, Austria, Solidarity Event, Vienna
Posted in Autonomy
Wednesday, January 20th, 2016
The booking for the ABC FESTIVAL 2016 started and the date is set 28.04.-01.05.2016! We will keep you updated about the Lineup!
http://abcfestvienna.noblogs.org/
This year again it will be a cooperation with the diy fest in Nijmegen!
http://diyfestnijmegen.wordpress.com/

Spread the word!
Tags: ABC Wien, Anarchist Gatherings, Austria, DIY Fest Nijmegen, Holland, Nijmegen, Vienna
Posted in Prison Struggle
Saturday, January 17th, 2015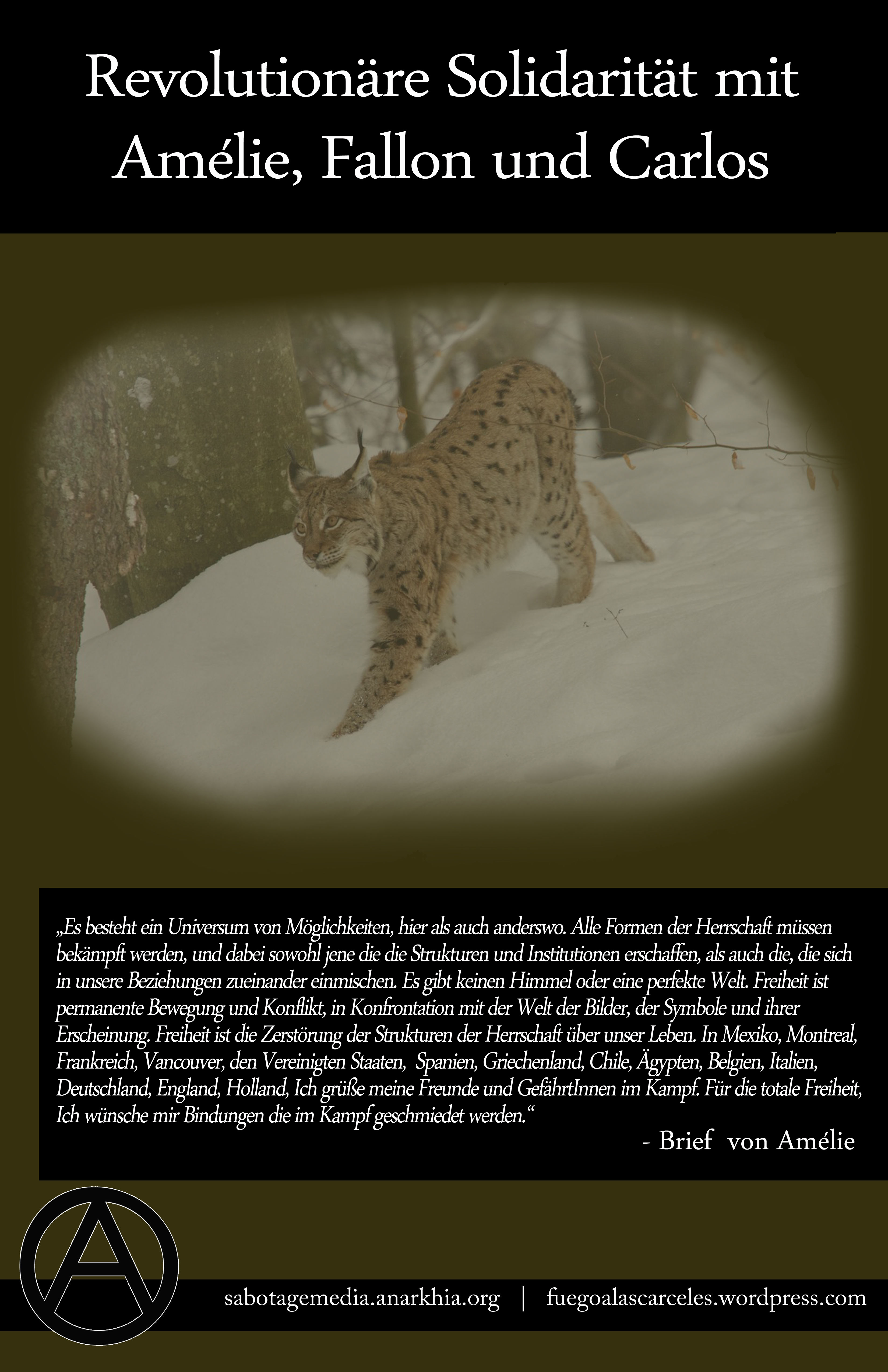 http://www.abc-wien.net/?p=1773
Tags: ABC Wien, Amélie Trudeau Pelletier, Austria, Carlos López Martin, Fallon Poisson, Flyposters, International Solidarity, Vienna
Posted in Prison Struggle
Saturday, October 11th, 2014
The Austrian word for jail is: Häfn, but no matter what name you give it, we are talking about the same thing here: Prison iron bars, cages, high walls, and barbed wire behind which those incarcerated are stashed away. for the 'protection' of our society, for punishment, to deter others, as revenge, or simply because their legal status in fortress Europe isn't strong enough. The law will find enough reasons to stick you away. In these times of democracy, the reasons are 'humane'; the penal system is the lesser evil in these times of unrestrained capitalistic freedom, capitalism supposedly being the best system, seeing as it just cant be beat.
The belief in the myth that those of us outside the walls and cages are free became manifested in the prisons of this world. This belief is delusive, creates false hopes, because we don't believe in freedom within an exploitative capitalistic society, nor do we believe in the possibility of a reform of the logic of commodity and its society of spectacle, and we have absolutely no hope of finding within this system a better world. Free spaces, cuddle corners, small niches away from the prying eyes of power and control exist only in our heads, as a method of lying to ourselves and not facing the facts that it is impossible to exist within this system. (more…)
Tags: Anti-Prison, Austria, Vienna
Posted in Prison Struggle
Sunday, August 3rd, 2014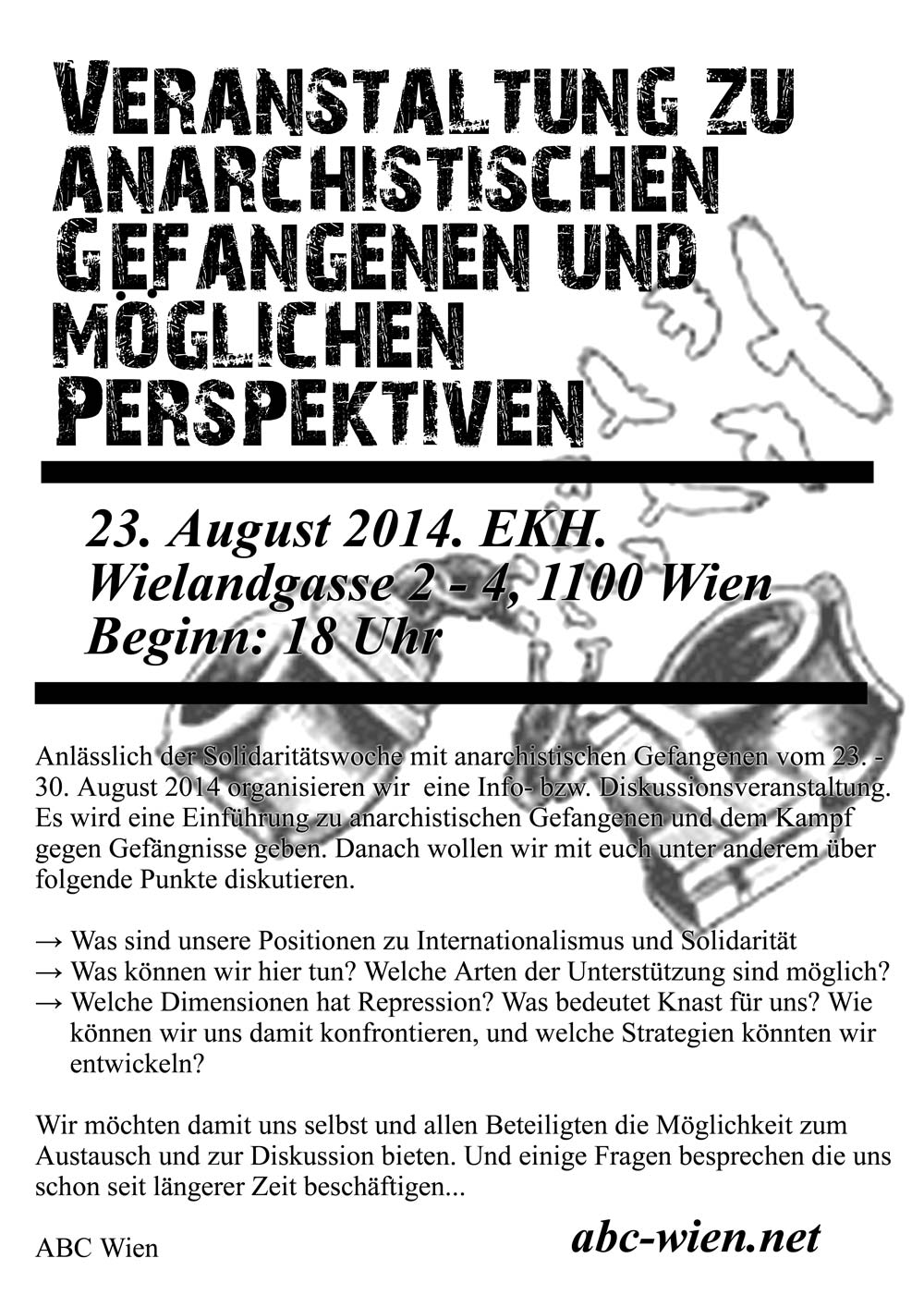 EKH. Wielandgasse 2 – 4, 1100 Wien
Beginn: 18 Uhr
Anlässlich der Solidaritätswoche mit anarchistischen Gefangenen vom 23. – 30. August 2014 organisieren wir eine Info- bzw. Diskussionsveranstaltung. Es wird eine Einführung zu anarchistischen Gefangenen und dem Kampf gegen Gefängnisse geben. Danach wollen wir mit euch unter anderem über folgende Punkte diskutieren.
→ Was sind unsere Positionen zu Internationalismus und Solidarität
→ Was können wir hier tun? Welche Arten der Unterstützung sind möglich?
→ Welche Dimensionen hat Repression? Was bedeutet Knast für uns? Wie können wir uns damit konfrontieren, und welche Strategien könnten wir entwickeln?
Wir möchten damit uns selbst und allen Beteiligten die Möglichkeit zum Austausch und zur Diskussion bieten. Und einige Fragen besprechen die uns schon seit längerer Zeit beschäftigen…
Tags: ABC Wien, Austria, International Week for Anarchist Prisoners, Vienna
Posted in Prison Struggle