Posts Tagged 'Vodafone'
Saturday, April 11th, 2020
EN | 5G Arson Sabotage, Conspiracy Theories and UK
FR | Sabotage incendiaire anti-5G, théories du complot et Royaume-Uni
+ [Reino Unido] Un balance de los ataques incendiarios a las antenas de telecomunicaciones
Según los medios de comunicación, otras cuatro antenas de telefonía móvil de Vodafone han sido incendiadas en las últimas 24 horas después de los recientes ataques de fuego a la infraestructura 5G que tuvieron lugar el 2 y 3 de abril.
También hay torres 3G y 4G entre las destruidas, aunque no está claro si fueron saboteadas involuntariamente o no. La información sobre los ataques en sí fue difícil de obtener debido a la limitada información disponible en los medios de comunicación y a la rápida censura en los medios sociales populares.
Desde los primeros ataques de la semana pasada, se han reportado al menos 20 ataques en todo el país, y hay reportes de ingenieros siendo interrogados, acosados y atacados por personas que tienen problemas con el 5G. Es evidente que, aunque todo está en bloqueo, la continua expansión y desarrollo del 5G ha seguido siendo una prioridad. El régimen del Reino Unido y las empresas de comunicaciones se vieron obligados a emitir una declaración en la que describían los riesgos que el 5G representa para la salud humana como "sin fondo" y achacaban el acoso y los ataques a las "teorías de la conspiración". La empresa de medios sociales Facebook sacó de la red varios sitios dedicados a la grabación y aparentemente a la llamada de ataques anti-5G, y también hizo que su empresa de aplicaciones de mensajería WhatsApp restringiera la transmisión de mensajes. Esto es parte de un intento de plataforma cruzada por Twitter, Google, YouTube, etc. en un esfuerzo con el estado para coordinar la censura y el seguimiento de lo que ellos describen como "desinformación" sobre los orígenes de Covid-19. (more…)
Tags: 5G, Analysis, Anti-technology, Arson, Coronavirus, Internet of Things, Repression, Sabotage, Smart Cities, Technological Singularity, UK, Vodafone
Posted in Direct Action
Wednesday, January 8th, 2020
EL | Αγγλία: Εμπρηστικά σαμποτάζ ενάντια στο 5G, θεωρίες συνωμοσίας και Ηνωμένο Βασίλειο
ES | Sabotajes incendiarios al 5G, teorías de conspiración y Reino Unido
FR | Sabotage incendiaire anti-5G, théories du complot et Royaume-Uni
+ FR | Royaume-Uni : Un bilan des attaques incendiaires de pylônes de télécommunication
+ IT | Regno Unito – Un bilancio degli attacchi incendiari ai piloni di telecomunicazione
+ ES | [Reino Unido] Un balance de los ataques incendiarios a las antenas de telecomunicaciones
According to corporate media another four Vodafone cell phone towers were torched in the 24 hours after the recent arson attacks targeting 5G infrastructure took place on April 2nd & 3rd. 3G and 4G towers were also part of those destroyed, although it's unclear if they were unintentionally sabotaged or not. Information about the attacks themselves has been hard to ascertain due to limited information being issued by the mass media and rapid censorship of corporate social media.
Since the first attacks last week, at least 20 attacks are reported to have taken place across the country and there are reports of engineers also being questioned, harassed and attacked by people worried about 5G. It is clear that whilst everywhere is in lockdown the continued expansion and roll-out of 5G has remained a priority. The UK State regime and communications corporations were forced to issue a statement describing the risks that 5G poses to human health to be "baseless" and blamed the harassment and attacks on "conspiracy theories". Social media corporation Facebook took down several pages dedicated to recording and apparently inciting the anti-5G attacks and also had their messaging app company WhatsApp limit the forwarding ability of messages. This is part of a cross-platform corporate attempt with Twitter, Google, Youtube etc to co-ordinate efforts together with the State to censor and track what they are describing as "misinformation" about the origins of Covid-19. (more…)
Tags: 5G, Analysis, Anti-technology, Arson, Coronavirus, Internet of Things, Repression, Sabotage, Smart Cities, Technological Singularity, UK, Vodafone
Posted in Direct Action
Sunday, December 29th, 2019
From A2day:
Anarchist sites report that in recent months in Donetsk and Kiev region base stations (aka towers) of mobile operators were attacked 4 times. Behind the attacks are mostly anarchists.
The first attack was to blow up the base station of the Phoenix operator. Then it was reported that two Lifecell towers were set on fire. December 10, 2019 it was reported about the arson of the mobile base station "Vodafone Ukraine".
For example, when attacking the Lifecell communication towers, anarchists claimed that the main reason for the attack was solidarity with the Democratic Federation of North and East Syria (Rojava), the struggle of the Kurdish people for liberation from the Turkish occupation.
Wishing to give intensity to these attacks, we, a cell of the Informal Anarchist Federation, set fire to another cell communication base station in Kiev. Unlike the aforementioned attacks, our motives and view of the targets under attack are different. We suggest taking a broader look at the topic of communication towers.
Mobile operators are eager to capture as many subscribers as possible. This is a fact. There are three main operators in Ukraine: "Kyivstar", "Vodafone Ukraine", Lifecell. These companies do anything to place their mobile antennas everywhere, to get more money and control. They do not care what we think about it. But the most important thing is that the operators cooperate perfectly with the police, leaking them all the data of their subscribers. Each mobile operator receives more than 20,000 court orders annually for temporary access to things and documents.
(more…)
Tags: Anti-technology, Arson, Black December, FAI Cell "Misha Zhlobitsky", Informal Anarchist Federation (FAI), International Solidarity, Kiev, Kyivstar, Lifecell, Misha Zhlobitsky, Rojava, Sabotage, Smartphones, Surveillance, Ukraine, Vodafone
Posted in Direct Action
Sunday, December 15th, 2019
Posted on December 10, 2019. Note A2DAY: Ukrainian media, citing the police, report that on December 10 the tower of the operator Vodafone, not Lifecell, was burned in Kiev. A2DAY: "Makhnovists" affinity-group confirmed that due to the mistake tower of another operator was attacked.
Сommuniqué:
In the night of December 10 a group of anarchists burned down the cell tower of Lifecell operator settled by the crossroad of Hostomel road and Big Ring Road in Kyiv. Lifecell is owned by the Turkish company Turkcell. This company is the participant of aggression of Erdogan's regime against the people's self-government in Kurdistan. The latest episode of its criminal politics is the invasion of Turkish army into the Democratic Federation of Northern and Eastern Syria (Rojava) in October 2019.
Turkcell constructs its towers in the areas of Syria occupied by the Turkish government as it happened in Afrin, Shahba and Idlib. This mobile network which is under control of Ankara authorities appears in every place invaded by Erdogan's soldiers. Kurdish guerillas destroy Turkcell towers — we are proud to take the torchlight of the struggle from their hands. Revolutionary resistance and solidarity lie beyond state borders and national boundaries.
We performed an attack against Lifecell/Turkcell also as the response to the violent incident which took place in front of Embassy of Turkey in Ukraine. On October 11 anarchists and people from Kurdish community organized the peaceful demonstration against the aggression of the Turkish state. Embassy workers have attacked demonstrators and smashed a face of one of the female comrades participated in the event. Violence should not be left without a response.
Freedom to the peoples — death to the Empires!
Makhnovists
Tags: Arson, International Solidarity, Kiev, Kurdish Struggle, Lifecell, Rojava, Sabotage, Solidarity Action, Turkcell, Turkcell GSM, Ukraine, Vodafone
Posted in Direct Action
Tuesday, July 3rd, 2018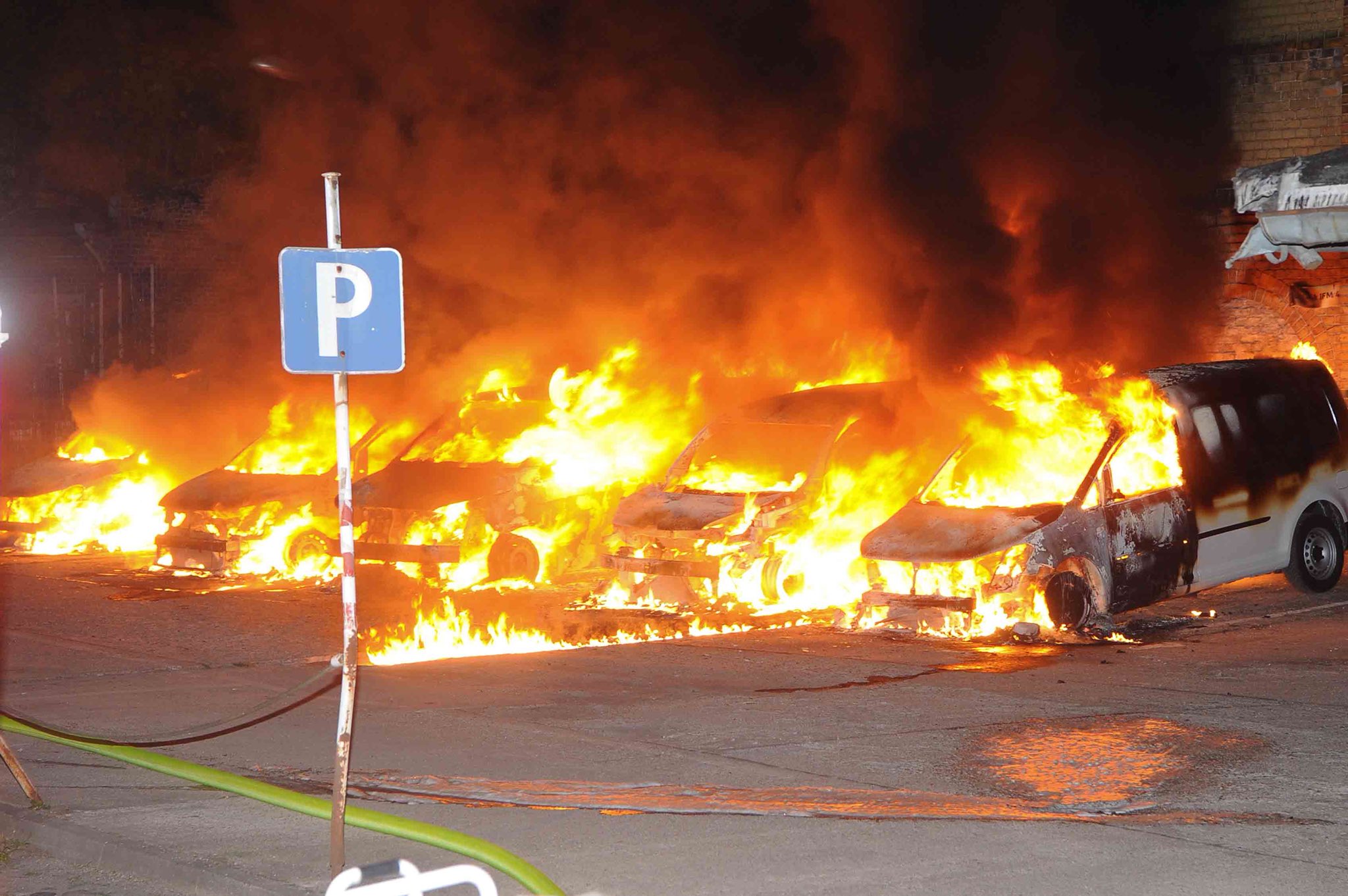 Berlin, June 2018
Restructuring power via digitization is in full swing. Hardly anything that cannot be complemented by a 'smart' in its name and thus a new place in this world has escaped this process. Everything is networked. Cameras, sensors and chips are constantly sending and letting things communicate. 'Big Data' is the currency of tomorrow. Even our relationships, actions and thinking are permanently exposed to digital access. Reduced to information, we feed the algorithms of the machines, helping to make the future manageable and controllable.
It's not always easy to hold on to the possibility of destroying this system as the rapid pace of the technological attack is widening and the net of domination stretches around us. All the more important are the moments of counterattack to reject the powerlessness that is spreading in the face of current developments. So we are all the more pleased that the answers to the misery produced by the colonization of the world via techno-industrial hegemony are found again and again in Berlin. Within the context of the planned Google campus in Kreuzberg, a fight has developed that is not only aimed at the tech giants and their universe, but also at the social level. Self-organization, direct communication and the power of the attack are the means of choice. Various acts of sabotage, such as the one last March by 'Vulkangruppe NetzHerrschaft zerreißen' have shown that the infrastructure of the flow of goods, communication and data networks is vulnerable and can be disrupted by arson attacks against cable networks and sensitive radio antennas. (more…)
Tags: Arson, Berlin, Deutsche Bahn, Germany, Telekom, Vodafone
Posted in Direct Action
Wednesday, April 5th, 2017
Vodafone antenna sabotaged on the 9th of March in Bristol.
Roughly three weeks ago a mobile phone tower operated by Vodafone was sabotaged with fire in Barton Hill, Bristol. This attack against the ever encroaching technological wing of capitalist infrastructure was inspired by recent similar actions in Italy. Across Europe, Vodafone has 'proudly' had a wide variety of contracts with a number of different police forces for a long time. (more…)
Tags: Arson, Bristol, G4S, Sabotage, UK, Vodafone
Posted in Direct Action
Thursday, January 12th, 2017
Berlin, January 6, 2017
Different reasons have caused us to express ourselves again, even if the resources used, in terms of material expenditure and 'man' power were very small. One of these reasons is the 'message barrier' which was partly imposed on militant actions. Anonymous comrades of the 'Autonomous Groups' already pointed this out in the framework of their attack against the Ordnungsamt (public order police) on 25.12.16.
In the meantime, it should be clear to the authorities that the two torched vans did not fall victim to a technical defect on 'company premises' on Sewanstraße as they initially suspected but were torched using fire accelerators. One on the right front tire and one on the right rear tire. The vehicles belong to the company Sodexo whose activity in the prison industry has been reported several times, which is why they have been repeatedly subjected to militant actions.
We hope that there was damage to the building structure and we want to emphasize that we are not interested in frightening the workers. As a character mask of the capitalist social formation they contribute to the continuation of the same but only to a limited extent.
This attack is to be understood as a small flame of solidarity with the diverse range of people affected by repression. Examples include the revolting / striking prisoners in the USA. Also in the exceptional condition, due to the riots of the inmates, are some prisons in the UK.
(more…)
Tags: Arson, Berlin, G20, Germany, Sabotage, Sodexo, Vodafone
Posted in Direct Action
Monday, March 23rd, 2015
The axis of the rabble has struck. We set fire with the intention of considerably impairing the power supply and the grid connection of the large data centres of Deutsche Bank, Commerzbank, Deutsche Börse [that operates the Frankfurt Stock Exchange], and many others in Eschborn.
On March 16th, 2015, at 5am, the ground cables of an electricity pylon and three distribution boxes of Vodafone went up in flames on the outskirts of Eschborn near the A66 highway.
The side of the State tried to gag the disruption of the capitalist daily life by imposing a news blackout on Monday; however, telecommunication and power supply failures, as well as a large contingent of firefighters deployed in the early morning hours in Frankfurt did not go unnoticed.
Smash ECB [European Central Bank]

The axis of the rabble

– Contrainfo
Tags: Arson, Commerzbank, Deutsche Bank, Deutsche Börse, Eschborn, Frankfurt, Germany, Sabotage, Vodafone
Posted in Direct Action
Friday, March 20th, 2015
(Athens, 05-14/03/2015)
Inter Arma received and translated:
"The State terrorizes,
It slings mud, it fools, it besots, it pretends
Its omnipotence is now a myth
Our rage, it makes us stronger, its alienation doesn't touch us
The store windows of authority are smashed by us with stones
The chains of obedience are melted by us with the rebellious flame that burns inside every oppressed one
Our eyes are open
Our ears capture every sound
Our thinking is crystal
Our fury is unthinkable
Our choice is one: Violent, uncontrollable and constant struggle against state and authority
We are angry, we are rebellious,
WE ARE YOUR WORST NIGHTMARES"
After the disclosure of the escape plan of the Conspiracy of Cells of Fire from Korydallos prison, for which its members have claimed full responsibility, the counter-terrorism agency, exposed by the complete plan prepared by the imprisoned comrades, unleashed, with the full cooperation of the known snitches of the mass media of deception, a wild pogrom of arrests of their relatives and friends which resulted in the detention of the mother of Gerasimos and Christos Tsakalos and of the girlfriend of the first one, on charges of participation in a terrorist organization. The targeting of relatives and friends of imprisoned anarchists by the slimy judges and the motherfuckers of the counter-terrorism agency is not something new, as we have seen it repeatedly in the past, in cases such as the wife of Dimitris Koufodinas who was imprisoned in the underground isolation cells of Korydallos prison for participation in N17 [November 17, armed group] and the wife of Kostas Gournas, member of Revolutionary Struggle, who was put on trial for the case.
In this [present] case, the ridiculous accusations attributed to relatives of the Conspiracy, signed by the vile Nikopoulos and Asprogerakas (at the same time the latter one signed the prison releases of the members of the [neo-nazi party] Golden Dawn), display the vengeful fury of the repressive authorities against the unyielding and proud attitude of the imprisoned comrades, putting before them the emotional blackmail of the imprisonment of their loved ones. The comrades and anarchist Angeliki Spyropoulou in response to the vindictive detention of their relatives, are since March 2 on hunger strike until death demanding their immediate release. On the same day Maziotis, Koufodinas and Gournas and anarchist prisoners participating in NFP [Network of Fighting Prisoners] started a hunger strike against the counter-terrorism legislation, Type C prisons and demand the immediate release of Savvas Xiros [injured-disabled imprisoned member of N17]. Apart from the different starting points and theoretical perceptions we may have, we believe that the demands for which the anarchists hunger strikers struggle, concern everyone, so we support their struggle.
Through our action we want to send our strength and incendiary solidarity to the imprisoned brothers of the Conspiracy and to Aggeliki Spyropoulou. Brothers and sisters stay strong, our time will come. On March 5 we torched a vehicle in Messologiou street in Dafni owned by ISS company, which among others provides security services and has also undertaken the cleaning of the sterile spaces of mechanized movement of the Subway, and on March 14 we delivered a truck owned by VODAFONE company in Theocritus Street, in Nea Smyrni to the fire.
"Society is the mirror of the absurd part where I am locked up: a prison made by insuperable walls and invisible cells"
Adriano Antonacci
Social control is one of the main consolidation strategies of domination. Its practical applications respond to the historical circumstances that it has to face and they ensure their formal justification for "security reasons". The feeling of security is referred to as a social good, the common good, ceases to exist as a fundamental achievement of the social structure when it is challenged, when it cracks and the stake of social peace becomes fragile. The destabilization of the social fabric is expressed in the practical challenge, declared by the aggressive actions and the internal hostilities of the anarchist war which develop their own potential, expressing a direct threat to all kinds of authority. Their present and their diffusion are State policy priorities which are articulated basically on two main axes: 'risk prevention efforts' and an indefinite extension of the concept of the 'suspect'.
These two elements are the components of the modern repressive paradigm expressed significantly through the consolidation of a panopticon-like control system. Movements, behaviors, relationships, communication become an observation field from which the mechanisms of authority try to predict by mining information. The security cameras in every corner of the metropolis, targeted searches and area patrols by private security companies and the monitoring of telephone communications are indicative practices of a control policy displayed with the refined image of modernization. The interference in our private moments that aims at extracting and processing information in order to form a more complete profile about an individual, happens through technological progress and its practical applications which especially in recent years seems to grow and target towards that direction specifically. The repressive paradigm is the safety of authority. That's all it ever was and that's what it will continue to be.
"Today that the world is rotting and dishonesty and compromise humiliate even the bravest souls, only one tactic is practical and beneficial. To be unflinching."
Nikos Kazantzakis
Starting from the conclusion that the state and society are inherent elements of this aged civilization, no matter the face and facet they are presented through, being an enemy of individual freedom, we, from our side, welcome to the political foreground the leftist-statists of SYRIZA and the nationalists of ANEL promising to disturb their social peace in every opportunity and with all our strength.
As every herd need its shepherd, so does the majority, which sealed in the elections the perpetuation of its slavery, needs its savior. This time it chose to wait under the governmental table of SYRIZA's vendors of hope hoping to grab a pittance, waiting the social and economical advancement their Alexis had promised them before the elections. Promises given by SYRIZA were particularly attractive and alleviative for the masses, severely in the regard of the latest period of harsh state politics of the previous governments. Politics implemented by the capitalist states, regardless of ideological differences and colors, aims at the conservation of social peace and that's why they make sure the resentment and indignation of the masses are absorbed at the source. The digestible left rhetoric and its promises for moderation seemed to have convinced not only the chameleon voters but also a part of the anarchist milieu which rushed to support it, notarizing its flirt with the Left regime. Reality, however, confirms that hopes remain illusions. Humanitarian, reformist or refined authority means nothing more than the assignment of our lives' administration to others.
The same time that the mob celebrates along with SYRIZA for the so-called victories in the European negotiations, the same time the internal judgments in police [performance] take place while simultaneously a huge terror-show is being organized with invasions into anarchists' houses, abductions and arrests of people followed by the relevant TV cannibalism, presenting them as products for consumption in favor of society's TV tastes. It'd be best for the leadership and hangers on of the Ministries of Justice and Public Order to realize that we are not going to stay and watch our comrades and anarchist prisoners being derided. As long as authority exists there will always be rebellious individualities embodying the internal enemy.
"The most important thing, however, is to juxtapose ourselves against society. A behavior that will indicate that we are not going to surrender to society, nor centralize our activities around it, but that we will live by our own terms."
Feral Faun
We call every rebellious individuality, every anarchist of praxis to increase and escalate our attacks in solidarity with the hunger strikers.
STRENGTH TO THE PROUD MEMBERS OF CONSPIRACY OF CELLS OF FIRE
STRENGTH TO AGGELIKI SPYROPOULOU
STRENGTH TO ALL ANARCHISTS HUNGER STRIKERS – IMMEDIATE SATISFACTION OF ALL DEMANDS
STRENGTH TO ANARCHIST SPYROS MANDYLAS WHO IS ON A HUNGER STRIKE SINCE MARCH 14 DEMANDING HIS IMMEDIATE RELEASE
GREETINGS OF SOLIDARITY TO ALL ANARCHISTS IN THE LAND OF CAPTIVITY WORLDWIDE
ATTACK THE PRISON SOCIETY – DEATH TO THE CIVILIZATION OF EXPLOITATION
FOR CHAOS AND ANARCHY
Informal Anarchist Federation / International Revolutionary Front
Fire and Fury
P.S. To be continued
Tags: Aggeliki Spyropoulou, Arson, Athens, Car Burning, CCF Escape case, Christos Tsakalos, Conspiracy of Cells of Fire, Gerasimos Tsakalos, Greece, Informal Anarchist Federation (FAI), International Revolutionary Front, ISS Company, Korydallos Prison, Lambros Foundas, Solidarity Action, Spyros Mandylas, SY.RIZ.A., Vodafone
Posted in Direct Action
Wednesday, June 11th, 2014
325 receives and transmits this communique released on the June 11th International Day of Solidarity for Marie Mason, Eric McDavid and all long-term anarchist prisoners:
Around Bristol between June 9th-10th, we left 7 mobile phone antennae in flames. Daily continuation of capitalist society is dependent on uninterrupted flows (of goods, people, data, and energy) and the communications grid is no exception. The limited uses most of us can make from these flows only mask the way they are mainly used to oversee and impose the dominant order, and increase its' reach and control.
You need only look to how the values of connectivity, speed, and mobility that are embodied in a mobile phone (for example) facilitate a relentless consumer culture and the requirement to be available and flexible at all times: as much for the benefit of the boss and the advertiser as for your family or friends. This is fully consistent with the modern restructuring and decentralisation of the gigantic productive system which this society subjects us to. Hindering all this was our objective.
2 antennae went up simultaneously, in Hambrook and outside Ram Hill business park in Coalpit Heath, both owned by O2. This is also not the first time O2 have been singled out for damage acts because of the contracts they hold in the migrant detention industry, with cops, and tagging for the probation service. Some hours later a 3rd O2 antenna went up in Coombe Dingle, at the same time as a 4th fire was lit after gaining access to transmission units connected to the huge BT telecommunication tower in Lockleaze. Signals that will have been affected are those of O2, T-Mobile, Orange and Vodaphone.
These corporations variously are connected to the field of military equipment and armament, use prison labour, and are famous for readily collaborating with electronic policing by the secret services (now that widespread data-surveillance is well known) while not even stopping at financing Oxford university with its' extensive animal experimentation labs. This has already led to their interests being attacked in Berlin (T-Mobile's parent company*), Paris (Orange*), and Banbury (Vodaphone*).
For all above reasons it is always good to harm these corporations, structurally and economically, and then there is the issue of the antennae themselves radiating who knows how much harmfulness to nearby species. There were the publicised cases in Bristol even some years ago of a woman in Shirehampton who complained of the affects of an antenna put up on her high rise flatblock and later died from a brain tumor, while an antenna nicknamed The Tower of Doom was withdrawn from Staple Hill after cancer rates soared. Evidence has mounted up that prolonged use of mobile phones damages the immune system, decreases fertility, and causes brain tumors and cancers: especially in the young. We should mention that the antenna we burned in Coombe Dingle is one of three on the grounds of a university sports pitch also marketed for schools, as are many others. Additionally, twisted lab technicians claim to have deduced from experimentation on other mammals (built on torture like so much scientific research) that exposure while still in the womb "significantly damages brain function, structure and behaviour and suggested that these exposures could contribute to children's behavioural disorders".
These products were and still are pushed on us as harmless, although nearly every study that claims this was funded by the industry itself, when we had no idea of the long term affects, similarly to the marketing of asbestos or smoking before they began to show their deadly toll (to use only 2 better known examples among thousands). These days even researchers at Bristol university concede the dangers of cellular use. What a surprise….the permanently wired environment turns out to be toxic, while companies make a killing in profits and the government receives billions in taxes and licensing. For most people prolonged contact with mobile phones or wireless networks in general seems unavoidable, for work or to avoid social marginalisation, in the street, on public transport, or at home: we are soaking in one more accumulative barrage in a poisonous, anti-human and anti-life civilisation that grows by the day.
A recurring feature of the estrangement that technologies such as mobile phones actually cultivate between individuals, is how many addicted to their constant use now prefer to text message or to "tweet" to avoid the prospect of real life contact, and how many only feel safe communicating from behind a device. It is now completely standard for people to spend the majority of their waking hours interfacing with one screen or another. Up and coming inventions such as Google Glass attempt to make this enclosure near total (although also dependent in part on uninterrupted transmission infrastructure). As a society that lives through highly complex technologies, we no longer fully inhabit our bodies and environment but instead some part of the techno-hive: and it is no longer only nerds and the young who practically call this virtual reality their home. As the sphere dominated by information technology expands, what is considered socially of importance in our actual lives shrinks to what can be conveyed and received by the device, and so narrowing human emotion and experience. Or think about the obsessive urge to treat modern life as something less to be lived than to be documented in each detail for passive consumption on the "social" networks, as another example of colonisation by capitalism and its' technology.
Planning and carrying out your existence digitally also allows the possibilities of unprecedented surveillance, and it hinders active rebellion or even questioning of the dominant order by flagging up "abnormalities" in what you often voluntarily share with your friends or "Friends." At the same time, concerted exploitation of the base populations around the world and ecological pillage to the point of collapse continues to fatten the same rich parasites' pockets, and technological immersion helps people neither relate nor care. On the contrary millions now hunger for their part in the way of life that is killing everything.
With an anarchist perspective in search of free and fulfilling existence, we fight to do away with all technologies born from the toxification and slavery of mines, factories, and industrial infrastructures, and for our daily communication to be as unmediated as possible. Taking down these few nodes was not enough for us, it is not a case of simply abandoning the uses of a particular device alone, but it is erasing the whole social system which first trapped us in its' "necessity" which is the challenge. We found antennae an easy way to start: it is simply a matter of burning tires between the exposed cables and away you go. In North Lanarkshire, Scottish villagers even felled one. By reflecting on radical and anti-industrial history in Britain (such as the Swing and Luddite insurrections), as well as contemporary anarchist guerrilla praxis, we can see the advantage of low-tech, cheap, and easily reproducible tactics to wreck machinery that encloses and impoverishes us, on an even more intimate level presently than ever before. These ubiquitous (and highly expensive) structures are spread around every town or city and further industrialising the countryside, where they are sometimes painted green in the attempt to camouflage them: and disgustingly even have bird and bat nesting boxes mounted on some. Their guardians cannot always be watching them all so it is up to our ingenuity to remain a step ahead and stretch their forces thin. This and every network has its' weak points, in these cracks in the architecture of control that afford us leverage: a destructive capacity we are appropriating. As the promises of hyper-technified modern culture continue to show their shallowness, rebels will carry on acting against the noxious installations and the way of life they feed.

"….Resistance against the Technological-Industrial Machine lives only through the path of liberation from every power and order, runs towards an event horizon where nothing has been written yet." – Letter from Gianluca Iacovacci, from C.R. San Michele prison
Our attack is not separate from overall anarchist subversion by all means, which naturally includes solidarity with our prisoners in enemy hands. A wild greeting from Bristol to Adriano Antonacci, no less than to his friend and comrade Gianluca (FAI/IRF Subversive Anti-Civilisation Individualities) whose brave lone acts in Rome he is also accused of. Hello to the new anarchist and anti-colonial groups in Hong Kong and Australia, and solidarity to the Paris ten accused of sabotaging prison profiteers.
Our attack came at a time when the networks are already set to be overloaded by the World Cup hysteria, to show our complicity with the insurgent fighters in Brazil as they answer massive dispossession and militarised slum clearances for the opulence of the games with street battles and arson. Because it should be remembered that the enthralling spectacle, that is staged to make the rich yet more money and to distract us from our daily humiliations, is based on the State and Capital's violence against resisters, the indigenous, and the poorest in Brazilian society.
Let's not forget Marie Mason and Eric McDavid: both are still behind bars after State repression and entrapment which followed an early string of Earth Liberation Front strikes in the USA. Years later the earth liberation struggle is not defeated either in spirit or in practice. The fight goes on with fur farms raided and emptied across North America, and our incendiary-minded sisters or brothers prowling the besieged Turkish forests, the streets of the Costa Rican metropolis, or the techno-industrial developments in Switzerland (on the last note: a quick reminder that the continuing legal threats against the released anarchists Silvia, Costas and Billy, and also the latest vindictive treatment of Marco Camenisch around his prison transfer, have not gone unnoticed by the international fire-starters).
Down with the society based on dominating earth and all its' creatures.

Live Wires FAI/ELF

(14th contribution to the international Phoenix Project, one more part of a war that will never be contained by a legal code)
* http://en.contrainfo.espiv.net/2013/01/08/berlin-incendiary-attack-on-deutsche-telekom-vehicle-in-friedrichshain/
* http://nantes.indymedia.org/articles/28902
* http://www.directaction.info/news_mar12b_06.htm
Tags: Arson, Bristol, Earth Liberation Front, Informal Anarchist Federation (FAI), International Solidarity, June 11th Solidarity, Live Wires FAI/ELF, Phoenix Project, Sabotage, UK, Vodafone
Posted in Direct Action
Thursday, December 5th, 2013
The night before last night we attacked the electronic communication net in Berlin (Germany). Our act of sabotage took place at a Vodafone radio tower and is meant as a symbol against total surveillance by governments, secret services and transnational corporations. Vodafone was chosen because it is eagerly engaged in cooperating with the british secret service GCHQ. GCHQ cooperates with the american secret service NSA. And NSA in turn cooperates with german secret service BND. Secret services collect patterns of normality and compare particular behaviours in order to find out if you could plan something deviant before you know it yourself. The collaborations of secret service industry and the industry's secret services secure the conditions of profit and power for both of them.
For us, the careless use of electronic devices and internet applications is problematic: Every move can be digitalized and technology is not neutral. We don't know how an emancipatory development of communication looks like, but we believe it would work in a different way and we have to find out together. In the meantime, we encourage to block infrastructure and bring it to a halt – against the stream of exploitation and surveillance, against a society based on destruction of human and nature.
Sabotage of the surveillance industry and infrastructures of exploitation!
Blind secret services!
Freedom of Movement and asylum for Edward Snowden and everybody else – No border, no nation!
Freedom for Chelsea Manning!
Anonymous/Vulcanogroup Katla
Tags: Berlin, Germany, Sabotage, Vodafone
Posted in Direct Action
Monday, March 28th, 2011
26 March 2011
"People take different actions depending on what means they have at hand. While others may choose to picket outside an outlet involved with the publicly acknowledged theft from us all by capital, we ourselves have become a little camera-shy.
We choose our own time and place to suit our means and wish to stay free and off their files in our project to bring the tentacles and apparatus of the system and its social control to the ground. So, both the T-mobile and Vodaphone repeater towers each burned out in Hambrook and Siston Common and Longwell Green. Solidarity to anyone anywhere truly fighting for the death of the living corpse machine (not its remaking) whatever your choice of tactics."

Fire starter brigade
Tags: Bristol, Sabotage, T-Mobile, UK, Vodafone
Posted in Direct Action