Posts Tagged 'Warzone Distro'
Monday, July 9th, 2018
"INSURGENCY: An Anarchist journal of Total Destruction issue #0" will be a zine project focused on anti-speciesist eco-defense, nihilist anarchy and insurrection.

Searching for essay submissions related to:
-Anti-civ anarchist critiques of psychiatry, mental "illness" and medication.
-Non-primitivist critiques of civilization.
-Thoughts on anarchy beyond leftism, towards savage attack.
-Anti-civ sxe critiques of intoxication culture.
-Nihilist-anarchist vegan critiques of speciesism and anthropocentrism.
-Post-left anarchist critiques of the recent wave of Tiqqunist/The Invisible Committee popularity within radical circles.
-Post-left anarchist critiques of leftism (anarcho-communism in particular).
-Anti-civ queer nihilist critiques of gender and of queer as part of "lgbtq etc".)
-Nhilist-anarchist attacks/communiques against infrastructure in "america". (if any. ha.)
-Armed self-defense.
-Rewilding.
Submit essays to warzone_distro (@) riseup.net
Tags: USA, Warzone Distro, Zine
Posted in Library
Sunday, July 8th, 2018
A zine creating and distributing project focused on anarchy, insurrection and anti-civilization.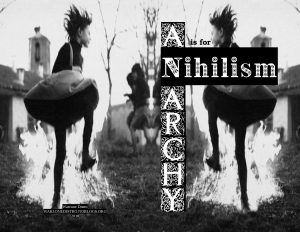 A is for Nihilism – This zine does not represent any "official" definition, nor a new program or political ideology. Instead it merely presents some common anarchist-nihilist ideas which encourage an anti-political critique of all social control and order, in favor of individual empowerment, anarchy and insurrection.
https://warzonedistro.noblogs.org/
Tags: PDF, Warzone Distro, Zine
Posted in Library