Posts Tagged 'Weather Underground'
Sunday, October 30th, 2016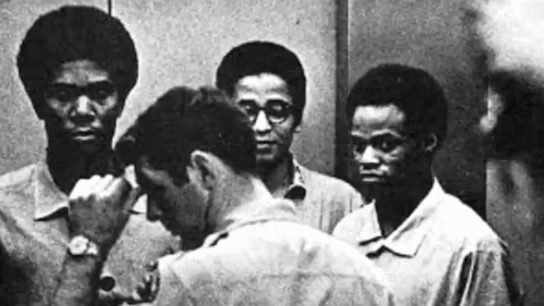 "Gentlemen, the Dragon Will Fly Out"
In Support of September 9th Mobilization in US Prisons
"Gentlemen, the dragon will fly out" is a saying attributed to prisoner George Jackson. On August 21st 1971, holding a pistol, he opened all the cells in an adjustment unit, taking jailers hostage. George Jackson was killed in his attempt to escape…
Since September 9th, prisoners in the United States have called for action against slavery.
A multitude of "invisible" slaves (there are about 2.5 million prisoners in the United States) are condemned to forced labor, or as jailers of their own selves (internal work in prisons, cleaning, repairs, technical operations), or as cheap meat in the service of corporate behemoths (Honda, McDonald's, Wendy's, Victoria's Secret, Starbucks, and many others). Besides, the 13th amendment to the US constitution clearly states: "neither slavery nor involuntary servitude, EXCEPT as a punishment for crime whereof the party shall have been duly convicted…" To put it simply, detainees are considered slaves as part of their punishment.
Prisons in America—and not just there–aren't only bars, walls, surveillance cameras or lockdowns. They're also an enormous lucrative business. Prisons are a dirty dealing for continuously supplied shackled labor force without name and without voice. They represent a modern slave trade, making billion-dollar profit, that not only supplies the companies-caretakers but also the industry of lawyers, judges, cops, corrections officers, private prisons. (more…)
Tags: Attica (Prison Uprising), Conspiracy of Cells of Fire, Fleeta Drumgo, George Jackson, Greece, Informal Anarchist Federation (FAI), International Revolutionary Front, International Solidarity, John Clutchette, Korydallos Prison, Letter, Michael Kimble, Prima Linea, Prison Industrial Complex, Prison Labour, Prison Labour Strike, Racism, Red Army Faction (RAF), USA, Weather Underground
Posted in Prison Struggle
Saturday, December 1st, 2012
Newly translated text from comrade Gustavo Rodriguez, which was an introductory text for a debate in Mexico about antagonistic violence, that happened in October 2011.
From Flying Theory.
Tags: 1st of May Group, 2nd June Movement, Abraham Guillén, Angry Brigade, Antagonistic violence, Azione Rivoluzionaria, Carlos Marighella, Centre of Anarchist Information (CEDIA), Flying Theory, Gustavo Rodriguez, Iberian Anarchist Federation (FAI), Insurrection, International Revolutionary Solidarity Movement (MSRI), Internationalist Groups of Revolutionary Action (GARI), Mexico, Mexico City, Movimiento Iberico de Liberacion (MIL), Red Army Faction (RAF), Red Brigades, Repression, Revolutionary Cells (RZ), Weather Underground
Posted in Library