Posts Tagged 'West Papua Independence'
Wednesday, October 14th, 2020
FR | Keerom, Papouasie occidentale (Indonésie) : Incendie des bureaux de l'agence pour l'emploi
PT Freeport Indonesia (FI) has been present in Papua for decades since the start of the annexation of West Papua by colonial Indonesia. What PT FI produces is only natural destruction, expulsion of indigenous people, and genocide. We think Freeport's existence can only be destroyed if West Papua is separated from Indonesia, but it is not the formation of a West Papua state that we want, but the West Papua Confederation, people control not state control!
We (Long Live Eric King Revolutionary Cell – Informal Anarchist Federation) send our greetings to Lekagak Telengen, Egianus Kogoya, and other West Papuan guerrillas who are among the lush forests of Papua. We invite our comrades who live in cities to start urban guerrilla units and start attacks on the symbols of capitalism and the colonial state of Indonesia.
We clearly declare our hostility towards the opportunist politician Benny Wenda and other shits at the ULMWP who can live comfortably in a foreign country while trying to take struggle for West Papua liberation leadership control. True liberation is from gun and civilian insurrection, not lobbies in air-conditioned buildings!
We also don't forget to send our hugs to comrades in Indonesia who are starting a rebellion against the Omnibus Law and Joko Widodo's neoliberal regime, to our comrades in Malaysia who have to face repression for fighting the fascist kingdom of Malaysia, to the YPG-YPJ guerrillas in Rojava who are facing asymmetrical war against Turkey, and anti-authoritarian insurgents around the world.
We claim the burning of the labour offices building in the regent office complex of Keerom, West Papua during the riots on 1 October 2020. We are among the masses angry at Indonesian colonialism, this is just our opening attack and this is not the last. Get ready for explosion and explosion that will keep on the track!
If the state and capitalism still exist, peace will never be realized. Therefore, the state and capitalism must be destroyed at once !!
Let the fire light up the liberation of West Papua.
Long Live Eric King Revolutionary Cell – (FAI-FRI)
Tags: Anti-Colonialism, Arson, Indonesia, Informal Anarchist Federation (FAI), International Revolutionary Front, International Solidarity, Keerom, Long Live Eric King Revolutionary Cell - FAI/FRI, PT Freeport Indonesia (FI), Sabotage, West Papua, West Papua Independence
Posted in Direct Action
Sunday, September 15th, 2019
Solidarity poster for fugitive Anarchist comrade and human rights lawyer Veronica Koman who is facing up to 6 years imprisonment and fines of $US70,000 for 'incitement' and 'spreading fake news' for her important coverage on social media of the racist attacks against West Papuan students in Indonesia and the ongoing peoples' uprising in West Papua.
Veronica was also an important source of information regarding the repression against anarchists in Indonesia that took place during and after the 2019 May Day demonstrations. Text of poster reads: "Stop the criminalization of human rights defenders and anti-racism activists"

via anarchistsworldwide.
Tags: Flyposters, Indonesia, Repression, Veronica Koman, West Papua Independence
Posted in Social Control
Thursday, August 22nd, 2019
Makassar, Indonesia, August 21st, 2019: Dozens of Makassar citizens took direct action (blocking the road) in front of the Hasanuddin University to convey solidarity with West Papuans who received racist acts and violence from the military, police and ultra-nationalist civil militias.
As for what is written on the banner:
MAKASSAR CITIZENS SOLIDARITY FOR PAPUA

1. STOP TORTURING PAPUANS RIGHT NOW!
2. PAPUANS ARE FREE TO CHOOSE THEIR OWN WAY (TO FREEDOM)
3. TNI (Indonesian Armed Forces), POLRI (Indonesian Police Force) AND FASCIST CIVIL MILITIAS, STOP YOUR RACIST ACTS, YOU DICK SHIT!
via Anarchists Worldwide.
Tags: Demo, Indonesia, International Solidarity, Makassar, Police Brutality, Racism, Repression, Solidarity Action, West Papua, West Papua Independence
Posted in Direct Action
Thursday, November 16th, 2017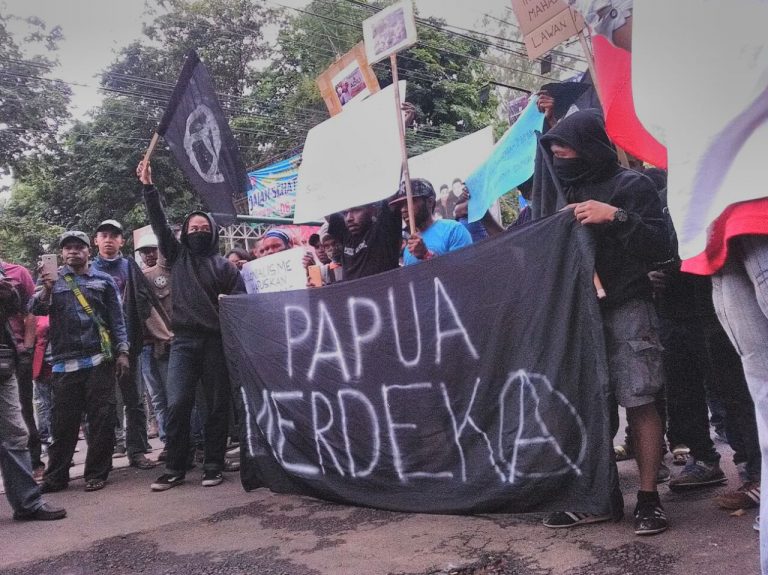 Freedom for Papua
15 November 2017
Solidarity between various alliances including Libertarian Student Federation (FML), Papuan Student Alliance (AMP) in the small town of Salatiga, at the Satya Wacana Christian University. This solidarity is a nationwide call from the KNPB (National Committee of West Papua) in order to give pressure to the Indonesian government to give rights to West Papuan independence and autonomy. In this case, anarchists and libertarians limited their solidarity for the full autonomy and freedom of West Papua from Indonesian state and not supporting the creation of West Papua as a nation-state.
Anarkis/FML
–
Salatiga (Jawa Tengah)
Solidaritas antar berbagai aliansi termasuk diantaranya Federasi Mahasiswa Libertarian (FML), Aliansi Mahasiswa Papua (AMP) terjadi di kota kecil Salatiga, tepatnya di Universitas Kristen Satya Wacana. Solidaritas ini merupakan seruan dari KNPB (Komite Nasional Papua Barat) dalam skala nasional untuk menekan pemerintah Indonesia agar memberikan hak untuk menentukan pilihan bangsa Papua Barat. Dalam hal ini, kaum anarkis dan libertarian, membatasi solidaritasnya dalam bentuk otonomi bangsa Papua Barat dan bukannya disintergrasi yang akan menciptakan negara baru lagi.
Videos Links (click on the links below):
Some anarchist students make their way out of campus
Demonstration outside of University
Tags: Demo, Indonesia, International Solidarity, Salatiga, West Papua, West Papua Independence
Posted in Direct Action
Tuesday, January 22nd, 2013
"Our freedom fighters are poorly armed, often having to make do with spears and bows and arrows to fight the Indonesian army, yet despite our poor military equipment, we have been strong enough to stand up against Indonesia's military machine for more than 30 years. No one can deny we are strong." Moses Werror 1/24/96.
Forgotten Bird of Paradise is a 2009 documentary film directed by Dominic Brown, about the struggle for independence being fought in West Papua. Brown travelled and filmed in West Papua without the permission of the Indonesian authorities, putting himself in great danger. The documentary features an interview conducted with Yusak Pakage, a high profile West Papuan political prisoner recognised by Amnesty International as a prisoner of conscience. He is currently serving a ten year prison sentence for raising the West Papuan flag during a ceremony in 2004. The interview was recorded in secret by Brown during a hospital visit where Pakage was receiving treatment for torture.
There is also footage and dialogue from an OPM camp led by one of the armed resistance leaders, General Goliath Tabuni. Tabuni and his fighters speak about how Freeport mine has destroyed the land and exploits the people, how Indonesia is ruining the environment and stealing the resources with the help of foreign companies, which they then sell to the USA, UK and Australia. Indonesia spends the money on military equipment to murder those who resist. Solidarity with the West Papuan anti-colonial struggle and OPM.
More info on OPM:

http://www.converge.org.nz/wpapua/opm.html
Link for human rights NGO: http://tapol.org/
Tags: Dominic Brown, Forgotten Bird of Paradise, General Goliath Tabuni, Indigenous Struggle, Indonesia, OPM, West Papua, West Papua Independence, Yusak Pakage
Posted in Eco Struggle, Library