Posts Tagged 'Wet'suwet'en'
Monday, March 9th, 2020
325 receives and transmits:
Anonymous Submission to North Shore Counter-Info:
before the sun rose in the early early morning of 02/20/2020 we took direct action against pipeline infrastructure in Acheson AB
outraged by the Reactionary Colonial Mounted Pigs invasion of sovereign Wet'suwet'en territory and in solidarity with the Secwepemc we decommissioned a section of pipe that the klanadian state (financers of this project) had left sitting in the open air with little defense
solidarity means attack
"smile for the camera, boys" shouted the security guard after us
even though the camera could not capture it we were smiling beneath our masks
"joy is arming itself"
we hope to discourage a lot of the fear that currently surrounds resistance
it has now been weeks after a direct attack on a large corporation with no sign of police repression
there are many others living in this colony ready and willing to act
neither the pigs nor reactionary gangs can stop sabotage
do not wait for permission
strike hard while your enemy is unprepared
find your friends and act with joy!
Kenney said we are in a state of anarchy, prove him right!
there are online field guides teaching sabotage
Act spontaneously, but do your homework
we broke our drill bit while eating through the steel pipe these companies publish comprehensive engineering reports which can be found on their own websites
study these and use proper materials
it is worth noting the existence of perimeter-monitoring technology
there was a thick black cable lining the top of the fenced perimeter around the material storage site
it is also possible for these sensor cables to be under topsoil
this perimeter sensor may have tipped off the guard or maybe he found us by the noise we made or by chance but the response was immediate and impotent
This action was done in support of all land defenders
Mohawks who consistently assert their autonomy
Zapatistas and other indigenists in southern Mexico
democratic forces of Rojava
pirates of Somalia
countless tribes of the Amazon
Mapuche in Chile
Standing Rock Sioux Nation
Quechua, Guarani, Aymara of Bolivia
Anishinaabe of Minnesota
feminists in Mexico
redneck coal miners in the Appalachian mountains
rebels of Haiti
farmers of la Z(A)D
to the many nations that inhabit the beaver hills meeting grounds
Many have put effort into reconciling with klanada
consistent colonialism has given only disrespect in return, reconciliation is now dead
to #shutdowncanada colonial land claims must be disputed everywhere alongside the current struggles in so-called BC
the entirety of klanada is illegitimate and there should be insurrection everywhere
Another world is possible!
– your friends in amiskwaciywaskahikan
Tags: #ShutDownCanada, Anti-pipelines, Canada, Indigenous Struggle, International Solidarity, Sabotage, Secwepemc, Wet'suwet'en
Posted in Direct Action
Saturday, February 29th, 2020
Decolonization Means No State × 4
These flyers were produced with the intention to disrupt the liberal narratives surrounding the Wet'suwet'en struggle, and the activism we have seen emerge as a result of the most recent waves of state violence. Simultaneously we are inspired by the actions of many of our comrades, especially the Mohawk blockades and those engaged in militant demos and sabotage. We hope these flyers continue to feed the fire of insurrection.
Reconciliation is Dead, and Decolonization Means no State were heavily inspired by Tawinikay's (aka Southern Wind Woman) work – much of the words appearing on them are Tawinikay's directly. Her work provides a critical and revolutionary stance on current struggles to shut down so called Canada – we are very grateful for this work. As anarchists working to refine our perspective and practice, Tawinikay's critical intervention with the struggle and Indigenous solidarity work many of us engage in demands our engagement.

Against the state and capital
For a growing militant movement
Links to Tawinikay's work: 1, 2
Tags: #ShutDownCanada, Anti-pipelines, Canada, Ecological Destruction, Indigenous Struggle, PDF, Sabotage, Wet'suwet'en
Posted in Library
Tuesday, February 4th, 2020
Anonymous submission to North Shore
Over the past weeks since the call-out for railway disruptions appeared, there have been a half dozen actions targeting train lines in Ontario. These have been diverse, with most involving the use of copper wire to trip the sensor system. One such communique described the added impact of doing multiple, coordinated actions of this kind; another emphasized that this action can safely and easily be done alone; and another reflective one talked through some of the difficulties of preparing and making sure it's effective, showing the potential for the action to be taken up widely. There was also a surprise demo that blocked the rails, and an incendiary attack on the power supply of a signal station.
These actions have been inspiring and are only a beginning. The raid on Wet'suwet'en territory seems inevitable, and so we would like to echo the calls that have been made to shut down Canada should the RCMP again attack land defenders there. Over the past weeks, anarchists have built up the means to do this by targeting rail lines, so we want to encourage everyone to start scouting and gathering supplies now to be ready to go in the days immediately following a raid. The disruptions that have already happened show that this strategy allows for a diversity of tactics, so there are many ways of answering this call, though the potential small, discrete groups seems particularly promising. (more…)
Tags: Analysis, Anti-pipelines, Canada, CGL, Eviction, Indigenous Struggle, Line 3 (Tar Sands), Mining, Racism, Sabotage, Tar Sands, Wet'suwet'en
Posted in Eco Struggle
Tuesday, February 4th, 2020
CGL Office Vandalism
We are learning to bite. In Solidarity with the Wet'suwet'en comrades struggling for sovereignty and against pipeline development we vandalized the entrance to the CGL office in Vancouver BC. Using a re pressurized fire extinguisher we made a small mess. This symbolic act feels like the least we could do.
To a growing militant movement – decolonization means attack
Tags: Anti-pipelines, Canada, CGL, Indigenous Struggle, Paint attack, Solidarity Action, Tar Sands, Vancouver, Vandalism, Wet'suwet'en
Posted in Direct Action
Thursday, January 16th, 2020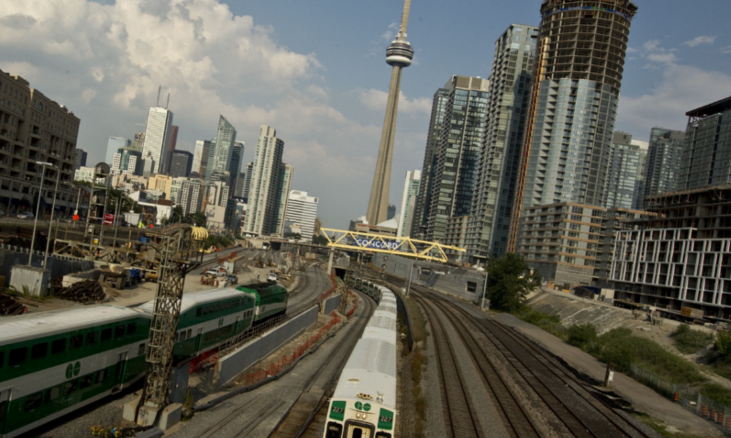 Anonymous submission to North Shore Counter-Info:
This weekend in Toronto, inspired by the actions of Wet'suwet'en land defenders and a recent callout for rail disruptions, some anarchists took to the rails to add our contribution to the building momentum of demonstrations, blockades, and acts of sabotage taking place across Turtle Island.
We debated writing this because, due to a lack of experience and the location we picked, we really couldn't be sure that our attempt at sabotage succeeded. Ultimately, we wanted to share our message of solidarity and commitment to this struggle, and our own reflections and knowledge gained in this first attempt.
Previous posts on this site [1, 2] provide a great starting point for the how-to's of this kind of mission. We picked a site in proximity to a rail junction and used copper wire to mimic a train on the tracks, (hopefully!) halting any rail traffic until the disruption was cleared away. Since we didn't have any jumper cables, which provide a more dependable connection, we quickly scrubbed our connection points with steel wool to make sure there was no rust impeding the connection. (more…)
Tags: Anti-pipelines, Canada, Sabotage, Solidarity Action, Toronto, Wet'suwet'en
Posted in Direct Action
Sunday, January 12th, 2020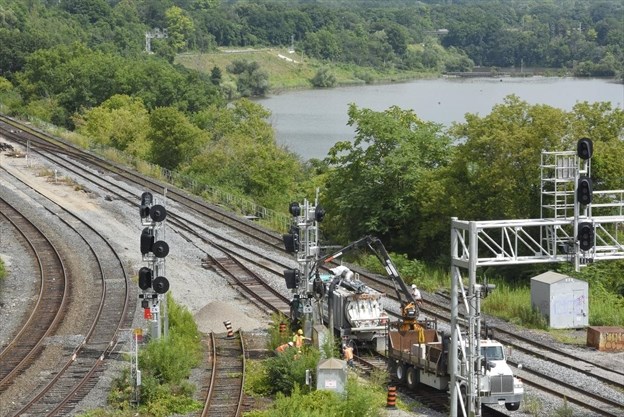 Anonymous submission to North Shore. Callout for rail disruption is here.
A decade ago, in a move that has inspired many, Wet'suwet'en people reoccupied their unceded territories as a way to begun healing and ensuring the land is protected in the ways she needs to sustain Wet'suwet'en people's lives, practices, and continued existence in their traditional territories.
A year ago, the RCMP violently invaded those territories to provide access for industry.
One week ago, the Canadian State criminalized Anuk' nu'at'en – Wet'suwet'en hereditary law – by granting an injunction which criminalizes Indigenous people and their allies should they protect the Yintah from the destructive forces of industry.
We honour these anniversaries with a giant fuck you to the State.
Early this morning, settlers responded to calls of action coming from multiple Wet'suwet'en house groups after they bravely evicted industry from their unceded territories, as well as a call to action for settlers by settlers.
As one small way of pushing back against the colonial violence being enacted by our government we simultaneously disrupted three natural CN and CP railway bottlenecks at strategic locations with the intention and impact of shutting down all rail traffic going in and out of so-called Hamilton. We did this by using copper wires and jumper cables attached to fishplate wires as a way to interfere with the block circuits – see a video here (opens with TOR). The method is safe, easy, relatively low risk, and widely replicable.
CN rail has been and will continue to ship out pipe to storage yards in preparation of construction and have vast, isolated stretches of infrastructure. The first installations of rail had deep, lasting impacts on the colonization of Turtle Island and targeting it today directly effects so-called canada's economy.
While these actions will only serve as a temporary disruption, we hope it sends a strong message: Respecting Indigenous sovereignty – anywhere on Turtle Island – is not optional. We will not be passive.
We hope others throughout Turtle Island – especially settlers – will join us in ensuring this is only the beginning, and make the Coastal GasLink pipeline untenable to both industry and the state in every way they can.
Tags: Anti-pipelines, Canada, Coastal GasLink (Pipeline), Hamilton, Indigenous Struggle, Sabotage, Solidarity Action, Wet'suwet'en
Posted in Direct Action
Saturday, November 24th, 2012
325 receives and transmits:
http://unistotencamp.wordpress.com/2012/11/23/solidarity-actions/
Call for solidarity actions on Tuesday November 27th
Raising Resistance: Solidarity with the Unist'ot'en.
Call for actions on Tuesday November 27th
In inspiring resistance this past week, the Unist'ot'en and Grassroots Wet'suwet'en have, yet again, evicted pipelines from their territories!
On November 20th, Wet'suwet'en Hereditary Chief Toghestiy intercepted and issued an eagle feather to surveyors from the Can-Am Geomatics company who were working for Apache's proposed natural gas Pacific Trails Pipeline (PTP). In Wet'suwet'en law, an eagle feather is used as a first and only notice of trespass. The surveyors were ordered to leave the territory and the road leading into the territory has been closed to all industry activities until further notice. The materials that were left behind by the work crew are being held until Apache and PTP agree to open up appropriate lines of communication with the Unist'ot'en and grassroots Wet'suwet'en according to the Free Prior and Informed Consent protocol and laws of their unceded territories. The Unist'ot'en are against all pipelines slated to cross through their territories, which include Enbridge Northern Gateway, Kinder Morgans northern proposal, Pembina, and Spectra. (more…)
Tags: Apache (Energy Company), Canada, Carbon Corridor, Encana, Fracking, Indigenous Struggle, Jarislowsky Fraser Limited, Pacific Trails Pipeline, Royal Bank of Canada, Solidarity Action, Unist'ot'en, Wet'suwet'en
Posted in Eco Struggle