Posts Tagged 'Wuppertal'
Monday, May 11th, 2020
Like last year, the autonomous MayDay was full of surprises! And these surprises have caught the cops off guard and we are happy about that!
It started in the night from 30.04. to 01.05. with a demonstration in the Ölberg district, accompanied by fireworks and other great lights and (sound) effects. On our way through the Elberfelder Nordstadt some neighbours at their windows celebrated with us that the 1st of May has begun. So we were able to start the day in good spirits with strike two under difficult conditions. Already with the first strike last year we could catch the cops on the wrong foot and thus trick the cop apparatus. From that point on, we managed to break through the de facto suspension of the right to demonstrate for a short time. At least for a short period of time we were able to make the darkness glow.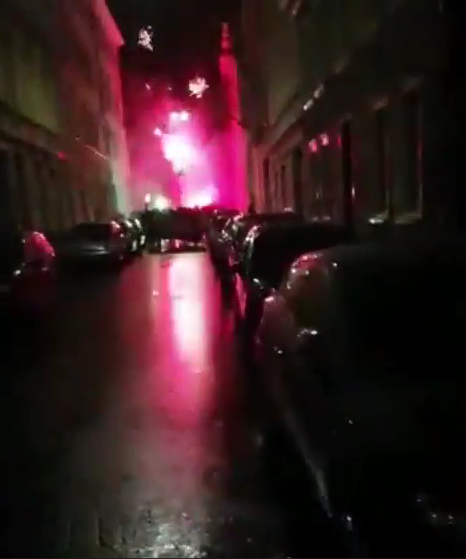 Tags: 1st May, Demo, Germany, International Solidarity, Mayday, Wuppertal
Posted in Direct Action
Sunday, April 26th, 2020
With broken glass and paint in the entrance area of ​​the company headquarters of the local municipal utility "Wuppertaler Stadtwerke" (WSW) on Bromberger Straße, we have underlined our request to the WSW for an immediate power cut.
The WSW have always been brazen. But now the company is going one step further. While more and more large energy companies, such as the ENBW has even reversed gas and electricity barriers due to the corona pandemic, the WSW does nothing. For those affected, this means in the already difficult times, in the evening no light, no electricity or gas for cooking … ..
We will not forget our demand for a general stop of electricity and gas barriers even after the pandemic!
Just as little as the need for an ecologically justifiable energy supply for everyone who needs it for meaningful purposes. So e.g. definitely not for the armaments and automotive industries (the workers would certainly be pleased to produce socially useful products!)
Statistics from the Consumer Advice Center North Rhine-Westphalia from March 23 on the average company margin, i.e. the money with which the companies operate and ultimately make profits, for the basic electricity supply with an annual consumption of 3000 kWh in the period from January 2017 to April 2020 shows that the WSW with 9.03 cents per kWh (the average company range is 8.25 cents per kWh), the fourth highest company range of basic electricity suppliers in the 20 most populous cities in NRW. (more…)
Tags: Coronavirus, Germany, Paint attack, Sabotage, Vandalism, Wuppertal, Wuppertaler Stadtwerke (WSW)
Posted in Direct Action