Posts Tagged 'YPG International'
Wednesday, November 20th, 2019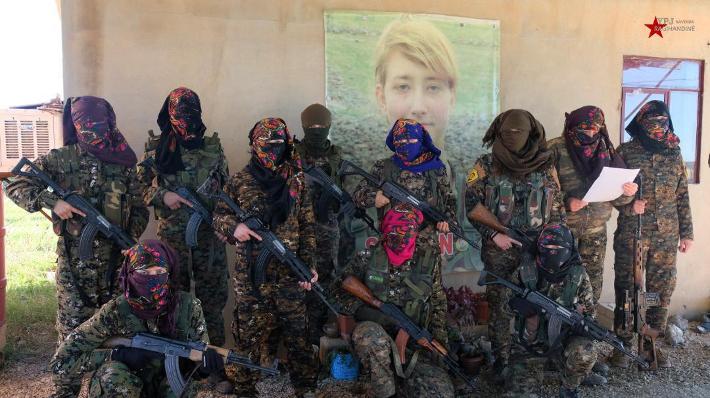 نامه ای از جانب یک آنارشیست انترناسیونالیست در روژاوا
Translation to Persian: Hasse Golkar
via barrikade:
Comrades,
I think it is important now that our voices of Rojava, out of the heart of that battle, are being heard. A fight for the life, for an existence in dignity, for real democracy and for the freedom of all women. I want to tell how the resistance of Serekaniye went on, how the beginning was, how the end was and also what happened in between. Serekaniye right now is in the hands of jihadist groups that are being supported by Turkey, upon approval by the United States. At a time they said there would be a five-day firearm rest…. we didn't believe it for one second. And that's how it was – the attacks didn't stop, maybe they've been reduced, but they continued attacking us with heavy artillery, bombings and airplanes. When there are bombings, there is not much that can be done; hide behind a tree and hope, that they didn't see you running or that they found your place.
Those five days of supposed firearm rest actually have been decisive for the United States and Turkey, to redefine the conflict, to realign the situation of war, confrontation and resistance against our forced withdrawal that no one expected. No one could believe it, after 11 days of resistance, beautiful and very hard at the same time. Leaving the city. The Turkish invasion of Serekaniye did start some days before, 8th of October, with a bombing of our military post that hasn't been answered, for not to unleash what happened later anyway. It was an attempt of the friends to protect the people and the society. But the next day, about 3 to 4 pm, another bombing of a post of the YPG took place, where 5 friends have fallen, and since then they bombed the whole border. (more…)
Tags: Islamic State in Iraq and Syria (ISIS), Kurdish Struggle, Kurdistan, Letter, People's Defence Units (Y.P.G.), Rojava, Serekaniye, Syria, Til Temir, Turkey, War, YPG International
Posted in Autonomy
Thursday, October 4th, 2018
Memorial video for the anarchist internationalist fighter of Rojava Haukur Hilmarsson (Sahin Huseyni). Sehid Sahin has fought against I.S. (DAESH) in Raqqa and martyred while he was defending Afrin from Turkish State's military invasion.
Ruis Rojava
https://www.youtube.com/channel/UCtUPN9d4Y6I8Br8GrrfiFyg
Tags: Afrin, Haukur Hilmarsson, Islamic State in Iraq and Syria (ISIS), Kurdish Struggle, Middle East, People's Defence Units (Y.P.G.), Raqqa, Rojava, Syria, War, YPG International
Posted in Anti-Fascist
Friday, July 8th, 2016
Hello friends, comrades, supporters, revolutionaries,
we are glad to present you our new homepage
https://ypginternational.blackblogs.org
YPG International is an official information portal for the Rojava Revolution and People's Defense Units (YPG) made by YPG. We provide first hand information for everyone who is interested in our struggle, in people's revolution of Rojava, in Kurdistan and in a democratic Syria. YPG International is the international path to the Rojava Revolution, the official path to support YPG in Rojava.
YPG strives for a democratic, ecologic, and anti-patriarchal system of self-organisation; it takes its power from the people and fight for the people. We struggle to defend the dignity of being a human when there is no one around to defend it and to create an ethico-political society in order to realize ideals of equality, justice, freedom, and self-determination. We wage a war against all forms of fascism and capitalist hegemony that try to enslave the peoples and destroy the nature. We get our inspiration from the philosophy of Abdullah Ocalan whose ideas have become a torch in the jungle of oppression for the poor and the downtrodden; not only in Kurdistan but also in all around the world.
YPG is more than a military force. It is a revolutionary organization that protects the transformation towards the ethico-political society against its external and internal enemies in accordance with the principles of democratic confederalism. So its fundamental mission is to defend the people and the Rojava Revolution. (more…)
Tags: Counter-info, Islamic State in Iraq and Syria (ISIS), Kurdistan, Lions of Rojava, Middle East, People's Defence Units (Y.P.G.), Rojava, Syria, War, Women's Defense Units (YPJ), YPG International
Posted in Autonomy