Posts Tagged 'Zine'
Monday, January 20th, 2020
Issue 10 of "Fenrir" has been published, an ecological anarchist publication, 80 pages, A4 format. Italian language.
In this number:
Editorial
If not now, when?
The black sun of the future (Autopsy of the revolution, part II)
The rise of the new populist right: an analysis of the current situation
5G, the network of domination
Resuming our black path, by Gustavo Rodriguez
Marginal contributions to an ongoing debate, by Gabriel Pombo da Silva
News from the necro-world
Updates on Prisoners and State Repression
Letters from prison
The cost is 4 euros per copy, or 3 euros for orders of 5 or more copies. The cost of shipping with ordinary "book folding" is € 1.30.
To receive one or more copies write to us: fenrir at riseup.net
Help us distribute "Fenrir", if you have a distro or want some copies, contact us!
–
Italia: È uscito il n. 10 di "Fenrir", pubblicazione anarchica ecologista (gennaio 2020)
È uscito il n.10 di "Fenrir", pubblicazione anarchica ecologista, 80 pagine, formato A4.
In questo numero:
Editoriale
Se non ora, quando?
Il sole nero dell'avvenire (Autopsia della rivoluzione, parte II)
L'ascesa delle nuove destre populiste: un'analisi della situazione in corso
5G, la rete del dominio
Riprendendo il nostro nero cammino, di Gustavo Rodriguez
Contributi marginali a un dibattito in corso, di Gabriel Pombo da Silva
Notizie dal necromondo
Aggiornamenti sui/lle prigionierx e sulla repressione di Stato
Lettere dal carcere
Il costo è di 4 euro a copia, oppure di 3 euro per ordini di 5 o più copie. Il costo della spedizione con "piego di libri" ordinario è di 1,30 euro.
Per ricevere una o più copie scrivici: fenrir at riseup.net
Aiutaci a distribuire "Fenrir", se hai una distro o vuoi un po' di copie, contattaci!
via insuscettibilediravvedimento.
Tags: 5G, Analysis, Anti-technology, Ecological Destruction, Fenrir, Gabriel Pombo da Silva, Gustavo Rodriguez, Italy, Zine
Posted in Library
Saturday, January 18th, 2020
We want more uproar, which is why we give you RUMOER! A publication which will hopefully provoke discussion, irritation, inspiration, agitation, and attack. Because we do not want a raise in wages, but the destruction of work. Because we do not want to shout 'boo!' but want to hear BOOM! We want a confrontation without compromise with the system that is destroying our lives and the planet.
In this first issue you will find texts about the increasingly disgusting expanding technologisation of the world. Another one outlines why it is really not necessary to have your phone with you at all times. Furthermore, we will talk about police violence and the worldwide revolts against it, from Chile to Iraq. Incisive texts concerning leftist misery, affinity and 'professional' activism in a triptych of translations also appear in this edition; after these, there is a critical text about the current discourse of a large activist group dealing with the climate. And last but not least, a primarily happy end — a chronicle of attacks and anarchist interventions, by way of entertainment and necessary inspiration.
You can find RUMOER in your local social center or order for free by sending us an e-mail. On our website rumoer.noblogs.org you will find a pdf version that you can read online or print and distribute yourself (but then you need gold ink of course).
If you want to order a few copies or do you have something to report, you can mail us on rumoer (((A))) riseup \\\ net
Download:
Cover
Print PDF
Read PDF
See you soon on the street!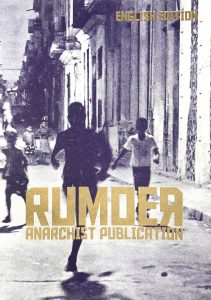 Tags: PDF, Rumoer (Zine), Zine
Posted in Library
Thursday, January 16th, 2020
Zine from the insurrectionary anarchist comrades in Philadelphia:
Volume 6 Issue 1 (PDF for reading 8.5×11)
Volume 6 Issue 1 (PDF for printing 11×17)
In this issue:
Philadelphia Energy Sale
2019 Year In Review
Attorney General Denies Parole
What Went Down
Response To Response To "Property Destruction Is Not Enough"
2020 Summits
Bern It Down!
BlackRock
World News
https://anathema.noblogs.org/post/2020/01/15/volume-6-issue-1/
Tags: Anathema, PDF, Philadelphia, USA, Zine
Posted in Library
Friday, January 10th, 2020
Subversive Publications Fair, Cagliari, January 24/25/26, with a discussion on publishing and propaganda
Magazines, papers and other forms of propaganda of the struggle and subversive ideas have always been persecuted by all sorts of regimes. Rendered clandestine, outlawed or banned, seized by police, they have never ceased to exist.
If this seems like an old story to you, one that stinks of the fascist regime, you are wrong!
In 2019 three repressive operations followed one after the other against different situations of struggle around the Italian State, "Scintilla" in Turin, "Renata" in Trento and "Lince" in Sardinia, which although in different ways, all have a similar character: the attack on instruments of publishing and propaganda which these realities use, attributing a central role to them in the investigation. Charges and arrests have been made against editors, but this certainly isn't anything new.
This attention and consequent repression by the State demonstrates that propaganda still plays a potentially "subversive" role: to build up a narrative and spread news which is different from the mainstream is something that scares power, more engaged than ever in covering the obscenities perpetrated every day in the form of wars, environmental devastation, deportations and so on. To resist these attacks, aimed at taking away some of the last instruments for those who struggle, seems more imperative to us than ever.
(more…)
Tags: Cagliari, Italy, Subversive Book Fair, Zine
Posted in Autonomy
Friday, January 10th, 2020
The Prisoner's Herbal is a herbal medicine book written by an ex-prisoner for people in prison who want to learn about the medicinal properties of plants commonly found in prison courtyards. It contains ten detailed plant profiles, as well as instructions on how to prepare plant medicines in prison. It also includes tips and tricks for making the most out of foods, spices and condiments available from the prison canteen. So far 99% of copies have got into prisons in the UK and the US without censorship.
Books are available for free to prisoners. Or if the group has the funds, ABC groups are welcome to purchase them for £1.20 a copy. Sales of the books to people on the outside have been fundraising to cover the costs of posting them to people on the inside.
Books can either be posted to prisoners directly or to groups to distribute among their networks.
You can learn more about the book here:
https://solidarityapothecary.org/prisonersherbal/
To request copies please email Nicole at info (at) solidarityapothecary (dot) org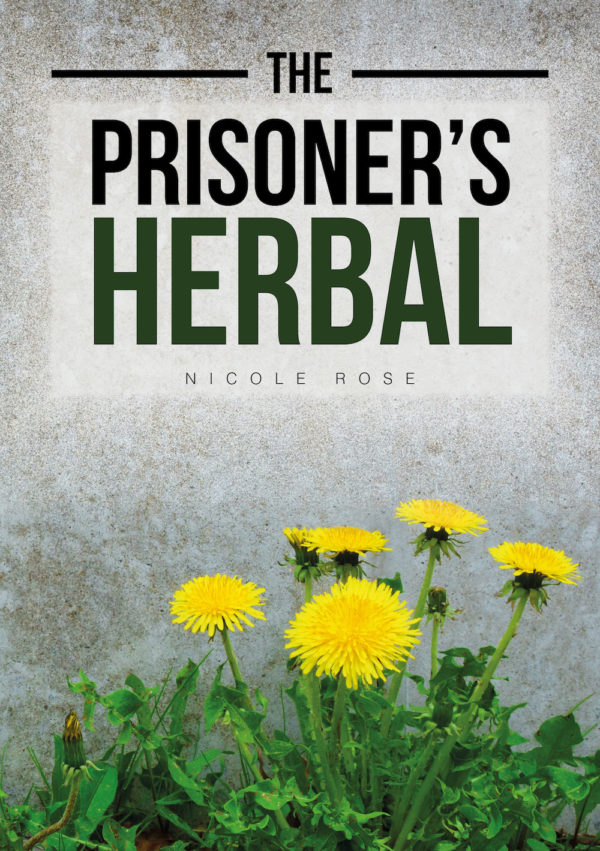 Tags: 'The Prisoner's Herbal', Herbalism, Zine
Posted in Prison Struggle
Tuesday, December 17th, 2019
Oak is happy to announce our first audiozine episode. Visit Oakjournal.org for link or visit soundcloud.com/oakjournal directly to listen. And please subscribe to the RSS feed so you can get all the episodes. More episodes and print to come early 2020.
In this episode we hear from Yellow Finch tree sitter Rhubarb. We also hear from Popular Front founder and conflict reporter Jake Hanrahan. The episode explores contemporary resistance from both the macro and micro level. Topics include: resistance to Mountain Valley Pipeline, extraction resistance movements in general, autonomous zones, tree sitting, Hong Kong, Rojava, American Leftism, and much much more.
Readings in this episode include:
O Lost…? by John Zerzan
Barbarian Tongue by Trace Fleeman y Garcia
The New World by SMH (more…)
Tags: Appalachians Against Pipelines (US), Hong Kong, Mountain Valley Pipeline (US), Oak Journal, Oak Radio, Popular Front (UK), Radio, Rojava, USA, Zine
Posted in Interviews
Sunday, December 15th, 2019
Anarchist zine from the comrades in Philadelphia.
Volume 5 Issue 7 (PDF for reading 8.5×11)
Volume 5 Issue 7 (PDF for printing 11×17)
In this issue:
Global Insurrection
Pink Wave
What Went Down
Ring And The New Policing
Lasers!!!
During The Quiet
Sean Bonney Poem (Confessions 2)
Interview: 10 Years After The UC Occupations
Response to "Property Destruction Is Not Enough"
Pinkerton
Bomb Scares
End The Abatement?
https://anathema.noblogs.org/
Tags: Amazon, Anathema, PDF, Phila, Philadelphia, USA, Zine
Posted in Library
Saturday, October 26th, 2019
PERIÓDICO CONTRA TODA NOCIVIDAD Nº1
Puedes encontrar ejemplares en centros sociales y locales anarquistas.
Si no encuentras, escríbenos a: contratodanocividad@riseup.net
ÍNDICE
– Las Smartcities. El desarrollo y la estructura de la ciudad como forma de dominación.
– Contra la ingeniería genética y su mundo: La reproducción artificial del ser humano.
– Las renovables no son la solución. Carta abierta a los compañeros ecologistas.
– La Sociedad Smartphone.
– Nuestros cerebros. Zonas a Defender.
Tags: Anti-technology, Contra toda Nocividad (Zine), Genetic Manipulation, Technological Singularity, Transhumanism, Zine
Posted in Library
Saturday, October 26th, 2019
Índice:
*Editorial
*El sentido de la acción anárquica
*Sobre la reproducción de imágenes en los entornos anarquistas
*Iconoclastia en la práctica (I): Derribando el mito del trabajo
*Espacios antiautoritarios y perspectivas para la confrontación
*Solidaridad revolucionaria: Reflexiones inacabadas
Aportes Externos
*Contra los políticos presos, los políticos y la política. A propósito de los presos políticos del procés.
*Sobre la necesidad de dotar nuestra existencia de una vitalidad dinámica
kalinovmost(a)riseup.net
www.kalinovmost.wordpress.com
Tags: Analysis, Chile, Kalinov Most, Zine
Posted in Library
Saturday, October 26th, 2019
PDF: Fantasma Number 3
MAELSTROM OF THE WATERFALL
Many weeks have past. Many steps have blazed my way. There where no other liana guided me through the covert. Only my two feet. They carried me, showed me the vast green towards rocks, canyons and caves. Many would have climbed up full of daring, would have looked down with a sharpened sight, or would have run into the cavernous black with a childish curiousity. From the corner of my eye I noticed the changing surrounding but I chose to ignore it. Daring, sharpened sight, childish curiousity, this wasn't the time for it. But now I am standing here, in front of a gigantic waterfall whose maelstrom is able to engulf everything and everyone in its depth. I pause, looking at the fascinating foam, listening to the sound of dropping water. It looks beautiful but it also brings death. (more…)
Tags: Fantasma, PDF, Zine
Posted in Library
Saturday, October 26th, 2019
Editorial:
En este nuevo boletín-compilado de acciones de violencia política rescatamos hechos desarrollados en el mes de Junio, Julio y Agosto. Para esta editorial queremos enfocarnos en solo uno: En el ataque con poderosos paquetes bomba realizado por un grupo de acción anarquista el 26 de Julio del presente año.
El atentado fue contra una comisaría y el ex ministro Rodrigo Hinzpeter. El primer paquete bomba estalló en su objetivo hiriendo a ocho policías y desatando el pánico entre el enemigo de uniforme. Paralelamente cuando el segundo fue descubierto este ya estaba en la propia oficina del ex ministro. De forma fortuita el bastardo no lo abrió porque salió a almorzar, durante ese tiempo el GOPE ya había llegado para realizar las clásicas diligencias, acordonando el área y desalojando a las personas. Si no hubiese sido por el azar, la llegada de la policía solo hubiese sido para estorbar el trabajo del Servicio Médico Legal. (more…)
Tags: Chile, La Bomba Zine, PDF, Rodrigo Hinzpeter, Santiago, Zine
Posted in Library
Thursday, October 3rd, 2019
Algunas palabras previas
El compañero Joaquín García permanece en prisión desde noviembre del 2015, acusado de un atentado contra la policía. En este breve díptico buscamos no solo informar sobre su situación sino también agitar y aportar a fortalecer una solidaridad de combate. (more…)
Tags: Chile, Joaquín García Chanks, PDF, Zine
Posted in Library, Prison Struggle
Sunday, September 15th, 2019
In this issue:
Terrorist or Freedom Fighter? (Antifa)
Anti-Social Anarchism Or Lifestyle Anarchism
New Trends In Anti-Development
Property Destruction Is Not Enough
What Went Down
Vaughn 17 Birthdays
Standing Rock Interview
World News
Solidarity With El Tripa
Nazi Scum Got Run
https://anathema.noblogs.org/post/2019/09/09/volume-5-issue-5/
Tags: Anathema, PDF, Philadelphia, USA, Zine
Posted in Library
Sunday, August 25th, 2019
PDF: 'For The Insurrection To Succeed, We Must First Destroy Ourselves'
Newly formatted zine of an older text from a situationist-type view of the Greek insurrection and related events of 2008.
From Ruins of Capital
Tags: Greece, Insurrection, PDF, Riots, Zine
Posted in Library
Sunday, August 25th, 2019
PDF booklet from France about antinatalism. It's been written from an antispeciesist and anarchist point of view.
The future is a scam booklet (Read online)
The future is a scam (Print out version)
Tags: Anti-Natalism, France, PDF, Zine
Posted in Library