Posts Tagged 'Zine'
Tuesday, May 12th, 2020
PDF: Aqui Y Ahora #9
Una pandemia se instaura en nuestras vidas, adueñándose de nuestra libertad más básica, poniendo todo patas arriba, paralizando la economía mundial y avisándonos de que, las consecuencias que tendremos cuando
volvamos a la "nueva normalidad", las pagaremos a un alto precio. Es una pandemia llamada autoridad, que funciona aumentando poco a poco esta olla a presión que estallará en cualquier momento. Este nuevo número del periódico, no se quedará en internet. Nos veremos en las calles.
Sumario:
1.- La salud como proceso: carta de una enfermera familiar y comunitaria
2.- La pandemia de la represión y el estado de alarma
3.- Huelga internacional de vivienda
4.- Historia y significado del 1º de mayo
Anexo: ¿Por qué okupamos? II
Noticias breves / Convocatorias / Recomendaciones / Proyectos de la zona
Puntos de distribución fijos:
– Local Anarquista Motín, C/ Matilde Hernández, 47
– Casa Auto-gestionada del Barrio de Aluche, La CABA, C/ Quero, 37
– Ateneo Libertario de Carabanchel, 2ª planta del Centro Social Okupado
"EKO", C/ Ánade, 10
– Espacio Social Liberado Autogestionado EKO. C/ Ánade s/n
– C.S.O.A. (Centro Social Okupado Anarquista) La Gatonera. C/ Antoñita
Jiménez, 60
– Bar Río, C/ Halcón, 6
Otros puntos de distribución:
– En los metros de Aluche, Carabanchel, Carpetana, Oporto y Vista Alegre
principalmente
– En centros culturales, bibliotecas y demás espacios públicos
– En algunos bares y comercios del barrio
Si quieres distribuir, sugerir, aportar o contactar:
aquí_y_ahora@riseup.net
Para descargar todos los números y consultar los artículos:
Tags: Aluche, Aqui Y Ahora, Carabanchel, Coronavirus, PDF, Repression, Spain, Zine
Posted in Library
Saturday, May 2nd, 2020
PDF: «Contra el 5G». Recopilación de textos contra la red 5G.
Análisis y críticas internacionales.
Tags: 5G, Anti-technology, Contra toda Nocividad (Zine), Internet of Things, PDF, Technological Singularity, Zine
Posted in Library
Friday, April 24th, 2020

PDF: Lo Prado en llamas #1 Marzo 2020
Tags: 'Lo Prado en llamas', Chile, PDF, Riots, Santiago, Social Insurrection, Zine
Posted in Autonomy
Friday, April 17th, 2020
2º de "Madrid Cuarentena City", mediados de abril, publicación por la guerra social en tiempos de estado de alarma.
En este número podéis encontrar:
-Todo va a ir bien.
-Trabajo, producción y consumo. La rueda de la explotación continúa.
-Crónica de la guerra social en estado de alarma.
-La solidaridad como arma.
-La ciudad: caldo de cultivo para enfermedades y control social
-De aquellos fangos estos lodos.
-Llamamiento a extender la okupación: "Okupa la cuarentena" (more…)
Tags: Coronvirus, Madrid, Madrid Cuarentena City, PDF, Spain, Zine
Posted in Library
Friday, April 17th, 2020
PDF: Mundo Covid #2
Corrected: "Primavera silenciosa" [silent spring], Resistenze al nanomondo, (Italy)
MUNDO COVID Nº2.
LAS EPIDEMIAS EN LA ERA DEL CAPITALISMO.
Recopilación de textos. Análisis internacionales durante el estado de alarma.
– Más información: contratodanocividad.espivblogs.net
Tags: Analysis, Anti-technology, Contra toda Nocividad (Zine), Coronavirus, International Solidarity, Mundo Covid-19, PDF, Repression, Spain, Technological Singularity, Zine
Posted in Library
Friday, April 10th, 2020
A publication of green anarchist art, poetry, stories, rants from 'so called-Australia'
PDF: Beyond the Dark Horizon.
"We are in a new epoch of breakdown what will it mean to not have a horizon … to have no map of how act … to have only shifting sands to cling to and be in a world radically different than that of the last 10000+ years? What does green anarchy mean today."
https://beyondthedarkhorizon.org/
beyondthedarkhorizon@protonmail.com
Tags: Anti-pipelines, Australia, Beyond the Dark Horizon, Climate Chaos, Ecological Destruction, Indigenous Struggle, Mining, PDF, Sabotage, Uranium Mining, Zine
Posted in Library
Thursday, April 9th, 2020
Volume 6 Issue 3 (PDF for reading 8.5 x 11)
Online only this issue 🦠😷
In this issue:
From Future To Present Tense
COVID-19: A Fork In The Road
What Went Down
Earth's Destruction Deemed "Essential"
Black Socialists In America Approached By The FBI
COVID In Prisons
The Last Assembly: A Report Back
Mutual Aid Toward Freedom
Tags: Anathema, Coronavirus, PDF, Philadelphia, USA, Zine
Posted in Library
Sunday, April 5th, 2020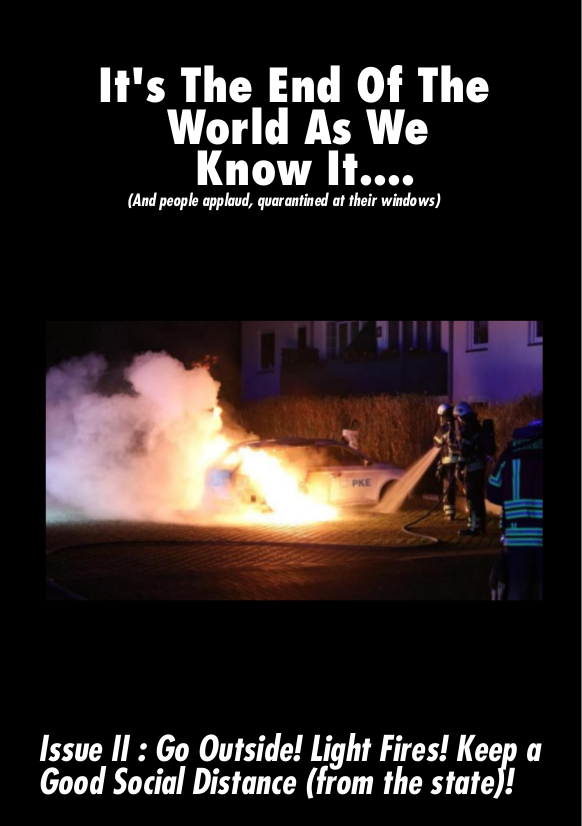 Issue II of our ongoing Journal 'Its the end of the world as we know it….: (Go Outside, Light fires etc) is released today. In this volume of the journal we decided to focus on the varied attacks, rebellions, riots and battles across the world between the state and free wild individuals. We have actively made the choice to not include updates on repression or violence, since we have the impression, these reports are everywhere and all around us and at times become a very stagnating force. We want this second issue to be a provocation to everyone, get out from behind the screen, go out of your home (even if for no reason other than personal satisfaction), and LIGHT. IT. THE. FUCK. UP. (more…)
Tags: Coronavirus, Down & Out Distro, PDF, Zine
Posted in Library
Friday, April 3rd, 2020
PDF: PUBLICACIÓN MUNDO COVID-19.1
Corrected: "Sus virus Nuestros muertos" [their virus our deaths], Pieces et Main d'oeuvre (France)
MUNDO COVID-19, Nº 1
LAS EPIDEMIAS EN LA ERA DEL CAPITALISMO
– Recopilación de textos de análisis internacionales durante el estado de alarma.
https://contratodanocividad.espivblogs.net/
contratodanocividad@riseup.net
Tags: Analysis, Anti-technology, Contra toda Nocividad (Zine), Coronavirus, International Solidarity, Mundo Covid-19, PDF, Repression, Spain, Technological Singularity, Zine
Posted in Library
Friday, April 3rd, 2020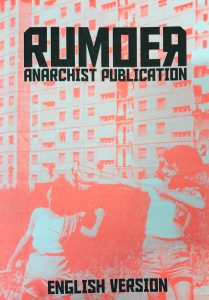 The second edition of the anarchist publication Rumoer is out! A publication which will hopefully provoke discussion, irritation, inspiration, agitation, and attack. Because we do not want a raise in wages, but the destruction of work. Because we do not want to shout 'boo!' but want to hear BOOM! We want a confrontation without compromise with the system that is destroying our lives and the planet.
In this issue some extra attention for the rampaging Covid-19 virus. But also just the ongoing anarchist interventions and other topics: an interview with a graffiti maker in Lebanon, the fight against Shell, post-gentrification and the use of the Signal app.
If you want to receive the new Rumoer, send an email to: rumoer (((A))) riseup /// net. Since most social centres are currently closed, we ask you to help spread the latest edition. Order some extra copies and bring it to your neighbours, isolated family, friends and comrades.
You can also download the new Rumoer or print it yourself. The link to the downloads can be found at rumoer.noblogs.org
Remember, the streets are empty, the possibilities are open. Keep 1.5 meters away, but always at least ten times as much from the police!
Tags: Coronavirus, Counter-info, Graff, Graffiti, Lebanon, PDF, Rumoer (Zine), Sabotage, Shell, Signal (PGP App), Zine
Posted in Library
Tuesday, March 31st, 2020
Desde agosto de 2019, la revista CONFRONTACIÓN ha estado en las calles pasándose de mano en mano, de compañerx a compañerx, propagándose en varias regiones de Chile gracias a voluntades solidarias que hacen posible que las ideas anárquicas/anti-autoritarias circulen y aporten a los procesos de liberación individual y colectiva.
Con un primer número en agosto y una edición especial en noviembre pasado, este 2020 comenzó para nosotrxs con la creación, impresión y distribución del segundo número (tercera entrega en la práctica) con dos mil ejemplares, el cual ha tenido una muy buena acogida entre lxs compañerxs, por lo que iremos subiendo de a poco a internet los artículos las ediciones en formato digital.
Porque la reproducción del orden de opresión y privilegios se ha impuesto a través de la historia por medio de la represión y la intoxicación de las mentes y de lxs cuerpxs por todo tipo de gobiernos, estamos por la CONFRONTACIÓN contra los enemigos de la libertad luchando por una vida sin Estados, leyes, constituciones ni autoridad.
Invitamos a todxs quienes deseen obtener y/o aportar a la distribución de la publicación impresa a que nos escriban a nuestro correo:
CONFRONTACION@RISEUP.NET
Tags: Chile, Periódico Confrontación, Zine
Posted in Library
Saturday, March 28th, 2020
Sale a la luz el primer número de una nueva publicación anarquista en Madrid, en tiempos de Estado de Alarma, por la extensión de la guerra social.
Contenido:
-Hacia aguas desconocidas
-Que vuelvan las huelasgas. Que proliferen las okupaciones. Que lleguen los saqueos
-Sobre el ataque a nuestros lazos
-Crónica de motines, fugas y sucesos en las cárceles y CIES a causa de la crisis del coronavirus
-¿Volver a dónde? ¿Volver a qué?
Hacia aguas desconocidas
Llevamos más de una semana en estado de emergencia. La capacidad destructiva del virus no es algo ya cuestionable. Pero nos gustaría
hacer unos apuntes sobre sus consecuencias no clínicas y sobres sus orígenes.
(more…)
Tags: Coronavirus, Madrid, Repression, Spain, Zine
Posted in Library
Friday, March 20th, 2020
PDF: The Time is Now
This is a PDF explaining how to sabotage game farms. It needs to reach as many people as possible. Against all authority, speciesism and capitalism.
THE TIME IS NOW, BRING DOWN THE GAME FARM INDUSTRY
A step by step guide to sabotaging game farms and putting an end to this fucked up industry.
Game farming is abhorrent. Hunters will use the excuse of conservation as a justification for their murderous actions, but game farming cannot be sustained in any way. Breeding wild animals to be released with the sole purpose of killing them, modifying the countryside to suit the needs of the hunting community and killing all other wildlife in the process with the only aim of capitalising on animal exploitation. Game farming is, indeed, a multi million industry that can be toppled very easily using direct action.
As game farming is an incredibly lucrative business based on breeding and rearing wild animals, direct action focused on sabotaging the infrastructure and releasing the animals into the wild is the biggest and most impactful action anyone can do bring the business to their knees. I will repeat this to clarify: YOU CAN STOP THIS INDUSTRY BY WALKING IN THE COUNTRYSIDE.
This document will solely focus on how to liberate and sabotage game bird farms as a map has been made available with hundreds of entries throughout Europe where you can find your closest farms. That does not mean we do not encourage you to seek other farms, like deer, wild boar and even fox (yes, people are breeding foxes for hunting) and do exactly the same thing. You might need to modify some of the advice, but it will still be good for the most part.
Tags: Animal Liberation, Manuals, PDF, Sabotage, UK, Zine
Posted in Library
Wednesday, March 18th, 2020
PDF: Portada – Memoria y Combate
PDF: Libro – Memoria y Combate
La presente publicación nace con la intención de difundir destellos de la vida de un anarquista de la región chilena que falleció producto de un accidente. La publicación busca ser un aporte para la construcción de la memoria combativa, que, en este caso y como podrán encontrar en sus páginas se ha manifestado con diferentes gestos concretos a lo largo de los años con iniciativas, propaganda, sabotajes, fuego, reflexiones, anécdotas y más, gestos anónimos por el compañero y que hoy son compilados y salen a la luz en un nuevo formato. Para nosotrxs la muerte de un anarquista no puede pasar desapercibida, sea la forma que sea su muerte. Un/a compañerx que asume su vida en permanente lucha contra la opresión, la explotación y el poder en sus múltiples formas y concreta sus ideas en hechos es totalmente dignx de rescatar, difundir y replicar, es por eso que no olvidamos a Javier Recabarren, su muerte es un llamado para continuar firmes en la praxis subversiva anarquista. (more…)
Tags: Chile, International Solidarity, Javier Recabarren, PDF, Santiago, Zine
Posted in Library
Friday, March 6th, 2020
A year after the last publication, a new issue of the anarchist paper Vetriolo is available. As always theoretical study, analysis of the State, dialogue with the imprisoned comrades remain central. The debate-interview with Alfredo Cospito, locked up in the prison of Ferrara, which concludes here with its third and last part, is a shining example of this.
To checkmate the King above all you need anger. You need blood in your veins. You need transcendental strength, Utopia on the horizon, parallel and contrary to the rhetoric of dominion. But you also need study. You need to think, read, analyse. You need to analyse the forces in place on the chessboard, the availability of the servants, the towers and cannons in defence of the King. You need what the handbooks call the black's best move. We continue to do this in Vetriolo. Anger and analysis. Reflection, study, creativity.
The topic of internationalism has always been central in the hearts and heads of all of us. The hypotheses that have been put forward in the pages of the paper have stimulated debate and critique. In order to put together part of the debate this issue is coming out with a supplement: "Pagine internazionaliste" [internationalist pages]. Three pieces that as many anarchists of international origin have proposed.
Contents:
– Checkmate to the King
– The Republic of the Lambs
– Without hesitation, always in solidarity. The first instance sentence in the Scripta Manent trial
– The crisis of the State and so-called Italian creativity
– I See Listen Shout
– What international? Interview and dialogue with Alfredo Cospito from the prison of Ferrara. Third part
– Against modern times
– Around illusions and words
– A sinister tale, Part Four (1982-2001)

Internationalist pages:
– With our hearts and heads. Our internationalism
– At the roots of chaos. Contribution from an anarchist comrade of Iranian origin
– Independentism and anarchism. A contribution from Davide Delogu from the prison of Rossano Calabro
– A short informative report on the current situation. A contribution from Gustavo Rodriguez
To order copies, write to: vetriolo@autistici.org
Price of a copy of this issue: 3 euros. Price of one copy, for distributors, with orders of at least five copies: 2 euros. Postal fees in Italy, up to 2kg: 1.30 euros. Free of charge for prisoners. Copies of issues 0, 1, 2 and 3 are still available.
Tags: Alfredo Cospito, Davide Delogu, Gustavo Rodriguez, Italy, Operation Scripta Manent, Vetriolo, Zine
Posted in Autonomy