Posts Tagged 'Zine'
Wednesday, April 18th, 2012


PDF: https://server.nostate.net/325-new/html/wp-content/uploads/2012/04/aek6-seg.pdf
Editorial
A punto de salir otro numero de Abrazando el Caos, revista anarquista que intenta difundir ideas, análisis, propuestas practicas, así como recopilar escritos sobre los distintos conflictos donde anarquistas han resistido y atacado la represión ejercida por ya cientos de años de quienes se reparten el mundo y hacen lo que quieren con quienes lo habitan, vamos y seguimos dando forma a su contenido y afilando a su vez nuestras teorías para que cuando la llevemos a la práctica sean lo más eficientes posibles, para hacer de ellas, de la práctica, nuevas teorías, nuestras, únicas. (more…)
Tags: Abrazando El Caos, Argentina, PDF, Zine
Posted in Library
Sunday, April 15th, 2012
Dark Matter Publications present two pamphlets formatted for DIY decentralised printing: "Off the Leash: iconoclastic words from Zo d'Axa, Albert Libertad, Emile Armand, Renzo Novatore, Enzo Martucci and Erinne Vivani", a collection of rebellious thoughts that demand to leap off the page into action, celebrating unbridled freedom and the intensity of life; and "Reclaim Your Mind: An urgent message to the 'insane', the 'angry', the 'unstable', the 'chaotic', the 'depressed'…" We conceive of the anarchist struggle as a struggle to free ourselves from the domesticating institutions and control patterns of civilization to live in chaos, free association and in all the unique expressions of liberated individuality, necessarily singular yet common. We laugh at notions of normality. We also laugh at the collectivistic group think culture and cowardice of the dreary world around us.
We give a complicit wink to the anarchist comrades of counter-info blog Culmine and translation project ParoleArmata facing state repression in Italy after the raids by carabinieri and anti-terrorist officers on the 29th March 2012 and the judicial charges of subversive association and terrorism. Like those of these anarchic individuals our words are armed words, and why? – because: (more…)
Tags: Culmine, Dark Matter Publications, Parole Armata, PDF, Zine
Posted in Cognitive Liberty, Library
Sunday, April 15th, 2012
Black Iris Press are a small, DIY publishing collective who produce a zine series called Affinity, conceived as a space for critical discussion and personal reflection on different strategies for resisting and struggling against the dominant culture. We are looking for submissions for our next two issues, which will cover the topics of work and prison. We are interested in hearing people's personal stories and experiences of these two oppressive institutions, what it's like to live through them and to struggle against them. (more…)
Tags: Black Iris Press, Zine
Posted in Uncategorized
Friday, March 30th, 2012


Dark Nights is an anarchist & anti-prison PDF freesheet to download and print out on the fly.
12 pages A4 – PDF Download free.
This issue features an as always incomplete round-up of direct action and sabotage reports from the month of March, coverage of the trial of the Revolutionary Organisation – Conspiracy of Cells of Fire, international repression reports and news about Thessaloniki 5 prison sentences, No Tav- letter from injured comrade Luca Abba, letter about Luciano Tortuga's prison conditions, letter of comrade Kostas Katsenos, imprisoned anarchist accused of membership of the armed group – Revolutionary Struggle in Greece, report on the radical struggle in Russia & Ukraine over the past 2 months, trial updates about the Chilean frame-up "Bombs Case" against anarchists over there, "No Military on Our Streets" anti-Olympic/anti-Austerity text from UK, plus "Maybe they follow my account on Facebook" text from Anti-Authoritarians of Kalamata Messinias.
Fire to the Prisons

http://325.nostate.net/library/dark-nights-17.pdf
Anti-Copyright Network 2012
Tags: 14/14, Chile, Conspiracy of Cells of Fire, Dark Nights, Greece, Informal Anarchist Federation (FAI), Italy, Kostas Katsenos, Luca Abba, PDF, Revolutionary Struggle, TAV, UK, Zine
Posted in Library
Tuesday, March 27th, 2012
Contenido:
3-Editorial
6-Documento: A cuatro años del nacimiento de la Federación Anarquista Informal
8-Hablando de insurrección: Entrevista con Costantino Cavalleri
17-Comunicado del paquete explosivo enviado contra Norberto Rivera, México
19-Comunicado del ataque incendiario contra centro comercial Las Torres en Ciudad Juárez.
21-Comunicado del ataque www.buyambienguide.com explosivo contra el Instituto Italiano de Cultura, México D.F.
22-Comunicado del incendio de camionetas de valores en Cuahimalpa México D.F.
23-¿Fortalecer el frente revolucionario internacional y la FA sin el informal? Por: Giuseppe Dondoglio Antolini
24-Comunicado del ataque explosivo contra empresa ENEL en Italia
25-Anarquistas Nihilistas: La ciudad de las bombas volverá a arder! – Comunicado de acciones en Barcelona y declaración anti-carcelaria
28-Algunas notas de acciones y comunicados en México y el Mundo
30-Articulo de opinión: Sobre el tema del anarco-primitivismo
31-Póster-Afiche en apoyo a Braulio
Este es el numero 15 de Conspiración Acrata, una publicación de afinidad Anarquista Insurreccional, editada en algún lugar de México.
Contacto solo via e-mail: conflicto_cotidiano(at)riseup.net
¡Muerte al Estado/Capital… Viva la Anarquía!!!!!
Link medifire:

http://www.mediafire.com/?w2zbw1cx7xh585l
Tags: Arson, Braulio Arturo Durán González, Conspiracion Acrata, Costantino Cavalleri, Fuck the Law, Giuseppe Dondoglio Antolini, Informal Anarchist Federation (FAI), Mexico, Sabotage, Zine
Posted in Library
Thursday, March 1st, 2012


Dark Nights is an anarchist & anti-prison PDF freesheet to download and print out on the fly.
4 pages A4 – PDF Download free.
This handout issue features a front page article from Actforfreedomnow/BoubourAs, the secondary article concerns anarchist revolutionary solidarity and the struggle against prison by Guiseppe. Also inside is an incomplete direct action chronology of the past few weeks and the breaking stories of the moment : CCF- Imprisoned Members Cell and accused others will be indicted with 250 attacks carried out in the name of the Revolutionary Organisation over the course of its history; Val Susa, Luca Abba is hospitalized fighting against the High-Speed Rail (Italy); Santiagio: State demands 15 years prison for Luciano 'Tortuga' (Chile).
ORGANISE REPLICATE RESIST
Anti-Copyright Network 2012
Tags: Chile, Conspiracy of Cells of Fire, Conspiracy of Cells of Fire : Imprisoned Members Cell, Dark Nights, Greece, Informal Anarchist Federation (FAI), Insurrection, Italy, Revolutionary Solidarity, Zine
Posted in Library
Monday, February 27th, 2012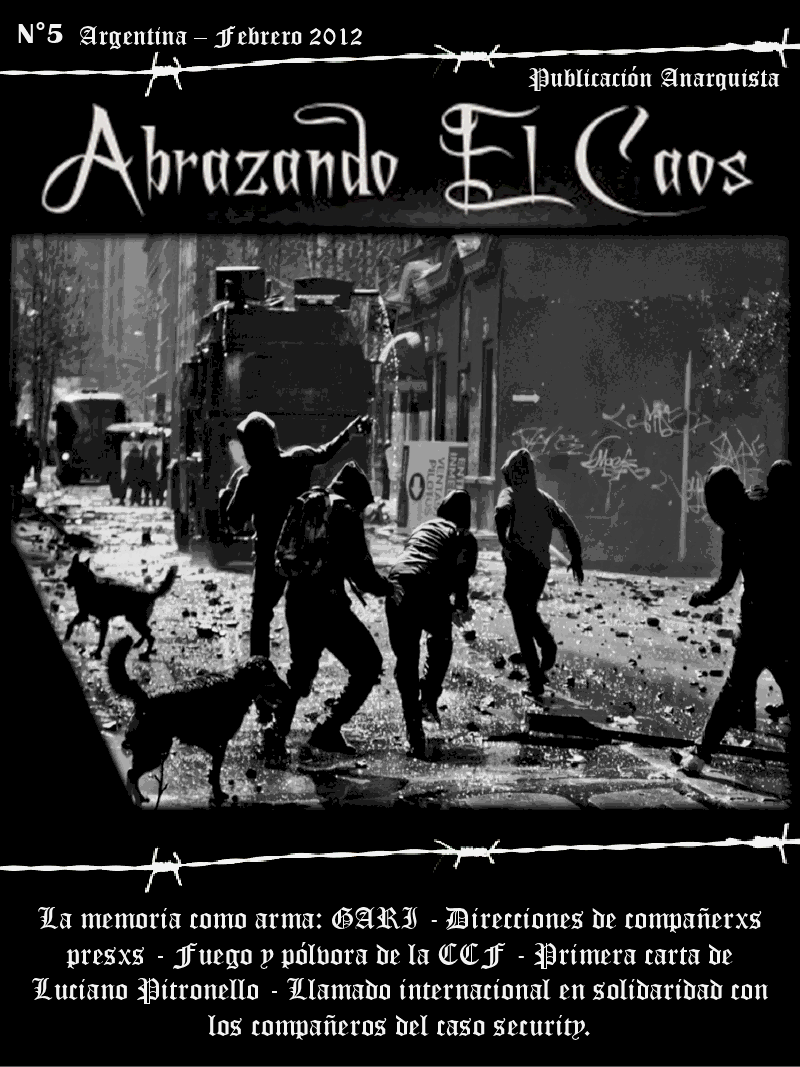 Para descargar desde mediafire.
Editorial: Abrazando el Caos desde su idea primaria, cuando no era más que un proyecto, un embrión en manos de un puñado de compañerxs, se planteo ser una publicación de anarquistas para anarquistas, atendiendo a las diferentes expresiones anti-autoritarias, rebeldes, subversivas, liberacionistas, etc. Con el tiempo nos fuimos afianzando, equivocándonos, creciendo, encontrándonos, desencontrándonos y afianzándonos nuevamente. Objetivo que creemos estamos cumpliendo y por el cual pretendemos seguir, sigue siendo el objetivo primario. Somos de los que creemos que lxs anarquistas partimos de la negación, pero nos realizamos en la afirmación. (more…)
Tags: Abrazando El Caos, Argentina, Zine
Posted in Library
Thursday, February 9th, 2012
Dark Nights is an anarchist & anti-prison PDF freesheet to download and print out on the fly.
12 pages A4 – PDF Download free.
This issue features a front page of BAD PASSIONS : THE RIGHTS OF THE EGO : From an anti-Christian point of view by Maurizio De Simone, which will form part of a future collaborative publication concerning nihilism, egoism, refusal of society, etc by Edizioni Cerbero.
– Does Work Liberate (A poster from the streets)
– Letter from anarchist Rami Syrianos
– Declaration by Christos Tsakalos to the court
– Athens: Arson attack against ATM
– On a journey that hasn't ended yet – Polykarpos Georgiadis
– Parole is denied for Marco Camenisch
– Thomas Meyer-Falk's request
– Abuse of Children in UK Private Prisons by John Bowden
– Preparations for military repression at UK 2012 Olympics
– Anarchists attack the home of the President of Greece in Athens
– Belgium: Communique for arson of cars of two euro-parliamentarians, a NATO official and a diplomat
Download, print out and provoke…
Anti-Copyright Network 2012
Tags: Belgium, Christos Tsakalos, Dark Nights, Greece, John Bowden, Marco Camenisch, Maurizio De Simone, Olympics, Polykarpos Georgiadis, Rami Syrianos, Switzerland, Thomas Meyer Falk, UK, Zine
Posted in Library
Tuesday, January 17th, 2012
Dark Nights is an anarchist & anti-prison PDF freesheet to download and print out on the fly.
FREEDOM WILL BLOSSOM FROM THE ASHES OF THE PRISONS
Click here: 16 pages A4 PDF + Click here: 4 pages A4 supplement
Longer format issue of Dark Nights; the frontpage carries the new open letter from Luciano 'Tortuga', anarchist in Chile hurt in a bomb attack against Santander Bank in Santiago. A major section of this issue is given over to a New Year Anti-Prison Actions Round-Up, which couldn't begin to cover the vast nature of the second international call-out for anti-prison demos on the New Years Eve, but is nevertheless a contribution to be spread and distributed.
The remaining full articles include the cases of the revolutionary anarchist group Revolutionary Struggle, the Conspiracy of Cells of Fire, Stella Antoniou, Sonja Suder & Christian Gauger of the Revolutionary Cells (RZ).
Special separate supplement covers the latest sabotages and attacks in Italy; Update on the "Bombs Case" in Chile; Joint declaration of subversive and revolutionary prisoners in support of the comrade Luciano Tortuga (Chile); Sabotage and attacks against automated car tolls and social control (Portugal); Update on the Two Imprisoned Combatants in Yogyakarta (Indonesia).
Dark Nights will continue a more frequent publishing schedule generated from the international network of translation and counter-information for the present time as a new editorial and design collective take over the freesheet.
Anti-Copyright Network 2012
Tags: 14/14, Billy, Conspiracy of Cells of Fire, Dark Nights, Eat, Luciano Pitronello Schuffeneger, PDF, Revolutionary Cells (RZ), Revolutionary Struggle, Stella Antoniou, Zine
Posted in Library
Friday, January 6th, 2012
Greetings from Undangon ang Mina Network Philippines!
We're happy to tell you that our Journal, Eco-Defense! is out now.
What you'll find in the journal are news about Communities of resistance in the Philippines, Working groups, global resistance articles, a list of global financial institutions funding corporate projects in the Philippines, and the corporations behind the endless socio-economic-political drama in the archipelago.
The file is too large to attach, please download it from this link:

http://www.4shared.com/office/BV1U9cYF/Eco-Defense_JOURNAL_Ish_1-_Dec.html
We hope you will find this material useful. See you soon!
Tags: Ecological Destruction, PDF, Philippines, Undangon ang Mina Network, Zine
Posted in Eco Struggle
Saturday, December 31st, 2011
New from Act For Freedom Now! Revolutionary Struggle PDF – Trial Solidarity Zine
Download now for free from Actforfreedomnow! A collection of letters, texts and communiques from the armed group ' Revolutionary Struggle' and their accused. Released during their current trial and intended to be one more nail in the coffin of the legitimacy of the State and the capitalist system.
From the introduction:

In the days of April 2010, when the Greek government finally agreed to accept a loan from the International Monetary Fund to begin the take-over of the country into the hands of the international financiers, the security services had prepared a media spectacle to mark the occasion: the capture of 6 anarchist fighters for the purpose of the submission of the social struggle.
Anarchist fighters who had been a thorn in their side for some time, were now hostages. Hostages who had humiliated the demoralised and brutal Greek intelligence services, anti-terrorist divisions and their American occupier counterparts, the CIA, who had sought out the Revolutionary Struggle ('Epanastatikos Agwnas' – EA – in Greek language) for a Rocket Propelled Grenade attack against the US Embassy in Athens. This daring and symbolic action came amongst scores of other targeted attacks which struck for years with symbolically definitive high-impact blows against the institutions of capitalism and government, accompanied by dozens and dozens of pages of critical, thoughtful and articulate anarchist analysis of the institutional structures that parasite on the social wealth produced by labour, with social and economic self-organisation put forward as an anti-capitalist and anti-state egalitarian alternative. Revolutionary Struggle are Nikos Maziotis, Pola Roupa, Kostas Gournas and the fallen Lambros Foundas. Together they formed a group of social-libertarian anarchists based in the busy capital, Athens, who directed their armed activities in the class interests of the exploited workers of Greece and within/alongside the specific mass anarchist/anti-authoritarian movement from 2003-2010.
And now, they continue their fight in the court rooms and prisons of the Greek regime, where they push an even harder fight to the legitimacy of the capitalist enemy. As this collection was being assembled, the show-piece trial against the comrades continues, which is partnered by a campaign of repression against the anarchist/anti-authoritarian movement in general and specifically to several anarchists who deny responsibility. What the Greek security services and their foreign colleagues wish to prevent through intimidation, surveillance and imprisonment is contagion. Contagion of tactics which made a mockery of their system and showed how easily it could be struck by anyone. Contagion of ideas which has now spread far beyond the world-wide anarchist/anti-authoritarian movement into the general masses of people who are angry with everything, wishing to see it all come down and something much more humane begin. …
FREEDOM FOR THE PRISONERS – HONOUR TO LAMBROS FOUNDAS
Trail updates and more from: actforfree.nostate.net
Tags: Athens, Kostas Gournas, Nikos Maziotis, PDF, Pola Roupa, Revolutionary Struggle, Zine
Posted in Library
Wednesday, December 28th, 2011
dissentingvoices.org/etnikobandido
Tags: Gasera, Philippines, Zine
Posted in Library
Thursday, December 22nd, 2011
[English translation of the introduction is below, by comrades of war on society]
Si doña, esto es una guerra…
Una guerra contra los dominados imponiendo un sistema en el que todos están incluidos, bajo un mismo orden que da papeles diferentes a diferentes personas diciendo (e imponiendo a la vez) la idea malévola de que siempre será así. Que nada sucede ni aún cuando miles de cosas sucedan.
La mejor arma de los sostenedores de la dominación es la imposición de un sistema que genera el consenso, el falso diálogo que intenta disfrazar un mundo de posibilidades infinitas que el capital y sus gobernantes deciden que no debe aparecer. El reforzamiento de los ideales nacionales de parte de la izquierda, por ejemplo, tiene el objetivo claro de domesticar (aún más) a la población creando la idea de que esto debe permanecer así como está, que éste es el mejor, el único escenario posible y que será así por siempre. Por eso tanta banderita, tanta unión entre empresarios, políticos y sindicalistas, tanta mierda organizada. Por eso Pachano, Tinelli, el peluquín de Tabaré y los calladitos de derecha esperando su nueva oportunidad. (more…)
Tags: Montevideo, Periódico Anarquía, Uruguay, Zine
Posted in Library
Sunday, November 13th, 2011
This is a comprehensive guide written by and for non-techie anarchists. A variety of issues related to computer anonymity and security are explored in detail, with extensive links for further reading and exploration.
Topics include: ISP, IP, MAC Address, Session Data, User Agent, Referer, 802.11 Nickname, Scripts, Encryption, Secure Deletion, Viruses, Malware, Keyloggers, Rootkits, Passwords, Email, Linux, Livesystems, Metadata, and Destruction of Hard Drives.

<3 some anarchists